Santa Rosa, the urban center of Sonoma County, may not be the first item on Wine Country itineraries but, to the savvy visitor, this sometimes gritty North Coast city offers more than meets the eye (and it was recently ranked one of the best places to live in the United States).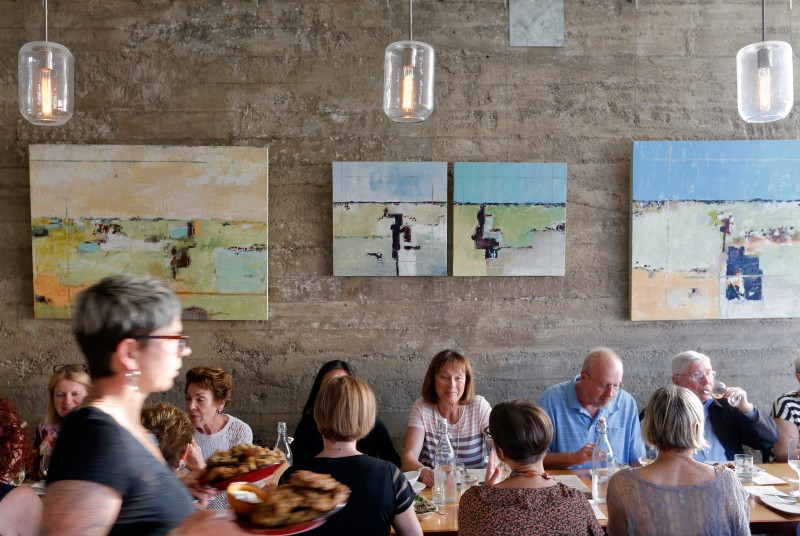 A new Santa Rosa is emerging as crafty types are injecting a hefty dose of hip into the local community. This is the kind of place where natural bounty serves as a muse for utopian dreams, where sleepy residential streets hide ambitious farm-to-table kitchens, abandoned buildings are resurrected as art galleries, and the corner coffeeshop turns nightlife hot spot with craft-beers on tap, all to the rhythm of Americana and bluegrass beats. Best of all, Santa Rosa can easily be explored by bike or by foot.
Here's how to experience (some of) the best Santa Rosa has to offer: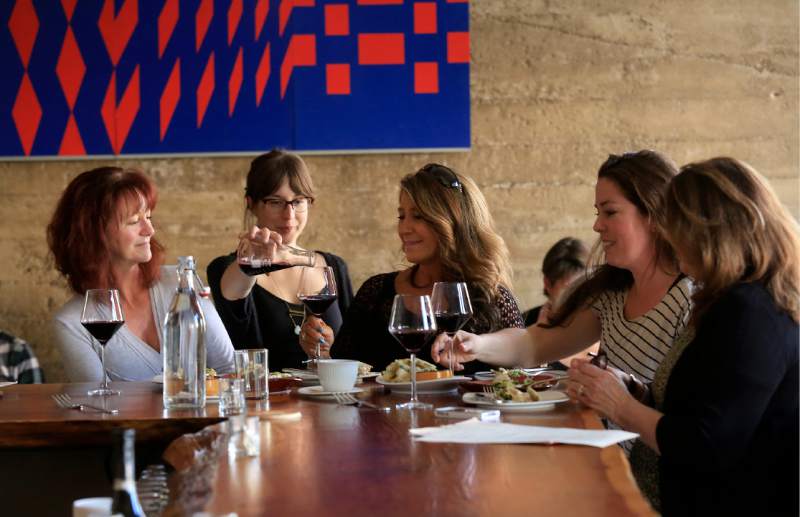 START YOUR DAY, THE SOFA WAY 
"Not far from downtown Santa Rosa, there's a portal to another time and place. But it doesn't look like some mad scientist's time machine. It looks more like a miniature hometown scene from the last century." This is SOFA, or the South of A Street district, in the words of local arts and culture connoisseur Dan Taylor, staff writer at local newspaper The Press Democrat.
Home to a cluster of independently owned shops, galleries and restaurants, SOFA embodies the kind of artsy edge you may have encountered in London's East End or Brooklyn, albeit on a smaller scale. At the center of this avant-garde enclave is your breakfast destination: The Spinster Sisters, a "modern, new American" restaurant that embraces traditions and flavors from all over the world and exhibits local artists.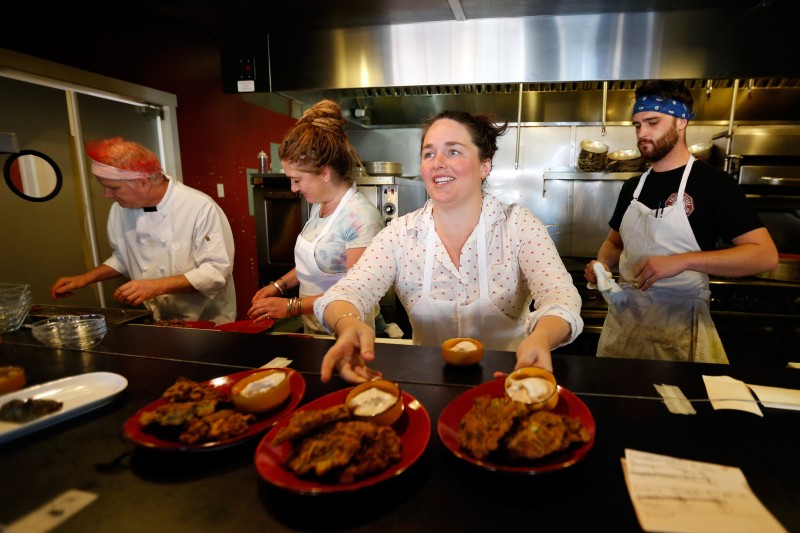 Spinster Sister Chef Liza Hinman, an artist in her own culinary right, creates an evolving menu of original dishes, breakfast through dinner. Breakfast/brunch menu stars include  "Brown Butter Mascarpone Crepes Meyer" with lemon curd, blackberry sauce, whipped cream and ginger crumble, and "Joe's Benedict" with poached Wise Acre Farms eggs, prosciutto, red onion, arugula, avocado and herb hollandaise on Downtown Bakery challah.
The restaurant interior is "concrete chic," complete with exposed stone walls and ventilation pipes, tall windows, a wrap around bar and a bookcase-lined wall. The coffee, from local Flying Goat Coffee, packs a punch — and so does the Kimchi Bloody Mary.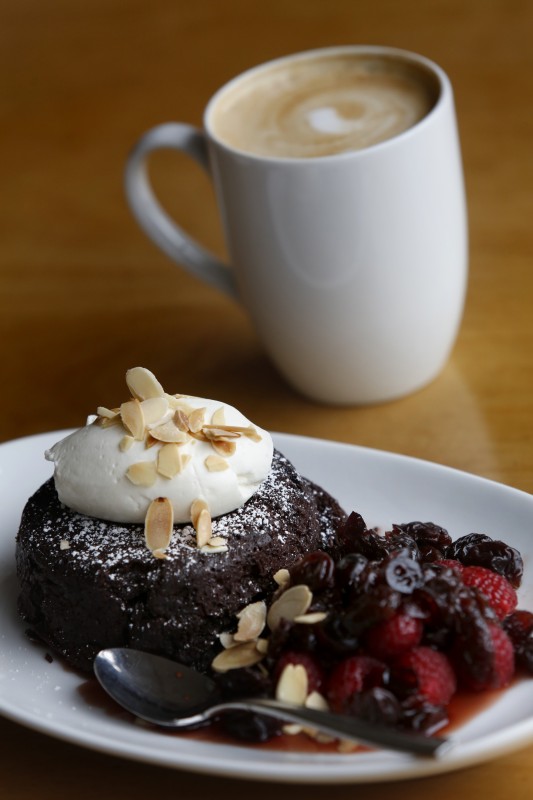 After breakfast/brunch, explore SOFA art studios and independent shops. The studios, open to the public every first Friday of the month during the SOFA art walk, regularly host exhibits and events. For local jewelry and vintage finds, head to JamJar. Still have room for dessert? Criminal Baking Co. serves up devilishly delightful sweet goods.
TIME TRAVEL IN RAILROAD SQUARE
The turn-of-the-century Railroad Square neighborhood, aka Santa Rosa's "Old Town," is a vintage-lovers mecca. Trains began running here in the 1870s and turned a previously neglected part of Sonoma County into a hub for agricultural commerce. Italian immigrants settled in the area, drawn to this part of California by farm jobs and a climate and landscape similar to the "old country." The Railroad Square district soon became known as "Little Italy."
The basalt buildings that now serve as the architectural centerpieces of Railroad Square were constructed by Italian stonemasons. The Northwestern Pacific Railroad train depot later starred in Alfred Hitchcock's "Shadow of a Doubt." Today, the historic buildings (many rebuilt after the 1906 earthquake, and later restored) house a variety of independent antique and vintage shops. (The old depot will soon see the arrival of the SMART train; the first passenger train traveling these North Bay tracks in over 50 years.)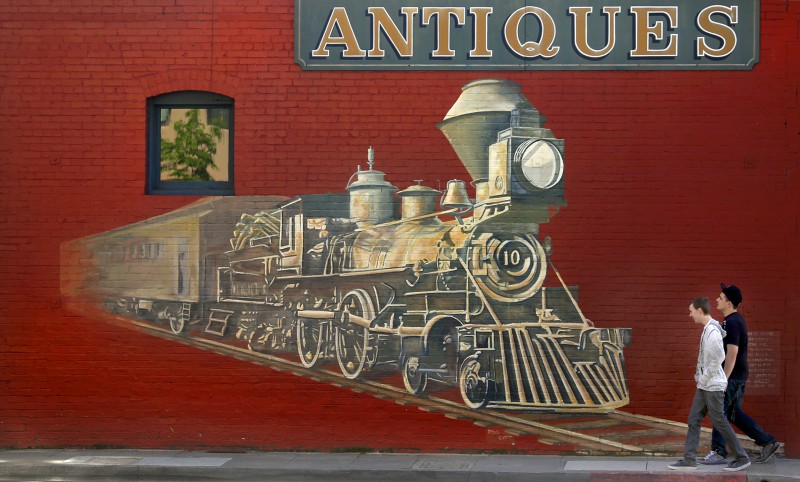 On your visit to Railroad Square, shop or browse vintage outfits at Hot Couture, run by the charming and colorful Marta Koehne. Koehne has been in the vintage clothes business since 1976. At Hot Couture, she specializes in men's and women's vintage wear, 30-years old and counting, and costumes for every occasion. The costumes are stocked in a back storage area which, like the closet of C.S. Lewis's Narnia series, opens a passage through time and space to a previously unexplored fantasy world. Thankfully, Martha's good cheer and helpful suggestions are there to guide wardrobe time travelers through the experience, or else the sheer volume of fantastic clothes may get overwhelming.
Skirt Chaser offers a carefully curated collection of vintage clothing, from casual style to special events outfits (this writer found her wedding outfit here, from shoes to veil, for under $100…in under one hour).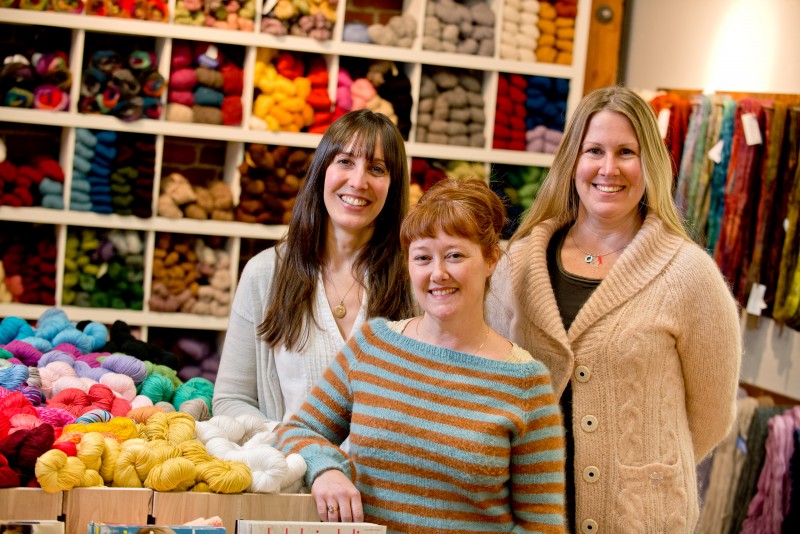 If you prefer to make your own clothes, head to Cast Away & Folk. Located in a 4000+ square foot space just across from the depot, this textile based craft shop carries a wide range of supplies sourced from independent designers, including organic and natural fabrics, heirloom sewing tools, designer kits and patterns — and a whole lot of yarn. The shop is own and run by three very crafty women — Justine Malone, Isla Corbett and Leslee Fiorella — who all have years of experience in textile design, sewing, weaving, felting and needlecraft; enough knowledge to make even the most crafts-challenged person feel confident in picking up the knitting needle.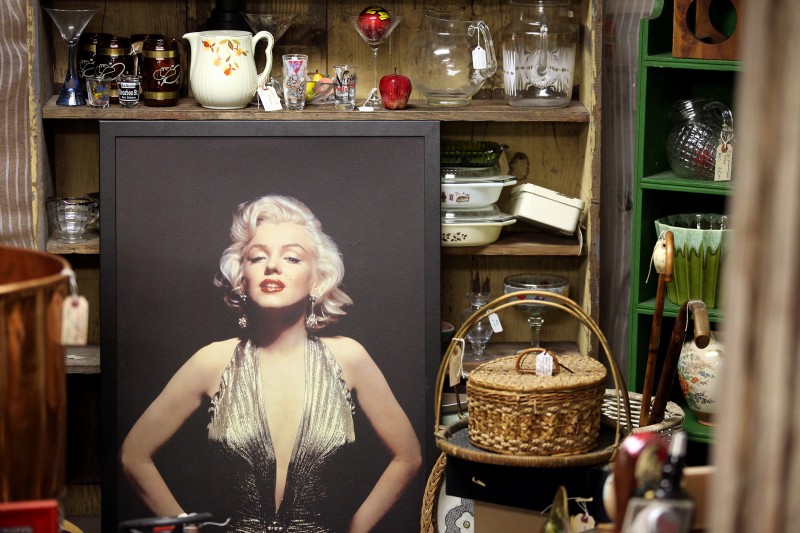 For antiques and vintage furniture finds, visit Whistlestop Antiques. Run by Dee Richardson since the mid '90s, this two-story gem is filled to the brim with a magical mix of fine design pieces and whimsical finds. Spend a dreamy, lazy afternoon here; browsing through the 20th century's decades in the Life Magazine collection and examining a wide variety of collectibles – baseball cards, American flags and Americana. Chat with Dee and any of the friendly knowledgeable vendors – perhaps about that cute Igloo ice bucket perched on top of a waterfall chest of drawers, circa 1947, complete with original bakelite knobs. Then, when you least expect it, you spot just what you've been looking for: an immaculate mid century modern rosewood coffee table, hidden under a gnome and a stack of faded photographs from the 50s.
And finally, get all your vintage finds into the trunk before crossing the street to Jackson's Bar & Oven, for a late lunch of oysters on the half shell and wood-fired pizza to celebrate your successful antiques adventures.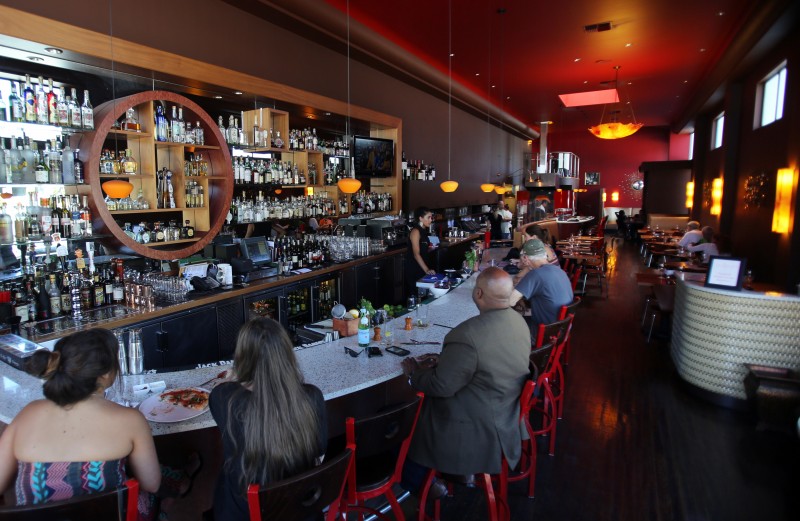 DON'T DISMISS DOWNTOWN
At first glance, downtown Santa Rosa does not impress. Gray concrete corporate buildings loom over a seemingly eternally-under-construction courthouse square, while a suburban mall sprawls in the west. But don't dismiss it – a stroll down 4th Street will make you change your mind:
Bookworms will enjoy the fine collection of secondhand fiction and non-fiction at Treehorn Books (you can pick books off the shelf randomly, and walk home with a selection you never knew you had to read, but now cannot live without); eco- and socially conscious shoppers will appreciate handmade treasures from all over the world at Kindred Fair Trade (leaving the shop without a colorful scarf, a fringe felt purse and a pair of turquoise earrings is pretty much impossible); hat lovers will go mad at Portobello Hats (just off 4th Street) and anyone looking to spice up their life should include a stop at the Savory Spice Shop.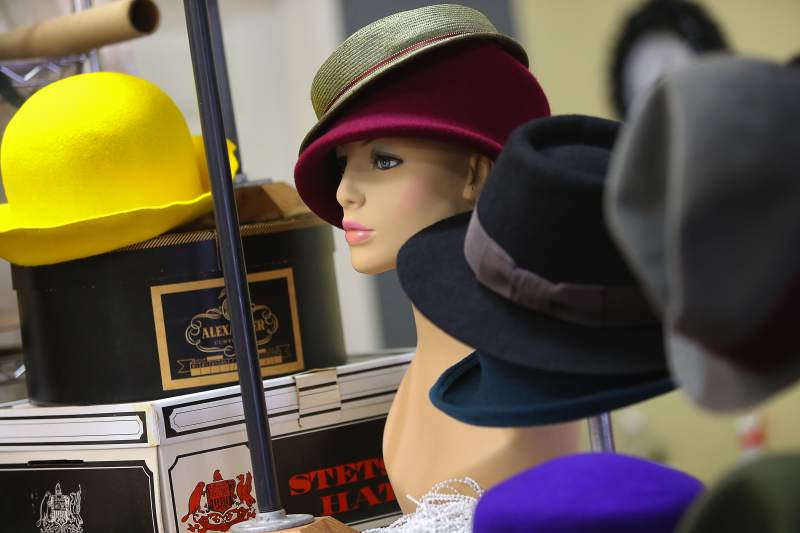 Hungry in the middle of your downtown escapade? Tasty and decently priced bites can be found at Mac's Deli (run by the Soltani family since 1970, this is the real retro down-home deal, complete with the best Reuben in town, counter-dining and vinyl booths); 4th Street Deli (another friendly family-run business, this is a popular lunch spot for downtown workers offering fantastic Middle Eastern fare — tabbouleh and falafel — and a wide range of salads and sandwiches) or try El Coqui (a Puerto Rican restaurant, one block behind 4th Street, which serves authentic dishes to the sound of salsa tunes — order their signature dish Pollo al Horno, with no culinary regrets).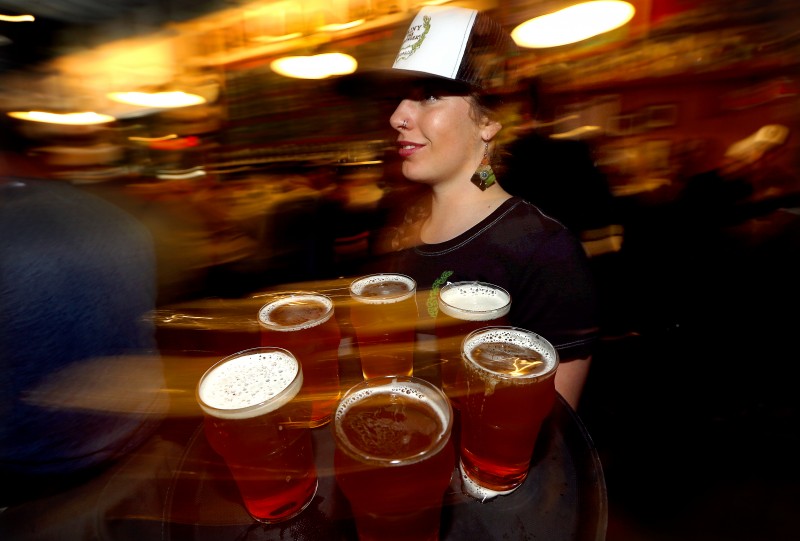 MAKE A BREW-O'-CLOCK PIT STOP
If Santa Rosa is included on an out-of-towner's Wine Country itinerary, it's usually thanks to Pliny the Younger or Elder. These beloved beers, brewed by Russian River Brewing Company (RRBC), have put Santa Rosa on the map for beer lovers worldwide. During the yearly limited release of triple IPA Pliny the Younger, the line circles blocks surrounding the local brewpub. If you want a taste of the hype, plan your trip around the first Friday in February (this is when Pliny Jr is released), or taste his "uncle," double IPA Pliny the Elder, available on tap year round.
But there's more brews to Santa Rosa than Pliny: for alternative hoppy delights, swing by Henhouse, Fogbelt, Cooperage, Moonlight or Local Barrel. And then there's Brew, the cool corner coffeeshop that turns into a hot nightspot with local beers on tap and live music several nights a week. This is the kind of place where creative types and local entrepreneurs (sans office) start the day with a pour-over and end it with a pint.
SPEND A FEW HOURS AT THE LOCAL "CENTRAL PARK"
The Howarth Park, Spring Lake, Annadel State Park area in eastern Santa Rosa is the Central Park of Sonoma County. There are three lakes (Lake Ralphine, Spring Lake, and Lake Ilsanjo) and a reservoir (well, officially, it's a "lagoon"), paths for hiking, biking and riding, tennis and softball courses, a parcourse fitness circuit, boating rentals, a climbing wall, an animal barn, pony rides, a carousel, a jump house, a simulated 1863 C.P. Huntington steam train, and — best of all — "The Land of Imagination," a play area that "highlights various time periods in Santa Rosa history."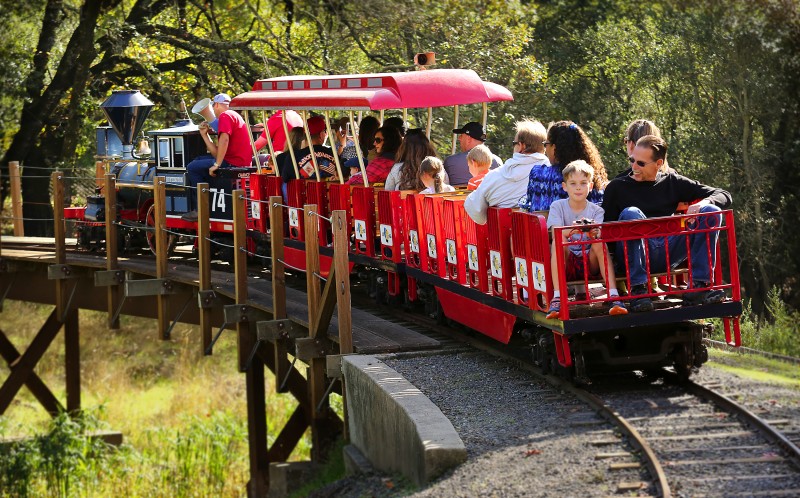 On sunny weekends, this recreational area gets busy with locals and visitors alike — grownups, teenagers, kids, dogs, walkers, joggers, runners, riders, bikers, skateboarders, people chatting, people silently staring at their phones; they're all there, enjoying some of the best outdoor activities Sonoma County has to offer.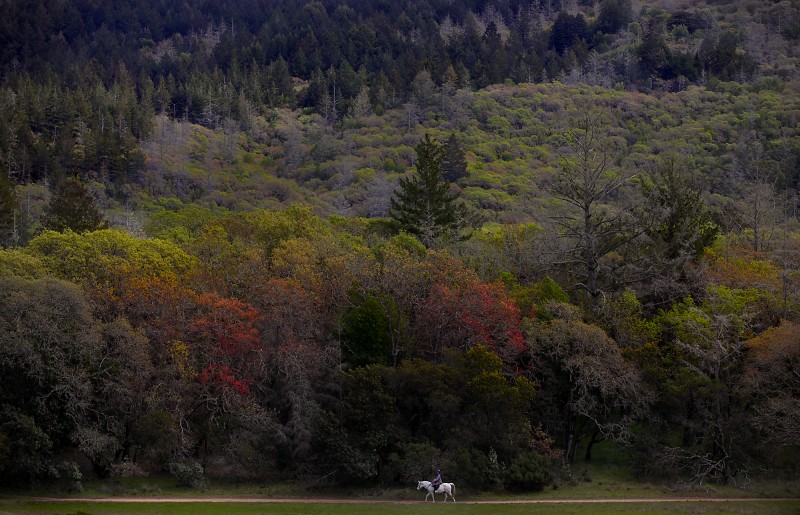 A FUNKY – OR FANCY – FARM-TO-TABLE FINALE 
Craving a combination of Jewish comfort foods, Southern classics and Korean fare? While it might seem an unlikely menu mashup, The Bird & The Bottle on 4th Street pulls it off splendidly— every time. The restaurant, located in a refurbished Victorian in a residential neighborhood, resembles a British gastropub with three dining rooms, wingback leather chairs, large wood tables, open kitchen and a well-stocked bar that opens to an outdoor lounge.
The name derives from a pre-World War I double entendre — "Hot Bird and a Cold Bottle" — used to describe late-night pleasures sought out by young men-about-town. The "hot bird" was a warm dish, "the cold bottle" would usually be champagne. ("The Bottle and the Bird" is also an 1889 poem by American writer and poet Eugene Field.) The eclectic Bird & The Bottle menu consists of small plates, including the must-order "Smokey Pokey" with Tombo tuna, smoked olive oil, soy, cracked almonds, smoked chili, "Creamed Brussel Sprouts" with house bacon, apples, onions, coconut caramel and lime, "Craft Mac N Cheese" with fried Kielbasa and crispy kale, and  "B&B Mini Burgers" with a "secret sauce."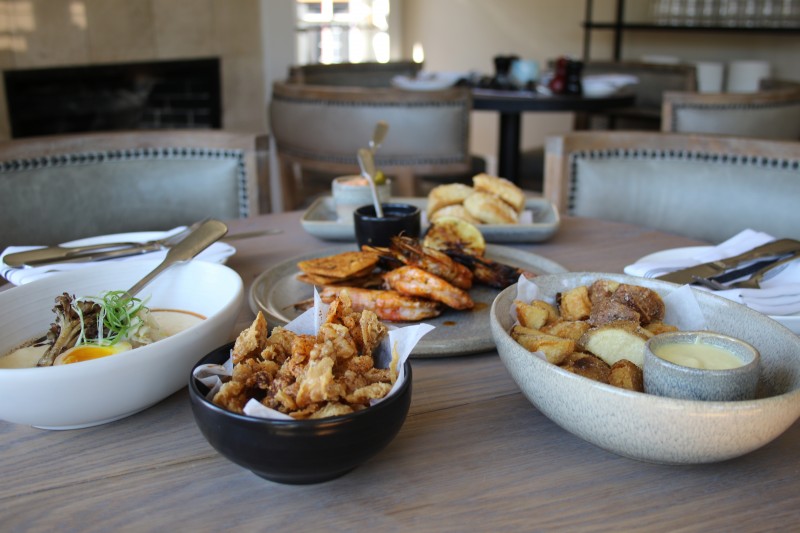 For a fancy alternative, plug John Ash & Co into your GPS and head a few miles up the road from downtown Santa Rosa. This deluxe dining destination, a.k.a. the "cradle of California cuisine," stays true to tradition with fresh farm-to-table food mostly sourced from onsite culinary gardens. The restaurant was recently awarded "Best Romantic Meal in Sonoma County" in The Press Democrat's "Best of Sonoma County 2016" competition – and with good reason. Twinkling lights set the mood nightly over an all-season patio with vineyard views; an award-winning wine list offers an exclusive tour of Sonoma wineries, and Executive Chef Tom Schmidt's food covers everyone's favorites in a way that wows.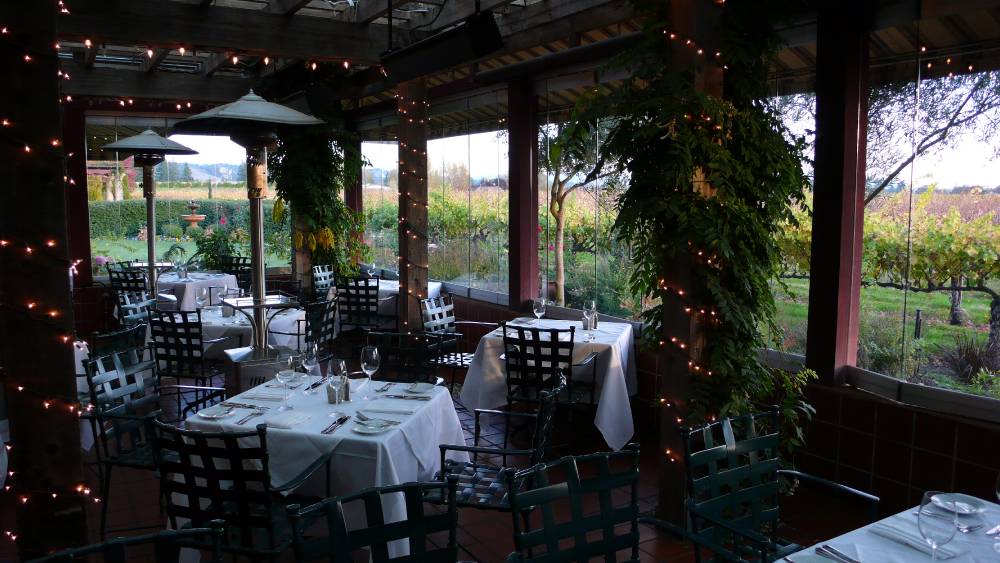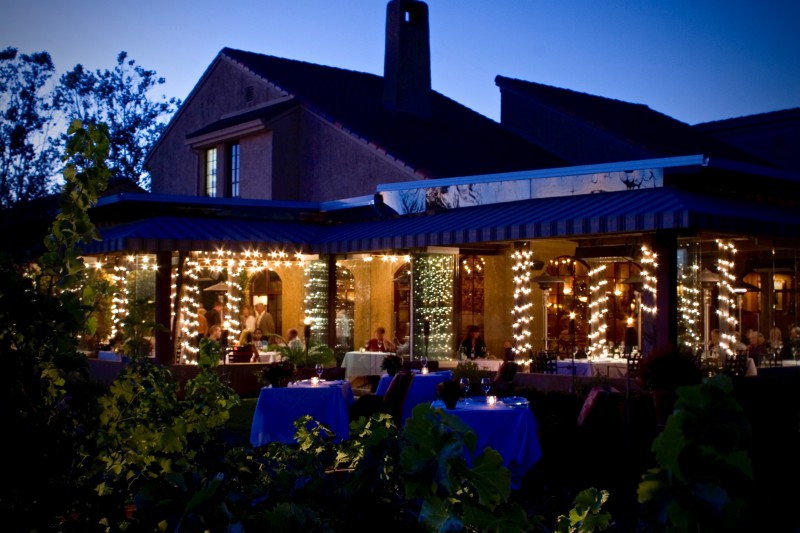 Looking for more things to do in Sonoma County? Click here