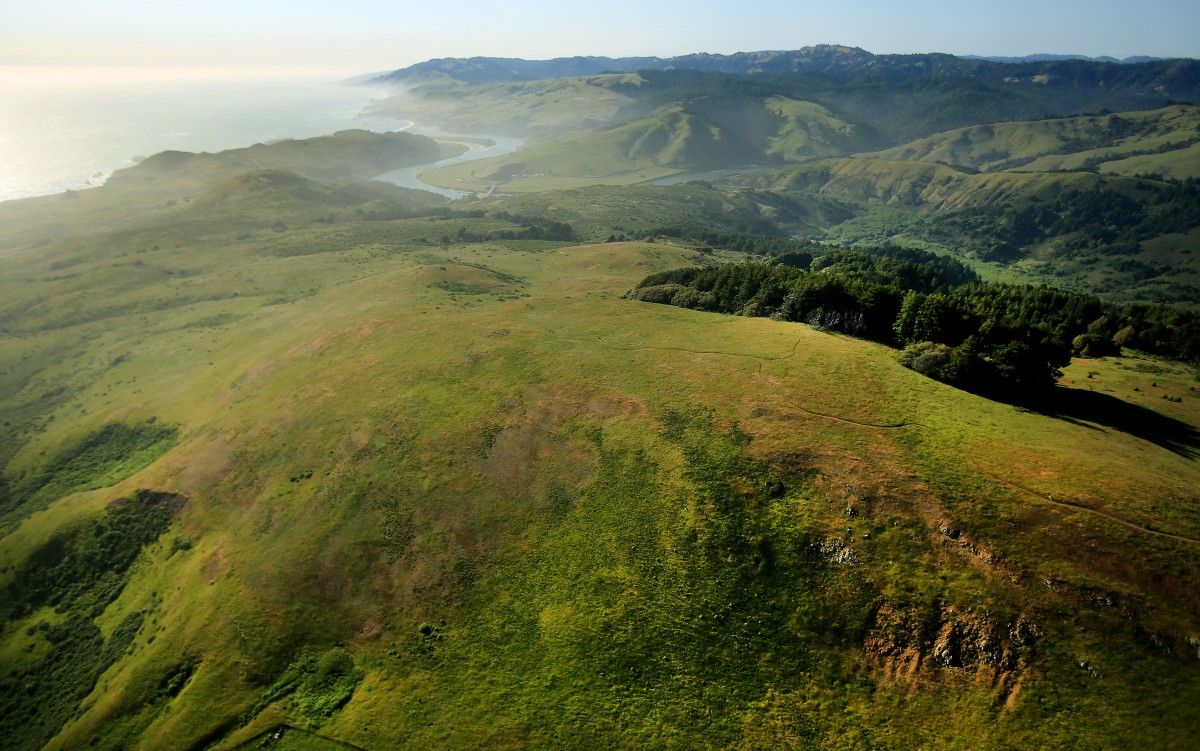 The pace of the Russian River sets the leisurely tempo of west Sonoma County life, and it is in this laid-back enclave of charmingly eccentric cabins nestled in redwood- and fir-covered hills that you are bound to find your own rhythm.
So grab a paddle or just float down the river with us to discover where to stay, play and dine in relaxed Russian River style.
---
STAY
Get Here
Access the Russian River area by flying into Santa Rosa's Charles M. Schultz airport, or drive up Highway 1 from San Francisco. If you're driving, make a few stops along the coast — Stinson Beach, Point Reyes National Seashore and Tomales Bay. Do some Birds' watching in Bodega (Alfred Hitchcock filmed his thriller here), then ride up the scenic Bohemian Highway.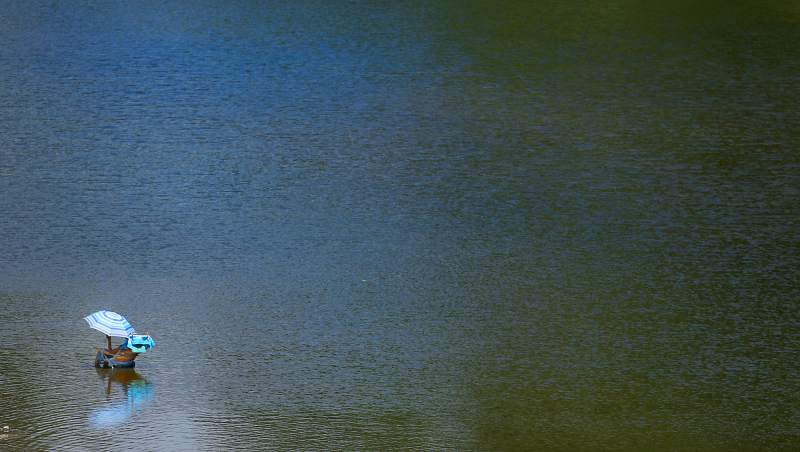 Settle In
Make Guerneville the jumping off point of departure for your Russian River expedition: the longtime bohemian refuge of Forestville is just a stone's throw away and the "vacation wonderland" of Monte Rio also within close proximity.
Guerneville's colorful collection of residents, its eclectic variation of visitors and varied array of storefronts reflect the archaeology of the town's recent history: timber town, then hippie haven, then gay retreat and hip getaway. The river town's comforting early morning fog, the rolling river and its proximity to the Sonoma coast make the place a dream destination for those wanting to kick back and get pleasantly lost.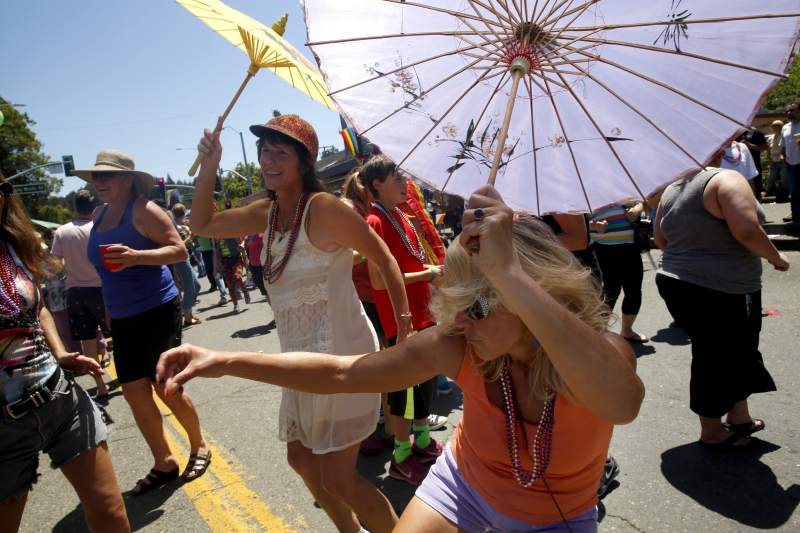 Check In
Select from a variety of Guerneville accommodations that include hotels, a tent on the riverbank or glamping in a boutique Airstream trailer, and you are set to explore the redwoods, the river and beyond!
Boon Hotel + Spa
Named after owner Crista Luedtke's canine companion, Boon offers quintessential Guerneville lodgings — a tasteful blend of the old and the new. The hotel grounds once housed the local mercury miner community; the hotel has gone through a series of transformations since the 1970s. In 2008, Crista created an eco-friendly oasis of minimalist modern cottages that promises to "unclutter your mind and allow your body to rest." Boon's beds — made with Coyuchi organic sheets — have been likened to benevolent Venus flytraps, "sucking you in and not letting go…" Rates start at $170.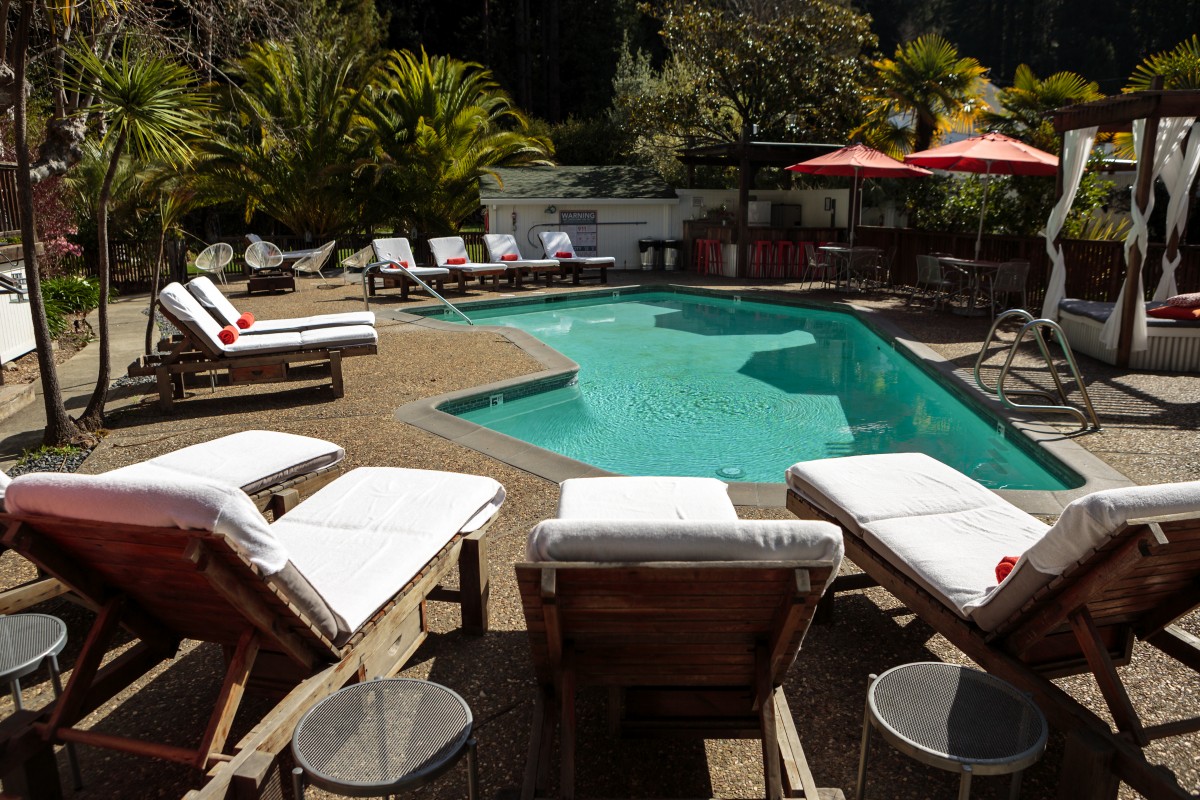 Farmhouse Inn & Restaurant
Run by brother-and-sister team Catherine and Joe Bartolomei, this boutique hotel offers all the warmth and hospitality of a family-owned B&B while providing the high end services and amenities of a five star luxury hotel. Located just 8 miles east of Guerneville, this charming inn houses a Michelin-starred restaurant and offers a variety of accommodations, from high-ceiling barn rooms to bungalow-style heritage rooms. Rates start at $545.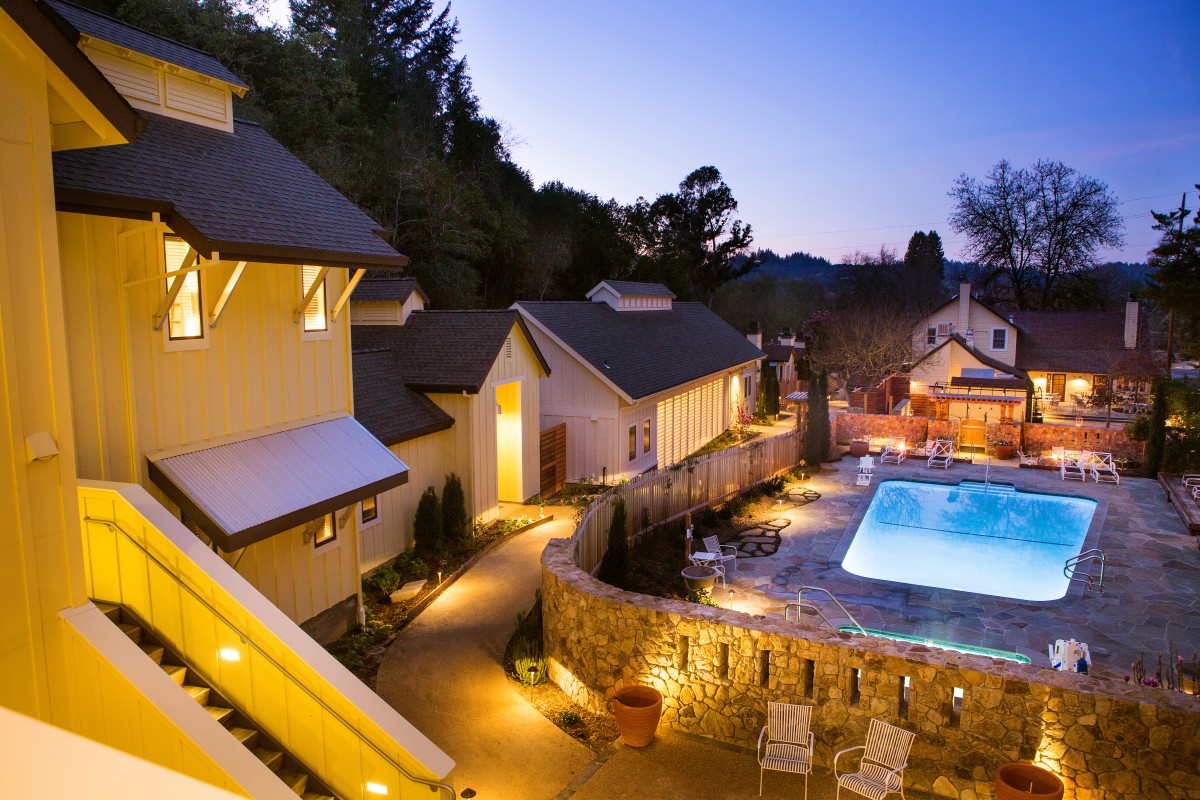 Johnson's Beach + Resort — Camping
Johnson's beach — a Sonoma County summer destination for nearly 100 years —  offers a variety of rental accommodations: 4-bedroom, 2-bathroom main lodge overlooking the river, or rustic cabins dating to the 1920s. "Urban camping" at the beach is another popular option. You can retreat from the sun-drenched riverbed and rest under sycamore and black walnut trees. And in the evening, take the opportunity to watch the reflection of the moon and stars shimmer on quiet river waters. Johnson Beach is also home to the Russian River Jazz and Blues Festival. Now in its 40th year, this two-day event takes place September 10 —11, 2016. Rates start at $40 (camping)/$135 (cabin)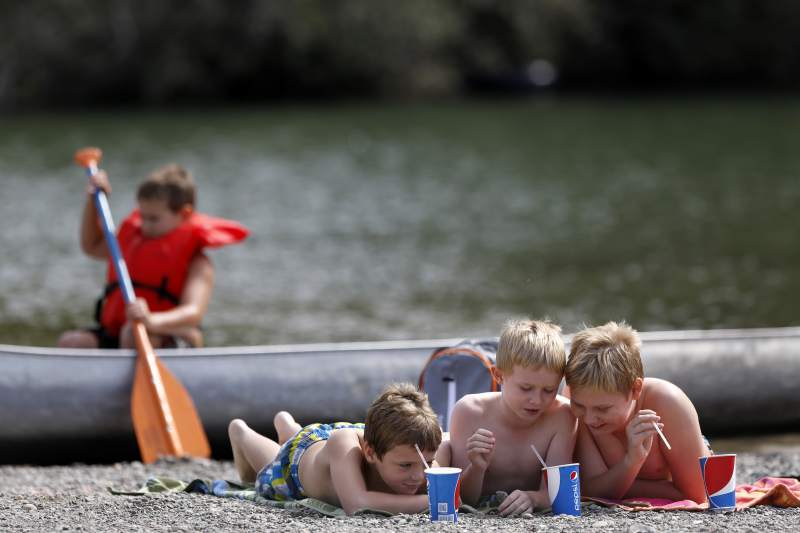 Coming Soon: AutoCamp — Glamping
Boutique camping company AutoCamp recently completed a successful KickStarter campaign and announced the opening of a new "modern airstream getaway" in Guerneville. Promising "no-fuss" hospitality, the Russian River "glamping" site will feature 24 custom Airstream travel trailers, 10 fully equipped luxury tents and a modern Frank Lloyd Wright-inspired pavilion. Guests will enjoy art installations, bocce courts and other outdoor games, along with speciality bikes, canoes and tennis. Rates are expected to average around $225.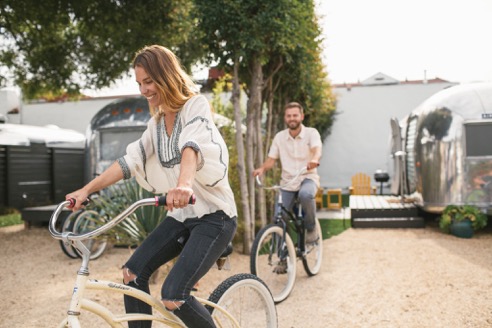 PLAY
Relax on the Russian River
If your idea of river experience is strenuous rafting a la "The River of No Return", you've come to the wrong place. The Russian River is best enjoyed by lying lazily back in a canoe or a kayak, and witnessing up close and personal the panorama of wildlife unfolding before you along the river. Bring a beach blanket and stop to savor the sun at one of the many hidden beaches along the river. For rental river requirements and recommendations, visit Burke's Canoe Trips in Forestville or King's Sport and Tackle in Guerneville.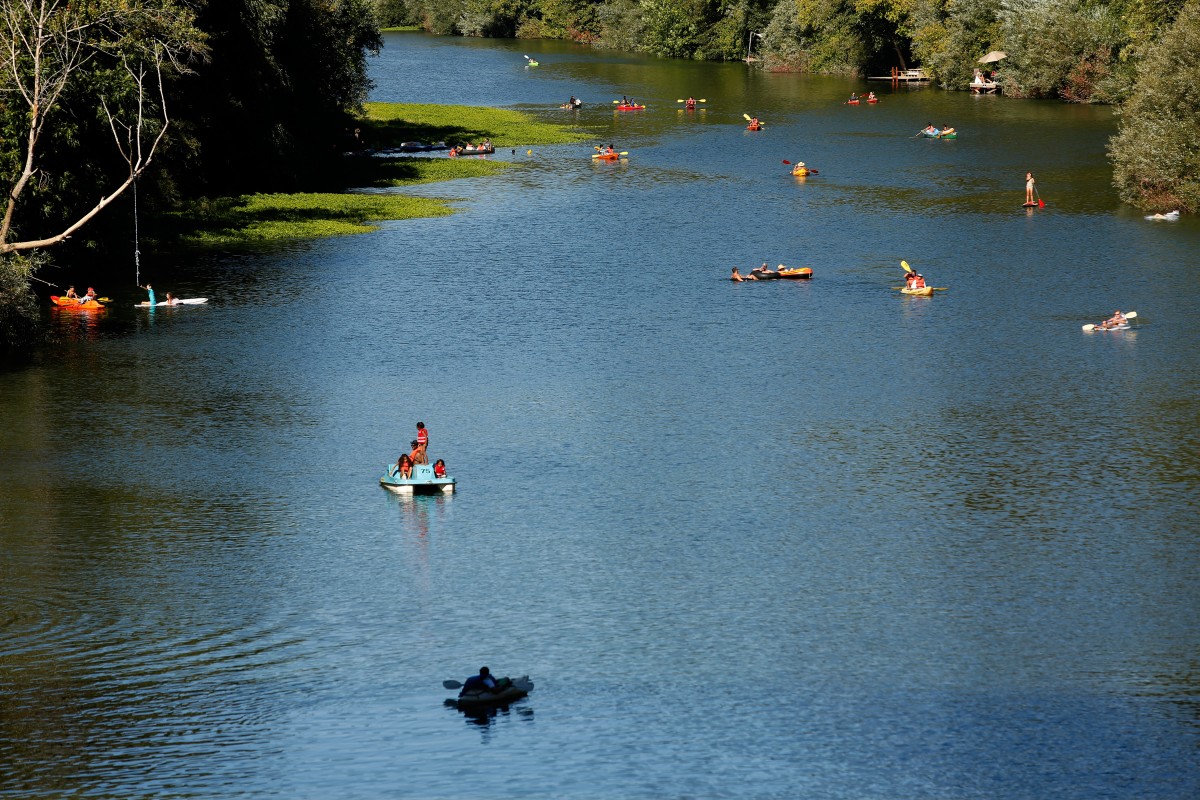 Stroll in Armstrong Woods
Avoid Muir Woods' instagramming tourists by experiencing the majesty of the redwoods in Armstrong Woods' relatively remote location near Guerneville. The serene beauty of these natural wonders offer solace from the hustle and bustle of daily life and provide a place for quiet reflection as the gentle giants whisper tales of time gone by…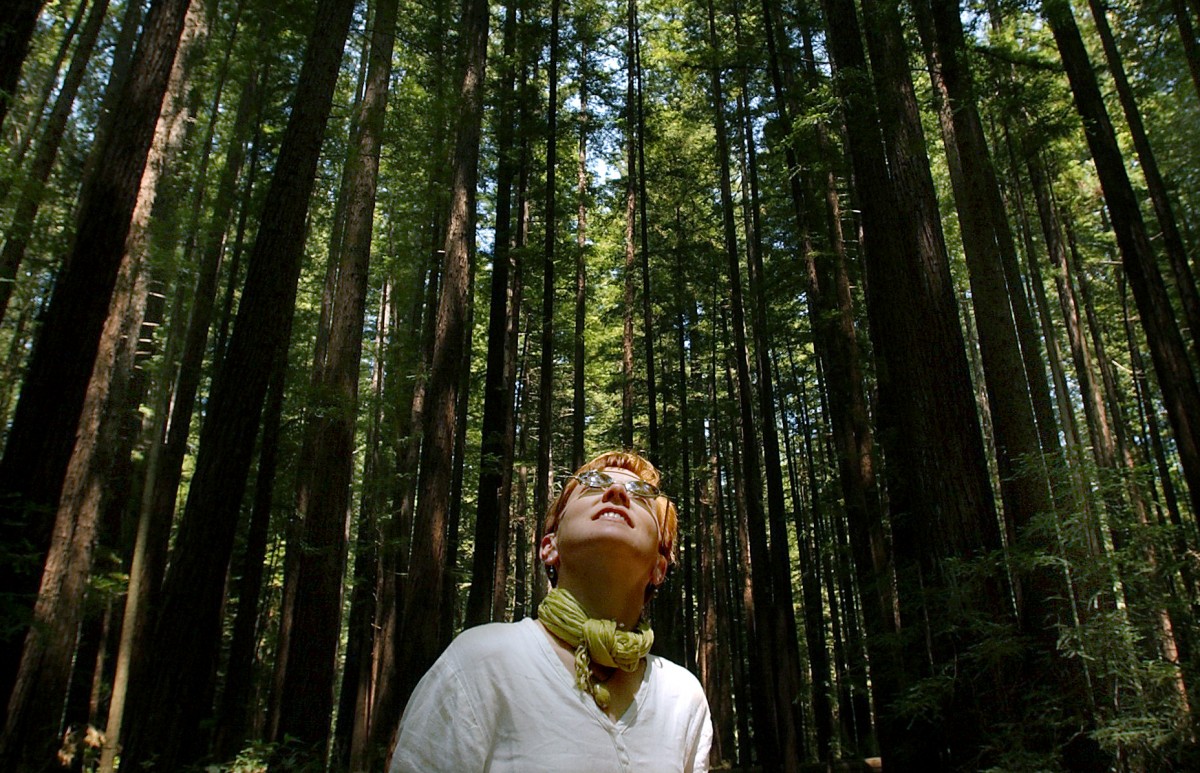 Browse Guerneville Main Street Stores (and side streets)
Rustic, renovated and retro storefronts line Guerneville's Main Street and make it an eclectic shopper's paradise. Start with a visit to Sonoma Nesting Company to pick up some local treasures for your home, then head on to dime store institution 5 & 10 for cheaper "collectibles" before stopping by Commerce Fine Goods for a carefully curated selection of local lifestyle creations. Continue to Second's First for some vintage clothing and then Mockingbird Books to add a literary twist to your Russian River retreat.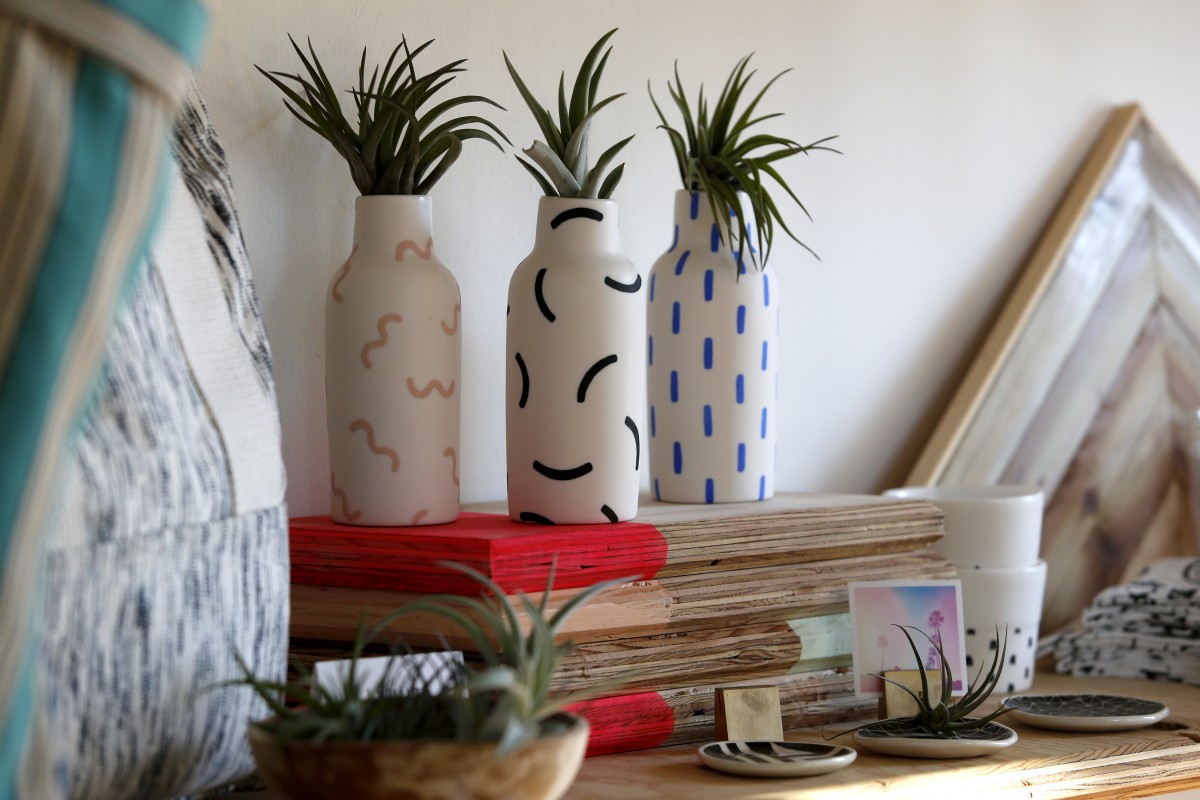 Enjoy Java and a Hut at the Rio Theater & Cafe
Alongside the no-nonsense bridge at Monte Rio, sits a most unusual movie house. The films screened in this historic Quonset hut, fronted by marquee, are just one feature of the Rio Theater. The breakfast-and-lunch cafe and coffeehouse on the elevated deck in the back is a second reason to go. The third reason is the weekend outdoor market.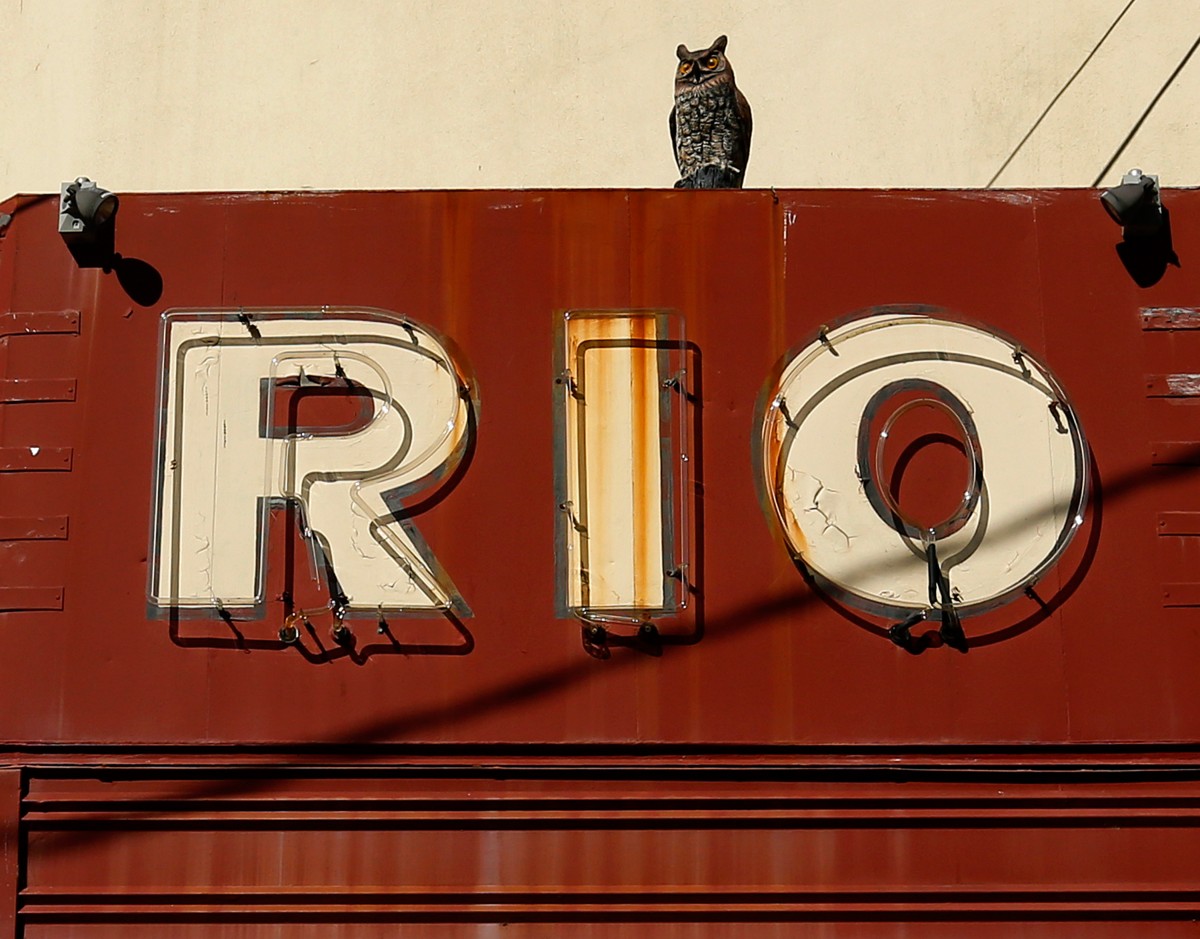 Watch a Civil War Redux at Duncan Mills or don your Stetson at the River Rodeo
Each year in July, hundreds of people gather in the Sonoma summer sun to march in itchy wool uniforms to re-enact clashes between Union and Confederate armies. Touted as the largest re-enactment of its kind in Northern California, this Duncan Mills extravaganza allows you to combine your chance to watch an authentic Civil War battle reenactment (albeit on a carefully mown battlefield) with the other great vacation attractions available in the Russian River area (and you're very welcome to put down your musket at any time to pick up some Civil War provisions at the onsite hot-dog shack). If you'd prefer watching cowboys wrestling calfs and riding bulls than soldiers marching in the mud, check out the top notch professional Russian River Rodeo held in Duncan Mills the third weekend in June.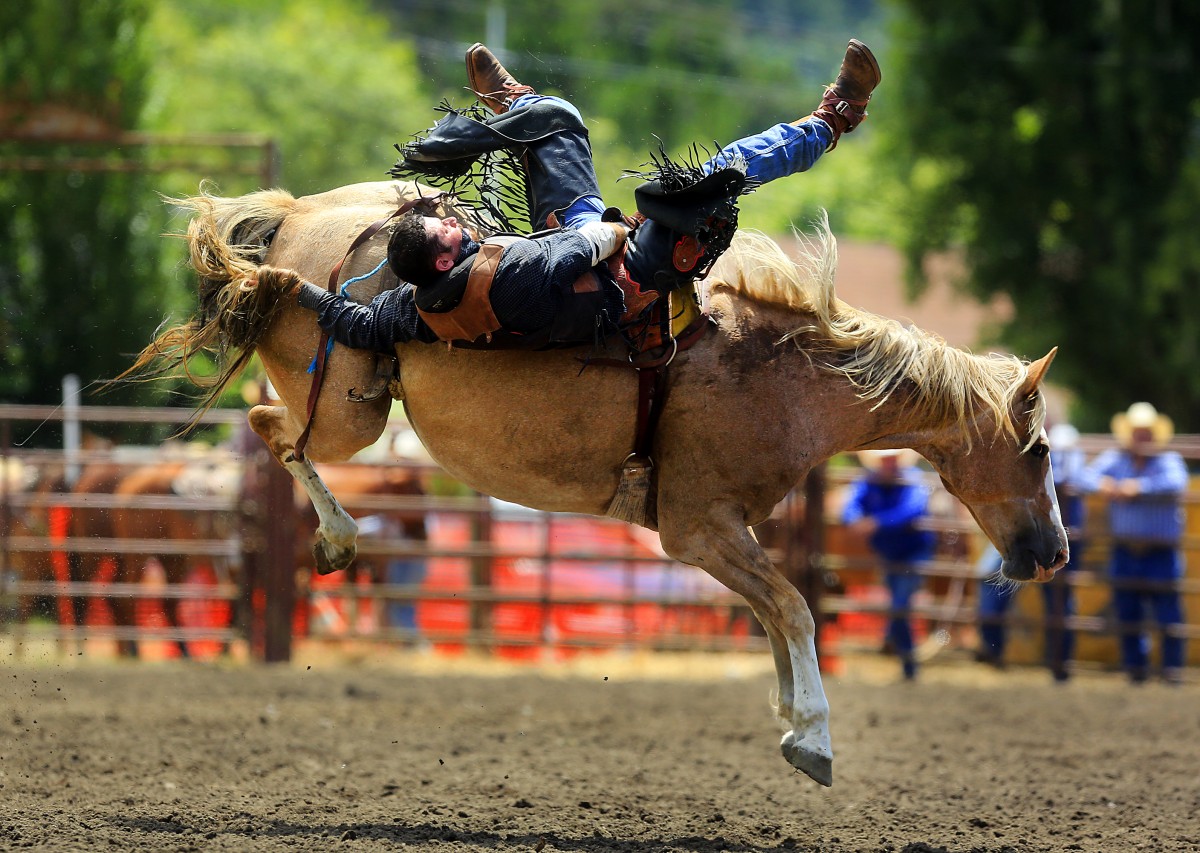 Enjoy Natural Pieces of Art at Goat Rock State Beach
Just south of the point where the Russian River meets the Pacific, this Sonoma Coast gem offers the kind of scenic beauty that only the powerful forces of nature can create: white capped wild sea-waves crashing against prodigious promontories have carved the rocky coastal landscape into abstract shapes and forms. Among these rugged structures are natural arches formed by the force of water eroding weaker strata of the rock formations. Perched on top of the central terrace rests a large rock, floating like a ship on the level surface (perhaps this is the namesake of the beach, the origins of its name are still disputed).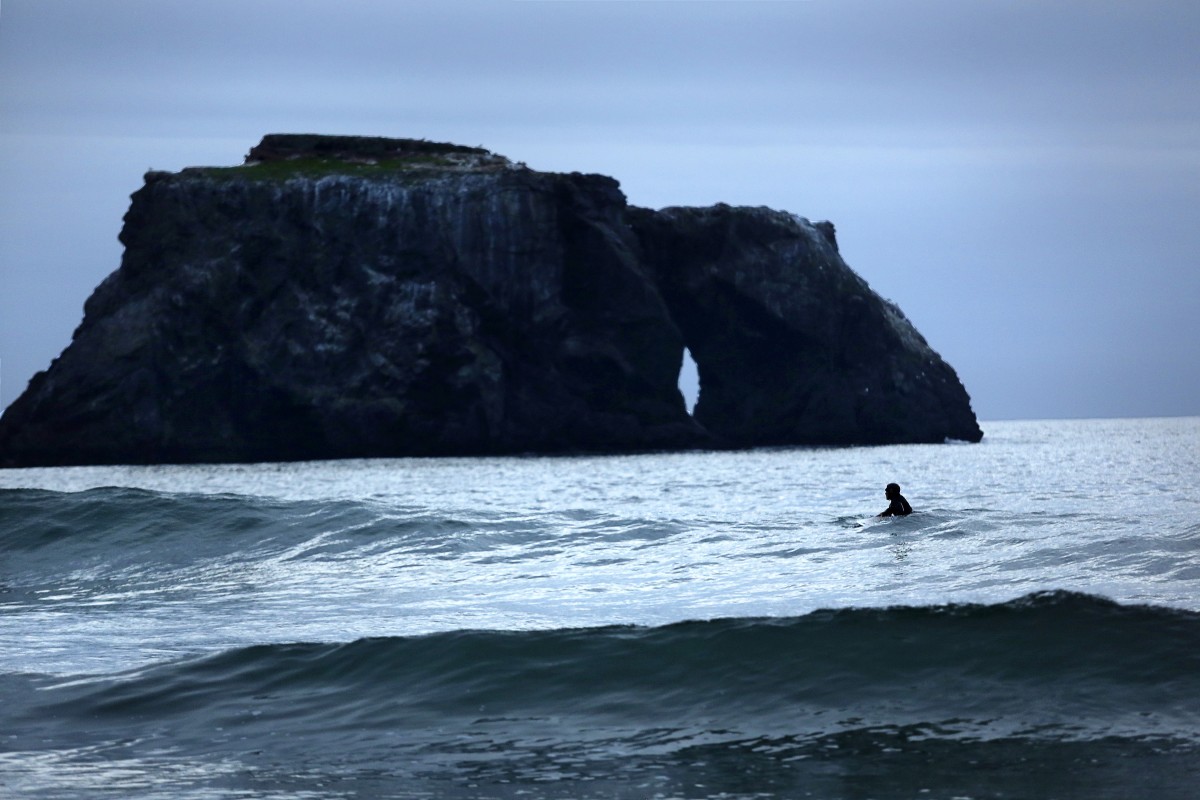 DINE
Boon Eat + Drink
A year after opening up Boon Hotel + Spa, Crista Luedtke launched this Guerneville bistro which perfectly pairs modern California cuisine with Boon's pared-down decor and minimalist philosophy. The proof of her success are evident in the lines that form on the sidewalk outside the restaurant.
Big Bottom Market
An institution on Guerneville's Main Street, this Luedtke labeled market offers a mix of vintage and modern sensibilities. Think gourmet deli, meets farmer's market, meets modern day general store — add in Luedtke's "lumberjack chic" signature style and you get the picture. This is your one-stop-shop for picnic preparations: from the vintage basket to the locally sourced cheeses, breads, meats, wines and brews.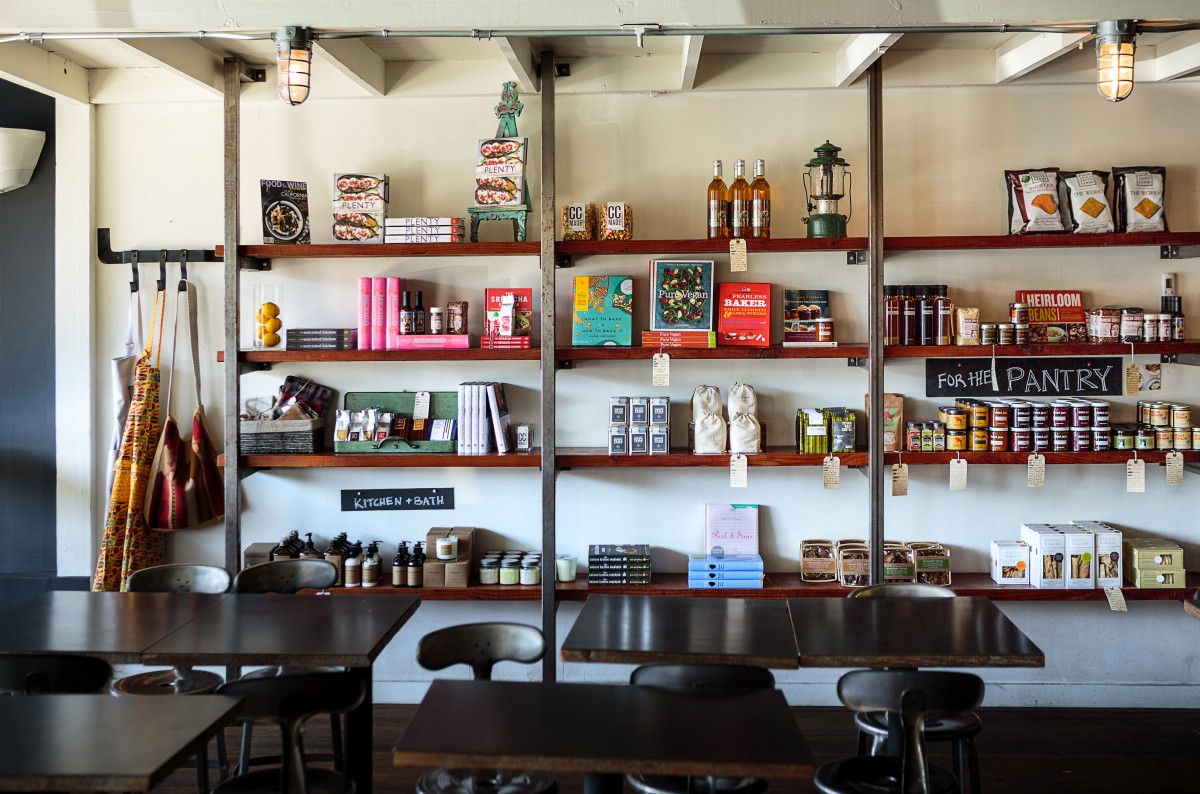 Coffee Bazaar
This quality coffeeshop shares space with Mockingbird Books. The establishment has its own Roast Master (Chris Goodman) and also serves up yummy breakfasts and displays locally sourced art. Around for over 30 years – in different shapes and forms (hence the reference to a bazaar), the building previously served as hardware store, beer hall and dancehall. At the rear of the Bazaar's parking lot is a former Victorian carriage house, now home to art gallery "Studio Blomster."
Guerneville Bank Club
The newly restored Guerneville Bank Club (circa 1921) offers an interesting mix of art shows, handcrafted pies, homemade ice cream, clothing and home accessories. The pies are baked at Chile Pies Baking Co. in a scrumptious variety of flavor: strawberry rhubarb, apricot cherry, or the signature chile apple pie. The inventive ice cream is the work of Nimble & Finn's: flavors include Bulleit Bourbon with chocolate covered pretzels, cold steeped Melody coffee, lavender honeycomb, and Meyer lemon olive oil with chocolate chunks. Both businesses craft their goodies right in the bank. (The mastermind behind the venture is, again, Crista Luedtke)
Village Inn
This charming Monte Rio inn has been a tradition on the Russian River since 1906. Scenes from the 1942 musical film "Holiday Inn," starring Bing Crosby and Fred Astaire, were filmed here (with a little help from some artificial snow). The movie score included Irving Berlin's best selling song, "White Christmas," which won an Academy Award for Best Original Song in 1942. When dining at the Inn, experience the glamour of its Hollywood past while enjoying "real food" grown by the community's finest farmers to the accompaniment of the best Sonoma County wines.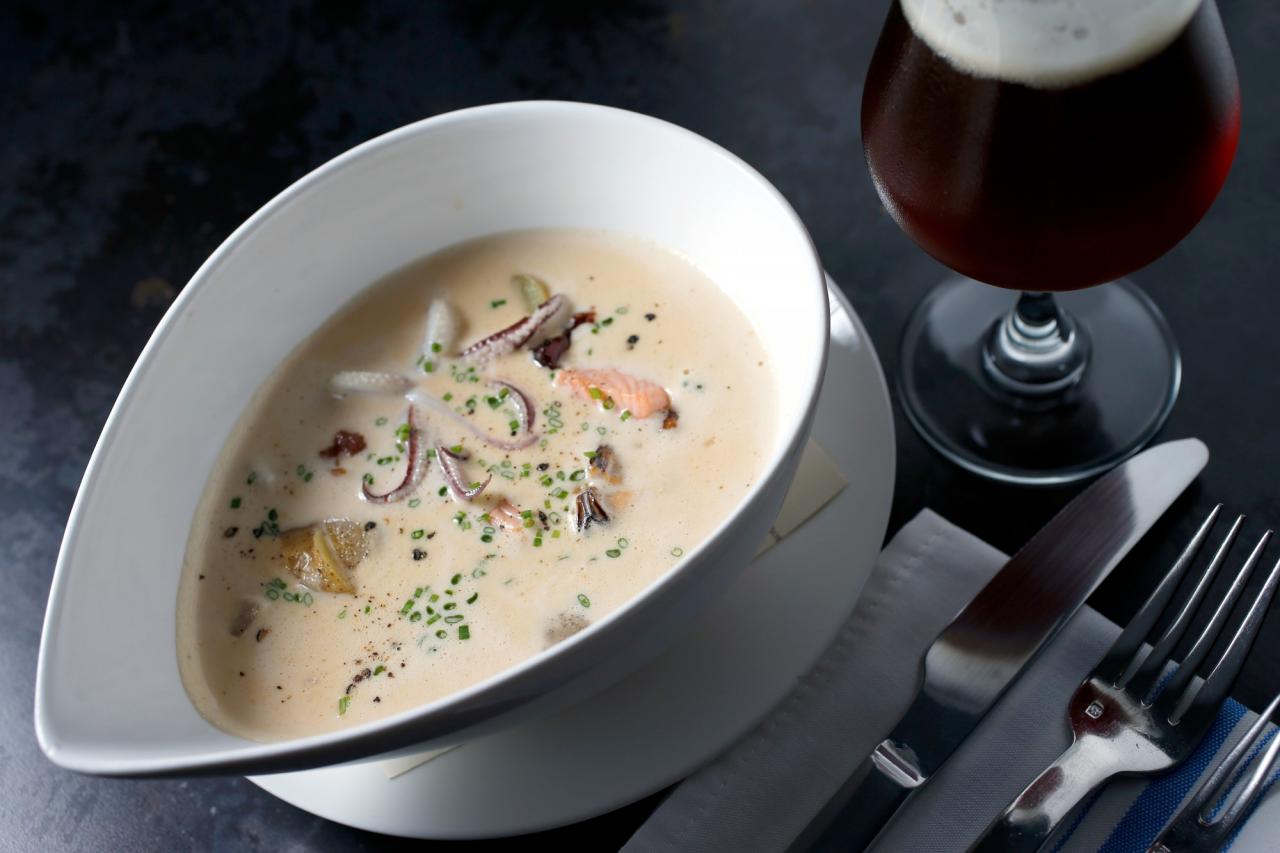 Seaside Metal
This seafood and raw oyster bar, run by twin brothers Mike and Tim Selvera, (who also own and operate Bar Crudo in San Francisco) opened in 2014 with raw fish dishes, hot and cold entrees and other seafood choices previously unavailable in Guerneville. Settling into a meal at this shoebox size seafood bistro always seems a dream come true.
Cape Fear Cafe
A California original – with a pinch of the Midwest and a touch of Southern flair – Cape Fear Cafe has been serving burgers, steaks, oyster poor boys and eggs benedicts to Duncan Mills residents and visitors for more than twenty years. Enjoy a meal in the warm and eclectic dining room or, on warm sunny days, dine alfresco on the cafe's pretty patio.
Gold Coast Coffee & Bakery
This cozy coffee shop is located in historic Duncan Mills, next to the General Store and The Depot Museum (Duncan Mills was once a stop on the Northwestern Pacific Railroad to Sausalito). Stop in for a cup of their finest house roasted coffee and pair it with a homemade pastry baked in the cafe's wood fired oven (which also bakes great tasting pizza!). Enjoy breakfast and lunch on a well appointed deck surrounded by lush gardens.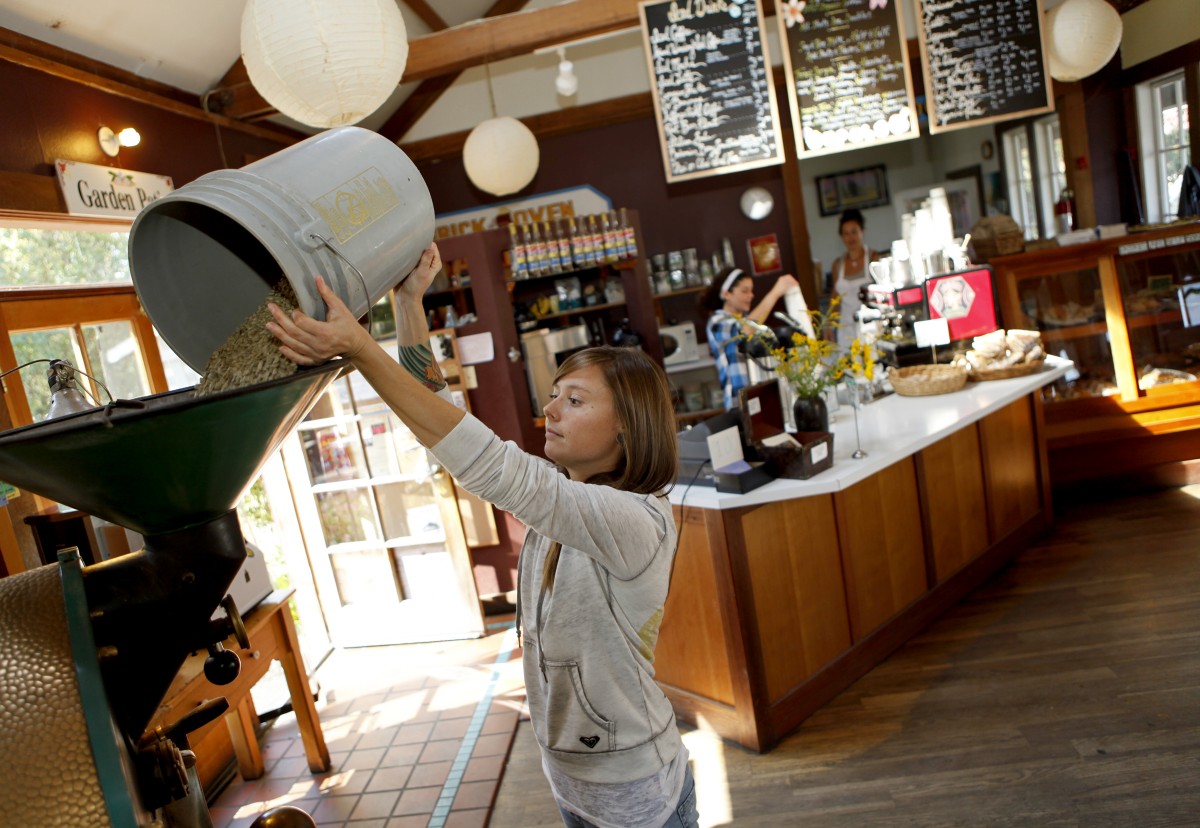 Raymond's Bakery
Raymond's bakery is an oasis of wonderful fresh baked breads and treats. The bakery is run by husband and wife team Mark and Elizabeth Weiss (who also operate charming Elim Cottages B&B on the same premises). "Use the best quality products, keep it simple, and never compromise" is the mantra of this award-winning Cazadero bakery. As you enter Raymond's, the baking smells wafting in the air immediately make you feel as though you've been transported… back in time to your grandmother's kitchen.
River's End
And finally, as a romantic finale to your Russian River retreat, dine in style where the river meets the sea and watch the sun set on the Western horizon. The website URL for River's End restaurant and inn is, very suitably, ilovesunsets.com.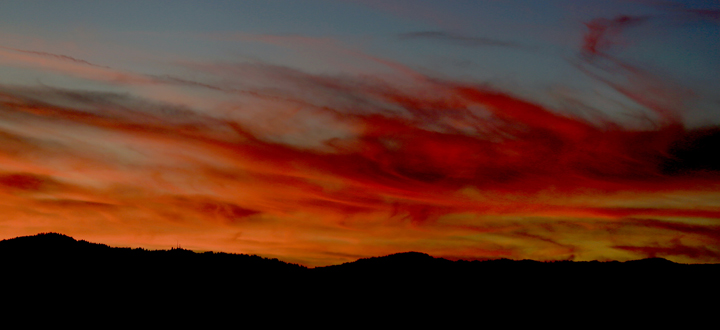 Looking for more things to do in Sonoma County? Click here