What kind of wine taster are you? Are you looking to revel in gorgeous gardens, or do you relish a fine coastal Pinot Noir? Is it all about classic Sonoma history, or are you seeking family producers a bit off the beaten track?
Whatever the reason, we've put together a Sonoma tasting guide to end all tasting guides, with over 120 recommendations—and right now, as grape trucks heavy with fruit roll along our country roads, is the perfect time to head out.
Click through the above gallery for a peek at a few of our favorite places to taste wine in Sonoma County.
"I Want to Support Smaller, Family-Owned Wineries—Ones a Bit off the Beaten Path."
Carol Shelton Wines: Set in an industrial district of Santa Rosa, this tiny tasting room can barely contain all the ribbons and awards that Shelton— known as the "Queen of Zin"—has won. $20. 3354-B Coffey Lane, Santa Rosa. 707-575-3441, carolshelton.com
Frick Winery: Bill Frick has been a one-man show for 47 years. Join him in the adorable Frick House for small-lot wines made from Rhône varieties grown on his 7.7-acre ranch. Free. 23072 Walling Rd., Geyserville. 707-484-3950, frickwinery.com
Enriquez Estate Winery: Cecilia Enriquez and her parents, Ana and Eduardo, produce about 1,000 cases a year of Pinot Noir and Tempranillo on the family's 8.5-acre vineyard. From $50. 5960 Eastside Rd., Forestville. 707347-9719, enriquezwines.com
Inman Family Wines: Try Kathleen Inman's balanced, foodfriendly Pinot Noir, Chardonnay, and sparklers at this welcoming spot set in an organic vineyard. $30. 3900 Piner Rd., Santa Rosa. 707-293-9576. inmanfamilywines.com
Baker Lane Estate/Singer Wine: Stephen Singer ran the wine program at Berkeley's Chez Panisse with his former spouse, Alice Waters. He welcomes a few guests each week for a light meal and tasting of biodynamically farmed Syrah and Viognier. From $85. 7361 Baker Lane, Sebastopol. singer.wine
Bruliam Wines: Physician-turned-winemaker Kerith Overstreet makes just 1,000 cases—mainly single-vineyard Pinot Noir—each year. $30. 1200 American Way, Windsor. bruliamwines.com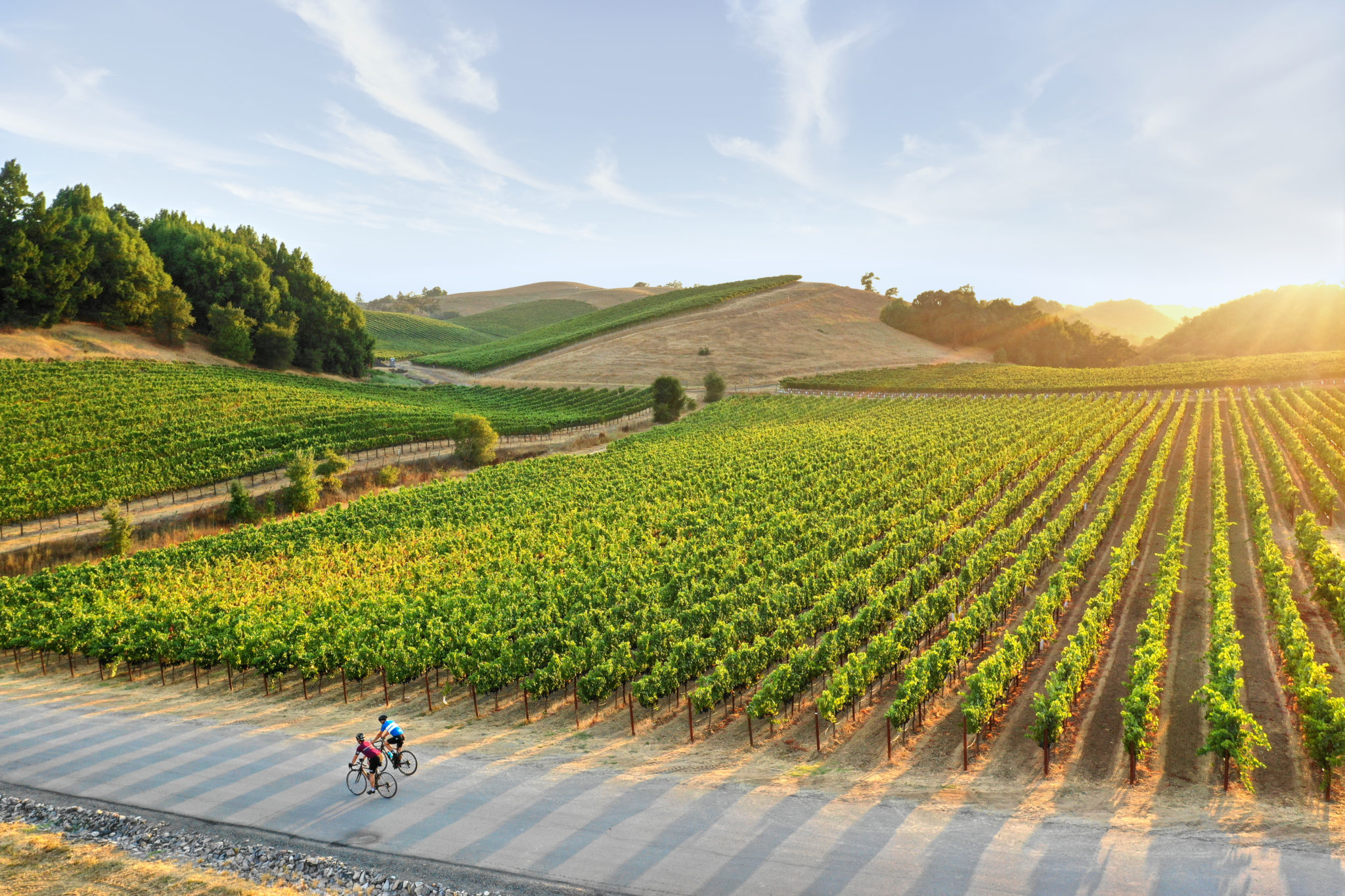 AVA Spotlight: Russian River Valley
Home to some of Sonoma's oldest, most-prized vineyards, the Russian River Valley is widely recognized for premium Pinot Noir and Chardonnay. The region is known for generously sunny days and cool, foggy nights, but given the diverse sub-regions, other varietals thrive here, too, like Zinfandel, Merlot, and even cool-climate Syrah.
Favorite destinations include Gary Farrell Vineyards & Winery, where winemaker Theresa Heredia has been creating her own legacy of award-winning Pinot. Fellow pioneering labels like Merry Edwards, Williams Selyem, Rochioli, and MacRostie Winery & Vineyards helped establish the Russian River Valley as an epicenter of premium Pinot Noir.
Sonoma-Cutrer and Balletto are ever-popular tasting spots and a crackling fireplace beckons at Benovia Winery. 
The Dutton family of Dutton Estate have been farming in the Russian River region for six generations. And David Ramey of Ramey Wine Cellars is considered among the state's most innovative winemakers. Tastings here overlook the production facility, for a glimpse of the magic in action.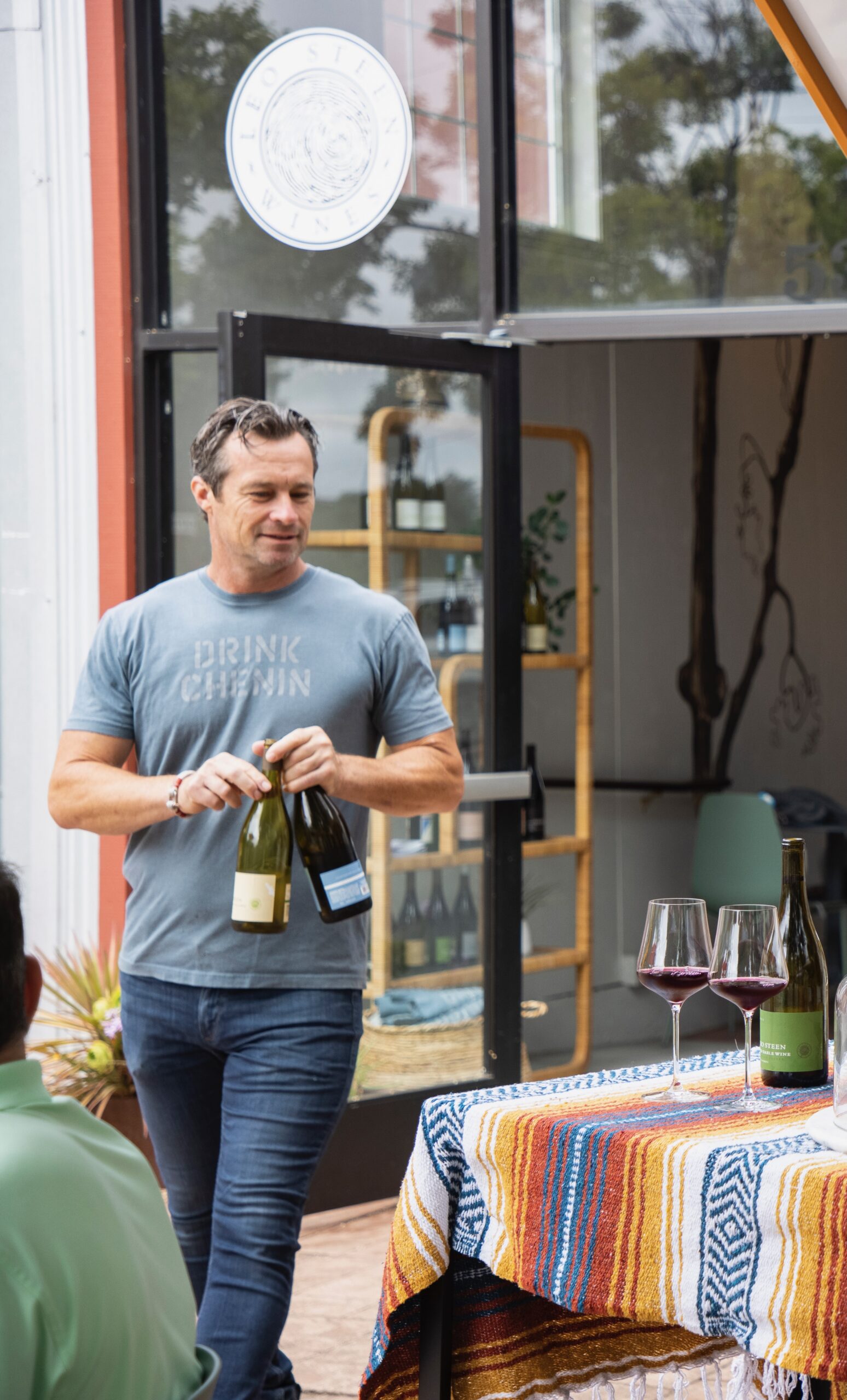 Taste With a Pro: Leo Hansen, Leo Steen Wines
The Drink (53 Front St., Healdsburg), located in the 1800s-era Old Roma Station building, is a shared tasting room for two standout labels: Hansen's Leo Steen Wines (leosteenwines.com) and his buddy Mike Lucia's Rootdown Wine Cellars (rootdownwine.com).
"The space was built as a co-op for Italian immigrants to make wine, and later became a fruit-drying facility during Prohibition," explains Hansen.
His pick is the vibrant, green applekissed Saini Farms Dry Creek Valley Chenin Blanc, from one of the oldest planted Chenin Blanc vineyards in Sonoma County. "I love creating food-friendly, low alcohol wine from this sleek, silky variety," he says.
And Hansen loves meeting his guests—he leads tastings of six wines 7 days a week ($30). After tasting at The Drink, Hansen likes to recommend that folks walk just a few blocks along the Russian River to Arnot-Roberts (arnotroberts.com). "They make fantastic wines with fun varietals like Ribolla Gialla, Trousseau, and Gamay Noir."
3 Great Kid-Friendly Wineries
Belden Barns, Santa Rosa: Scavenger hunts, explorer backpacks to borrow, and a special wishing tree, beldenbarns.com
Preston of Dry Creek, Healdsburg: Ultra laid-back, with rambling gardens to explore, kitties to pet, and hearth-baked sourdough bread. prestonofdrycreek.com
Cline Cellars, Sonoma: A historic property with sprawling gardens. Picnicking is welcome, and there are cute donkeys, too. Be sure to ask for a coloring map of their property to keep the kiddos entertained. clinecellars.com
No Car Needed: Petaluma
Petaluma has a Norman Rockwell feel, but locals know aspects of the town are just as edgy as San Francisco, just 35 miles to the south. Several excellent tasting rooms beckon here.
Barber Cellars (barbercellars.com), in the Art Deco-style Hotel Petaluma, features standout Zinfandel, classic '80s arcade games, and an interesting food pairing consisting of a Ukrainian-style zakuski platter of cheeses, salads, and savory pastries.
The future Adobe Road Winery, from former race car driver Kevin Buckler (adoberoadwines.com) is under construction along the Petaluma waterfront. For now, Adobe Road tastings are held in the historic Great Petaluma Mill.
And nearby Brooks Note Winery & Tasting Room (brooksnotewinery.com) is in a 1920s-era building. The flagship here is Pinot, but don't miss the food-friendly Blaufrankisch, paired with local cheese.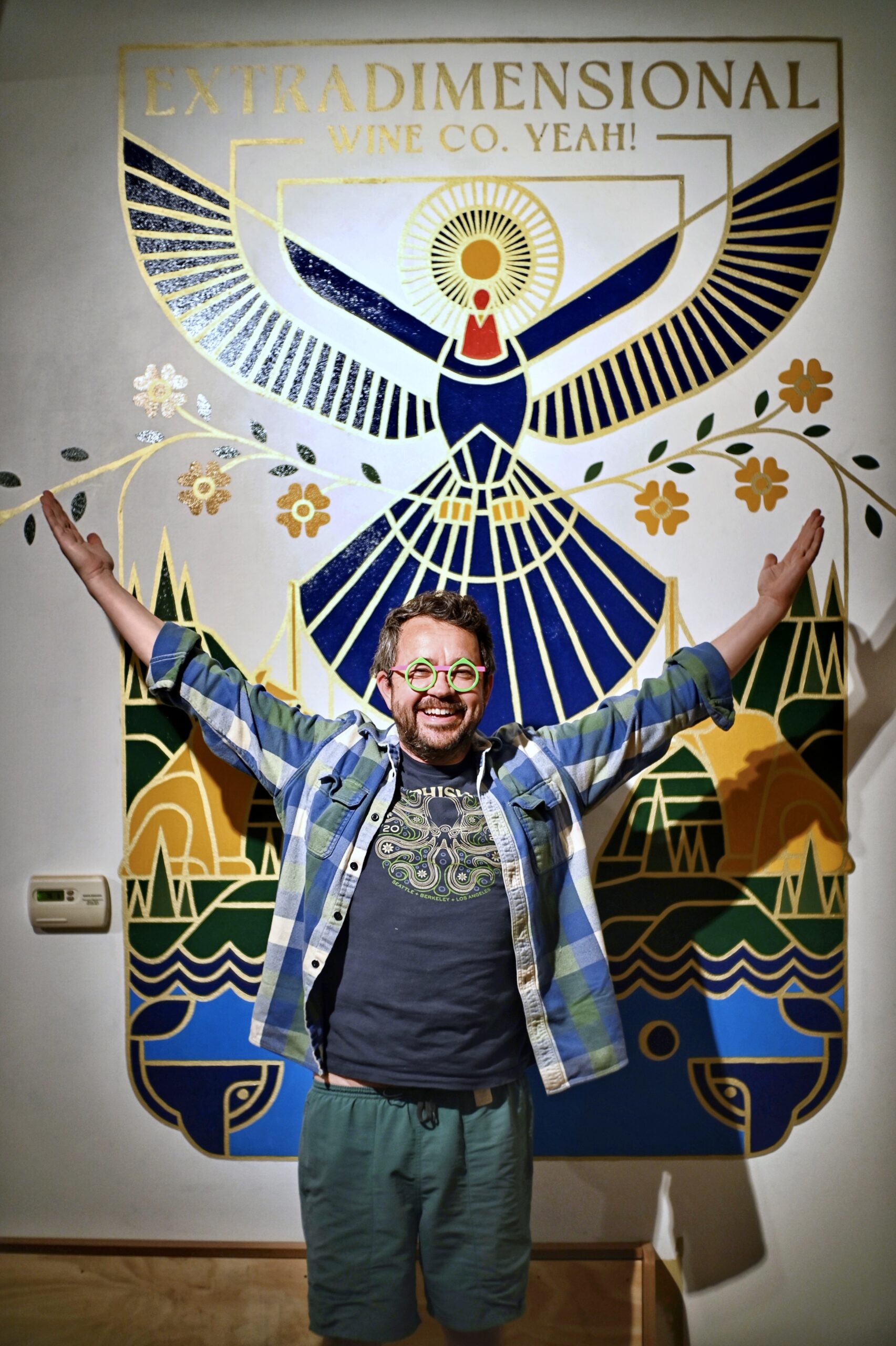 From award-winning winemaker Hardy Wallace, the most exuberant man in all of Wine Country, the brand-new Sonoma tasting room for Extradimensional Wine Co. Yeah! is a kaleidoscope of creativity and artistic intention. winecoyeah.com
''Shifting the Lens" at sparkling wine specialist J Vineyards & Winery invites chefs from diverse backgrounds to take over the menu at their popular Bubble Room. In September, the honor goes to Ana Castro of Mexico City, one of Food & Wine's 2022 Best New Chefs. jwine.com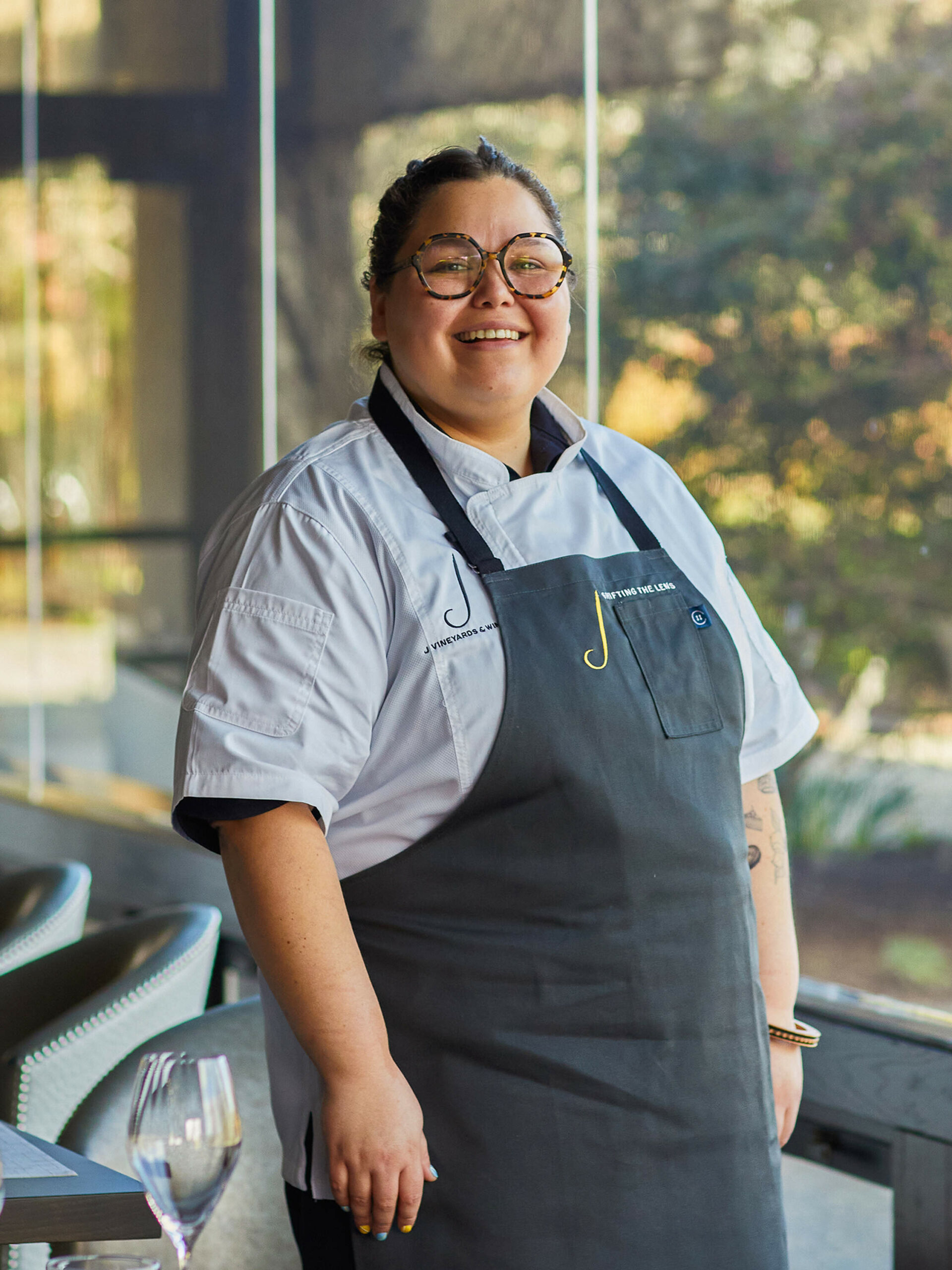 2 Great Spots for Live Music
Muscardini Cellars, Kenwood: Italian varietals and live music every weekend April to October, with Simmer Down Saturdays and Sip & Sway Sundays. muscardinicellars.com
Rodney Strong Vineyards, Healdsburg: Beloved for their summer concert series, with major artists like Chris Isaak and Blues Traveler. Reserve a seat or bring a blanket and sit on the green. rodneystrong.com
"I'm a Total Foodie. Where Can I Have a Delicious Meal With My Tasting?"
Bricoleur Vineyards: The food program here is so meticulously handled that it takes three chefs to run it, including famed chef Charlie Palmer. The Rooted tasting ($125) impresses with a seasonal six-course meal with artistic dishes like handmade sweet shrimp siu mai dumplings with lemongrass and ginger. 7394 Starr Rd., Windsor. 707-857-5700, bricoleurvineyards.com
Kivelstadt Cellars: Kivelstadt's bucolic tasting room is also an exceptional restaurant called Bloom Carneros from chef Jennifer McMurry. 22900 Broadway, Sonoma. 707-9387001, kivelstadtcellars.com
Lynmar Estate: Chef David Frakes' expensive-but-worth-it Collectors Lunch Pairing ($250) includes an exquisite, multi-course meal with dishes such as chile-Persian lime dusted watermelon with blistered stonefruit slaw. 3909 Frei Rd., Sebastopol. 707829-3374, lynmarestate.com
Jordan Vineyard & Winery: Last April, Jesse Mallgren left The Madrona, the Michelin-star restaurant he had run for nearly 25 years, and took his toque over to the glamorous Jordan, amping up an already upscale program. 1474 Alexander Valley Rd., Healdsburg. 707-431-5250, jordanwinery.com
Paul Hobbs Winery:Chef Timothy Kaulfers joined this luxury spot in April to lead the Vineyard Designate tasting experience ($250), offering six rare wines alongside delectable dishes like housemade chicken sausage with an onion and fennel soubise. 3355 Gravenstein Hwy. N., Sebastopol. 707-824 9879, paulhobbswinery.com
Mayo Family Winery: Chef John Locher serves a delightfully inventive, meal with small-batch reserve wines in the Reserve Room ($80). 13101 Arnold Dr., Glen Ellen. 707-833-5504, mayofamilywinery.com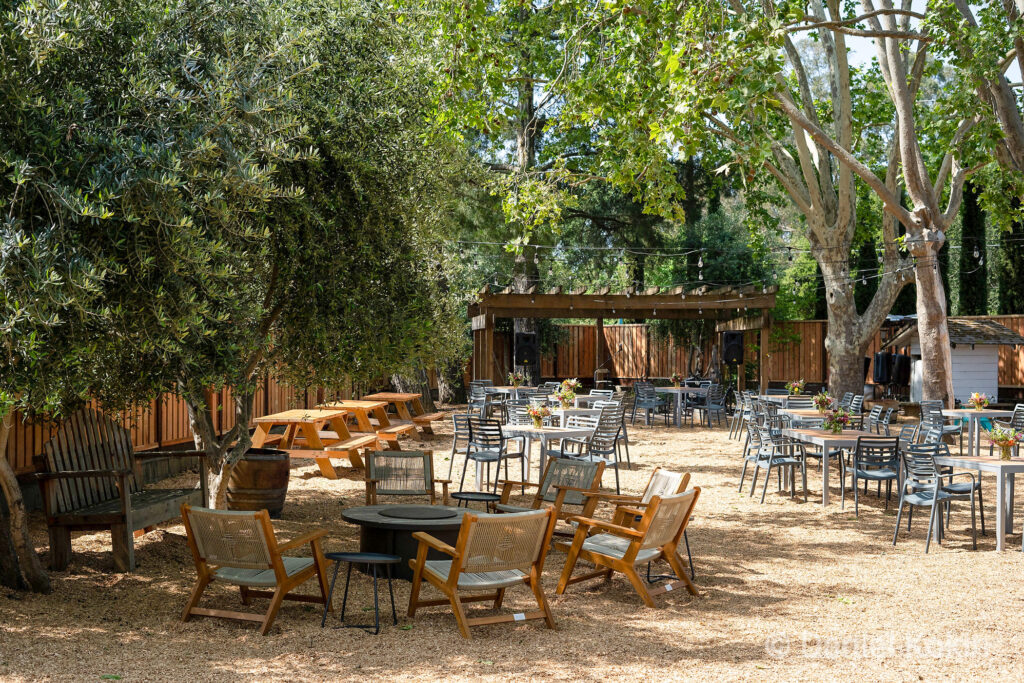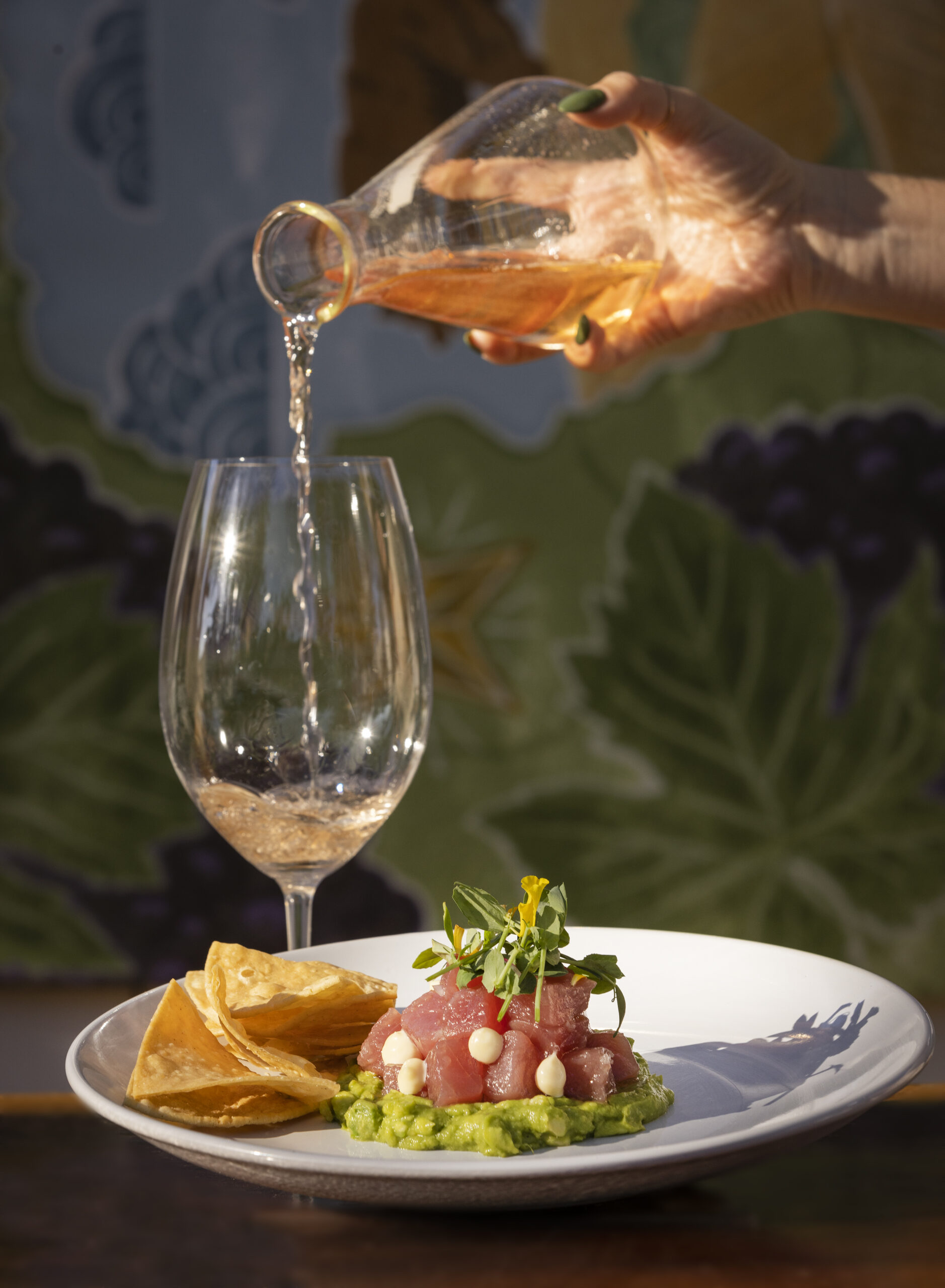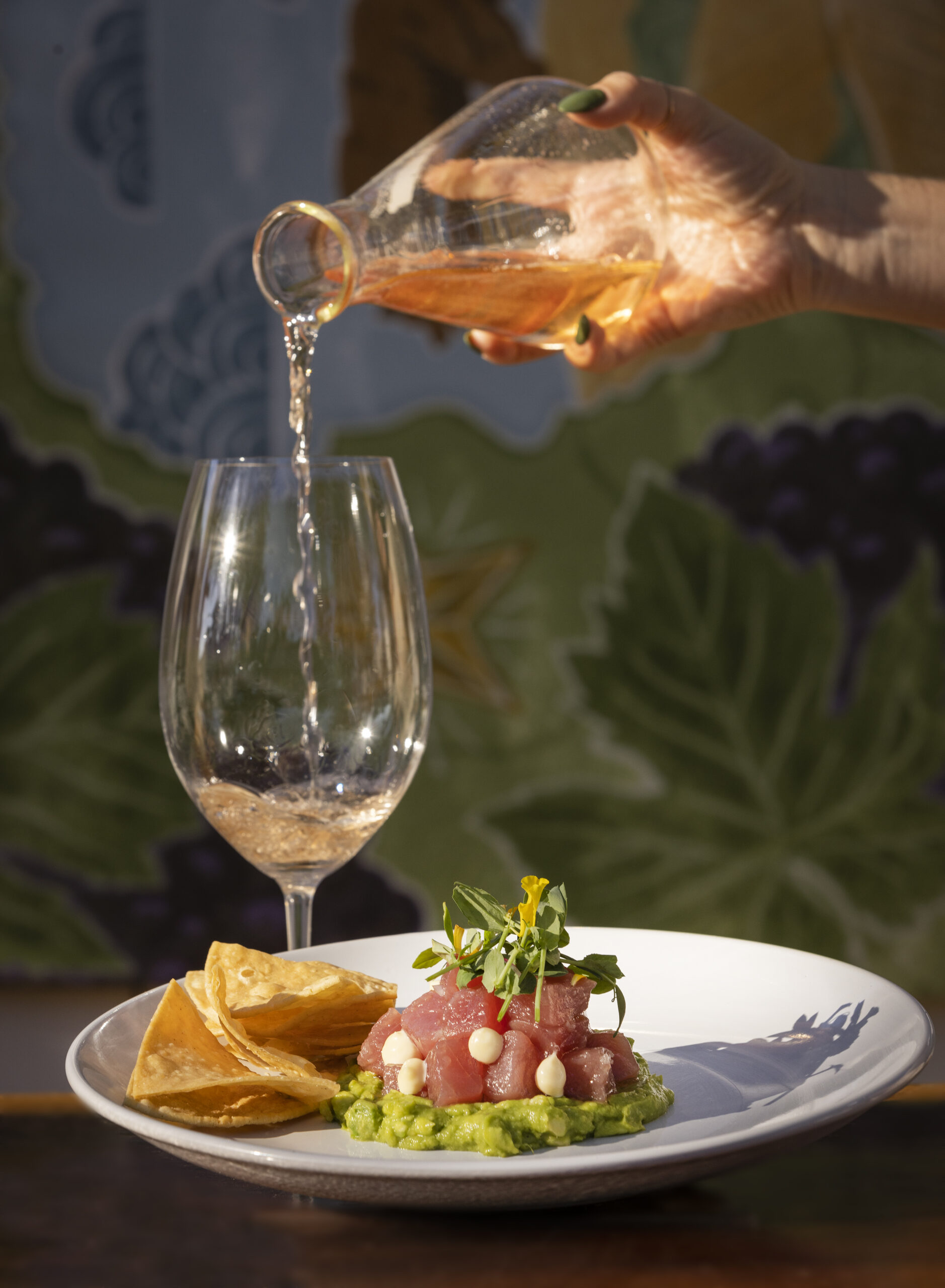 AVA Spotlight: Sonoma Valley
Stretched along the Mayacamas Mountains to the east and the Sonoma Mountains to the west, this beautiful area encompasses five distinct appellations and many microclimates ranging from brilliant sunshine to cool coastal fog. Given the climate, many types of grapes can thrive here.
Visit the 1,850-acre Kunde Family Winery for a mountaintop tasting, Chateau St. Jean for a garden stroll and tasting at the historic 1920s chateau, or VJB Cellars for Italian varietals and wood-fired pizzas on the Tuscan-style piazza.
Arrowood is famous for its warm-climate Cabernet Sauvignon and gracious tastings on its veranda, while Loxton Cellars and Hamilton Family Wines are boutique gems where you can see operations up-close, from grape to glass.
No Car Needed: Downtown Sonoma
Over 20 wineries have tasting rooms around downtown Sonoma's shady plaza, making it an excellent destination for a day of tasting without the need for a designated driver.
Tom Darling of indie natural wine producer Darling Wines, down a pretty alleyway at the south end of the square, hit a home run with his very first vintage of cool-climate Syrah in 2017, which made the wine list at Thomas Keller's Bouchon.
Pangloss Cellars (below) is a chic, airy tasting salon for Rhone varietals, with stone walls and wide windows out onto the park. Sosie Wines, right near Darling, makes three sparklers: red, white, and rosé, as well as an interesting Moon Mountain Cabernet Sauvignon.
And Sojourn Cellars is the spot for single-vineyard Pinot Noir from the Petaluma Gap, Russian River, and Sonoma Coast.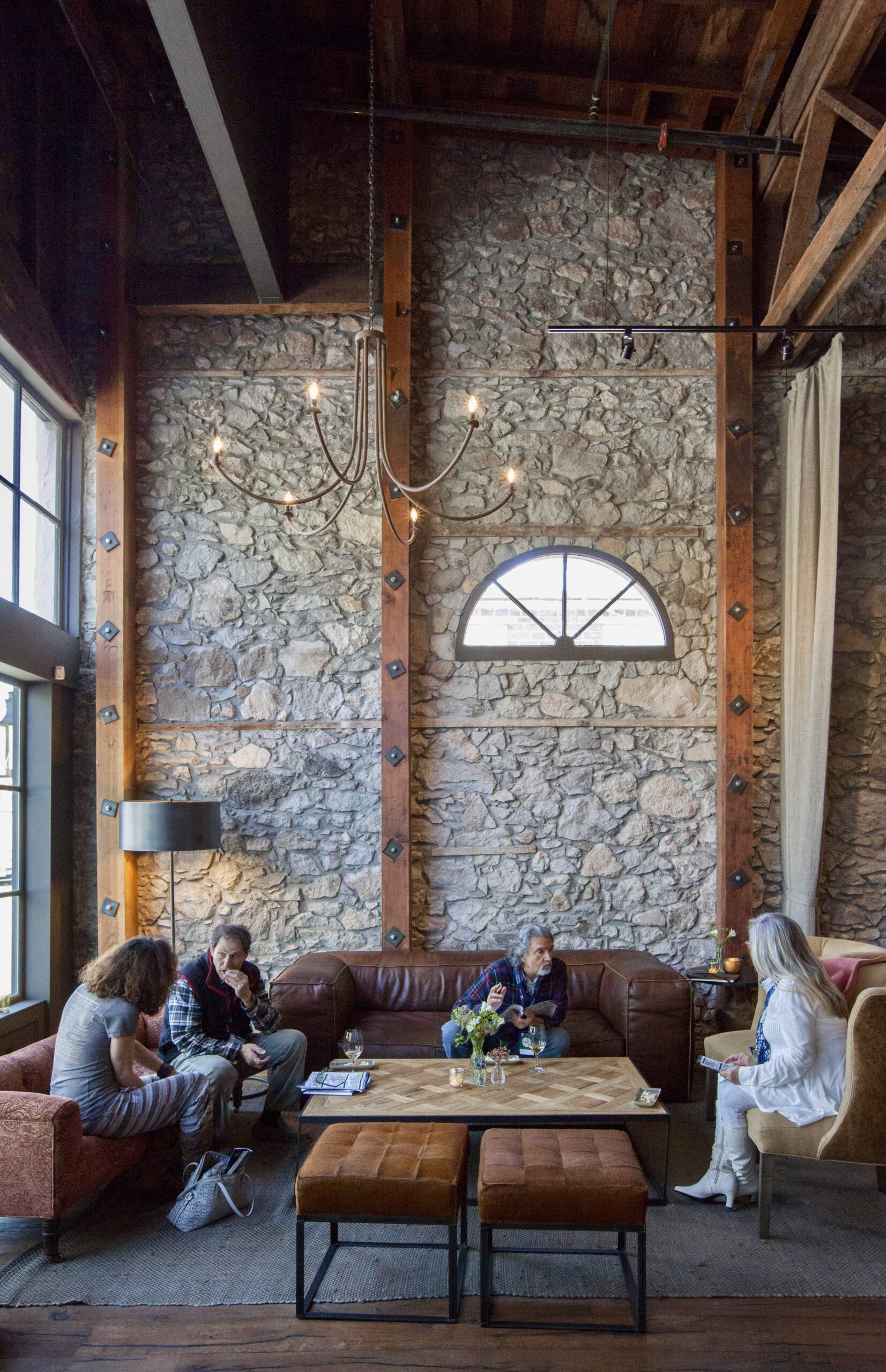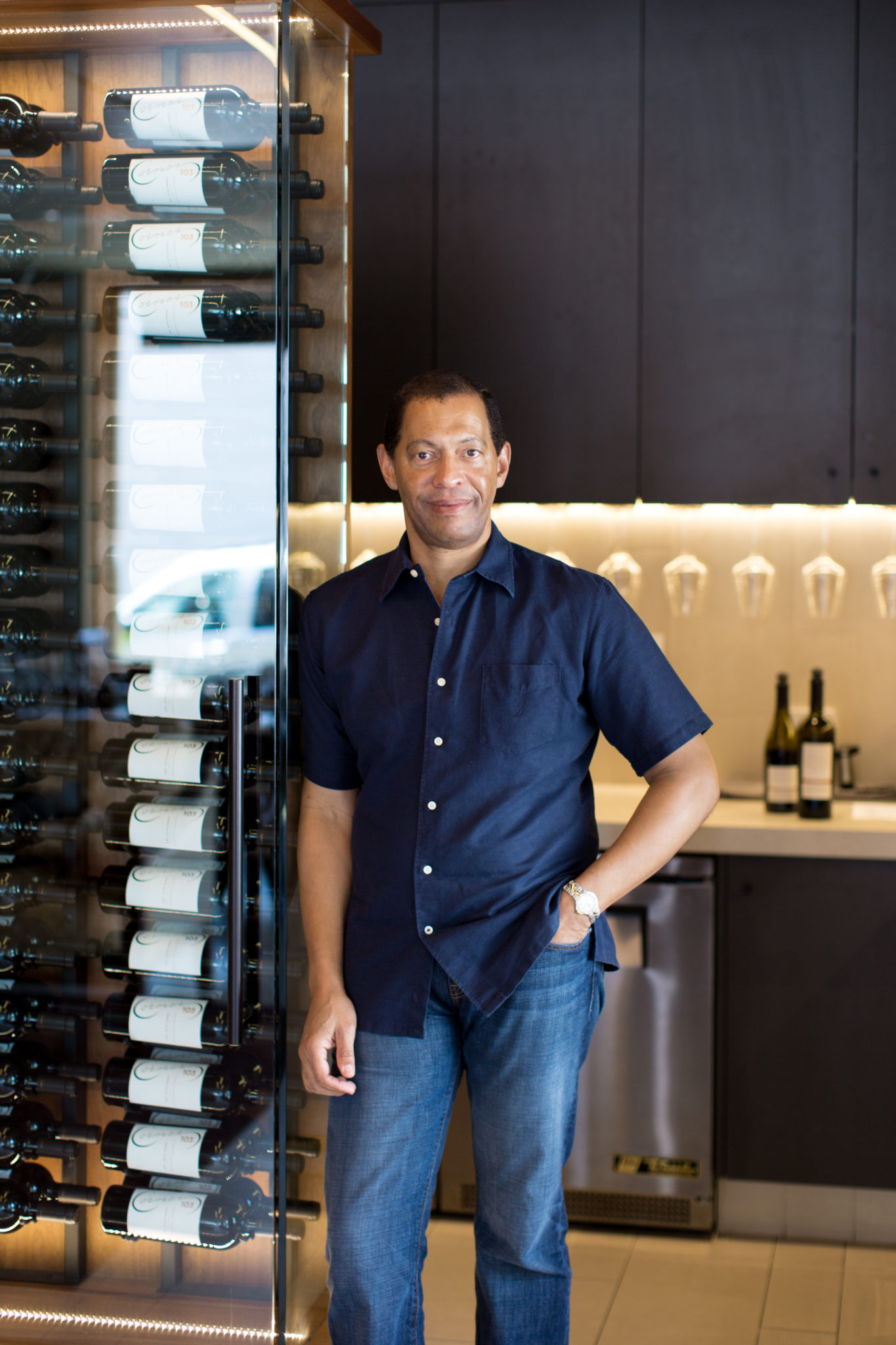 Founder Lloyd Davis has earned all kinds of recognition for his Corner 103 boutique tasting room in downtown Sonoma, including being named one of the top 10 tasting rooms in the country—twice. Davis credits the Black Lives Matter movement for making guests more aware of the importance of diversity in the wine industry and strives to make wine approachable to all. corner103.com
Free Tastings
At historic Korbel Winery in the Russian River Valley, the standard "marketplace" tasting is free, and a flight of five different sparklers is just $20 (korbel.com). And the super-friendly Locals Tasting Room in Geyserville offering tastings from 10 different local boutique producers, gratis (localstastingroom.com).
3 Great Spots to Play Bocce
Landmark Vineyards, Kenwood: Outdoor tastings by a lake and bocce for groups as large as 15. landmarkwine.com
Roth Estate, Healdsburg: Dedicated to powerful Cabernet from the Alexander Valley, Roth also hosts a bocce and barbecue tournament each spring. rothwinery.com
Dutcher Crossing, Geyserville: Play pétanque (another boules sport) on a court overlooking vineyards. Plus, get snuggles from cute golden retrievers. dutchercrossingwinery.com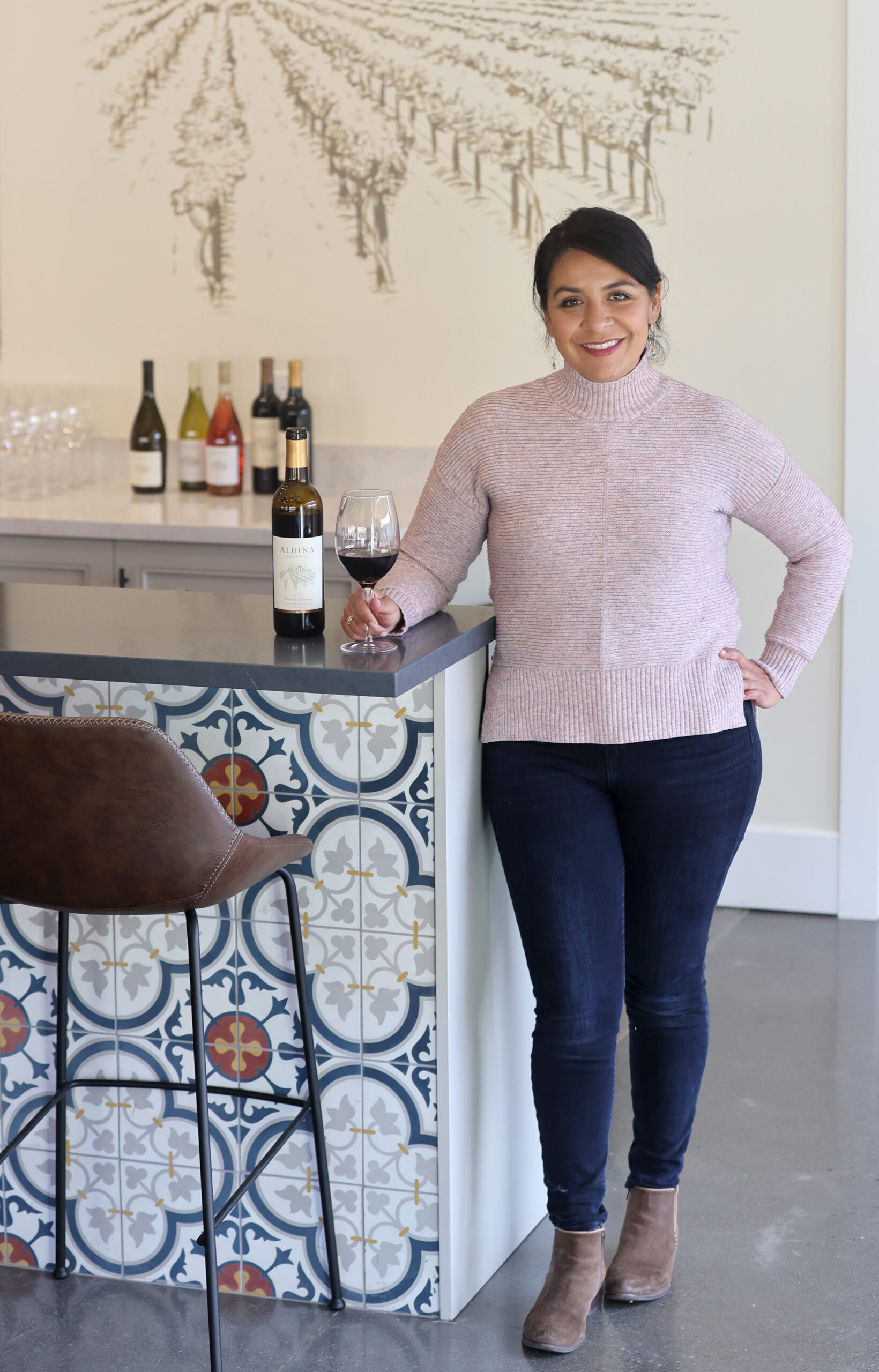 Taste With a Pro: Monica Lopez, Bacchus Landing
At this winery collective just outside Healdsburg, general manager Monica Lopez knows a thing or two about tasting rooms. After all, seven different boutique wineries welcome guests to the 3-acre property, which also has wood-fired pizza, a bocce court, and live music.
"I love being outdoors, so we put a lot of work into making Bacchus Landing a place you could relax outside," says Lopez, whose family winery, Aldina Vineyards, is one of the seven tasting rooms on-site (tastings from $25). "We really want to encourage guests to purchase a bottle of wine and just hang out."
On the rare occasions when Lopez isn't leading tours at Bacchus Landing, she has a penchant for tasting rooms with beautiful outdoor spaces, like Robert Young Estate in Geyserville (ryew.com).
Bacchus Landing. 14210 Bacchus Landing Way, Healdsburg. 707-395-0697, bacchuslanding.com
"It's a Special Occasion, And I'm in the Mood To Splurge."
Aperture Cellars: Modern luxury meets refined hospitality, where rockstar winemaker Jesse Katz continues to impress with his revered Bordeaux-style wines. There is plenty of eye candy here, including images from Katz's father, photographer Andy Katz. Clearly, talent is a family affair. From $50. 12291 Old Redwood Hwy., Healdsburg. 707-200- 7891, aperture-cellars.com
Silver Oak: Those who adore Cabernet will find much to fall in love with here. The winery produces an acclaimed expression of the Bordeaux varietal each year. From $50. 7300 Hwy. 128, Healdsburg. 707-942-7082, silveroak.com
Flowers Vineyards & Winery: There are few better ways to impress than a visit to Flowers Vineyards & Winery, where a short walk through the redwoods reveals a masterfully designed tasting room, California-inspired gardens, and acclaimed Chardonnay and Pinot Noir from the Sonoma Coast. From $75. 4035 Westside Rd., Healdsburg. 707-723-4800, flowerswinery.com
The Donum Estate: Spanning 220 idyllic acres in the Carneros, The Donum Estate is designed to dazzle, with more than 50 thought-provoking large-scale sculptures. The most exclusive tasting ($500) happens inside a kaleidoscopic pavilion of colored glass. From $150. 24500 Ramal Rd., Sonoma. 707-732- 2200, thedonumestate.com
Vérité Winery: Twenty minutes east of Healdsburg, Vérité seems to appear out of thin air, a dramatic, Abbey-inspired estate on a bucolic stretch of road. Fatherdaughter winemakers Pierre and Hélène Seillan have produced 17 hundred-point wines—all Bordeaux-style blends that reflect the region's many micro-crus. From $200. 4611 Thomas Rd., Healdsburg. 707-433-9000, veritewines.com
Hamel Family Wines: Impressive views of the biodynamically-farmed vineyards, bespoke wine and food pairings, and small-production Cabernet Sauvignon and Bordeaux-style blends all lure guests to this special spot in Sonoma Valley. From $95. 15401 Sonoma Hwy., Sonoma. 707-996-5800, hamelfamilywines.com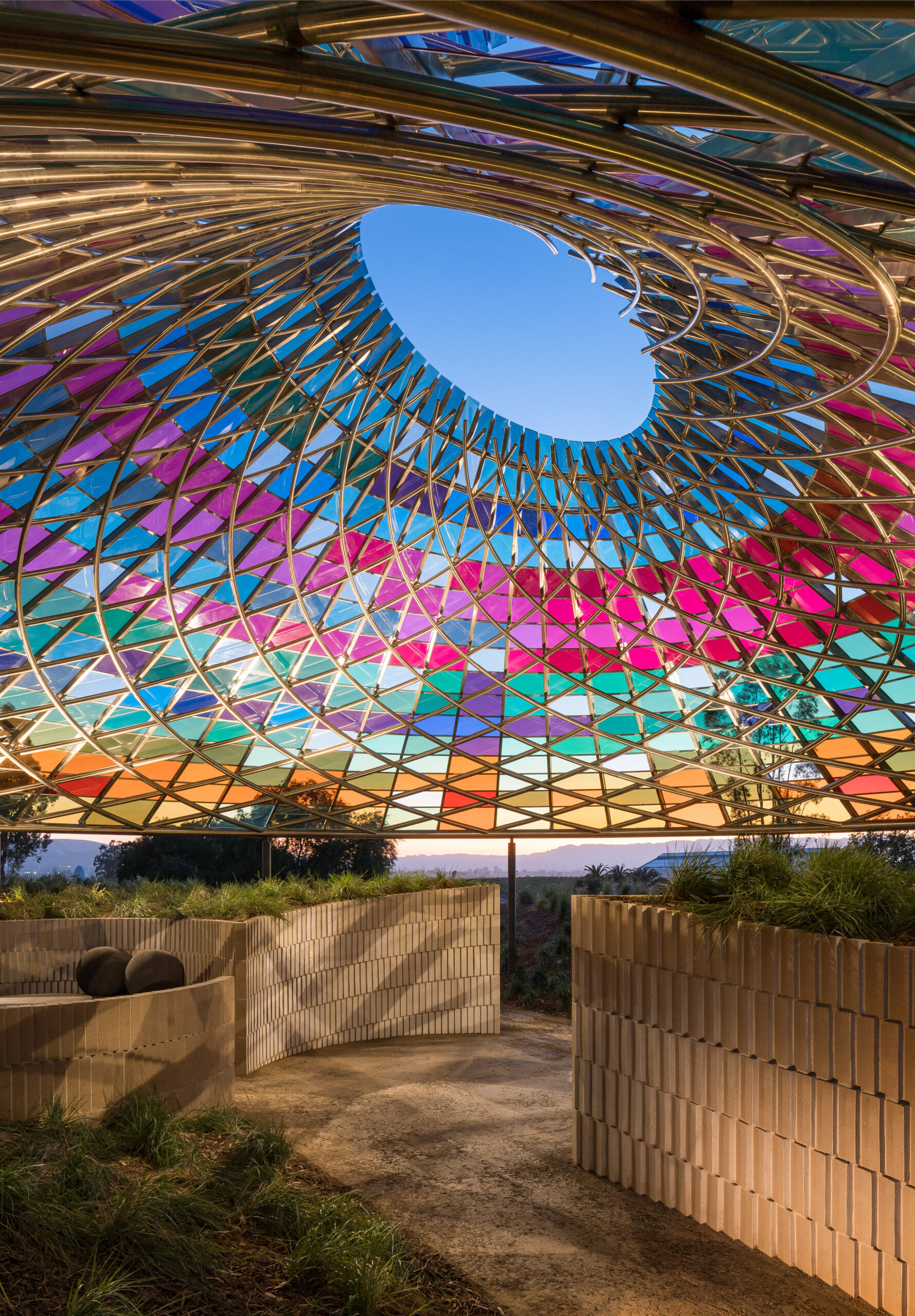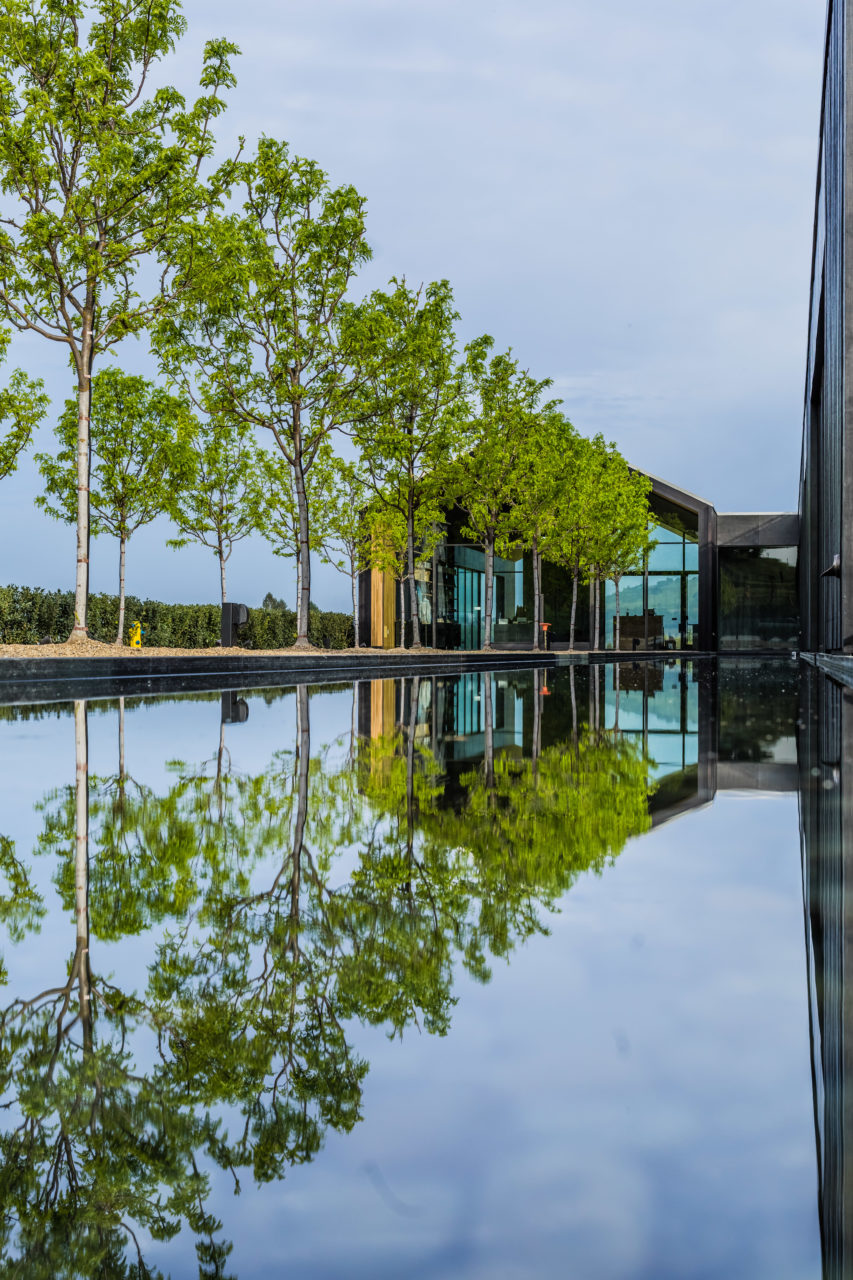 AVA Spotlight: Petaluma Gap
Bursts of Pacific Ocean-driven wind and fog through a "gap" in coastal mountain ranges makes the region a prime spot for growing cool climate Pinot Noir, Chardonnay, and Syrah. It's a huge AVA, spanning more than 200,000 acres from Bodega Bay to San Pablo Bay, but is mostly towns, vineyards, and agriculture. Many well-known wines are made with fruit grown here, but actual tasting rooms located in the field are hard to come by.
To get the best sense of the wines made from the Petaluma Gap, head to Keller Estate, perched on a lushly landscaped hilltop with magical vineyard and valley views. Winemaker Ana Keller includes interesting varietals like a Syrah-Viognier blend, a Pinot Gris, and sparkling wines (from $50, kellerestate.com).
Taste With a Pro: Ted Lemon, Littorai
There's a lot to love at Littorai, but the coolest thing about visiting, says Lemon, is the private farm tour. "We're a biodynamic wine farm, so you really get to see what's involved in that," he says. This includes seeing how Littorai makes biodynamic compost teas, which help nourish the vines, and walking through the vineyard blocks. "There's a lovely view up top, so you can get a sense of the Sebastopol hills," he says.
Lemon also likes taking friends to Freeman Winery for cave tastings of Pinot Noir and Chardonnay, and to Arnot-Roberts for intriguing, site-specific wines. "The Freemans are lovely and they're small and owner-run. They don't make a lot of wine, so you're really tasting the signature of the winemaker," he says (freemanwinery.com). At Arnot-Roberts (arnotroberts.com), Lemon says there are a range of wines on offer from all over, often including offbeat varieties. "It's really a lot of fun."
Littorai tastings from $65. 788 Gold Ridge Rd., Sebastopol. 707-823-9586, littorai.com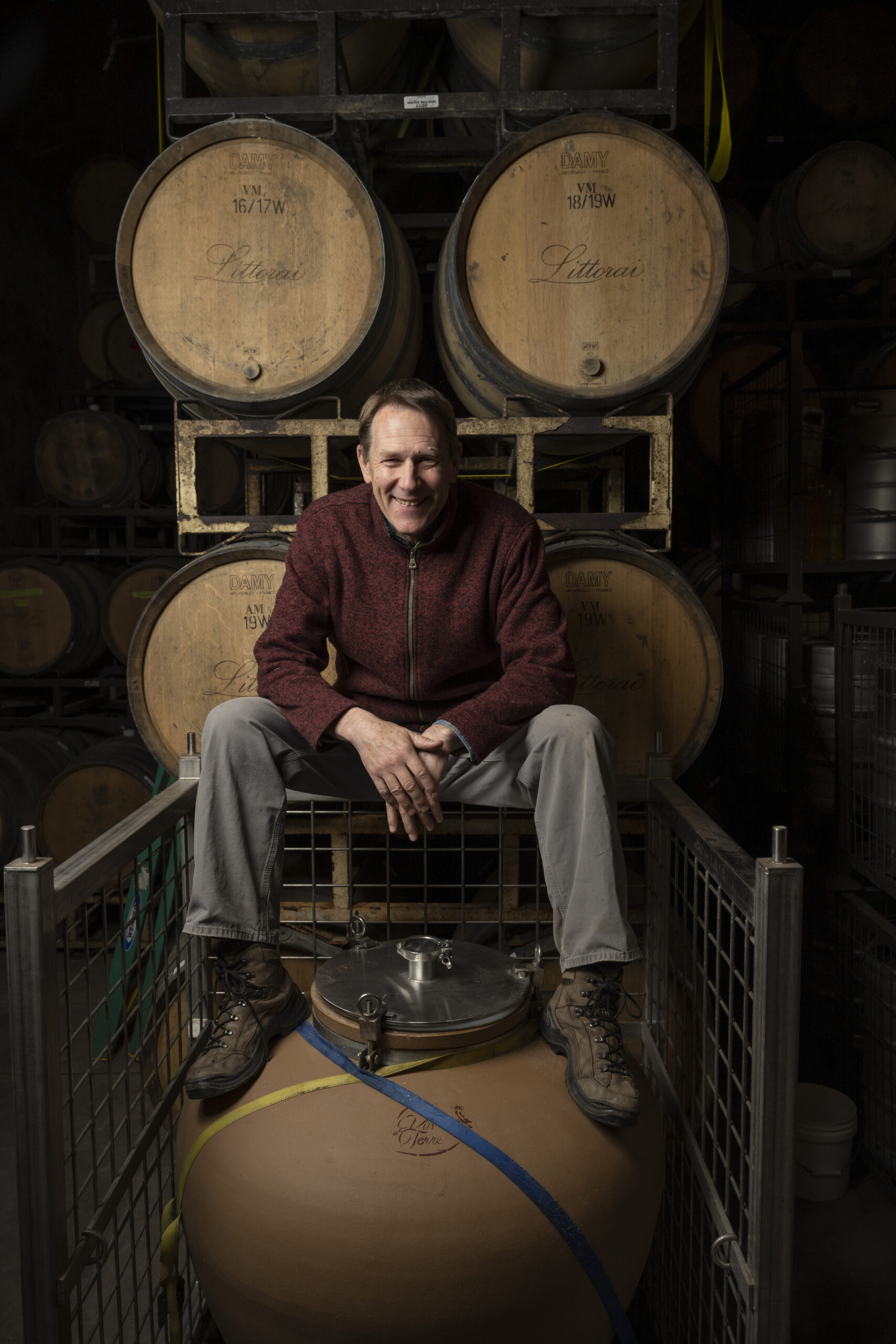 3 Great Wineries to Bring Your Dog
Mutt Lynch Winery, Windsor: One of the most dog-friendly wineries around, with the motto "bark less, wag more." Wine flights and wine club shipments come with special dog treats. muttlynchwinery.com
Smith Story Wine Cellars, Healdsburg: Lord Sandwich, the charismatic goldendoodle belonging to winery owners Alison Smith Story and Eric Story, helped make this charming family-owned tasting room Instagramfamous. smithstorywines.com
Kunde Family Winery, Kenwood: Fifth-generation winegrower Jordan Kunde welcomes dogs and their owners for a hike and romp through vineyards and native grasslands. kunde.com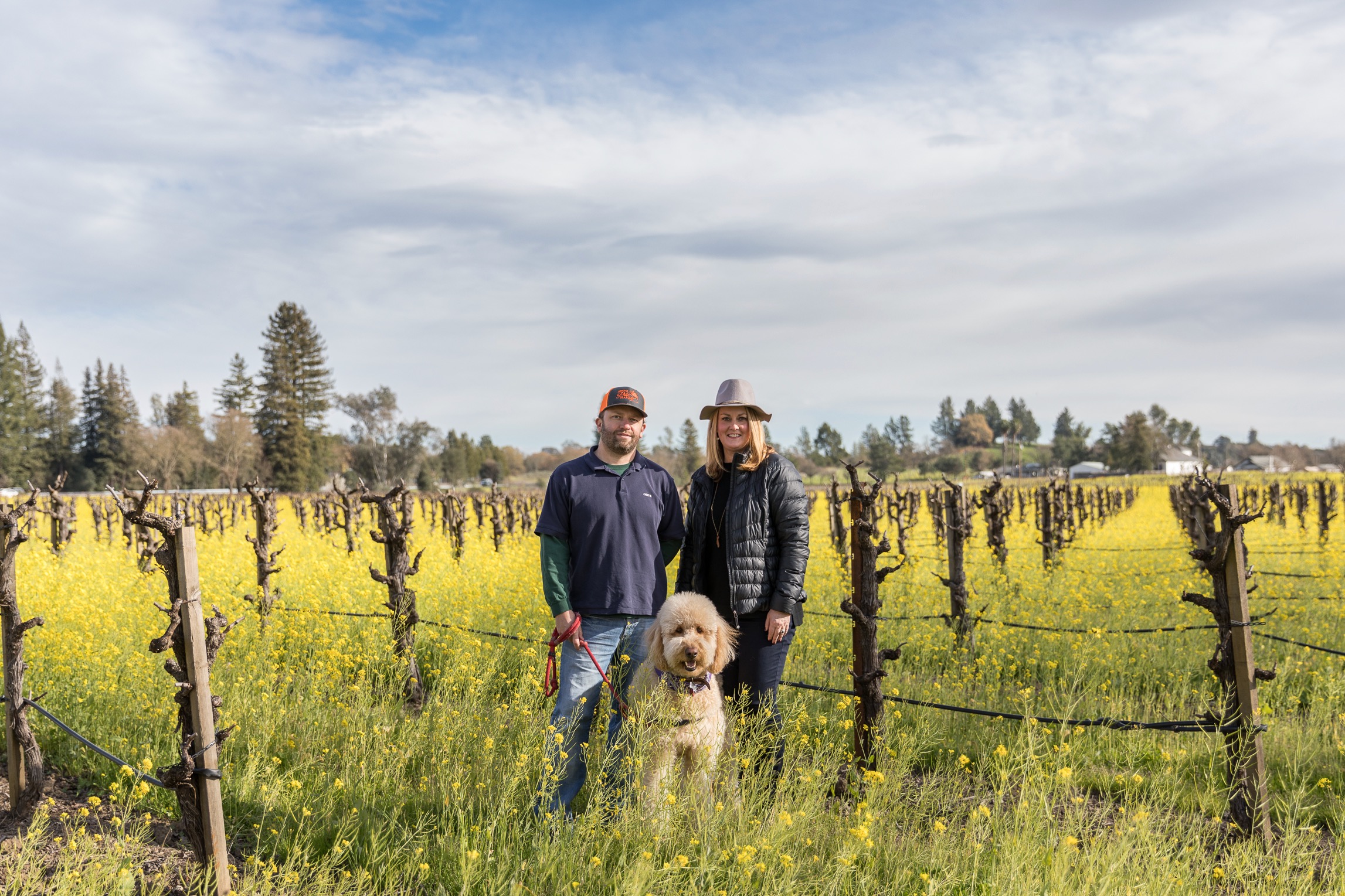 3 Great Wineries with Olive Groves
DaVero Farms & Winery, Healdsburg: Cuttings from an ancient, 800-year-old olive grove in Tuscany helped establish the orchards. The fruit is gently handpicked, then pressed the same day for an extravirgin elixir that's rich, fruity, and peppery. davero.com
Trattore Farms, Geyserville: For $20, add a tasting of their excellent flavored oils to any tasting at their Dry Creek estate or in downtown Healdsburg. trattorefarms.com
Jacuzzi Family Vineyards, Sonoma: A large stone chateau anchors one of the area's largest olive oil operations, with 45 acres of Italian and Spanish trees. In harvest season (usually October), visitors can see the pressing process up close. jacuzziwines.com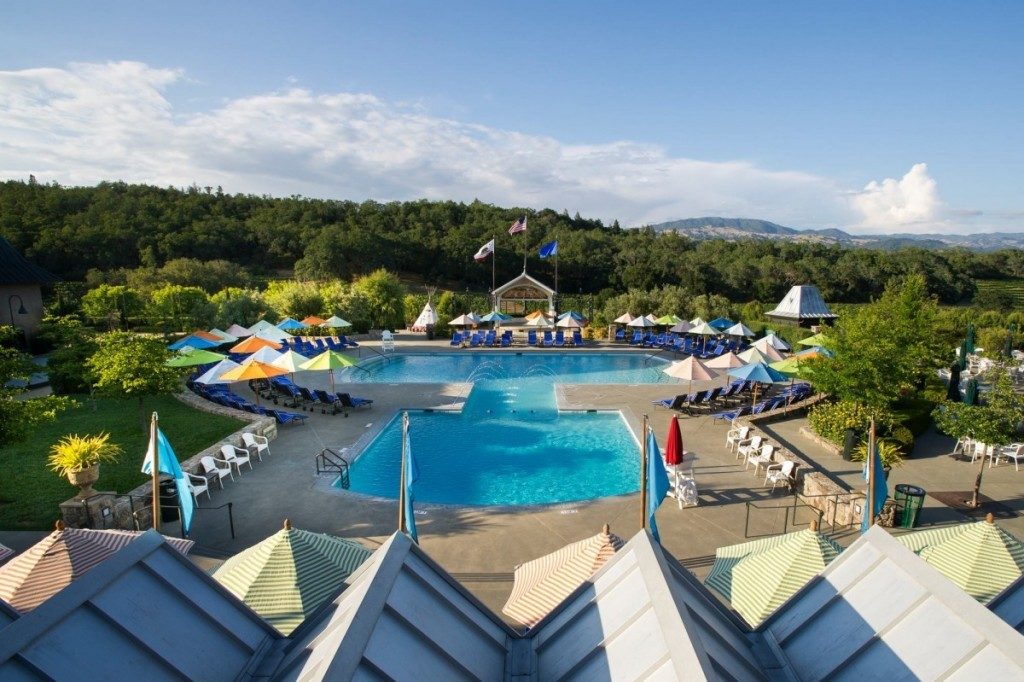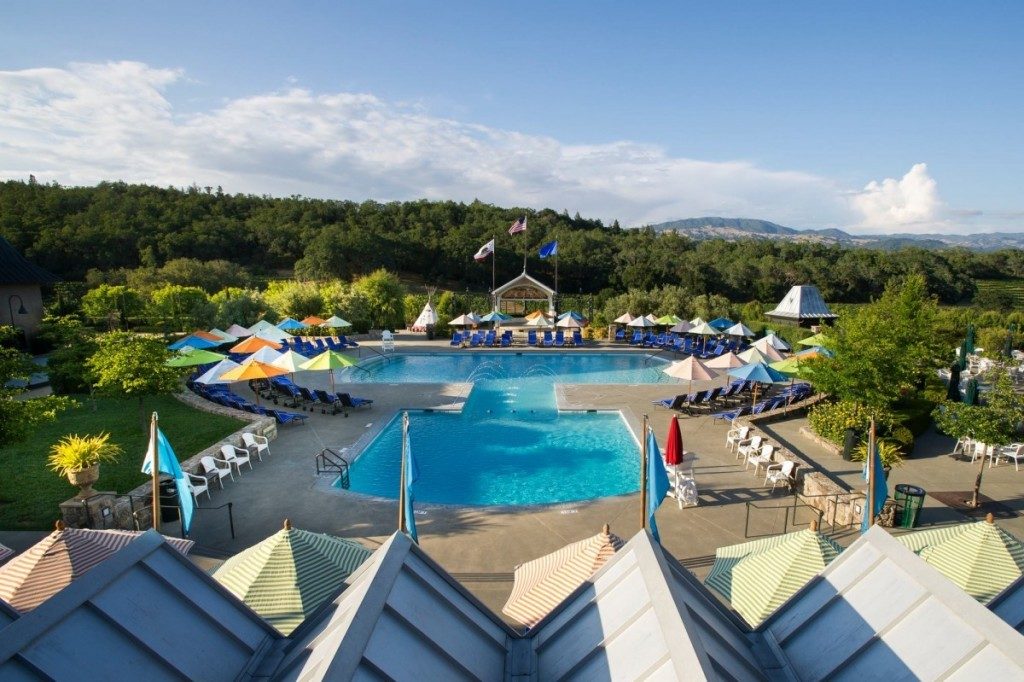 At Geyserville's family-friendly Francis Ford Coppola Winery, reserve a cabine to hang out and swim for the day in one of two giant swimming pools surrounded by chic blue chaise lounges (from $250). Inside, film buffs will find a museum of Coppola's movie memorabilia, including Academy Awards and a screeching red Tucker automobile. francisfordcoppolawinery.com
Taste With a Pro: Alice Sutro, Sutro Wine Co.
Visual artist, winemaker, and mother of two Alice Sutro wants her guests to experience her family's ranch in Chalk Hill, near the Russian River, in a very authentic way, so guests are led on a walk through the vineyard tasting.
"It's like a 30-minute crash course in viticulture. Why does a trellis work that way, why do we maintain the canopy like this, what are our volcanic soils like— and here's how that affects what's in the glass," explains Sutro. "I really want people to see the effort and value in grapegrowing. It seems so necessary to me."
When not walking the lands that inspire her painting and winemaking, Sutro's hands-down favorite tasting room is Bannister Wines in Geyserville (bannisterwines. com), where Brook Bannister, a furniture craftsman turned winemaker, and Morgania Moore, a jewelry and lighting designer, have created a bohemian-styled art gallery and salon in a 104-year-old former bank.
Sutro Wine Co. hike and tasting, $65. 13301 Chalk Hill Rd., Healdsburg. 707-509-9695, sutrowine.com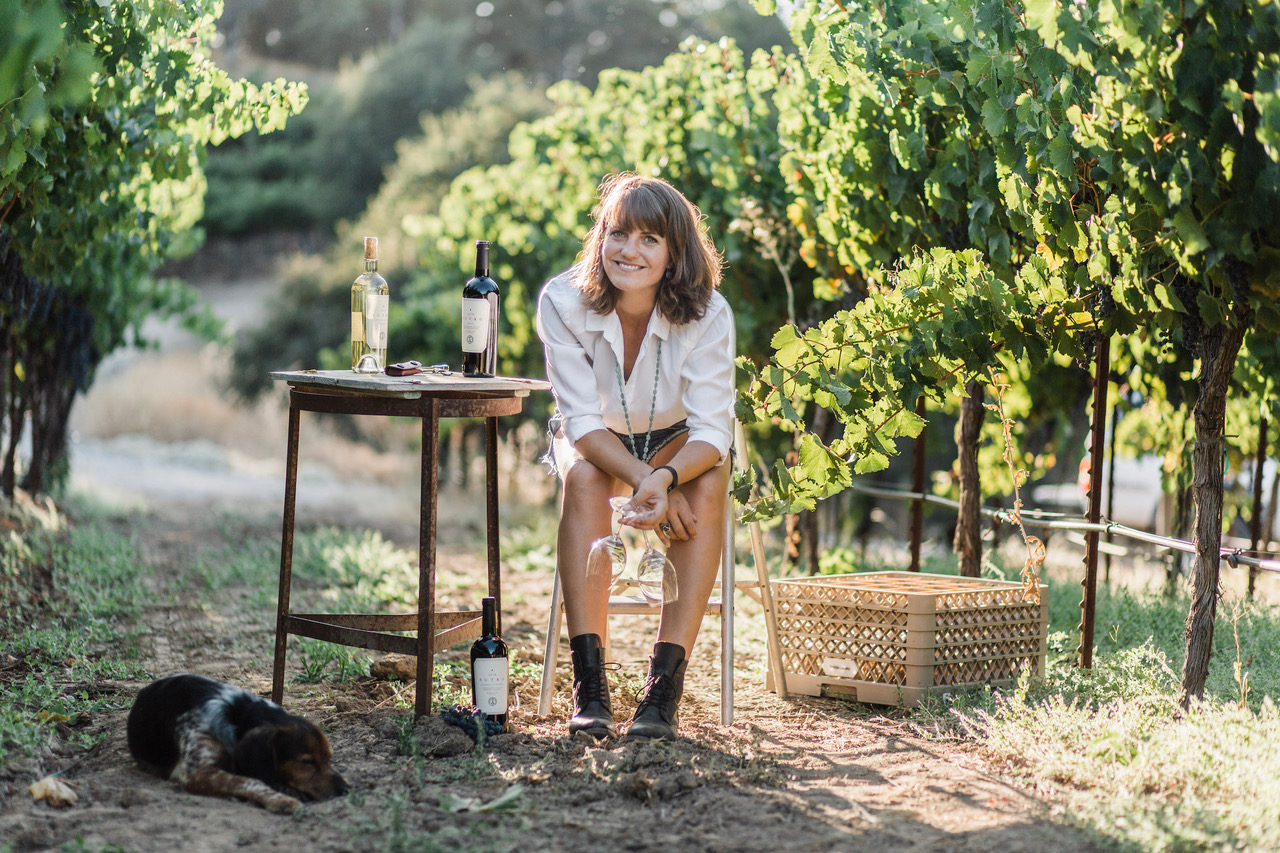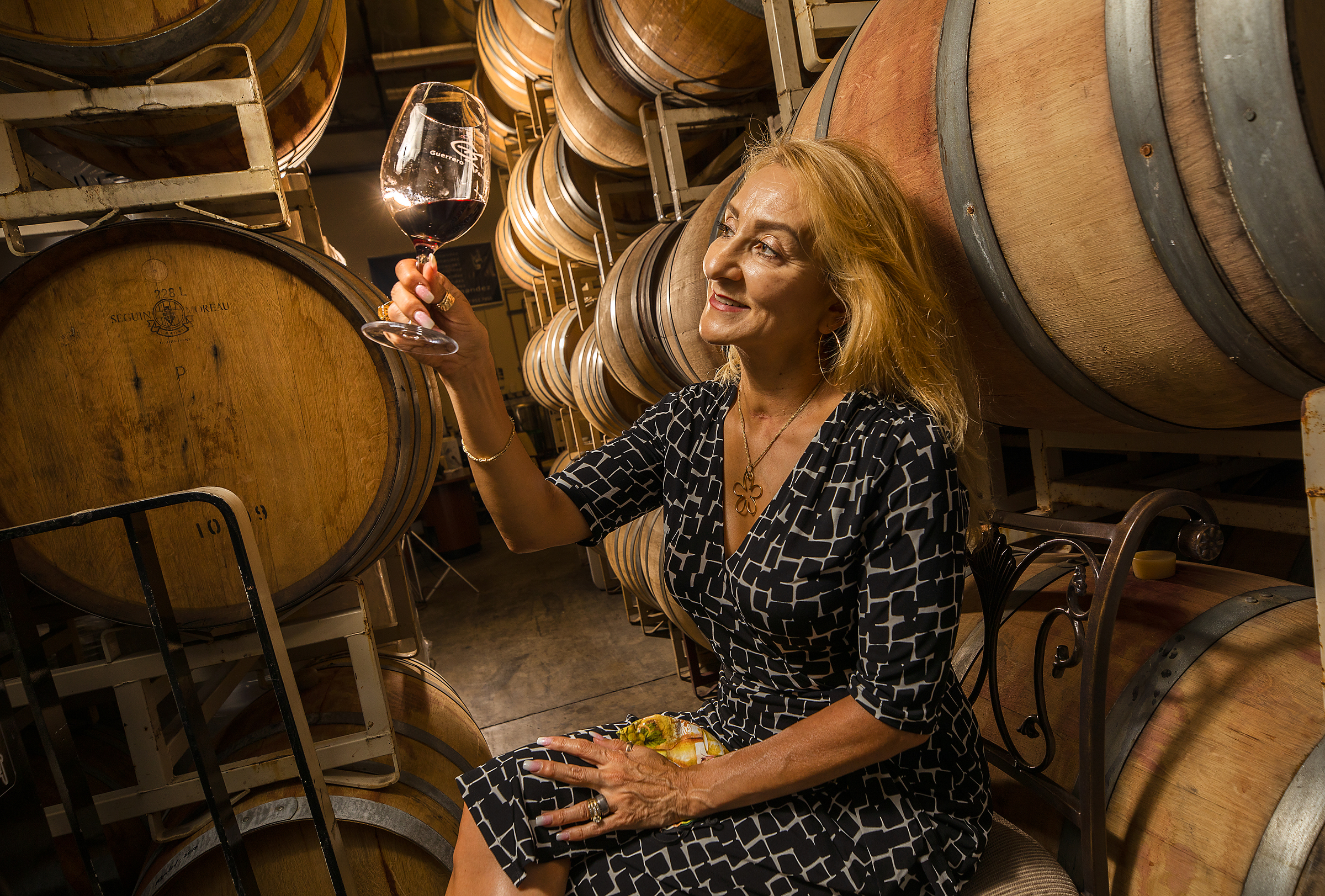 Owners Olga Fernandez and Martin Guerrero have poured their hearts into the homespun tasting room at Guerrero Fernandez Winery in Windsor, where guests can compare Zinfandel from Dry Creek and Russian River valleys. New this season: karaoke nights. gfwines.com
"I Love a Sense of History. What Are Some Classic Destinations?"
Martinelli Winery: For more than 135 years, the Martinelli family has farmed this land, including the famously steep Jackass Hill. Daredevil winegrower Giuseppe Martinelli planted Jackass Hill in 1889 and farmed it with a team of horses for 30 years. From $35, 3360 River Rd., Windsor. 707-525-0570, martinelliwinery.com
Buena Vista Winery: California's first premium winery was founded by Hungarian immigrant Count Agoston Haraszthy in 1857. Don't miss the plush, champagne-focused Bubble Lounge. From $35, 18000 Old Winery Rd., Sonoma. 800-926-1266, buenavistawinery.com
Kendall-Jackson Wine Estate & Gardens: The late Jess Jackson bought his first vineyards in 1974. An unwitting mistake that produced a slightly sweet Chardonnay put the winery on the map. These days, a 4-acre organic garden produces rare veggies for in-house pairing menus. From $35, 5007 Fulton Rd., Santa Rosa. 707-571-8100, kj.com
Gundlach Bundschu Winery: The oldest family-owned winery in the state, GunBun's Rhinefarm vineyards were first planted in 1858. The Bundschu family is known for coastal Chardonnay and reserve Cabernet Sauvignon, among a dozen different varietals—and for rollicking outdoor concerts in the old redwood barn. Metallica once performed a secret concert here. From $75, 2000 Denmark St., Sonoma. 707-938-5277, gunbun.com
Sebastiani Vineyards & Winery: This downtown Sonoma winery, founded in 1904, was one of the few to operate through Prohibition, producing small amounts of sacramental and medicinal wines. From $50, 389 Fourth St. E., Sonoma. 707-933-3200, sebastiani.com
Iron Horse Vineyards: The family winery began with a vision in the pouring rain back in 1976. Audrey Sterling and her late husband Barry thought the 300 acres of gentle rolling Sebastopol hills looked like Camelot. Today, the small sparkling wine house produces stellar bubbly. From $35, 9786 Ross Station Rd., Sebastopol. 707-887-1507, ironhorsevineyards.com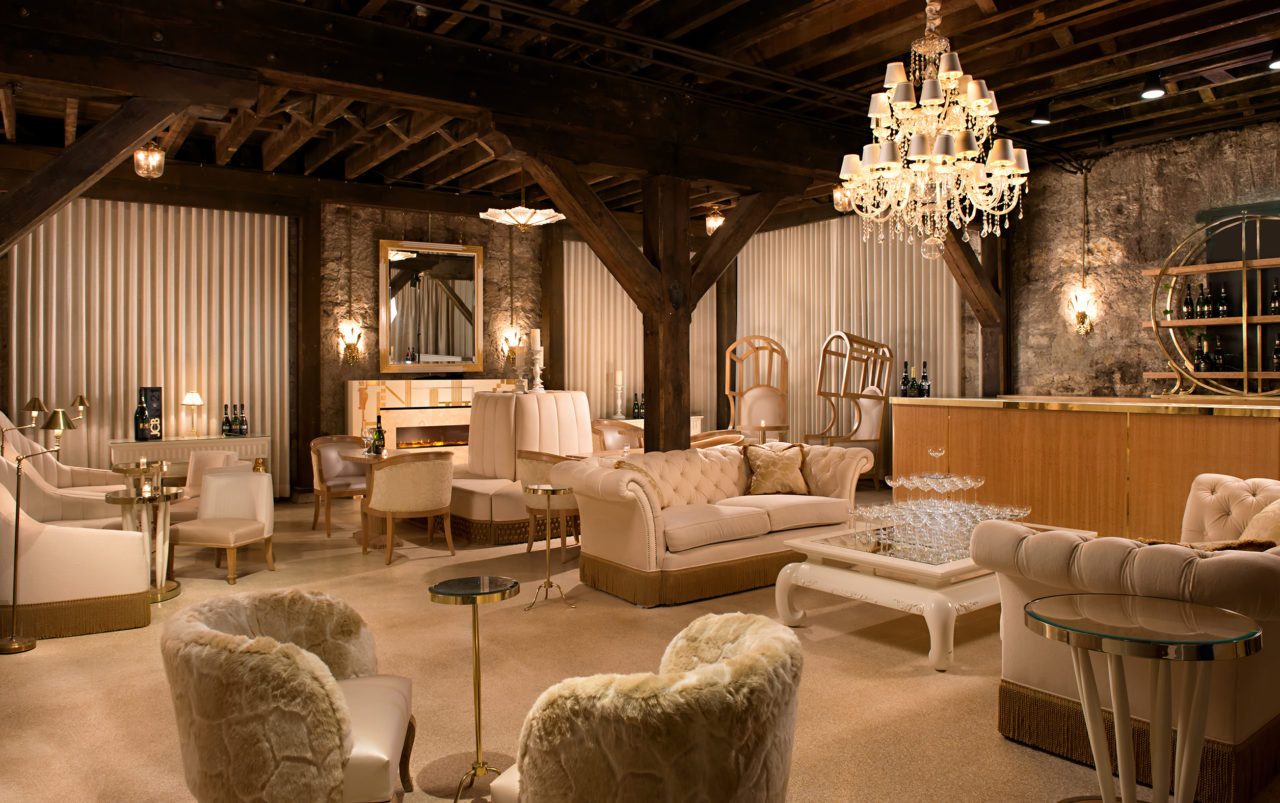 AVA Spotligt: Alexander Valley
This is one of Sonoma County's largest appellations in terms of acres planted, second only to the vast North Sonoma AVA. Located near Geyserville, Alexander Valley is known for fruit-driven Cabernet Sauvignon that is complex and full bodied, with silky tannins. This distinctive Cab comes courtesy of the region's warm, dry climate, morning fog, and the moderating influence of the Russian River. Chardonnay, which tends to be on the rich, floral side, also shines here, along with old vine Zinfandel. Get a sense of the region's best at Stonestreet Wines (below), Hawkes Wine, Hanna, and Alexander Valley Vineyards.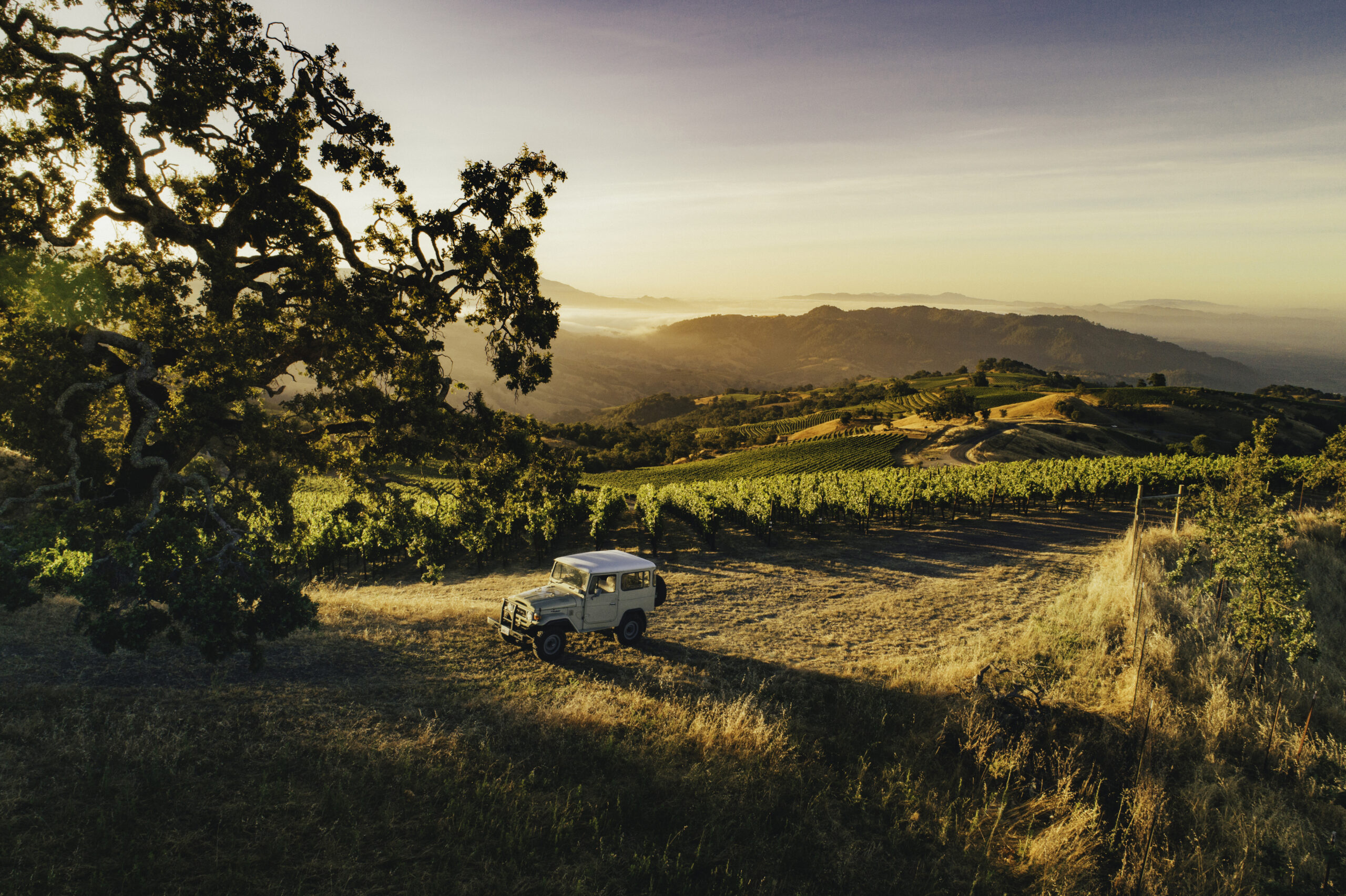 Taste With a Pro: Katie Madigan, St. Francis Winery
In 2002, Madigan was a 21-year-old intern at St. Francis back when the proverbial light bulb went off and she realized winemaking was her calling.
Two decades later, Madigan is still just as excited about the work she does. She says the winery has a variety of fun tasting experiences, including a pedal trolley tour made famous by Al Roker and friends at a taping with NBC's Today Show this past April. Estate pairings on the patio from chef Peter Janiak use produce from the 2-acre garden.
With out-of-town guests, Madigan also loves visiting Anaba Wines in Sonoma (anabawines.com). "The winery is super dog-friendly, which makes it easy to bring my pup along," she says. She also enjoys rare Rhone and Italian varietals at Unti Vineyards in Healdsburg (untivineyards.com). "All of its wines are dynamite, and the intimate feel of its tasting room gives the perfect personal touch."
St. Francis tastings from $35. 100 Pythian Rd., Santa Rosa. 888-675-9463, stfranciswinery.com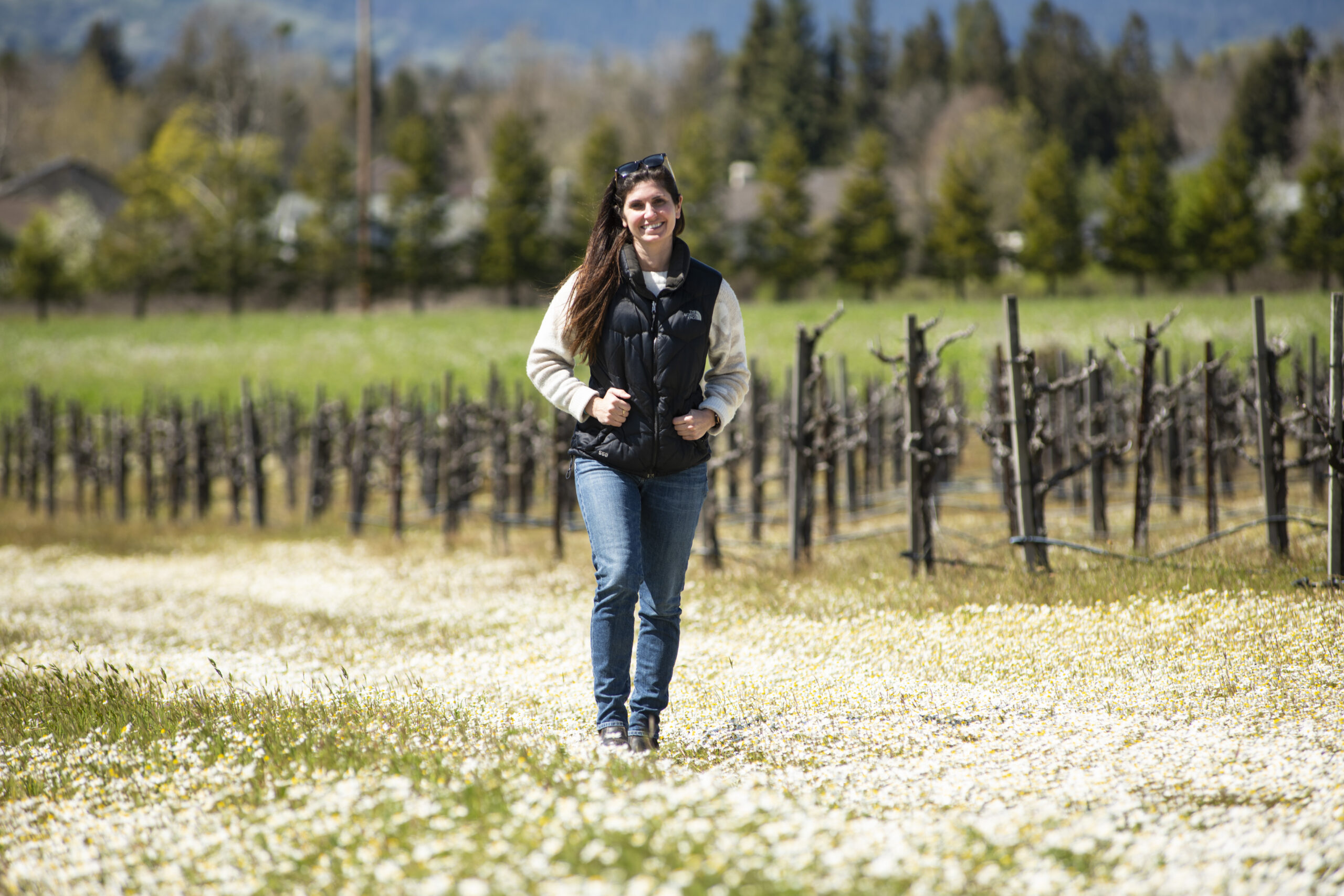 Top 3 Tastings in Caves
Bella Winery, Healdsburg: In sprawling caves set beneath the gorgeous, century-old Lily Hill vineyard, visitors gather among stacks of barrels as soft light filters in. Small-production lots of Zinfandel are the draw. From $30. 9711 W. Dry Creek Rd., Healdsburg. 707-473-9171, bellawinery.com
Deerfield Ranch Winery, Kenwood: Feel like part of the harvest action as you cross the outdoor crushpad to reach a quiet tasting room set inside 23,000 square feet of caves. From $35. 10200 Sonoma Hwy., Kenwood. 707-833-5215, deerfieldranch.com
Capo Creek Ranch, Healdsburg: Food pairings are led by Mary Roy, a former physician, now Capo's hospitable winemaker, chef, and owner. From $165. 7171 W. Dry Creek Rd., Healdsburg. 707-608-8448, capocreekranch.com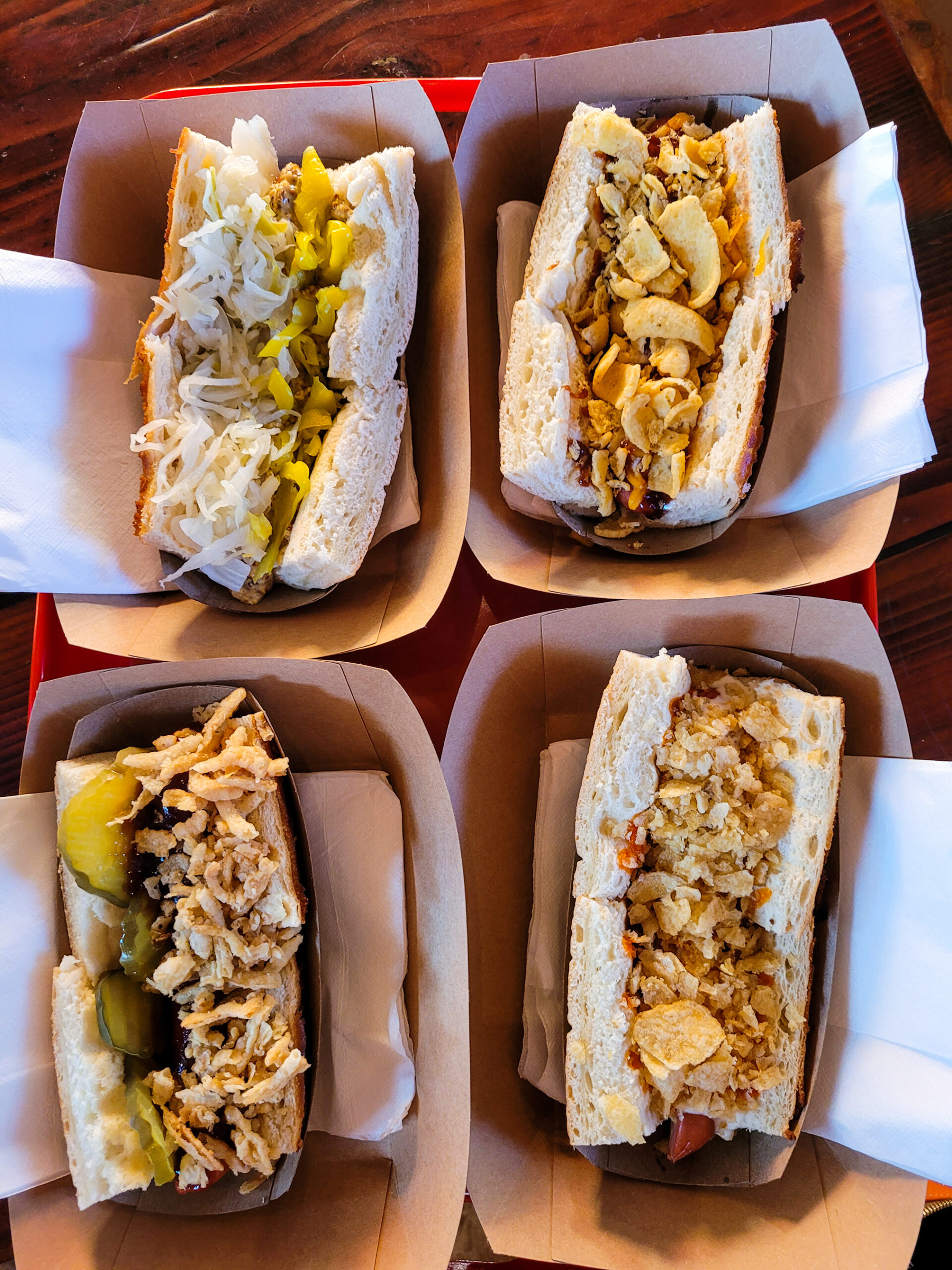 Pachyderm Station is what Primus guitarist Les Claypool calls his quirky Sebastopol tasting room decorated with concert posters and an old-timey bar. Homey? Yes. Weird in the best kind of way? Also, yes. Fridays through Sundays, pair the excellent site-specific Pinot Noirs with fancy hot dogs from Claypool's own Whamola Wieners. purplepachyderm.com
At The Barlow in Sebastopol, Pax Winery & Tasting Room is like a clubhouse for likeminded indie winemakers, led by Syrah and Grenache specialist Pax Mahle. Take a quick peek around back at harvest time to glimpse the busy crush facility he shares with natural wine pioneer Martha Stoumen and rising stars Rosalind Reynolds and Patrick Cappiello. paxwine.com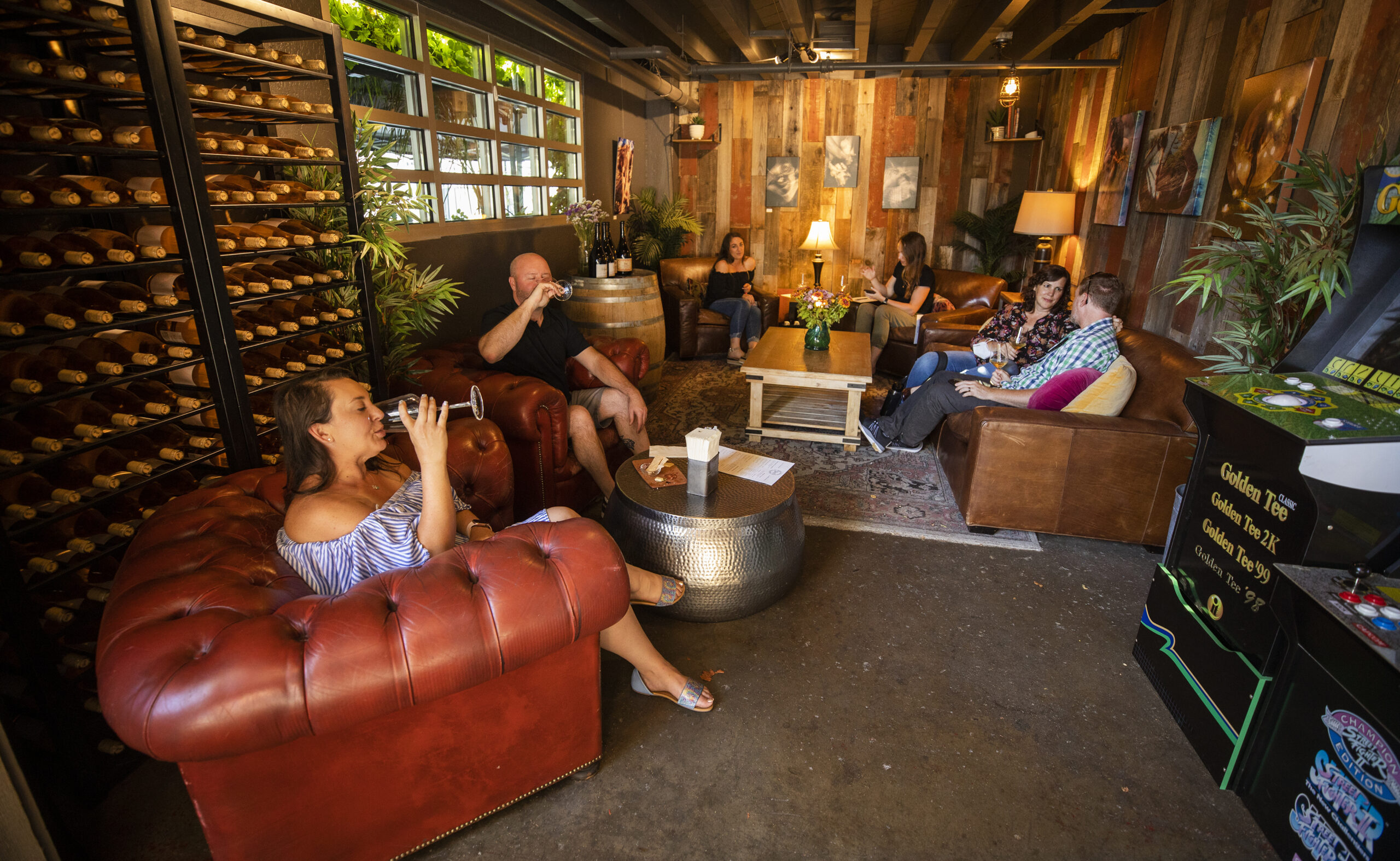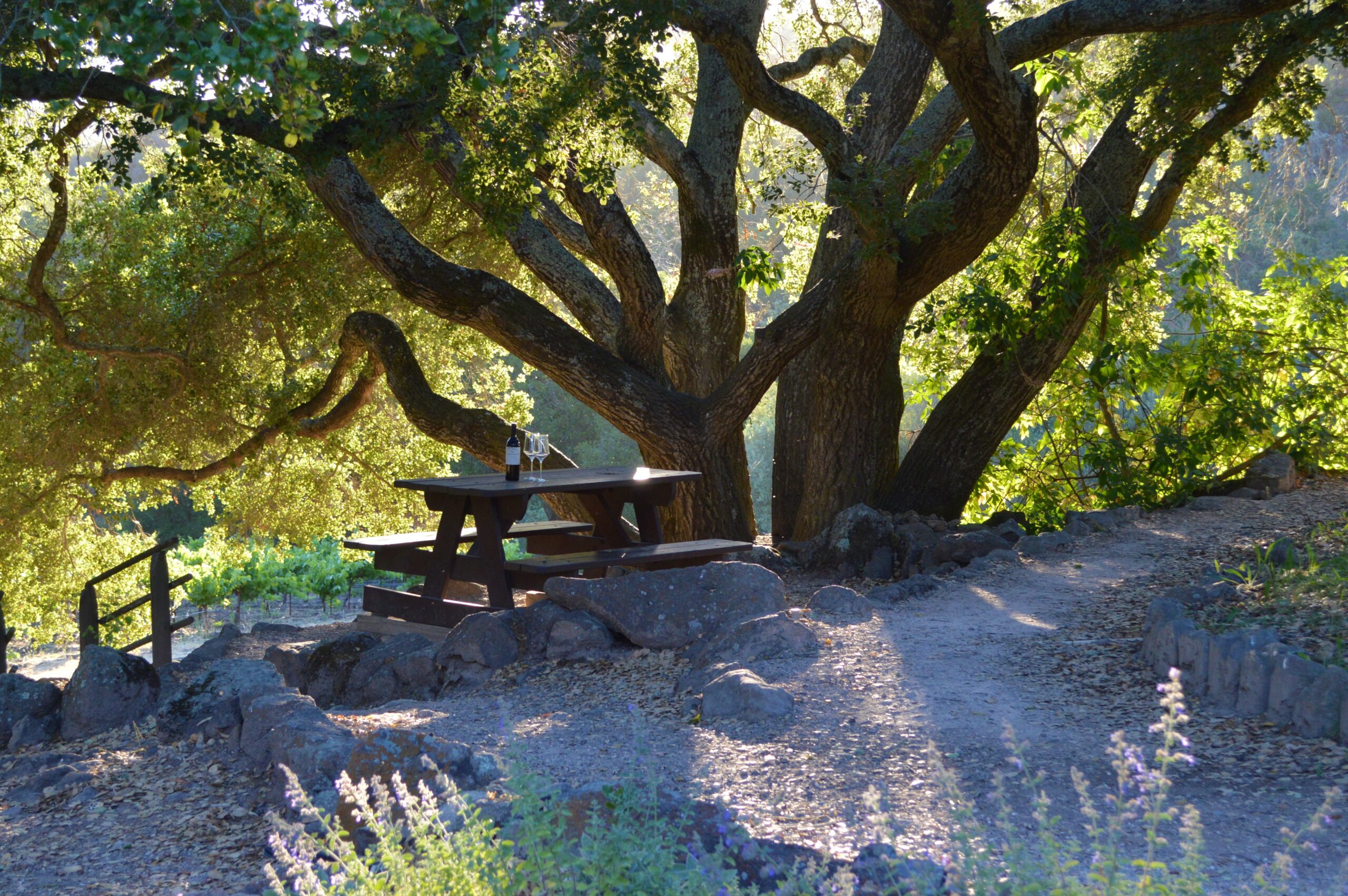 Top 3 for a Great Picnic
Lambert Bridge Winery, Healdsburg: Shady tables await on an expansive picnic lawn, with gorgeous views of vineyards and surrounding forests. From $35. 4085 W. Dry Creek Rd., Healdsburg. 707- 431-9600, lambertbridge.com
VML Winery, Healdsburg: Chill in the serene Butterfly Garden, a shaded sanctuary tucked next to Dry Creek, as you enjoy single-vineyard Pinot Noir and Chardonnay. From $50. 5610 Dry Creek Rd., Healdsburg. 707-431-4404, vmlwine.com
Bartholomew Estate Winery, Sonoma: Grab a bottle from the tasting room, then settle in at a picnic table overlooking the vineyard. After, hit the trail at 375-acre Bartholomew Park. From $45. 1000 Vineyard Lane, Sonoma. . 707-509-0540, bartholomewestate.com
"Forget Instagram. I Want All the Prettiest Views in Real Life."
Paradise Ridge: The second-story veranda is the place to drink in sweeping views of the Russian River Valley and the winery's iconic "LOVE" sculpture as the sun sets over the vineyards. Paradise found, indeed. From $35. 4545 Thomas Lake Harris Dr., Santa Rosa. 707-5289463, prwinery.com
Scribe Winery: Lush palms meet native ornamental grasses, succulents, roses, and a bountiful culinary garden at Scribe. The landscape's wild splendor is a fitting accent to the restored hacienda's "old California" vibe. Tastings for Scribe Viticultural Society members. 2100 Denmark St. Sonoma. 707-939-1858, scribewinery.com
Matanzas Creek Winery: Stunning lavender fields beckon at Matanzas Creek, especially in June, when row upon row of fragrant purple blossoms reach their peak. Book a reservation to visit the terraced gardens and tasting room. From $35. 6097 Bennett Valley Road, Santa Rosa. 707-528-6464, matanzascreek.com
Ferrari-Carano Vineyards and Winery: The gardens are stunning any time of year, but for tulip lovers, early spring is the time to visit. Call the winery's "tulip hotline" to find out when they're at their colorful best. Tastings start at $40. 8761 Dry Creek Rd., Healdsburg. 707-433-6700, ferraricarano.com
Arista Winery: With a winding gravel pathway, picturesque pond, and harmonious collection of trees, ferns and manicured greenery, the Japanese water garden at Arista is an oasis of serenity for seated sipping. From $30. 7015 Westside Rd., Healdsburg. 707-473-0606, aristawinery.com
McEvoy Ranch: The 550-acre winery and olive oil operation is tucked away in a hidden, private valley on the Sonoma/ Marin county line near Petaluma. Graceful olive trees are surrounded by extensive plantings of lavender and herbs. 5935 Red Hill Rd., Petaluma. 707778-2307, mcevoyranch.com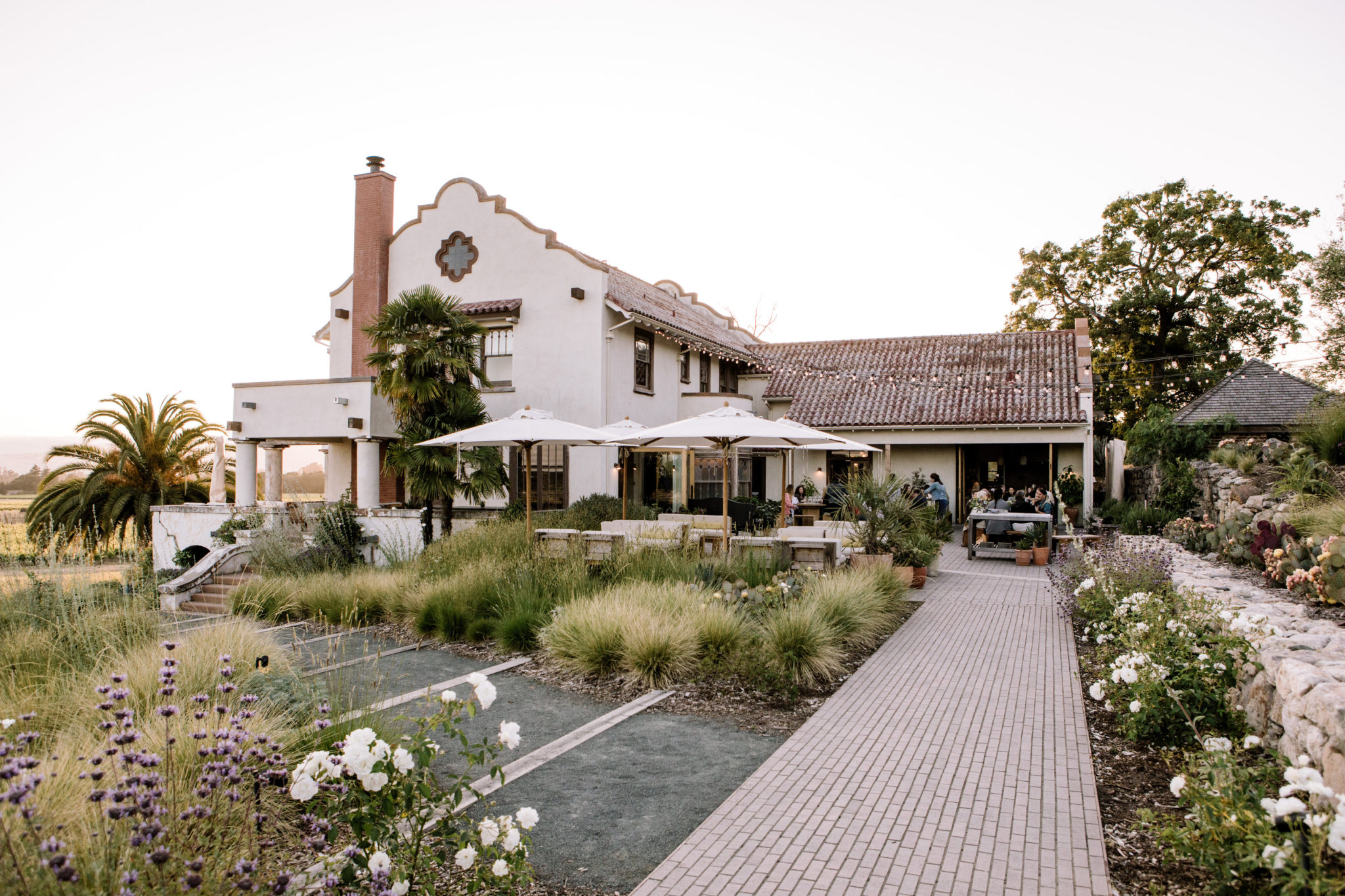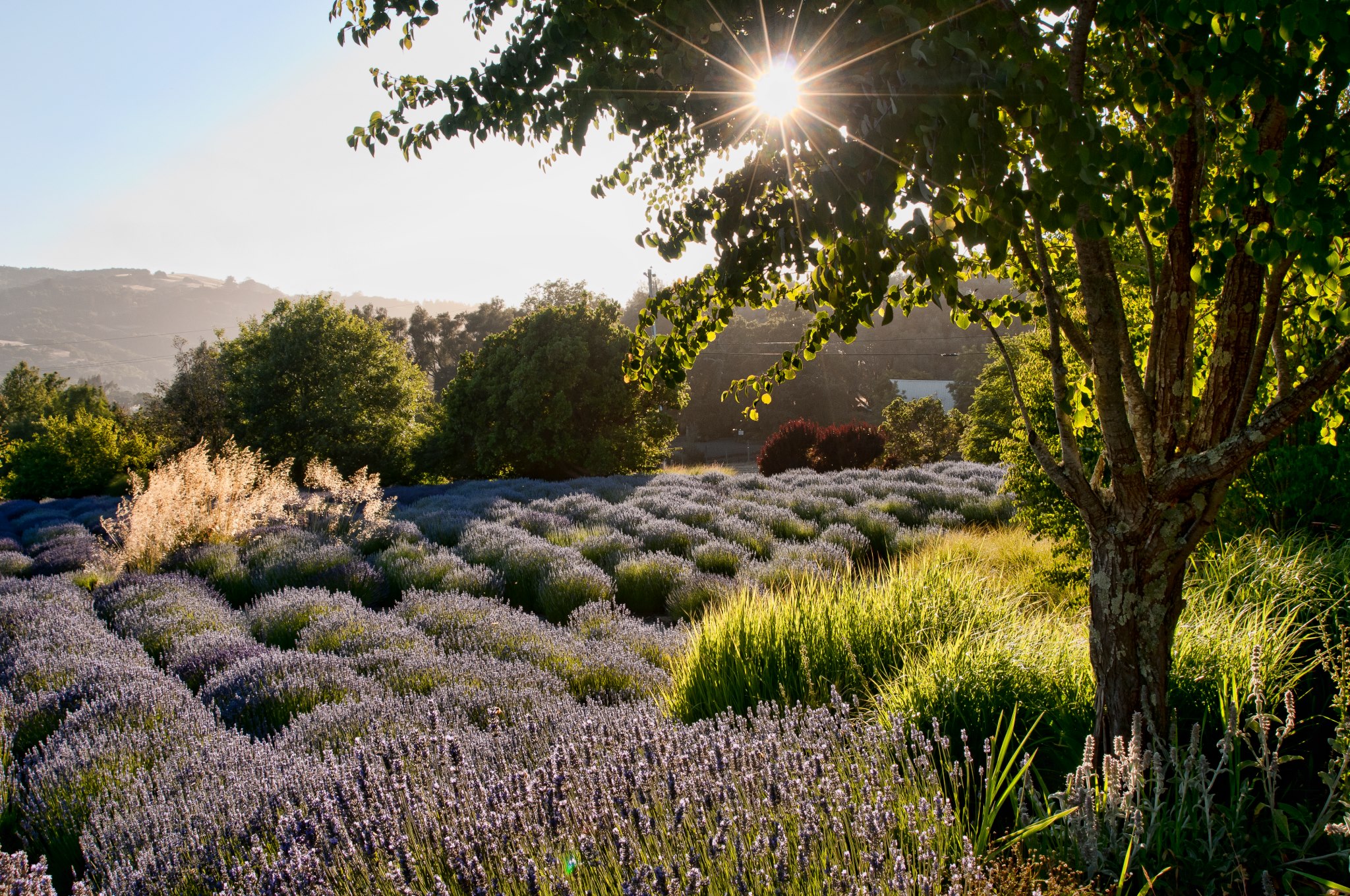 AVA Spotlight: Sonoma Coast
The Sonoma Coast appellation covers more than 750 square miles, stretching from the Mendocino County border to the San Pablo Bay. While the expansive AVA's diverse microclimates, soils, elevations, and exposures allow many grape varieties to flourish, it's best known for cool climate Pinot Noir and Chardonnay.
Set within the broader Sonoma Coast, the West Sonoma Coast AVA covers the farthest western sliver of the county along the Pacific coastline, as well as the Fort Ross-Seaview AVA. The region sets itself apart with a cool maritime climate, high elevations and extreme growing conditions. To sample the coast, visit Fort Ross Vineyard & Winery (below)—one of the few West Sonoma Coast wineries with a tasting room within the bounds of the remote region—plus Peay Vineyards, Cobb Wines, Red Car Wine, and Hirsch Vineyards.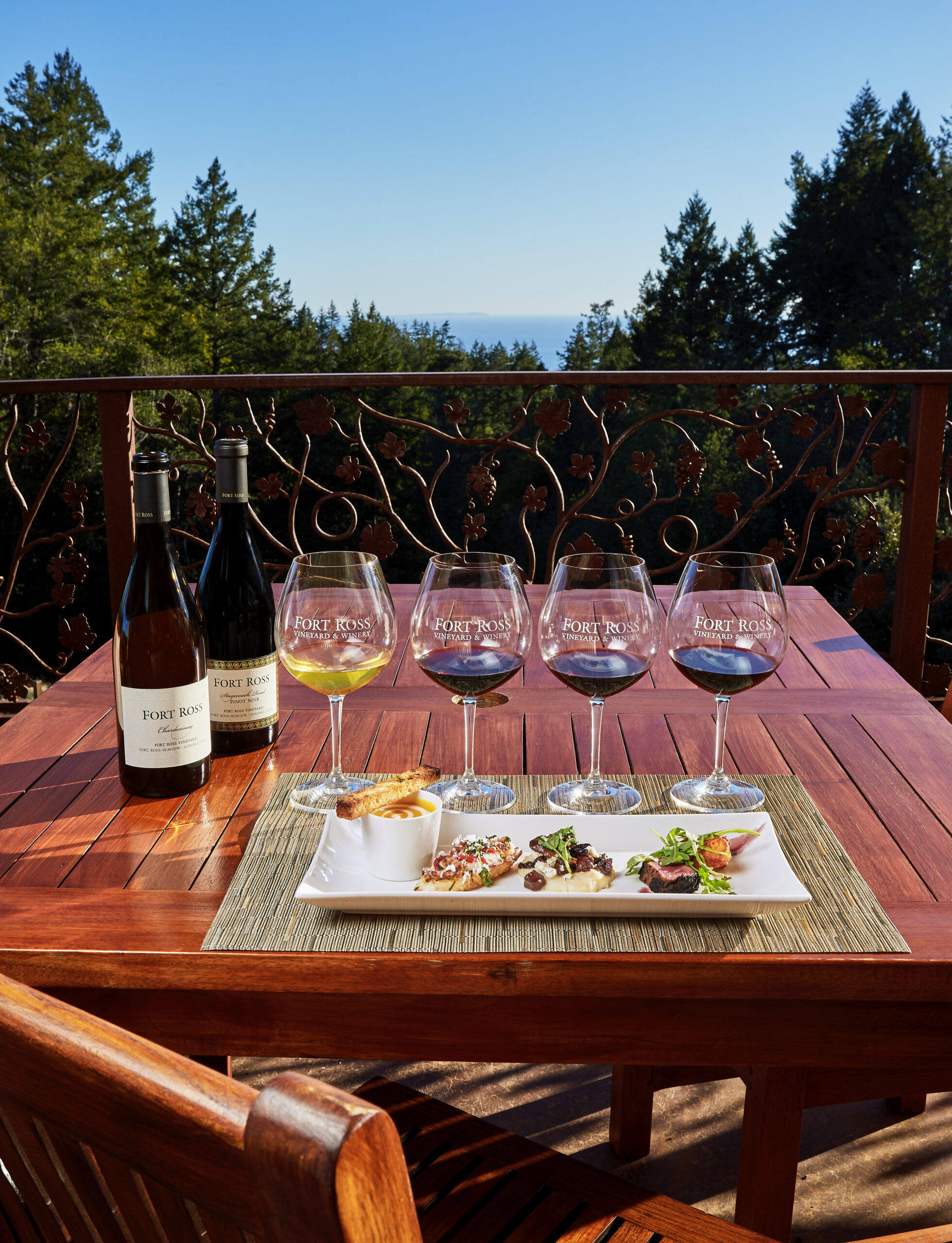 Taste With a Pro: Corinne Rich and Katie Rouse, Birdhorse Wines
Rich and Rouse have day jobs as assistant winemakers at Scribe and Bedrock Wine Co., respectively, but the couple still finds time to run their own wine brand, crafting uncommon varietals like Valdiguie and Cinsault. The couple thrill to introducing people to favorites like their Portuguese-style, green pineapple-wet stone Contra Costa Verdelho.
"It's such a special wine, with so much of the texture and weight of an Old World Chardonnay, but a flavor profile that's authentically Californian."
To taste, they invite guests to join their mailing list and attend their release parties, recently hosted at chic Luma Bar & Eatery in Petaluma. Or look for the couple at Preston Farm & Winery, one of their favorite stops, where they treasure bottlings of Barbera, Carignan, and Nero d'Avola (prestonfarmandwinery.com). "Their wines are excellent, and the farm is such a beautiful, integrated ecosystem of grapes, animals, other crops, and the natural surroundings. It's really a gold standard of what farming in Sonoma County can look like."
Birdhorse Wines, birdhorsewines.com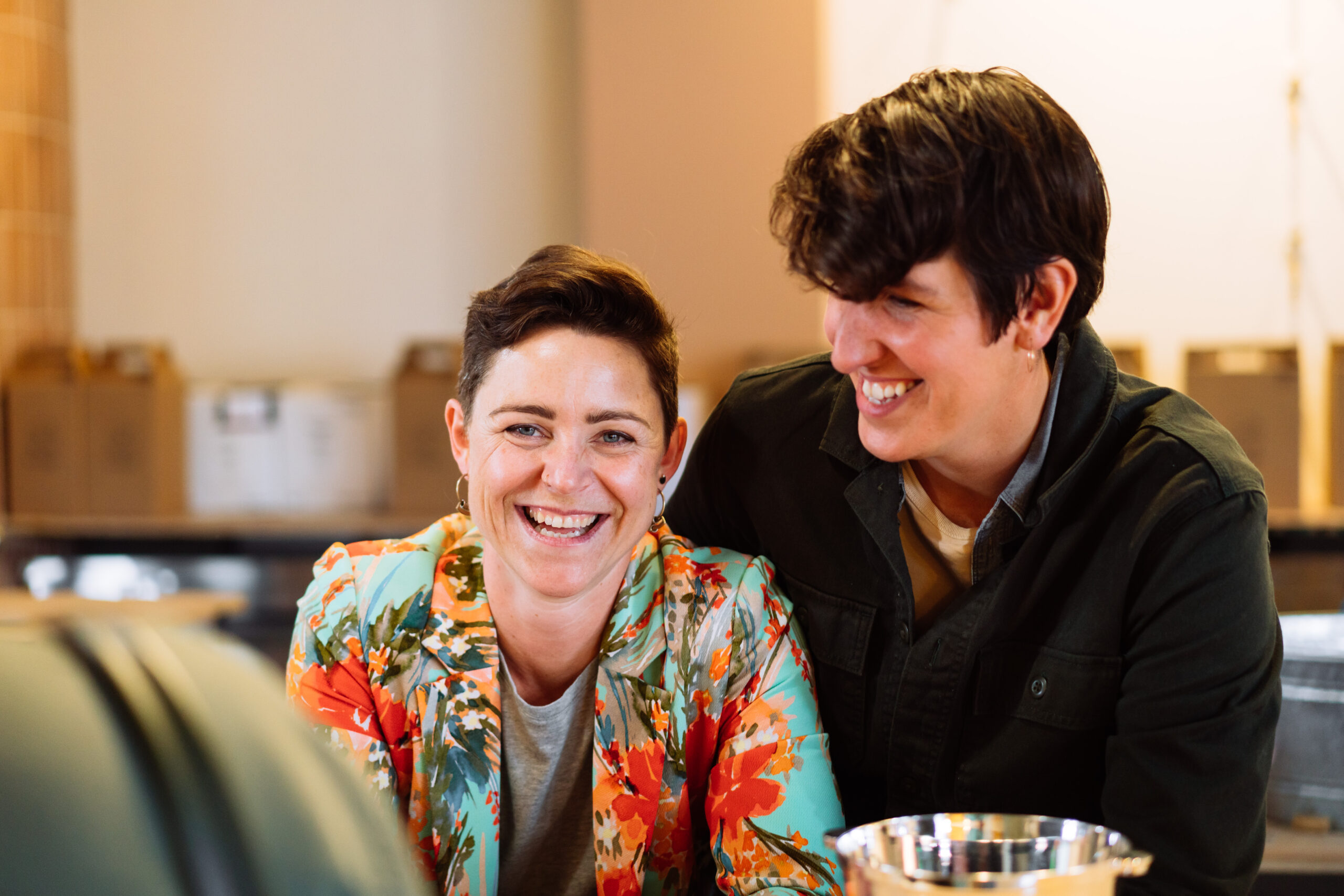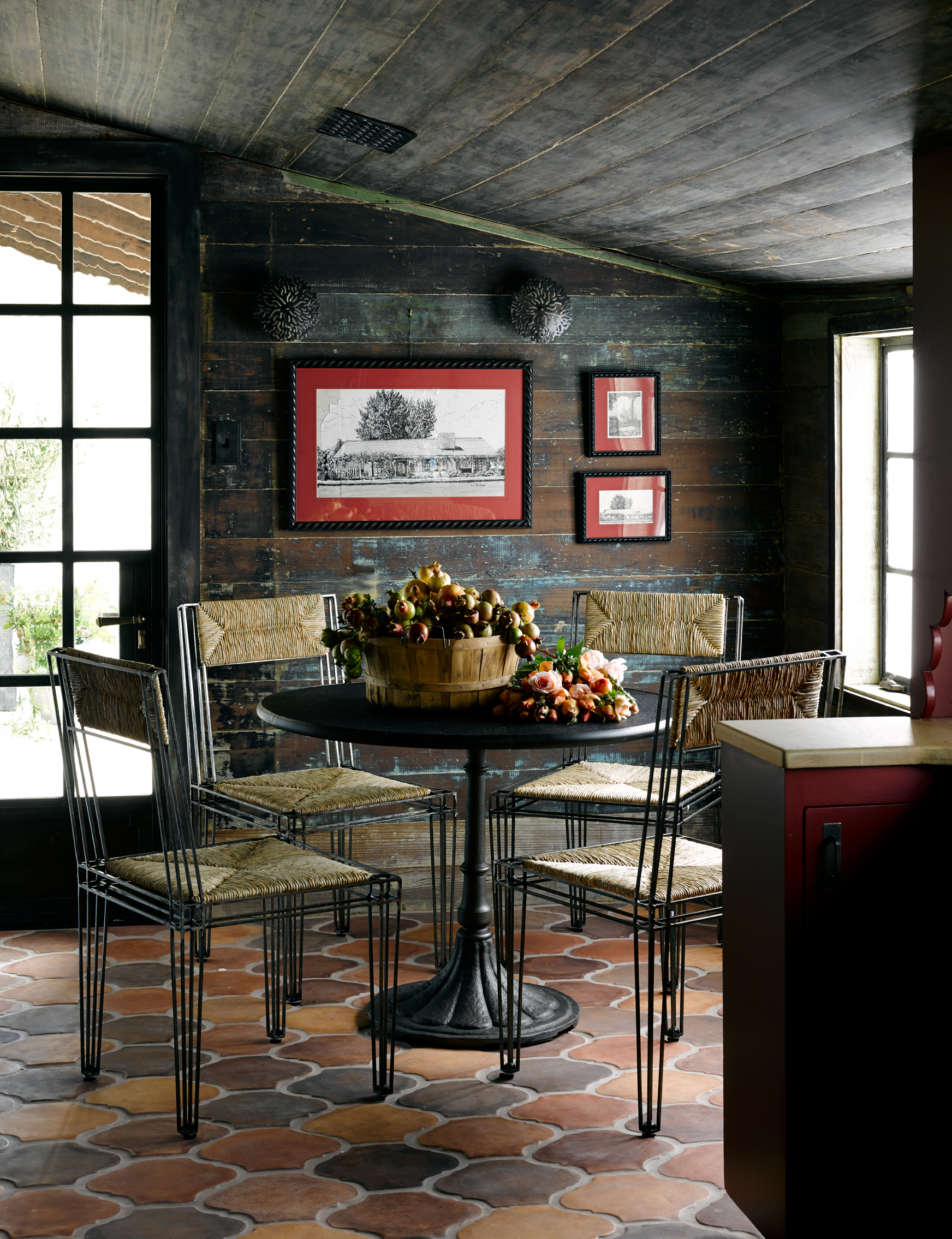 Custom white papel picado banners flutter in the breeze at the beautifully preserved 1842 Vallejo-Casteñada Adobe in downtown Sonoma, home to Three Sticks Wines, vintner Bill Price's award-winning Pinot Noir and Chardonnay house. Not to be missed. threestickswines.com
Learn the art of sabrage— using the blunt edge of a sword to open a bottle of sparkling wine—at Healdsburg favorite Breathless Wines. After you learn to open the bottle, you get to drink it. breathlesswines.com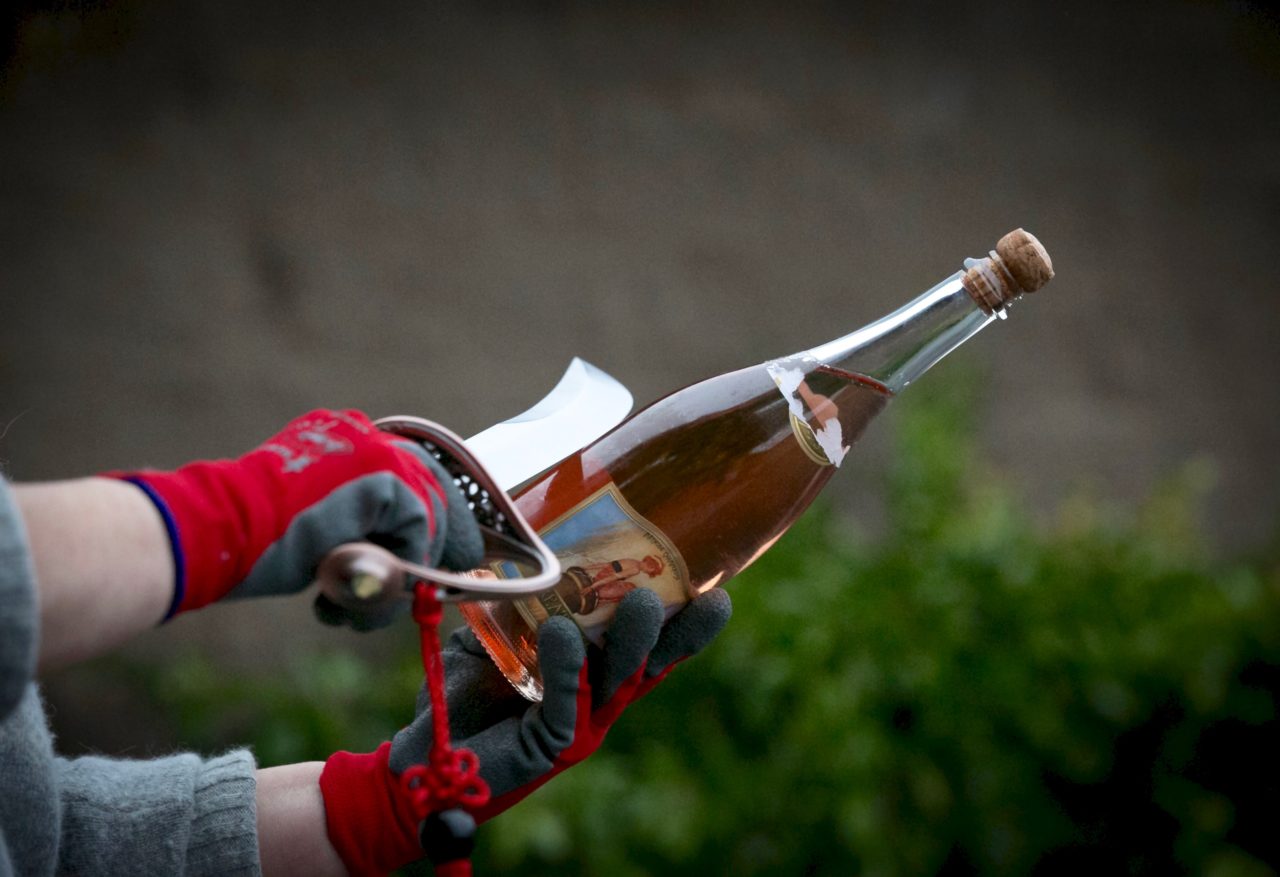 Top 3 for High-End Design
Ram's Gate Winery, Sonoma: This hilltop destination in the Carneros gives off Belgian country vibes and was designed by Orlando Diaz-Azcuy, a member of Interior Design magazine's Hall of Fame. ramsgatewinery.com
Reeve Wines, Healdsburg: Noah and Kelly Dorrance cofounded Healdsburg's Banshee Wines in 2009, and Reeve, named for their son, is one of the couple's two spin-off projects after Banshee. Kelly also runs a Healdsburg antique shop, and the tasting lounge here is decorated with her gorgeous finds. Events hosted here benefit Everytown for Gun Safety. reevewines.com
Marine Layer, Healdsburg: As envisioned by standout local interior designers The Hommeboys, this is a Moroccan-inspired lounge for cool-climate Pinot Noir and Chardonnay from the Sonoma Coast. marinelayerwines.com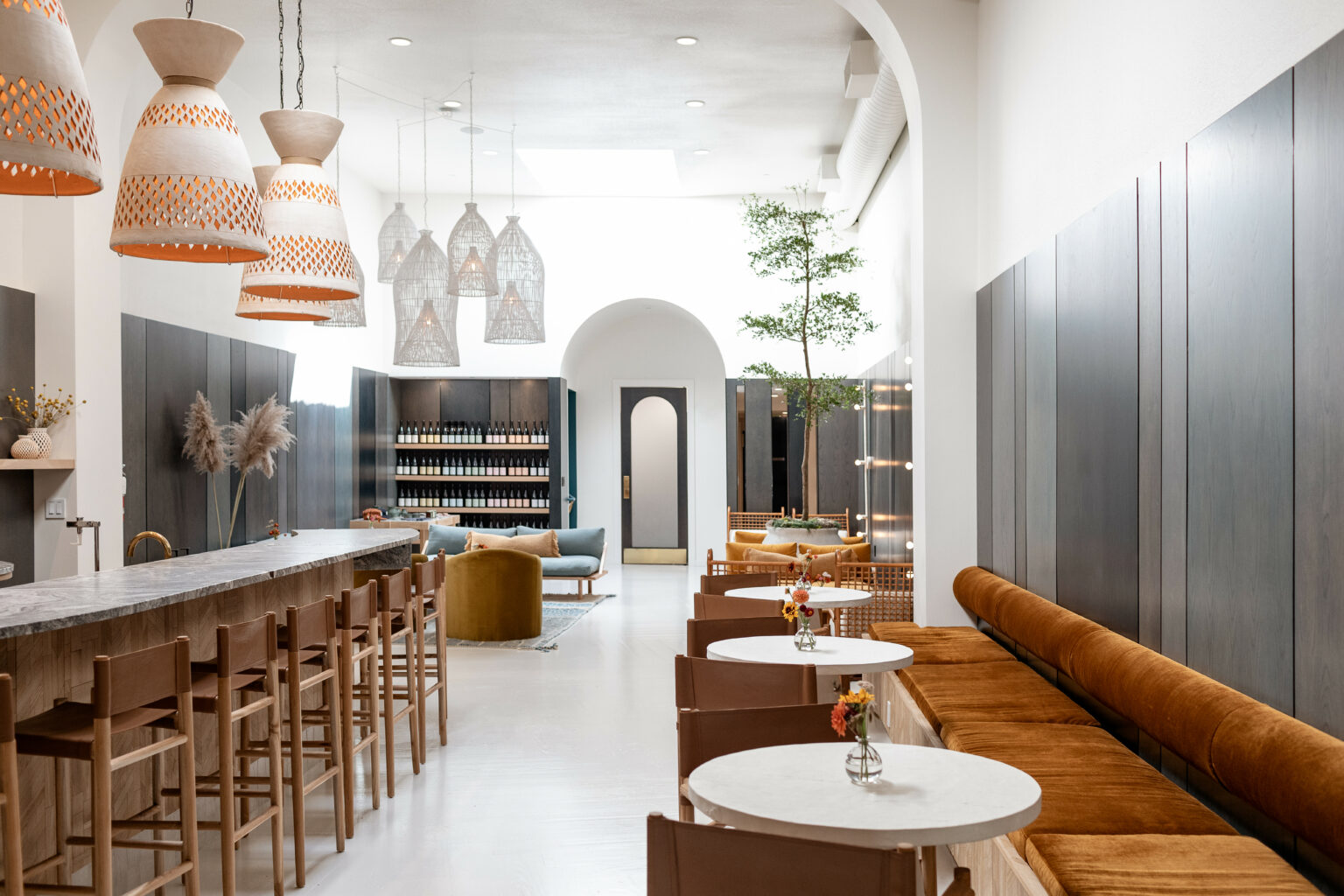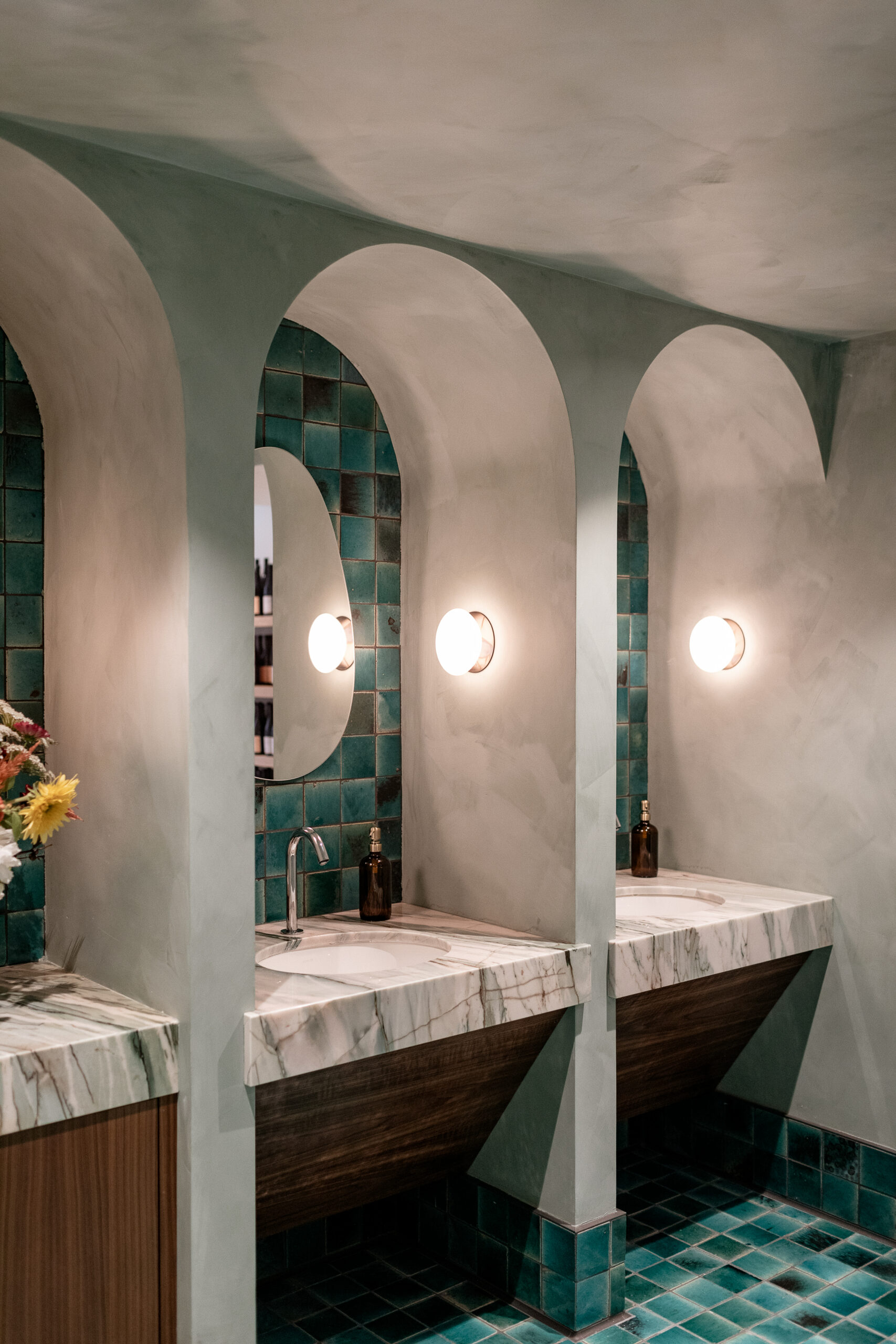 Taste With a Pro: William Allen, Two Shepherds
The Two Shepherds winery is low on glamour, says Allen, but rich in uncommon grape varieties. "You will often get to taste some really unusual things, like our Grenache Blanc, which we make as a normal white and as an orange wine," he says. "Or we have a carbonic Carignan versus a regular Carignan, so we can show you the different expressions."
When friends ask for winery recommendations, Allen often sends them to the wonderfully laid-back Ryme Cellars in Forestville (rymecellars.com). "I love Megan and Ryan Glaab," he says. "They make unusual varieties and their wines are super-awesome. They just have really fun, clean, interesting things that you're not going to find in a lot of places, and it's super-upbeat." Two Shepherds Winery, tastings from $20. 7763 Bell Rd., Windsor. 415- 613-5731, twoshepherds.com 
"I Want to Support Sustainable and Regenerative Farming."
Medlock Ames Winery: Co-founder Ames Morison is an industry thought leader in sustainability planning and new trends in organic viticulture. A sound-immersion tour ($75) of their Bell Mountain Ranch property is an introduction to his approach. From $65. 13414 Chalk Hill Rd., Healdsburg. 707431-8845, medlockames.com
Hanzell Vineyards: Award-winning Chardonnay and Pinot Noir are created here in balance with organic vegetable gardens and orchards. Ducks and chickens wander the vineyards and a herd of fire-suppression pigs (yes, pigs!) loosen soils and tramp down overgrowth. $65. 18596 Lomita Ave., Sonoma. 707-9963860, hanzell.com
Benziger Family: Winery Mike Benziger is a leader in biodynamic grapegrowing, a holistic method attuned to building the strength of the soil. On a tram tour into the vineyards ($35), learn about biodynamics and see the farm's insectary gardens. From $75.1883 London Ranch Rd., Glen Ellen. 888-490-2739, benziger.com
Ridge Vineyards, Lytton Springs: The solar-powered winery is made of straw bales plastered over with vineyard clay, an insulated design that stays cool in summer and warm in winter. The estate Zinfandel vines are more than 115 years old and have thrived after the changeover to organic practices. From $30. 650 Lytton Springs Rd., Healdsburg. 707-433-7721, ridgewine.com 
DeLoach Vineyards: The estate has been farmed biodynamic ally since 2009, and tasting room guests are invited to tour the "Theater of Nature," as they call it—a wander through 20 acres of culinary gardens and vineyards. From $35. 1791 Olivet Rd., Santa Rosa. 707-755-3300, deloachvineyards.com
Quivira Vineyards: Want to talk green? Ask about the epic 500-yard compost pile that nourishes the gardens and fields. Quivira is a model of integrated, diversified farming with organic vegetables, flowers, and livestock among the grapes. From $35. 4900 West Dry Creek Rd., Healdsburg. 707-431-8333, quivirawine.com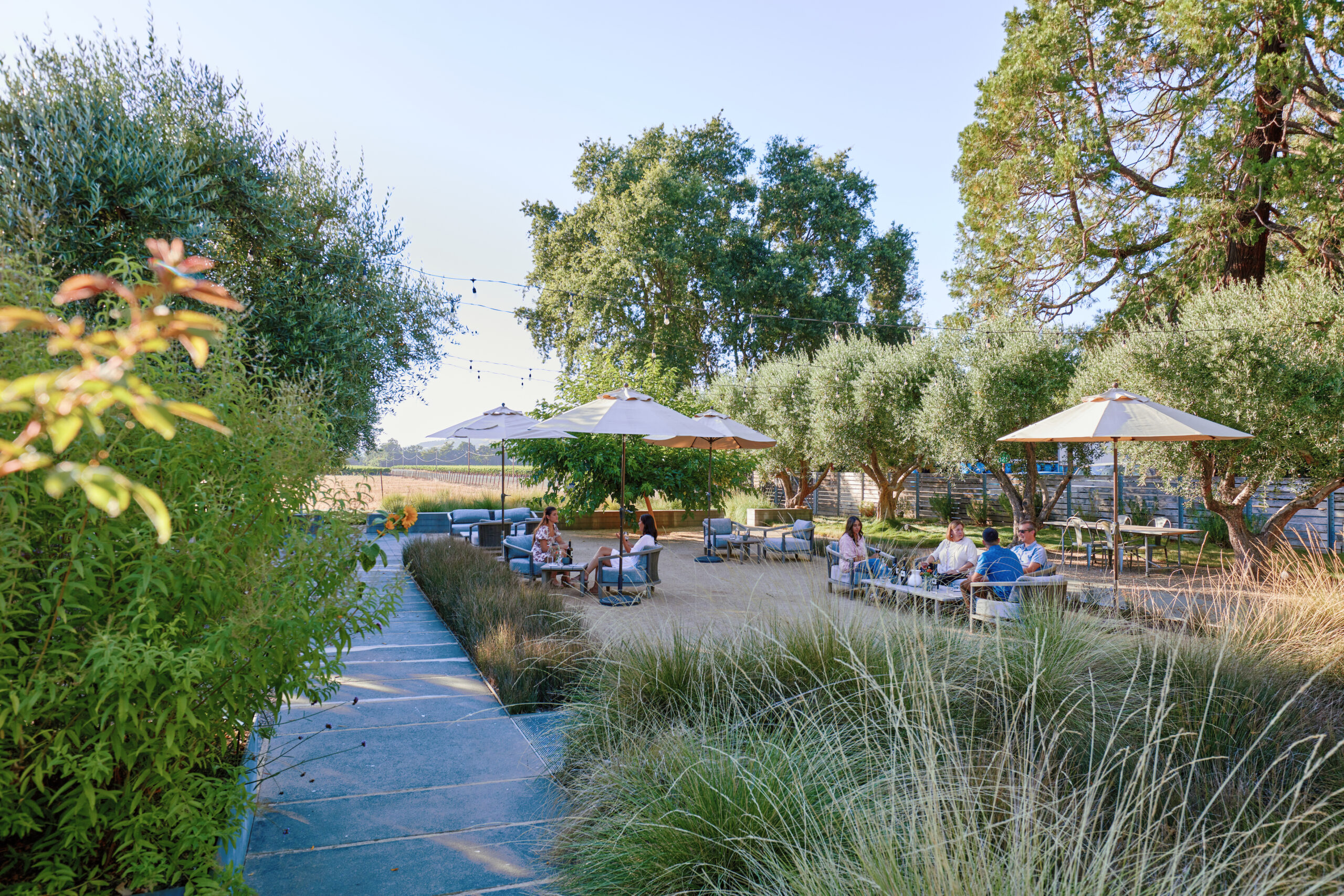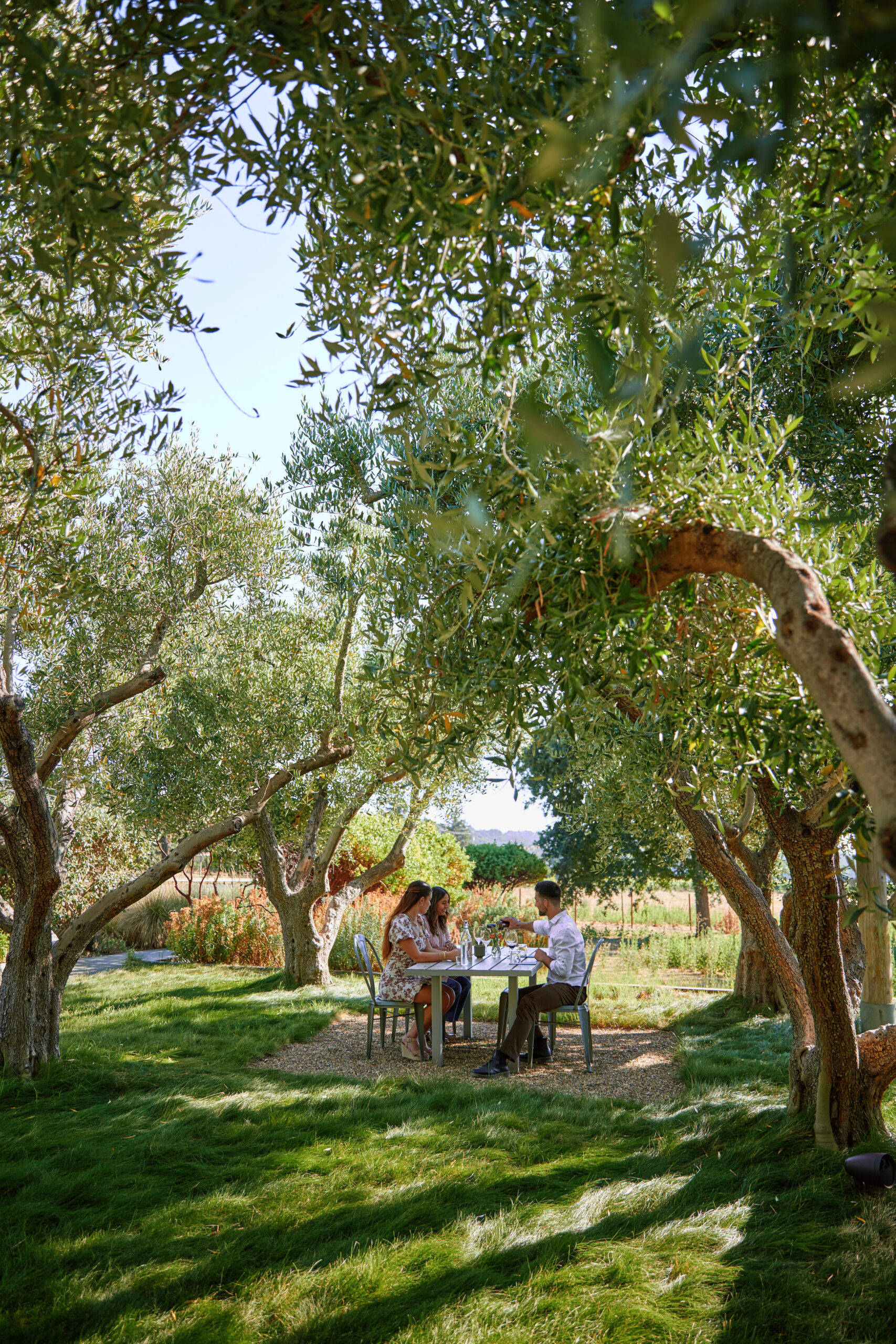 AVA Spotlight: Dry Creek Valley
Zinfandel lovers make a pilgrimage to Dry Creek to taste this inky, feisty varietal, which thrives on the long, full days of abundant sunshine tempered by cool breezes from the Pacific Ocean. In addition to Zin, other varieties that grow well there include Sauvignon Blanc, Cabernet Sauvignon, Syrah, and Grenache.
The indomitable Dave Stare of Dry Creek Vineyard helped shape the course of the valley and establish it as an AVA. The Nalle family of Nalle Winery are Dry Creek pioneers who farm 100-year-old Zinfandel ines. Several families have wineries that go back generations here: A. Rafanelli Winery, Seghesio Family Vineyards, Rochioli Vineyards & Winery, and Pedroncelli. And don't miss the views from the tasting room at Cast Wines, which span nearly the entire valley.
Taste With a Pro: James McCeney, Patz & Hall Winery
The winemaker joined the P& H team this past May and enjoys popping out of the cellar to greet guests and share what drew him to the storied winery, founded in 1988.
"One of the things that makes Patz & Hall so special is our deep relationship with our growers," he says. "Throughout our tasting room, we proudly display images of these farming families." He also gets a kick out of sharing secret treasure vineyards. "If you enjoy our Zio Tony Ranch Russian River Chardonnay, this makes you a true insider—it's a New World mirror of a Premier Cru Chablis with a mouthwatering taught, crystalline acidity."
If not hosting at the P&H Sonoma tasting room, he often takes friends to Domaine Cameras (domainecarneros.com). "I live just over the county line in Napa, off Old Sonoma Road, so it's a great spot for sparkling wine made from Sonoma Carneros grapes."
Patz & Hall Winery, 21200 Eigth St. E., Sonoma. 707-265-7700, patzhall.com
No Car Needed: Downtown Healdsburg
Healdsburg's compact downtown, organized around a central plaza like several other local wine towns, is another spot to wander all day without starting up the car.
A tasting at Matt and Sara Licklider's Lioco Winery is like a visit to your coolest friend's even cooler house, with interesting light fixtures and art prints on the wall. Record player aside—yes, there's that, too—they're known for stellar Chardonnay, Pinot Noir, and Carignan with an emphasis on older vines, unique soil types, and heritage clones.
On North Street, BloodRoot Wines hosts vinyl record spin sessions and pét-nat and pupusas nights. Alan Baker of Cartograph Wines worked in public radio production in Minnesota for decades before realizing his winemaking dream with wife Serena Lourie.
And Aeris Wines by Rhys Vineyards, named for the Latin word for air or climate, celebrates founder Kevin Harvey's love of Piemontese varieties, including Carricante, an aromatic white grape that grows beautifully on Sonoma's Centennial Mountain. It's believed to be one of the only plantings of the rare variety in the state.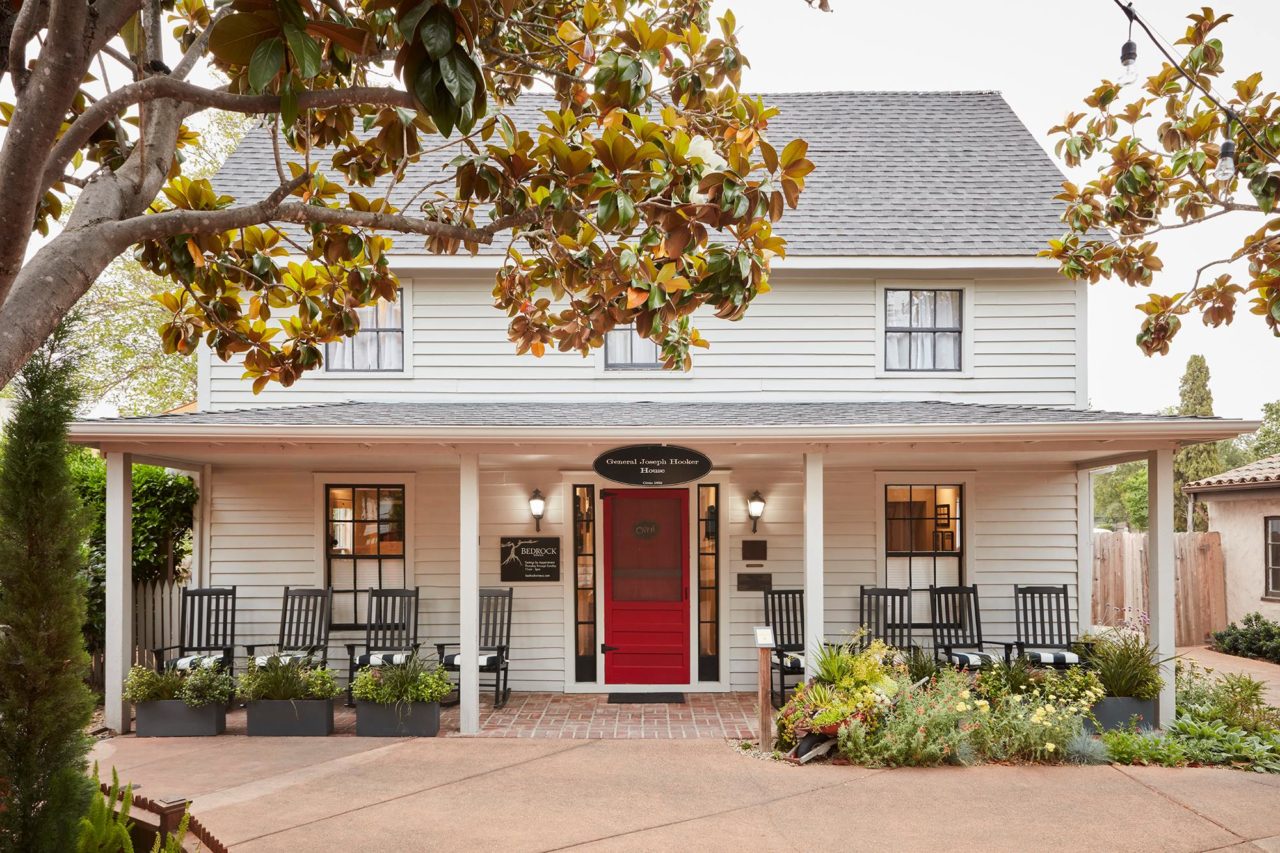 The intrigue of Bedrock Wine Co. lies in complex, character-driven wines from historic vineyards over a century old. Winemaker Morgan Twain-Peterson's Sonoma tasting room occupies the 1852 home of Civil War general "Fighting Joe" Hooker—a coincidence given that Twain-Peterson also farms Hooker's 130-year-old vineyard just outside town. From $45. 414 First St. E., Sonoma. 707-343-1478, bedrockwineco.com
Trail runners and mountain bikers can purchase a oneday pass to access vineyard trails with gorgeous views at Notre Vue Estate Winery & Vineyards outside Windsor. A 350-acre wildlife preserve surrounds the vineyard blocks. notrevueestate.com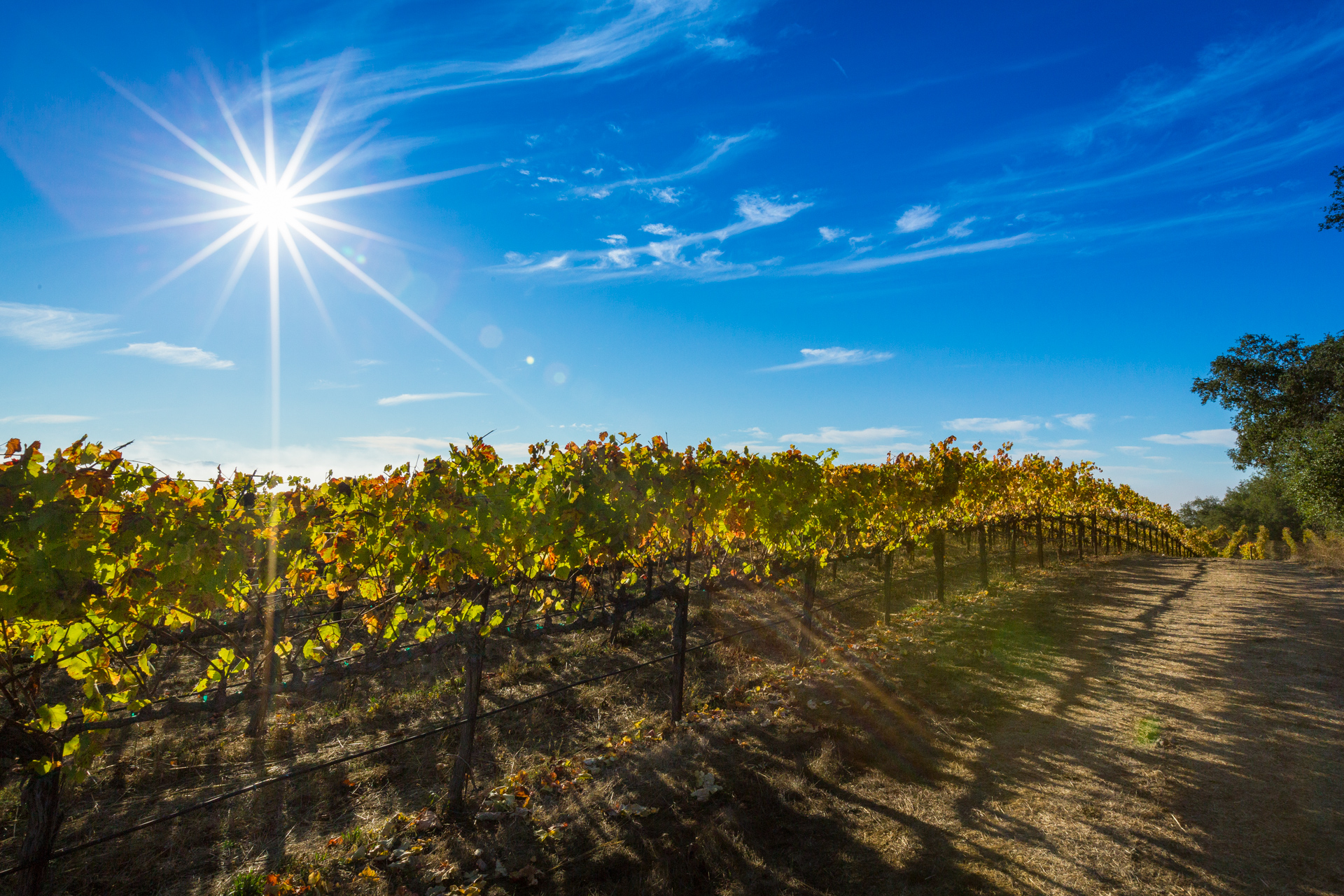 Top 3 for Trying Unusual Varietals
Idlewild Wines, Healdsburg: Owner Sam Bilbro loves Italian Piedmont wines, so that's what he makes, in a rainbow array of single varietal masterpieces, including jasmine tea-white peach Arneis and tart strawberry-violet Freisa. idlewildwines.com
Old World Winery, Fulton: Celebrating natural, biodynamic wine, owner Darek Trowbridge adds nothing to his juice except a minimal amount of protective sulfur. Focusing on field blends from 120-year-old vineyards, he crafts very rare varietals such as Muscadelle, Trousseau Gris, Palomino, and Mondeuse Noire. oldworldwinery.com
Sunce Winery & Vineyard, Santa Rosa: Owners Frane and Janae Franicevic cultivate a global snapshot of four dozen- plus wines, including rare Lagrein, Negroamaro, Rosa del Peru, and Trincadeira varietals. suncewinery.com
By the team of Tina Caputo, Sarah Doyle, Imane Hanine, Heather Irwin, Peg Melnik, Abigail Peterson, and Carey Sweet