Saying goodby to sun-soaked summer days isn't easy, but come fall, a barely noticeable but seemingly magical current takes hold along the banks of the Russian River, encouraging us to catch our breath and slow down. Warm days linger on, but the tempo of life in the bohemian community of Guerneville changes, as the quieter season evolves into an opportunity to relax and reconnect.
Those in the know have been seeking solace in Guerneville for years.
But this once-sleepy spot has seen a recent resurgence in popularity that's redefining what visitors expect. Several of the town's historic lodgings have been made over in recent years, including The Stavrand and Casa Secoya, attracting a new generation of visitors seeking more high-end amenities and experiences.
In this context, Dawn Ranch first appeared on the scene in the spring of 2022—testing the waters, so to speak—before the resort's new owners also purchased the neighboring Fern Grove property across Highway 116 and set to work reimagining the combined destination as an immersive wellness retreat.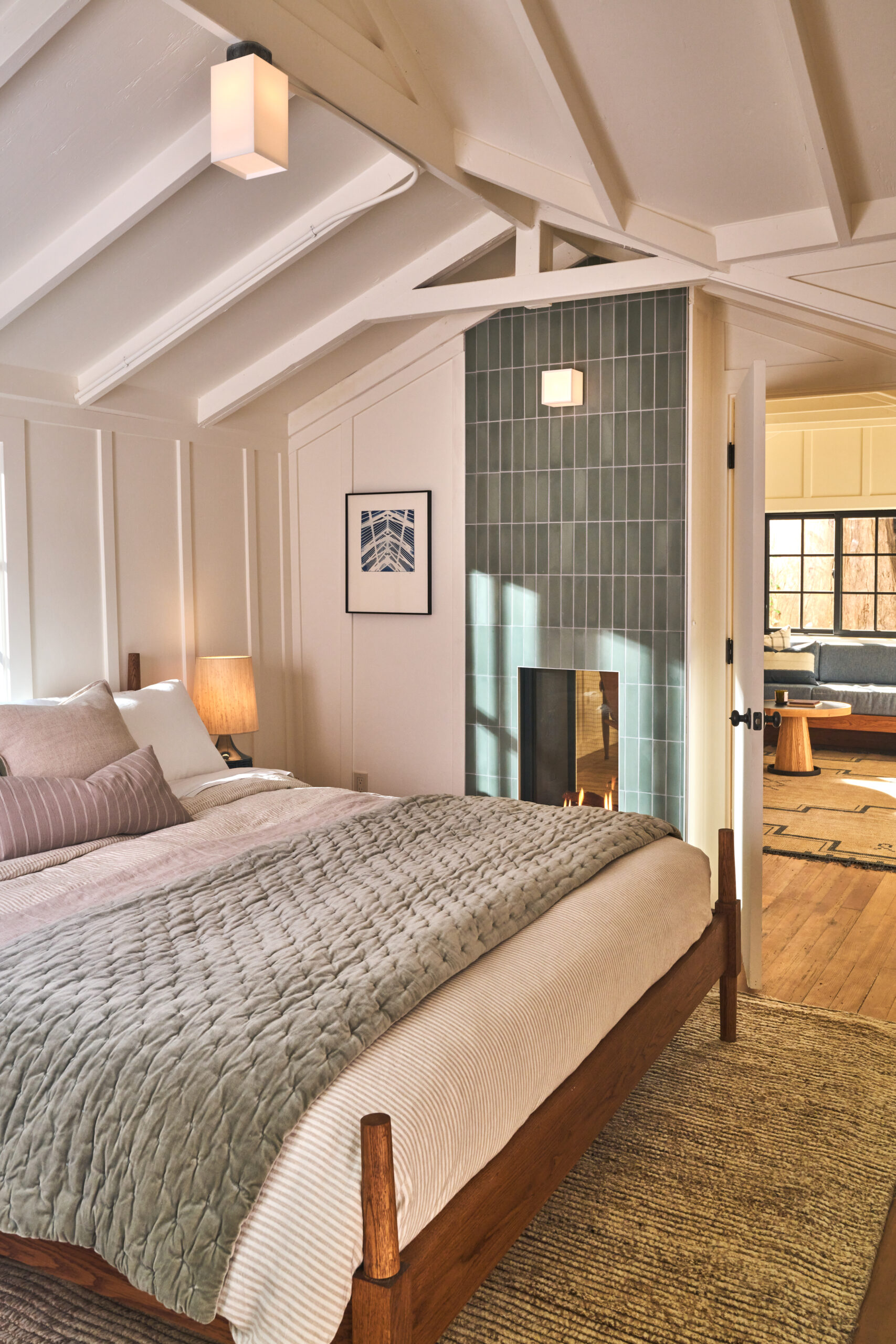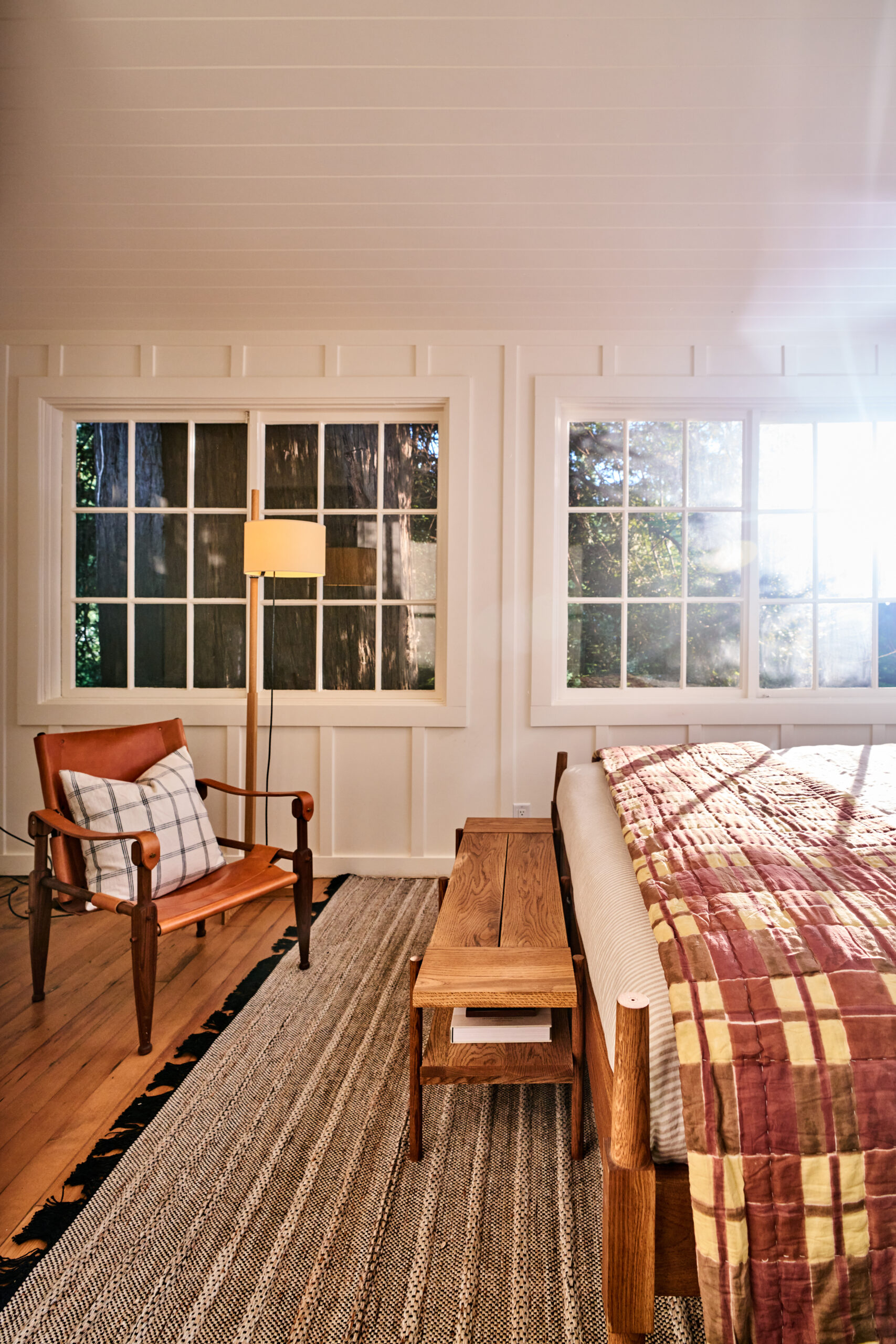 "Our design brings new life to a historic property, where the ocean meets Wine Country, and the river meets the southern edge of the redwoods," says Atit Jariwala, CEO of Bridgeton Holdings, which operates Dawn Ranch and its sister resort, the Marram Montauk in New York. "With this sense of place in mind, we capture the inviting charm of a quintessential Northern California camping retreat to provide a livedin and grounding quality so guests can relax and gather inspiration to create."
People have been gathering inspiration on these acres since 1905, when the Murphy family opened a resort with tent cabins and a dining hall, catering to wealthy San Franciscans looking for summer retreats on the Russian River. In 1978, it became Fife's Resort, one of the first gay destination resorts in Sonoma County. Rebranded yet again as Dawn Ranch in 2005, the property operated as an events venue until floods in February 2019 forced the venue to close.
The Dawn Ranch guests experience today pays tribute to the resort of days past, shining light on its charmingly rustic bones while incorporating a more modern feel. The 81 newly renovated cottages and cabins feature four-poster beds and brutalist-style bedside cabinets, as well as hand-loomed rugs and unlacquered brass bathroom fixtures that will patina over time.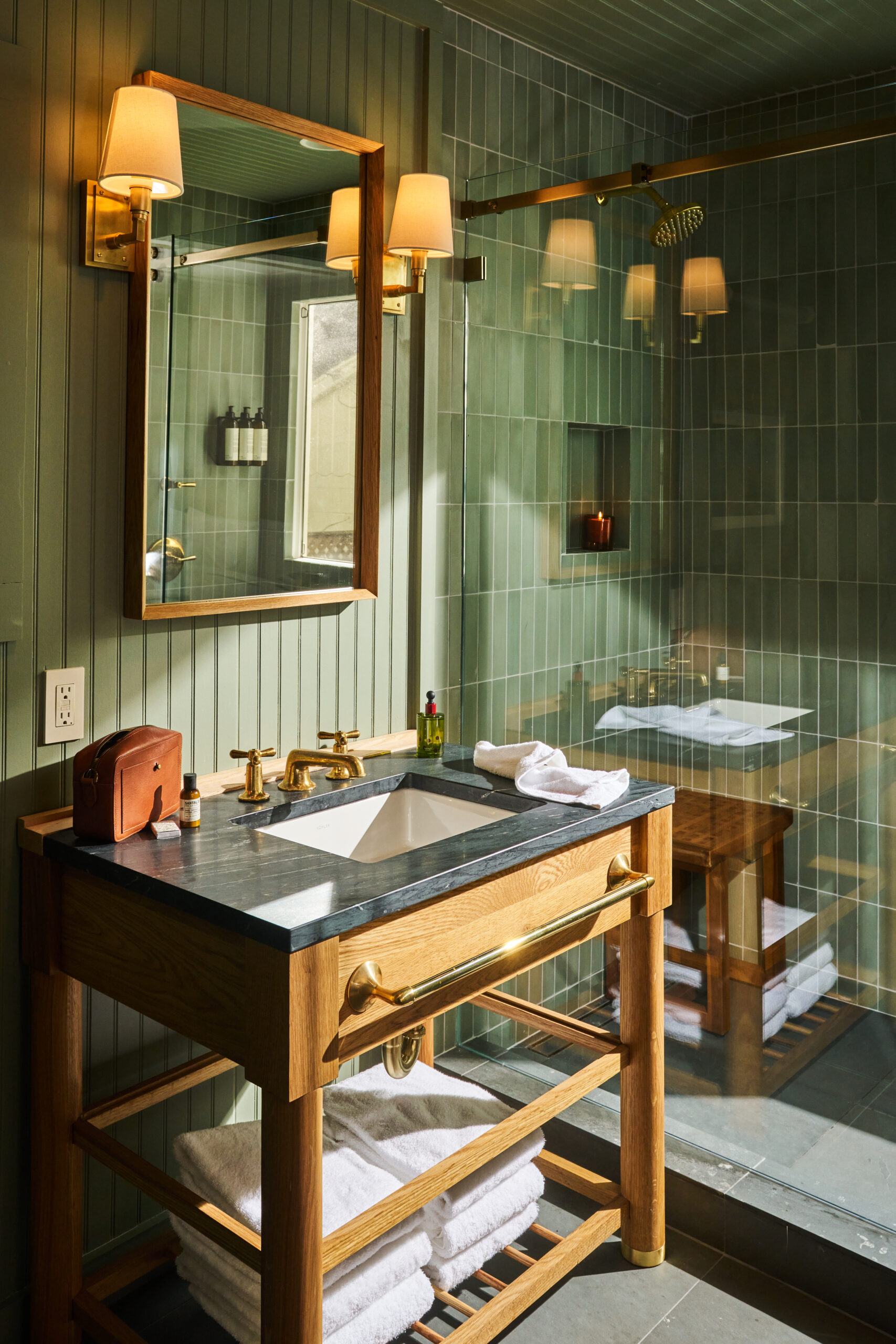 Accommodations come in a variety of configurations, ranging from luxe glamping tents and one-room cabins to two-bedroom bungalows with a full kitchen. You won't find any televisions here, but the views of towering redwoods, the fragrance of dew-covered meadows, and the calming harmony of chattering bamboo canes will transport you to a calming oasis.
A bungalow that once served as the living quarters for the resort's owner has been reimagined as a jewel box of a spa. Offering a variety of nature-inspired services, the trio of treatment rooms feature wood-paneled ceilings inspired by the home's original millwork details.
However, it's the chance to gaze at starry skies while lounging in one of the spa's four Japanese ofuro soaking tubs that's likely to leave the longest-lasting impression.
"Dawn Ranch was designed to rejuvenate guests' creativity, to help them create their own indulgences in life, on the property or after their stay," says Jariwala.
A plethora of wellness experiences ranging from yoga and meditation, to origami and beading workshops, take place throughout the resort on any given day. A simple chalkboard perched outside the open-air lobby reminds guests that days here are enriched with opportunities for renewal. Amenities the likes of Fender guitars, Swarovski wildlife binoculars, sketch books, journals, kayaks, and inner tubes encourage musings and exploration.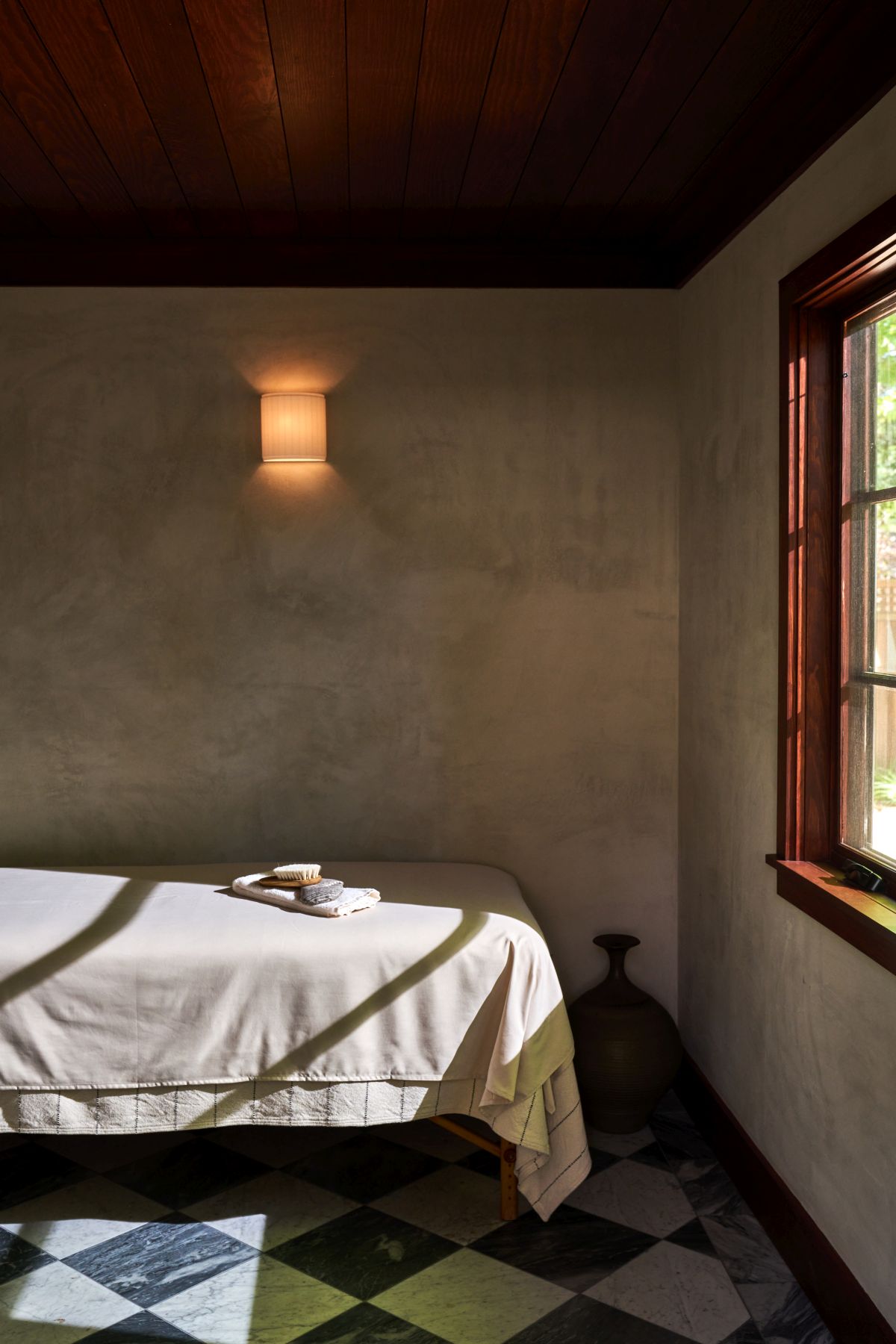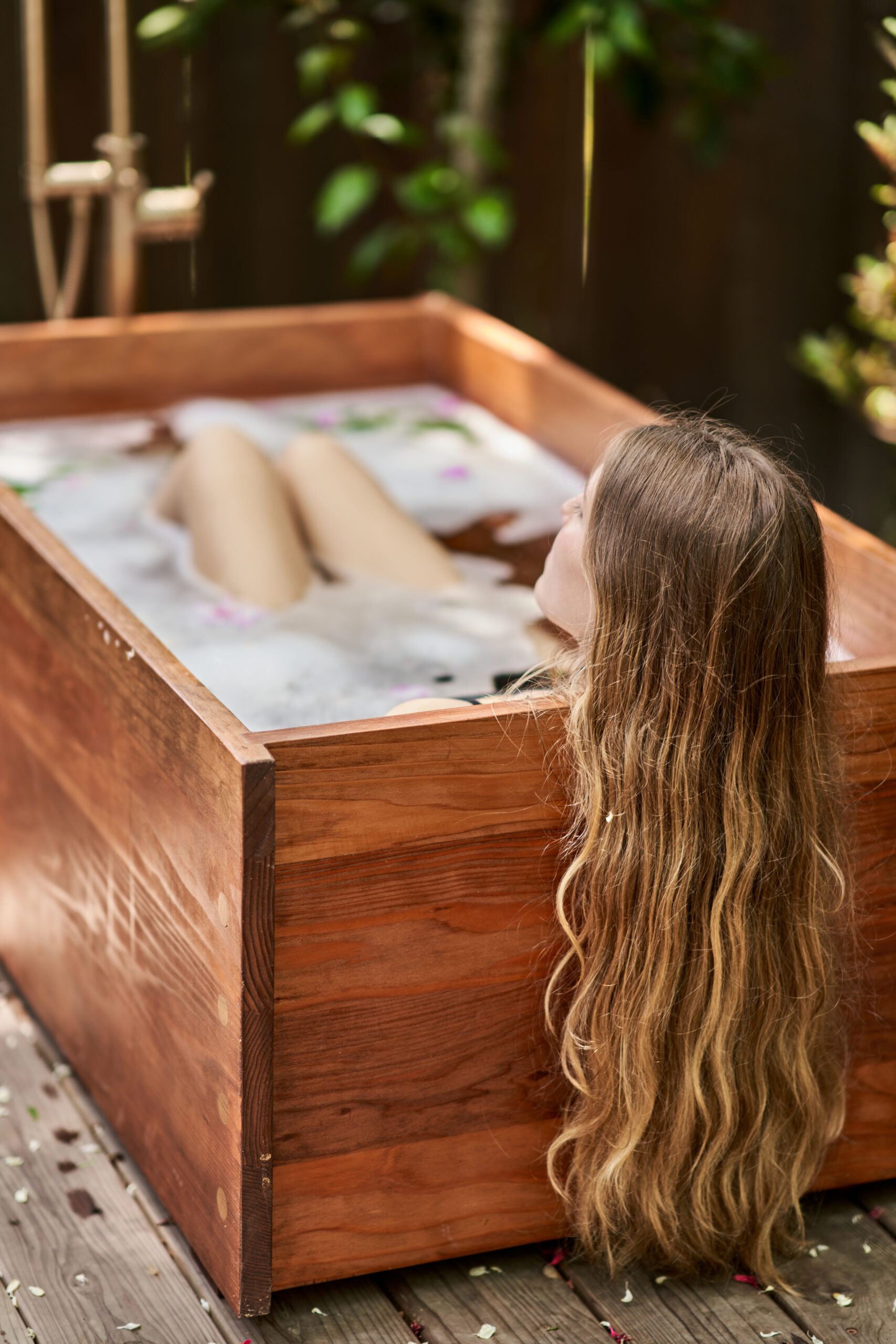 Original to the Dawn Ranch property, the 1900s-era lodge guests see when they first arrive is now home to a restaurant, bar and lounge area, where the original redwood paneling still shines behind the bar.
"We wanted to make the bar and lounge area a hearth and center place for guests to meet, plan their days, and indulge in a cocktail upon return," says Jariwala.
"In doing so, we reorganized the design around the key forms of the building—revealing the gables of the ceiling and providing uplighting to accentuate them."
A cool lime plaster now brightens public spaces, while allowing many of the lodge's original details, like redwood flooring and trim, to shine. Luxurious velvet couches mix with organic wood furniture to bring the rustic texture and beauty of Dawn Ranch's outdoor spaces inside.
The resort's new restaurant, The Lodge at Dawn Ranch, debuted when the Guerneville landmark reopened Memorial Day weekend. Chef Juliana Thorpe, formerly of Napa Valley's three-Michelin-starred Restaurant at Meadowood, and famed chef Fernando Trocca of Argentina have crafted a vegetable-forward menu with constantly changing offerings the likes of roasted beets with ricotta and pistachios, rainbow trout à la plancha, and wild mushroom risotto.
"My desire is for people to come here and to just get lost on the property and to let themselves wander," says Teach Mayer, the resort's manager.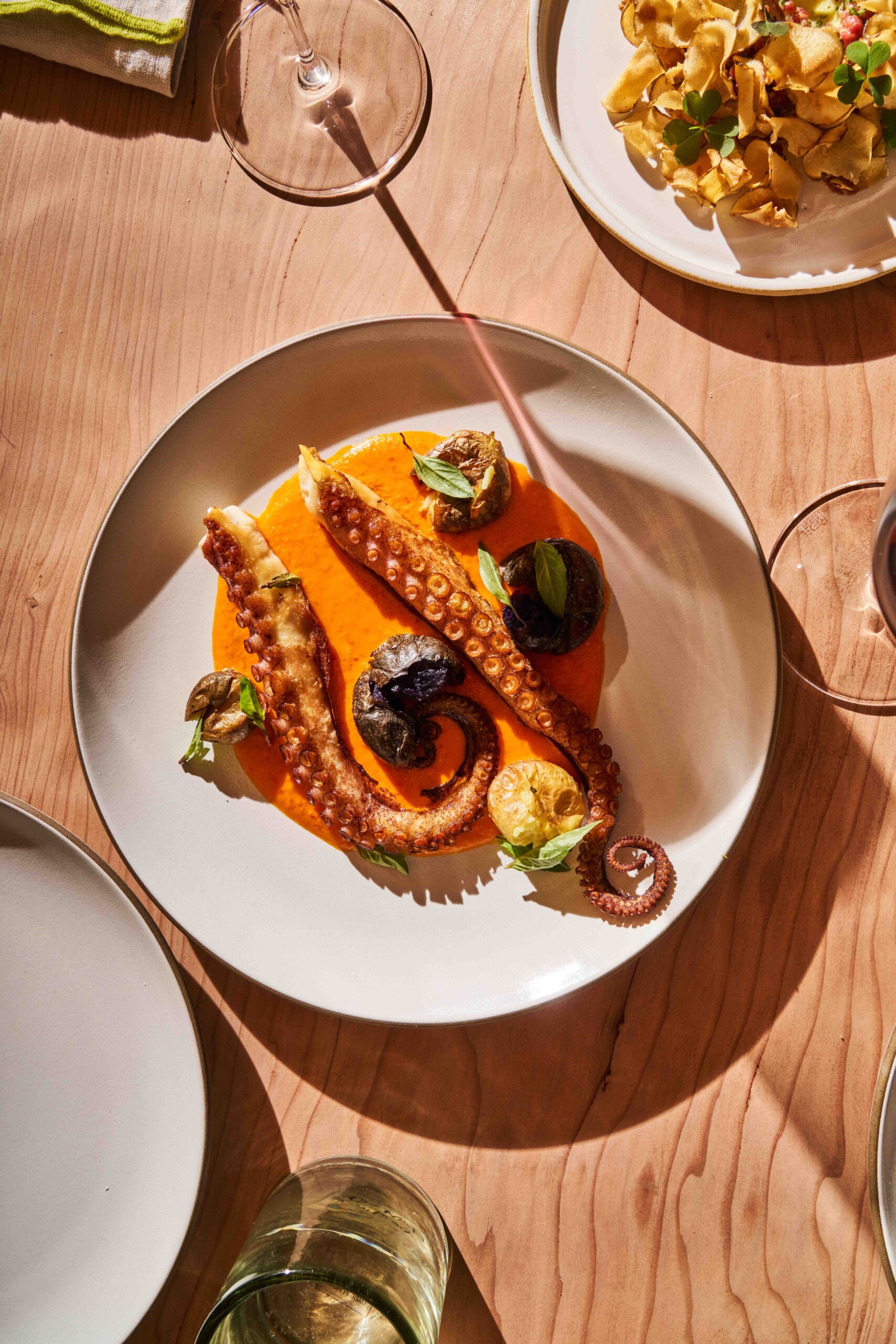 Those who dedicate time to roam often find themselves at the shoreline of the Russian River. Float and kayak trips extend the boundaries of exploration, but even just a quick dip of the toes is enough to slow down and appreciate the seemingly untouched beauty of this part of the county in fall.
Along with highly sought-after river access, the now 22-acre property boasts a diverse natural landscape that spans the river, multiple redwood groves, a small orchard, and meadows filled with wildflowers. Towering redwoods and giant bamboo mingle with persimmon, pear, and plum trees. The apple trees in the orchard, located between the Russian River and Fife Creek, are believed to be about 120 years old. And then there's the property's namesake, a pair of dawn redwoods, a rare and unusual member of the redwood family that dates to prehistoric times and were once thought to be extinct. Fall is the perfect time to linger in their shade, as their feathery leaves turn a vibrant shade of orange.
No one knows for sure how these two dawn redwoods came to be on the property. Legend has it that sometime around 1900, Mrs. Murphy, one of the resort's original owners, may have allowed arborists working at the nearby Bohemian Grove to camp on her land for free in exchange for planting some of their saplings.
"Clearly, this did not happen just on its own," says the resort's Teach Mayer about the unusual and historic plantings. "Will we ever know? Probably not. But I love that story, and I love telling it."
Rates at Dawn Ranch start at $450 per night. A second pool and restaurant, with a view of the property's two namesake dawn redwoods, is planned for next summer. Dawn Ranch, 16467 Hwy. 116, Guerneville. 707-869-0656, dawnranch.com