Guerneville has long been a diverse, friendly hamlet that welcomes everyone, including the LGBTQ+ community that has been so influential in this part of Sonoma. But for much of its history, the town has been a sleepy river hideaway, attracting mostly arts and nature types looking to escape busy city life.
Around 2012, Guerneville began morphing into a hip destination, with fresh new restaurants, shops and places to stay. And yet despite this evolution, the unincorporated community has remained small-town quaint – its population is just 4,747.
These days, for those in the know, Guerneville is one of the best retreats for absolutely everyone. It brims with bold-name chef-driven restaurants, chic boutiques and fashionable resorts celebrating the spectacular natural wonders that span the 5,683-acre Austin Creek State Recreation area.
Now, elegant second homes among the redwoods are being snatched up, while the LGBTQ+ culture still thrives. Get a taste of what all the fuss is about with this quick-glimpse getaway that will have you wanting to come back to explore more.
Fun fact: Guerneville used to be known as "Big Bottom," referring to the alluvial flood plain that the area rests upon. Later, it was called Stumptown in honor of its redwood logging industry.
Day 1
Start with a late morning stroll downtown, along the Main Street. The stretch is just a half-mile long, but chock-a-block with an eclectic mix of dive-y yet convivial bars, a few so-tacky-they're-fun souvenir shops, kicky restaurants, and wine tasting rooms.
Be sure to browse at Sonoma Nesting Company. Dax Berg founded this funky, joyful vintage shop and art garden to showcase covetable clutter like candy-striped furniture, tasseled bedazzled lamps, and exquisite offbeat art. There's so much to love in the eclectic, ever-changing mix of unique items, ranging from whimsical ephemera to lovingly restored antiques. Many of the treasures celebrate animals; Berg is involved in local rescue.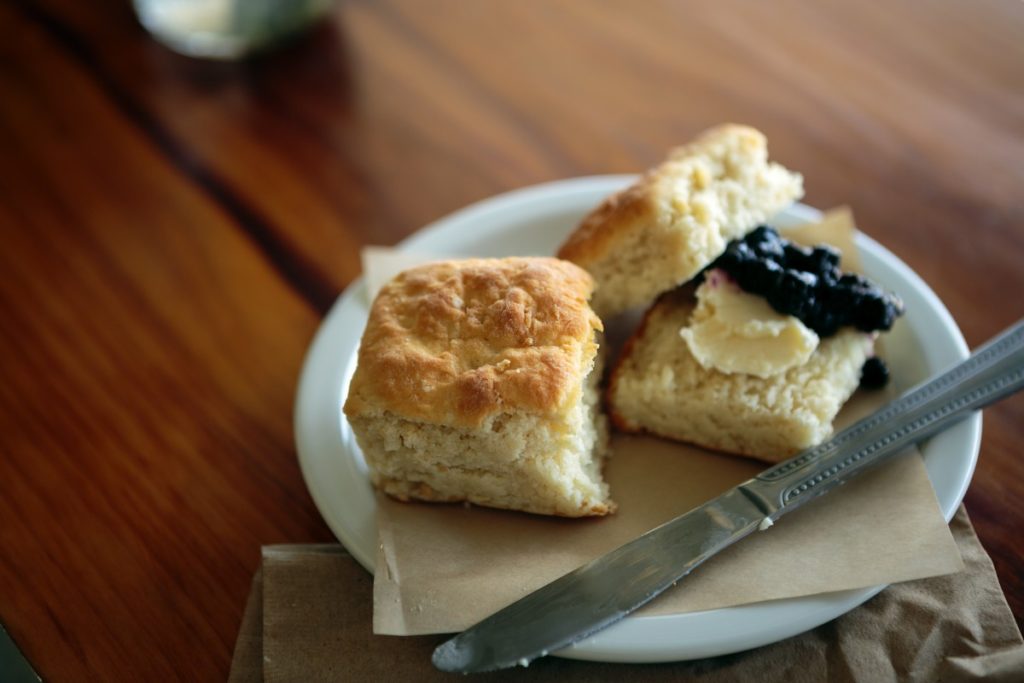 Drop in for lunch at the new PikNik Town Market (formerly Big Bottom Market). The artsy café delivers a delicious mix of gourmet grocery, an upscale deli complete with curated local wines, and custom-made, mouthwatering layer cakes finished with European buttercream.
New owner Mags van der Veen still serves the famous, Oprah-approved, warm and fluffy Big Bottom Biscuits, stuffed with delights like fresh blueberries and Bavarian cream, or smothered in mushroom gravy. Hearty sandwiches are superb, such as the creamy chicken salad dotted with currants, cashews, apple, aioli and crisp greens on daily-baked whole grain bread, or the lovely combo of beetroot hummus, pickled cucumber and cashew kale pesto on vegan sourdough.
Be sure to treat yourself to a cute little paper sleeve full of puffy, slightly sweet mini Dutch pancakes dusted with powdered sugar alongside a dollop of butter.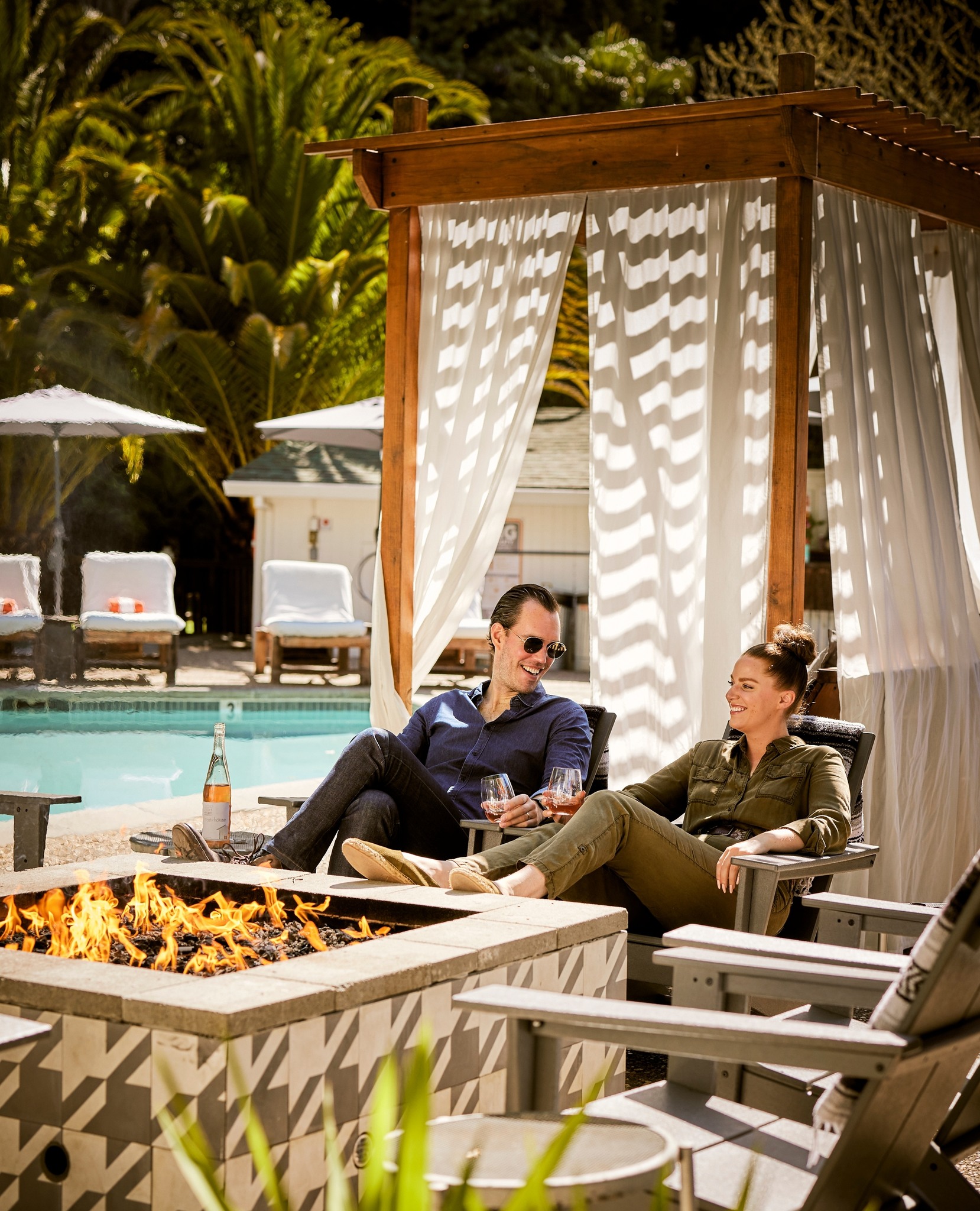 Check into boon hotel + spa. Entrepreneur Crista Luedtke helped put Guerneville on the map with this intimate enclave of 14 rooms in historic miner's cabins tucked amid stately redwoods. Digs have been renovated into sexy, eco-friendly cottages clustered around a Mad Men-glitzy swimming pool, and more recently, Luedtke added safari-style glamping tents plus an adorable, 80-square-foot "Boonito" Airstream trailer.
Grab a complimentary-loan Boon bike and make your way a mile-or-so to Armstrong Redwoods State National Reserve. The 805-acre forest is a west county crown jewel, the groves of 500 to 2,000 year-old trees towering to 350 feet (taller than a football field is long). Breathe deep and savor the velvety quiet and solitude; the massive trees are often shrouded in mystical fog.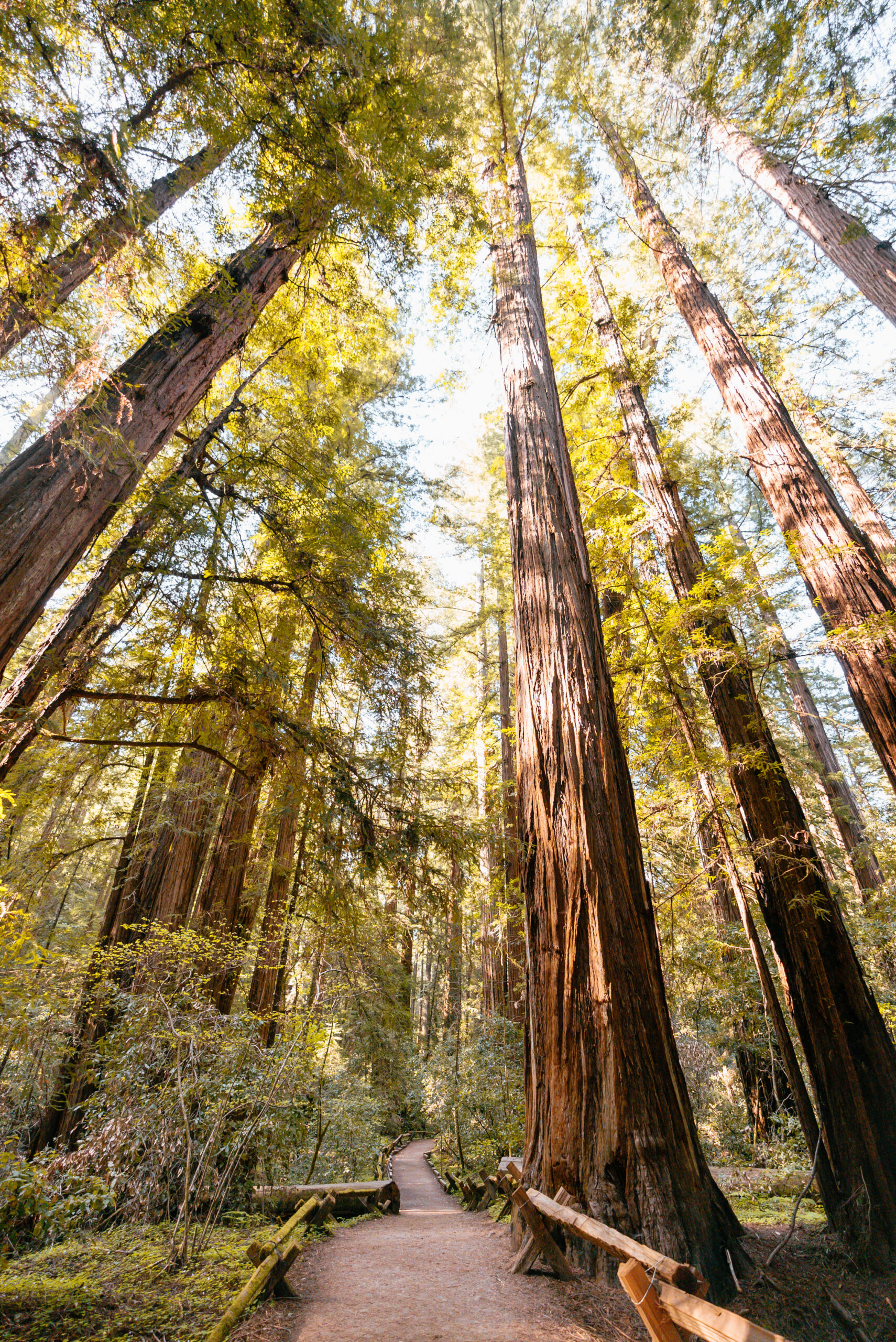 Get a light-ish dinner at Smart Pizza, enjoyed on the colorfully painted deck. Dough is made in house, hand stretched, topped in homemade sauces and specialties like handcrafted meatballs, then baked in a brick oven. Owner Suzy Kuhr rocks it with yummy choices like a North Coast pie of chicken, feta, artichoke hearts, pesto sauce and sun-dried tomatoes.
Sip a nightcap at boon hotel. The "mini bar" here is a full-spirits wet bar next to the hot tub, and a refrigerator stocked with an amazing array of local wines, artisanal canned cocktails, beers, and fresh squeezed juices for make-your-own hard quaffs. Just sign a sheet on the bar; you're on the honor system.
Day 2
Sleep in, and at your appointed time, boon staff leaves a darling breakfast nosh on your doorstep of fresh squeezed juice, coffee, sliced fruit, a hardboiled egg, and a fresh-baked pastry.
Ramble along Armstrong Woods Road, stopping in at Russian River Books & Letters to browse – gasp — real live books (not digital!). Owner Michael Rex loves books, and will recommend his finds – perhaps "August Wilson: A Life," a biography of a playwright celebrating African American life in the 20th century (some made into films, including "Fences," starring Denzel Washington and Viola Davis).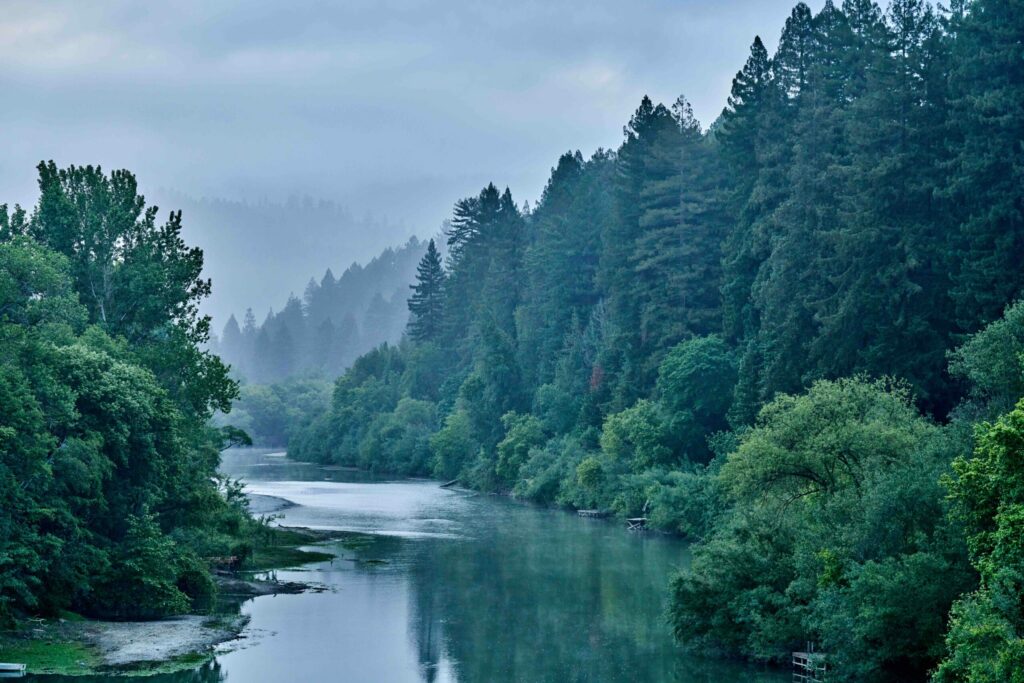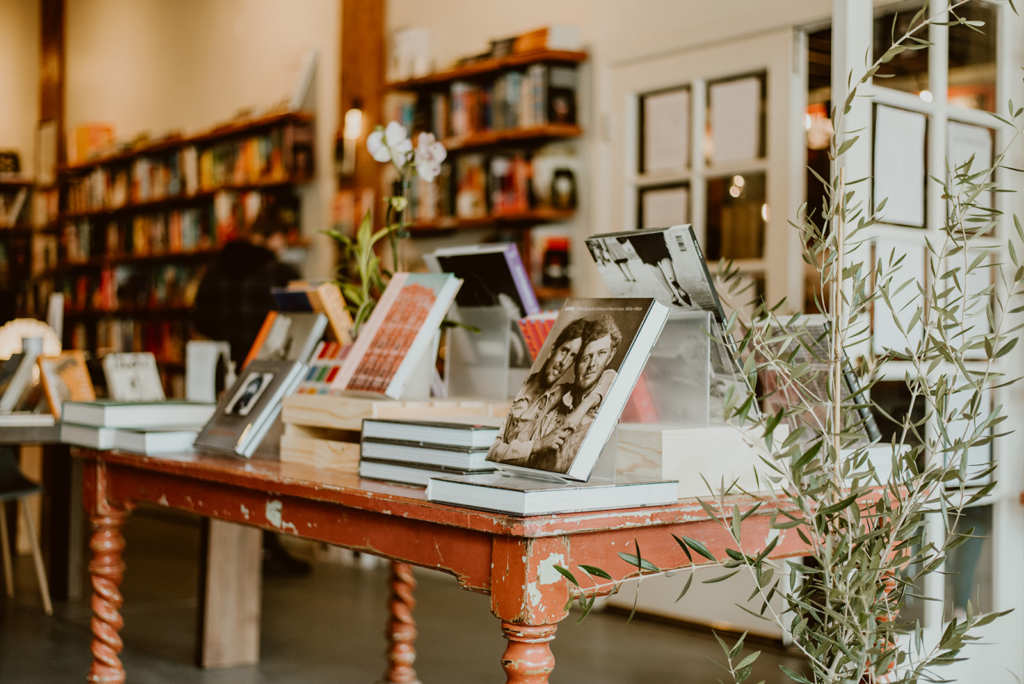 Take a few-minutes-drive over the Russian River bridge to Porter Bass Winery. Cooled by ocean breezes, the biodynamic vineyard in a saddle between two ridge tops produces top-notch Pinot Noir, Chardonnay and Zinfandel, lovingly handcrafted by Winemaker Luke Bass. By-appointment tastings are held at a wood plank set-up under a shady walnut tree, in the company of veggie plots, orchards, dogs and cows.
Head back down the hill to the historic (but recently renovated) Dawn Ranch. Meander the sprawling 22 acres right on the banks of the Russian River, and admire the vintage apple trees, ancient redwoods, expansive flower gardens, and recently redesigned lodge, chalets, cottages and cabins.
Chef Fernando Trocca can prepare you a storybook picnic to savor amid the trees, stocked with goodies like local cheeses, salumi, sea salt crusted hearth bread, fruit, chocolate and optional wine (yes, get the wine). Or go all out, and he'll pack you a feast of any Dawn Ranch restaurant dishes you like.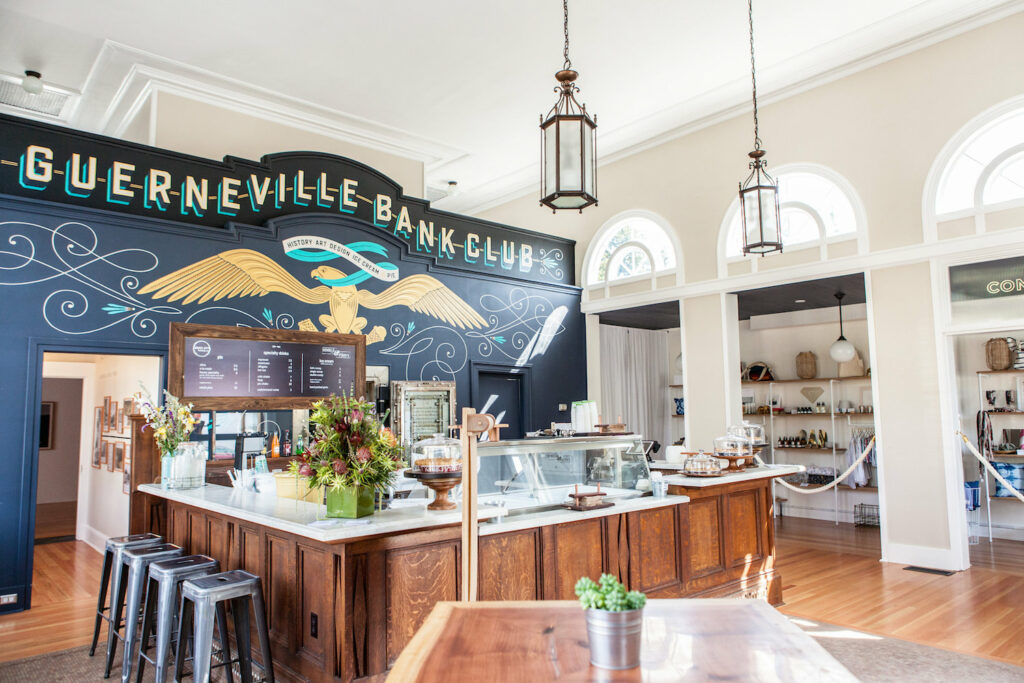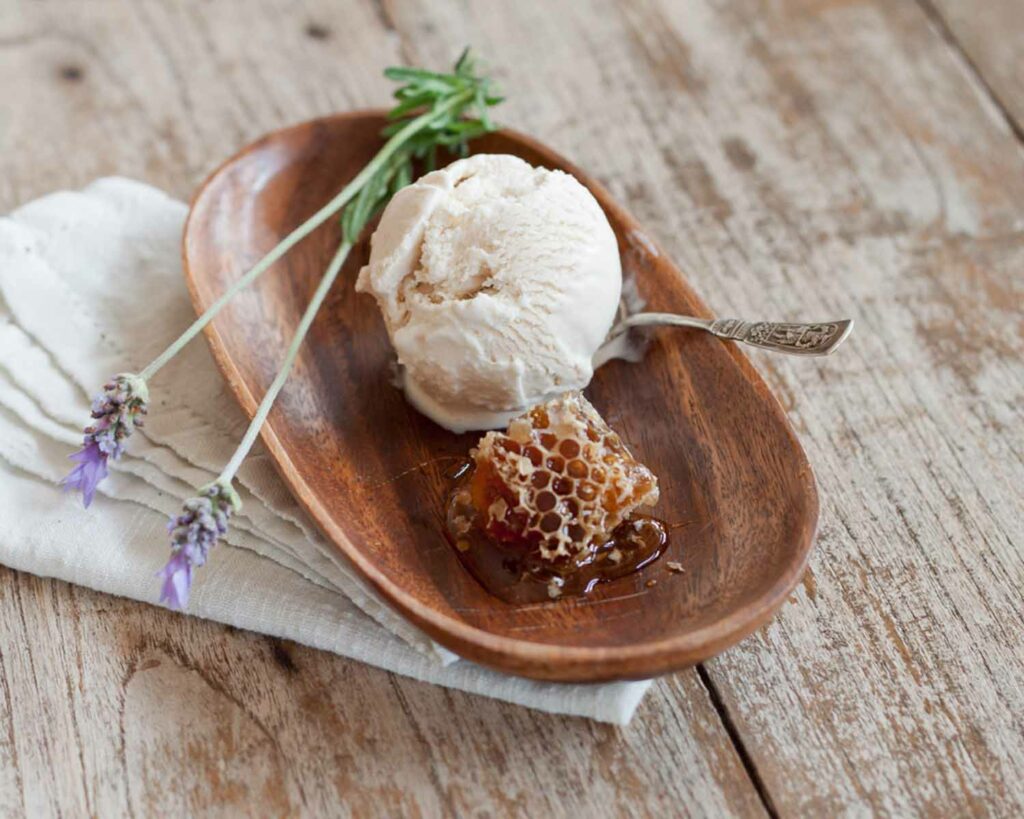 Skip on over to Nimble & Finn's inside The Guerneville Bank Club (a collective of artisan shops and galleries) for a scoop of handmade artisanal ice cream made with organic dairy from Straus Creamery, seasonal produce, and housemade jams. Sisters and owners Jazmin Hooijer and Leandra Serena Beaver dream up magical concoctions like lavender honeycomb, Meyer lemon olive oil chocolate chunk, and whiskey butterscotch.
Back at boon hotel, indulge in a spa treatment, done in a Guerneville twist with CBD cooling balms for a beautiful, pain-releasing massage. Add in the healing tea service afterwards, for a detoxifying bliss blend of licorice root, peppermint extract, dandelion root, cinnamon and ginger.
Delight in dinner at boon eat + drink. Another Crista Luedtke project, this always-bustling café wows with Sonoma County-spirited dishes like some of the best mac-n-cheese you'll ever have, dotted with Sebastopol's mycopia mushrooms and truffle breadcrumbs, or spicy, chile braised Niman pork shoulder atop creamy polenta with fiesta slaw, ricotta salata and crunchy pepitas.
Don't forget about the real, namesake Boon himself. You'll see this now dear-departed rescue dog prancing as a mural on the wall, living on in our memories as the wiggly-waggly, frisbee-toting gentleman that Luedtke loved so much.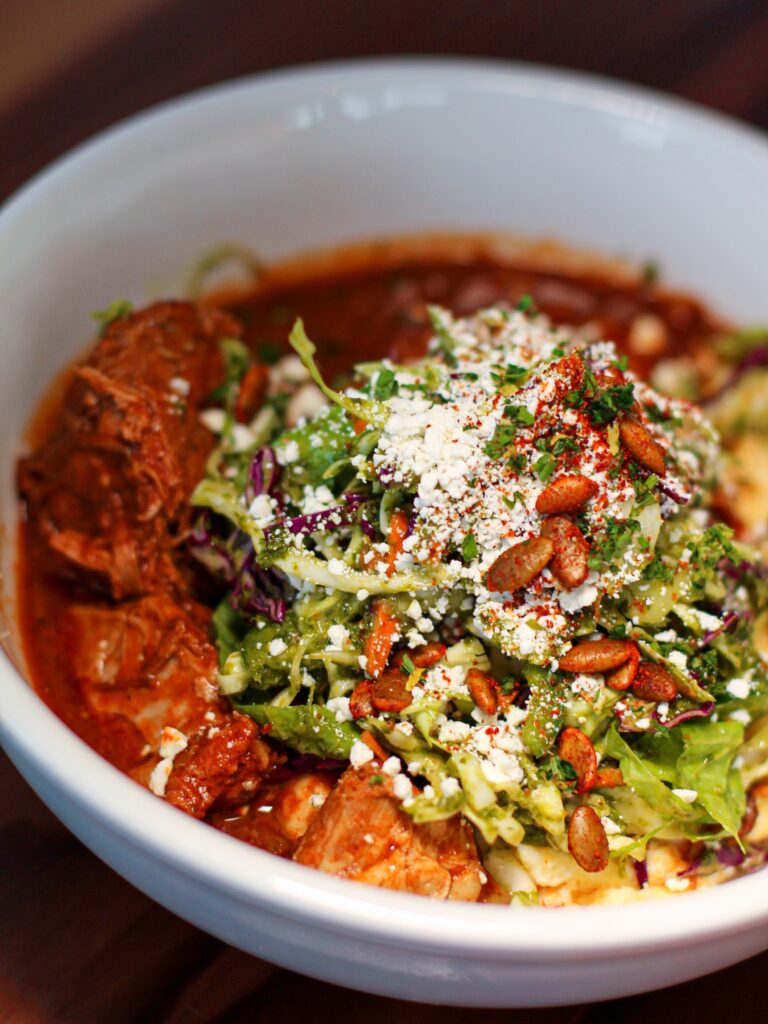 Recommendations
Sonoma Nesting Company, 16151 Main St., 707-869-3434; sonomanesting.com.
PikNik Town Market, 16228 Main St., Guerneville, 707-604-7295, pikniktownmarket.com.
boon hotel + spa, 14711 Armstrong Woods Road, 707-869-2721, boonhotels.com.
Armstrong Redwoods State National Reserve, 17000 Armstrong Woods Road, 707-869-2015, parks.ca.gov.
Smart Pizza, 16205 First St., Guerneville, 707-869-0651, facebook.com/duchessofdough.
Russian River Books & Letters, 14045 Armstrong Woods Road, Guerneville, 707-604-7197, booksletters.com.
Porter Bass Winery, 11750 Mays Canyon Road, Guerneville, 707-869-1475, porter-bass.com.
Dawn Ranch, 16467 California-116, Guerneville, 707-869-0656, dawnranch.com.
Nimble & Finn's, 16290 Main St., Guerneville, 707-666-9411, nimbleandfinns.com.
boon eat + drink, 16248 Main St., Guerneville, 707-869-0780, eatatboon.com.