Lifestyle guru Oprah Winfrey has selected Guerneville's Big Bottom Market biscuits for her annual holiday shopping guide "Favorite Things," released Thursday by O, The Oprah Magazine. 
"Biscuits and I go way back," Winfrey says in her notes on the Big Bottom product, a gift box containing the mix and locally sourced, organic orange-blossom honey. "These bake up moist yet crumbly, taste homemade though they're from a mix, and are heavenly served with this honey."
At Sonoma Magazine, we have been fans of the Big Bottom biscuits since day one… Read what we wrote about them earlier this year:
Our Favorites: Guerneville's Big Bottom Biscuits
If we could celebrate our love for the biscuits at Big Bottom Market in an interpretive dance we would, but seeing how this is print, we'll just tell you that they're worth the trip to Guerneville.
Fluffy, yummy and just a hint of sweetness makes these so awesome — in a California way. Because no self-respecting Southerner would do what comes next. The new Biscuit Bar features these glutenous little pillows with pulled pork, mascarpone and honey, berries and whipped cream or (our fave) smoked salmon and pickled onions. Delish.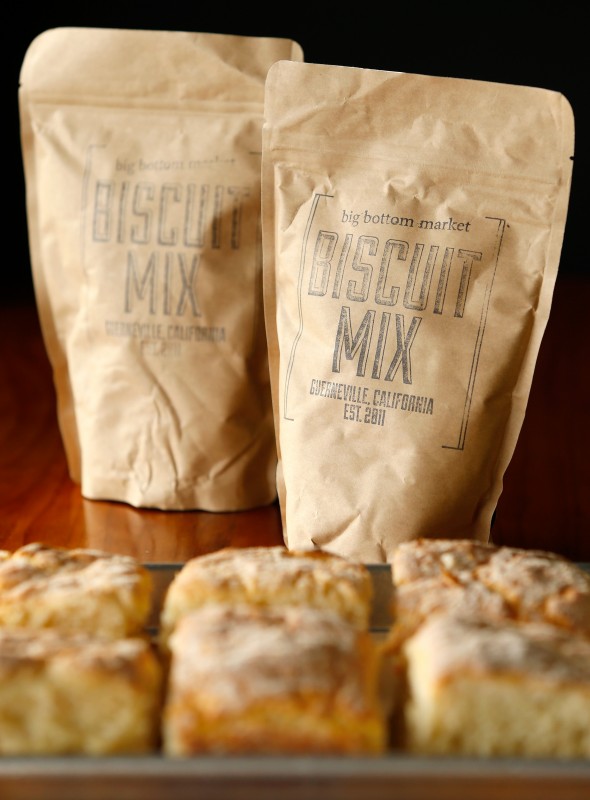 The focus on biscuits is just part of the update that co-owners Crista Luedtke, Kate Larkin and Michael Volpatt have given the gourmet general store just in time for summer. They're adding a new culinary director (Cole Mayfield), along with a Muffuletta Sammie (hello, NOLA), bbq pulled pork sandwich and a mezze plate. Market faves like the Hangover, Parson Jones, soups and salads will remain, along with frozen biscuits to take home and cook.
FYI:  New Yorkers are about to get a taste of BB's biscuitry, when they open a biscuit bar at Osteria Cotta on Columbus Ave. A little bit of SoCo in NYC ain't a bad thing.
16228 Main St, Guerneville, bigbottommarket.com.