Crista Luedtke hasn't figured out yet how to marry her famous Big Bottom biscuits with Cambodian culture. But following a spring visit to the Southeast Asian country, the Guerneville entrepreneur is surely thinking about it.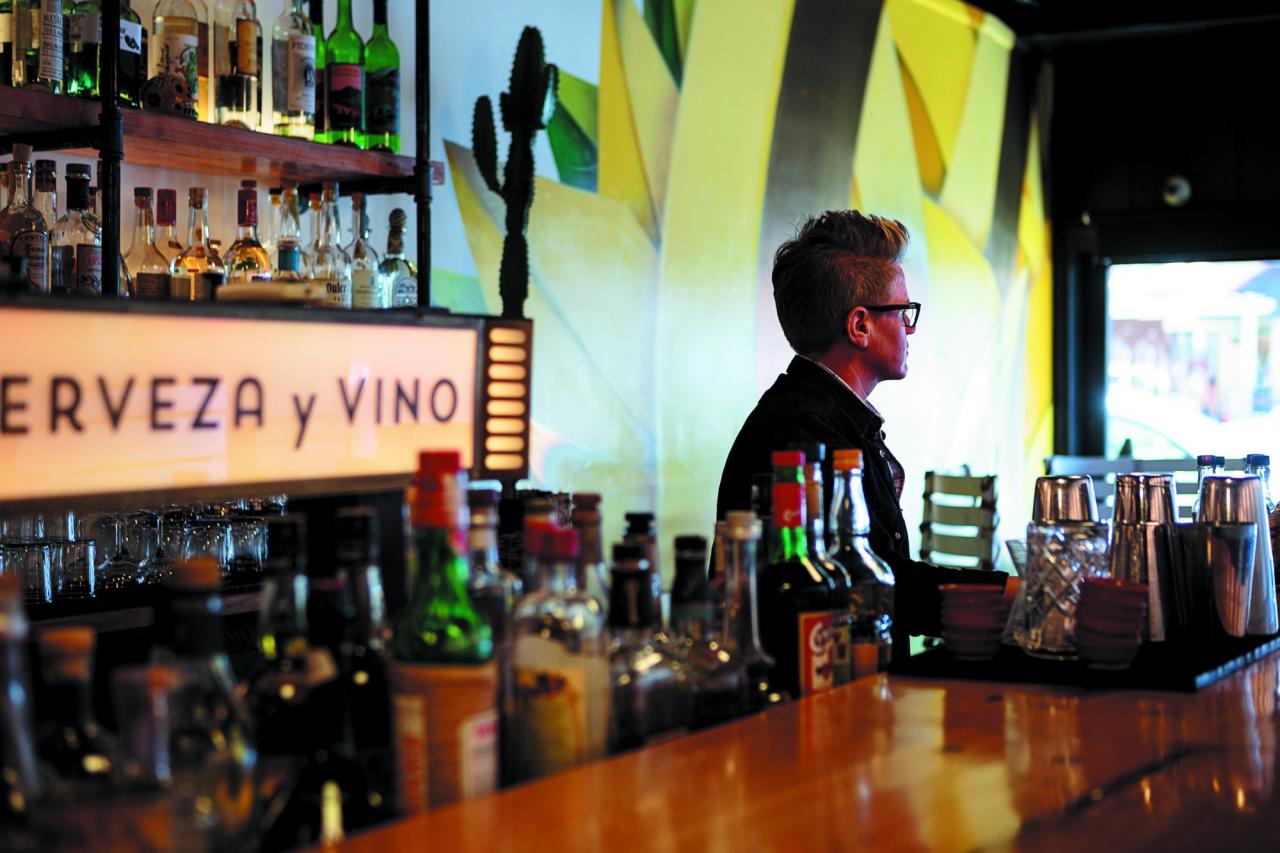 "I'm not sure if there's a biscuit link," Luedtke said with a laugh about the extraordinary appeal of her from-scratch baked goods, which she introduced with the opening of her Big Bottom Market in 2011 and recently rolled out on menus at two restaurants in New York.
If she does come up with a connection — perhaps stuffing biscuits with fish from the Mekong River instead of cured salmon, crème fraîche, capers and pickled onion for her signature biscuits — few who know Luedtke should be surprised. When there's a challenge, she'll tackle it, and lately, it seems she can do no wrong, with a mini Guerneville empire that includes a hotel and spa, restaurant, market cafe and cocktail lounge, all within a half mile of each other.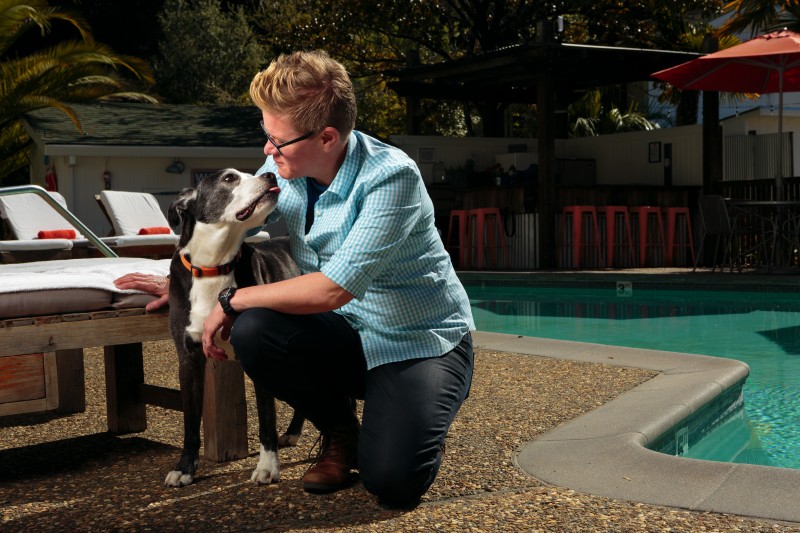 In 2008, Guerneville was a sleepy hideaway best known for its Russian River resorts and gay-friendly community. Flash forward to 2016, and the self-proclaimed "gayberhood" is now a hip dining destination and a burgeoning resort retreat for straight folks, too. By many accounts, much of the metamorphosis is attributed to Luedtke, 42, a spitfire with a rumpled side-swirl shock of blond hair, a tattoo reading sawat (Thai for boon: a gift or blessing) on her right arm, and a dog named Boon, rescued at 14 weeks from Anderson Valley Animal Rescue in Boonville and now 12 years young.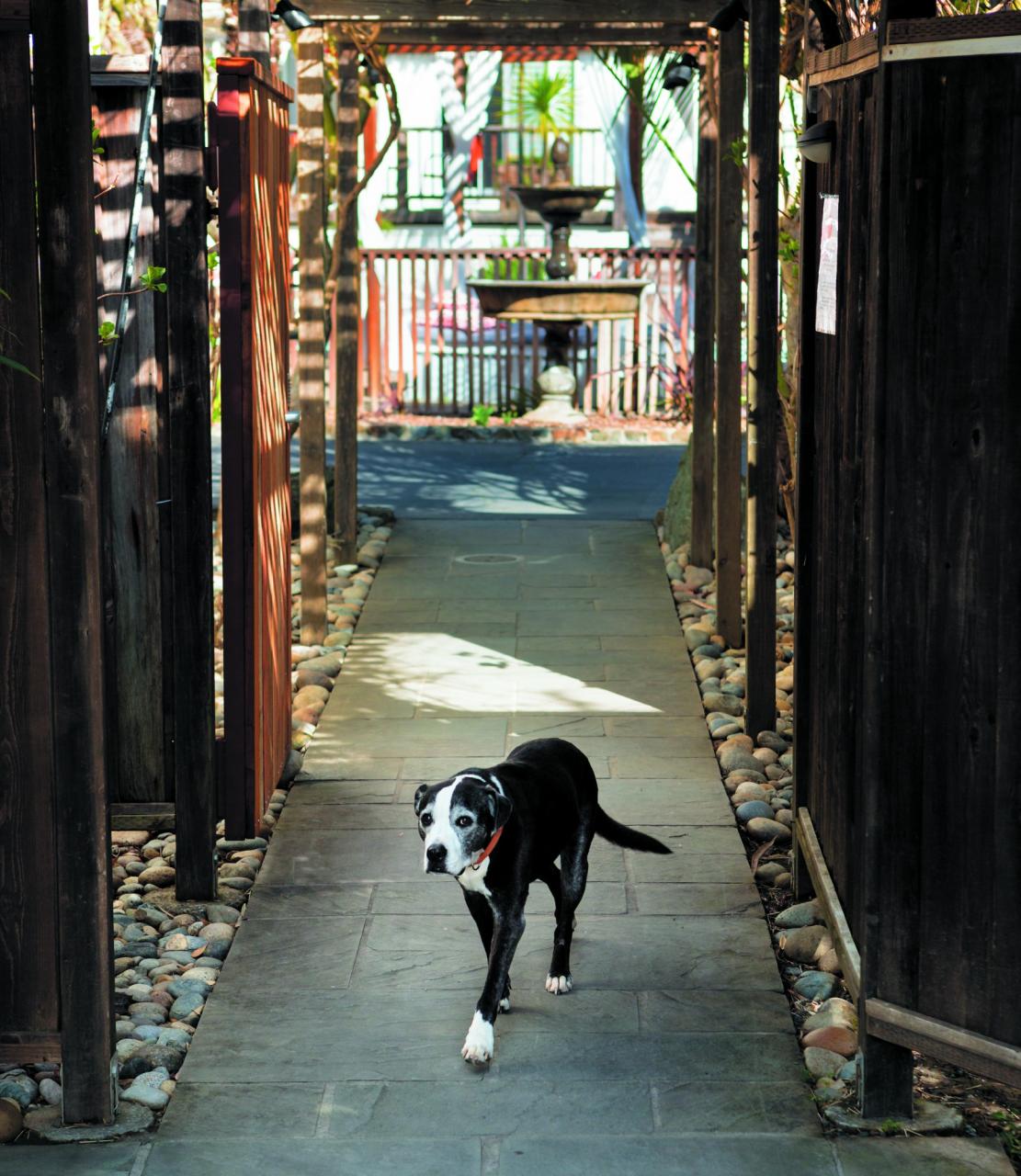 "Crista's accomplishments were a large influencing factor in our decision to move forward with the deal to buy the iconic Johnson's Beach," said Daniel Poirier, who met Luedtke four years ago and last March took over the century-old resort in the heart of Guerneville. "My partner, Nick Moore, and I had done a lot of soul searching. Then we did a reality check and looked at what was happening in town — what she was doing couldn't be ignored. The town was, and still is, seeing a resurgence."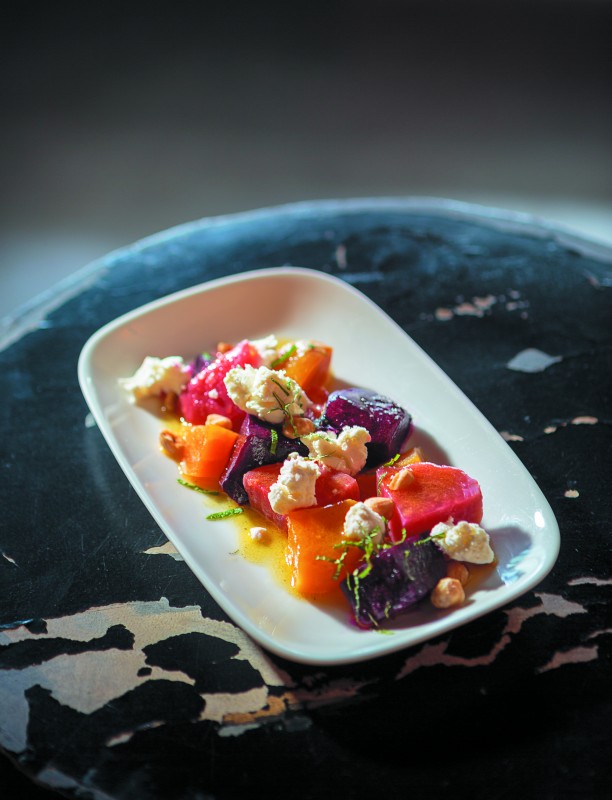 Eight years ago, Luedtke and her then-wife, Jill McCall, purchased the former Retreat Resort & Spa on Armstrong Woods Road just north of downtown Guerneville. They revamped the old buildings, doing much of the design themselves, and opened boon hotel + spa in 2008. Luedtke debuted boon eat + drink restaurant on Main Street a year later, followed by Big Bottom Market in 2011. Her latest project, El Barrio tequila, mescal and bourbon bar, served its first drink in September 2014.
"It was all doing great, even with the recession," said Luedtke, who built her businesses with her investment partner, Scott Dunckley of San Diego.
"But other small businesses were struggling on Main Street, so I just kept thinking, 'What does this town need to keep locals happy and get visitors coming?'" Guerneville was once a logging village that morphed into a popular resort town in the late 19th century, when wellheeled San Franciscans took the train to its redwoods-lined riverbanks. But by the 1950s, automobile and air travel took crowds elsewhere, and in the 1960s, the town suffered massive flooding. Things declined to a run-down, Bohemian river-rat locale.
"Why couldn't we be lumberjack chic?" Luedtke wondered.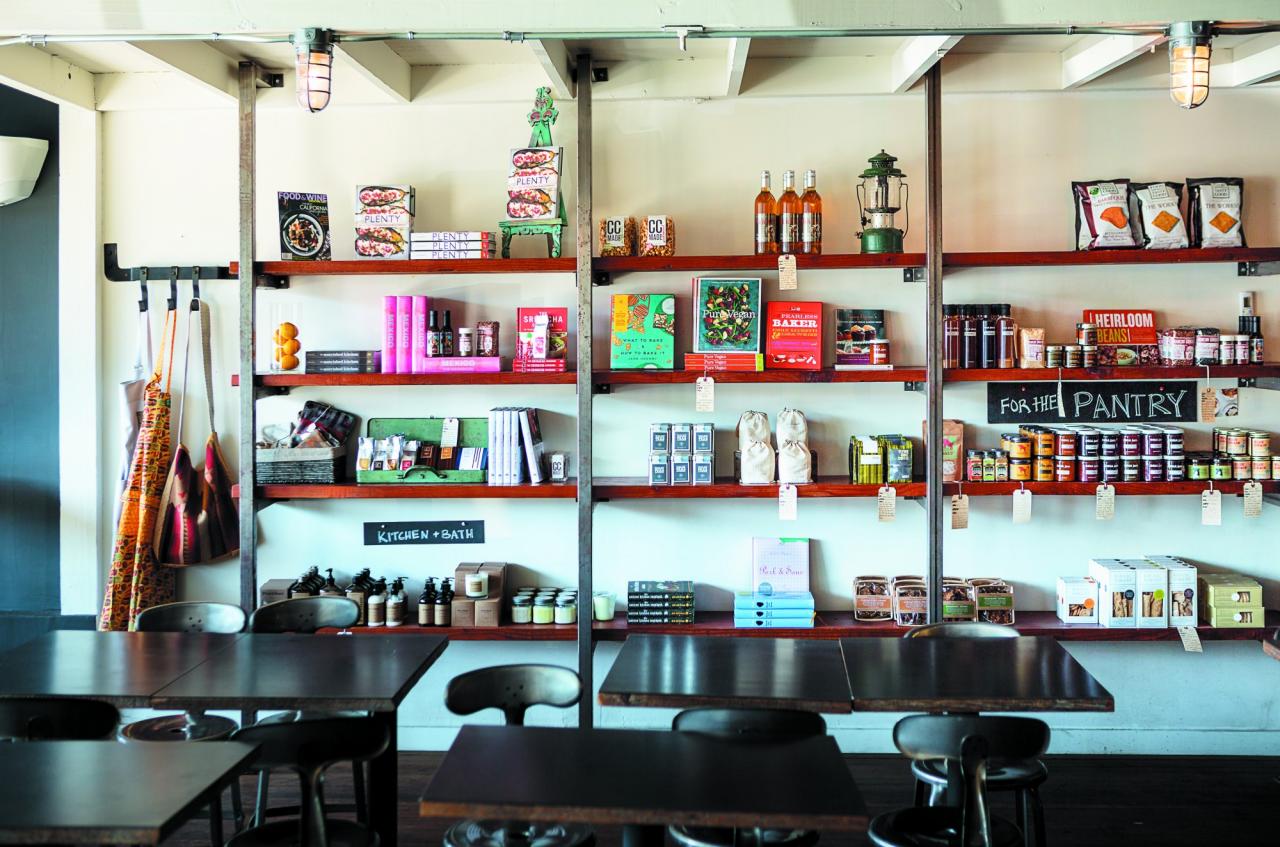 Such vision is what attracted another business partner, Michael Volpatt, who co-owns Big Bottom and splits his time between running Larkin/Volpatt Communications in New York City and enjoying the Guerneville home he bought five years ago.
"Crista was an urban pioneer for the town," he said. "She was the first to see a longer-term vision for what the town could be, and recognized the opportunity to take advantage of the river, the redwoods and the proximity to the coast. She also realized, along with others, that we really needed to start fixing the broken windows in town — which is my figurative way of saying we needed to open new businesses — to help bring people back and change the economy."
In her earlier career, Luedtke had been a biotech sales representative, then a Bay Area mortgage broker. Guerneville was her summer escape, and in 2007, she decided to sell her two bedroom San Francisco home and join the Russian River burg.
"I had reservations when I first looked at the hotel," she said of the 14-room enclave of former mercury miner's cabins tucked into the forest. Previous owners had renovated, but the place still needed work to become the sexy, eco-friendly hideaway with saltwater swimming pool it is today.
"I also wondered if an LGBT theme was too narrow," she said. "I didn't want it to be a gay hotel; I didn't feel I needed to plant a flag. But I wanted to do something on my own, and Healdsburg was priced out."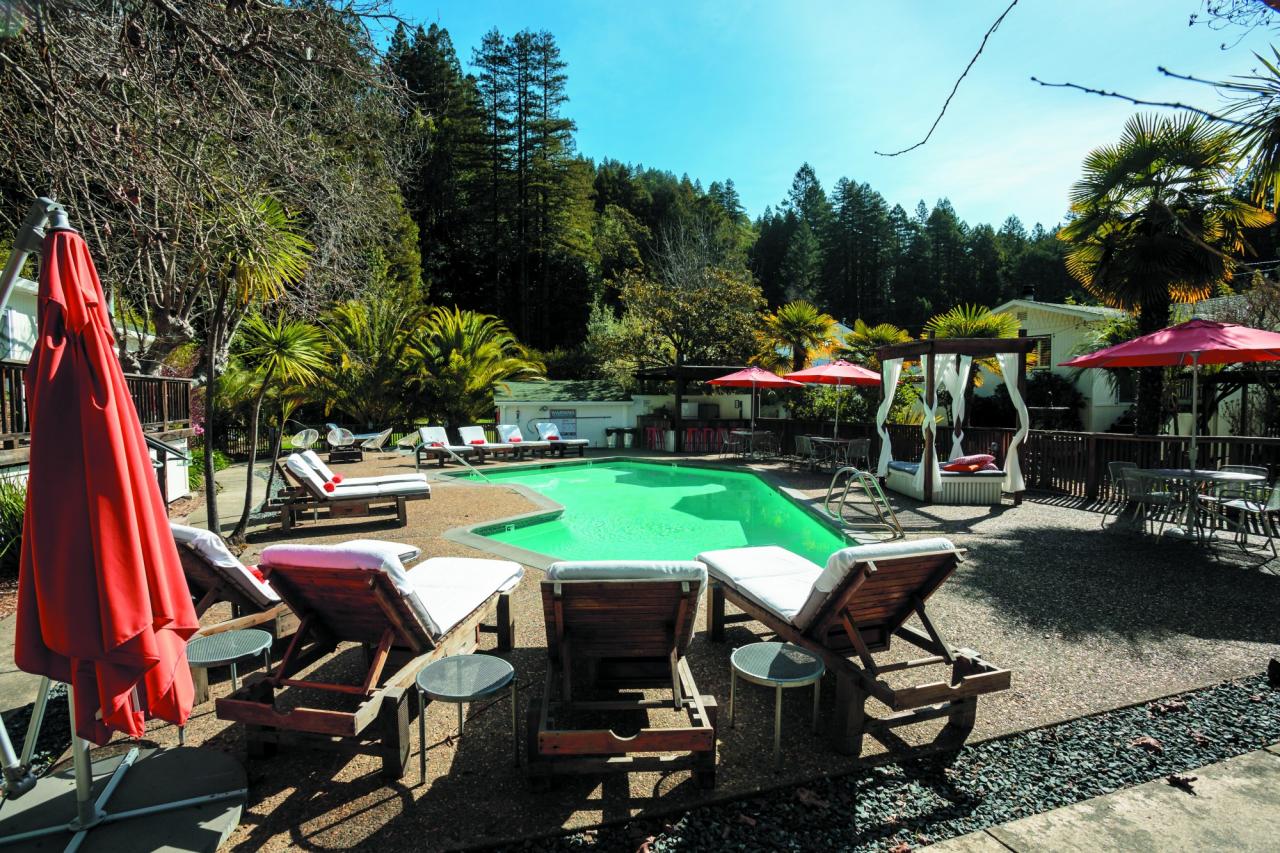 On Luedtke's first night at her hotel, she was startled awake after midnight, just in time to watch Fife Creek overflow its banks and flood the compound.
Now, she shrugs and grins. "Who knew I had a lakefront property?" Luedtke said. "It gave me lessons for digging channels and installing fences."
Today, occupancy runs 80 to 100 percent in the high-summer season, and 50 to 85 percent in winter, with room rates averaging $185 to $275. Four years ago, Luedtke was able to buy out McCall and Dunckley and is now sole owner.
Hotel guests need to eat, and Guerneville didn't offer much. When Bob 'n Boy Burger on Main Street became available, Luedtke and Dunckley purchased it.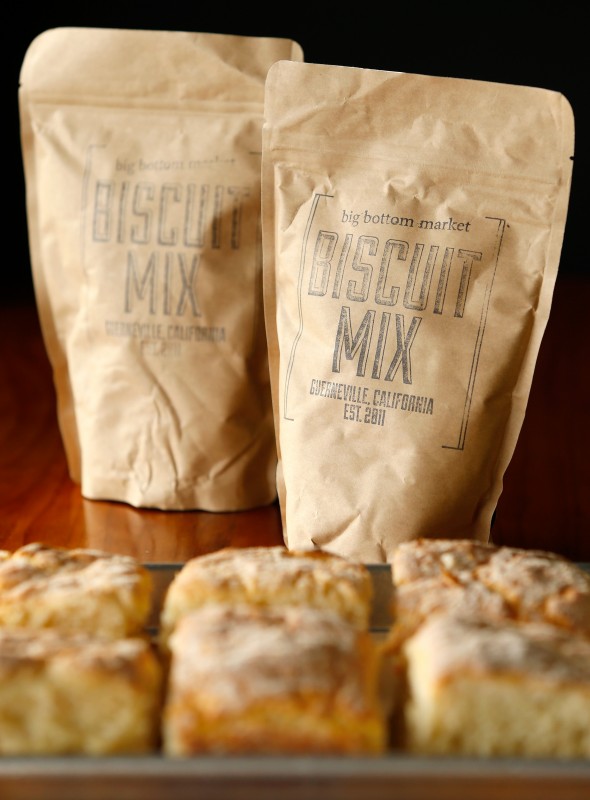 "The business is brutal; it broke up our family, but it was still what I wanted," said Luedtke, whose parents had owned restaurants. Her brother is a chef. So she polished her cooking skills, and boon eat + drink was born as a 36-seat, contemporary bistro emphasizing Sonoma ingredients, including those from the hotel garden.
Visitors also wanted gourmet grab-'n'-go food, wine and gifts, and Luedtke was tired of sending them to Safeway. So she and Volpatt dreamed up Big Bottom for their modern-day general store, naming it for the alluvial flood plain upon which Guerneville sits. For El Barrio, Luedtke drew on her talents as an interior designer to create a bold, Latin American mood with serape fabrics, cactus art, tile and Our Lady of Guadalupe candles. The menu romps from local goat cheese-nopales dip to mescal flights, inspired by a trip to Oaxaca, Mexico.
Through it all, Luedtke continually seeks ways to make Guerneville better, serving on the Russian River Chamber of Commerce and offering assistance to others with their own dreams.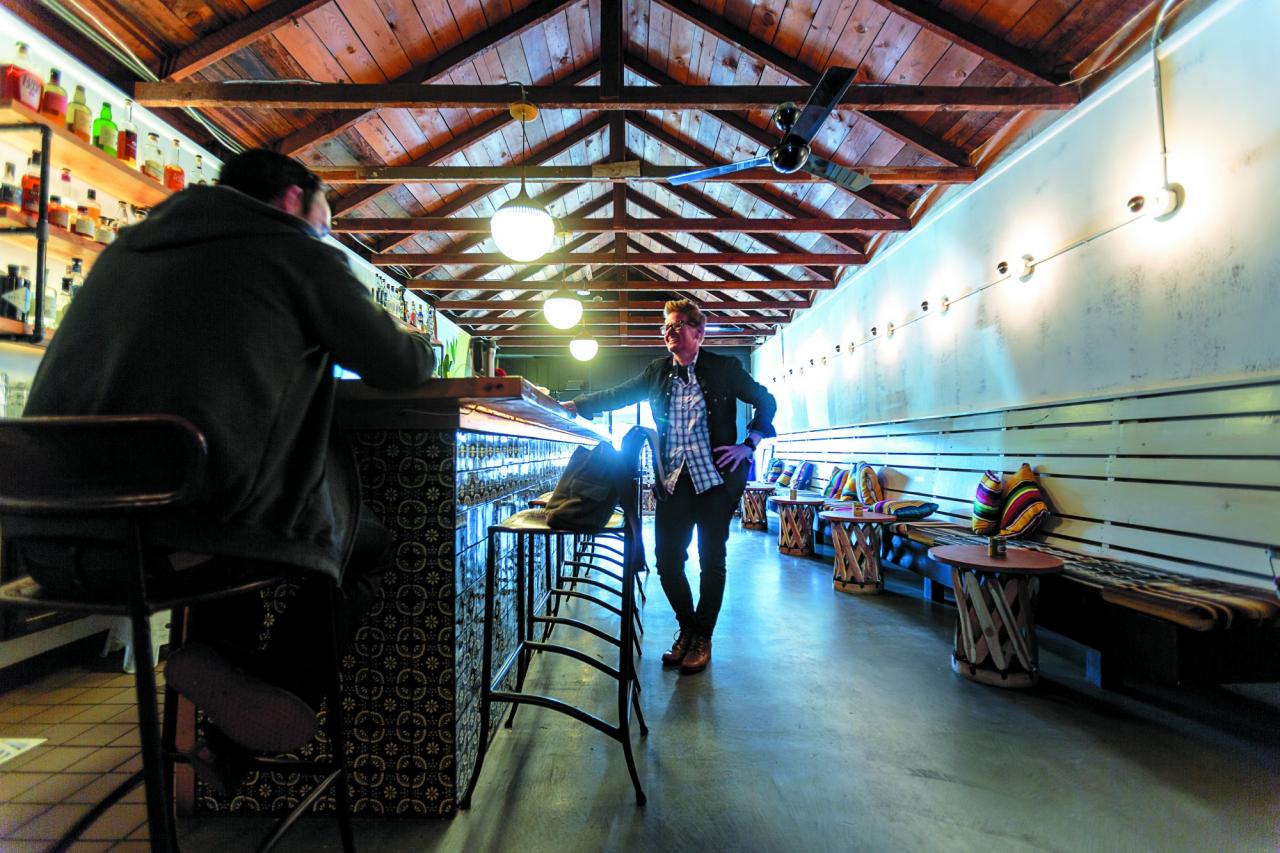 "When we first took over Johnson's Beach, she consulted us in hotel management and helped us develop the theme for our renovated cabins and the lodge," Poirier said. "She just gives and gives, and is always supportive of new business in town."
Luedtke added three glamping tents to the hotel grounds this spring, redesigned Big Bottom for more grab-'n'-go counter space, and with her partner, Kim Holliday, designed and decorated their new home on the river. In 2015, Luedtke won an episode of Guy Fieri's "Grocery Games" TV show, creating flat iron steak with polenta, arugula salad and fish tacos with chorizo.
Could Cambodian fare be next?
Photography by Chris Hardy.
---
boon hotel + spa, 14711 Armstrong Woods Road, 707-869-2721, boonhotels.com
boon eat + drink, 16248 Main St., Guerneville, eatatboon.com
Big Bottom Market, 16228 Main St., Guerneville, 707-604-7295, eatatboon.com
El Barrio, 16230 Main St., Guerneville, 707-604-7601, elbarriobar.com
---
Subscribe to Our Newsletters!