Did you know one of the Top 10 Pastry Chefs in America lives and works right here in Sonoma County? And that his nickname is "Buttercup"? Meet Robert Nieto and 5 other amazing local pastry chefs we love…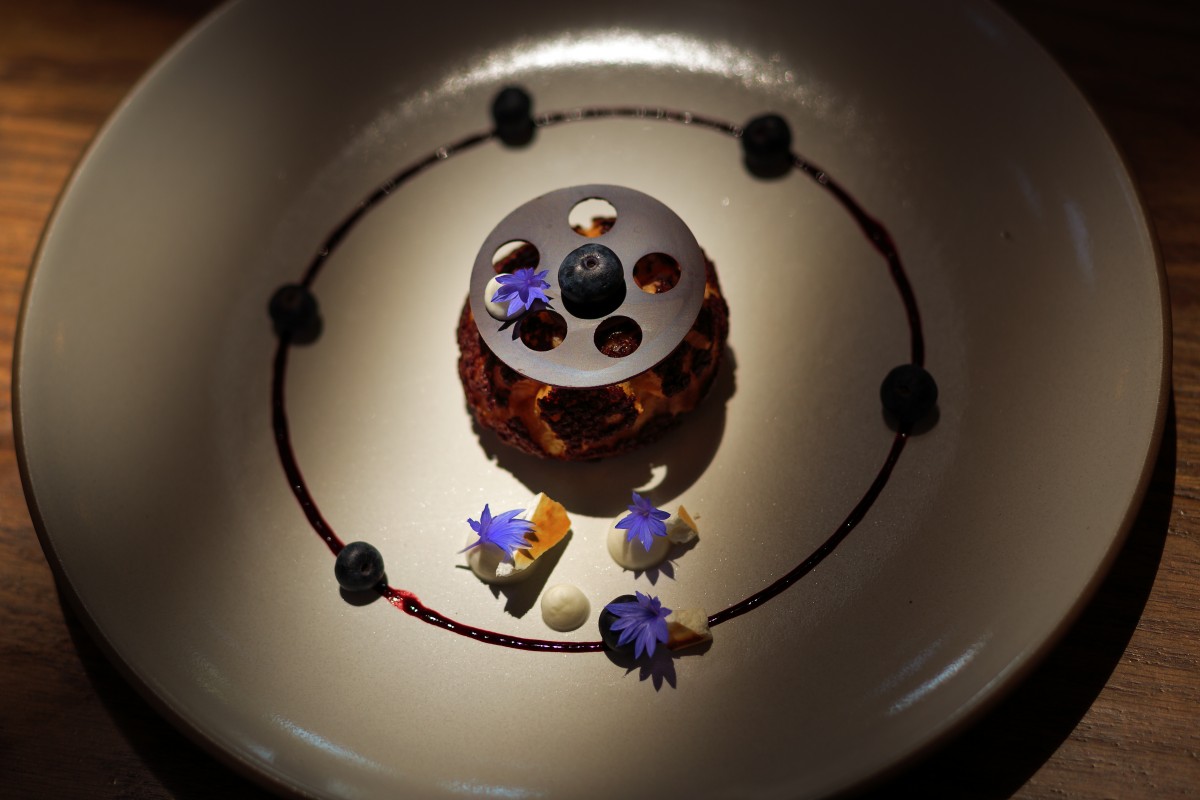 Somewhere between the heat of the sun and molten lava is the perfect temperature for pulling melted sugar into lovely candy ribbons. Robert Nieto has the scars to prove it.
Working under a glowing red heat lamp in the Santa Rosa kitchen of Jackson Family Wines, he gingerly tugs at a 200-plus-degree blob of boiled sugar with gentle flicks of his wrist, creating thin wisps of candy that harden almost immediately into curls. In mere minutes, the blob can become a rock, so Nieto works with the intensity of a surgeon, despite the constant pain of his burning fingers.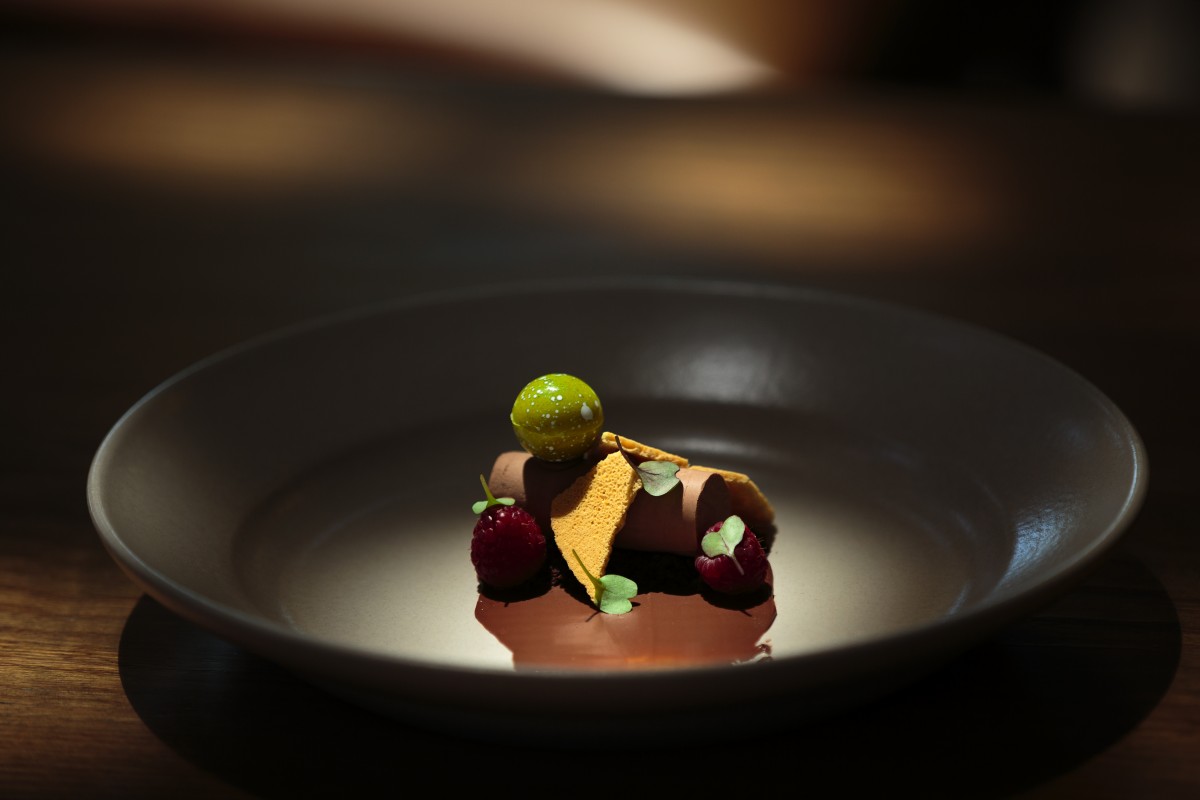 The life of a pastry chef isn't always so sweet.
Nieto is one of several highly trained Sonoma pastry chefs whose media are chocotemptations late, sugar, flour, cream and butter. More than bakers, these oft-overlooked artisans are equal parts scientist and artist, working with a precision and intensity demonstrated by the dreamy confections that make a great meal extraordinary.
Unlike a savory pan sauce or piece of meat that might benefit from an added pinch of salt at the end, baking is unforgiving. Pastry and confections are about exact measurements and processes so the soufflé doesn't fall and the custard doesn't break into an oily mess. It takes expertise to create a dessert so intriguing that it can stand up to every other course of the meal.
Here are six Sonoma masters of the craft.
ROBERT NIETO 
Jackson Family Wines, Santa Rosa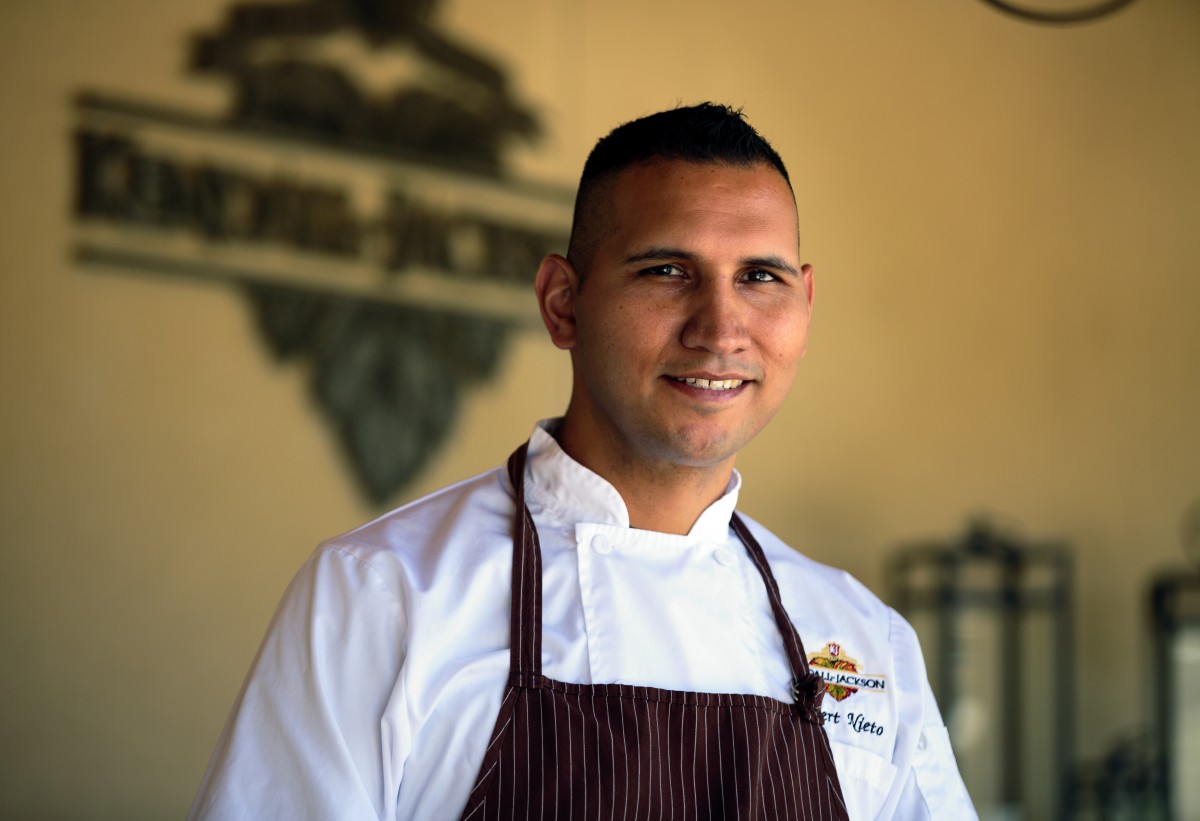 PASTRY SUPERPOWER: Chocolate.
CAN'T TAKE OFF THE MENU: Mama Frischkorn's Caramel Corn (a Jackson Family specialty).
As part of the Jackson Family Wines culinary team, Nieto produces a vast lineup of desserts — from perfect cylinders of chocolate ganache with gold-covered chocolate or butterscotch panna cotta with candy cap mushroom meringue and sweet potato ice cream, to sculptural creations of tuile, mango cream and rhubarb sauce — as well as all manner of breads and pastries featured on menus at the various Jackson Family wineries and tasting rooms.
"I'm always looking for the wow factor," he said. Using geometric shapes, molds and unexpected twists, such as candy ribbons, his plates engage all the senses.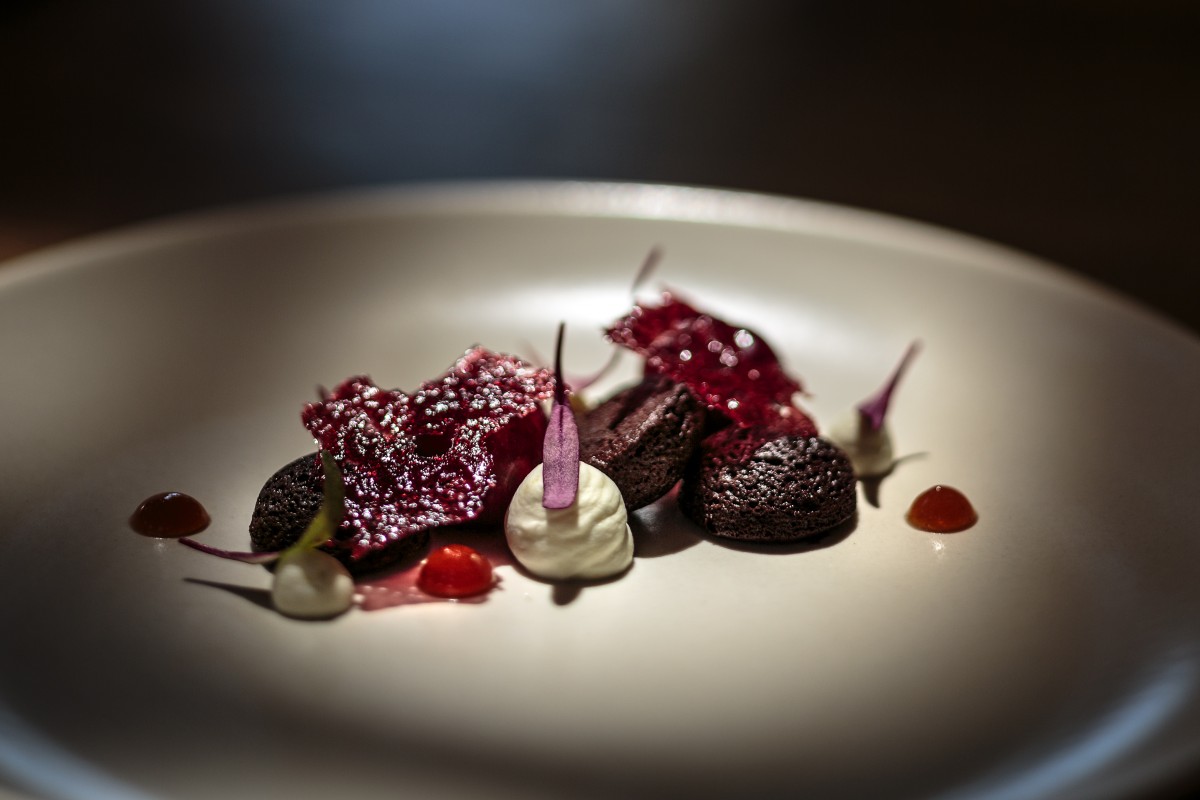 In just about every spare moment (and with the blessings of his bosses), he trains in Chicago for a spot on Pastry Team USA, which will compete in the Coupe du Monde de la Pâtisserie competition in Lyon, France, in January 2017. Nieto was also chosen one of the top 10 pastry chefs in the country this year by Dessert Professional magazine.
As for the nickname he's learned to love? "Buttercup" was foisted on him by Jackson Family executive chef Justin Wangler after a particularly ungraceful game of volleyball, where Nieto became "Butterfingers." Over time, it morphed into Buttercup. With a portfolio of work that includes tiny pink macarons filled with cream, statues of chocolate and spun sugar, and pastry so delicate it nearly evaporates to the touch, his nickname suits him.
Taste Nieto's creations at Kendall-Jackson's north Santa Rosa tasting room, 5007 Fulton Road, Fulton, 707-576-3810, kj.com/wine-andchocolate- pairing. A wine and chocolate pairing is offered, by appointment, for $25.
DAVID BLOM 
Fairmont Sonoma Mission Inn, Sonoma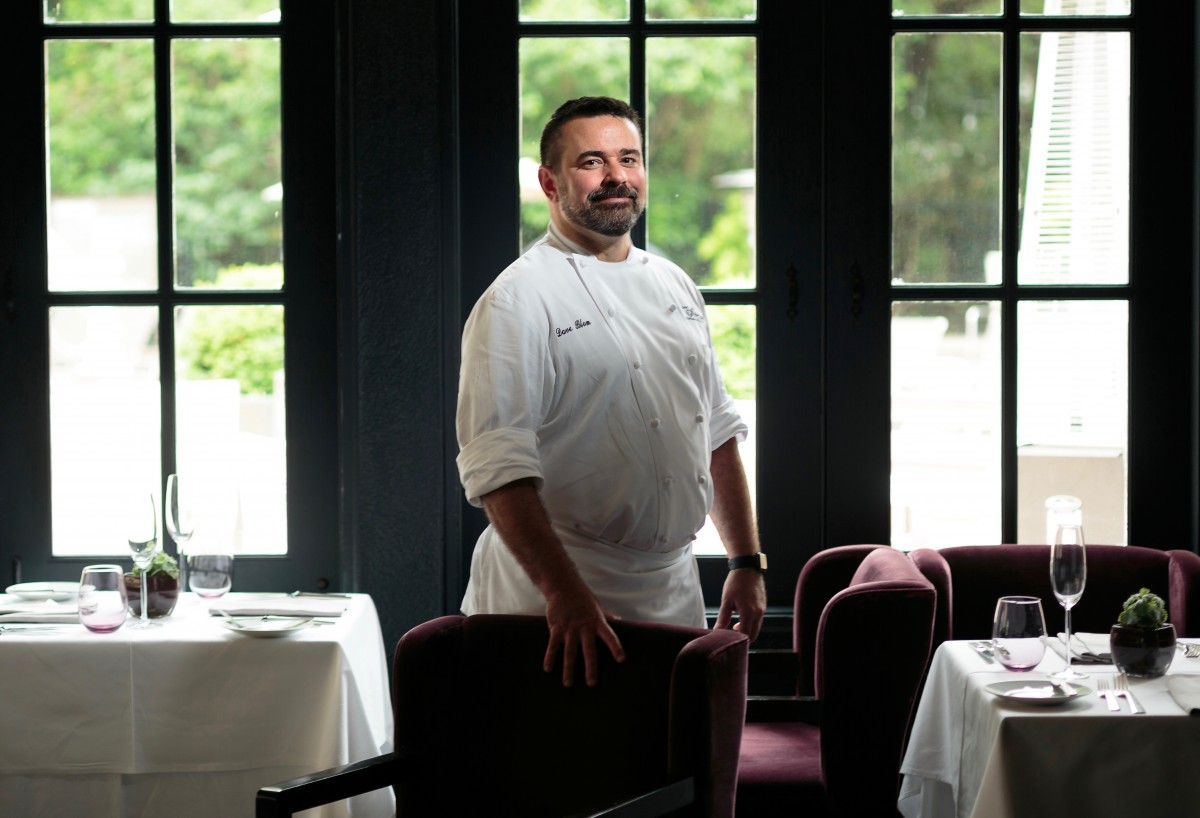 PASTRY SUPERPOWER: Jack of all desserts.
CAN'T TAKE OFF THE MENU: Wild strawberries, when in season.
With the competing demands of special-event cakes, dining-room desserts and the Fairmont's luxe holiday buffet spreads (usually with more than a dozen desserts), Blom is a pastry master by necessity. Named one of the best pastry chefs in America by Chocolatier magazine, he's been the executive pastry chef at Sonoma Mission Inn for 12 years. His favorite dishes include green tea crème brûlée cake with vanilla-poached rhubarb, and a salted caramel mousse Napoleon.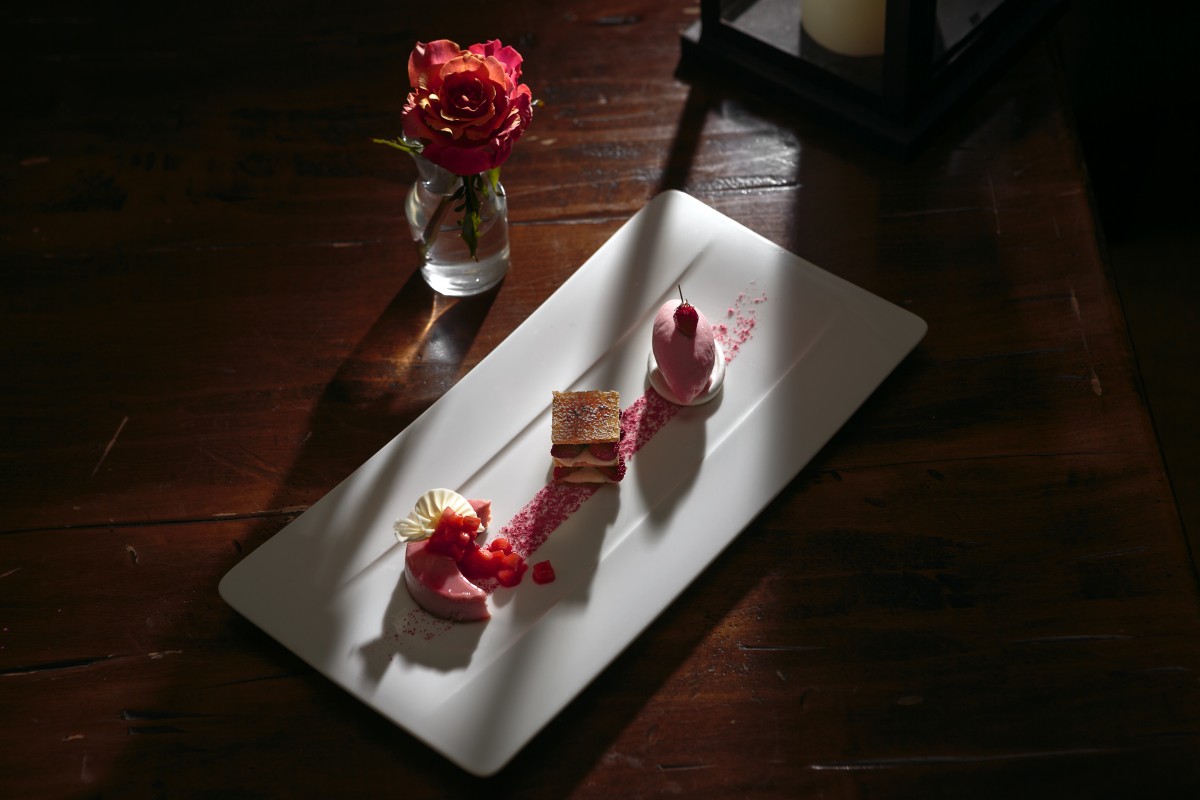 Having grown up in a family of bakers, frosting is in his blood, yet he continues to push the boundaries of pastry-making, whether by ingredient or technique.
"Buffet desserts, plated desserts, wedding cakes, special-occasion cakes, bread baking, chocolate work, sugar work, molecular gastronomy, confectionery … you need to be adept at all aspects of the pastry profession in a resort setting," Blom said.
100 Boyes Blvd., Sonoma, 707-9389000, fairmont.com/sonoma
EMMANUEL "MANNY" FIMBREZ 
Madrona Manor, Healdsburg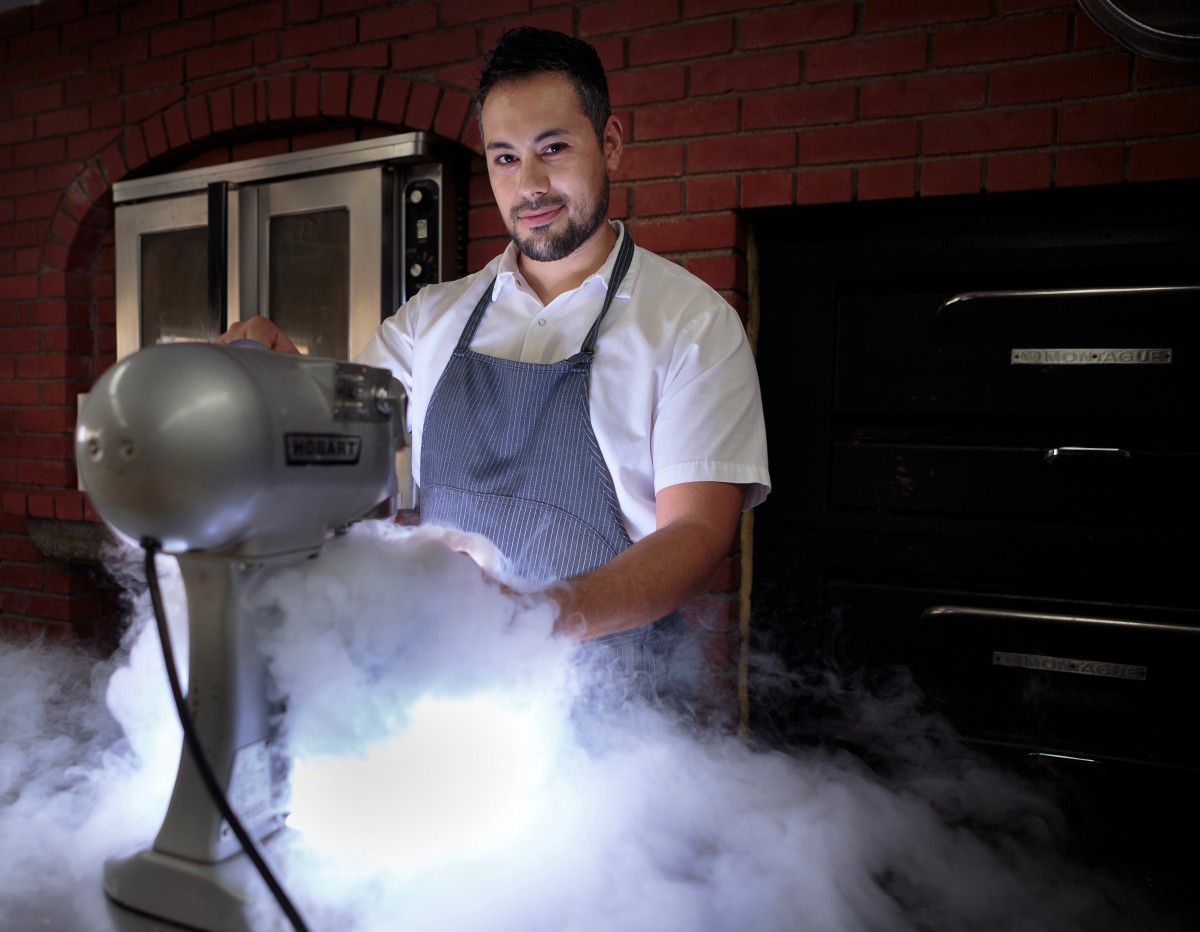 PASTRY SUPERPOWER: Molecular gastronomy.
CAN'T TAKE OFF THE MENU: Liquid nitrogen tableside ice cream.
Fimbrez is a confectionery wunderkind. Like the manor's top toque, Jesse Mallgren, he loves deconstructed dishes that mix whimsy, texture, temperature and flavors in surprising ways.
Unfettered by creating a full dessert menu (his sweets are showcased in the tasting menu), Fimbrez isn't shackled to brownie sundaes and lava cakes. Instead, his signature is "Peas and a Pod," a strawberry tart with a pulled-sugar pea pod filled with lemon ganache "peas" rolled in pea powder.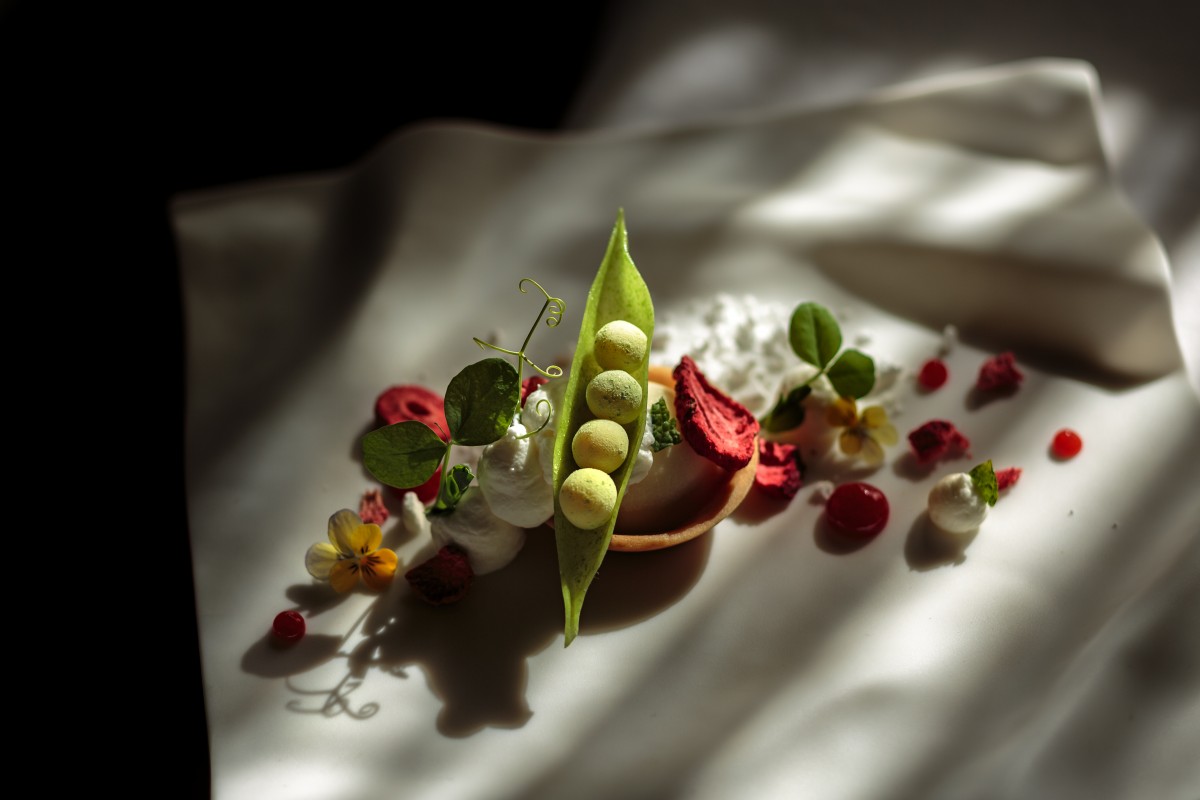 This kind of science-based culinary play also includes his take on the traditional sour cream cheesecake, with his own version of Dippin' Dots (tiny beads of ice cream frozen with liquid nitrogen). The hardest thing about being a pastry chef, Fimbrez said, is trying to do justice to the amazing farming community.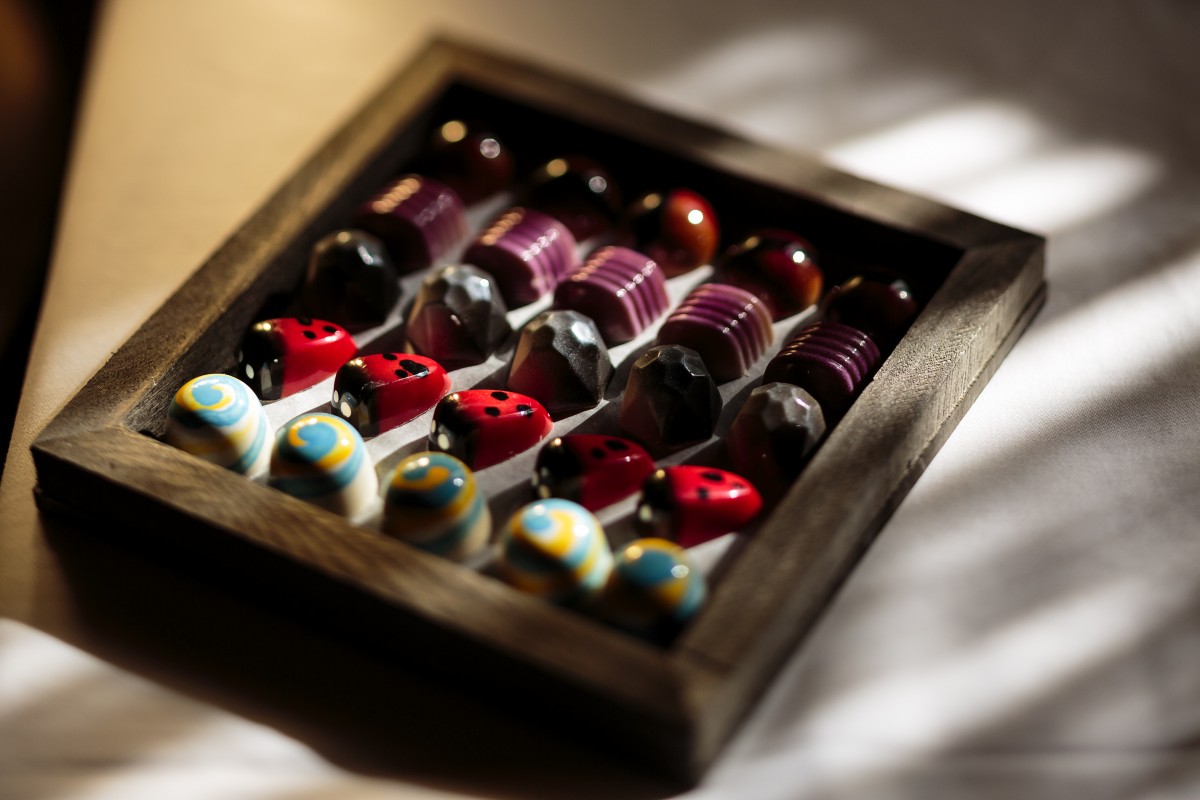 "Everyone knows the Lao (Saetern) strawberry stand in Sebastopol has the best strawberries and knows what they taste like, so you always want to showcase his product," he said.
1001 Westside Road, Healdsburg, 707-433-4231, madronamanor.com
CASEY STONE 
John Ash & Co., Santa Rosa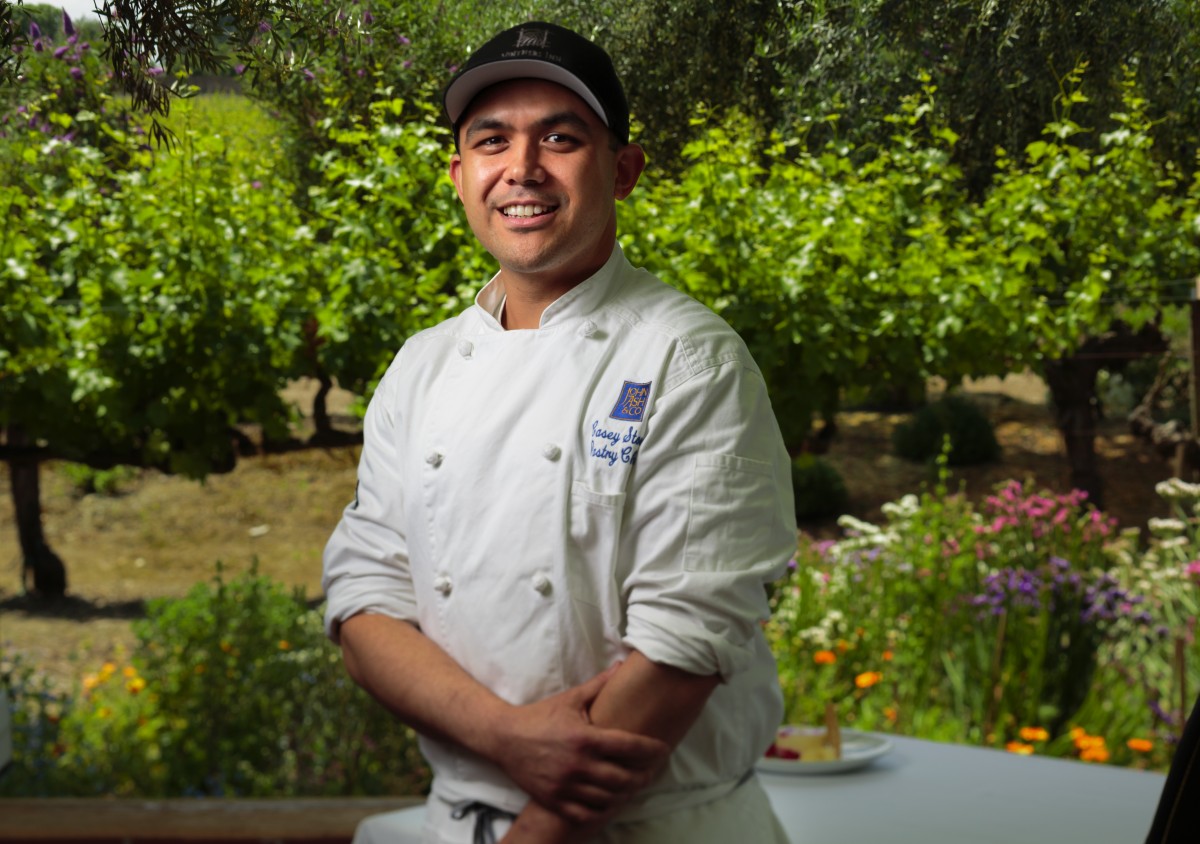 PASTRY SUPERPOWER: Kneading dough.
CAN'T TAKE OFF THE MENU: Cheesecake.
With more than a decade on the job at one of Santa Rosa's favorite dining destinations, Stone knows the four things people really want to see on a dessert menu: something chocolate, something lemon, something comforting and something with ice cream or custard. It's a pretty simple formula, but Stone has fairy-godmother talent for turning a dish such as chocolate mousse into a fantastical dome of devil's food cake with vanilla bean-infused syrup, chocolate pearls, bittersweet chocolate mousse and a chocolate glaze.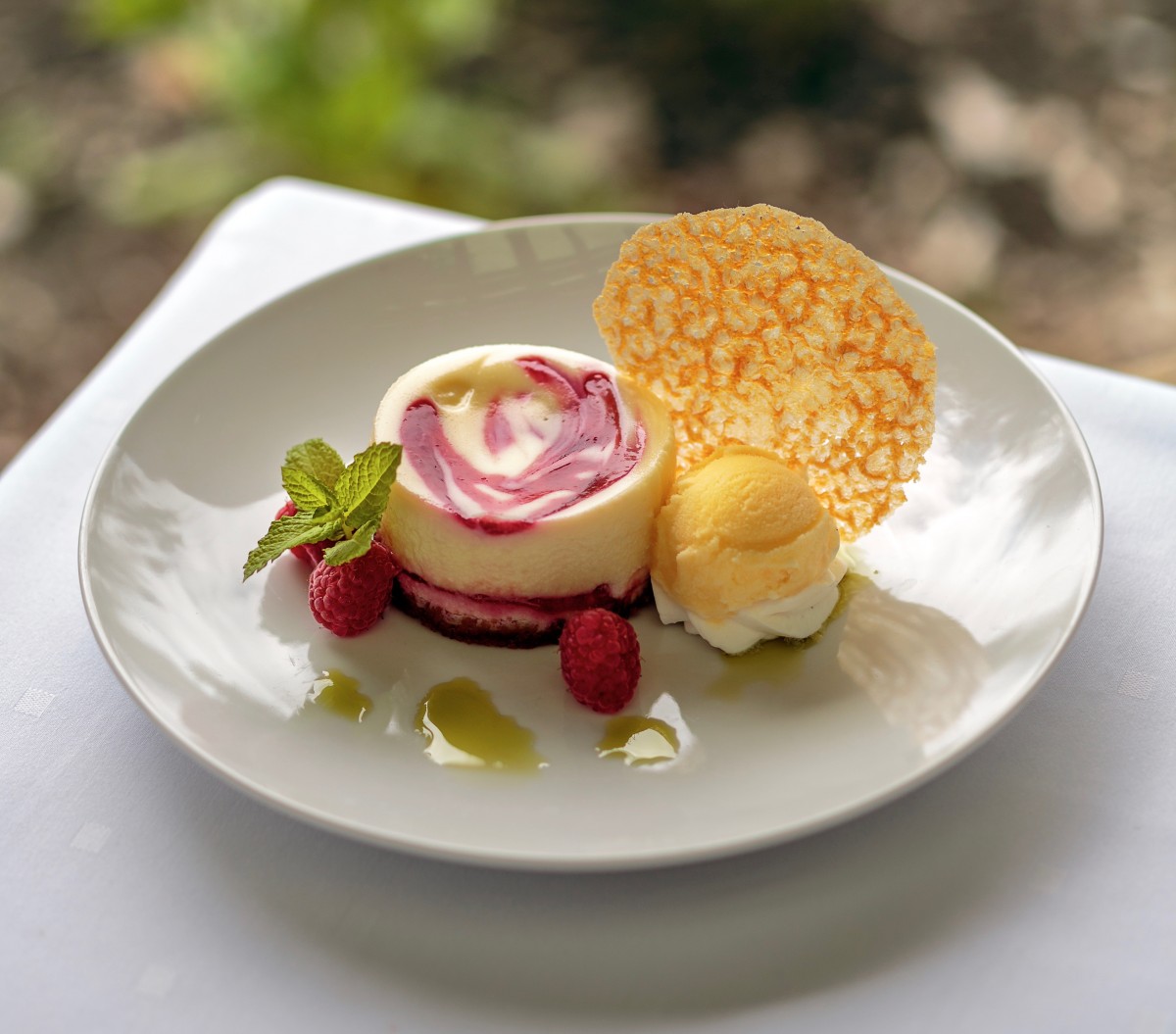 "There are a lot of components to it that you have to have ready before you can assemble them, but it's super rich and I love it," said Stone, who is responsible not only for desserts for the restaurant, but also the hotel, event center and catering.
His signature cheesecake gets its golden slippers from Meyer lemons, huckleberries and tangerine sorbet.
He gets his inspiration from local ingredients and produce grown on the property. As for his talent for kneading bread dough? "I like the feel of it and I do it pretty well," he said.
4350 Barnes Road, Santa Rosa, 707-527-7687, vintnersinn.com
LISA KAUFMAN
Dry Creek Kitchen, Healdsburg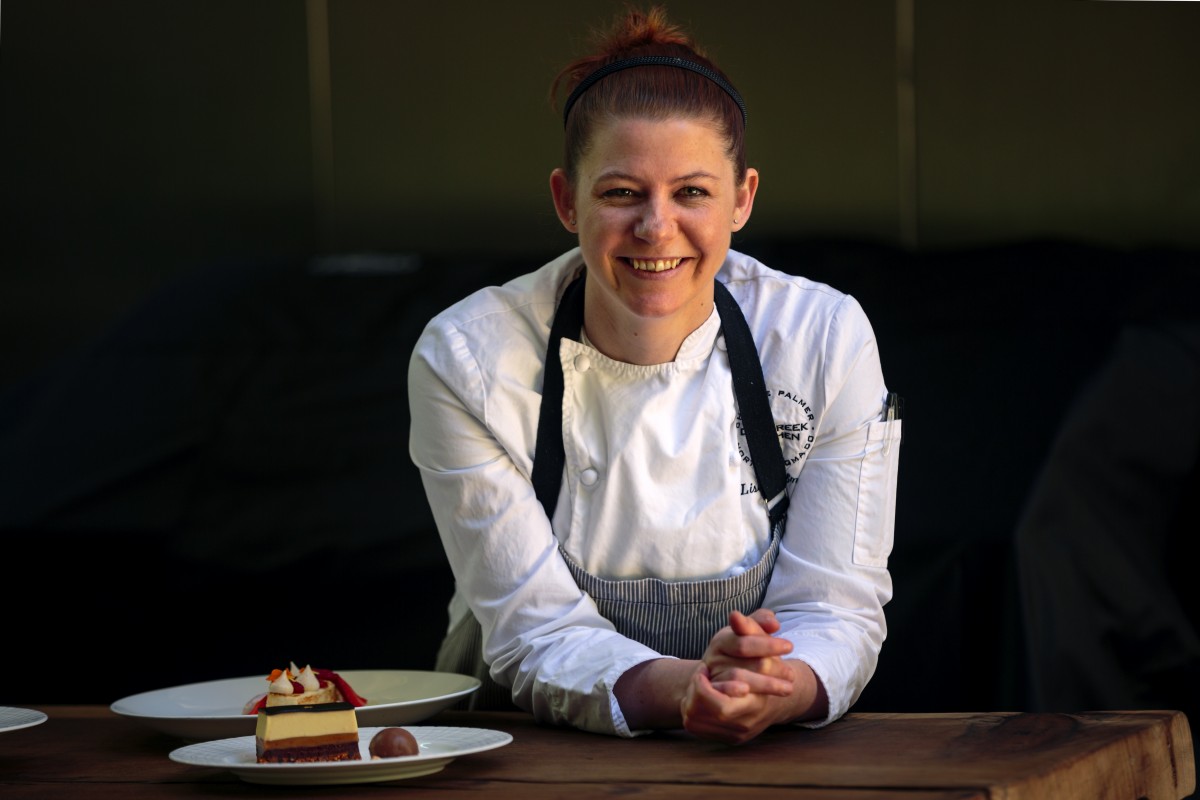 PASTRY SUPERPOWER: Lemon tarts.
CAN'T TAKE OFF THE MENU: Chocolate peanut butter bar.
The new kid on the block, Kaufman claims she got the job at Charlie Palmer's Healdsburg restaurant because the other candidate didn't show up. That, and the fact that the restaurant's longtime pastry chef, Andrew Di Clementi, was willing to give the recent Santa Rosa Junior College culinary graduate a shot.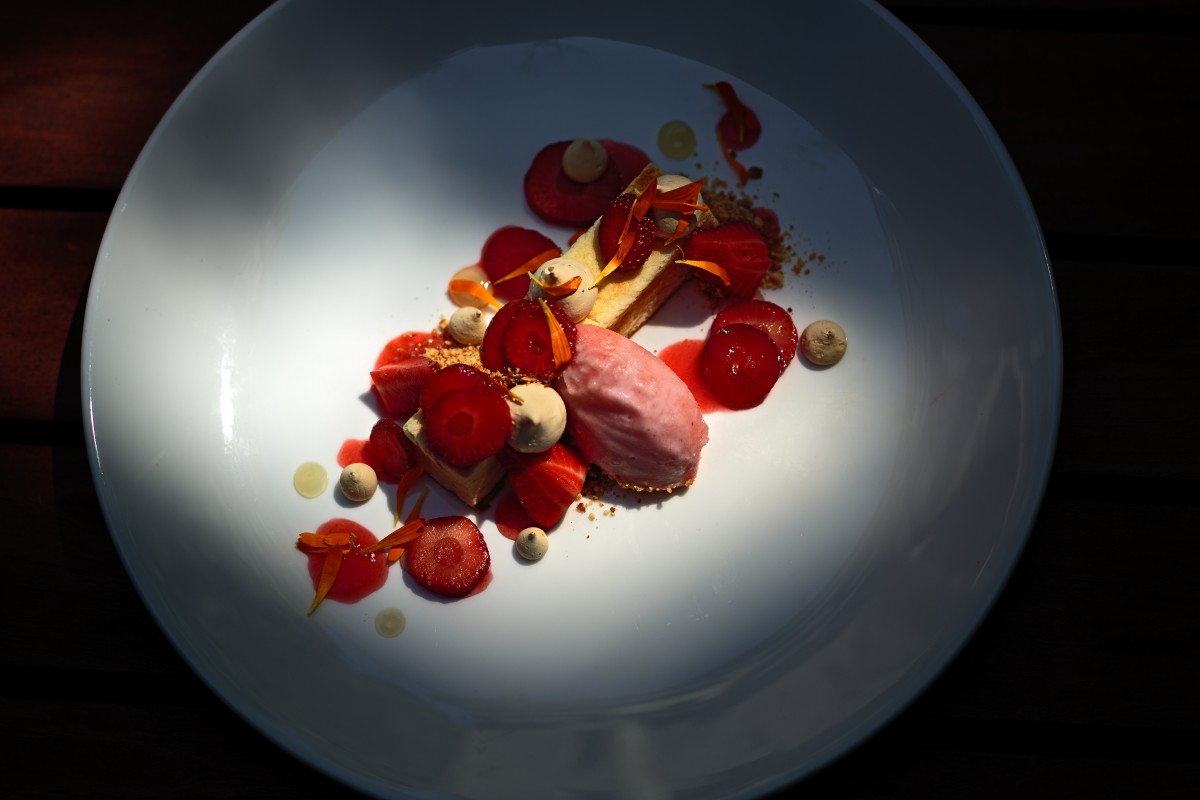 "He saw something in me," Kaufman said. She was also eager to learn from Di Clementi (now at Palmer's Harvest Table in St. Helena), Palmer and pastry mentors at his Aureole restaurants in New York and Las Vegas.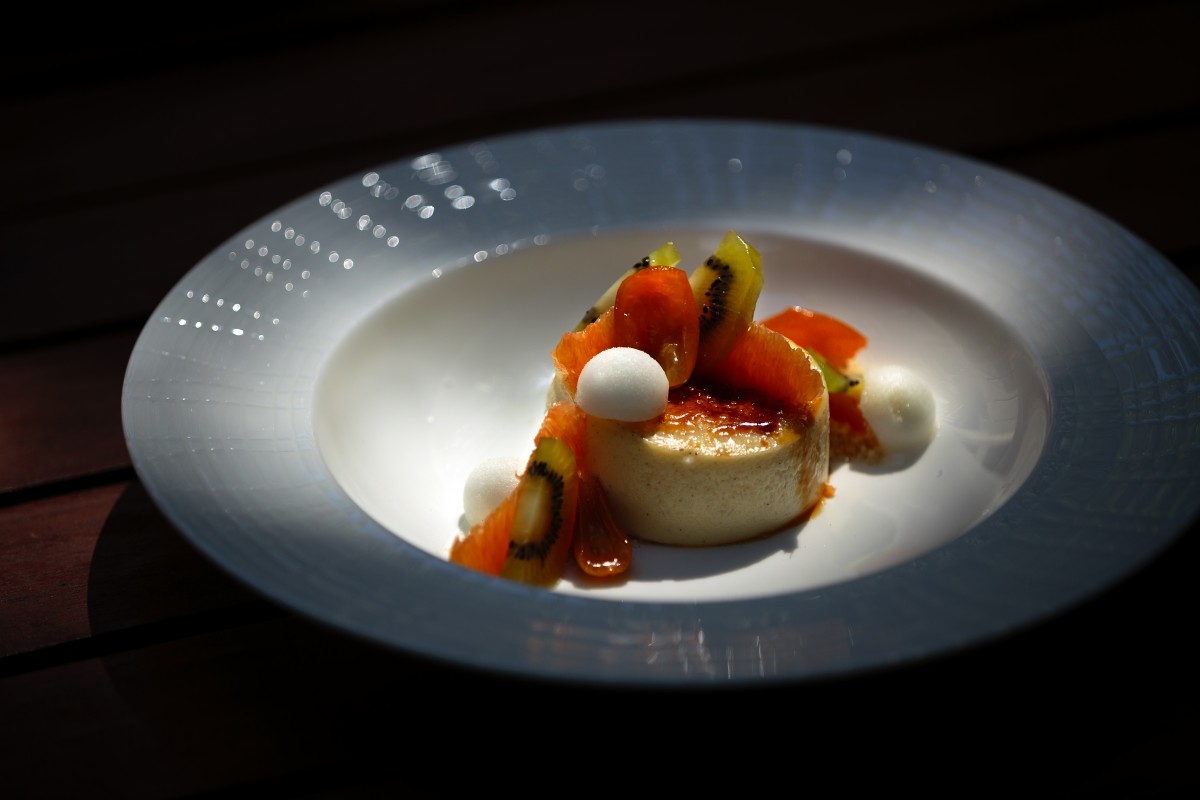 Her favorite dessert on the Dry Creek Kitchen menu: crème brûlée cheesecake with compressed kiwi and oranges. The dessert that still eludes her: baked Alaska, a show-stopping dome of cake and ice cream topped with meringue and briefly cooked in an oven.
317 Healdsburg Ave., Healdsburg, 707-431-0330, drycreekkitchen.com
SCOTT NOLL 
Barndiva, Healdsburg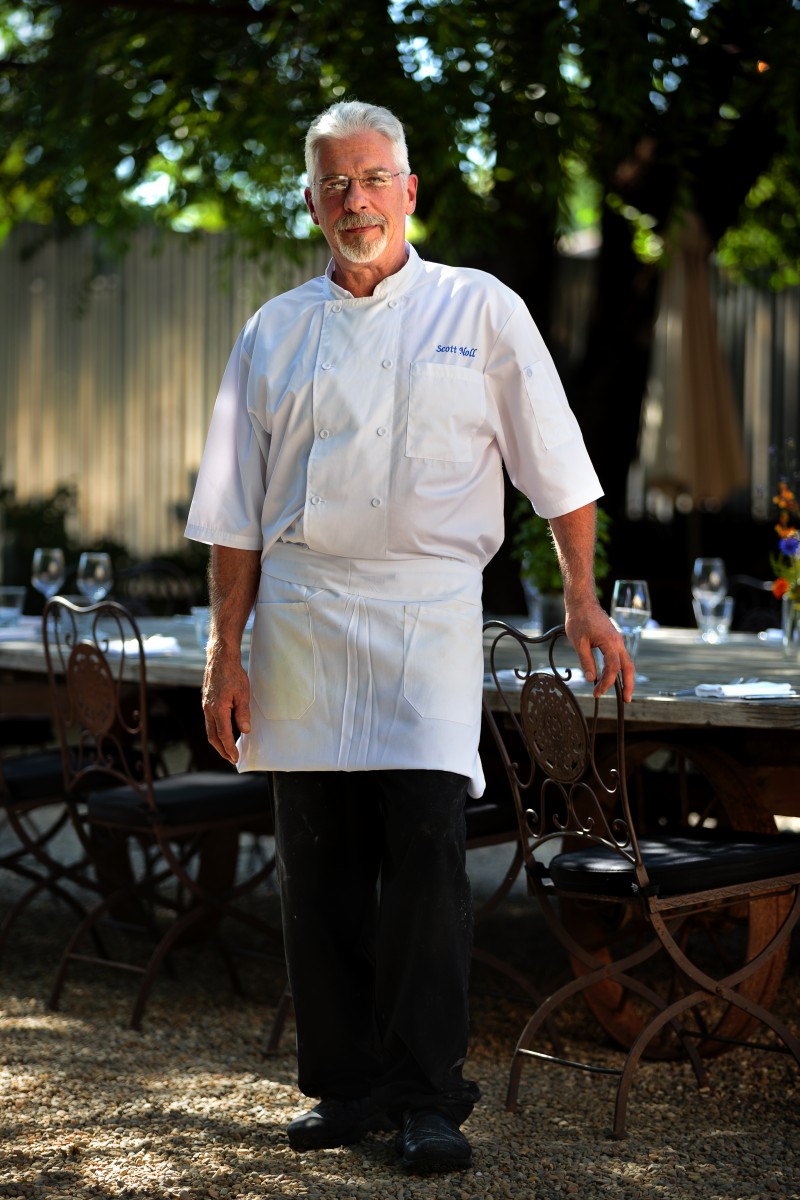 PASTRY SUPERPOWER: Insatiable curiosity.
CAN'T TAKE OFF THE MENU: Milk & Honey.
Noll's pre-chef experiences in mechanical engineering and art gave him a foundation for precision baking and creating beautiful dishes.
The owner of a vintage Porsche 912 with the license plate PASTREE, he's a kitchen veteran with old-school mentors including Joyce Goldstein and John Ash, and current Barndiva chef Ryan Fancher. His personal style is mixing familiar flavors with modern presentations, such as with his butterscotch pudding with a piping of Scotch whisky.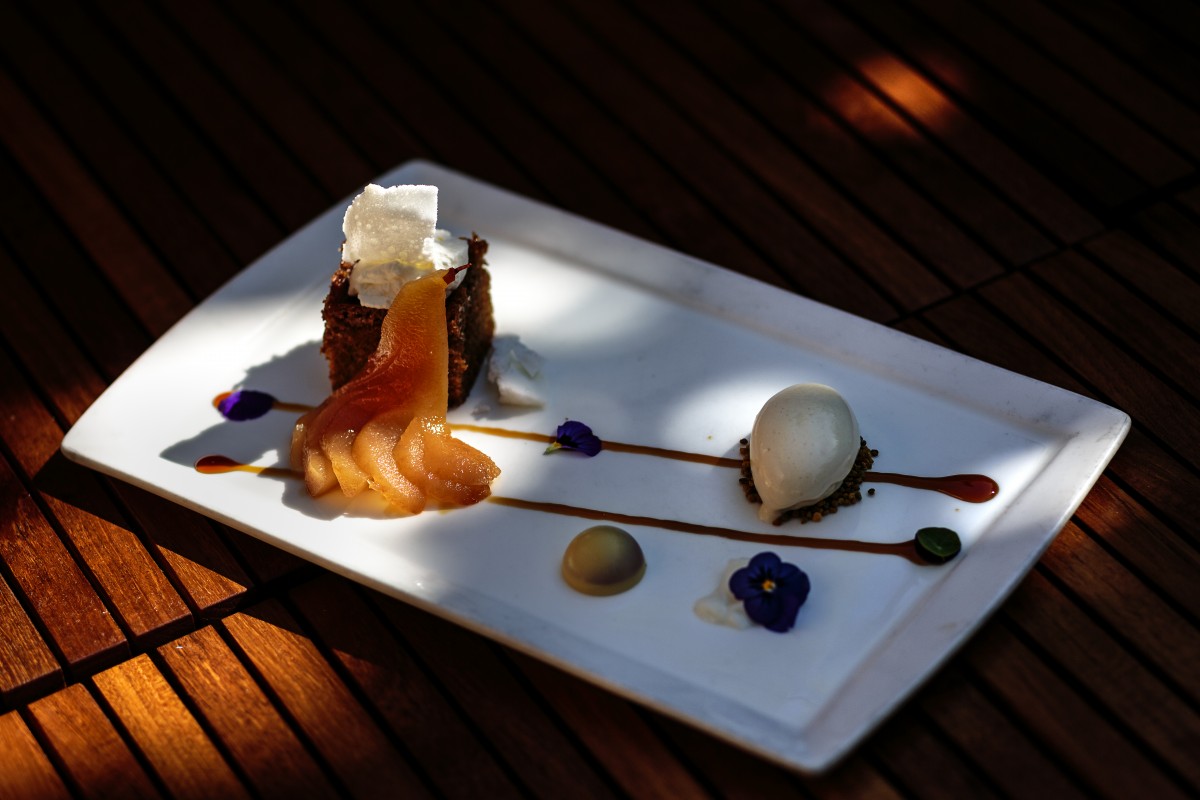 One of Noll's favorites is Milk & Honey, which he calls a "multicomponent surprise package" of dehydrated "crunchy" milk with honey ice cream and honey tea cake, along with a honey-pickled poached pear. A bit of bee pollen under the ice cream completes the concept.
231 Center St., Healdsburg, 707-431-0100, barndiva.com
Photography by Chris Hardy.