It used to be that if you wanted a wee dram of whiskey in Sonoma, you'd drink one from a far-flung, romantically removed place such as Scotland or Ireland, or a domestic Kentucky bourbon or Tennessee sippin' whiskey. But, as a new generation of spirited folks has met the challenge, you can now add Sonoma to the list of world-class distillers of whiskey. 
"Sonoma is a perfect spot for making whiskey," said Adam Spiegel of Sonoma County Distilling in Rohnert Park. "We are in an area known for great food, wine and beer. We are also coastal and that allows for a damn-near-perfect barrel-aging environment, as it's hot during the day, drops to a nice cool temperature at night, and with very low humidity. It helps produce great wine and also helps us make great whiskey.
"We have access to Lake Sonoma water and Cobb Mountain spring water," he added. "Nowadays, we are using many California-grown, organic grains and the sky's the limit on the effect they will have on our already-top-tier product. We get a sense of place from where the barrels live, where the mashes are made, and the water we use."
In its simplest form, whiskey involves mashing (steeping) some type of grain and fermenting it into beer, according to Dave Broom, author of "The World Atlas of Whisky." The beer is distilled and then aged in barrels.
Broom adds, however, that the variations on these simple principles of whiskey-making have never been greater, with distillers around the globe questioning why they should conform to what has been handed down.
This means a world of experimentation is going on right now, with whiskeys being made not only from rye, corn, barley or wheat, but also oats, spelt and quinoa. Barleys are being toasted at different levels to produce different flavors. Malts are being smoked not only over peat, but perhaps also nettles or sheep manure. In the process of fermentation, ale and wine yeasts might be in play.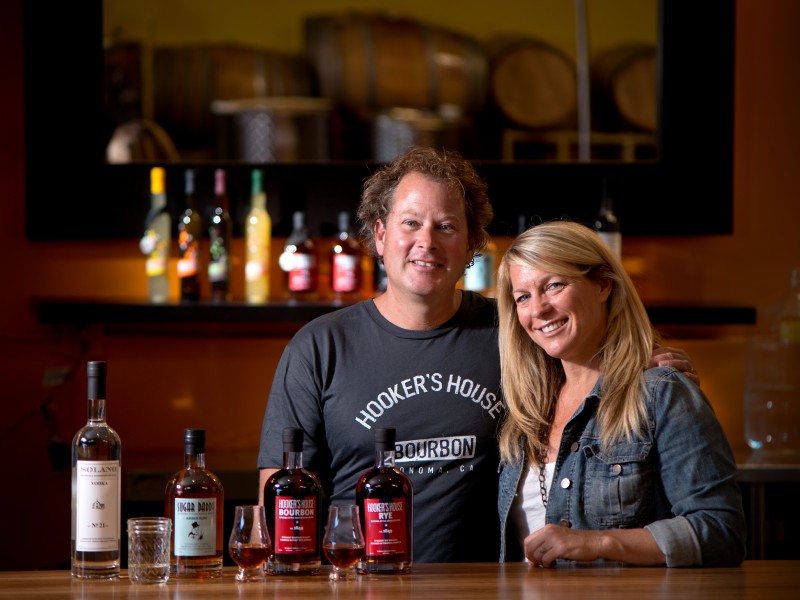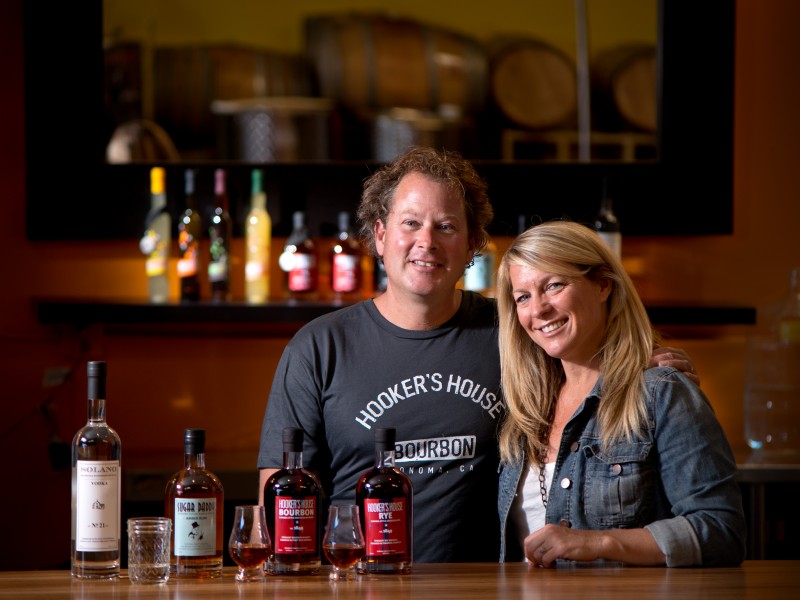 Though Scotland dominates the whiskey world with its single malts, rye whiskey was once America's favorite. But Prohibition changed its fortunes as people discovered bourbon, which, sweeter and stronger, gave them more illicit bang for their buck. Today, we like it all and the distilleries we highlight here are, in many instances, making a range of whiskeys.
Alley 6 Craft Distillery
A husband-and-wife-run outfit opened in 2012 in Healdsburg, Alley 6 is devoted to making rye whiskey in small batches from an alembic copper pot. They mill the grain, mash, distill, barrel and bottle, all on-site. A visit to the distillery is worth it to see the distillery mural alone, and tastings and tours are also possible ($10).
1401 Grove St., Healdsburg, 707-484-3593, alley6.com
Prohibition Spirits
Amy and Fred Groth, the same folks who make HelloCello Limoncello, focus on bourbon, rye and sour mash whiskey at Prohibition Spirits, as well as a house whiskey made from 100 percent corn and bottled unaged. They incorporate their location in Wine Country by finishing their Hooker's House Rye in Zinfandel barrels and Hooker's House Bourbon in Pinot Noir barrels. Visits to the distillery and tasting bar can be booked online.
21877 Eighth St. E., Sonoma, 707-721-6390, prohibition-spirits.com
Sonoma Brothers Distilling
Twins and Sonoma County natives Brandon and Chris Matthies — policeman and firefighter, respectively — make small batches of bourbon (plus gin and vodka) from GMO-free corn, wheat and malted barley, aging the spirit in new American oak barrels. The taste of their bourbon is pure cherry-vanilla, ideal for sipping and also popular with local bartenders for cocktails.
7759 Bell Road, Windsor, 707-888-2120, sonomabrothersdistilling.com
Sonoma County Distilling
Adam Spiegel is the one-man show behind Sonoma County Distilling, founded in 2010, where he makes a range of popular products. The first is Sonoma Rye Whiskey, which he produces from 100 percent rye mash, distilling in direct-fire alembic stills. The rye is then aged in charred new American oak and finished in wood to bring out flavors of vanilla and white pepper. Spiegel's 2nd Chance Wheat Whiskey is a blend of unmalted California wheat and malted rye, twice directfire distilled, with the aim of producing a smoothly textured taste experience. Lastly, he makes a limited amount every year of West of Kentucky Bourbon. The tasting room is open for walk-ins Wednesday through Friday, 11 a.m. to 5 p.m., and by appointment Saturday and Sunday.
5625 State Farm Drive, No. 18, Rohnert Park, 707-583-7753, sonomacountydistilling.com
Spirit Works Distillery
A grain-to-glass operation within Sebastopol's The Barlow, run by husband-and-wife team Timo and Ashby Marshall, Spirit Works does everything in-house, from milling the grain to creating the mash to distilling its gin, vodka and sloe gin on-site and aging some of the gin in barrels. It began releasing the first of its whiskeys this year, a Straight Rye Whiskey and
Straight Wheat Whiskey. The wheat is grown in the Sacramento Valley and the whiskey given two years in charred, new American white oak barrels, while the rye is similarly aged. The tasting room is open Thursday through Sunday, 11 a.m. to 4 p.m., with a charge of $18 for six tastes. Or book online for a distillery tour, Friday through Sunday, at 4 p.m., concluding with a tasting ($20).
6709 McKinley St., No. 100, Sebastopol, 707-634-4793, spiritworksdistillery.com
Stillwater Spirits
Moylan's Brewing in Novato is behind Stillwater Spirits in Petaluma and produces an American Rye Whisky aged four years in new American white oak barrels. The majority of the blend is rye, with a bit of barley. Stillwater also offers a Bourbon Cask Strength Whisky, an 86-proof Single-Malt Whisky made from 100 percent malt and aged in bourbon and beer barrels, and a Cask Strength Single-Malt Whisky from 100 percent malt that lands at 117 proof. As if that weren't enough, Moylan's also makes a Double-Barrel Cask Strength Single-Malt Whisky by distilling cherry wood-smoked barley and wheat, then aging it for eight years in oak bourbon and beer barrels.
611 Second St., Petaluma, 707-778-6041, stillwaterspirits.squarespace.com
Best Batches
Alley 6 Craft Distillery Rye Whiskey, $55 
At 86 proof, this is a nice sipping rye with elements of honey, oak, vanilla and spicy caramel. But it also works in cocktails. Owner Krystle Jorgensen recommends it in an Alley 6 Old Fashioned. Muddle orange zest, 1 teaspoon of sugar in the raw, and three splashes of Angostura Bitters. Add 2 ounces of Alley 6 Rye, add ice and stir. Finish with a burnt orange peel and zest of lemon.
Prohibition Spirits Hooker's House Bourbon, $45
Finished in barrels previously used to age Pinot Noir, this bourbon was made in a small batch at 100 proof. It's smooth and velvety, with a smoky vanillin note in the aroma and finish.
Sonoma County Distilling Sonoma Rye Whiskey, $65
Distilled with Lake Sonoma water and aged in new charred American oak barrels, this rye is a mix of allspice and white pepper wrapped in sweeter, smoother layers of maple and vanilla. It'll make a great Manhattan.
Spirits Works Straight Wheat Whiskey, $70
Notable characteristics of this whiskey include tobacco and butterscotch, with softer nuances of walnut, stone fruit, tea and caramelized sugar. This is one to enjoy in cocktails such as the distillery's Nutty Professor, a mix of the whiskey, lemon juice, walnut liqueur, simple syrup and an optional whisk of egg white.
Stillwater Spirits Moylan's Double-Barrel Cask Strength Single-Malt Whisky, $95
At 116.2 proof, this is a sipping spirit for certain, with sweet, smoky, spicy richness that purrs on the palate. Wilibees Wine & Spirits in Petaluma and Santa Rosa can barely keep this in stock. If you can't find it, try Moylan's American Single-Malt Whisky ($50), at 86 proof and more widely available.