I was expecting a nice charcuterie board. I got one of the most impressive meals I've had this year.
When Khom Loi alums Geneva Melby and Ryan Miller soft-launched The Redwood in late February (just days before officially opening on Feb. 23), I planned to stop in for a glass of cloudy wine and maybe a courtesy nibble. It sounded nice, but I'd keep my dinner reservations elsewhere.
Ninety minutes later, I was still eating (and drinking) because once the first dishes came to the table — crisp cubes of potatoes with pimenton aioli ($7) and a plate of fresh pita with the best baba ghanoush ($8) I've ever eaten, I wasn't about to miss out on anything else. The reservations were canceled, I moved to a more expansive table and settled in for the night.
The menu is divided into snacks, small plates, big plates and desserts. Snacks and small plates are available from 1 to 9 p.m.; larger dishes and desserts are available after 5 p.m. The menu will change seasonally, but hopefully, the Route One Pita and Dips will remain permanently.
Melby takes some liberties with the classic Mediterranean hummus, baba ghanoush and labneh, adding za'atar, sumac and fresh herbs to the creamy labneh, but it's a lovely diversion. Spring for all three dips (with pickled onions and sliced radish) and three large pieces of Tomales' famous Route One Bakery's fluffy pita for $22. It will easily feed at least two people.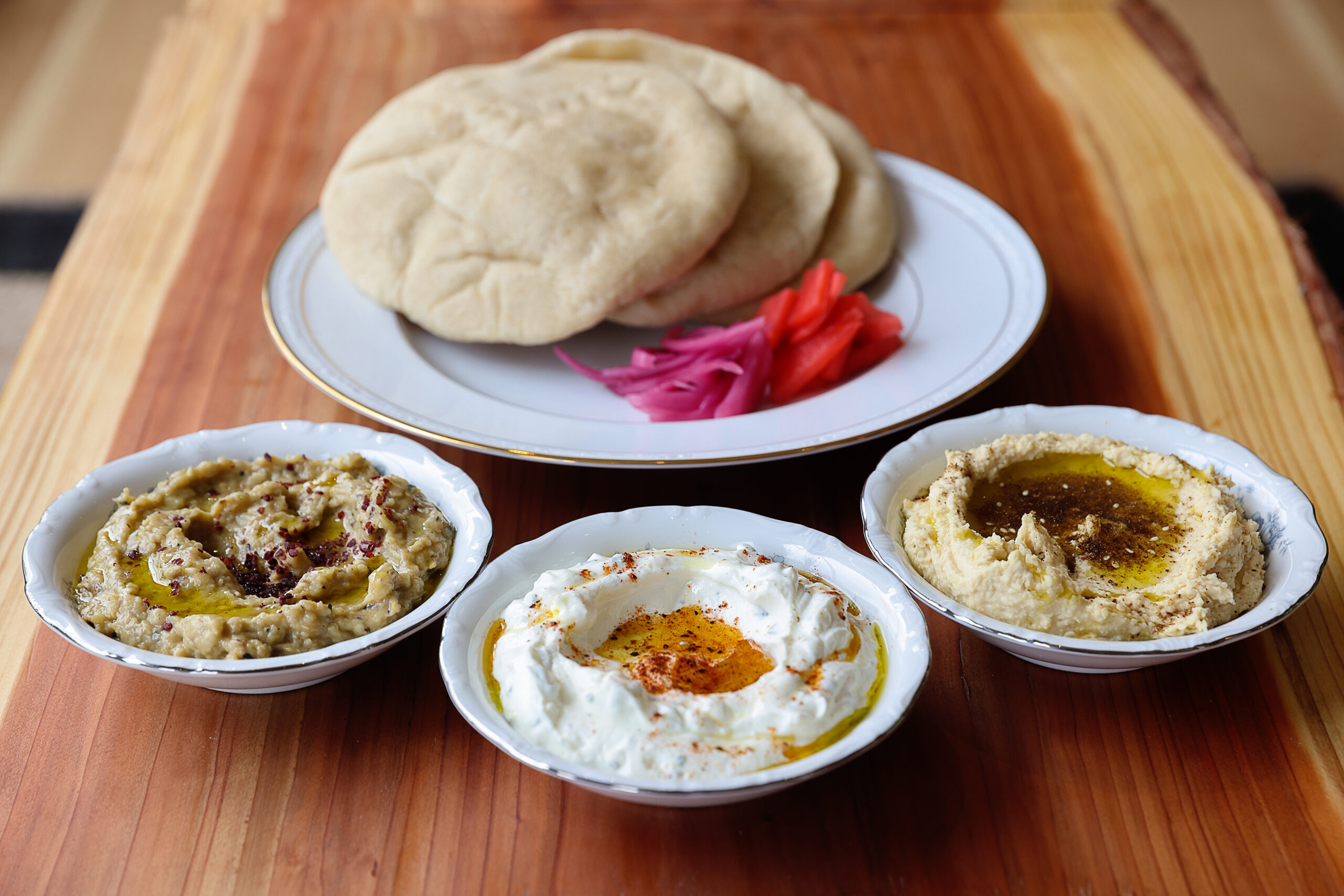 The Scallop Crudo ($16) with tart slices of kumquat, fennel and drips of fennel frond sauce is chefs-kiss good with Weingut Brand "Electric Chardonnay Acid Test" 2021 with hints of pineapple, lemonade and "lightning bolts." That's a wine descriptor worth stealing.
Carrots and Black Sauce ($17) stole the show, however. Caramelized carrot spears with fried cumin and feta sit atop a pool of "black sauce" made with skins of the smoky eggplant used in the baba ghanoush. It's mixed with honey, vinegar and caramelized onion for an umami bomb of flavor. A bright herb salad with parsley and mint lightens the dish perfectly. Arroz Negro ($25) is a heaping bowl of risotto dyed black with briny squid ink and topped with bites of grilled squid.
There's plenty more to choose from, including a selection of gourmet tinned fish with potato chips and pickles ($17 to $23), Liberty Duck Chicken Liver Mousse with fig mostarda ($14), Braised Lamb Shank ($39), Roasted Squash and Maitakes ($19) and Semolina Crepes with spiced honey butter ($10).
Melby's menu is truly a stunner that you can go back to repeatedly as the seasons change.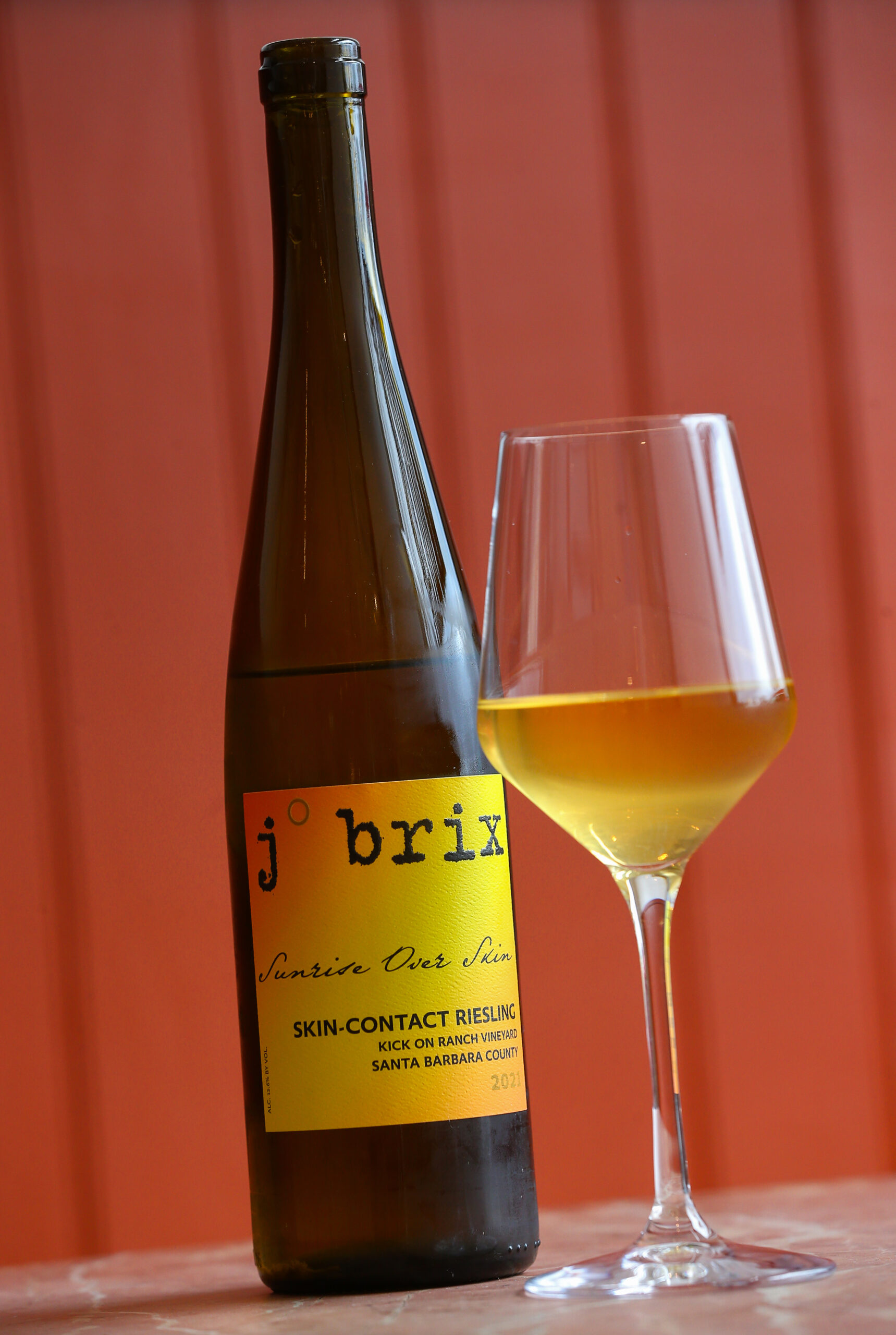 When I first spoke to The Redwood last September, Melby (the chef) and Miller (the beverage director) were just at the trailhead of their journey to open a natural wine bar and kitchen at the former Ginger Thai in Sebastopol. The duo had tested the concept at pop-ups for more than 18 months, found a brick-and-mortar space to remodel and were ready to share their passion for the fast-growing field of low-intervention, native yeast, unfutzed-around-with style of wine.
It's exactly what the next generation of wine drinkers want in their glasses because there are no rules about pairing or silly explanations. Clutch your pearls, darling, because at The Redwood, sediment in your glass is a positive, cloudiness is expected and a little funk never hurt anyone.
"When we moved (to Sonoma County), we started meeting all of these natural winemakers, joining this community but realizing that we had to go to SF or Oakland to buy or even have a glass of these natural wines in person," Melby said last September.
The casual tables for two or eight are scattered about, with a friendly bar front and center. You can just eat, you can just have a drink, you can do both or just grab a bottle and go. The selection of wines runs from light French Beaujolais and skin-contact whites (the J. Brix "Sunrise over Skin" riesling from Los Alamos is a stunner) to meaty syrahs and cabernet francs. The bottle list runs four pages and is a perfect primer on the world of natural wines. A great variety of wines also are available by the glass.
A small but well-stocked bottle shop includes dozens of approachable and affordable wines to take home.
The Redwood is at 234 S. Main St., Sebastopol, 707-861-9730, theredwoodwine.com. Open from 1 to 9 p.m. Thursday through Monday.
Heather Irwin is the Dining Editor of the Press Democrat and Sonoma Magazine. You can reach her at heather.irwin@pressdemocrat.com.