With all the holiday celebrations and feasts, November and December can feel like gastro-overload. Heather Irwin says skip the cookies and candy and save the calories for some of the new spots she's found around Sonoma County (and beyond). It's a great way to escape the seasonal mayhem and nourish both body and soul.
THE GOLDEN PIG, Hopland
Julie Golden's dance card was full long before she opened The Golden Pig restaurant in Hopland last summer. There was the massive fire that wiped out acres of grazing land for the animals Mendocino Meats' Adam Gaske raises on her 2000-acre ranch near Ukiah. Then there are the winery and vineyards she manages with her husband Joe, four school-age children and a menagerie of animals. And her wine shop.
But it was her ongoing frustration about how restaurants source their food that made her a newly-minted restaurateur as well.
After years of selling her grass-fed beef, pork, and chicken to high-end chefs, then watching them cancel orders when she claims her prices were undercut by larger food suppliers, she figured she'd put her money where her meat was.
In late June, Golden opened The Golden Pig as an outlet for her beef, pork, chicken, eggs and produce—with that of nearby farmers—and as a sort of experiment in bringing true farm-to-table food to more people.
"I didn't do this to just to be a restaurateur," she said. "I did it because I love farmers and I want people to be able to thank me for bringing them great food."
Calling her restaurant farm-driven, rather than farm-to-table, Golden's mission with The Golden Pig is to grow honest food in healthy soil with clean water, lots of sunshine and minimal intervention – "to keep you healthy", according to Golden. Her menu bears the following credo: "We're investing in the land and the farmer, creating a culture that strengthens goodwill among local businesses and delivers fine food to each of our customers. It feels good to cook with honest ingredients. And it feels even better knowing we're nurturing the land for future generations."
Golden hasn't hired a chef, but she trains her cooks to execute simple dishes she's helped to create, frequently based on what's available rather than what can be delivered by a food service company.
"Farmers need somewhere for their food to go," she said, adding that the claim of farm-to-table sometimes far exceeds the reality of what restaurants are actually serving.
Golden says that, as a producer, she frequently encounters top San Francisco chefs who would feature her products for a while until food service suppliers were able to offer substantially lower prices than those being offered by her farm and other small producers.
Since restaurants frequently have slim margins on food costs, Golden said it's understandable, but frustrating to lose those accounts.
"This wasn't something I was just doing in my spare time," she said. "I'm making good food, using the entire animal, and being sustainable. I thought it would be easy to make people understand. But until I opened a restaurant I didn't understand."
"Now I understand why restaurants can't easily work with small farmers. It's complicated, and there are market forces that incentivize restaurants not to. Yes, there are chef-driven restaurants like Thomas Keller's that are truly farm-to-table but that's just not affordable to the average person."
By using her own products, and those of her friends, she hopes to both keep costs low and showcase the food of the region.
Hopland has long suffered from drive-by syndrome. Fifteen miles north of Cloverdale, the thousand-resident hamlet is bisected by Highway 101 — only two slow-moving lanes here — with cars and trucks mostly passing through. But the Piazza de Campovida inn and tavern, along with the Emerald Pharms cannabis dispensary at the Solar Living Center, and other new wineries and restaurants like Golden's are catching the attention of travelers.
Beautifully remodeled with recycled materials and clean lines, The Golden Pig is actually housed in one of the oldest buildings in Hopland — a 19th-century saloon called the Cottonwood. The centerpiece of the dining room is the original bar from the Yuengling Brewery in Pottsville, Pennsylvania, the nation's oldest brewery. Her mother, says Golden, bought the piece at an auction, and used it for years in her Ukiah dress shop, Esther's, with it later sitting in Golden's barn, and now restored to its original glory. The full bar serves cocktails made with fresh local berries, muddled herbs and infused liquors, along with local beers on tap, a wine list with mostly nearby wineries (including their own Golden Winery), and house-made shrubs using seasonal produce from Heart Arrow Ranch.
More than just libations, they're tasty symbols of Golden's crusade toward delicious sustainability.
"Opening this restaurant is giving me insight into the system, and I can affect change more easily. I want to have this conversation about food, I want farmers to continue farming. Otherwise, what's my legacy?"
13380 S. Highway 101, Hopland, 707-670-6055, thegoldenpig.com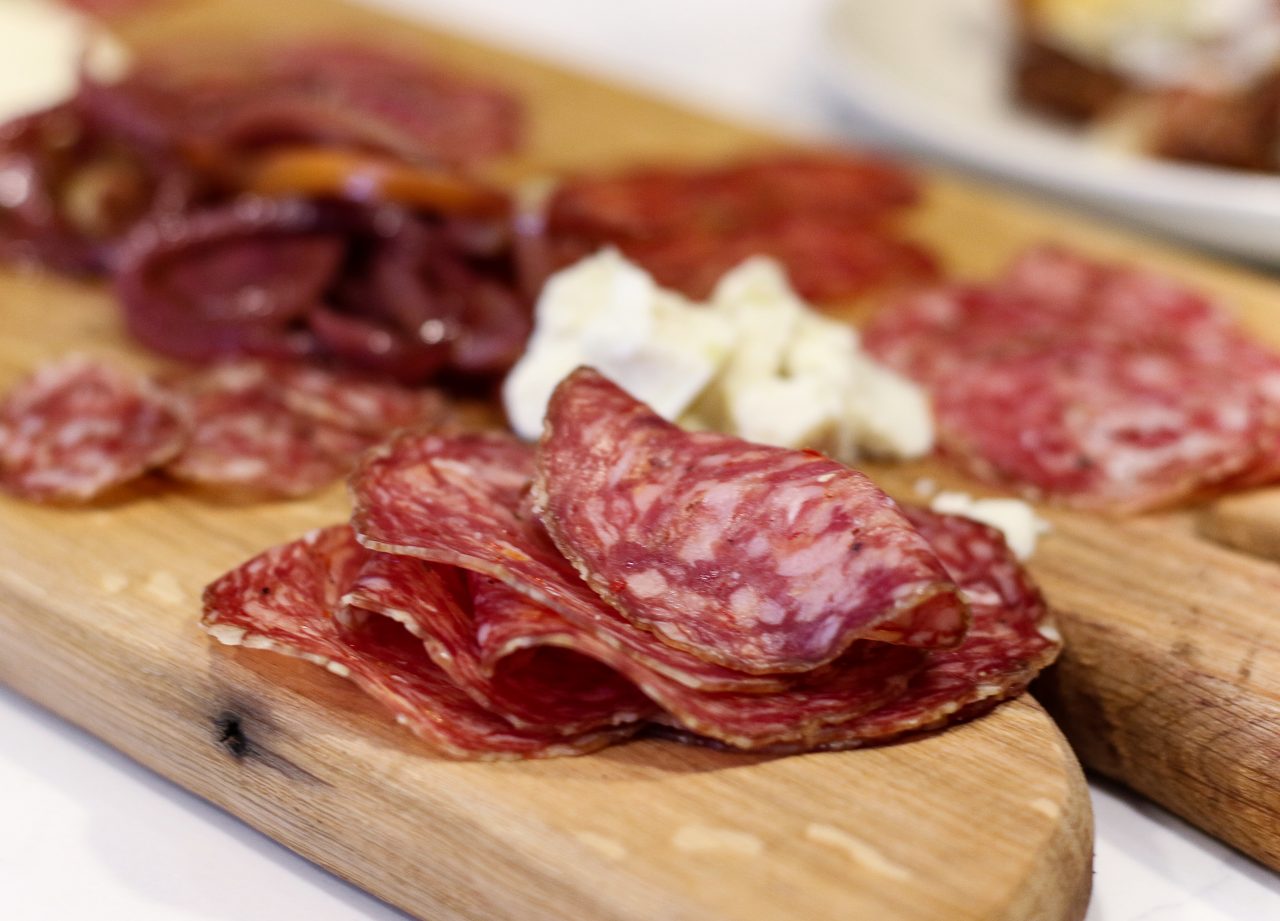 JOURNEYMAN MEAT CO., Healdsburg
Eighteen inches nearly cost Pete Seghesio his longtime dream of becoming a salumist.
The two-story building he'd constructed at the site of the former Healdsburg post office was just a foot-and-a-half shy of fitting a custom- built meat-processing room he'd specially commissioned. OK, there was that, and the concern about loading whole animal carcasses into the building just steps from the downtown square.
So, Seghesio punted. He leased out most of the space in the building to Single Thread Restaurant and Farm, which had one of the most high-profile restaurant launches of the year. Single Thread also manages several guest rooms above the restaurant.
That left a small nook in the building for Seghesio to put in a retail butcher shop, salumeria and tasting bar, which has now opened as Journeyman Meat Co. His meat-processing facility, called a salumificio in Italian, has been relocated to Cloverdale, where engineers are putting the final touches on the multimillion- dollar salumi fermentation, sausage and hot-dog making, and estate beef-packaging space. Soon, all of Journeyman's products will go directly from farm to table straight through Seghesio's company.
Suffice to say, Seghesio now has his soppressata and can eat it, too.
The newly opened salumeria is every bit as luxurious as its nearby restaurant and tasting-room comrades that line Healdsburg's streets — a warm, yet minimalist space that showcases several hand-operated Berkel meat slicers, hanging salumi, extensive wine racks, a wood-fire pizza oven and casual seating for sharing plates of charcuterie, pizzas, sausages, sandwiches and a glass of wine. As a butcher shop, it holds a carefully curated case of estate beef and heritage breed pork, along with bacon, smoked and fresh sausages, and assorted salumi.
The simple opening menu is worth snacking through, with best bets including: Butcher's Steak, perfectly cooked market steak served with Parmigiano-Reggiano, a roasted tomato, compound butter and grilled bread ($18); salumi boards of five ($25) or eight ($34) salumi varieties; and sausage skewers ($10). There are also wine and salumi flights offering two wines with four salumi selections ($15) — a great way to try Seghesio's Journeyman and San Lorenzo wines.
404 Center St., Healdsburg, 707-395-MEAT, journeymanmeat.com
HIP CHICKS NUGGET TASTING ROOM, Sebastopol 
Why did the chicken cross the road? To pair its nuggets with a tasty Chardonnay in Wine Country's newest tasting room.
Sebastopol's Hip Chicks, whose organic chicken fingers are now sold in more than 5,000 stores, have opened The Kitchen, a chicken-nugget tasting room and lunch counter featuring "flights" of their original, ketchup and maple chicken fingers, fried buttermilk chicken sandos, a chicken meatball sub, turkey burger, egg sandwich with sweet potato hash, apple cider corn dogs and local beer and wine.
Chef and co-owner Jennifer Johnson, a Chez Panisse alum, founded the company with her wife, Serafina Palandech, to provide healthful, sustainable, family-friendly foods, starting with their nuggets, and expanding to other products like breakfast sausage, meatballs and grilled chicken strips.
124 S. Main St., Sebastopol, 707-329-6485 hipchickfarms.com
THISTLE MEATS, Petaluma 
In an instant, a drunk driver changed the trajectory of chef Travis Day's life.
Though he was nowhere near Petaluma when an impaired motorist plowed into the storefront of Thistle Meats in early 2016 — all but destroying it — little more than a year later, he would officially reopen it to the public.
In mid-May, Day took over the downtown artisan butcher shop from founder Molly Best. It had been a rough year for the business.
The drunk driver had done so much structural damage to the building that it had been "red-tagged" as uninhabitable. Best was forced to sell her bone broth and meats to loyal customers from behind their Petaluma Boulevard shop for months.
When Day's childhood friend and former Thistle butcher Aaron Gilliam said the shop was for sale, Day pounced. After a two-week shutter, Thistle was reborn.
"People were breaking down the door for bone broth," says Day. "We couldn't stay closed."
More than just a butchery, the space has been opened up to include a small seating area serving sandwiches, soups and charcuterie plates that go far beyond deli fare.
The open butcher table remains, and a charming brick patio has become the setting for Day's monthly Sunday suppers with some of San Francisco's top toques. Day has kept on the former staff.
"I wanted to buy Thistle because I just love the product. I want this to be the best butcher shop in the Bay Area," Day says. Continuing to focus on ethically raised meats from local ranches, Day knows his purveyors personally, describing everything from their animals' feed program to how they are processed.
With years of study as a salumist and butcher, Day is a chef's chef — working his way up the kitchen ladder with the kind of intense focus and passion that results in 25 journals filled with business plans and recipes, traveling to 20 countries with his chef's knives and developing a résumé that includes some of the best restaurants in the world. Not that he'd really tell you that. Day and his staff are usually too busy learning Argentinian butchering techniques or describing "secreto" or "secret" cuts of pork.
"I used to cure duck prosciutto in the rafters and stay up until 3 a.m. translating old French cookbooks," Day says. "I feel like this is the natural progression." Part of what Day hopes to improve at Thistle are its prepared dishes like the simple-yet-not-simple Jambon Royal sandwich with Humboldt Fog cheese, wild arugula and mustard aioli; heirloom melon with guanciale, cucumber and Italian burrata; or gazpacho with herbs and pan-fried bread. Each showcases the meat and the techniques of the chef.
160 Petaluma Blvd. N., Petaluma, 707-772-5442, thistlemeats.com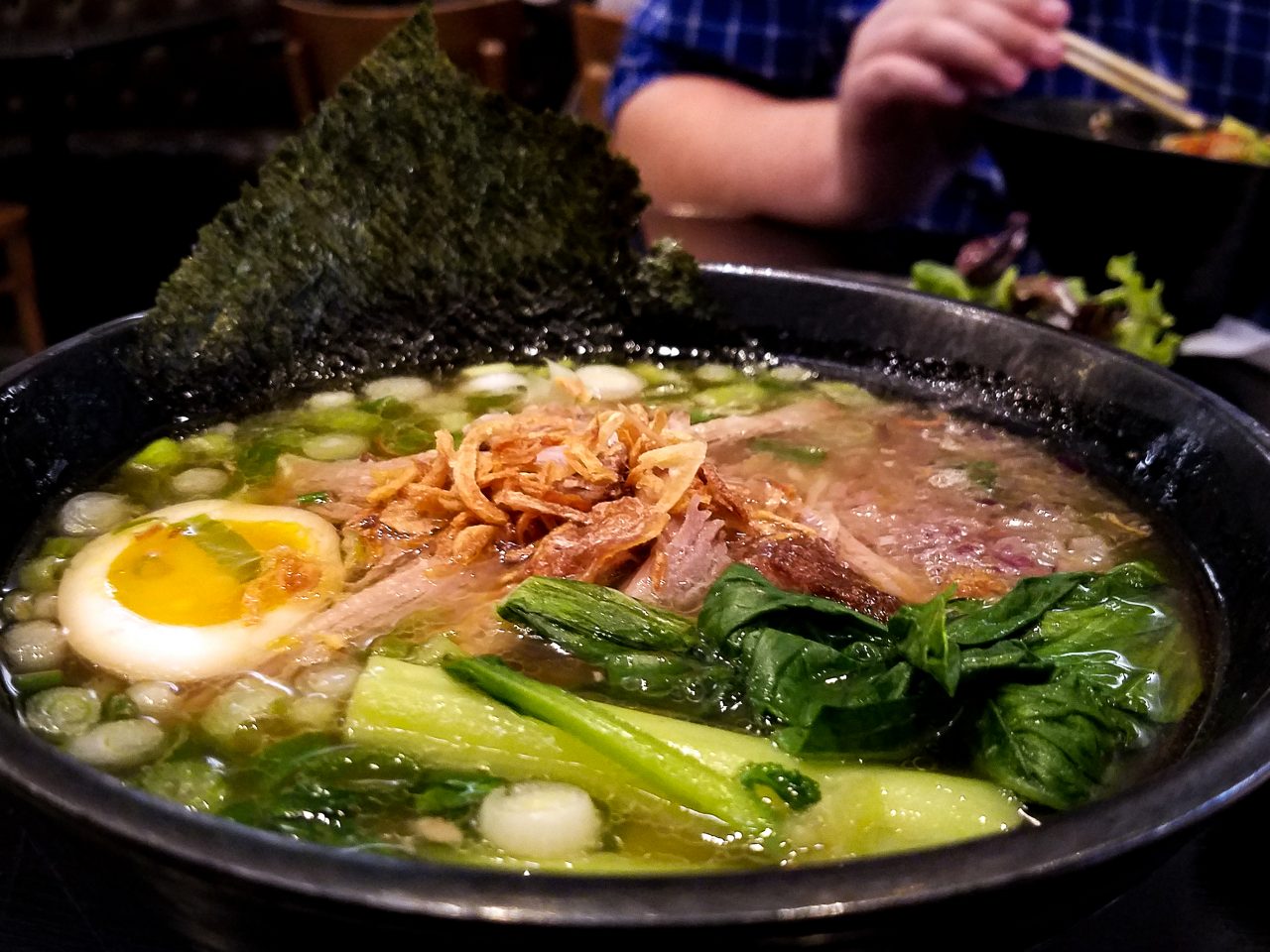 MISO GOOD RAMEN, Santa Rosa
If you want to know what chefs eat on their days off, it's usually one of two things: tacos or ramen. Not Top Ramen, but serious Japanese ramen made with real miso, six-minute eggs, char siu pork belly and, most importantly, good noodles. Otherwise, you might was well eat Top Ramen, or better yet, a taco. And, chefs will tell you that the salty, fatty umami bowls taking the food scene by storm are an ultimate comfort/hangover food that are still pretty good even when they're not great.
Miso Good Ramen, in downtown Santa Rosa, is exactly that: really good, exceedingly slurp-able, ramen bowls we've tried on several occasions — and continue to crave. Of course, a serious discussion of the many styles, virtues and classifications of ramen (it's sort of like regional barbecue in that everyone has an opinion) is outside the scope of this column, but the surprise best bet is the Miso Butter Veggie ($12)! Though we're pork lovers through and through, the veggie-centric ramen made with fermented soybean broth and piled with okra, corn, sprouts, mushrooms and garlic seaweed gets a bit o' butter that makes it over-the-top delicious.
We also loved the Hamachi Carpaccio ($15), with slices of Japanese yellowtail, tart ponzu sauce and a hint of truffle oil — enough to balance the dish, not punch it in the face.
The Tokyo Shoyu Chasu Pork ramen ($12) has great pieces of soy-braised pork in pork broth, a far more flavorful broth than chicken could ever hope to be. Six-minute egg was custardy and just soft enough — just like a sixminute egg should be.
507 Fourth St., Santa Rosa, 707-545-7545, , misogoodramen.com