New England-style IPAs, a.k.a "Juicy IPAs," are the latest craze on the Sonoma County beer scene.
Following in the footsteps of Massachusetts-based breweries like Trillium and Treehouse, Sonoma County brewers are busy experimenting with these juicy, hazy brews in single, double and triple IPAs – even Pale Ale. Some local brewers are using the Vermont yeast strain "Conan" that made beers like the "Heady Topper" popular, while others are using their favorite yeasts and different kinds of hops to yield their own take on the juicy brew.
Here are 6 Sonoma breweries to check out if you'd like to sip on a juicy beer.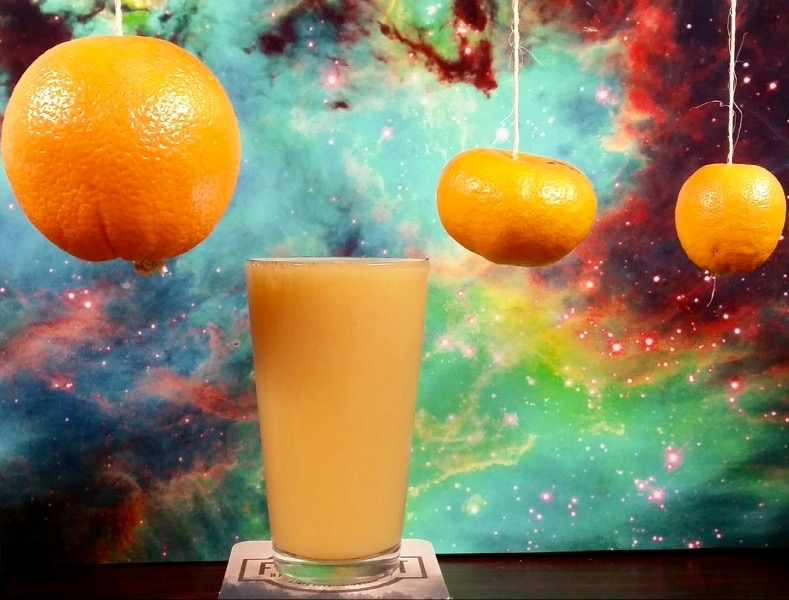 Cooperage Brewery in Santa Rosa has tapped a beer called "Lieutenant Dang." This is Pale Ale (not an IPA-style beer, but just as juicy) made with the Vermont yeast strain, Conan, that many other brewers are using to make juicy IPAs. Cooperage owner and master brewer Tyler Smith is planning on brewing some additional hoppy beers in the coming weeks which he says will also be similar to the juicy IPAs. In true Cooperage fashion, expect clever and fun names for these new brews – "Curt Don't Hurt" and "He's So Curty" are some of our favorite Cooperage beer names. Cooperage Brewing, cooperagebrewing.com, 981 Airway Ct g, Santa Rosa, CA 95403, (707) 293-9787, @CoopergaeBrewing
Fogbelt Brewing in Santa Rosa has their 6.8% AVB "Stardusk IPA" on draft right now. This hazy and juicy IPA, named after the Humboldt County native Stardusk tree, is packed with citrus aroma and flavor. Fogbelt used a saison yeast for this brew, which adds a touch of bubblegum and a slight sweetness to the profile. Taste this beer on draft at the Fogbelt taproom on Cleveland Avenue in Santa Rosa. Fogbelt Brewing, fogbeltbrewing.com, 305 Cleveland Ave, Santa Rosa, CA 95401, (707) 978-3400, @FogbeltBrewing
HenHouse Brewing in Santa Rosa just released their first juicy IPA called "Frozen Envelope". This beer is brewed with half wheat and half pilsner malt and is hopped with Idaho 7 and Ahtanum hops. HenHouse used the Conan yeast strain, which adds peach and stone fruit flavors to this beer and accentuates the tropical fruit and citrus character of the hops. Taste this beer, on tap, in the taproom off Corby Avenue in Santa Rosa. HenHouse Brewing, henhousebrewing.com, 322 Bellevue Ave, Santa Rosa, CA, (707) 978-4577, @HenHouseBrewing
Russian River Brewing (RRBC) in Santa Rosa released their first juicy IPA this month, called "Tempo Change." Known as the father of IPAs, owner and brewmaster Vinnie Cilurzo decided to try his hand at a North East version. Much like the famous RRBC West Coast-style IPAs "Blind Pig," "Pliny the Elder" double IPA and "Pliny the Younger" triple IPA, Tempo Change is a huge hit among beer lovers and is juicy, smooth and packed with flavor. Russian River Brewing Co., russianriverbrewing.com, 725 4th St, Santa Rosa, CA 95404, (707) 545-2337, @RussianRiverOfficial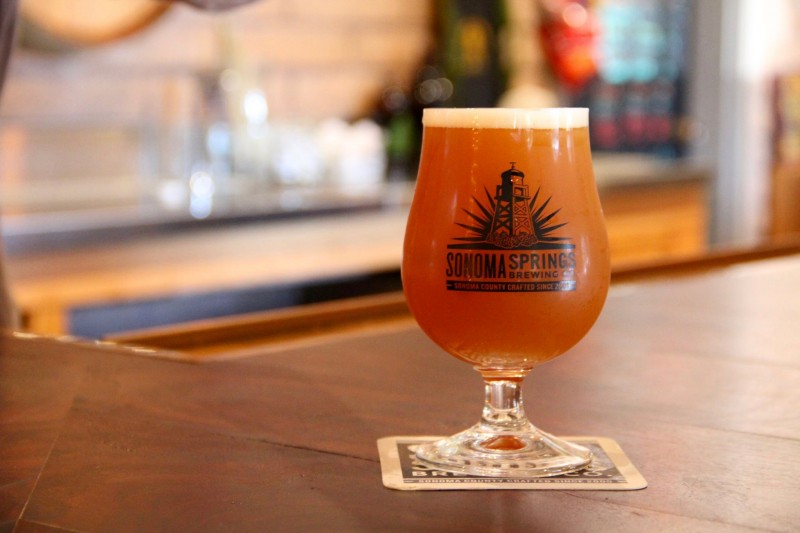 Sonoma Springs produced their first juicy IPA , "HazyCaliFrajilisticHoppyaladocious (HazyCali)," earlier this year, and it ran out in about a day when it was released on draft at the Sonoma taproom. The HazyCali is brewed with Crystal, Amarillo, Mosaic, and Simcoe hops. With a heavy oat and wheat base, this beer tastes like ruby red grapefruit juice and has a super smooth mouth feel at 7.5% ABV. It is now available at the Sonoma taproom, both in cans and on draft. You can also find HazyCali in stores around the Bay Area and Northern California (to locate this beer near you, click here). Soon after the release of the HazyCali, Sonoma Springs added two more juicy IPAs to their lineup: "Juicy In the Sky" double IPA, 8.3% AVB (which will be available in cans in April) and "Duck Duck Juice" IPA, 6.5% AVB. The Sonoma brewery is now working on two more North East-style brews that will be available at the taproom in the next month. Sonoma Springs Brewing, Sonomaspringsbrewing.com,  19499 Riverside Dr., Suite 101., Sonoma, Ca 95476, (707) 938-7422, @SonomaSpringsBrewing
Bear Republic Brewing in Healdsburg released their first juicy brew during SF Beer Week. The "Kompromat," a double IPA made with the Conan Vermont yeast strain, was so well received that they have since made it available at the brewpub in Healdsburg. Kompromat is extremely smooth and comes in right at 8% AVB. Bear Republic has previously made more bitter IPAs, so this brew is out of their normal range but is as delicious as the rest of their beers. Get it on draft now at the brewpub, before it runs out. Bear Republic Brewing Company, bearrepublic.com, 345 Healdsburg Ave, Healdsburg, CA 95448, (707) 433-2337, @BearRepublic