It's a bit of a rarity to find a happy hour that's offered not just during the work week, but on the weekends, too. That's why the (nearly) daily happy-hour menu at Seared stood out in our search for the best happy hours in Sonoma County. And a bonus: Their happy-hour menu maxes out at $9.50. How can you pass that up?
Seared is a beloved steak-and-seafood spot in downtown Petaluma, open every day but Monday. And, yes, every day they're open, they have happy hour, from 3:30 to 6 p.m. You can make a reservation during this time or opt for a spontaneous walk-in. Don't stress too much about waiting for a table or a spot at the bar, because the happy-hour menu is available throughout the restaurant.
Seared is also big on using locally sourced ingredients, which you'll see on their happy-hour menu, with local beer and wine and bites with ingredients such as Valley Ford cheese. It's clearly popular locally, having won the Best Steak and Best Happy Hour at the 2019 Petaluma People's Choice Awards.
The happy-hour menu has a little something for everyone and changes depending on what's available "to provide the freshest ingredients possible," according to their website. They offer half a dozen cocktails ($8), a variety of house wines ($7), a handful of canned and bottled beers ($3.50) and plenty of draft beers ($6).
Some of the standouts among the happy-hour drinks are the Scrimshaw beer from Fort Bragg and the Lagunitas IPA; the Spiced Rum Punch with hints of passion fruit and orgeat syrup; the New Orleans classic Vieux Carre with Benedictine and Peychaud's and Angostura bitters; and the Cucumber Martini, a cucumber vodka drink with elderflower liqueur. Additionally, they feature the classics like a PBR beer, margarita and Negroni.
We tried the Cucumber Martini, which had a refreshing and cool tang, and the Old Fashioned, a classically smooth sip. While sipping our spirits, we browsed the "Eats," with a total of eight bites to try.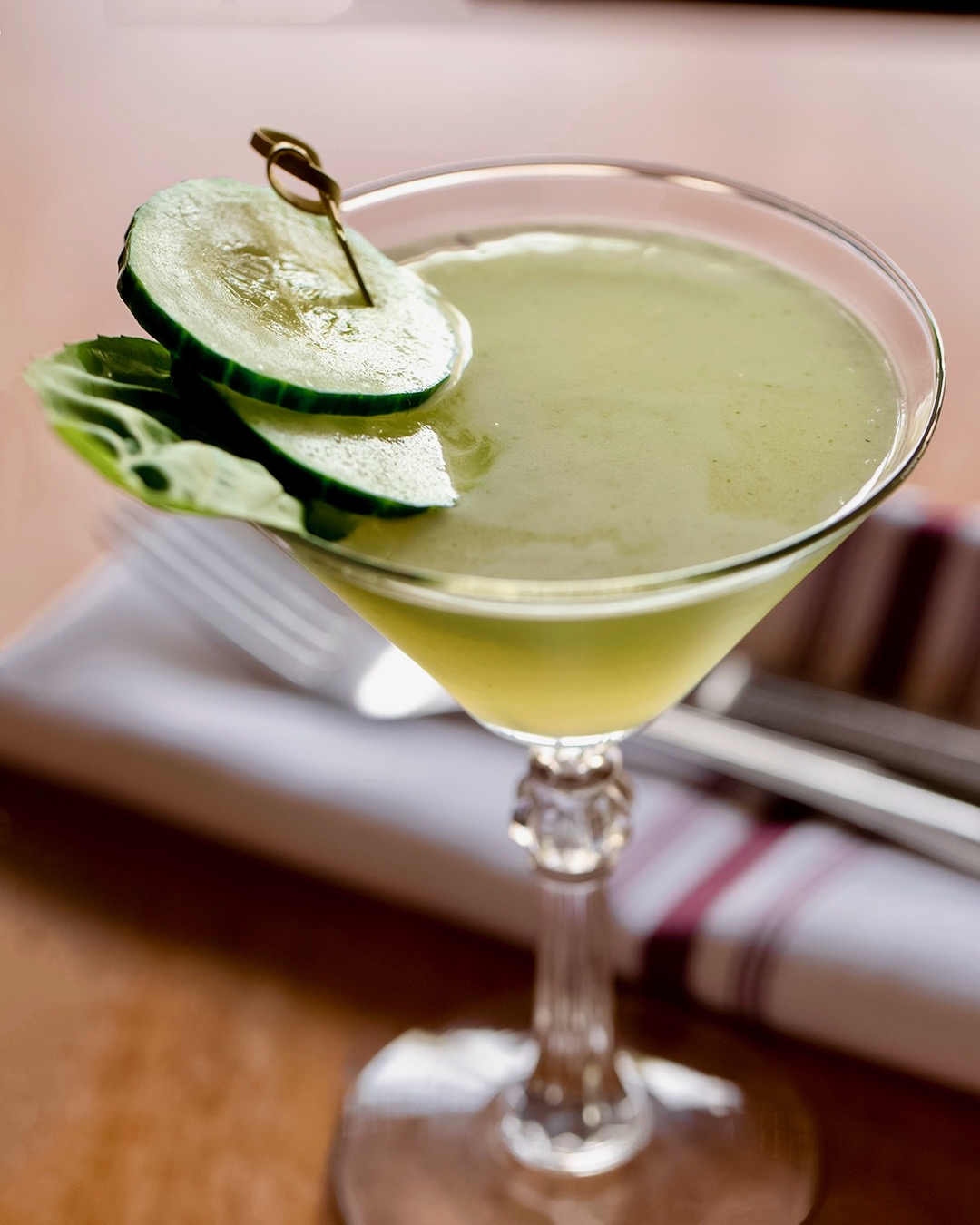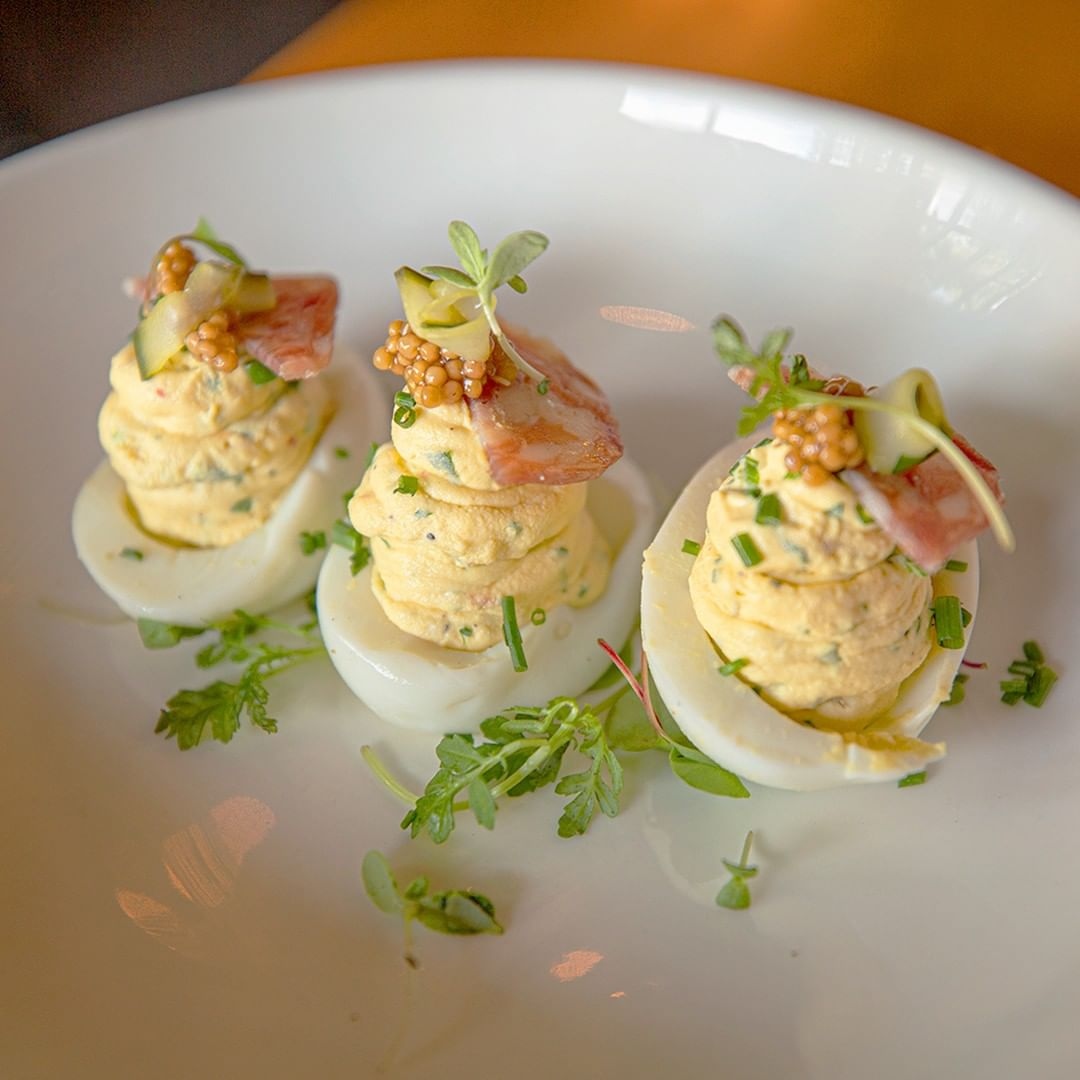 Of course, we sampled almost all of them: the Prime Rib Dip ($9.50), Mac 'N Cheese ($7.50), Mini Wedge Salad ($8.50), Deviled Egg ($5.50), Daily Tacos ($8.50), Filet Mignon Skewers ($9.50) and Kung Pao Prawns ($9.50). We added the Nueske's Bacon to the macaroni ($3) and passed on the calamari ($8.50).
In true Seared fashion, the Daily Tacos featured a grilled fresh cod with a bright passion-fruit slaw. These burst with flavor with every bite and felt like a lighter option among the other food on the menu. The tacos arrived at the same time as the Deviled Eggs, which were stacked tall with the filling, chives and serrano ham. Both items come with two of each, so they're easily shareable.
The Nueske Bacon makes an appearance on a few of the happy hour items, like the Mini Wedge Salad. Blue cheese lovers will love this salad, topped with Pt. Reyes blue cheese, watermelon radish, crispy shallots, cherry tomato and bacon. It's pretty sizable, with a heaping amount of bacon, and it's the main vegetable on the Eats menu.
Next came our more filling options, and we wondered if our eyes were bigger than our stomachs. Most portions on the menu were pleasantly large, despite low prices.
The Mac 'N Cheese was covered in perfectly gooey Valley Ford Highway 1 cheese, with hints of garlic and herb flavors. Any macaroni and cheese connoisseur knows the importance of diving your fork into the dish and pulling it away with the noodles attached by strings of hot cheese. This dish delivered.
The Kung Pao Prawns, atop soba noodles, packed a lot of flavor into every bite. The five large shrimp were perfectly crispy despite being covered in sauce and lime juice. Seared does a fabulous job balancing their dishes with spices and citrus flavors, and this dish exemplifies that.
The Prime Rib Dip came on excellent toasty baguette-style bread. Soggy bread is always a worry with a prime rib dip sandwich, but this bread kept its integrity of crunch. It comes with a subtly spiced horseradish aioli, Jack cheese, caramelized onions and shaved prime rib, with au jus to dip, of course. It's large enough to share and packed full of tender and juicy prime rib.
The star of the show, in our opinion, was the Filet Mignon Skewers. Herbivores, we apologize, but if you order anything on this happy hour menu, let it be the skewers. Three skewers are stacked with flawlessly cooked filet mignon soaked in a soy marinade. A ginger aioli is drizzled across the dish, which lies atop a papaya salad. The meat is filled with flavor so good you want to savor every bite.
With low prices and plenty of options, you'll be impressed by the portions as well as the punchy flavors in each dish and drink at Seared. The atmosphere is ideal, too, with high-top, booth and bar counter seating.
Happy hour from 3:30 to 6 p.m. Tuesday through Sunday. Seared, 170 Petaluma Blvd. N., Petaluma; 707-762-5997.
You can reach intern Lonnie Hayes at lonnie.hayes@pressdemocrat.com.