Trevor Gallagher knows his sauces. A veteran sandwich maker at Pacific Market in Santa Rosa, the 32-year-old realized the popular deli was missing something on its meat-meets-bun lineup.
So eight years ago, he developed the prototype for his Saucy Bubbs DTF (Downtown Fever) sauces, mixing up batches of the creamy, sweet and savory spread for his signature creation, the Downtown Fever sandwich. Also known as the No. 16 at the Pacific Market deli, it's built on a soft roll with cheddar, Buffalo chicken, lettuce, jalapeno, bacon and DTF sauce.
"I like making food," said Gallagher, a larger-than-life character who appears in cartoon form on the bottles of his sauces, now available in local stores. There's the Original (showing him with his signature white pick in his curly hair), the Garlic DTF (Gallagher is portrayed with vampire teeth and a cape) and Spicy Habanero (flames curl around him). A friend made the logo and characters, he said.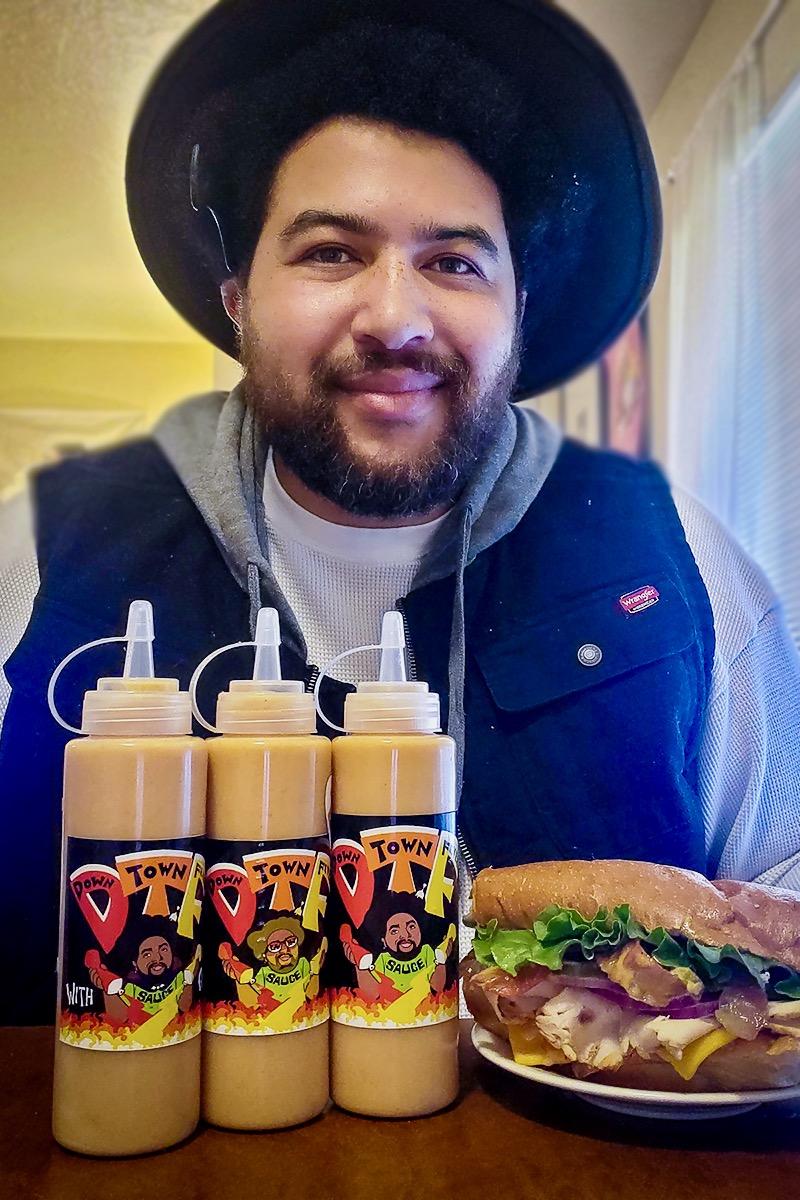 With no formal culinary training, Gallagher learned the sauce business on his own, using a commercial kitchen to make large batches and sell them at local stores, including Molsberry's Market (522 Larkfield Center, Santa Rosa) and Pacific Market (1465 Town and Country Drive, Santa Rosa and 550 Gravenstein Highway N., Sebastopol). His sauces also show up on the menu at Ausiello's Fifth Street Bar (609 Fifth St., Santa Rosa).
As a Chik-fil-A sauce devotee, I can confidently say Gallagher's sauce has a similar mustard-barbecue-mayonnaise essence. Still, there's something more craveable about Gallagher's fresh, unprocessed-to-death sauce. Squeeze it onto everything from macaroni and cheese, french fries and vegetables to grilled pork, pizza or even a Fig Newton cookie (maybe that's just me). Like the perfect black cocktail dress, it goes with everything.
"This sauce is so versatile, it'd even go great on a toothbrush," he said.
My hands-down favorite is the garlic version, with freshly pureed garlic that kicks up the sauce to 11. The spicy habanero sauce has a fresh chile flavor with a tingly zing.
Find more details and order online at thesaucybubbs.com.