In a food mecca like Sonoma County, happy hours are a chance to sample top-notch cuisine and drinks at bargain prices. And one of the best, for after-work drinks, visitors and locals, is the Stork Club Happy Hour at Stark's Steak & Seafood in Santa Rosa.
Like most happy hours, this one is on weekdays only, from 3 to 6 p.m. Monday through Friday. But if you're looking for a quiet place to kick back after a busy day, this is not the place. When we arrived at 3:45 p.m. on a recent Wednesday, the restaurant was already packed.
Guests can grab a seat at the bar, which has a full menu, or opt for a table — we waited 15 minutes to be seated during our recent visit. (No reservations can be made between 2:15 and 5 p.m.)
The restaurant is divided into two sections; one side is home to the bright and buzzing bar area with smaller tables while the other is more intimate and formal, with booth seating. The classic upscale steakhouse in Railroad Square has a cozy atmosphere with brick-ensconced fireplaces, large windows and upholstered leather seating.
Start with the classic Fords Gin martini ($6) and make it dirty, so it has a briny kick that will pair well with the bites to follow. (Stark's happy-hour drinks list features nine alcoholic beverages for $6 or less, including a lager, a red wine, a white wine and a handful of cocktails.)
For food, make it a tapas-style experience by ordering a selection of small plates to share. Most dishes on the happy-hour menu are $7 — two special items were $9 at the time of our visit, including a banh mi sandwich made with the restaurant's popular prime rib.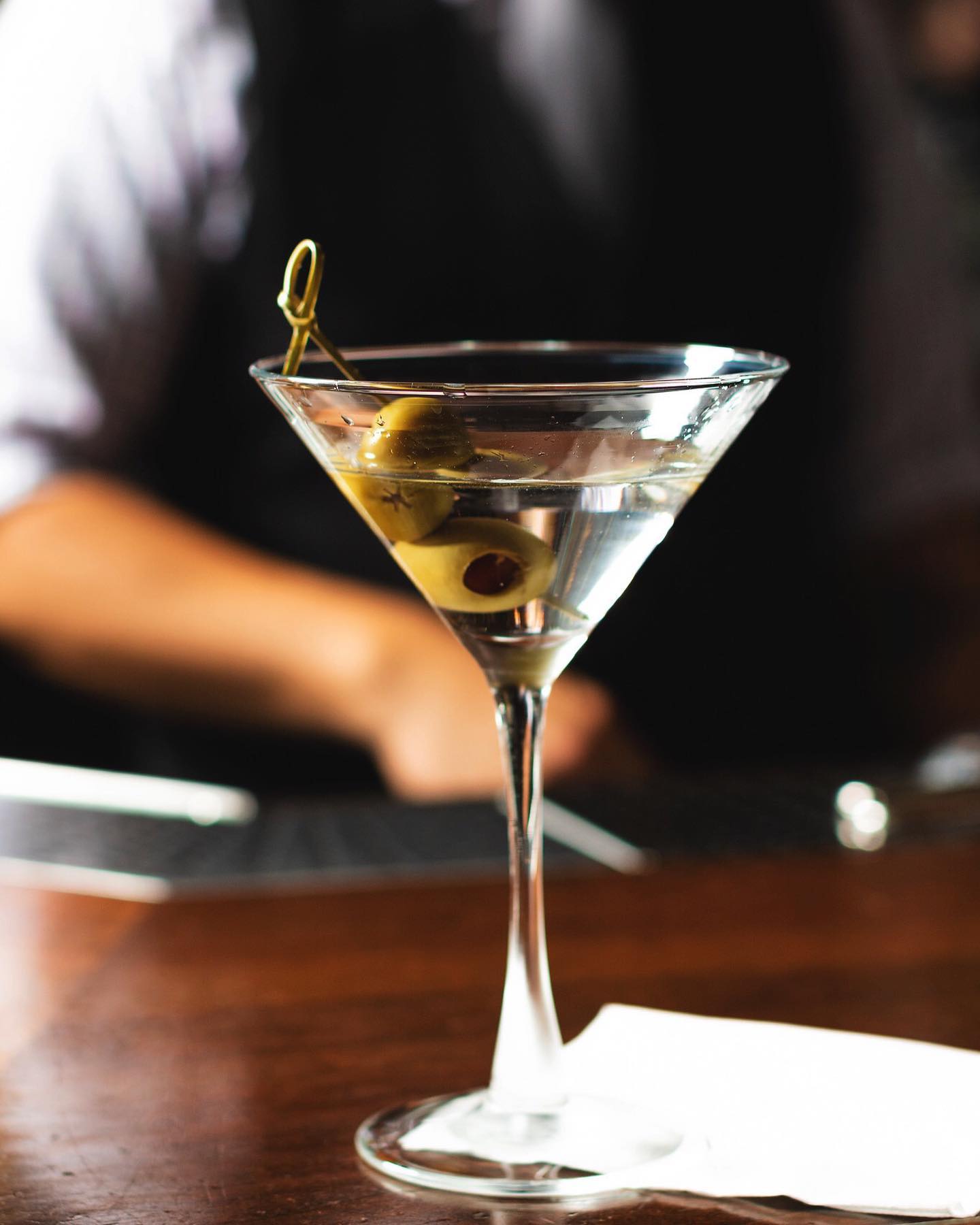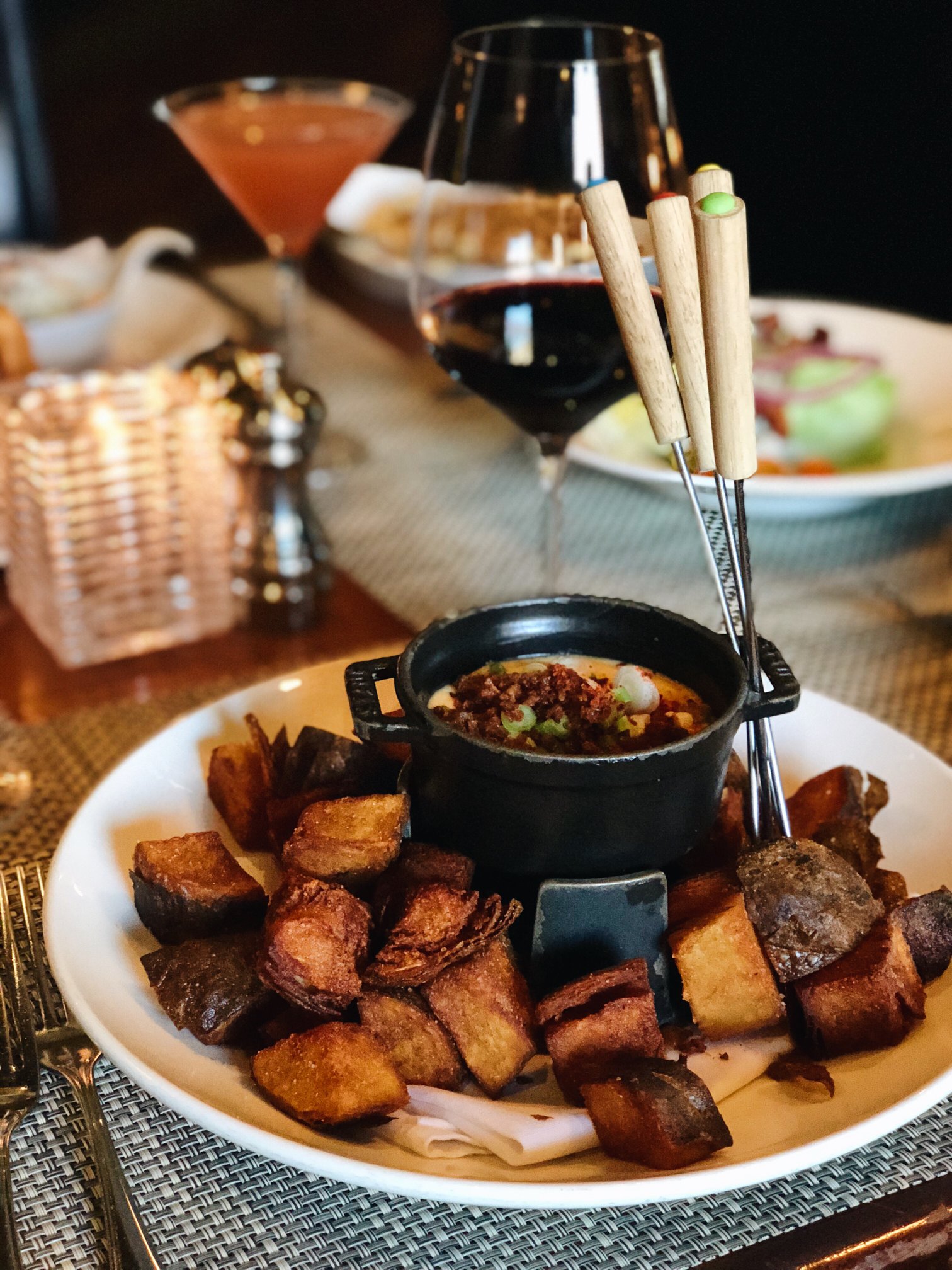 The BBQ oysters ($7) have a tangy cocktail sauce over each shell and are sure to please any seafood lover. The potato skin fondue ($7) is the epitome of guilty pleasure, with steaming smoked cheddar over crispy potatoes and bacon bits. It's large enough to share with friends, unless you want to keep it all to yourself.
The tuna tartare tacos ($7) are a great bang for your buck. (Tuna tartare is a Stark's specialty and frequently appears on the menus at other Stark restaurants around Sonoma County.) Three tacos are loaded with ahi tuna infused with miso and truffle flavor, and with pine nuts for extra crunch. The fried wonton-style shells are crunchy and work well with the fish.
The truffle fries ($7), popular at happy hour for good reason, are hard to pass up. Reliably simple, they deliver with the kind of comforting umami we crave. Pro tip: Ask for some of the steakhouse aioli to dip the fries in and you'll be golden.
The star of the Stork Club Happy Hour is the crispy calamari ($7), drizzled with orange chile sauce and sprinkled with garlic and parsley. The skillet they come in is on the smaller side, but it fits plenty of calamari. The sweet chile sauce brings a citrusy flair to the dish, and the batter is perfectly crunchy without being too thick.
The meaty prime rib banh mi sandwich ($9) makes for a great finale to your happy-hour meal and can easily be shared by two people. It's topped with an herby slaw that adds an invigorating crunch to the sandwich.
We'll be highlighting other happy hours around Sonoma County in the coming weeks, so check back at sonomamag.com and in The Press Democrat. Know of a good local happy hour, with great food and drink? Email Lonnie Hayes at lonnie.hayes@pressdemocrat.com.
Stork Club Happy Hour at Stark's Steak & Seafood: 3 to 6 p.m. Monday through Friday, 521 Adams St., Santa Rosa, 707-546-5100, starkrestaurants.com