As we hit the six-month mark after the fires, Sonoma is awash in green. Renewal is everywhere, and like hibernating bears, we're ready to get down to some serious eating after a long winter. Here are some spots Heather Irwin encourages you try right now. Click through the gallery above for more info and dishes to order at each restaurant.
Salt & Stone, Kenwood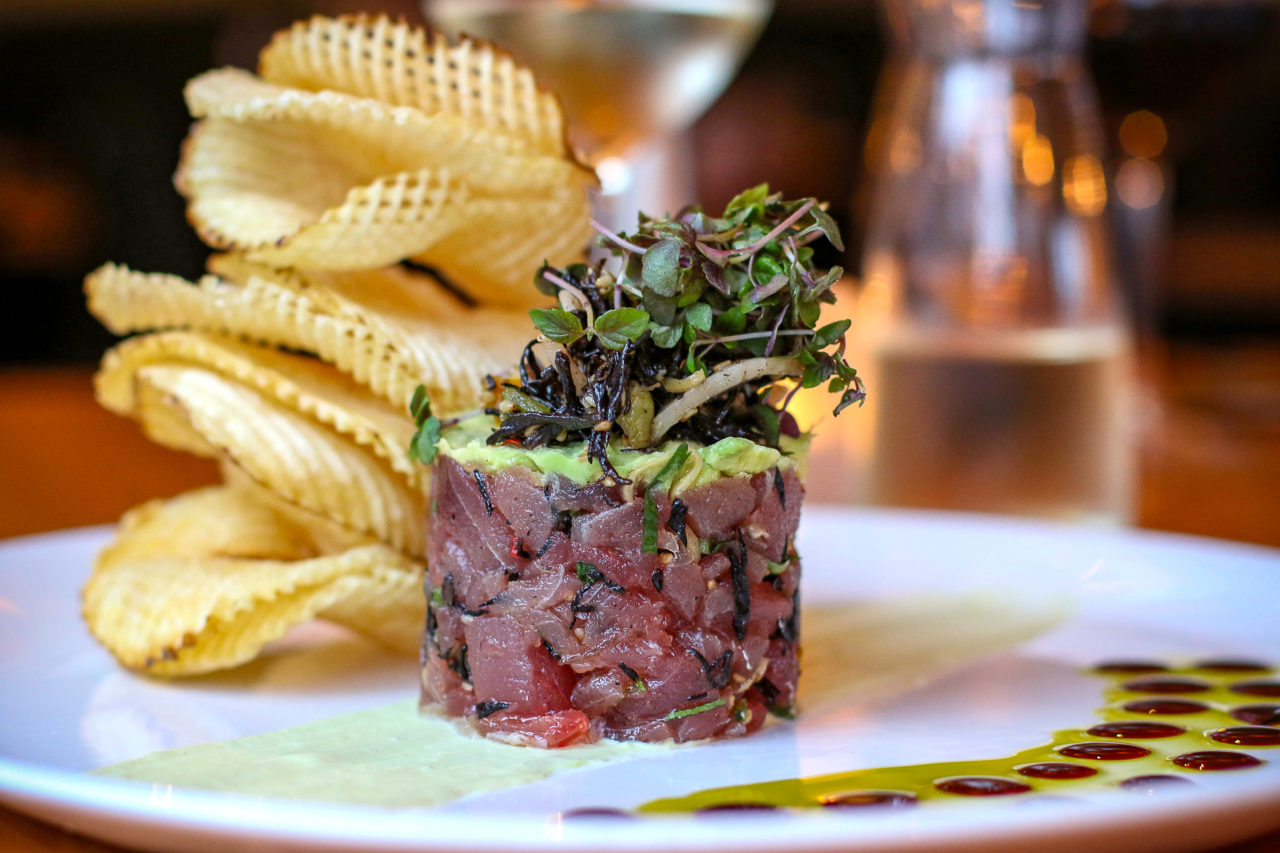 Since opening in December in the former Kenwood Restaurant, Salt & Stone has been packing them in at the iconic Highway 12 roadhouse. The bar is once again a gathering spot for the Valley and the restaurant is doing such a brisk business that owners David and Diane LaMonica are hustling in the kitchen and dining room as hard as any of their staff.
"I've been here every day since we opened," chirped Diane, as she fluttered about seating guests, filling water glasses, expediting bar food and creating a generous warmth as inviting as the restaurant's crackling fireplace.
For more than a decade, LaMonica and her husband owned Mendocino's Cafe Beaujolais, also known for its combination of charm and destination- worthy food. As residents of Santa Rosa, they'd long dreamed of opening a restaurant here, so when the former Kenwood spot shuttered and then floundered between potential new owners, they decided to jump in with both feet.
Why have they succeeded so spectacularly right out of the gate? One theory is their welcoming attitude to nearby Oakmonters. With more than 4,500 residents, the over-55 Oakmont Village crowd is something local restaurateurs ignore at their own peril. Failing to court the disposable incomes, passion for food and weekday patronage of these seniors has been the death knell for several restaurants.
The LaMonicas have wisely created an atmosphere, price point and menu the community is embracing. Not that Oakmonters are the only patrons, but on one visit, a single young couple sat by a window as the dining room filled with mostly mature diners. A second Thursday night visit found both the bar and dining room full by 5:30 p.m., with jovial retirees gathered around the bar fireplace, filling tables in couples and foursomes, opening expensive wines and relishing the food.
It's also a homecoming for many. For decades, chef and owner Max Schacher had served simple French-California cuisine in the space, with approachable dishes like Caesar salad and Dungeness crab cakes and salmon. Schacher sold the restaurant in 2013 to internet entrepreneurturned- restaurateur Bill Foss, who brought a high-concept vibe and frequently changing seasonal menu to the space — something that didn't always fly with Schacher's longtime regulars.
The LaMonicas, who hired Meadowood and French Garden alum Arturo Guzman to head the kitchen, have taken a more moderate approach, with an extensive menu of classics, including Caesar salad, onion soup, steak and roasted chicken. With a full oyster selection, specialty cocktails and classics, charcuterie and cheese boards, 11 appetizers, 11 entrées, three-course bistro night selections (beef bourguignon, coq au vin, braised lamb shank), nine desserts and a happy hour menu, it's more a matter of narrowing choices after perusing both the daily menu, dinner menu and wine list. Eager staff are more than happy to guide your choices, should things get overwhelming.
Best bets are the Marinated Grilled Octopus ($18), incredibly flavorful and so tender you can cut it with a single stroke of a butter knife, and the Ahi Tuna Poke ($18), which so many chefs phone in but which Guzman jazzes up with seaweed salad, wasabi cream and shiso oil, along with plenty of sesame oil. We also loved the Steak Tartare ($19), with 25-year-old Sherry vinegar, a raw quail egg and crispy crostini. The perfectly prepared Crispy Skin Salmon ($25) — just cooked in the center, flakey throughout, served on a bed of lemon couscous — is a solid choice for lighter eaters.
"Everyone will come once," said Diane of the restaurant's initial frenzied pace of patrons, "but our job is to keep them coming back." If the packed parking lot is any indication, they're coming back in droves to Kenwood's gathering spot.
Salt & Stone is open daily from 5 to 9 p.m., with a happy hour from 2:30 to 5:30 p.m. Monday through Friday. 9900 Sonoma Highway, Kenwood, 707-833-6326, saltstonekenwood.com
Bibi's Burger Bar, Secret Indian Menu, Santa Rosa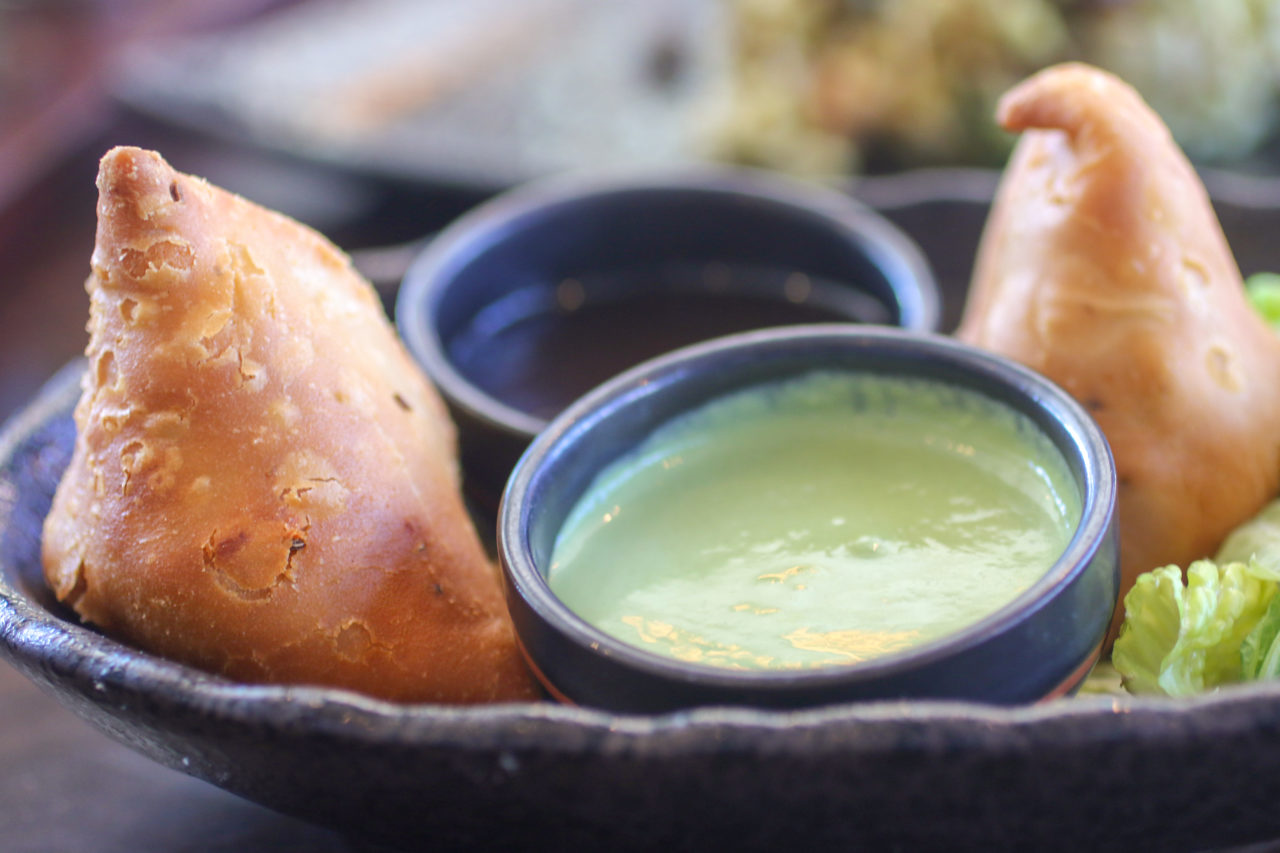 So, Bibi's "secret" menu isn't all that secret — they offer it Wednesday through Sunday for lunch and dinner, tucked into their regular menus. What's on the down-low is that it's the only place we know of that serves dosa — the big-as-your-forearm savory Indian crepes — along with crunchy bhel puri, pani puri and an Indian rose syrup dessert called falooda kulfi.
This is real-deal Indian street food, things that can be found in the hawker stalls of Mumbai or Delhi. Our favorite dish is the bhel puri ($6.50), a tasty mix of sweet, spicy, sour flavors and crunch. Think rice crispies covered with tamarind and mint sauce with chickpea noodles, cilantro and onions. The vegetable samosas ($5.50) — fried pastry dough filled with curried green peas and potatoes, served with tamarind sauce and mint chutney — are so tasty, you'll want to gobble them up. But the inside is roughly the temperature of molten lava, so don't pull a Hot Pocket moment.
For the chicken tikka dosa ($10.50), savory Indian crepes made with rice and lentils the size of a small bicycle wheel are stuffed and folded with seasoned potatoes and other goodies including fresh Indian cheese (paneer) or tandoori chicken tikka masala. There's also a vegan option, as well as Cheddar cheese-filled dosa for people who like ruining perfectly good dosa with Cheddar cheese.
Finding a version of the creamy frozen dessert falooda kulfi ($7.50) in the North Bay was a triumph. Kulfi (an eggless ice cream) is mixed with cold noodles, rose water and basil seeds. It's not for everyone, but it's definitely for us. Meanwhile, warm gulab jamun ($4.50) is a pretty standard Indian dessert of sweet donuts soaked in a cardamom-infused sugar syrup so sweet just thinking about it will give you a cavity.
Sunday – Thursday, 11:30 a.m. – 9 p.m. and Friday Saturday, 11:30 a.m. – 10 p.m., 630 Third St., Santa Rosa, 707-523-1400, bibisburgerbar.com
2 Tread Brewing Company, Santa Rosa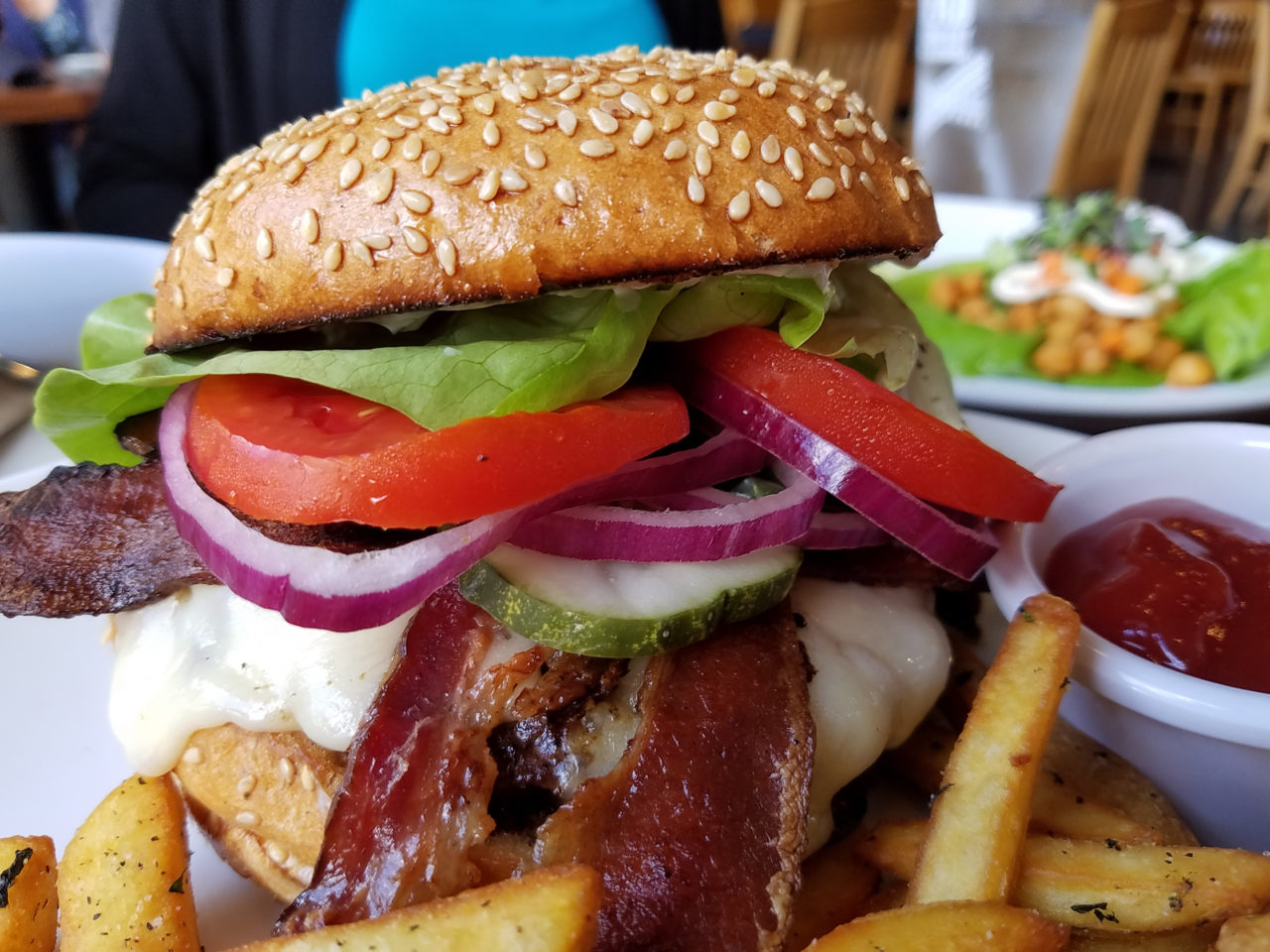 With more than 6,000 square feet of space, 2 Tread Brewing Company is now one of the largest restaurants in downtown Santa Rosa. The food is approachable and intriguing: sweet potato tots served alongside locally grown citrus- and herb-marinated beets with whipped chèvre; hot wings and burgers beside Caprese salad with house-made mozzarella and heirloom tomatoes; or wild mushroom flatbread.
We suggest trying the fried shishito peppers ($6) — although if you aren't willing to play roulette with the chance you'll get a hot pepper in the mix (about 1 in 10 are usually super-spicy), steer clear. But creamy tarragon aioli helps temper any rogues.
The 2 Tread Burger ($14) is a beauty, though our medium-rare turned out well-done. With lots of fresh produce and tasty Niman Ranch grass-fed beef, it's a burger we'll go back for. The spice-rubbed prime hangar steak ($30) was perfectly cooked and seasoned, with a light chimichurri sauce, green beans and roasted garlic. Delightfully simple.
Over all, 2 Tread is a crowd-pleaser across the board — for families, first dates, comfort food, cocktails, small plates, under $10 dishes, burgers and large groups.
Open daily from 11 a.m. to 11 p.m., 1018 Santa Rosa Plaza, Santa Rosa, 707-327-2822, 2treadbrewing.com
Smokin' Bowls, Rohnert Park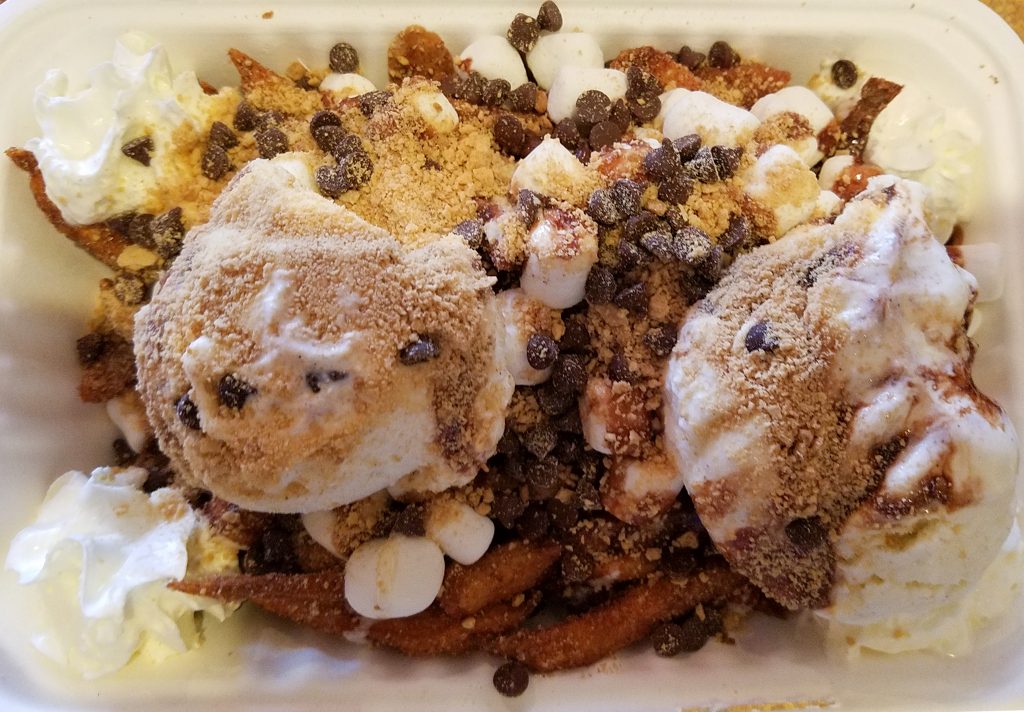 It's hard to resist making puns about our high expectations for the new Rohnert Park restaurant Smokin' Bowls. Kidding aside though, the bowls at this student- and family-friendly restaurant have nothing to do with THC, though one might get a serious craving for their ice cream and French fry bowl after an afternoon smoke sesh.
Here, "bowl" is shorthand for piling a whole bunch of tasty comfort food into a portable container wherein you can easily stuff it all into your mouth with nothing more than a spork. We should call out something unique: the fries, hand-cut and fried in beef fat, tossed with their own seasoning. There's a reason this used to be the standard. So. Beefy. Good. Not for vegetarians or vegans, however.
No bowl is over $8.25, with a selection of items under $5, plus everything on the menu is gluten-free, and no dishes include peanuts or soy proteins. Smokin'.
Try the Bowl Named Sue ($7.25), a downhome combination of homemade mashed potatoes, corn, bacon, chicken (it would have been better fried) and gravy. The portions are ridiculously huge, but this little bit of Southern comfort didn't last 10 minutes before disappearing. The Rohnert Pork ($6.75) includes fries, BBQ pulled pork, cheese sauce and bacon, and we'd say this was the most ridiculously indulgent bowl, but that would be far from the truth, because … S'mores Fries ($5.50)! This dish was so crazy, even we were gobsmacked: French fries smothered in cinnamon, topped with ice cream, chocolate sauce, marshmallows and chocolate chips.
295 Southwest Blvd., Rohnert Park, 707-665-5265, smokinbowls.net
Relax and Eat Bread, Sonoma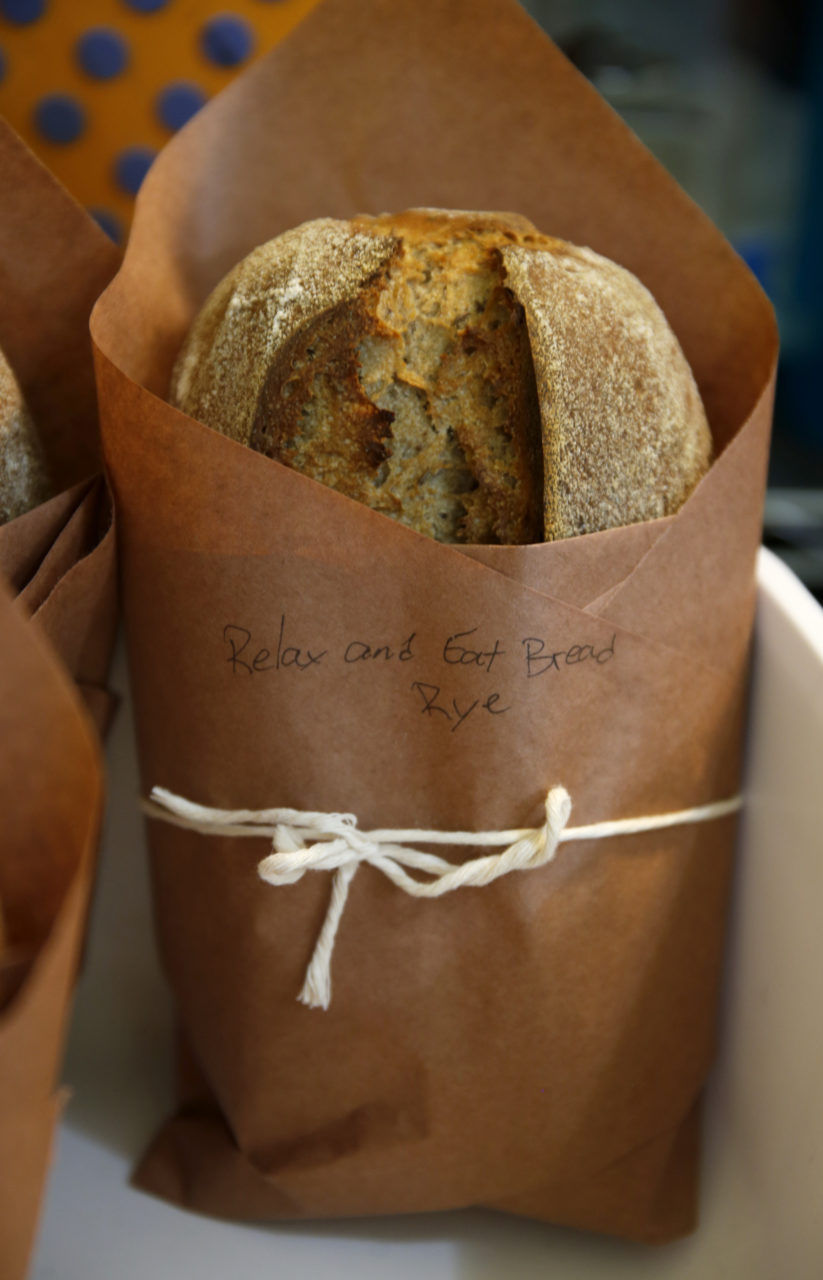 With a mission to deliver fresh, homemade bread to Wine Country, Ian Conover and his fiancée, Tara Williams, make just 60 loaves of artisan bread per week, mostly using pedal power for their deliveries. The Sonoma-based couple started out by making loaves for schoolteacher Tara's classroom families, but word got out to the small Sonoma community, and now they have standing orders from Sonoma, Santa Rosa and even Petaluma for their crisp, hearty sourdough. Loaves are $6 each, and you'll have to get on their list to get a loaf each week. relaxandeatbread.com