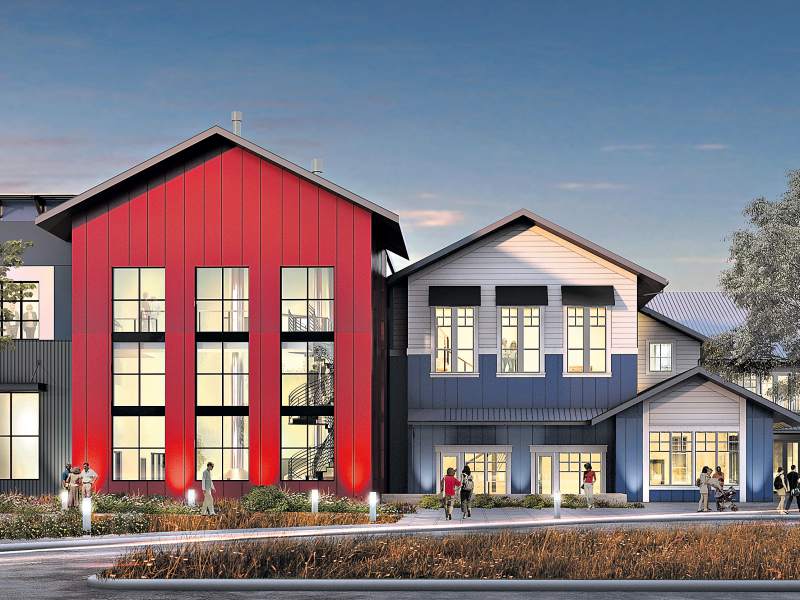 Russian River Brewing Co.'s new Windsor brewery and brewpub will feature an exterior design that has the style of an urban industrial complex with farmhouse-like elements, according to new renderings released Tuesday.
The more than $30 million structure, which is scheduled to open in late summer 2018, is the one of the most eagerly anticipated projects for beer lovers across the world. Work is scheduled to begin in late March.
A beloved cult brewery, Russian River's downtown pub and brewery attracts 300,000 visitors annually. Owners Vinnie and Natalie Cilurzo decided last year to open up a new location on a 16-acre parcel primarily to cater to those outside Sonoma County who visit the typically packed restaurant that only seats 175 people.
"This is exactly what we wanted. This is something that is not a concrete box," said Natalie Cilurzo. "Our business model has now become so focused on hospitality."

One sketch, viewed from the west side of Mitchell and Conde lanes, shows a stone structure within part of the complex. It would house a koelschip, an open-top fermentation vessel used to collect wild yeasts for spontaneously fermented beers like its popular Beatification label.
Under the process, Cilurzo said, brewers would fill the vessels with hot beer wort (the liquid extracted during brewing's mashing process) up to 10 inches deep and let it sit overnight. It is then moved into wine barrels for fermentation. The brewing process can only be done in the winter because it needs cool temperatures.
"It's not something that makes us a lot of money, but it's something we are passionate about," Cilurzo said of the sour-style beers.
The facility also will allow for open-top fermentation for its other more popular beers such as STS Pils and Blind Pig IPA.
The brewpub will offer self-guided and guided tours as well as an outdoor bar where customers could bring their dogs and a large area to park bicycles and motorcycles. There will also be restroom facilities that can be accessed for those waiting in line, which will be especially valuable during its crowded Pliny the Younger release every February.
The Cilurzos are also considering providing their own shuttle from the Airport Boulevard train station for those customers taking Sonoma Marin Area Rail Transit trains.
This article was originally published in the Press Democrat.