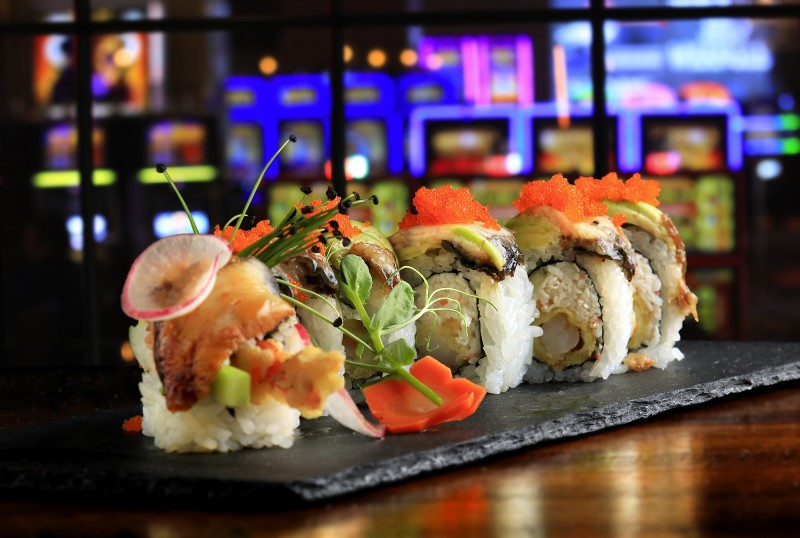 When I heard that Boathouse Sushi was taking over the former M.Y. China slot in the Graton Resort & Casino several months ago, I wasn't impressed. It seemed like an odd choice for such a grand, two-story space, and not fitting as a flagship restaurant for the new $175 million hotel that opened next to the gambling hall in November.
There's already a fast food Boathouse Asian Noodles in the casino's food court, after all, and frankly, it's awful, with soggy chow mein, bland pho and sticky orange chicken.
There was the original Boathouse Sushi, a casual joint that for 12 years sat on Redwood Drive and Rohnert Park Expressway before relocating to the casino in October, and there is another Boathouse on Mendocino Avenue in Santa Rosa, serving weird stuff like fries smothered in bacon and cream sauce, and a burger topped in pineapple and avocado.
But call me surprised. This new place is really good.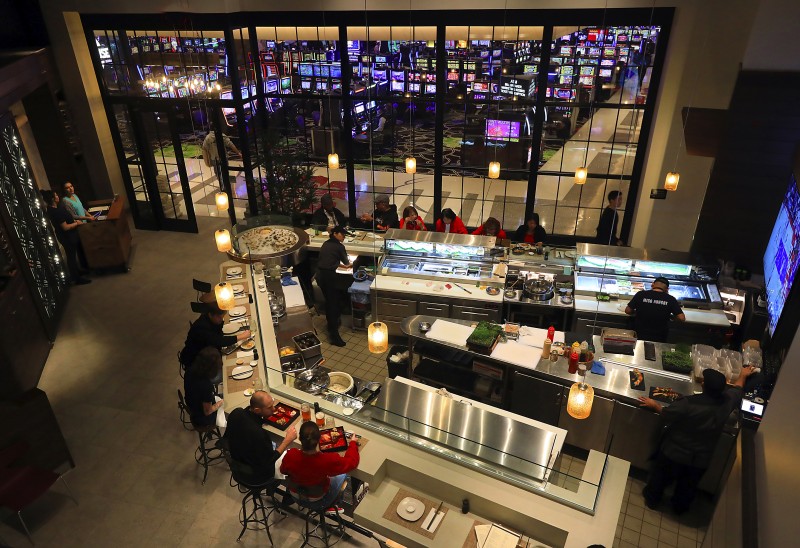 Partner owner and chef Catherine Do expanded the menu to other Asian cuisines, including traditional Chinese and Vietnamese cooking. She added fancier dishes like a whole salt and pepper crab, presented in a colorful assemblage of red onion, red, yellow and green peppers (market price); and nicely done authentic fare like congee, properly silky and studded with ground pork and preserved egg ($14). Appropriately, the restaurant bears a new name: Boathouse Asian Eatery.
The positive mood starts at the entry, as we scoot through the marble clad hotel lobby and into the eatery, where new floor-to-ceiling windows protect us from the cigarette smoke saturating the gaming rooms.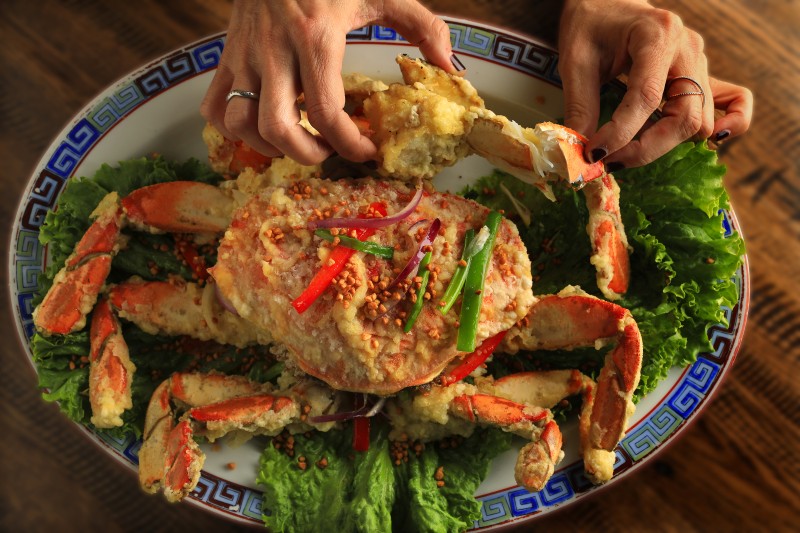 The M.Y. China floor plan was redone to welcome a centerpiece oyster and sushi bar, and a tall, uplit tree reaching toward the second floor loft. Gray banquettes and chairs are brightened with red and gold Japanese fabric pillows, dramatic pendant lighting is sophisticated, and a white brick wall is painted with a theatrical Japanese-style octopus mural. It feels like a big city escape, no matter that we're actually dining in what was a cow pasture until the casino debuted three years ago.
My dining companion doesn't care for sushi, which delights me. That means I can hog it all myself, with my favorite Rainbow roll, a California roll that's draped with sashimi tuna, salmon, yellowtail, shrimp and snapper sprinkled in crunchy tobiko ($15). The fish can be pricey, for two pieces each of nigiri such as maguro ($7), sake ($6) and hamachi ($7), but they're generous cuts, and we can also delve into more exotic bites like raw, well-marbled Wagyu ($9) and briny oyster ($7).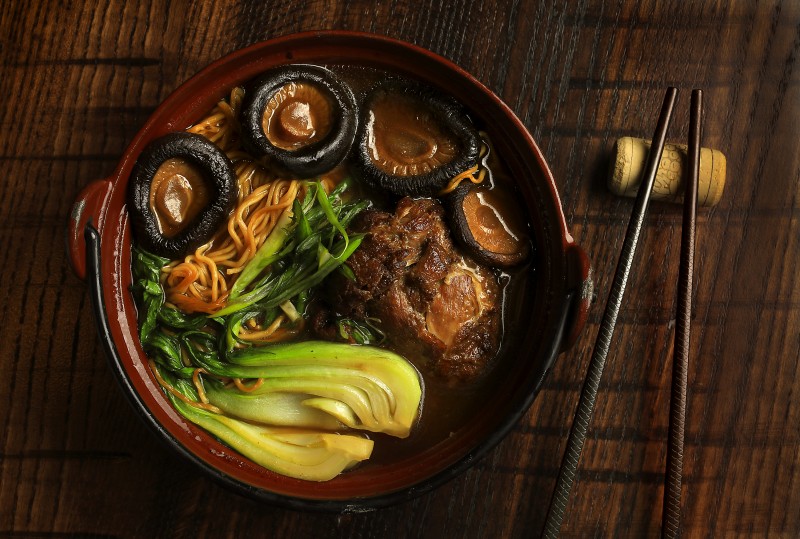 Other Americanized rolls don't appeal, such as the Crazy Monkey of coconut shrimp, grilled pineapple, spicy crab, avocado and spicy aioli ($15), or the Mexican roll of spicy crab, cucumber, ebi and avocado splashed with spicy jalapeño ponzu ($13). A Trumpzilla roll is flat-out frightening, a mess of tuna, tempura avocado, spicy crab, albacore, chile threads and pepper sauce ($15). There are way too many offbeat flavors tripping things up.
But then, I'm old school with my sushi and crave the pure stuff, like decadent chutoro nigiri ($16), the fatty tuna rich and needing nothing more than a dot of wasabi.
Many other dishes are pleasantly uncluttered, with bright, light sauces. Shaking beef delivers wok seared, cubed filet mignon tossed with bell pepper, onion and a touch of oil ($21), while shrimp fried rice ($14) is fluffy, clean tasting and not greasy as it too often is at other restaurants. I also like the refreshing touch of fresh lime in the barbecue pork belly fried rice sparked with kimchee amid the scrambled egg ($11).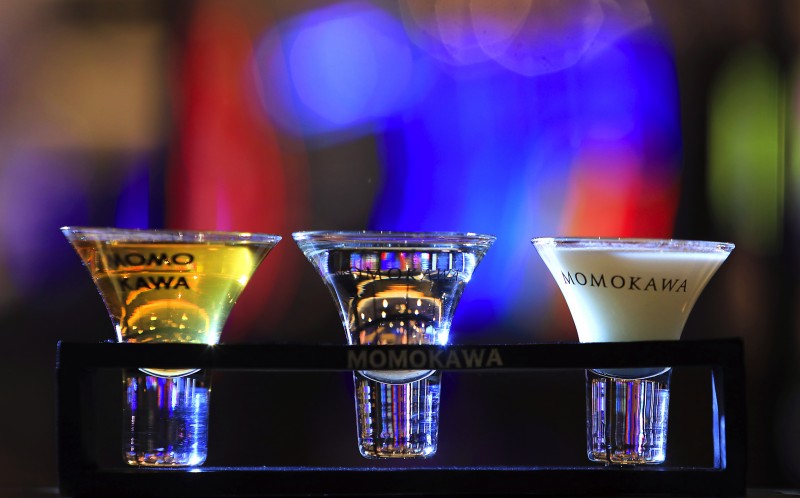 On my first visit, the kitchen crafted ramen, the tonkatsu broth bobbing with chashu pork, bean sprouts, bamboo, corn, green onion, soft boiled egg and a dollop of blackened garlic mayu oil ($14). It was delicious, so I'm sad to see it removed from the menu on a second visit. Yet duck noodle soup is a superb meal, too, stocked with tender duck leg, roast pork, crunchy bok choy and egg noodles in earthy shiitake broth ($15).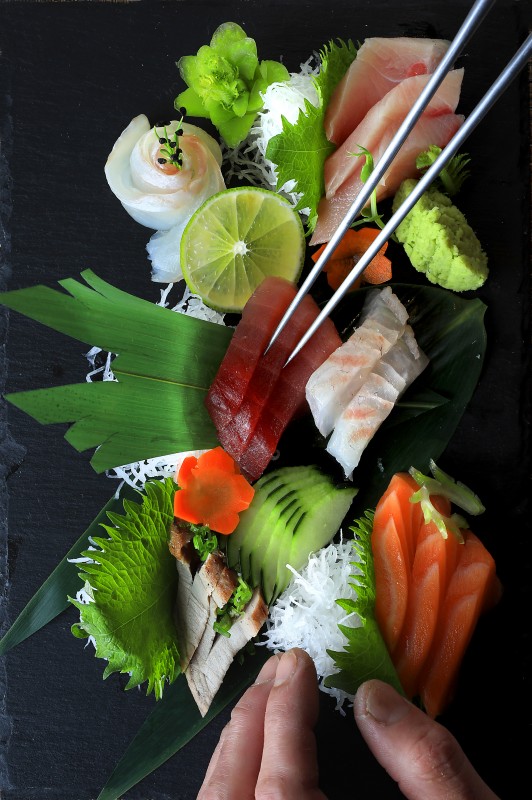 It's easy to order a lot of food here, since the lengthy menu tempts with worthy bites like Vietnamese crepes made of rice-tumeric dough stuffed with shrimp, pork, onion and bean sprouts ($13), or an iron pot brimming with Chinese sausage, barbecue pork, chicken, king trumpet mushrooms and toasted rice ($16).
Yet portions are large, so it's better to order one or two plates at a time and see how full you get (dishes are delivered as they're ready, though my server asked on each visit if we would prefer pacing).
My only disappointment is with the bento boxes, which are expensive and skimpy. One my first outing, the build-your-own price was $15, and a few weeks later the cost had increased to $17. We choose two entrées, like chicken katsu and two pieces of shrimp tempura rounded out with miso soup, a tiny salad and scoop of steamed rice. I'd like to see artisanal Japanese pickles, at least.
Still, as the slot machines glitter through the restaurant glass and servers quickly bring amply poured glasses of wine, it feels like a party in this place. Well done, new Boathouse. We're in for smooth sailing.
Carey Sweet is a Santa Rosa-based food and restaurant writer. Read her restaurant reviews every other week in Sonoma Life. Contact her at carey@careysweet.com.