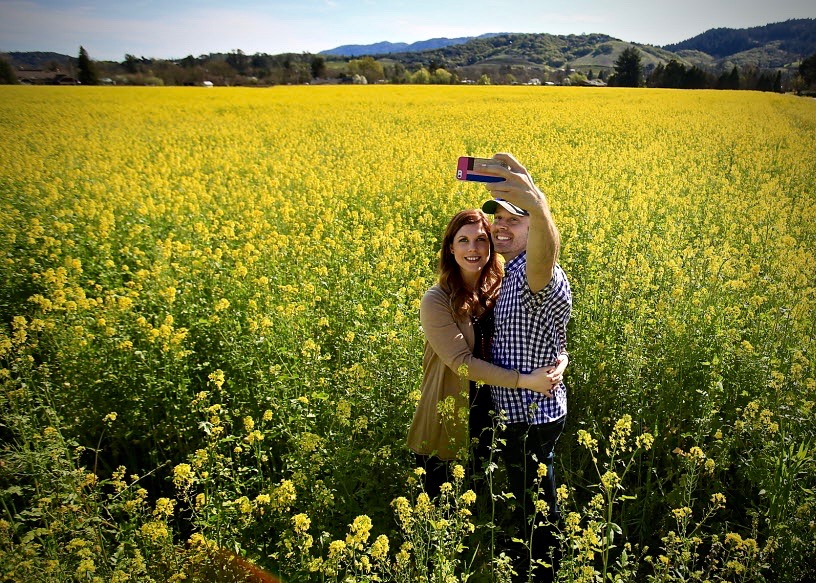 Sonoma County is filled with scenic hikes, breathtaking waterfront views, artistically presented food and drinks, and picturesque buildings begging for photo ops. Whether you're a professional photographer or an Instagram addict, it's a beautiful place to be and to snap away your day.
Here's a selection of our favorite local Instagram-worthy spots — perfect for a backdrop or paired with a selfie. Did we miss one of your favorites? Share it with us on Instagram: instagram.com/sonomamag, @sonomamag!
---
Armstrong Redwoods State Natural Reserve, Guerneville
What could be a better background for your Instagram feed than a still life of majestic redwoods stretching toward the sky? On a quiet Sunday morning in these Sonoma County woods, you can hear the wind whispering through the trees, and then the clicks of smartphone cameras capturing the moment.
?   A photo posted by Kaitlin Kerins (@kaitlin_kitch) on
The Russian River  With hundreds of photos tagged "Russian River" on Instagram, the river has proved a popular destination for 'grammers. Many continue to risk their phone's life – precariously dangling over a kayak – to get a perfectly composed image of the river, the redwoods, and the blue skies.
The Fremont Diner, Sonoma
This roadside diner is packed with picture-perfect pockets – vintage decor, rusted retro memorabilia, aqua paint tables and American comfort classics. Snap a shot of the "Greetings from Sonoma" mural outside, and you've got yourself a digital post card.
Petaluma Pumpkin Patch Looking to stage some cute photos of the kids that will knock the socks off of your fellow insta-Moms/Dads? Snap away at the Petaluma Pumpkin Patch while junior explores the hay bales, the corn maze and the oh-so-stunning sunflower field. The only photo op that could possibly rival a shot of your adorable offspring – the cute and cuddly baby farm animals.
squad A photo posted by Rebecca Skidgel (@rebeccaskidgel) on
The Barlow, Sebastopol
If you build it (in corrugated metal) and add cool designs to it — Instagrammers will come. This trendy marketplace features a wide variety of artisan restaurants, breweries, tasting rooms, coffee shops, boutiques and galleries where you can capture the local makers in action.
Petaluma Historical Library & Museum This neoclassical style Carnegie Library is a local treasure. It features original fan-glass windows, interior wood panelling and columns, and the largest free-standing leaded glass dome in Northern California.
Paradise Ridge Winery Sculptures, Santa Rosa
This Kenwood winery, featuring a sculpture exhibit on the grounds, is the definition of Instagram bait. Guests are invited to wander the estate post tasting to snap photos of the winery's works of art.
Duncans Landing, Bodega Bay These panoramic views of Sonoma Coast beaches and cliffs are a must-stop for a vacation/stay-cation picture. You'll be handsomely rewarded in the form of Insta likes.
Tea Room Café, Petaluma
Looking to snap a trendy breakfast photo? This popular Petaluma spot serves up picture-perfect lattes. Don't hesitate to get on your toes and hover over your food to get the best brunch shot for your feed.
Screamin' Mimi's, Sebastopol If you ever need an excuse for ice cream indulgence, the photogenic scoops at Screamin' Mimi's will more than suffice. You'll need to order all the flavors to capture the full color palette — from pistachio to rose. The cute ice cream parlor décor frames your background.
Patrick's Salt Water Taffy, Bodega Bay
It's hard to miss the bright pink and white striped wall outside this taffy shop in Bodega Bay. Grab a friend and a bag of your favorite green apple, peppermint, or lemon taffies and have fun posing.
Sugarloaf Ridge State Park, Santa Rosa Anywhere you look here, there is another photo opportunity: trees as far as the eye can see, flowing waterfalls, lush meadows along the trails and grounds covered with wildflowers. The summer months are ideal for clear and sunny shots of this most photogenic of parks.
Helen Putnam Park, Petaluma
Prime poppy season in this Petaluma park is paradise. Find the perfect angle as the sun hits the wildflowers. You'll be rewarded with a lot of share-love.
Desserts at Madrona Manor, Healdsburg The desserts at this posh Healdsburg B&B hit the sweet spot. The confectionary masterpieces, prepared by award-winning pastry chef Emmanuel "Manny" Fimbrez, will stand the test of Instagramming time.
St. Teresa of Avila AKA "The Birds Church," Bodega
While you may not be the first person caught posing, by humorously cowering from the birds overhead, your old school black and white filter shot is sure to become the star of your Instagram account.
Wishbone, Petaluma Heart-shaped latte art never seems to go out of style on Instagram — and this restaurant is a good spot for continuing that trend. The Wishbone coffee menu includes the "El Toro Rojo Spicy Mexican Mocha" and a "Beekeeper Lavender Latte," both almost too pretty to drink.
SHED, Healdsburg
SHED, a local market, restaurant, café, and fermentation bar all in one, is Christmas morning for Instagrammers. Its sleek wood design, fresh produce, Japanese/Scandinavian-style utensils, and colorful flowers led one photographer to comment "I'm resisting the urge to Instagram the entire place."
Goat Rock Beach, Jenner This is one of the most picturesque spots on the Sonoma Coast. With steep cliffs overlooking turquoise waters and a wide sandy beach — you don't even need an eye for photography to appreciate the goodness of this scenery.
River's End Restaurant, Jenner
This Jenner restaurant not only features fabulous food and drinks, it also boasts a deck with views of the Sonoma Coast. Snap a sunset-lit shot of your champagne glass or a panorama of the coastal scenery, and you've hit Insta gold.
Sunset   A photo posted by Steffan (@elravizza) on
Sandstone Hills at Salt Point State Park The sedimentary sandstone rocks in this state park contrast beautifully against bright blue skies. Snap away on 20 miles of hiking trails with panoramic Pacific Ocean views.
Beltane Ranch House, Glen Ellen
The bright yellow and white house at historic Beltane Ranch has been around since 1892, but it only seems to get better with every year. Swirl like a Southern Belle on the wrap-around porch while snapping selfies sans regret – like Scarlett O'Hara, you can think about it tomorrow.
Duke's Spirited Cocktails, Healdsburg It is hard to decide whether to drink these farm-to-glass works of art, or frame them. Thankfully, you can do both. No filter is necessary when the cocktails are this good looking.
And finally, a quick Napa snap:
Domaine Carneros Villa and Vineyards
Villa Carneros is the Versaille of Wine Country where tourists and locals alike flock to sip classic vintage Brut Cuvée – then pause briefly to pose in the parterre-style gardens in front of the chateau.