Sonoma County is a foodie's mecca. From farm-to-table fare to international cuisine to comfort classics, you can satisfy pretty much any craving here. But, until recently, you might have struggled to find vegan and vegetarian dishes that reached the level of the area's carnivorous meals. That, along with our food preferences, is changing.
Meat and dairy alternatives have been steadily popping up on grocery store shelves and restaurant menus across the United States in the last few years following a shift in attitudes toward vegan foods. Local restaurants have taken note, adding more vegetarian and vegan options to their menus while some have gone fully plant-based.
In October, Santa Rosa got its own meatless soul food and barbecue spot, when celebrity-favorite Vegan Mob parked its lime-green food truck on West Third Street. In July, the owners of Healdsburg's Little Saint opened their upstairs fine dining establishment Second Story, with a plant-based, prix-fixe menu created by chef Stu Stalker, who spent the past few years at Michelin-starred Noma in Copenhagen, Denmark.
Earlier this year, Santa Rosa's popular plant-based restaurant Cozy Plum opened a second location in Sebastopol, in the former Slice of Life space. (The original Cozy Plum is temporarily closed, but will reopen in a new Santa Rosa location soon.) In Petaluma, restaurateur Jazmine Lalicker (who owns The Shuckery) opened Luma, a plant-focused eatery and bar on the river.
As more local restaurants update their menus with vegans, vegetarians and the plant-based curious in mind, here are excellent restaurants to try on World Vegan Day (Nov. 1) or any day of the year. Click through the above gallery for a peek at some of our favorite dishes.
Santa Rosa
Abyssinia
This Ethiopian/Eritrean restaurant in Santa Rosa has a wide selection of plant-based offerings. The veggie combo is a generous sampler of all the vegetarian dishes on the menu — Shiro We't (spiced Ethiopian hummus), Miser We't (lentils stewed in Berbere sauce), Miser Alecha (lentil stew with garlic, ginger and turmeric), Tikel Gomen (cabbage, carrots and potatoes cooked with ginger), Yabesha Gomen (collard greens cooked in tomato, garlic and rosemary) and Yater Kik Alecha (split peas with garlic, ginger and green pepper), all served on injera (a spongy Ethiopian flat bread). The veggie sambusa is a great starter.
913 Fourth St., Santa Rosa, 707-568-6455, my-abyssinia.com
The Branch Line
Kim Bourdet, the owner of Santa Rosa's health-focused cafe ​​The Pharmacy, opened this plant-based eatery and mercantile in the former Flying Goat Coffee space in Old Railroad Square early last year, with meat alternatives, housemade nut milks and vegan cheeses.
Start your day with a seasonal latte, paired with a fluffy focaccia, fresh muffins and other pastries, and bagels with avocado or vegan cream cheese. For lunch on the go, there are salads, sandwiches and grain bowls, plus locally made goods to take home, like syrups, jams, sauces and dry pasta.
10 Fourth St., Suite 1, Santa Rosa, 707-595-1941, instagram.com/thebranchline_sonomacounty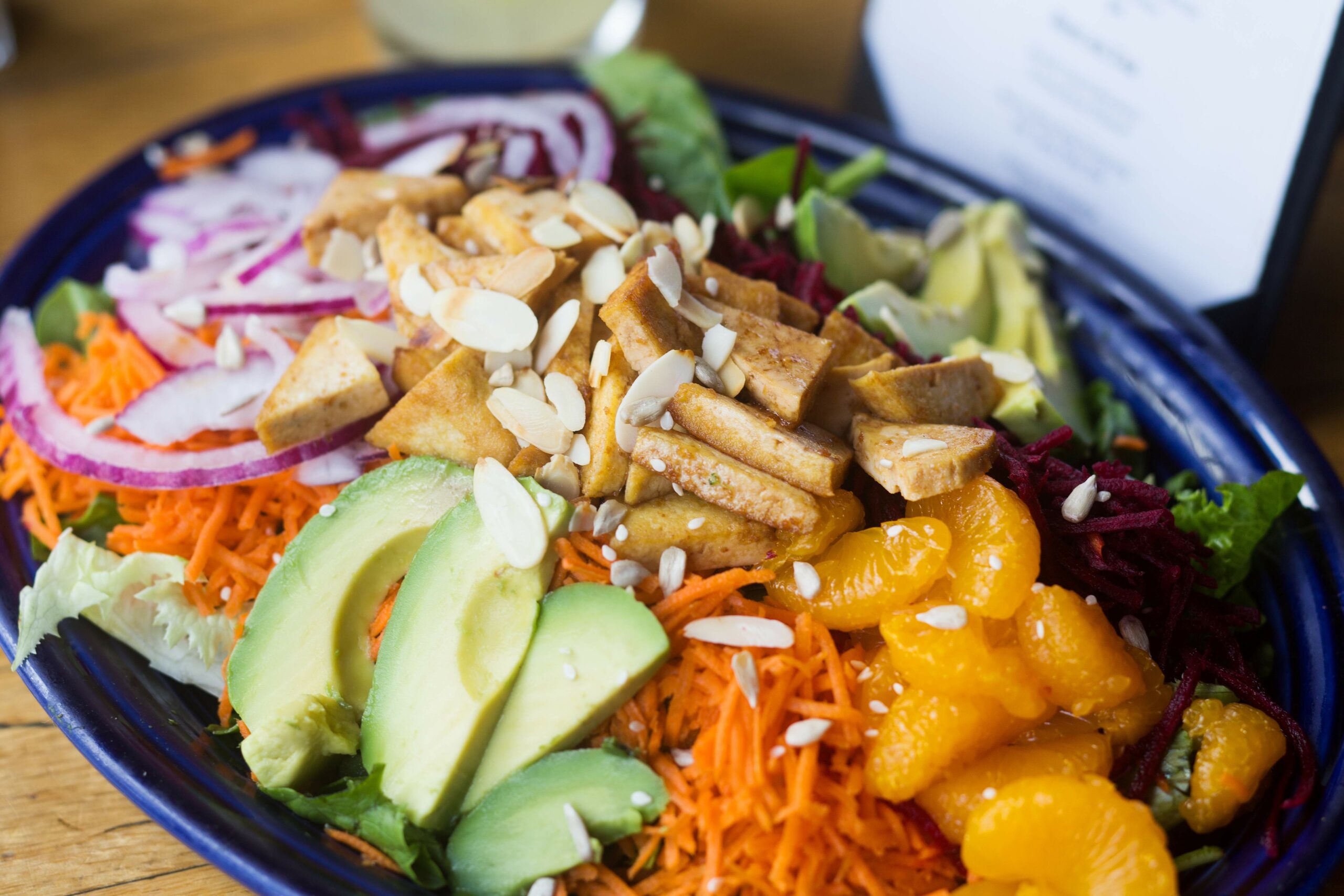 East West Cafe
A Mediterranean staple for over 30 years, East West Cafe has a dedicated vegetarian section on its menu in addition to fan favorite meatless specialty entrees — like the Mediterranean Platter, with classic delicacies like hummus, falafel, tabbouleh and baba ganoush.
The Macro Plate is a filling vegan dish, served with braised tofu or a veggie patty along with steamed vegetables, hummus, brown rice, oil-free black beans and blue corn tortillas. The Thai Tofu Salad is bright and colorful with marinated tofu on a bed of mixed greens and red cabbage, as well as onion, avocado, beets, carrots, toasted almonds, mandarin orange slices and housemade citrus dressing.
557 Summerfield Road, Santa Rosa, 707-546-6142, eastwestcafesantarosa.com
Vegan Mob
In October, Bay Area-based cult favorite Vegan Mob opened a barbecue and soul food truck on West Third Street in Santa Rosa, at the new Culture Experience Center.
The Mob Meals are a great way to sample the various 100% vegan offerings, such as plant-based fried chicken, brisket, hot links or rib tips with classic Southern-inspired sides like collard greens, candied yams and "Smackaroni," a creamy, baked mac and cheese.
The fully loaded Mob fries are a crowdpleaser, with a heap of smoked vegan brisket or barbecued links atop crispy crinkle-cut fries, all smothered in signature Mob Sauce, nacho cheese, guacamole and sour cream. And the Da' Renz shrimp po'boy — with "like the real thing" fried vegan shrimp, coleslaw, vegan mayo and Cajun sauce in a French roll — gets the seal of approval from our dining editor.
The Vegan Mob food truck is open 11 a.m. to 8 p.m., Wednesday through Sunday. 13 W. Third St., Santa Rosa, veganmob.biz
Rohnert Park
Amy's Drive Thru
When Sonoma County's nationally-renowned, plant-based Amy's Kitchen opened its first drive-thru in Rohnert Park in 2015, it redefined what fast food could be. Amy's Drive Thru serves fresh and guilt-free veggie burgers with its own secret sauce and vegan cheese. And, of course, any burger order would be incomplete without a side of fries — whether it's the original crispy fries that aren't too oily or salty, or the finger-licking chili cheese fries. 
Amy's offers more than your typical burger drive-thru. The fully-loaded vegetarian or vegan burritos are popular menu items. The Broccoli Cheddar Mac 'n' Cheese (which can be made vegan) will please grownups and kids alike. And the Margherita pizza has a crunchy crust and is topped with fresh basil, diced tomatoes and dairy or vegan cheese — a delicious pie to share with friends or devour by yourself. 
58 Golf Course Drive West, Rohnert Park, 707-755-3629, amysdrivethru.com
Petaluma
Aqus Café
The humble cafe at Foundry Wharf offers an assortment of vegan-alternative dishes. Start the day with a Veganrito, a breakfast burrito filled with rice, potato, avocado, cilantro, black beans, red peppers and vegan mozzarella. For lunch or dinner, you can't go wrong with one of the vegan/vegetarian wraps, paninis and sandwiches. The Veggie Friday panini is stacked with roasted asparagus, eggplant, sweet peppers, portobello mushrooms, goat cheese (or vegan alternative) and sundried tomato spread. There's also a tempeh reuben, garden burgers, vegetarian lasagna and a tempeh teriyaki bowl with rice and veggies in a teriyaki glaze. 
189 H St., Petaluma, 707-778-6060, aquscafe.com
Flowering Tea House
Petaluma's Flowering Tea House has a section on its menu listing over a dozen vegan plates, with plant-based versions of everyone's favorite Chinese dish, from broccoli "beef" to the popular Kung Pao "chicken." The Orange Vegan Chicken is a popular pick, coated in a citrusy sauce and best enjoyed with a side of spicy chow mein, steamed vegetables or eggless fried rice. The restaurant's new owners have added Hawaiian BBQ dishes to the regular Chinese cuisine lineup, including saimin noodle soup with fresh vegetables for chilly days.
1367 N. McDowell Blvd., Suite 110, Petaluma, 707-992-0636, floweringteahousebbq.com
Luma Bar and Eatery
The Mediterranean-California fusion menu at Luma features an assortment of creative, plant-based dishes, such as hush puppies with remoulade and Scillonian caponata, an eggplant and pepper spread with housemade focaccia. Larger standout vegan dishes include Vadouvan curry risotto, gnocchi with roasted sunchoke and mushrooms, and a flatbread pizza with basil, San Marzano tomatoes and cashew milk cheese.
For dessert, try the Tau Fu Fa, a spiced coconut pot de crème with candied pineapple — a take on the traditional Chinese soybean pudding. The drink menu includes local ales and wines, innovative cocktails and nonalcoholic drinks, like the vibrant Lumanade, made with lemon, butterfly pea tisane and FloraLuna Apothecary wildflower syrup.
50 E. Washington St., Petaluma, 707-772-5037, lumaeatery.com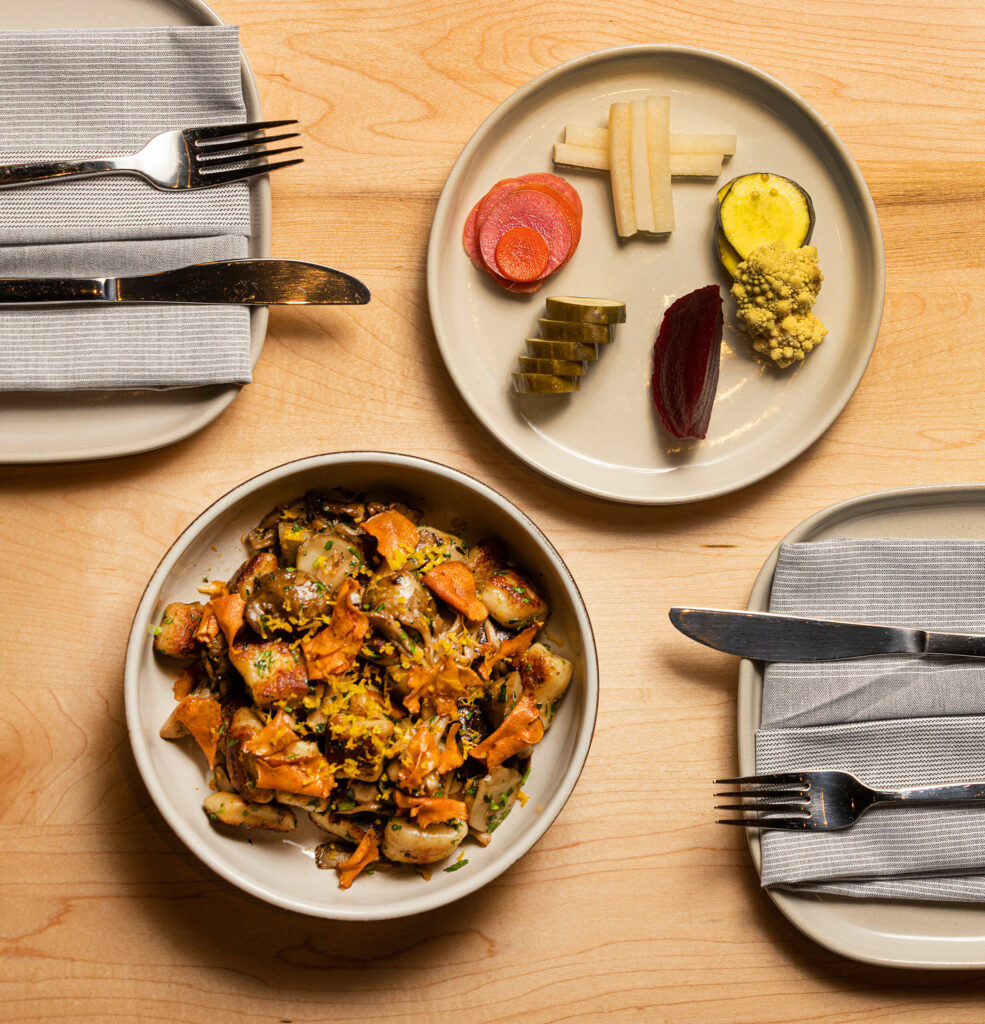 Lunchette
Lunchette specializes in nourishing, flavor-packed salads and grain bowls for a satisfying lunch to go, and also offers soup and pizza by the slice. Seasonal specials include a silky, vegan potato leek soup and an early fall heirloom bean salad, with Rancho Gordo domingo rojo beans, delicata squash, lemon cucumbers, pickled chilies, spiced pepitas and roasted jalapeno-cilantro dressing on a bed of local greens.
For a warm vegan meal with heaps of flavor, try the tahini grain bowl — a base of organic brown rice topped with spinach, cucumber, spiced chickpeas, pickled cauliflower, pickled rainbow carrots, roasted sweet potato, date molasses, zaatar seasoning and a generous drizzle of rich tahini dressing.
Sweet plant-based treats include moist chocolate brownies and a seasonal golden mylk chia pudding, made with coconut milk and yogurt, orange juice, honey, fall spices and topped with poached berries.
25 4th St., Petaluma, 707-241-7443, lunchettepetaluma.com
Phở Sonoma
The vegan section on this Vietnamese restaurant's menu offers a variety of fresh and seasonal plates that even devout meat-eaters can get behind. If you're seeking a classic vegetarian pho, look no further than the spicy vegan lemongrass noodle soup, with mixed veggies, rice noodles and soft, fried tofu in a spicy lemongrass broth.
The vegan spring rolls are a refreshing starter, made with tofu, lettuce, beansprouts, vermicelli noodles and mint wrapped in rice paper and served with peanut sauce. Curry tofu with mixed veggies is a spicy winner, and the simmer fried eggplant and green beans with Thai basil in vegan oyster sauce brims with garlicky, umami flavor. 
140 Second St., Suite 120, Petaluma, 707-762-6888
Wild Goat Bistro
This cozy, European-style bistro inside the historic Great Petaluma Mill serves Cal-American cuisine and wood-fired pizzas, with plenty of vegan and gluten-free options on its menu.
The vegan Quinoa Sweet Potato Cakes are a mock-crab cake favorite, topped with Brussels sprouts slaw and lemon tahini and served with roasted red pepper and creamy cashew sauces. The Shepherd's Pie is also vegan, with roasted Italian fennel pollen sausage to accompany the traditional English peas, carrots and mushrooms and the dreamy mashed potato whip.
Pizza fans should opt for The Pearl, topped with vegan mozzarella, basil, pepperoncini, beech mushrooms, caramelized pearl onions and savory fennel pollen sausage.
6 Petaluma Blvd. North, Petaluma, 707-658-1156, wildgoatbistro.com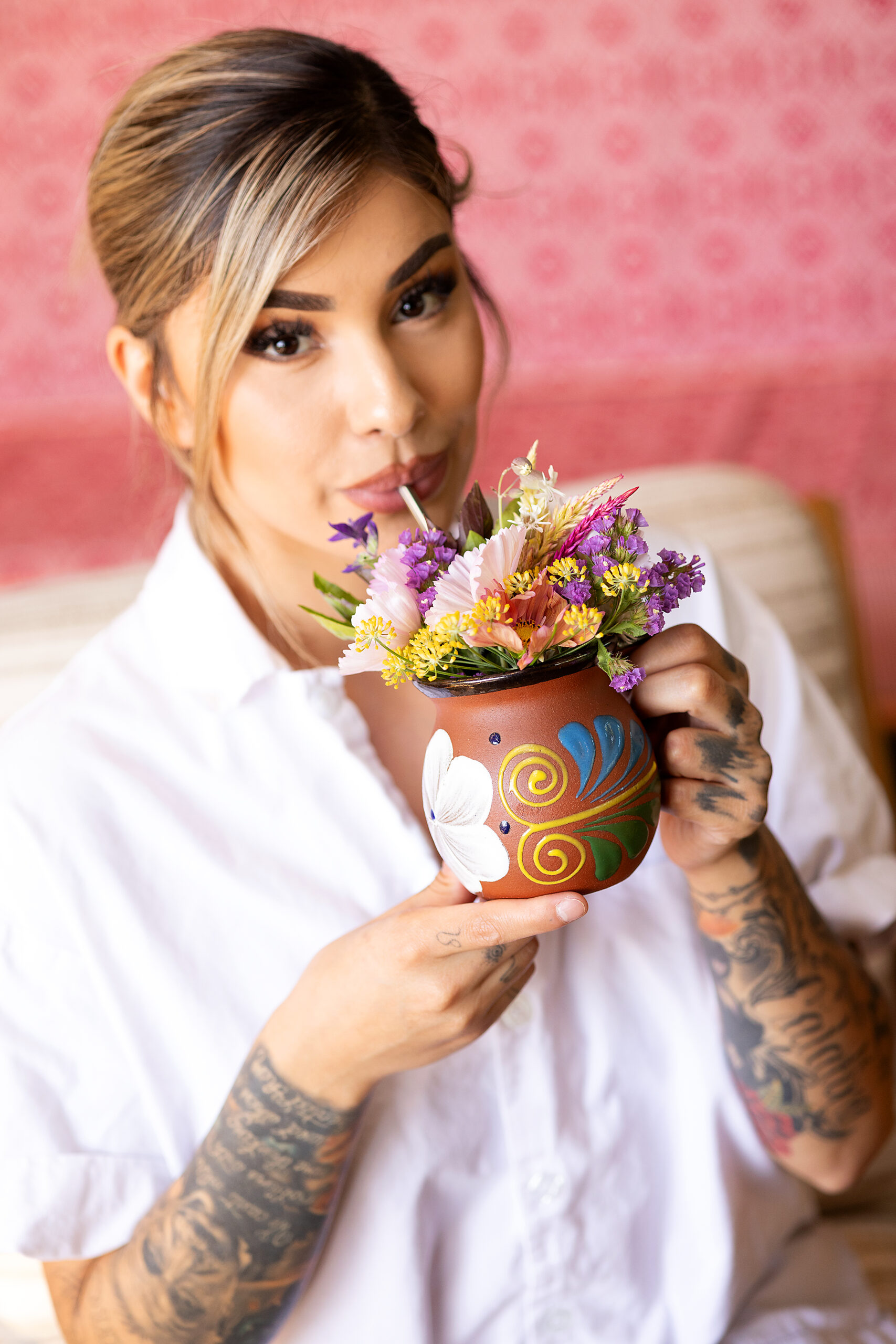 Healdsburg
Little Saint and Second Story
Healdsburg's upscale, farm-to-table Little Saint offers creative vegan takes on favorite dishes, like the grilled cheese with cashew cheddar and the black bean burger with cabbage slaw on a sesame seed bun. For breakfast, try the scrambled tofu with king trumpet mushrooms and one of the assorted vegan pastries to pair with a tea, coffee or "cosmic cup," an adaptogenic drink to reduce stress and fatigue.
Dinners at Little Saint are meant to be shared. Start with a Persian Flatbread and spreads (carrot tahini, green lentil hummus and cultured cashew spread with tomato chutney). Steak fans (or former steak fans) should give the Maitake Mushrooms Au Poivre a try, with brandy cream, Yukon potatoes and torpedo onions. For dessert, the Chocolate Linzer Tartlette, with whipped chocolate atop a tart with hazelnuts, almond cream and raspberry filling, doesn't disappoint. 
In July, the owners of Little Saint opened an upscale restaurant in its upstairs dining area, aptly named Second Story, offering a multi-course prix fixe vegan menu (priced at $120 per guest). The carefully crafted menu includes rotating seasonal dishes, such as fresh summer vegetables in a miso broth or potato terrine with eggplant and truffle. Second Story is open 5:30-7 p.m., Friday through Sunday.
25 North St., Healdsburg, 707-433-8207, littlesainthealdsburg.com
Plank Coffee
For the best vegetarian breakfast and lunch in north county, Plank Coffee has you covered with plant-based sandwiches and milk alternatives (oat, soy, almond or coconut) for your mochas and seasonal lattes.
Try a breakfast sandwich on a croissant, housemade biscuit or Healdsburg Bagel company bagel with egg, cheese (dairy or vegan) and smoky tempeh "bacon" or a Beyond Meat "sausage" patty. The mushroom sandwich is an umami bundle of braised greens, melty provolone (or vegan alternative) and cremini mushrooms sautéed in garlic, onion, tamari, thyme and Bragg's liquid aminos.
Don't forget to leave with a morning pastry, like the vegan apricot pecan bran muffin or the moist vegan orange cake with a zesty orange glaze.
175 Dry Creek Road, Healdsburg, 707-395-0572, and 227 N. Cloverdale Blvd., Cloverdale, 707-894-6187, plankcoffee.com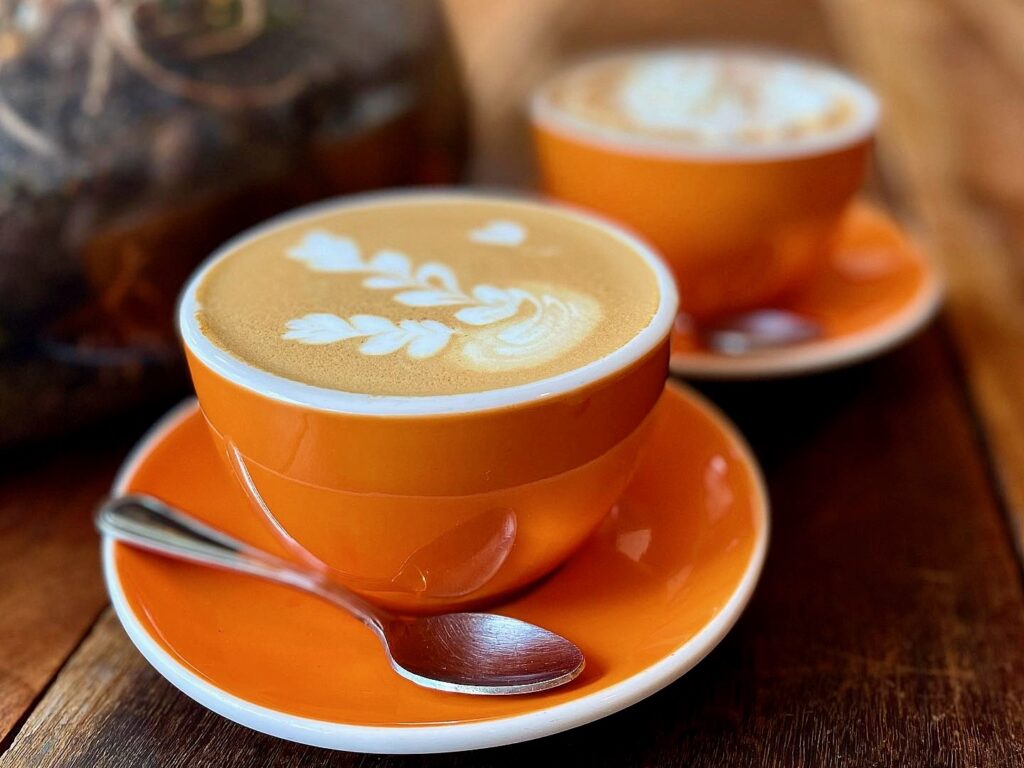 The Taste of Tea
This family-owned tea room serves authentic Japanese tea and comfort food, including some of the most satisfying vegan and vegetarian dishes in Healdsburg. The Miso Ramen, ideal for chilly autumn days, is a signature dish. The vegan version offers depths of flavor and varied textures from the light miso kombu broth, soft tofu, chewy noodles, bamboo shoots, green onions and sprouts.
If you prefer rice bowls over noodle soups, try the vegan teriyaki donburi. The tofu with traditional Japanese teriyaki sauce bursts with umami flavor, and the bowl is filled with fresh, colorful vegetables such as crisp snap peas, crunchy carrots, cabbage and onions and is garnished with pickled ginger and sesame seeds. Don't forget to pair your meal with a selection from the over 80 teas served here, excellently prepared by the accommodating tea docents.
109 North St., Healdsburg, 707-431-1995, thetasteoftea.com
Sebastopol
La Bodega Kitchen 
Casual, rustic dining meets gourmet vegan/vegetarian cuisine at Sebastopol's completely meat-free La Bodega Kitchen.
The plant-based Saffron & Rose Petal Arancini is a standout appetizer — three fried Carnaroli rice balls made with Miyoko's mozzarella and Forager Project parmesan, resting in La Bodega marinara. Meat won't be missed after trying the La Bodega Brochettes, skewers of ras el hanout spiced mushrooms, Impossible beef and Black Sheep faux lamb blend in a fig balsamic glaze, served with chimichurri, French lentil and basmati rice mujadara.
Don't skip the sweet treats here, as the dessert menu boasts "I can't believe it's vegan" dishes like fruit turnovers, cherry clafoutis, chocolate ganache nut torte and apple compote with organic black apple tart. 
2295 Gravenstein Hwy. South, Sebastopol, 707-827-1832, sonomawineshop.com
Cozy Plum Bistro
Santa Rosa's popular vegan restaurant Cozy Plum is temporarily closed, but its second location in Sebastopol, opened earlier this year in the former Slice of Life Space, is open.
From burgers and barbecued drumsticks to loaded nachos and chile verde burritos, there's something for everyone here, including die-hard meat-eaters. Try the Pesto Tenderloin sandwich, with broiled soy/gluten-based "white meat," nutty housemade pesto, tomato, onion and lettuce on a soft herb focaccia. The Philly Cheesesteak is a delicious plant-based version of the East Coast classic, made with gluten-based steak strips, bell peppers, onions and a smoky cheddar sauce on fresh baked sourdough.
And don't miss the plant-based burger, featuring a "chef's blend protein patty" (soy, pea and rice) with cozy sauce, pickle, tomato, onion and lettuce on a fresh-baked sourdough bun. It is one of the best in Sonoma County.
New Santa Rosa location to be announced. 6970 McKinley St., Sebastopol, 707-823-3333, cozyplum.com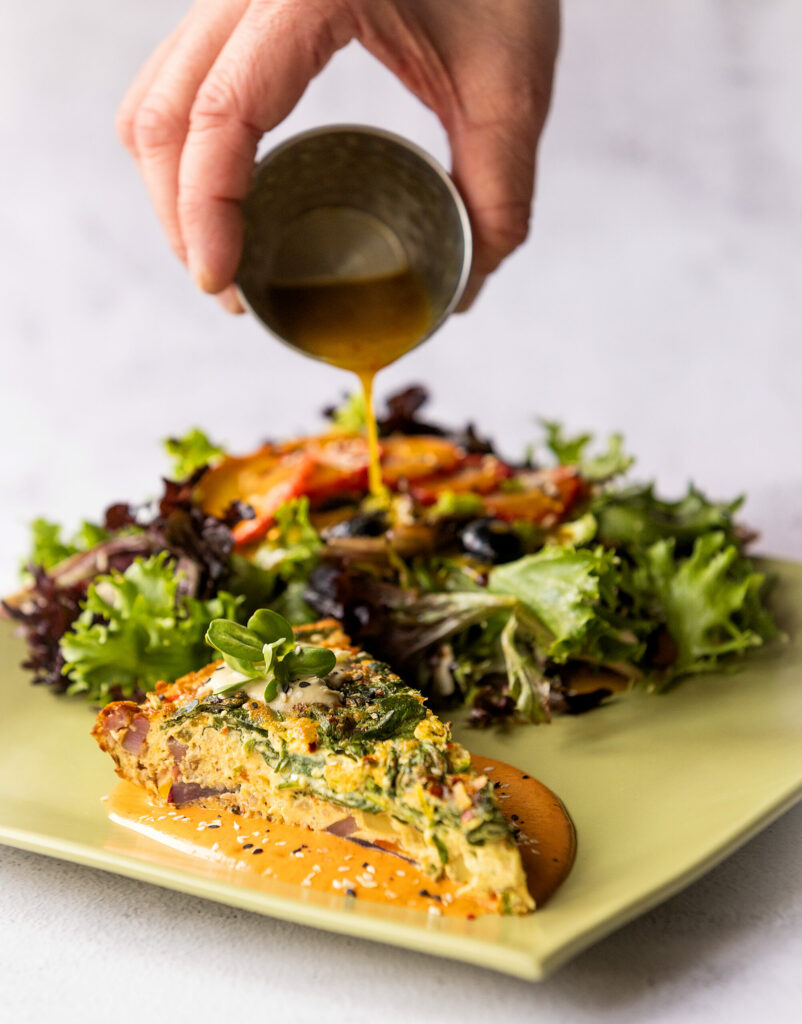 Fern Bar
Sebastopol's chic Fern Bar has a good assortment of vegan and vegetarian dishes on its menu, as well as gluten-free or celiac safe options. A great dish to share is the falafel plate, a handful of dukkah-seasoned falafel patties served with spicy onion, tzatziki and honeynut squash tahina.
The tangled-looking Umami Bomb (vegan and celiac safe) — a bed of crispy rice topped with broccoli, mushrooms, shiitake 'cream,' balsamic and nutritional yeast — is bursting with flavor. Finish your meal with the warm, vegetarian-friendly churros, coated in cinnamon sugar and served with apple butter.
6780 Depot St., Suite 120, Sebastopol, 707-861-9603, fernbar.com
Muir's Tea Room
This English/Scottish tea house probably has the largest assortment of vegan baked goods in the county, along with fully plant-based plates on its tea service menus.
The seasonal and staple pies, tarts, cakes, cookies, muffins, scones, brownies and cupcakes are all vegan — yes, even the mocha chocolate cake and apple spice cupcakes with "cream cheese" frosting. Savory plant-based goods are available, too, such as finger sandwiches, mushroom tarts, "sausage" rolls with caramelized onions and seasonal savory pasties.
330 S. Main St., Sebastopol, 707-634-6143, muirstearoomandcafe.com
Morning Ritual
This small west county vegan bakery made our roundup of the best doughnuts in Sonoma County, with its baked (not fried) vegan doughnuts being mighty contenders among local heavyweights like Johnny Doughnuts and Donuts & Bagel Cafe in Santa Rosa.
Doughnut flavors include maple, chocolate, strawberry, cookie crumble and matcha almond. There's also vegan pop tarts, filled with strawberry jam or brown sugar cinnamon, and mini three-layer, 4-inch cakes (vanilla or chocolate cake with either vanilla, chocolate or cookies and cream buttercream frosting). Place orders by Wednesday evening for Friday pickup at Retrograde Coffee Roasters in Sebastopol.
130 South Main St., Sebastopol, 530-205-5299, morningritualbakery.com
Soft Medicine Sanctuary
Opened last September, Soft Medicine Sanctuary is a combined farm-to-table cafe, tea lounge, yoga studio, art gallery and event space — all wrapped up into one inclusive community hub that focuses on wellness and connection.
The menu has plenty of nourishing, plant-based dishes, including the "always vegan friendly" soup of the day, the Nori Wrap filled with quinoa, veggies, kimchi and vegan spicy mayo, and the Ayurvedic Grain Bowl — a mix of local rice, greens, mung beans, seasonal veggies, kraut, pesto and Ayurvedic spices to aid digestion and metabolism. Desserts include vegan cheesecakes and ice cream, and tea and coffee drinks can be served with oat, coconut or housemade almond milk. 
186 N. Main St., Suite 120, Sebastopol, 707-827-8130, softmedicinesebastopol.com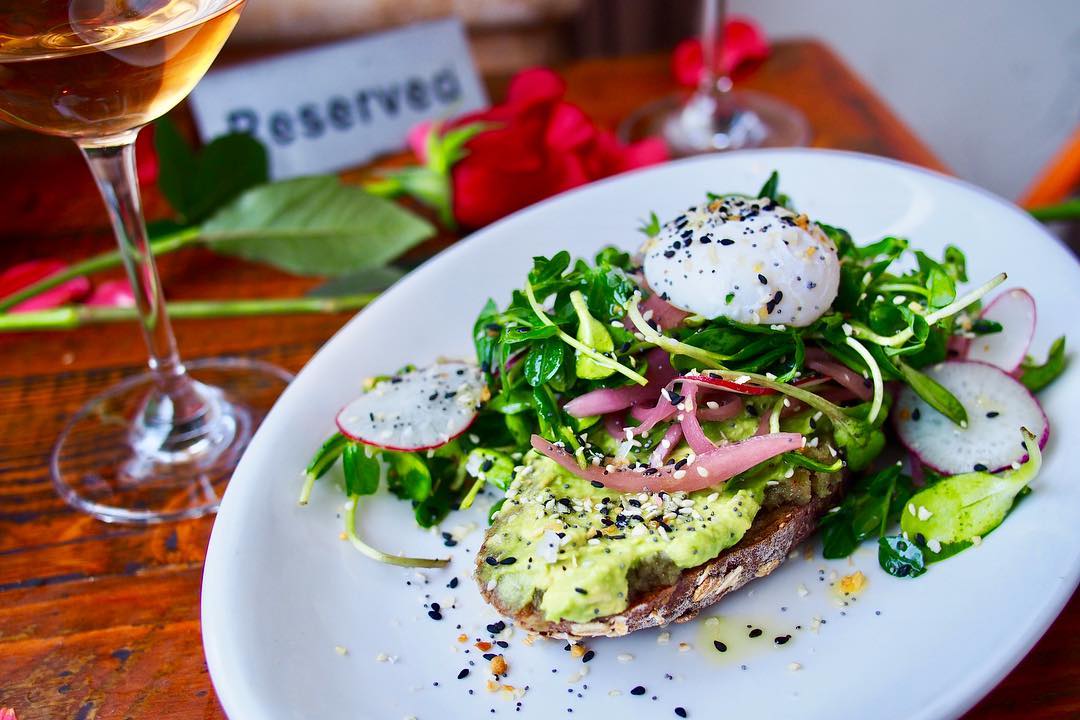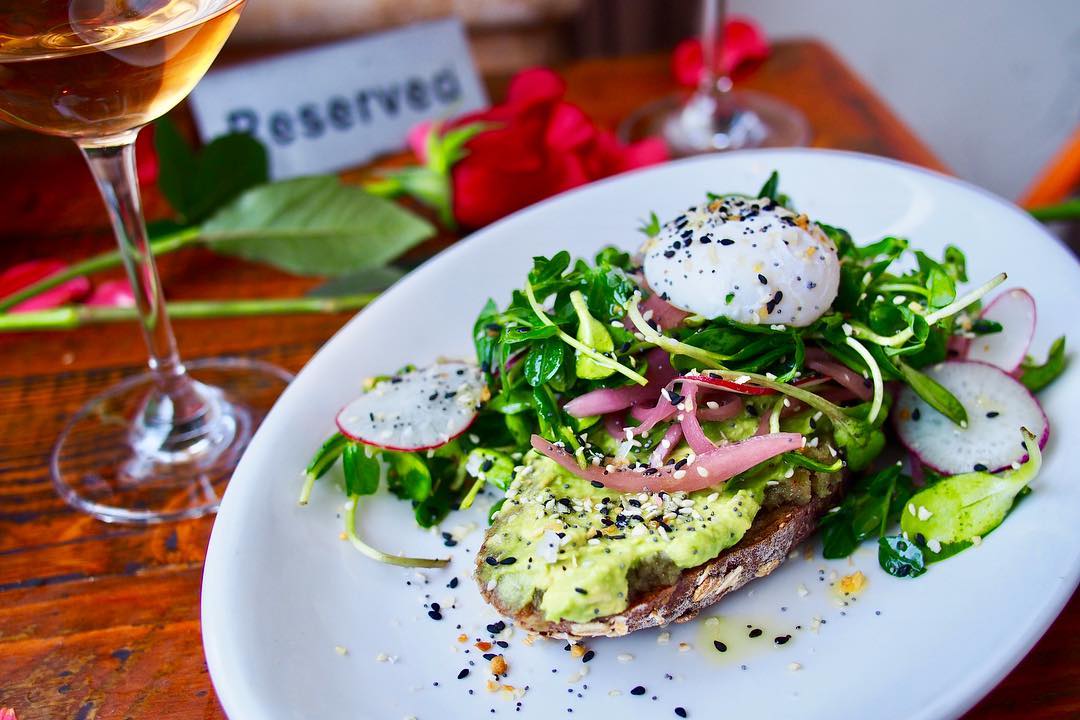 Sonoma
Sunflower Caffe
Over half the menu at Sunflower Caffé is vegetarian-friendly, with meat-free brunch classics such as breakfast burritos and avocado toast — one of the best in the county. The vegan autumn avocado toast includes miso-roasted eggplant and Fresno chili lentil and herb salad, topped with black garlic cashew sauce.
For a naturally sweet start to the day, try the granola buttermilk waffle, made with crunchy maple granola and topped with fresh berries and Vermont maple syrup. The roasted butternut squash wrap is the perfect taste of fall, with quinoa, arugula, Calabrian chili hummus, vegan feta, pickled onions and red pepper cashew sauce. 
421 First St. West, Sonoma, 707-996-6645, sonomasunflower.com
Guerneville
Boon Eat + Drink
Featured in several local and national publications, chef Crista Luedtke's Boon Eat + Drink is a Russian River gem. One of the modern bistro's most popular dishes is the vegetarian and exceptionally flavorful Polenta Lasagna. The creamy soft polenta is balanced with juicy sautéed vegetables, crumbly ricotta and spicy marinara sauce atop a bed of tender rainbow chard. All of the starters and shared plates are vegetarian and simple-but-delicious, including the pillowy clouds of burrata topped with pesto and fresh heirloom tomatoes, and the tri-colored beet salad with goat cheese and a citrus vinaigrette. 
16248 Main St., Guerneville, 707-869-0780, eatatboon.com
Green Grill
The Rancho Cordova-based vegetarian restaurant Green Grill quietly opened a second location in Guerneville this year, in the former Subway location on Main Street. Fast favorites include the Mushroom Chana Burger, made with a sprouted chickpea patty and garlic herb sauce, and the Tikka Masala Bowl — veggie meatballs smothered in tikka masala sauce over basmati rice and served with a side salad. Seasoned fries and cauliflower tempura with chipotle sauce are essential appetizers, and the raw Raspberry Chocolate Cheesecake is as delicious as it is guilt-free.
16316 Main St., Guerneville, 707-​​604-7872.