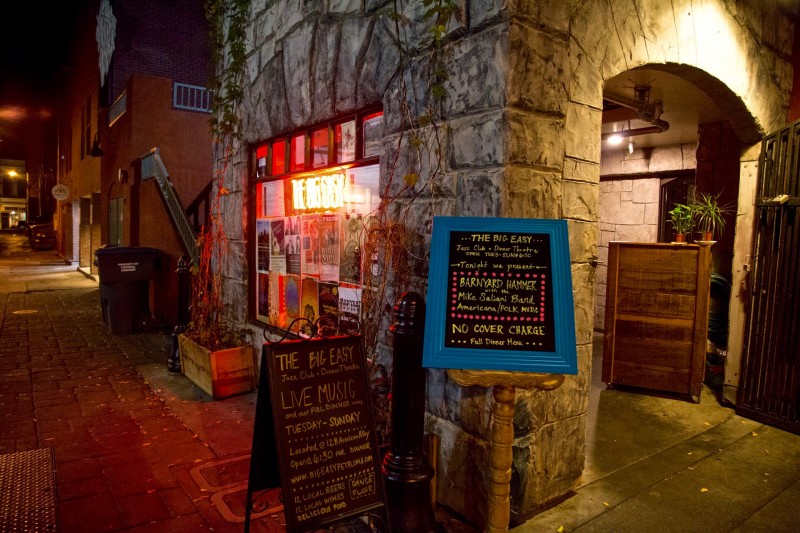 Petaluma is a tale of two towns: by day, it is the cute corner of Sonoma County with quaint buildings, bakeries, bookstores and boutiques. But when the sun sinks and shadows lengthen, Petaluma gets edgy with dimly lit speakeasies and fringe music venues. We've found five moonlit must-stops for your next nocturnal visit to Petaluma:
The Big Easy
The Big Easy, with its no nonsense speakeasy vibe, has been jazzing up Petaluma's live-music scene since 2014. Located in historic downtown Petaluma, this hidden gem is not easy to spot: its neon sign is nearly invisible, its facade dark and almost dungeon-like. The dim and dusky theme continues inside the venue; this is not a place for people watching, instead, the music takes center stage – along with a 1957 Hammond B3 organ.
Wayne De La Cruz preforms with his band at The Big Easy bar and night club in Petaluma. (Photo by Jeremy Portje)

Big Easy owner Roger Tschann's music background is rock solid: he founded Petaluma's Grizzly Studios in the 1990's and has since recorded a large variety of albums for North Bay bands. Together with his girlfriend, Amber Driscoll, Tschann also operates Speakeasy, a restaurant across American Alley from The Big Easy.

The Big Easy provides a rollicking dance floor where blues, soul, jazz, Americana, folk, gipsy jazz and rock n' roll preside. It serves Bay Area brews on tap, local wines, and a menu of tapas and small-plates from Speakeasy. Stand-up comedy reigns on first and third Mondays of each month. Close your eyes, soak up the sound, and you might find yourself on Bourbon Street, or in subterranean Georgetown… Contact: The Big Easy, 128 American Alley, Petaluma, CA 94952, (707) 776-4631, bigeasypetaluma.com

A couple dances as Pamela Rose preforms with Wayne De La Cruz at The Big Easy bar and night club in Petaluma. (Photo by Jeremy Portje)

Andresen's Tavern

Andresen's Tavern, in business since 1934, is Petaluma's oldest bar. This time-warp watering hole is run by third-generation proprietor Kathie Andresen and comes with a variety of paraphernalia: antique pistols and rifles, trophies from Andresen's hunting trips on the African savanna, rusty old signs and faded photographs.

While a jukebox plays low in one corner, Helga, the bartender, slings the drinks – if she takes a liking to you, she'll challenge you to a game of Cribbage. This Western Avenue bar has a bit of a "David Lynch" quality to it, but it's "theme" is honestly come by through years of service. After all, this is the real McCoy, not some Johnny-come-lately. Contact: 19 Western Ave, Petaluma, CA 94952, (707) 762-6647, visit on Facebook.

The Phoenix Theatre

The Phoenix Theatre has survived two fires and gone through several transmogrifications in its 111 years of existence. Today, this venerable venue welcomes a variety of musical acts, its walls are lined with graffiti and art, and two skateboard ramps run the length of the room.

A fan reaches up to A Sun That Never Sets lead singer Mike McCubbin during a heavy metal concert at The Phoenix Theater in Petaluma. (Photo by Alvin Jornada)

The theater began as the Hill Opera House in 1905 and was once graced with performances by Harry Houdini, Enrico Caruso and Lily Langtree. In the early 1920s, the opera house was nearly destroyed by fire and the venue shut down. A few years later, it was revived for the first time, as a movie theater. In 1957, a second fire damaged the building. The theater was then bought by the Tocchini family (the Tocchinis opened the first movie theater in Santa Rosa, The Strand, in 1924 and the family has since operated numerous Sonoma County movie theaters).

The Tocchinis restored the storied downtown building, renamed it the Showcase Theater and turned it into a movie house with late night music shows. In 1982, the Showcase Theater was purchased by Ken Frankel and named "The Phoenix," for its ability to "rise from the ashes." The theater continued to host live music performances by bands like the Ramones, the Red Hot Chili Peppers, Metallica, Primus, Green Day and Mr. Bungle. Contact: 201 Washington St, Petaluma, CA 94952, (707) 762-3565, thephoenixtheater.com

Aarne Bielefeldt of Willits wears his "octo-beard" with his wife Rita wearing her Whiskerina beard made of gears during the 58th annual Bill Soberanes Memorial Petaluma Whiskerino, at the Phoenix Theater in Petaluma. (Photo by Alvin Jornada)

Jamison's Roaring Donkey

Looking for some friendly folks and mean drinks? Jamison's Roaring Donkey on Kentucky Street serves up wine, brews, ten different styles of vodka based mules and a whole lot of happenings. There's Triva Night on Tuesdays, Open Mic Night on Wednesdays (spoken word, hip hop, comedy, music and magic acts), DIY Bloody Mary Buffet on Sundays, and regular Paint Nites (mixing cocktails and creativity).

The Roaring Donkey has an old-fashioned whiskey bar feel and a separate performance area, "The Blue Room," where Bay Area bands take the stage. There's also pool and shuffleboard tables, and sports on big screen TVs. Contact: 146 Kentucky St, Petaluma, CA 94952,  (707) 772-5478, roaring-donkey.com

Jamison's Roaring Donkey in Petaluma. (Photo by Estefany Gonzalez)

Buffalo Billiards

The Buffalo Billiards pool hall in Petaluma is located in one of the oldest brick buildings in Sonoma County, dating to the 1860's. The rustic building and custom-made furnishings (made from recycled pool and shuffleboard tables) cinematically set the scene for some night pool shooting to the sounds of jukebox tunes, paired with pub grub and pints.

Buffalo Billiards has been featured in Billiards Digest as one of the top 10 pool halls worldwide and has an extensive inventory of billiards equipment for sale in the pro-shop, including cues, cases and cloth. Owner Lee Simon spent his adolescent years working and hanging out at his father's pool hall Novato Billiards (opened in 1953). Simon learned every detail of the game, and could soon play like a pro and gained the ability to deftly restore both antique pool tables and cues. He managed his fathers pool hall until opening a hall of his own in Petaluma. Contact: 246 Petaluma Blvd N, Petaluma, CA 94952, (707) 585-8992, buffalo-billiards-gameroom.com

Looking for more things to do in Sonoma County? Click here.
Subscribe to Our Newsletters!