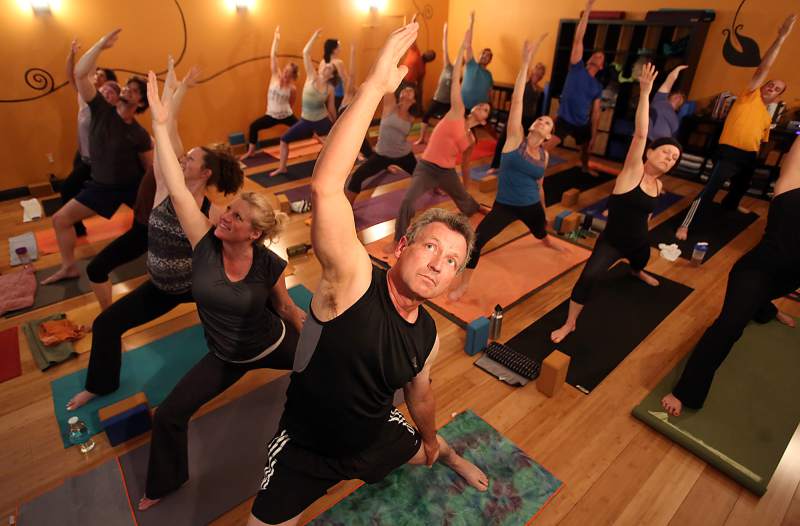 Yoga has been alive and thriving in Sonoma County since the 1960s, when the first communes appeared along the western fringes of the county. But interpretations of traditional yoga and riffs off the principal themes have been growing and evolving ever since. Today, North Coasters can practice a variety of types, from more familiar Hatha to new styles such as Acro or Aerial. Below we have listed yoga styles currently taught in Sonoma County, including studios we have visited.
---
Hatha Yoga
Hatha translates to sun (ha) and moon (tha) and refers to the skillful placement of the body in poses (or asanas) to bring balance between strength and flexibility. A set of static Hatha yoga poses is performed in a slow sequence that, due to its pace and attention to alignment, is great for beginners.
Many Hatha teachers now incorporate flowing postures such as the Sun Salutation sequence into their classes, but at a much slower pace.
Local Studio
Shane Davis at Yoga One, 110 Kentucky St. in Petaluma or 589 Mendocino Ave., Santa Rosa
Iyengar
This form of yoga was developed by B.K.S. Iyengar, regarded as of the great yogis of all time. It is an interpretation of classical Hatha, with sequences of static postures held at length. The emphasis is on precise correct alignment, using props — blankets, bolsters, blocks and straps — to allow each practitioner to find a personal understanding of the pose.
The teacher may focus on such details as how to position your foot or even how to fold your blankets. The discipline brings great awareness to the body and can be therapeutic.
Local Studios
Clare Venet at Solstice Yoga, 2450 West Third St., Santa Rosa
Tony Briggs at Wellness by Design, 224a Weller St.Petaluma
Westside Yoga, 7385 Healdsburg Ave., Sebastopol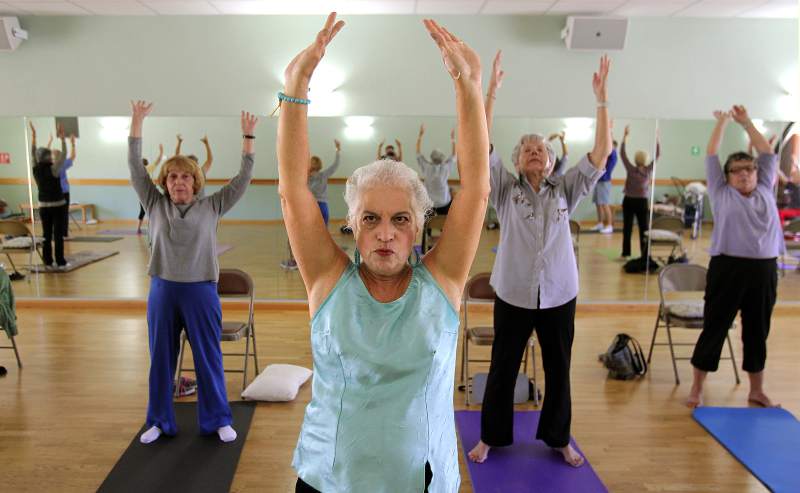 Viniyoga
Viniyoga is a gentler practice in the lineage of T.K.V. Desikachar, popularized in the U.S. by Gary and Mirka Kraftsow. It emphasizes the creation of a personalized practice to meet your unique needs, focusing on function over form. It is a slower version of Hatha yoga with attention on breath, bandhas, sound, chanting and meditation.
Local Studio
Mirka Kraftsow at Westside Yoga, 7385 Healdsburg Ave., Sebastopol
Bikram Yoga
This is a sweaty sequence of 26 Hatha yoga postures performed in a room heated to more than 104 degrees. Bikram Yoga can be performed by anyone, with a beginning series that is super accessible. Founder Bikram Choudhury cured a knee injury with this heated, therapeutic practice. Asanas are performed in a static fashion, with practitioners striking a pose, holding it and then doing it once more.
Muscles and connective tissue are more pliable, so you will be have greater flexibility. The heat also can release toxins and causes the heart works harder to pump oxygenated blood to your muscles. Not recommended for those with heart disease.
Local Studio
Bikram Yoga Santa Rosa, 522 Wilson St., Santa Rosa
Bikram Yoga Sonoma, 721 W Napa St, Sonoma
Bikram Yoga Petaluma, 1484 Petaluma Blvd N, Petaluma
Ashtanga
Ashtanga yoga was made popular by K. Pattabhi Jois, who arranged Hatha asanas into specific sequences that worked to heat the body. It incorporates lots of Sun Salutations, standing and seated sequences into a fast-flowing choreographed practice. The same poses are performed in the same order every time, with students advancing to intermediate levels only after mastering the primary series.
Ashtanga is the mother of all Vinyasa and Power yoga styles, but differs in that it is built around the traditional sequence. It is a serious physical workout that requires strength and flexibility.
Local Studios
Ann Austin at Yoga Studio Ganesha, 138 Weeks Way, Sebastopol
John Smith at Westside Yoga offers Mysore and led Ashtanga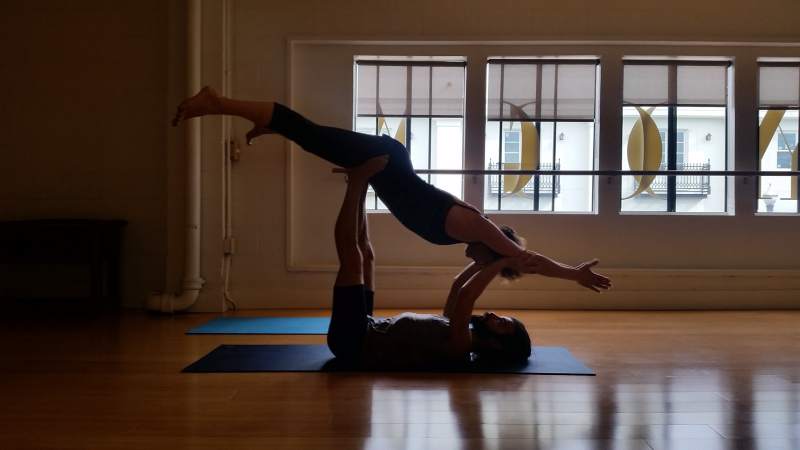 Vinyasa
Vinyasa yoga is a branch off the Ashtanga yoga tree and is probably the most popular style practiced in America today. "Vi" means sequence and "nyasa" means conscious placement. The practice links movement and breath to intention; the word is generally the shorthand for any style of flow yoga.
Poses are linked together by one main sequence: chaturanga to upward-facing dog to downward-facing dog. Expect a lot of Sun Salutations and a faster pace than Hatha. Variations abound, including Ashtanga, Jivamukti, Power yoga and Prana flow.
Local Studios
Many studios teach it. Try a class at:
Thrive, 6914 Sebastopol Ave., Sebastopol
Yoga on Center, 401 Center St # C, Healdsburg
The Dhyana Center, 186 N. Main St., Sebastopol
Soul Yoga, 2801 Yulupa Ave., Santa Rosa
Power Yoga, Baptiste Style
Power yoga is a vigorous from of Vinyasa yoga developed by Baron Baptiste. It is a hot, sweaty workout, quick paced and usually practiced in a room heated to about 90 degrees. As in Bikram, the heat allows greater flexibility and helps detoxify the body. Unlike Bikram, the poses flow from one to another. It is best to study other forms of yoga before trying this one. Wet your feet by trying an intro class.
Local Studio
Three Dog Yoga, 1617 Terrace Way, Santa Rosa
Kundalini Yoga
This style of yoga was brought to the states in the late '60s by Yogi Bhajan. It's quiet and meditative, using gentle movement, dynamic breathing techniques, meditation and chanting to awaken one's awareness of the energetic body. It leans heavily on the Tantric yoga philosophy of the six chakras that run along the spinal column and one that sits at the crown of your head.
Exercises focus on the ascension of Kundalini energy, conceptualized as a serpent rising from the base of your spine to the crown of your head. Serious practitioners wear white to block out negative influence, and expand "auric radiance" by wearing turbans. You may spend most of your class time on the ground with closed eyes. Although all yoga is a moving meditation, this one really feels like it.
Local Studio
Parmatma Simone at Yoga One, 589 Mendocino Ave, Santa Rosa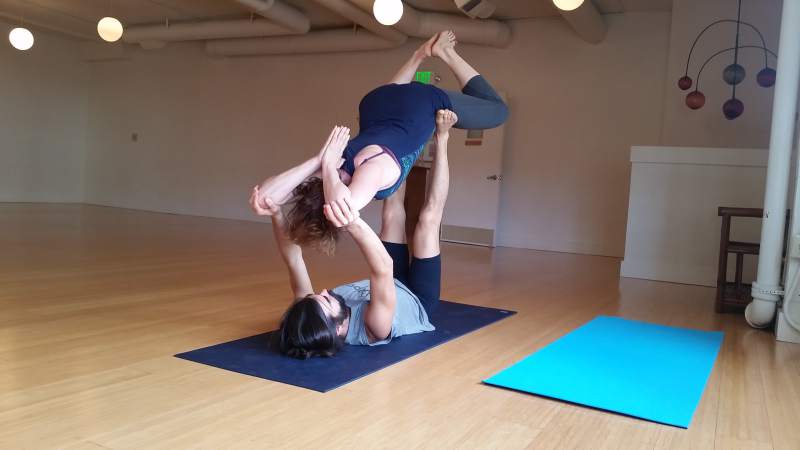 AcroYoga
It's a combination of yoga, acrobatics, dance and, in some interpretations, Thai massage, usually performed with the practitioner playing one of three roles. The base is a person who lies on the ground to support another person with using their legs and arms. The flyer is elevated off the ground and uses gravity, abdominal strength and flexibility to hold a number of dramatic poses. The spotter watches the primary players and ensures that the flyer returns to the ground safely and the base lifts safely.
In addition to the physical and mental health benefits, AcroYoga teaches practitioners to clearly communicate at they counterbalance. Although teachers assert that anyone can practice Acro, it requires a base level of strength and flexibility and is often taught as a partner class workshop.
Local Teacher
João Paulo Pereira offers classes periodically throughout Sonoma County. Contact him at thatyogaguy.com for upcoming classes.
Aerial Yoga
Aerial Yoga is a playful form that combines aerial acrobatics with traditional yoga asanas that uses gravity to deepen stretches and support inversions. It is performed with the help of silk hammocks that can ease compression in the joints and spine. Because wrapping your arms in the silks requires you to use different muscles than those used in traditional yoga, expect a nice bit of muscle soreness.
The practice is pure childlike fun, but spinning in a silk hammock may not be for everyone, especially those with a tendency toward motion sickness.
Local Studios
Yoga Paradise, 8911 Lakewood Drive, Windsor
Soul Yoga and Wellness, 2801 Yulupa Ave., Santa Rosa
Dhyana Center, 186 N. Main St., Sebastopol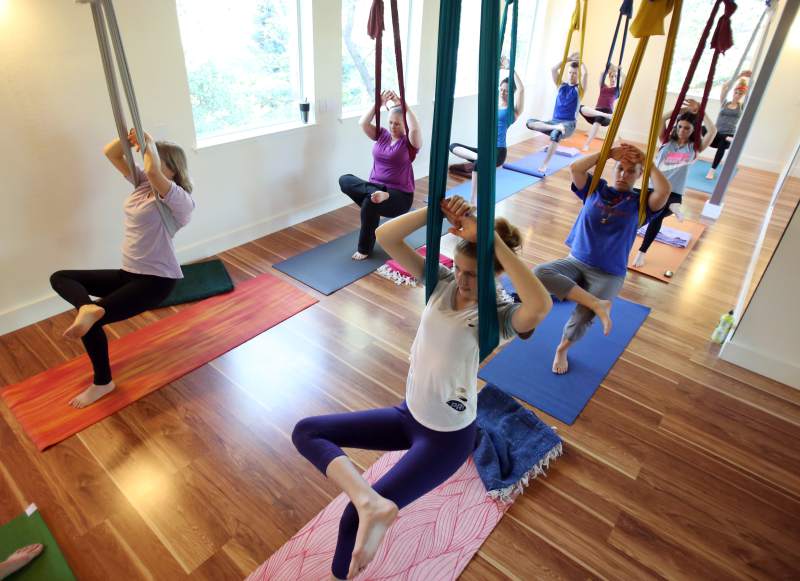 Restorative
The focus of Restorative Yoga is on restoring a state of balance by calming the body and mind. A typical class may include just five or six poses held at length, all of which are supported by a block, pillow or blanket. Through the stillness and a tiny bit of guided meditation, you are taught to relax and unwind, the perfect complement to a week of vigorous asana practice or anytime you are in need of rest.
Local Studio
Devorah Blum and Cheryl Thomas at Yoga Studio Ganesha, 138 Weeks Way Sebastopol
Yoga on Center, 401 Center St # C, Healdsburg
Yin
Yin is a slow and passive series of seated and supine poses designed by Paulie Zink. Asanas are held for 3 to 5 minutes to allow the student to sink in and access the deeper layers of muscle, connective tissue and fascia. It is meditative and inward focusing. A variation Yin/ Yang yoga brings together passive inward focusing Yin poses and some of the more energizing Yang poses.
Local Studios
Brian Miller at Yoga One, 589 Mendocino Ave., Santa Rosa
Hannah Gart at Riverbed Yoga, 14014 Armstrong Woods Rd, Guerneville
Kirpalu Yoga
Kirpalu is a yoga Ashram in Stockbridge, Mass., that practices an offshoot of Hatha yoga that focuses on meditative movement. Joan Hawley McClain at Riverbed Yoga in Guernville offers a class that combines Kirpalu with chanting, Reiki and Yoga Nidra (a guided meditation practice performed lying down that incorporates sound healing.
Local Studio
Riverbed Yoga, 14014 Armstrong Woods Rd, Guerneville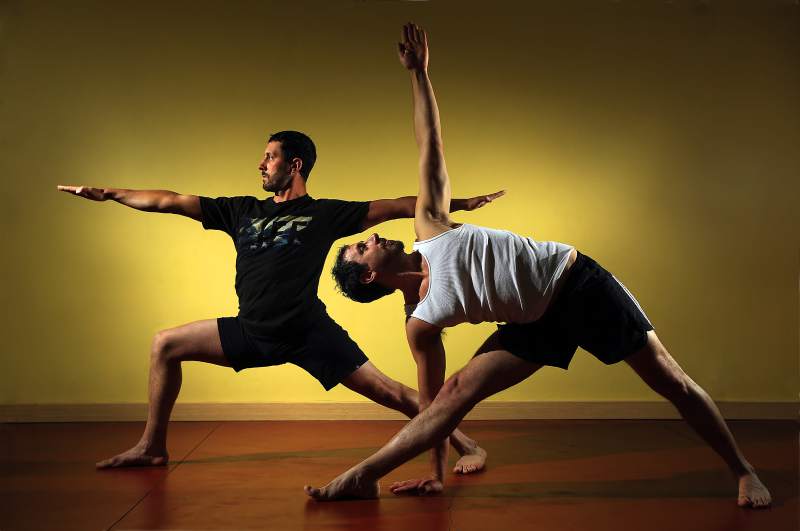 Veda Vinyasa
Veda Vinyasa is a breath centered practice with a blend of dynamic and static movements for strength and flexibility. Veda Yoga also incorporates elements of Ayurveda, the eastern medical practice for seasonal balance and health.
Local Studios
Deacon Carpenter at Yoga One, Santa Rosa, 589 Mendocino Ave, Santa Rosa
Dhyana Center, 186 N. Main St., Sebastopol
Forrest Yoga
This Vinyasa yoga is performed in a heated room with long sequences and lots of abdominal core work. It was developed by yogini Ana Forrest, a victim of abuse, as a means of using asana to cleanse the emotional and mental blocks that dictate and limit our lives. Classes are extremely empowering, a great work out and often are recommended for people with scoliosis.
Local Studios
Molly Vogel and Kelliann Reginato at Vibe Yoga, 3895 Princeton Drive, Santa Rosa
Yoga Paradise, 8911 Lakewood Drive, Windsor
Hip Hop Yoga
Vinyasa Flow classes also can be choreographed to a nontraditional hip hop soundtrack. Look for it at Vibe Yoga, 3895 Princeton Drive, Santa Rosa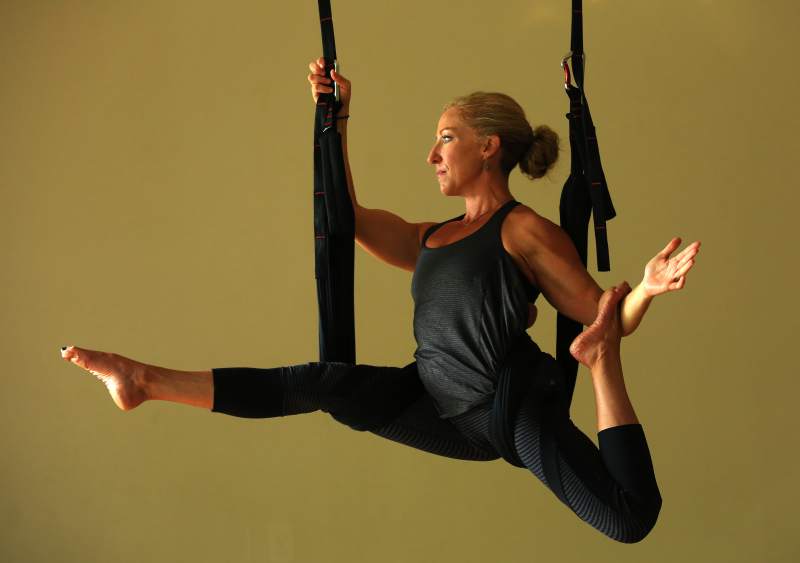 Kona Flow
Kona Flow is a little bit workout, a little bit Hatha and a little Vinyasa. This energetic, fun, nontraditional yoga class begins with a series of warm-up exercises that move through the body, allowing you to see which areas are tight, flexible, strong or weak. Following the warm up comes a series of static yoga poses held at length, some of which are unexpected variations of traditional poses.
Local Studio
Kona Waha Santana at Vibe Yoga, 3895 Princeton Drive, Santa Rosa
Yum Yum Yoga
This playful but challenging Vinyasa class is taught by Bekka Adair, a student of yoga pioneer Ganga White. Sequences include some Southeast Asian dance/martial arts moves and the infrequently performed Moon salutations. Adair designs her flow around whomever shows up, so it is suitable for all levels. Plan to do lots of upper body and abdomen work to prepare you for arm balances and inversions, and leave the room feeling like a warrior ready to take on the world.
Local Studio
Bekka Adair at Sirens Studio, 234 Hutchins Ave., Sebastopol