It feels safe to assume Jonny Barr is the only certified sommelier/former pro wrestler you'll ever meet.
The newly minted owner of Healdsburg's Molti Amici is proud his alter-ego, "Crimson," was once part of the Empire Wrestling Federation, home to chair-breaking, smack-talking WWE-esque entertainment fighters including Super Beetle, Trailer King and Anthony Idol.
That was a lifetime ago, in the late 1990s, well before he earned a hard-won certification as a professional wine steward. He later became both sommelier and general manager of SingleThread, a three-Michelin-star restaurant in Healdsburg.
But the athletic performer and general manager titles both served him well as a business owner in the competitive culinary landscape of Sonoma County.
"It taught me hard work, mental and physical strength, teamwork, always pushing forward," he said. "And looking good in Spandex."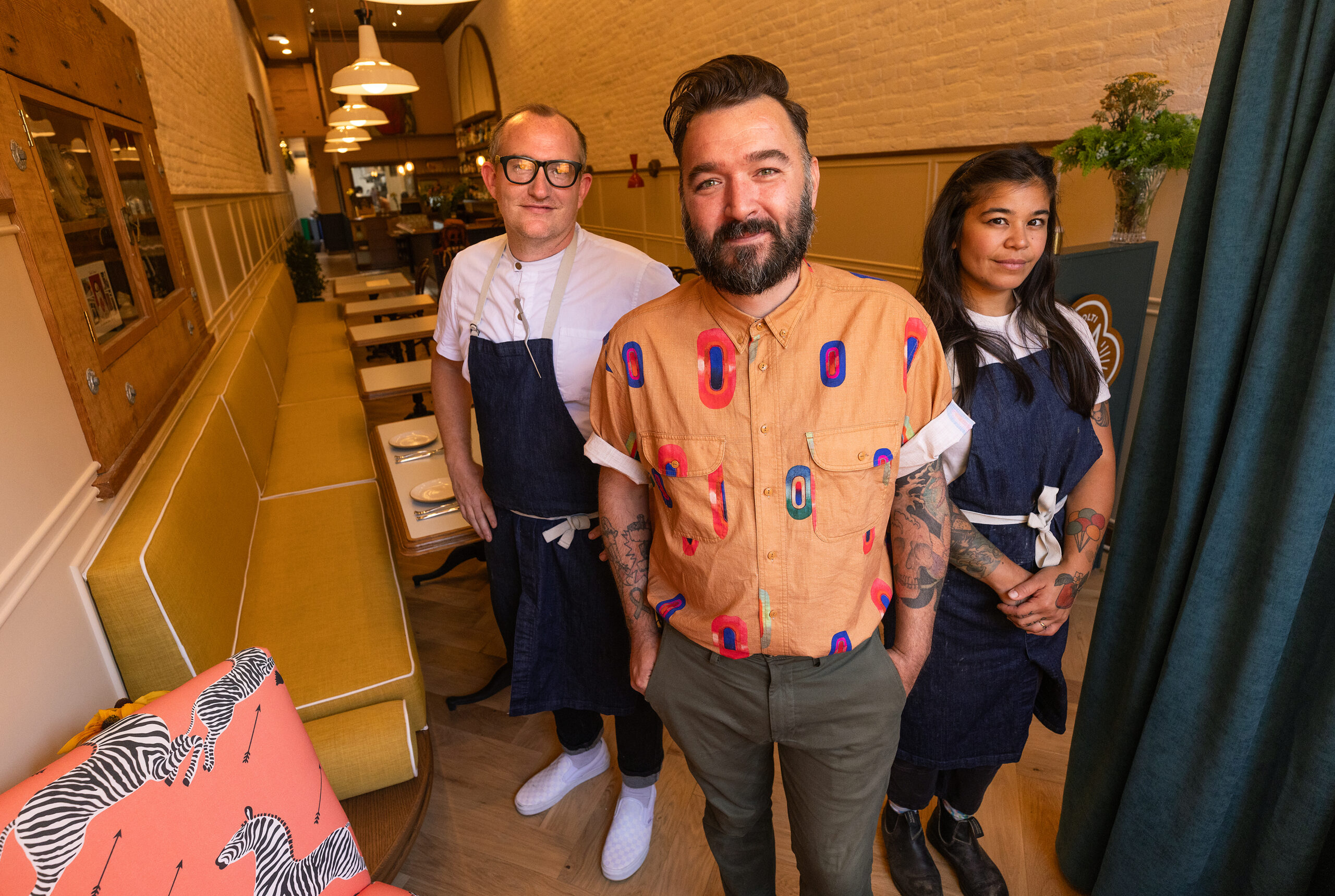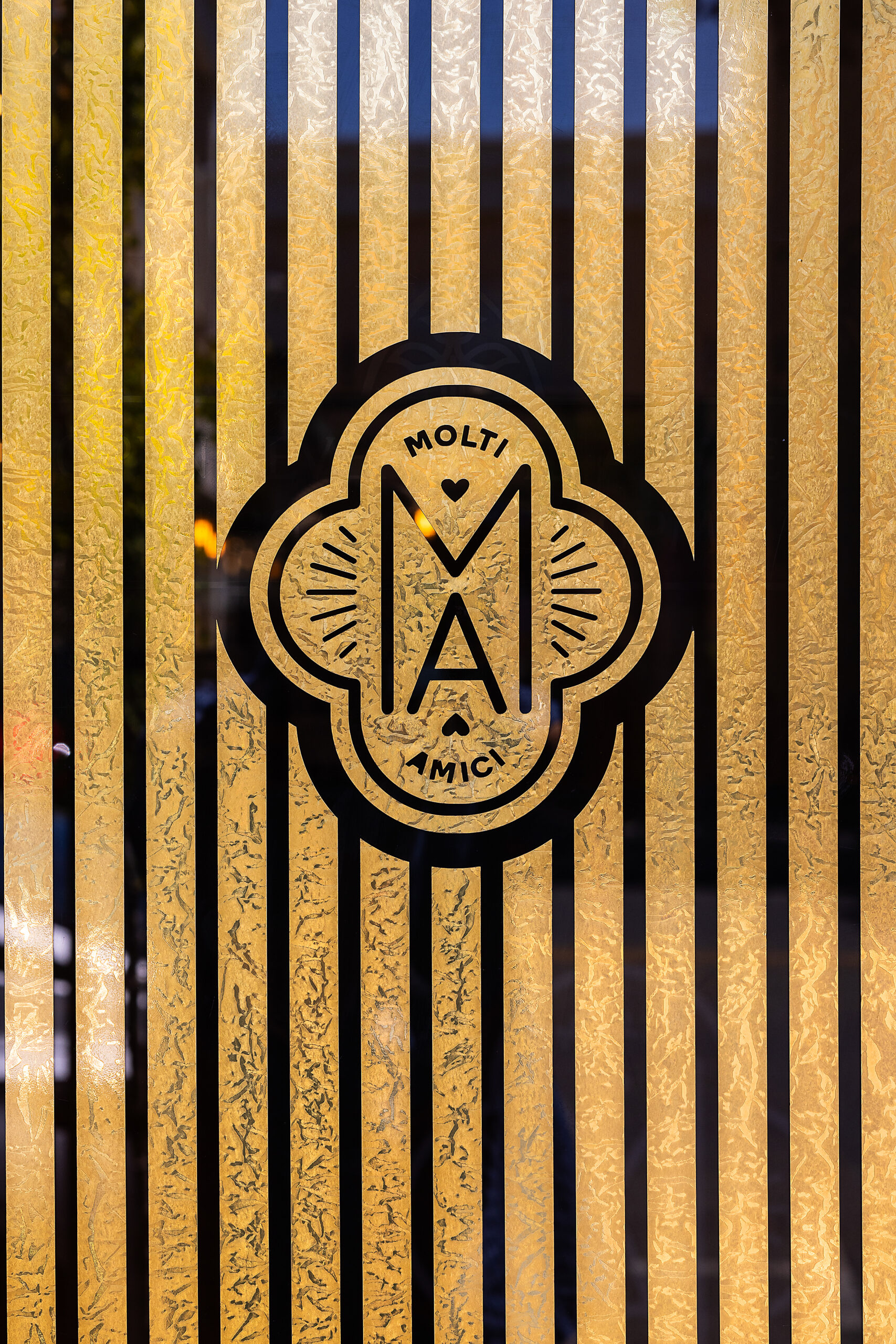 Wrestling is a theme with Barr and chef Sean McGaughey, who created the menu at Molti Amici. One of the many Easter egg discoveries at the former Campo Fina space is a bathroom with tiny wrestlers printed on the wallpaper.
"The bathroom is a story of friendship. It's about the '90s WWF Mega Powers tag team," Barr said. "I look at Sean as Hulk Hogan, and I'm Macho Man Randy Savage."
Barr and McGaughey met when both worked at SingleThread and remained close friends after McGaughey and his wife, Melissa Yanc, opened Quail and Condor Bakery, Troubadour and Le Diner, a prix-fixe dinner hosted at Troubadour.
When Barr took over the 330 Healdsburg Ave. location, he immediately considered the couple collaborators, along with chef de cuisine Matthew Cargo and bar director Danielle Peters.
It's a winning combination, with an Italian-influenced menu that reflects the seasonal moment — currently midsummer — with stone fruit, corn, squash blossoms, tomatoes and berries showing up throughout the menu.
There are more evergreen items, too, like a whole spatchcocked chicken with potatoes and mushrooms ($60) or a 20-ounce Wagyu strip steak ($120) meant for sharing, as well as wood-fired pizzas, either with seasonal items (corn, zucchini, tomatoes) or more the traditional Margherita or sausage pizzas.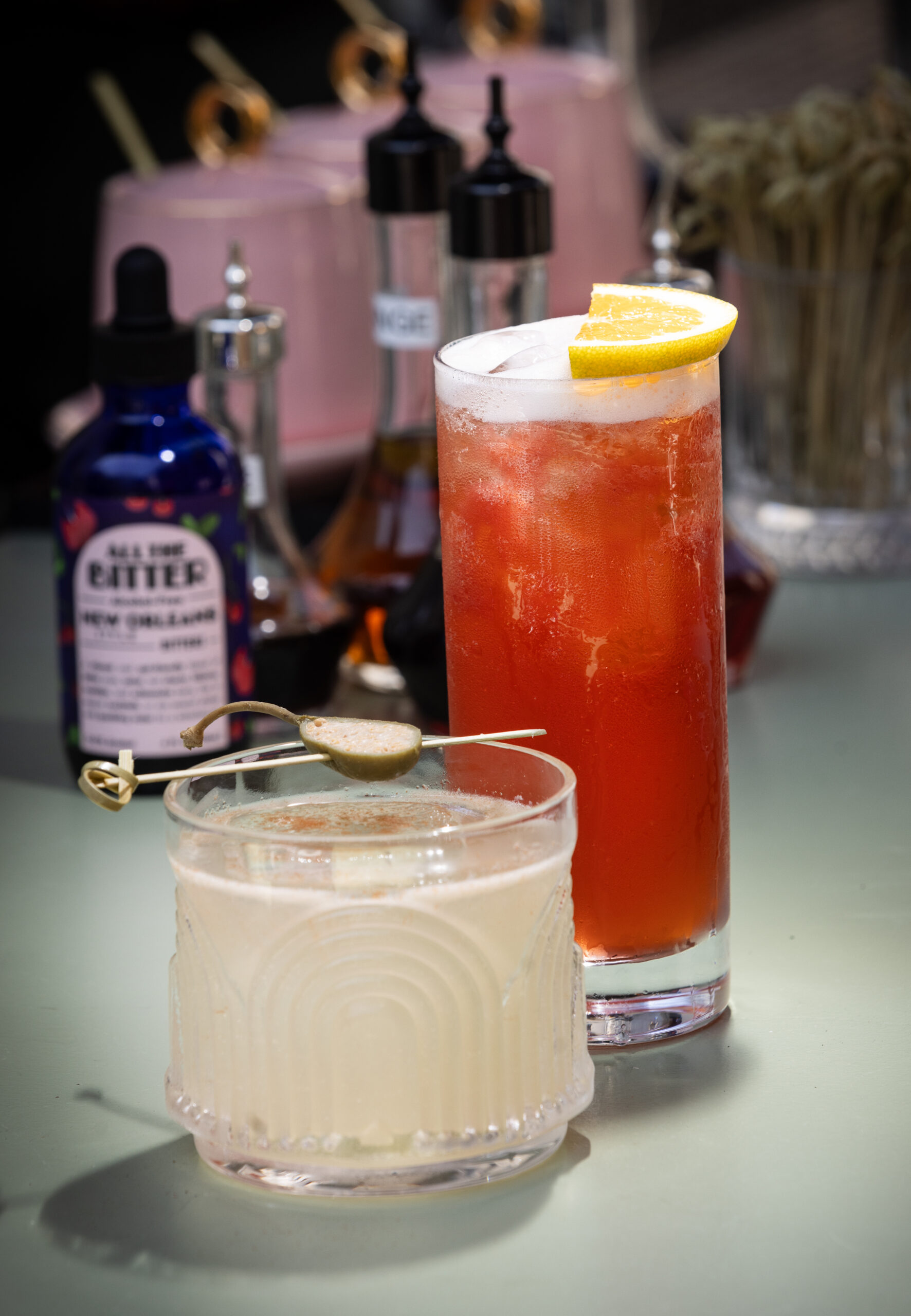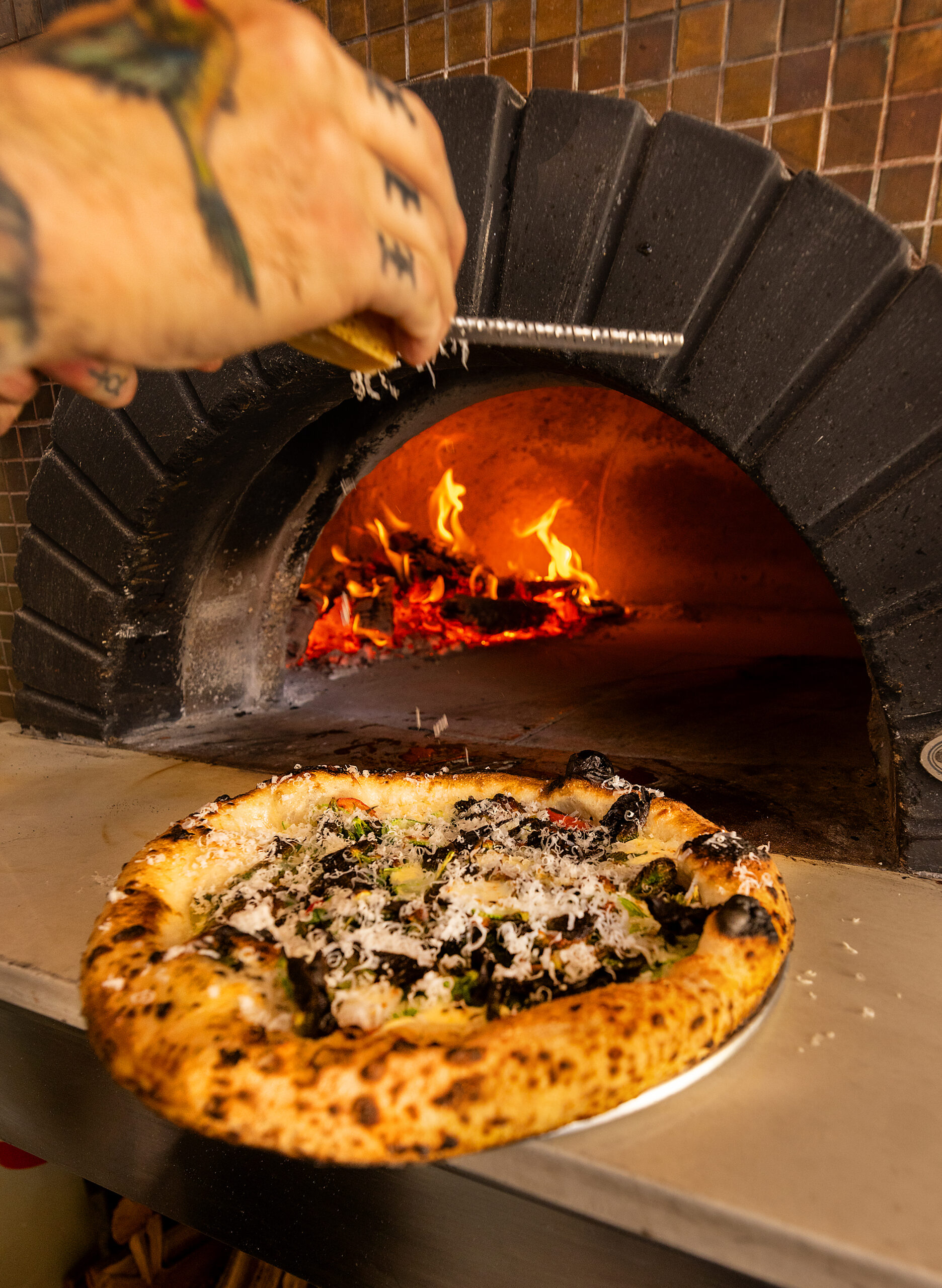 As for drinks, there's a wide range, from refreshing low- or no-ABV cocktails (plus higher-octane sippers) to beer and wines on a well-researched list of Italian and Sonoma County bottles.
The slim interior of the restaurant is charming, but it's the patio where all the action happens. Fringed yellow umbrellas rim the bocce court, and banquettes with lime-striped cushions add a pastel Wes Anderson vibe.
Molti Amici is a seersucker suit and straw hat summer moment with a little WrestleMania thrown in — just what you'd expect from a guy who can pour a bottle of Dom Pérignon with all the panache of Randy Savage.
Best Bets
Bar bites ($6 – $15): If you're just looking for a cocktail and a nibble, these bar bites are more than an afterthought. Gnoccho Fritto ($9) are triangles of fried dough paired with Mortadella ham and fresh Parmesan. The focaccia with garlic butter ($8) is also a savory carb to fill you up.
Local halibut with chile oil ($17): Fresh-off-the-boat bites of raw halibut swim in a baby pool of mild chile oil, adding depth and a little crunch to this simple small-plate dish.
Stone fruit, fennel pollen, ricotta and mustard greens ($17): Fresh slices of peach and plum get a sprinkling of bitter greens and dollops of smooth ricotta cheese.
Housemade pasta ($21 – 23): The kitchen is creating stuffed pasta dishes that are far more complicated than simple spaghetti, like casoncelli with corn, polenta and basil; a giant ravioli with summer truffle and sage brown butter; and their new tortellini en brodo (in broth) with smoked eggplant and tomato confit. They're all little works of art made with deft hands delicately working the dough.
Pizza ($19 – 22): Half the fun of sitting outside is watching the speed of pizzas going in and out of the wood-fired oven. They're big enough to feed two if you order an appetizer, but they also can be a hearty dinner for one. Broken into white, red and green-sauce styles, they range from outlandish (saltimbocca, sweetbread, sage, ham and fontina) to downright perfect (corn, ham and crème fraîche). They're not overdressed and have just a handful of ingredients atop the bubbling dough, like a red pizza with hen-of-the-woods mushrooms and sweet onion or our absolute favorite, the green pizza with fresh basil, onion, frilly mustard greens and lemon zest.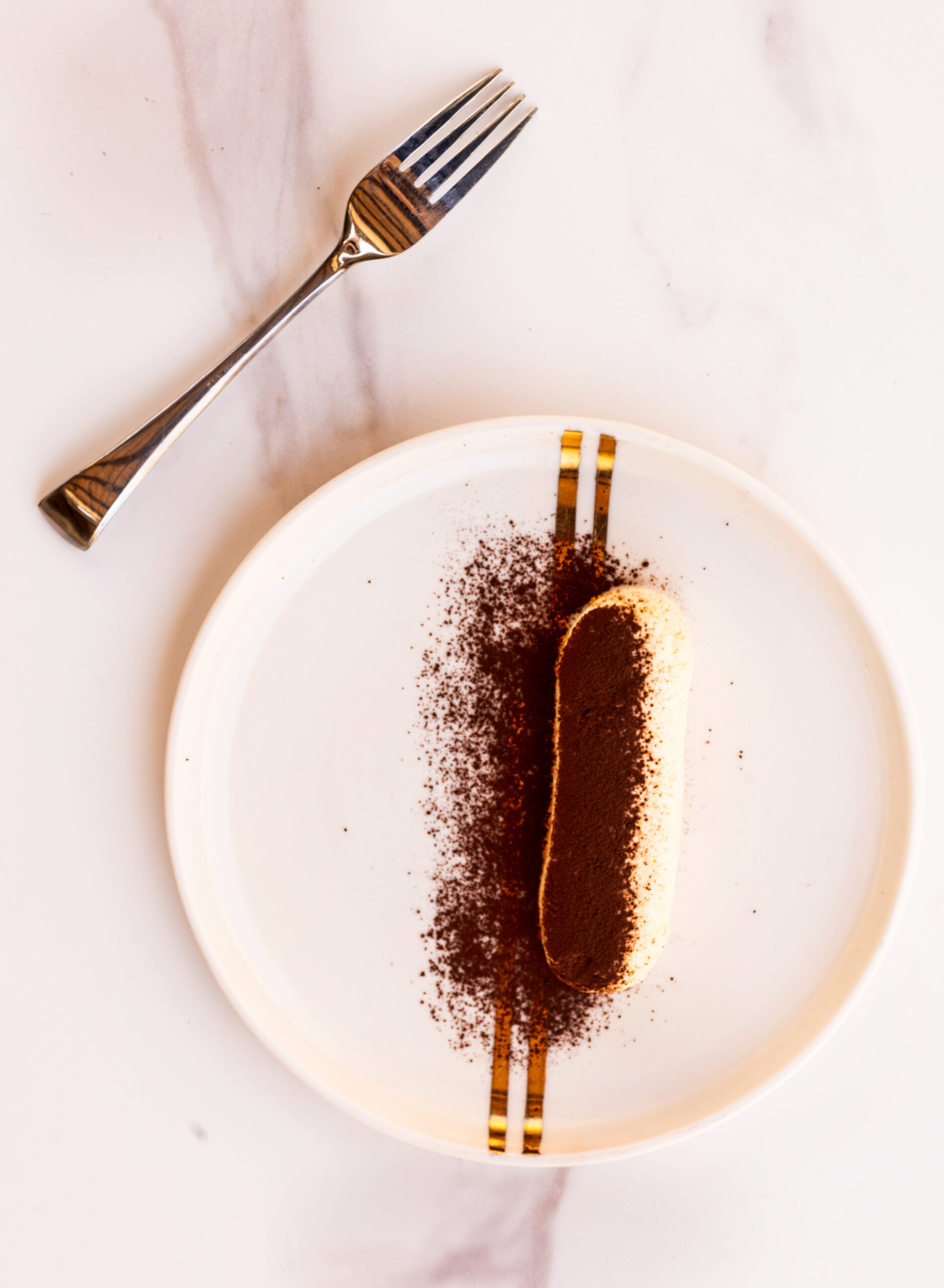 Dessert ($12): At first look, Yanc's deceptively straightforward-sounding tiramisu, panna cotta and zabaglione might not seem worth the calories, but leave room and have a little fun. Though I rarely order panna cotta, this version is thick and creamy, with a tart zing, perfect seasonal berries and a kick of Montenegro, an Italian liqueur.
Cocktails ($14): The Campari and prosecco with orange (no name, just an emoji of a hand making a very Italian gesture) is required. We also loved the Roman Around — a mix of tequila, caramelly Averna, sweet Cocchi Americano liqueur and fresh basil, peach and lemon.
If you go: Reservations are strongly suggested because tables book up almost immediately. New reservations open 30 days in advance, so plan accordingly. However, 25% of seating is reserved for walk-in diners, though you may have more luck later in the evening rather than during peak dinner hours.
330 Healdsburg Ave., Healdsburg, moltiamici.com