Goodnight's Prime Steak + Spirits, backed by wine mogul and entrepreneur Bill Foley, isn't shying away from being exactly what it is — a tufted-leather-banquette, closers-only, beef-centric cowboy fantasy for the well-heeled. You can practically smell the Wine Country wheeling and dealing over crystal-cut glasses of Japanese whiskey and filet mignon.
The two-story restaurant, located at the former Ferrari-Carano Seasons of the Vineyard tasting room, was stripped down to its studs over the last year and rebuilt in the name of Charles Goodnight, a rough-and-tumble Texas Ranger, cattle herder and inventor of the chuck wagon.
"Healdsburg needed a steakhouse, and it was going to be high-end," said Executive Chef David Lawrence, a celebrity chef and veteran of several high-profile restaurants in San Francisco who directs the team and menu at Goodnight's. The Jamaican-born chef is no stranger to steakhouses; by age 16, he was cooking steaks at his father's restaurants.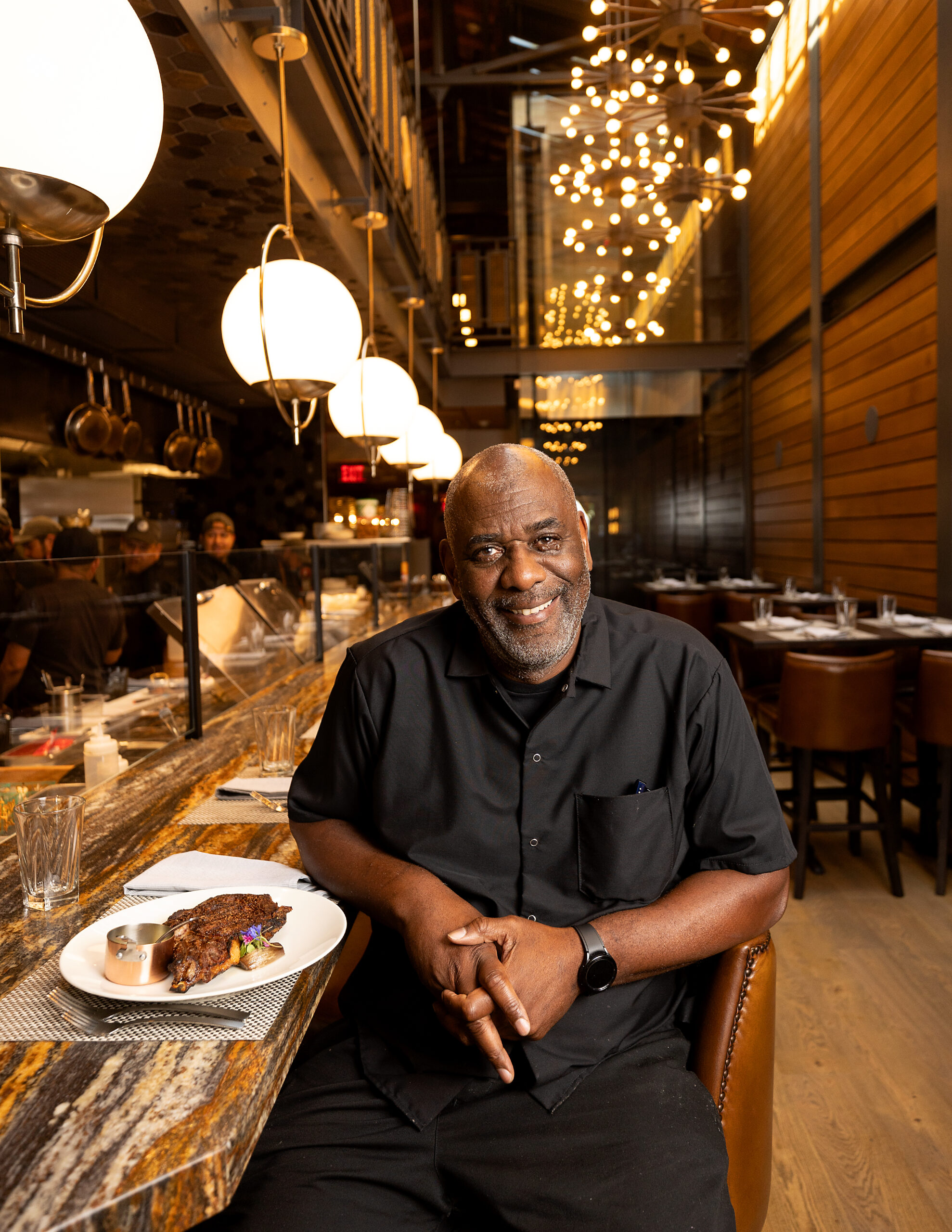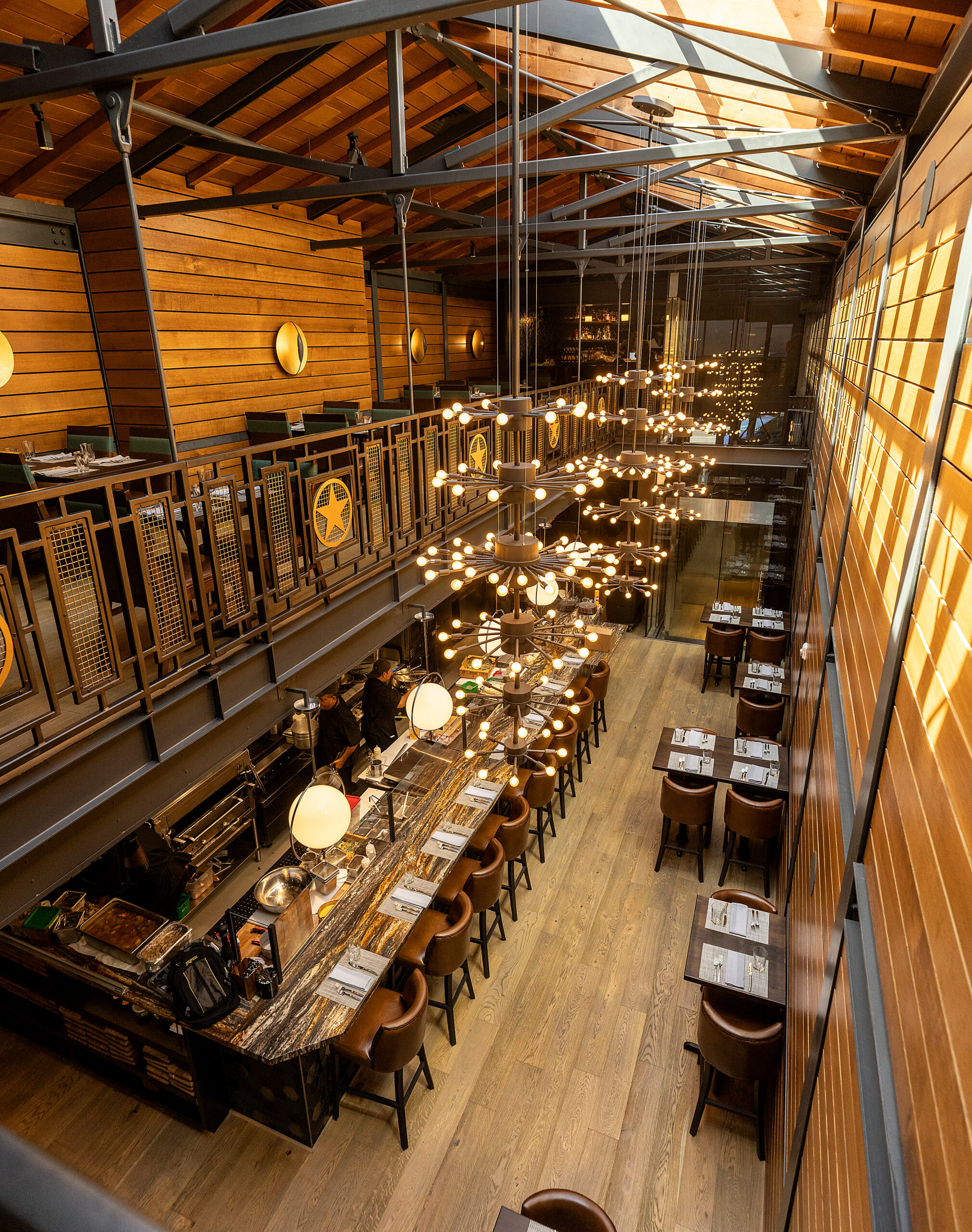 Prices are high at Goodnight's, even for Healdsburg, though when asked about the prices, Lawrence said he feels they're in line with those at other restaurants in the area. I'm not entirely convinced, but Lawrence explained his careful preparations and attention to detail in such a charming, forthright way that I couldn't help but hear him out. That care and precision in the kitchen are what Lawrence proudly hangs his toque on.
"No matter what I do, it has to have a David Lawrence twist. … I want to bring here what I've learned over the last 40 years, and that's still evolving," said Lawrence, who cuts an imposing figure with his black chef's coat and close-cropped salt-and-pepper hair and beard.
The menu includes a 42-ounce dry-aged bone-in tomahawk steak for sharing ($200) and plenty of seafood, including oysters ($22), a prawn cocktail ($28), seafood platter ($140), caviar ($120), wild pan-roasted sea bass ($42) and lobster thermidor ($65), a classic French dish that's come into and gone out of fashion for nearly 200 years.
"Thermidor, to me, is something that was lost. Why not bring it back?" Lawrence said. The poached lobster is picked from the shell, bathed in butter and cheese and stuffed back into the split tail with a glaze of sabayon (a custard-like sauce).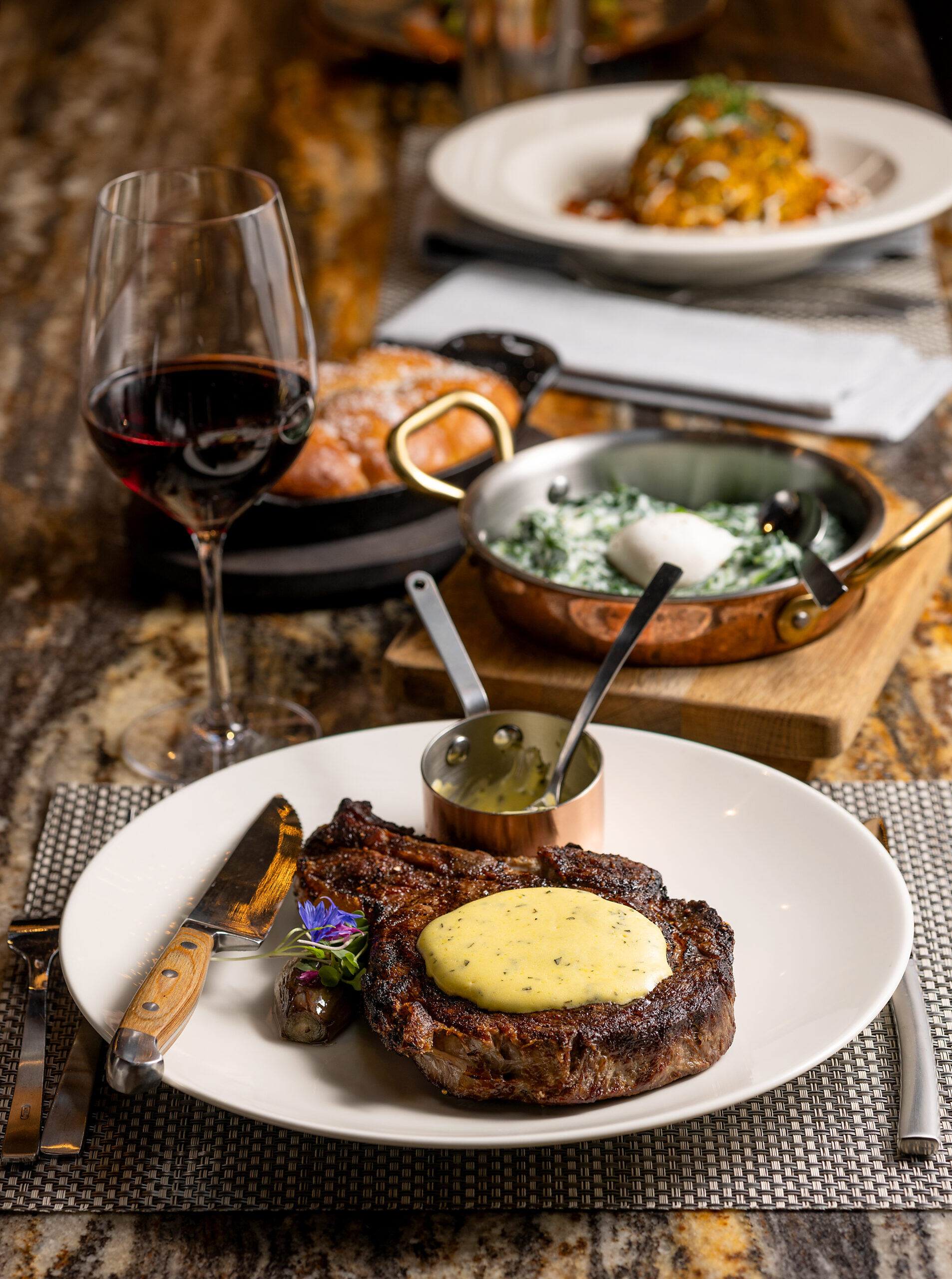 There's no question, however, that the steaks are the big draw here because if you're going to eat a steak, by all means, do it right.
The 25-ounce rib-eye ($65) is sumptuous, expertly cooked and seasoned — and, I think, a good value for a lot of meat. More delicate cuts, like Japanese Wagyu ($60), New York strip ($72), Bavette ($28) and boneless rib-eye ($83), are also available.
Well-crafted vegetarian dishes like the exceptional Muhammara roasted cauliflower, seasoned heavily with za'atar seasoning, are a nice departure from beef.
The upscale cowboy-steakhouse feel goes beyond the menu and the prices, however. The absolute best view of the restaurant, said Lawrence, is from the glass elevator that connects the downstairs and balcony seating. From there, you can see the modern chandeliers that evoke a starry night on the plains. Glowing moons of incandescence move the eye to the open kitchen. You might even notice the light fixtures outfitted with old Smith & Wesson rifles (I'm not sure how to feel about that).
There's a hidden bar nestled into the back of the balcony that's one of the best (and very clandestine) seats in the house. The whole setup inspires awe, partly due to how much money went into the luxe decor, including the menus with leather covers that smell like an expensive purse.
"The beauty of this project is the blessing of this project, and I'm honored to be part of this," Lawrence said.
Everywhere, stars in the style of an Old West sheriff's badge greet visitors, making it clear there's a new steakhouse in town with an itchy trigger finger to impress.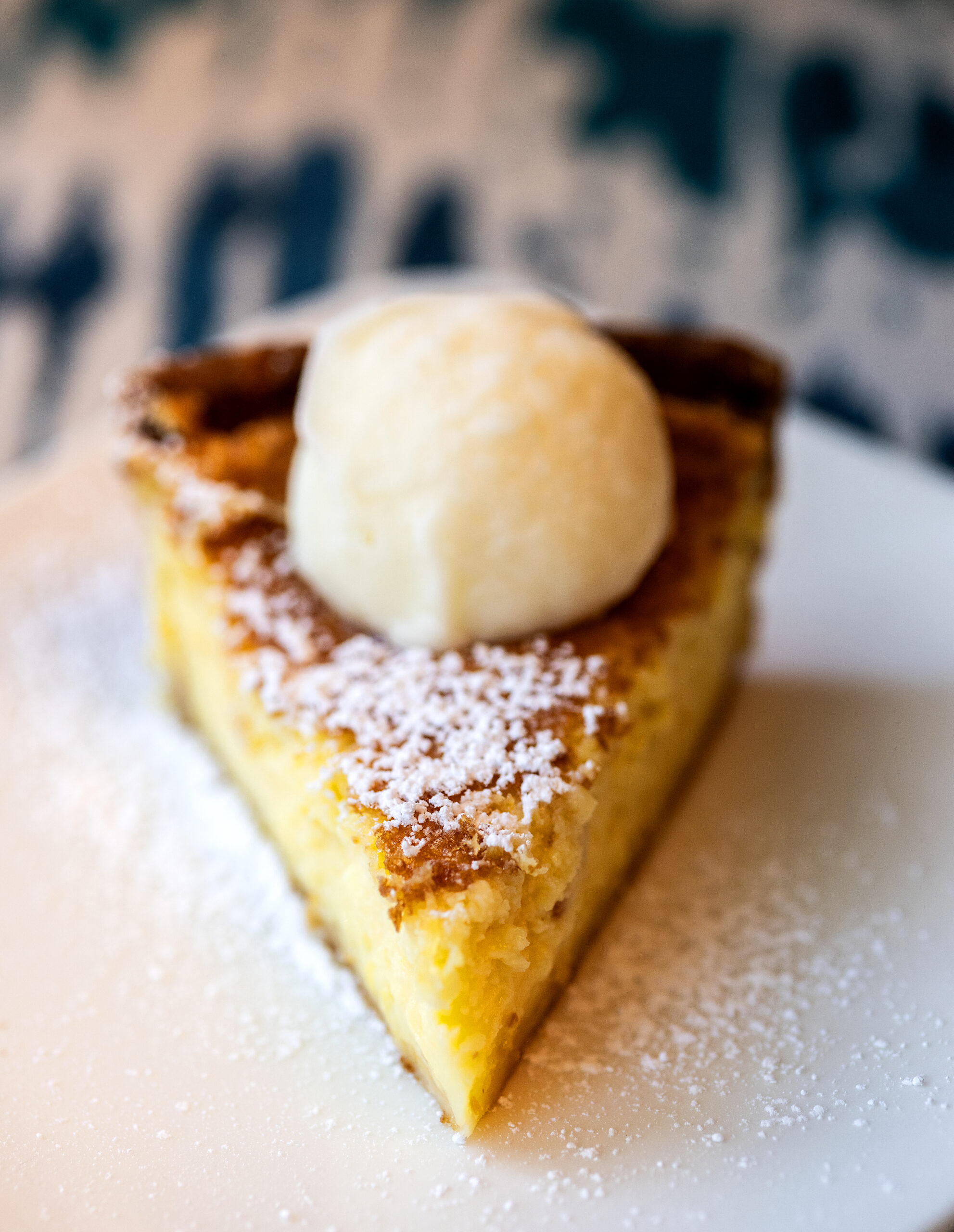 More Best Bets: Meat and seafood are the stars of the show, but there is plenty more to recommend.
Yellowtail Hamachi ($26) is like the best sushi you've ever had atop a puddle of carrot ginger puree. Often dishes like this skimp on the quality of the fish by covering it with a heavy sauce. Here, the fish truly shines.
Crispy Maitake Mushrooms ($21) is the only fried dish on the menu. The tempura-coated mushrooms come with a delicious avocado chimichurri dip that's a perfect pairing.
Parker House Rolls ($10) are like marshmallows in bread form. These are best-in-class rolls topped with herbes de Provence. Slather with cultured butter.
Chalk Hill Farm Estate Salad ($16), a simple green salad with lavender vinaigrette and tarragon, makes the most of produce largely sourced from Foley's Chalk Hill Farm Estate.
Whole Roasted Cauliflower Muhammara ($26) isn't just for vegetarians. This stunner, with earthy and savory za'atar spices, easily stands out. A slight sweetness of golden raisins would have been a perfect addition.
Side dishes ($18) are the heart and soul of steakhouses. Familiar (and required) menu items include wild mushrooms, smashed potatoes fried in duck fat, grilled rapini and macaroni and cheese. For me, it's all about the creamed spinach with a poached farm egg and Yukon Gold potato puree.
Cocktails lean heavily on whiskey and Bourbon, but an extensive menu of American, Japanese and other international liquor selections are aimed at connoisseurs. If you're jonesing for a martini, they've got you covered. The Molly's Vigilante ($16) with bourbon, apple puree, lemon, simple syrup and bitters is our choice for a pre-dinner sipper.
The wine list is, not surprisingly, heavy with Foley portfolio wines. Mixologist Devon Espinosa heads the lighthearted beverage program. Chef Lawrence's favorite wine is the Brown Estate Chaos Theory red blend from Napa Valley.
113 Plaza St., Healdsburg; 707-543-1000, goodnightsrestaurant.com