Over the past decade, cider makers have led the charge in rejuvenating local orchards and bringing back the apple — albeit in a liquid form. Thanks to the growing popularity of hard cider, it's clear that they're succeeding, and nowhere is that more evident than in Sonoma County. To celebrate the noble fruit and the wealth of spectacular cider makers in the region, here's our list of local cideries worth noticing.
ACE Premium Craft Cider
ACE is a family-owned Sonoma County company that released its first cider in 1993. Through the years, ACE has continued to evolve and grow into a nationally known brand while hanging onto its Sonoma County roots.
Owner and founder Jeffrey House and his sons like to keep things fresh, adding new, unique flavors and seasonal offerings such as their recently released Hazy Hop cider, an unfiltered and dry-hopped cider, and their just-released seasonal pumpkin cider.
Despite its distribution across the country, ACE still operates a cider pub where locals can buy its fermented drinks directly. It's open from 1 to 5 p.m. on Fridays, when you can stop by to grab a quick pint, fill up a growler, and enjoy some live music. If the cider is flowing and the pub is full, they may keep the doors open a little longer.
Tasting flights of all nine varieties of cider are $10. The pub is behind the company's production facility.
2064 Gravenstein Highway N., Sebastopol, 707-829-1101, acecider.com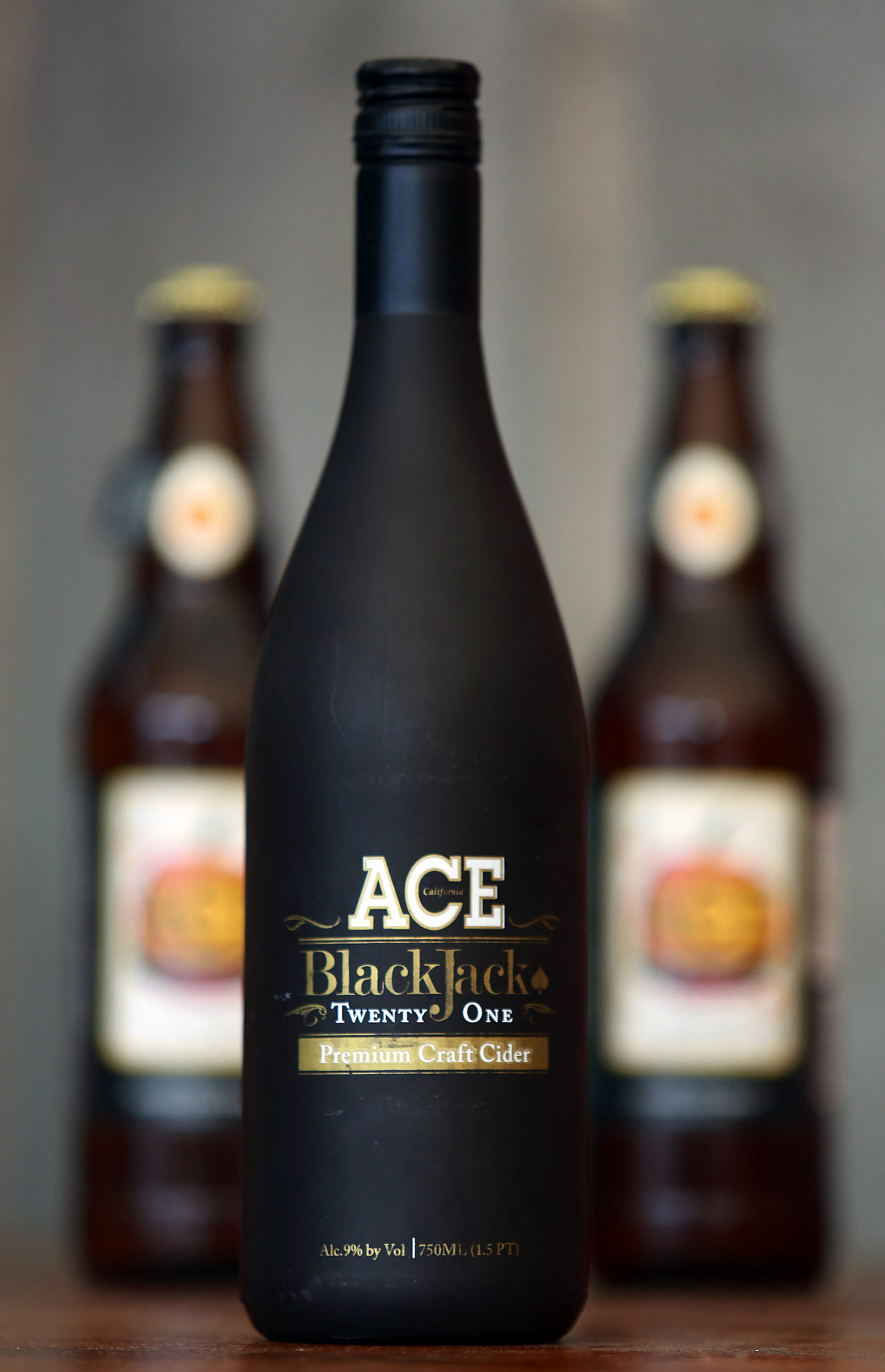 Ethic Ciders
Ned and Michelle Lawton bought their Sebastopol heirloom apple farm in 2016 and launched Ethic Ciders shortly thereafter.
Now in their second year of production, the couple makes some 2,000 cases of heirloom cider using 100 percent organically and ethically farmed fruit sourced from their own cider apple orchard and neighboring apple farmers. The Lawtons are strong proponents of regenerative farming and like to explore strategies that both heal the land and increase the quality of the apples grown at their orchard on Occidental Road.
"We hand-press many of our bittersweet apples from the home orchard, and they go into our ciders as blend components," Lawton says. "We grow Nehou, Wickson's, and Porters Perfection, to name a few that come from our home orchard."
For the rest of the apples, the Lawtons use the commercial apple press at Rattzlaff Ranch in Sebastopol, then ferment and bottle the juice in Petaluma.
Ethic ciders are available in bottles at Oliver's Markets, Whole Foods, Community Market, and Fircrest as well as on tap at Whole Foods Coddingtown, Community Market, and Bottle Barn.
The ciders — Montage (a blend of heirloom and bittersweet apples layered with wild harvest pears and crab apples), Gravitude (Gravenstein), Golden Rule (Golden Delicious), Scarlett (a pink cider made with boysenberries and raspberries), newly released Zest (a dry cider with blood orange, tangerine, and rosehips) and Warren Perry (a single varietal pear cider) —
can also be purchased on the company website.
967 Transport Way, Petaluma, 415-717-4416, ethicciders.com.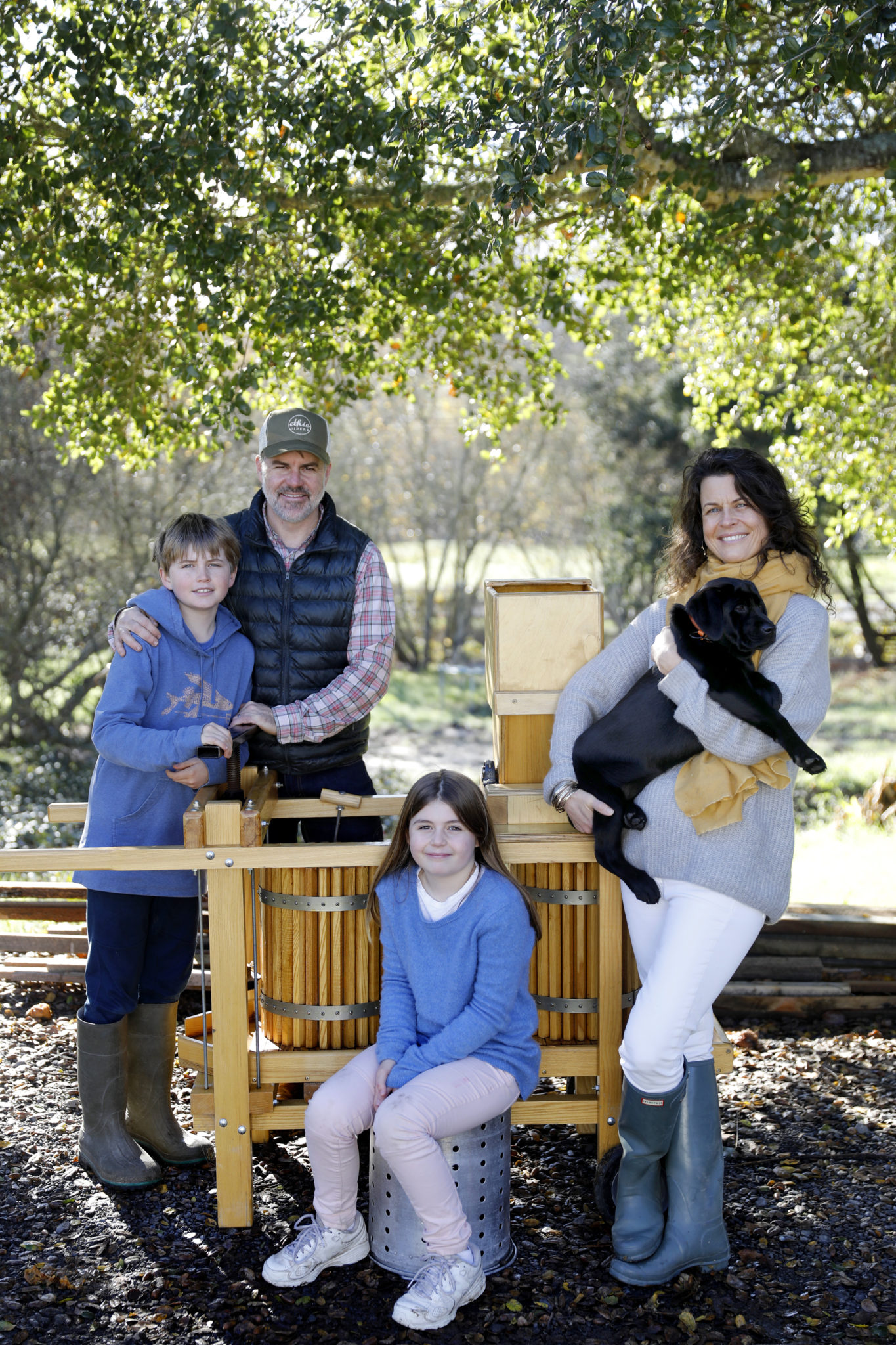 Goat Rock Cider
Good friends Paul Hawley (of the Hawley Winery family) and Trevor Zebulon (of Terrific Tours) decided to put their love for dry, crisp Sonoma County hard ciders to good use and start their own company a couple of years ago. The idea was hatched while they were hiking near one of their favorite Sonoma coast spots, Goat Rock State Beach, so the name seemed fitting.
With Hawley's background in winemaking and Zebulon's penchant for home wine, sake, and cider brewing they soon came up with what they thought to be the perfect dry cider recipe. They officially launched their first commercially available ciders at Cider Summit SF in April of this year. Their mission is to make clean, dry cider from organic apples and offer them at a reasonable price. This means not having employees and distributing their own ciders to save the margins they'd otherwise lose with wholesale sales.
Before their launch, Goat Rock had produced around 500 cases over 2017 and 2018. They say demand is driving an increase in production, estimated to hit about 2,500 cases by the end of 2019. The ciders are sourced from 100% organic Sonoma County apples, predominantly from Sebastopol. They are available locally at Bottle Barn and Wilibees Wine & Spirits in Santa Rosa, Oliver's Markets (Windsor, Cotati, and the Stony Point Road store in east Santa Rosa), Shelton's and Big John's in Healdsburg, Andy's Market in Sebastopol, and Pacific Markets in Sebastopol and Santa Rosa.
They are also available on tap at these local bars and taprooms: Lagunitas Taproom and Vine & Barrel in Petaluma; Rincon Valley Taproom, Local Barrel, and Walter Hansel Bistro in Santa Rosa; Barley & Bine Beer Cafe in Windsor; and Elephant in the Room and Goat Rock's own tasting room (by appointment only) in Healdsburg.
The ciders — Gravenstein Blend (organic Sebastopol Gravenstein apples), Dry Hopped (organic Sebastopol apples fermented with plenty of hops), and Rosé (a bone-dry apple cider co-fermented with Hawaiian passion fruit) — can also be purchased (and picked up) directly. Orders are accepted by phone and email.
107 W. North St., Healdsburg, 707-409-0738, goatrockcider.com.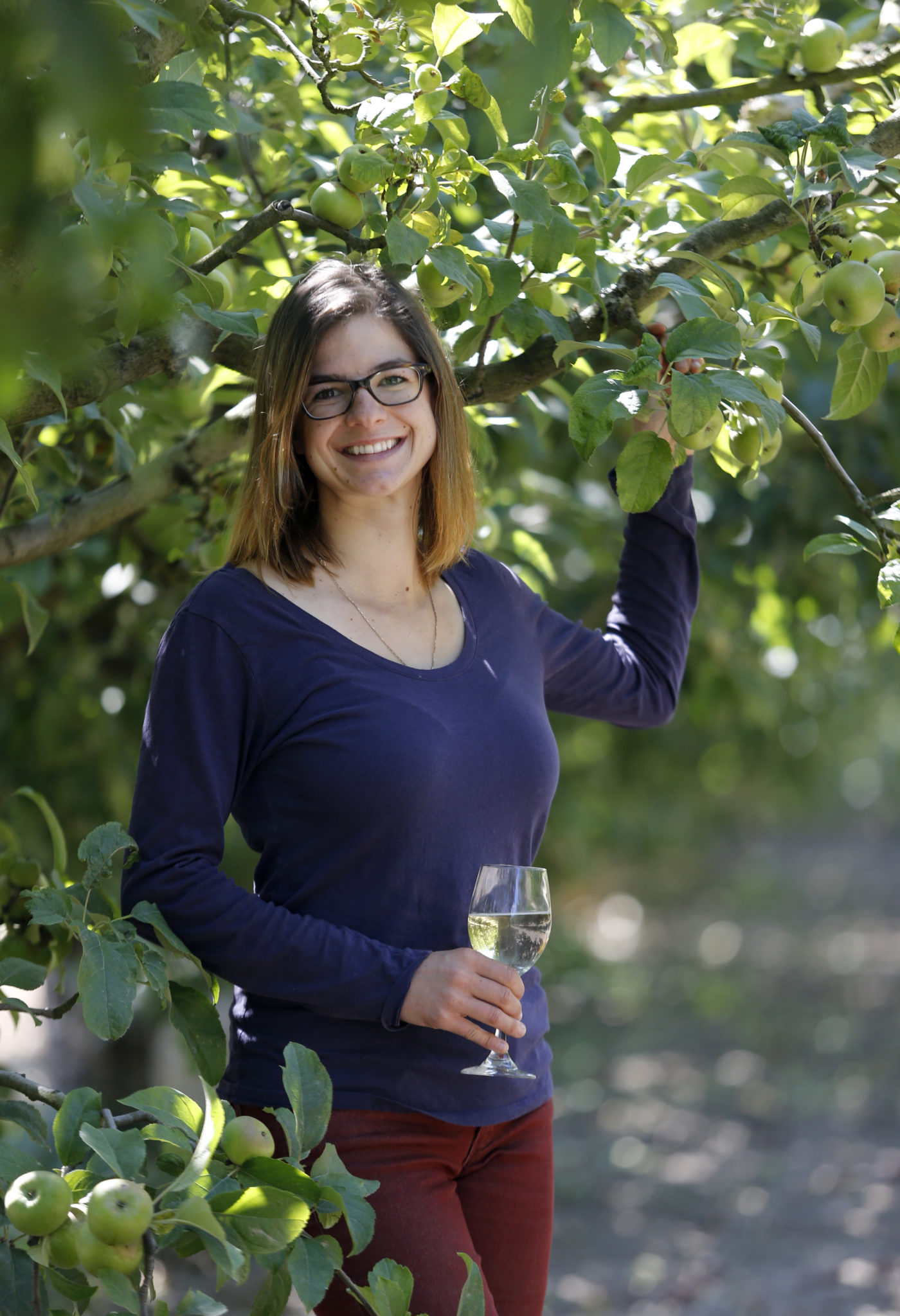 Golden State Cider
The Devoto family has been farming apples since the late 1970s, when Stan and Susan Devoto planted themselves, along with 50 varieties of heirloom apple trees, in western Sonoma County.
Daughter Jolie Devoto-Wade, along with her husband, Hunter Wade, launched their own cider project in 2012 using the rare heirloom apple varieties that the Devotos had grown for decades. That cider project eventually developed into Golden State Cider, and last year, all Devoto ciders became part of the Golden State Cider brand.
In order to meet production demands and maintain a reasonable price, Golden State ciders now include apples sourced from regions outside of Sonoma County, primarily from the Pacific Northwest.
For those who prefer to drink local fruit, there's a special Harvest Series that features ciders made only from organic Sonoma County apples. That series includes Save the Gravenstein, a heritage-style cider made exclusively from Gravenstein apples grown in the Sebastopol hills.
"It's the largest program we've ever done with Gravensteins, which we're very excited about," says co-founder Devoto-Wade. "This year we pressed 100-plus tons of local Sonoma County apples."
The Harvest Series also includes Fool's Gold, an aromatic cider made from organic apple varieties grown on Gold Ridge Road in Sebastopol; and The Elder Tree, which features Newtown Pippin and Arkansas Black varieties. Elder Tree is available now; Fool's Gold is currently sold out.
Golden State Ciders are now sold exclusively in cans and kegs and can be purchased online. Elder Tree can be found locally on draft and in bottles at Handline and Community Market in Sebastopol. BevMo's across the state and Oliver's Markets also carry the ciders.
This year, the Golden State team has some exciting plans in the works, including a new taproom at The Barlow in Sebastopol, which opened its doors this summer. The taproom serves hard ciders as well as nonalcoholic versions and offers a light menu with ingredients sourced from the Devoto farm and their west county neighbors.
180 Morris St., Suite 150, Sebastopol, 707-321-1237, drinkgoldenstate.com.
Leaky Barrel Cider
Founded by brothers Bradley, Blake, and Scott Yarger in 2016 as a side project, it remains a small and slow-growing operation. Leaky Barrel produces some 200 cases a year, pressing the apples at Ratzlaff Ranch in Sebastopol and fermenting and bottling at Old World Winery in Fulton.
Thanks to Bradley's experience in the distribution industry and Blake's winemaker expertise, the ciders have been selling out quickly.
The brothers ferment Sonoma County apples using native yeasts then age the ciders in neutral French oak without any added sulfites. Since the ciders are made from whatever fruit is available every harvest season, they vary in taste each year.
Their farmhouse cider, The S.A.S.H. (single apple single hop), is made from local organic Gravensteins and is dry-hopped with organic, whole-cone Gargoyle hops from Hops-Meister farms in Lake County. Their new organic, sulfite-free, and oak-fermented cider, Alrighty Then, was canned over the summer, just in time for Sonoma County Cider Week in August.
Leaky Barrel ciders are sold at Sebastopol Community Market, Barley & Bine in Windsor, Oliver's Markets, Bottle Barn in Santa Rosa, Willibees in Petaluma, Rincon Valley Tap Room, and Beercraft in Rohnert Park.
323-352-3987, halfpintciders.com/leakybarrel.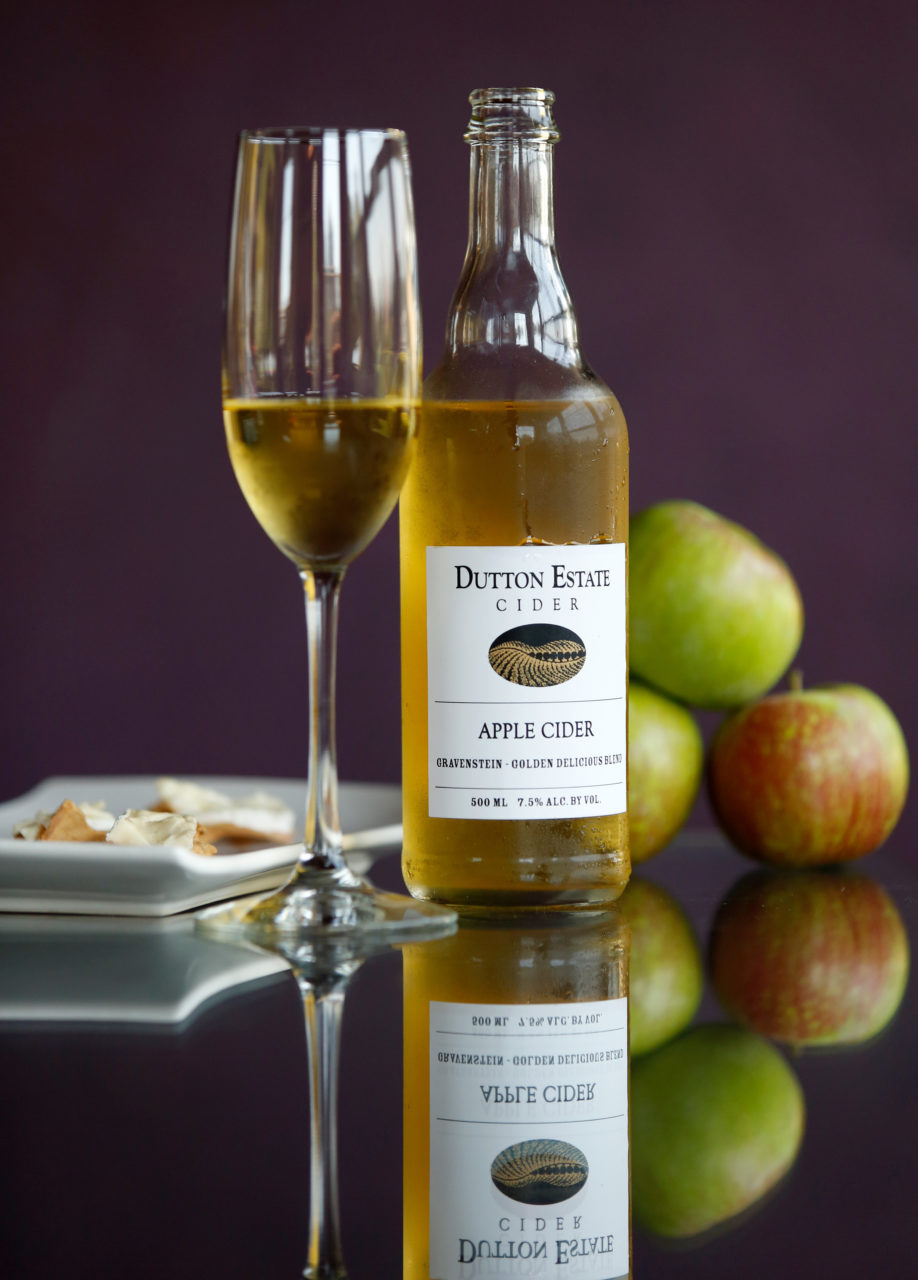 Dutton Estate Winery
The Dutton family has been farming apples at Dutton Ranch, their agricultural headquarters along a stretch of Graton Road, for more than 50 years. Today the ranch, now co-owned by brothers Joe and Steve Dutton, includes about 180 acres of organic apples in addition to more than 1,000 acres of grapes.
Dutton Estate Winery, helmed by Joe and wife Tracy, didn't start producing its own commercial hard ciders until 2015. The winery currently offers two handcrafted ciders: one flagship cider, Dutton Estate Hard Apple Cider, made by blending estate Gravensteins with Golden Delicious, and a limited-production hard cider made from Fuji apples. They are barrel fermented and bottled in beer-sized 500-milliliter bottles.
Because the apples used in these ciders are harvested at different times, they typically sell out before the next vintage is bottled.
The Gravenstein/Golden Delicious cider, which blends the sweet and tart flavors of the two apples, and the Fuji cider are normally both available to taste and purchase at the family's Sebastopol tasting room. However, the Fuji cider is currently sold out.
Dutton Estate Winery is open daily 10 a.m. to 4:30 p.m.
8757 Green Valley Road, Sebastopol, 707-829-9463, duttonestate.com.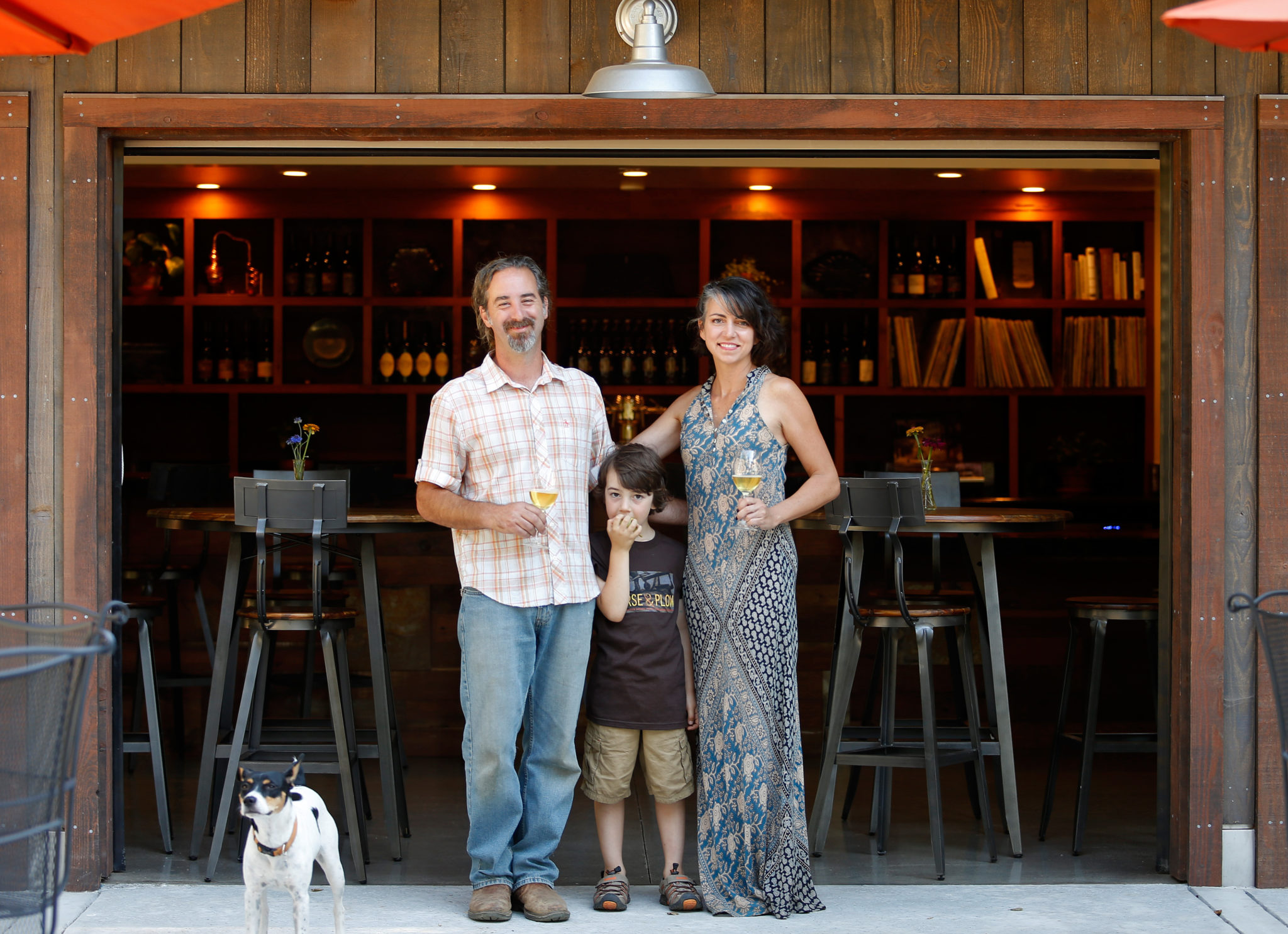 Horse & Plow
Horse & Plow's cider-making business started as an experiment in 2013, when Chris Condos and Suzanne Hagins suddenly found themselves with an abundance
of apples on their Sebastopol property.
The two winemakers decided to make good use of the fruit by creating another fermented drink. Their elegant, blended ciders — fermented separately by varietal — soon garnered a following, and their cider-making business grew. Due to the high demand, they've doubled their production since 2013.
Horse & Plow currently produces some 1,200 cases of cider a year, and releases a new cider — using a different apple varietal and blend — at their Sebastopol tasting barn every couple of weeks. Varietals include Wickson, Jonathan, Swaar/Pippin blend, and Gravenstein.
They offer rotating ciders on tap in their tasting bar, including their Wickson (tart crab apple) or Gravenstein ciders, and new releases such as their 2018 Hops & Honey, a refreshing sparkling cider fermented with — but of course — hops and honey. They host a First Friday event every month in the tasting barn, with live music, food, and cider samples.
The tasting barn is open daily from 11 a.m. to 5 p.m. 1272 Gravenstein Highway N., Sebastopol, 707-827-3486, horseandplow.com.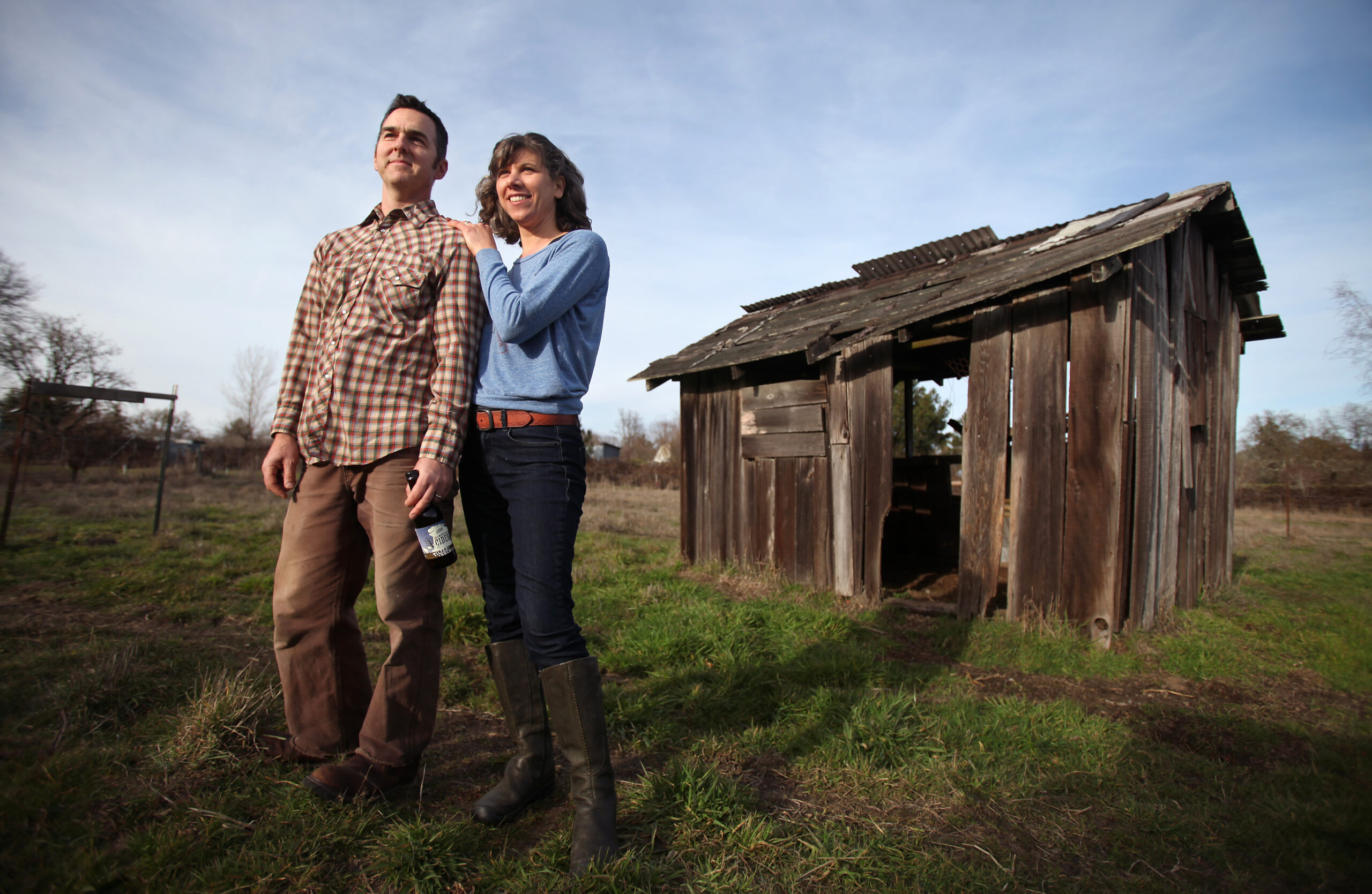 Tilted Shed
Scott Heath and Ellen Cavalli launched Tilted Shed in 2011, and the business has been growing steadily ever since. There seems to be a constant and ever-increasing demand for their terroir-driven heirloom apple ciders, which are available across the state. The company's Cider Club is currently at full capacity, with plans to expand soon.
Now in its eighth year, the cidery has eight different (while supplies last) ciders available at the Windsor taproom as well as for sale online at tiltedshed.vinespring.com.
When they aren't busy apple-farming, making ciders, or assisting customers, Cavalli and Heath are pouring their energy into a variety of cider- and apple-related projects. The couple founded and managed the first Sonoma County Cider Week in August of 2018, and Cavalli presents at countrywide events such as Cider-Days in Massachusetts and the U.S Association of Cider Makers' annual conference. They also launched their own cider-focused quarterly print magazine, Malus.
Tilted Shed Cidery & Tasting Room is open from noon to 5 p.m. Saturdays and for special events. Tastings are $10, waived with a two-bottle purchase. Look for them at the annual Weekend Along the Farm Trails on October 12 (farmtrails.org). In past years they have offered cider-making demos and workshops.
7761 Bell Road, Windsor, 707-657-7796, tiltedshed.com.