John McReynolds, culinary director of Stone Edge Farm in Sonoma, is in his new larder, a temperature-controlled room where he stashes the precious preserved bounty of the organic farm.
The storage room is lined with floor-to-ceiling shelves and Mason jars full of intriguing ingredients, labeled Tomato Conserva and Fermented Red Pepper Paste, Quince Mostarda and Fig and Fennel Pollen Jam.
"Right now, we have a shelf full of vinegars— huckleberry, red wine, apple cider vinegar, and of course, my favorite is the quince vinegar," McReynolds says. "I love to do salads with that, especially in the fall, with some grilled radicchio. There's so much flavor in it."
Like the biodynamically farmed Cabernet, Sauvignon Blanc, and Bordeaux blend wines made by the Stone Edge Farm Estate Vineyards & Winery, the preserved foods require a special environment to prolong their lifespan.
"The important thing is to keep it at a certain temperature, like 65 degrees," McReynolds says. "It's dark — I don't think anything improves by the light."
McReynolds and his staff weave the high-end wines and the labor-intensive larder into a delicious food program that encompasses lunches, dinners, and food-and-wine pairings at Edge,
the winery's private club located in downtown Sonoma. The restaurant is open to the public on special occasions, including every Thursday night for dinner.
"That's where I spend all my time now," McReynolds says of his office at Edge. "It's become the culinary heart and soul of Stone Edge Farm."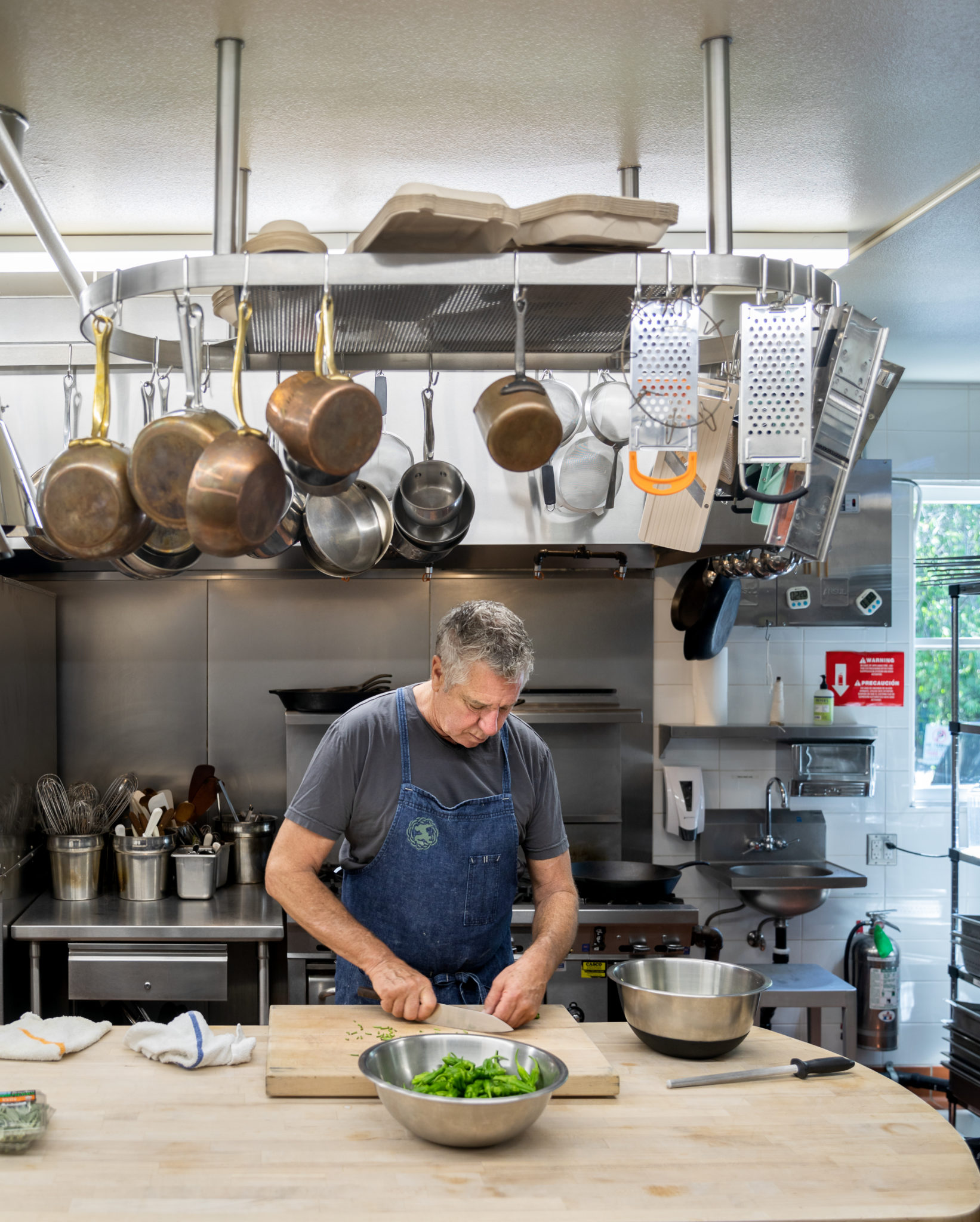 With the help of Edge's Executive Chef Fiorella Butron and Estate Chef Mike Emanuel, McReynolds recently shared recipes for the culinary team's favorite preserved foods in his second cookbook, "Stone Edge Farm Kitchen Larder Cookbook" (Rizzoli, 2019), which hit bookshelves earlier this year.
In addition to providing recipes for interesting products like black garlic and wild fennel pollen dukkah, the three chefs also demonstrate how to transform the larder essentials into a tasty array of seasonal cocktails, appetizers, entrées, sides, and desserts.
"It just evolved and kept getting bigger and bigger and bigger," McReynolds says of his kitchen larder. "And it became more and more important to our daily cooking."
"People want to relegate 15 minutes to dinner, so obviously, I take a different approach. Open a bottle of wine, talk to your wife while you're cooking. It's not an activity to get through. It's the main event."
The book is an addendum to McReynolds' award-winning "Stone Edge Farm Cookbook," a 2013 tome whose mission was to showcase the winery founded in 2004 by Mac McQuown, an entrepreneur who grew up on a farm in the Midwest and launched several businesses in financial services before returning to his agricultural roots.
Since McQuown opened Edge five years ago in downtown Sonoma, McReynolds has seen both his staff and his larder grow, and he wanted to give them their own place in the sun with the new cookbook.
"Fiorella is from Peru, so she's bringing a Peruvian slant – it's the hottest culinary destination in the world," he says. "Mike brought the lineage of chefs from Chez Panisse — he's one of them —so he brings that body of knowledge."
"It just evolved and kept getting bigger and bigger and bigger, and it became more and more important to our daily cooking."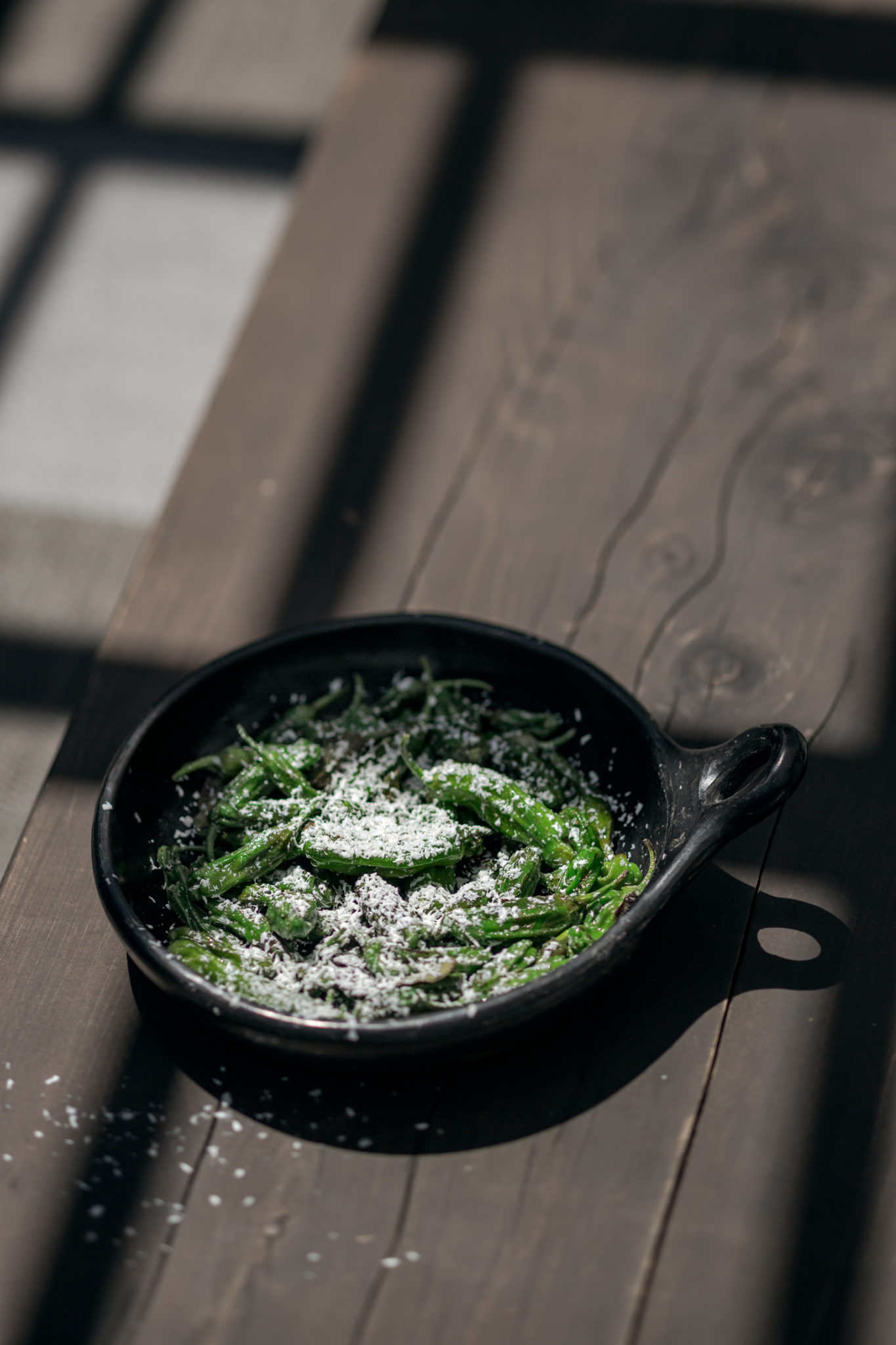 The old-school techniques of food preservation — pickling vegetables, toasting spices, and lacto-fermenting olives — are among the hottest trends for a new generation of chefs.
Both Butron and Emanuel share the fundamentals of fermentation in the book, while Estate Gardener Colby Eierman sprinkles in essays about the key crops that he grows.
"The larder, fermentation, and food preservation is pretty timely in food now," McReynolds says. "We're three cooks and a gardener … it's fun to have a collaboration."
One of McReynolds' favorite fall larder item is Emanuel's recipe for tomato conserva, a reduced sauce similar to tomato paste that bears little resemblance to the commercial version, even the imported stuff from Italy.
"It is the very essence of tomato in a super-concentrated form," Emanuel writes in the book. "Just one spoonful of conserva will make a minestrone soup taste like an Italian grandmother stepped into your kitchen."
To make the conserva, the chefs use a variety of tomatoes harvested from the farm and cook them Sonoma down on the stovetop, then puree and bake them in the oven for six more hours. The result is worth its weight in gold.
"We still have 12 jars from last year," McReynolds says. "If you have it, you are going to use it because it tastes so good."
Peppers are also a mainstay in the fall kitchen at Edge, whether pureed into a fermented red pepper paste or simply toasted into a chile spice mix.
As a fall appetizer, McReynolds likes to char up some Padrón peppers and fresh sage in a castiron pan on the wood-fired grill, then top the blistered chiles with goat cheese from the freezer that he grates over the top.
"I love goat cheese with chiles and peppers," he says. "We utilize a lot of cheese in our food, because those full-flavored, harder cheeses go really well with our wine."
As late summer gives way to the abundant shoulder season of fall, the apples and pears start ripening in the orchard, followed by the quinces and figs.
"If we're going to make fruit leather, we do it then," he says. "We like to dehydrate all the pears, apples and persimmons."
One of McReynolds' favorite appetizers in the book is a Provence-inspired recipe from Emanuel that he calls Fig Anchoiade.
"A staple in Provence, anchoiade is nothing more than anchovies, garlic, and olive oil worked together with a mortar and pestle into a puree," Emanuel writes. "At Edge, we've added walnuts and ripe, earthy figs to create a bold, sweet, and savory spread for toasted slices of rustic country bread."
McReynolds' Quince Mostarda recipe is the perfect foil for fall cheese plates but is equally at home on toasted slices of country bread or nestled alongside a plate of his oak ember-grilled pork chops.
The grilled pork with mostarda is the kind of simple, autumnal dinner that McReynolds has grown to love as he's gotten older. When you already have a larder stocked with the fruits of your labor, it's not hard to make simple food delicious. Just relax and enjoy the journey.
"People want to relegate 15 minutes to dinner, so obviously, I take a different approach," McReynolds says. "Open a bottle of wine, talk to your wife while you're cooking. It's not an activity to get through. It's the main event."