A 400-ton limestone block sliced like a loaf of bread, a 7-foot gorilla hewn from Sonoma basalt: Welcome to the world of Petaluma sculptor Edwin Hamilton, whose life is grounded in the ancient, elemental craft of shaping rock.
They looked like Paul Bunyan's dinner plates, stacked in a back lot at the Wheeler Zamaroni stoneyard just south of Santa Rosa. In fact, those vast discs were pieces of a 400-ton limestone boulder sliced into sections by a giant, industrial-scale saw. Later this year, they'll become part of a massive stone sculpture conceived by Petaluma's Edwin Hamilton.
Hamilton is a renowned stonemason and sculptor—he's twice exhibited at the famed Venice Architecture Biennale—with a longtime home base at an unassuming rural studio in Penngrove. Among the large-scale works greeting visitors is "Berengei," a representation of a gorilla hewn from basalt collected "right over there," said Hamilton, pointing east to nearby Sonoma Mountain.
Finished works dot the gardens, while masonry tomes and hand tools fill a small cottage Hamilton built around the framework of an existing century-old water tower. Scattered on a table near the woodstove are stones comprising the mini-arches he's taken to his daughters' school—Hamilton and his wife have a 13- and 9-year-old—to teach them and their classmates about keystones and buttresses.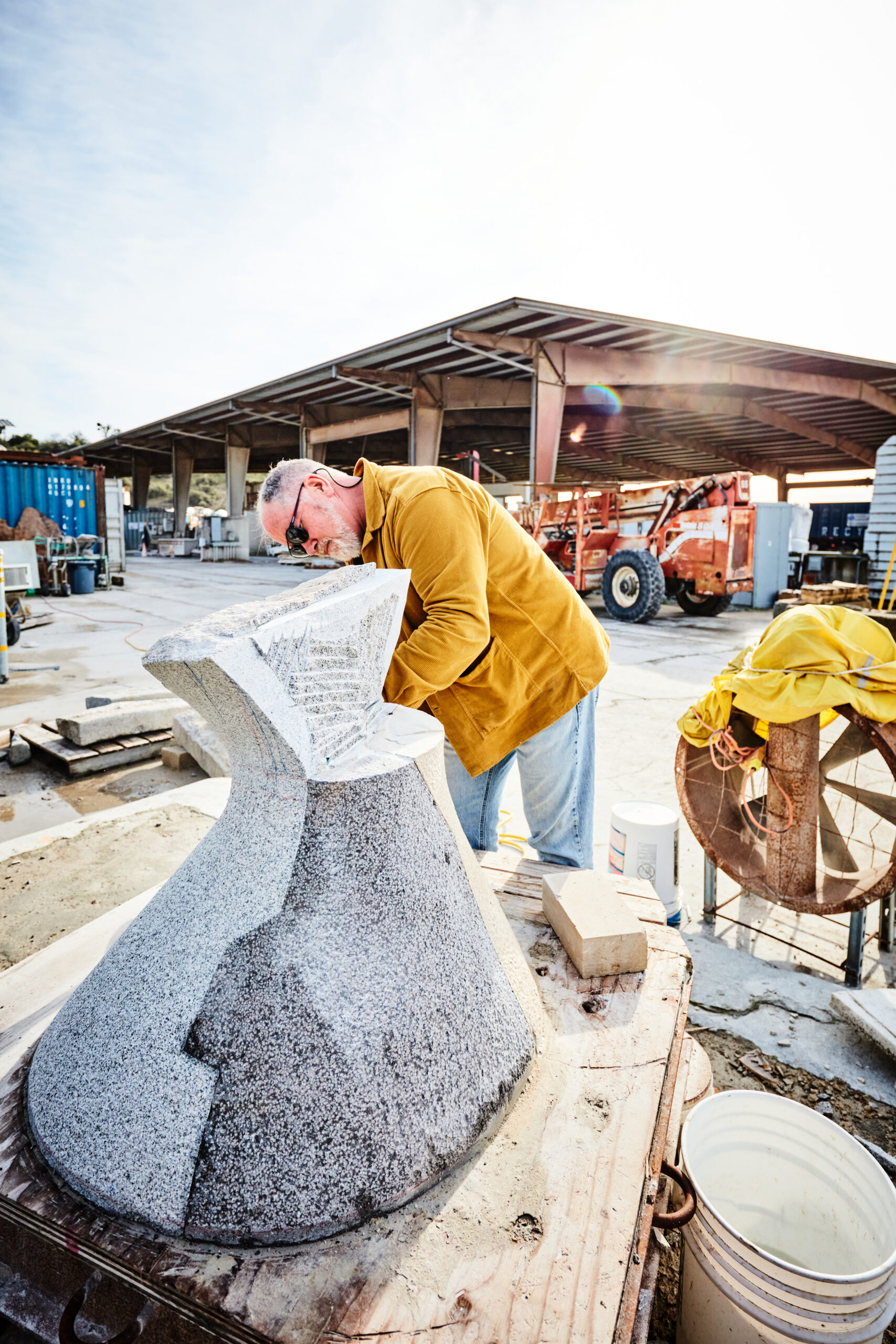 Part of his purpose, as Hamilton sees it, "is to keep the torch lit"—to keep his craft alive and thriving, and, while he's at it, add his own interpretation.
His four-decade journey in the practice of shaping and placing stone got off to a humble start. In his early 20s, Hamilton worked as a basic stonemason, building walls and pathways for landscape projects, moving into fine art and sculpture later in his career. He draws inspiration, according to a recent artist's statement, from "simple forms found in the natural world, reimagined in complex assemblages."
Whether an Incan-built fortress in Peru or the astounding York Minster in England, Hamilton has been gobsmacked by ancient stonework he's encountered in Europe and South America—massive cathedrals and great walls, painstakingly shaped by hand and often fit together without mortar. On the northern outskirts of Cusco, he recalls one 120-ton stone "fit with a 60-ton stone, then a 40-ton stone on top of that. And they're fit better than anything I ve ever done. And they had no steel, no diamond saws, no pneumatics. It's mind-blowing."
After a dozen or so years traveling and learning stonemasonry—his journeyman's phase, Hamilton calls it—he'd acquired the skills that allowed him to range into the realm of sculpture. Now, whether he's working in masonry or sculpture – he is reluctant to draw a line between the two, explaining that each feeds the other – his goal is to capture the soul-stirring wonderment he experiences in the presence of the grand works of the ancients.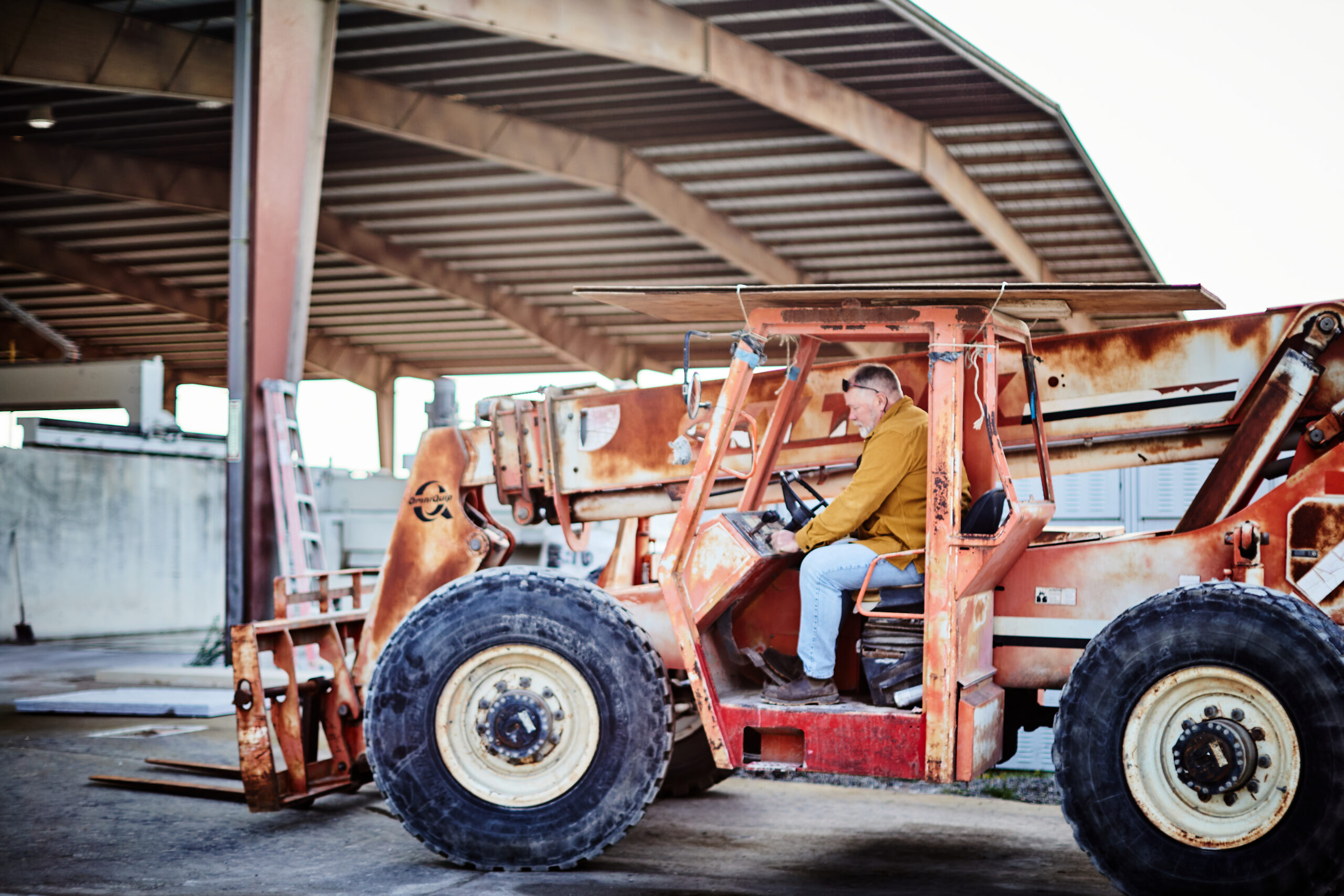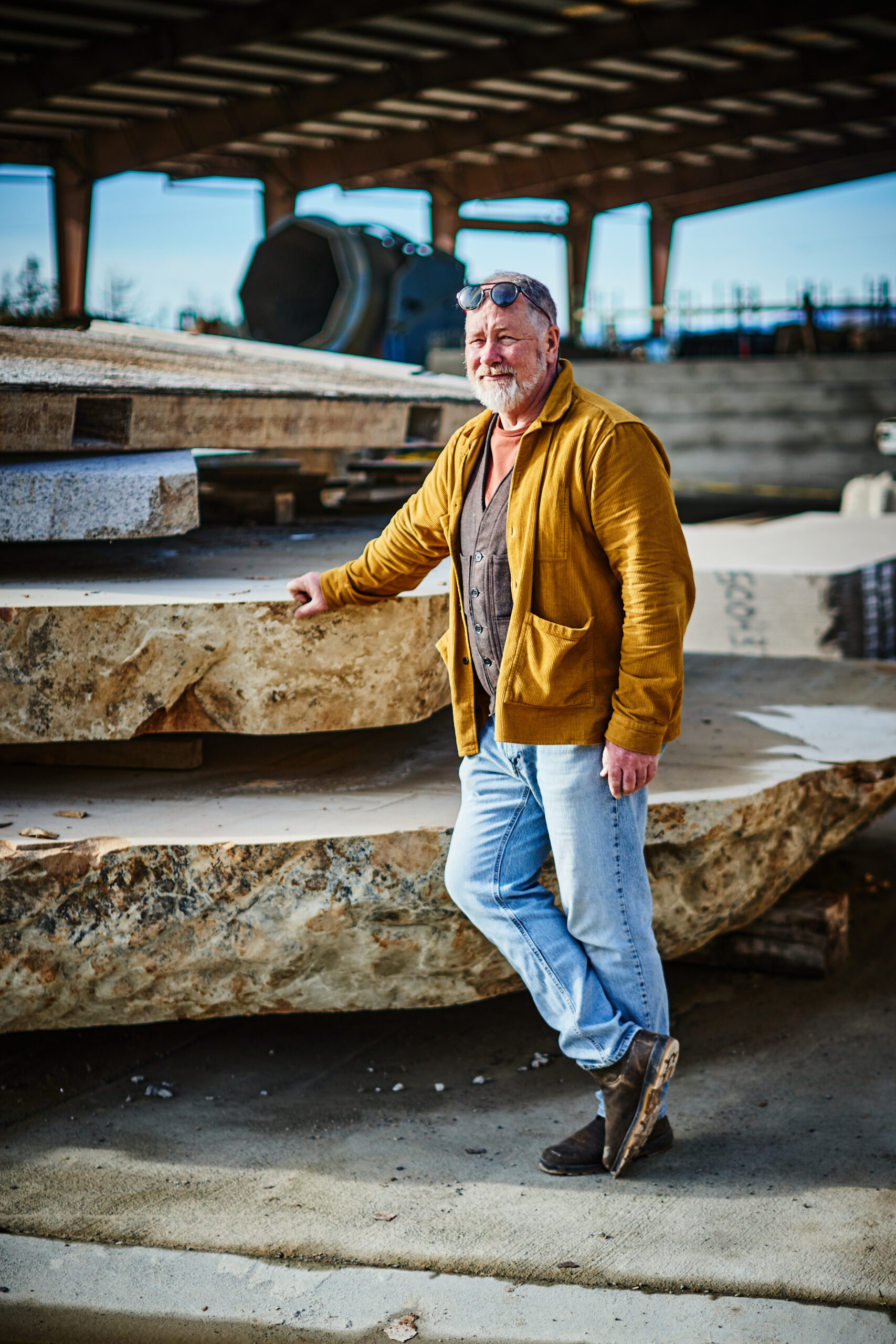 The longer Hamilton works in stone, the larger the projects that come his way. An updated artist's statement might include the addendum: "Go big or go home."
One early commission, first outlined by the late artist Anna Valentina Murch in the dust on the windshield of Hamilton's pickup, took shape in four "very large chunks of granite," the biggest of which was 12 tons. It took him a year to finish the four large granite water vessels, which now sit outside the civic courthouse in Queens, New York.
At the time, Hamilton reflected, he was working with what he thought were "enormous" stones. And now, he says, inclining his head toward those Bunyanesque sections at Wheeler Zamaroni, "I'm doing a project that is truly on the scale of the ancients." The project is also a secret. Hamilton was required to sign a non-disclosure agreement by the party commissioning it. "This is my moonshot," he says with a rueful smile, "and I can't say anything about it."
Bigger projects are sure to follow. In 2019, he was elected to the prestigious, London-based Royal Society of Sculptors, which technically makes the current King Charles III his patron.
"Not bad," says Hamilton, "for a kid from Beaver Falls."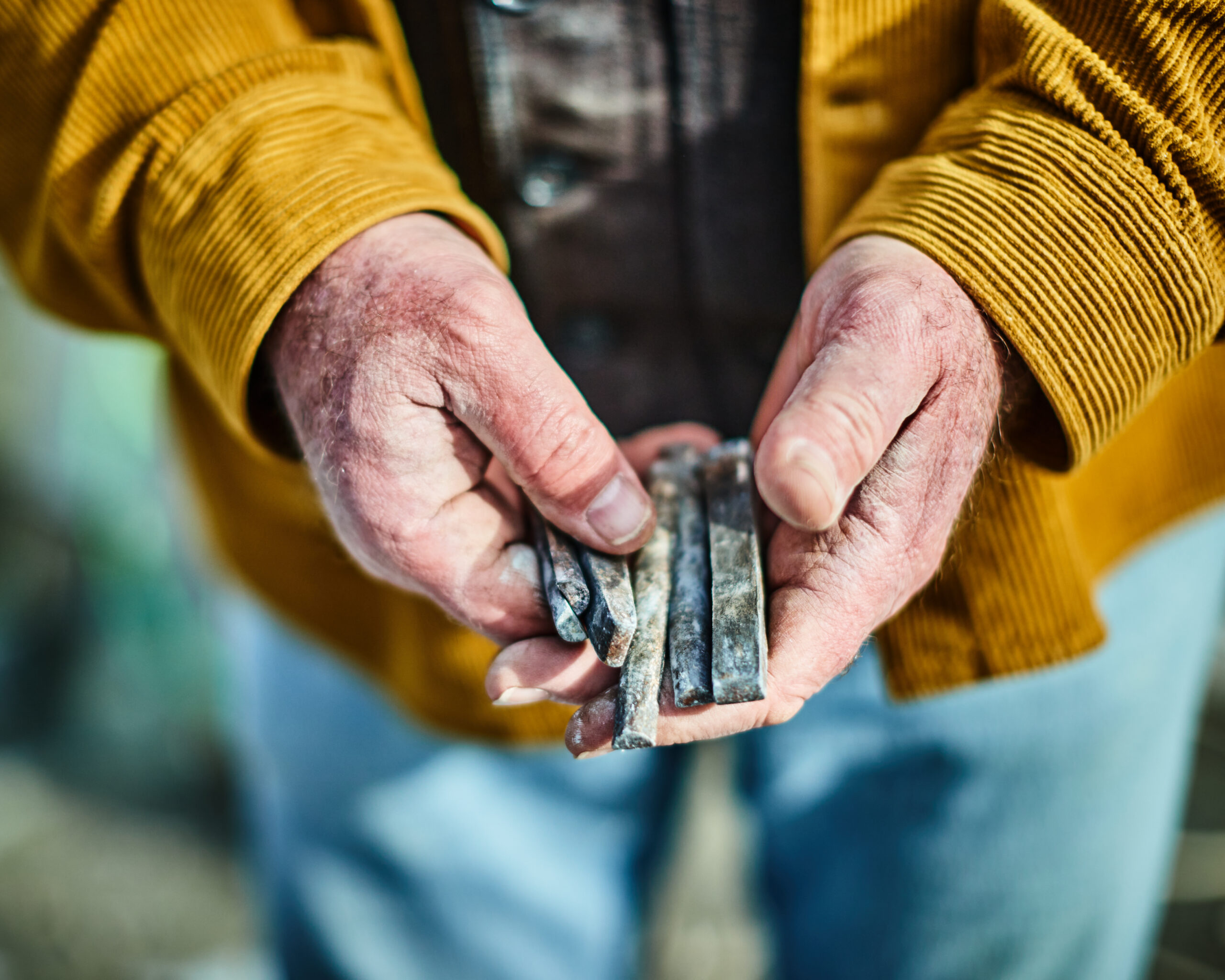 Born in the western Pennsylvania town that gave the world Joe Namath, Hamilton attended high school in New York, where he was an all-state offensive tackle. That's right, before he became a mason and artist, pushing the boundaries of his field, Hamilton excelled at a different activity—one that also required brute strength, occasional finesse, and plenty of pushing.
Football, he recalls, "was my thing." College, it turned out, was not his thing. After two years at UC Davis, he migrated to the Bay Area in 1982. "Like a lot of folks, I was just kind of searching," says Hamilton, who ended up in west Marin County. There he befriended a blacksmith who opened Hamilton's eyes "to the world of craft, and people working with their hands," and introduced him to a pair of local stonemasons.
"A properly built stone wall relies solely on gravity for its strength. It is a guardian of the true." – Cormac McCarthy, from "The Stonemason"
Right away, he was smitten. The offensive lineman in him loved the heft of the stones, "the physicality" of the work. Seeing how serious and talented he was, his mentors urged him to travel in Europe. In 1984, he flew to London and started hitchhiking. When motorists asked where he was going, Hamilton would reply, "I don't know. Where are you going?"
Hamilton was thumbing around the Outer Hebrides isles of Scotland when he was picked up by a London actor who'd recently starred in a hit TV show and, flush from that windfall, had purchased a home in the area. When the thespian found out his hitchhiking passenger did stonework, he invited the American to stay for a while. "I ended up spending four months on the Isle of Harris," Hamilton recalls. "And I built a bridge for him."
Like striations running through a slab of granite, this pattern has repeated itself throughout Hamilton's adulthood: he opens himself to new projects and experiences, and the universe provides. A few months after leaving the Hebrides, he knocked on the door of a fellow stonemason, an old friend of one of his Bolinas mentors, who was reconstructing a centuries-old French farmhouse. "I showed up there penniless, and they put me to work," recalls Hamilton.
Each morning, he pushed a wheelbarrow into a nearby field, loading it with stones. "You bring it back, you're making your own lime mortar, and that's what you're building the house from."
"It's of the earth. It's one of the oldest methods of construction humankind has ever come up with."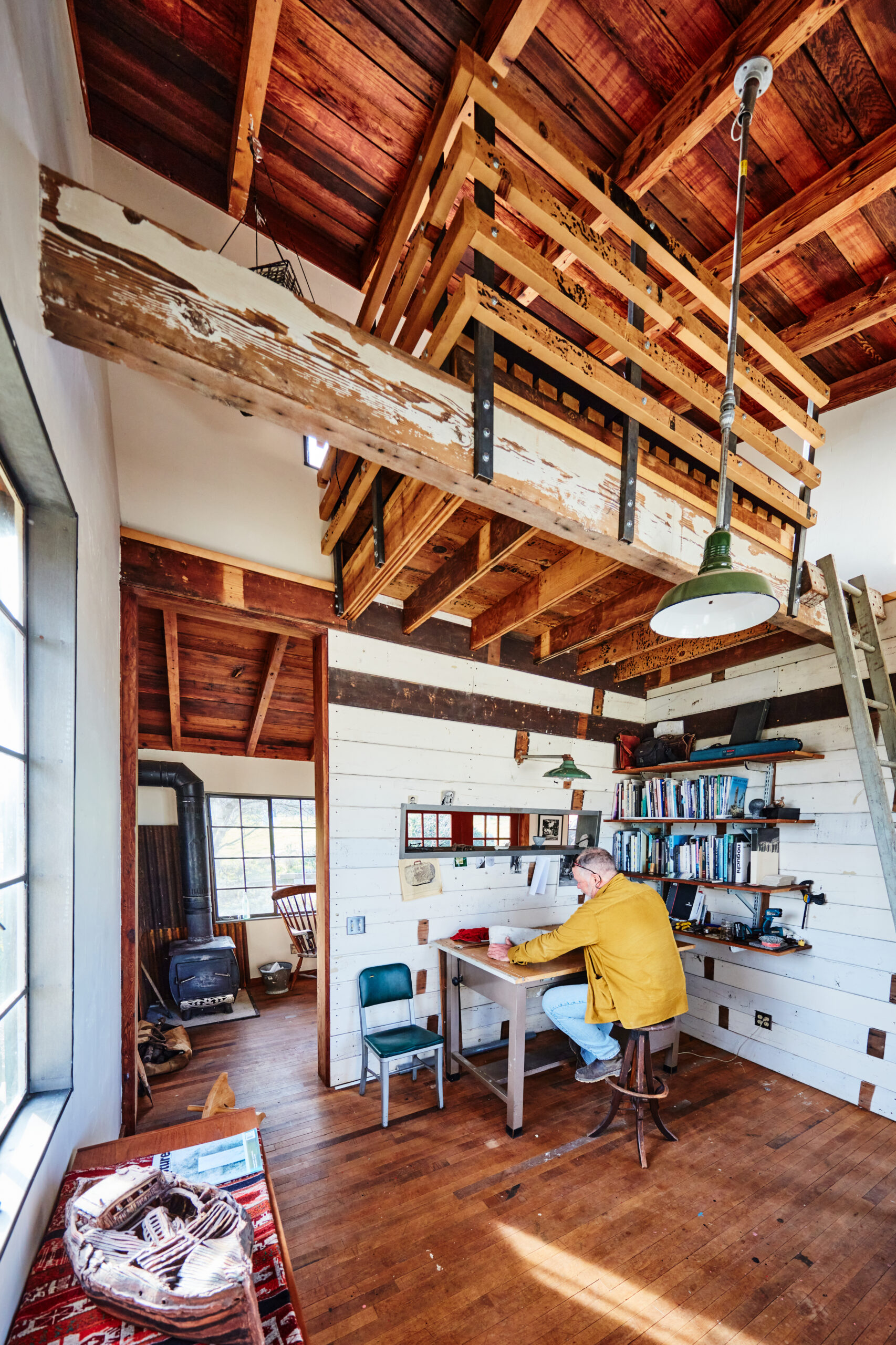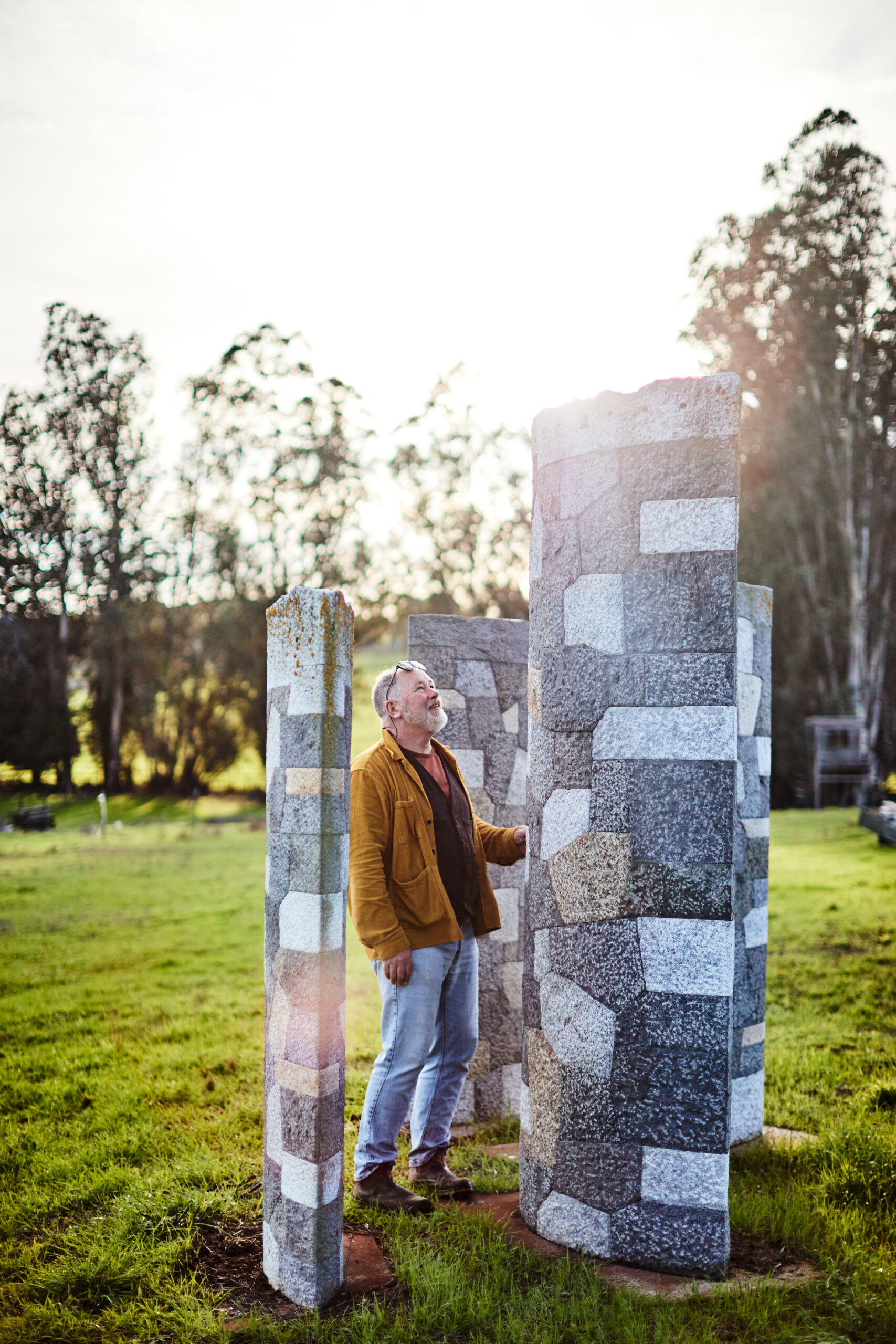 One of the best descriptions of his craft, says Hamilton, is uttered by a character in Cormac McCarthy's 1995 play, "The Stonemason": "A properly built stone wall relies solely on gravity for its strength. It is a guardian of the true."
True, Hamilton works with giant cranes and saws and even a pneumatic hammer to "texture" a piece of granite. But for a large percentage of his work, he uses the same tools stonemasons have wielded for centuries: a striking hammer and a set of chisels. His hammer is Stanley, nearly 30 years old. His chisels are made by the Trow & Holden Company of Barre, Vermont.
"This is one of my favorites," he says, holding up a hammer called a malpeggio – a combination of the Italian words for "bad" ( mal) and "worse" ( peggio ). "Because if you hit finger this way"—with the blunt face— "it's bad. And when you hit your finger this way"—with the sharper end—"it's worse."
He has to periodically raise his voice in the stoneyard to be heard over the rumble and beeping of forklifts and the strident whine of diamond sawblades cutting rock. Nearby, a pair of craftsmen, Rolando Cruz and Jairo Quintas—each a finely skilled artist in his own right—use drills and chisels to help shape Hamilton's designs.
Stone sculpture is generally "a reductive process—you're taking material away," says Tomas Lipps, one of Hamilton's early mentors, who founded the Stone Foundation in Santa Fe, NM. "But Edwin went at it a different way. He's doing assemblage with the pieces he's carved. It's additive. He's taken what I gave him and gone beyond it. He's taken it to a level few other people do."