We had barely stepped through the front door at Timber Cove when a hostess handed us glasses of ginger ale spiked with fresh ginger and a touch of cayenne. The crisp, spicy drink couldn't have been more welcome after our long drive up California Highway 1 to the middle of nowhere.
Getting to this landmark property is a spectacular jaunt, breathtaking with views of the Pacific Ocean. But it also can be stomach unsettling, thanks to hairpin turns in skinny lanes edging the cliffs past Jenner. The joy ride is part of the reason that, for 53 years now, this redwood and stone resort has been a beacon for guests in search of solitude, and a bit of adventure.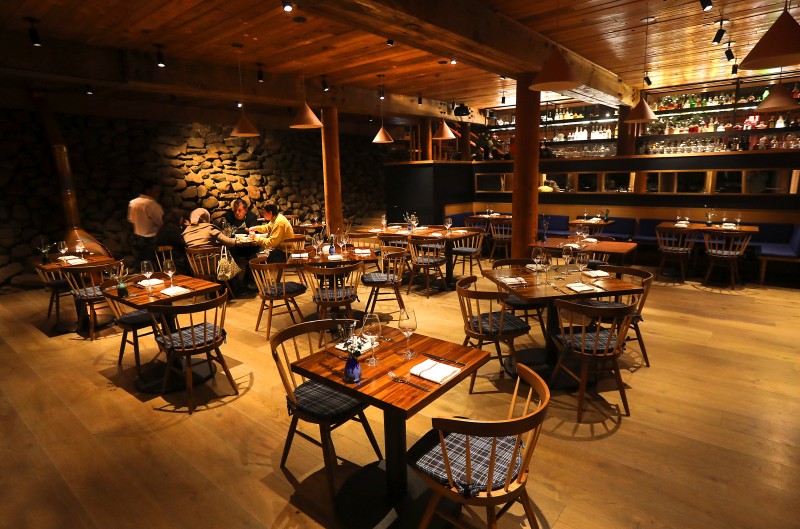 The sense of arrival is all the more exciting now, following an extensive remodeling that also welcomed a new restaurant. Coast Kitchen has replaced the faded Alexander's, and now we have ample reason to make the trek even if we're not staying over in one of the 46 newly redone, elegant rooms.
That complimentary sparkling beverage is the first sign that details have been thought through. New chef Phillip Kaufman (San Francisco's One Market, and Laguna Beach's Hush) impresses with an inventive menu that artfully balances expected California dishes with novel twists, and showcases coastal flavors dressed in dramatic accents.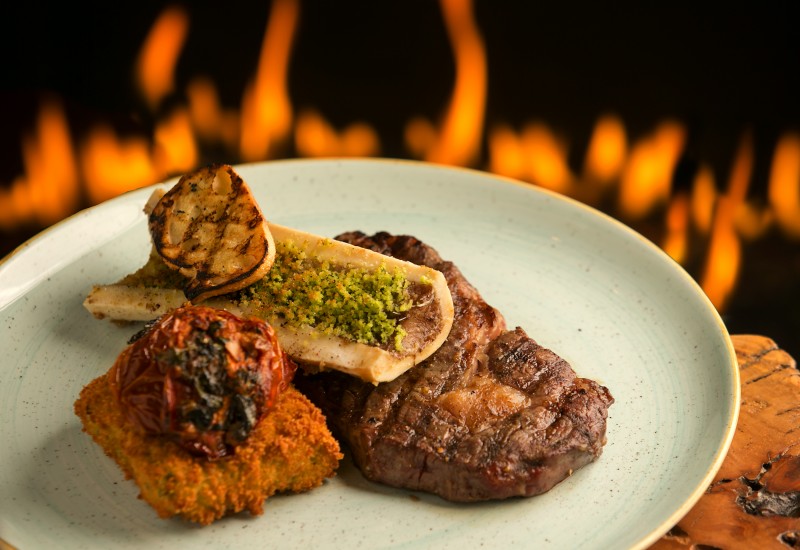 An oceanfront restaurant would have to offer local King salmon, for example, but here the silky fish is brightened by smart accompaniments of balsamic roasted red onions, lentils, tangy sorrel salad, pickled shallots and a bit of lemon oil ($25). Those vinegar and acid notes play marvelously against the fatty fish.
At first glance, the dining room doesn't suggest an upscale experience. The 54-seat space is set downstairs from the sumptuous, soaring A-frame ceiling lobby rich with spectacular wood rafters, an enormous stone fireplace, a huge bleached antler chandelier, eclectic retro and tree trunk furniture, and a long, sleek wood full bar.
It's a let down, really, to see bare wood tables and chairs set with blue plaid tie-on cushions — the look is casual bistro-style. A piled rock wall brings sharp edges, while the wood ceiling with heavy wood rafters, a wood accent wall and wood floor create a crate-like feel. The best décor comes from the ocean views, captured via a wall of floor-to-ceiling windows and French doors.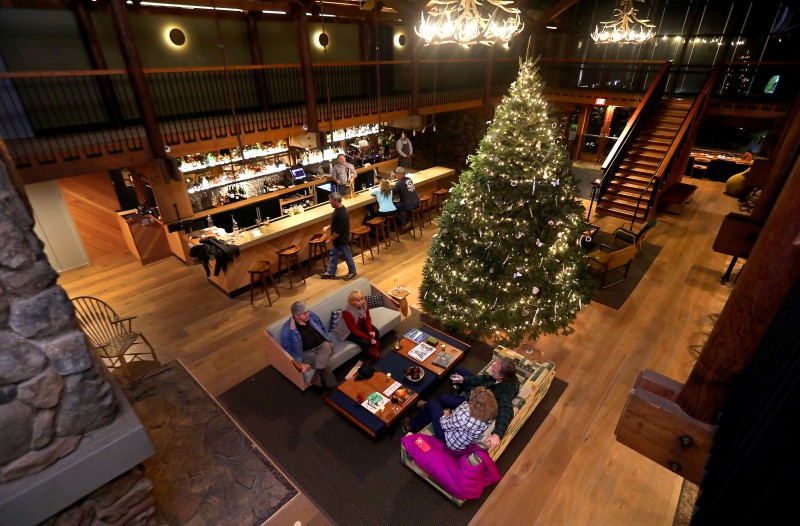 Sophisticated experience
Yet focus on the food, plus the smooth, attentive service, and you'll enjoy a sophisticated dinner experience. Pause, too, to appreciate the good, complimentary bread and savory salsas that start the meal, in this day and age of often being charged for the nibble.
I wouldn't normally order a Little Gem and chicory salad for a review — lettuce is lettuce — but this mix beckoned with tempting additions of endive, firm fig quarters, crumbles of local goat cheese, walnut chunks and bits of stone fruit in champagne vinaigrette ($8). It was the add-ins that attracted me to the PEI mussels ($12), as well. I didn't discern any of the promised salt roasting for the shiny black bivalves, but dots of guanciale and blistered tomatoes added interest to the dish, the thin broth sopped up with a wand of parsley pesto smeared crostini.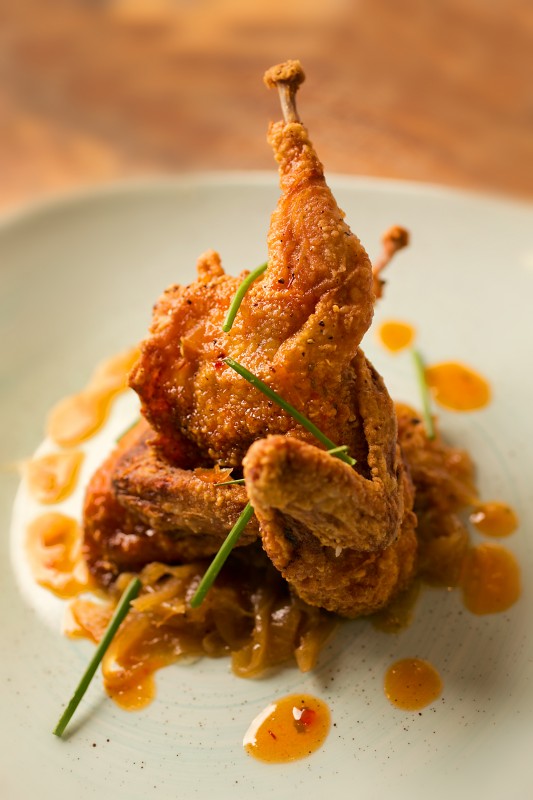 Part of the fun of eating quail is nibbling on the Lilliputian pieces, and these two appetizer bites of buttermilk battered, fried bird proved that point ($14). Flavor was excellent, too, full fleshed and juicy with crunchy crust, atop a dark bed of caramelized onions and golden shimmers of sweet chili vinaigrette finished with scallion.
I wasn't as charmed by poke duet ($12) of ahi and salmon, however. It tasted fine, each fish chopped and formed into a separate round with black sesame seeds, seaweed and radish sprouts. But the circles were loose and fell apart as soon as the plate was placed on the table, spilling into a messy swath of avocado puree. And thick slices of cucumber on the plate served little purpose. Were we supposed to use them as awkward scoops, instead of wonton chips?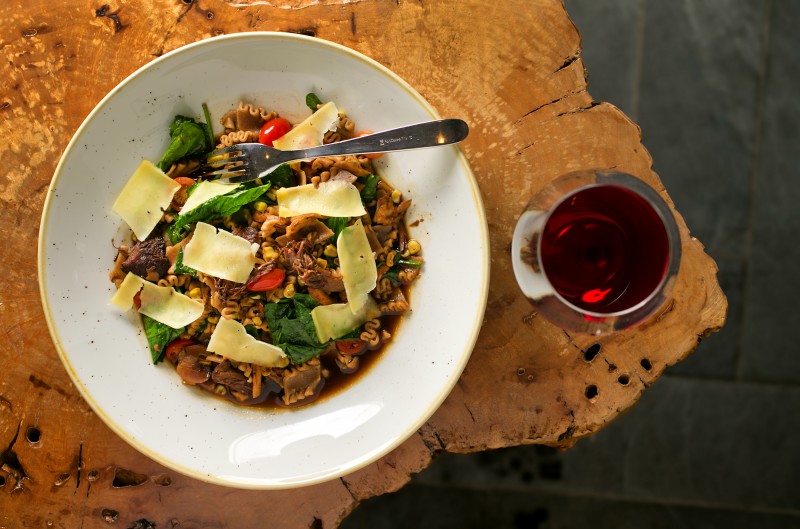 Entrées offer comforting touches, like the medium rare rib eye ($38), grilled to a caramelized edge. Laid across the top was a dinosaur size marrow bone with its glistening green-gold interior for dipping with grilled crostini, while a side of ratatouille was set over a round of panelle (fried chickpea polenta) for crispy texture.
Braised short rib
My tablemates coveted the 18 hour braised short rib, meanwhile, battling forks over the hefty chunk plopped into a creamy mound of whipped sunchoke puree, alongside roasted baby zucchini, squash, multicolor carrots and cippolini onions all bathed in slightly sweet oatmeal stout reduction ($26).
Four tender seared day boat scallops were more mainstream, though expertly cooked, and lounging on a swirl of carrot puree, dotted with local mushrooms and an overlay of micro greens and baby carrots ($24). The seafood was nice with the Merry Edwards Sauvignon Blanc our server suggested from the Sonoma County-heavy wine list.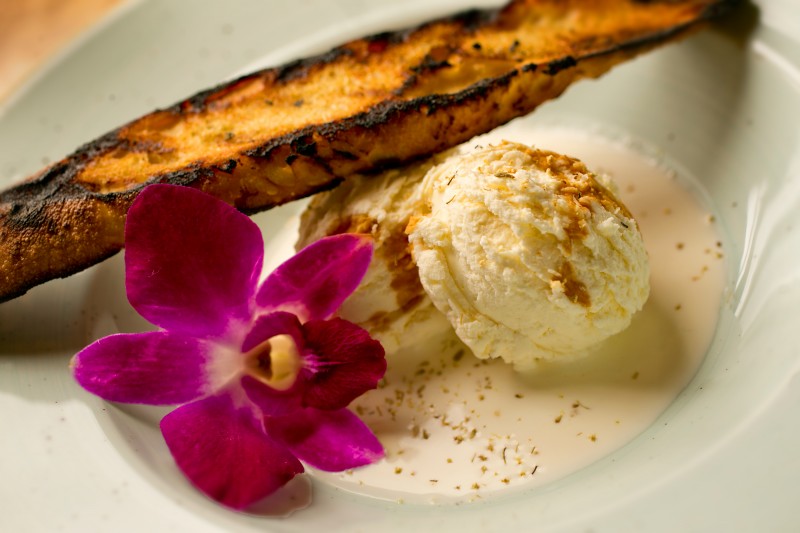 The most intriguing sounding dish, short rib pizzichi di farro ($20), fell flat. The brown, flat pasta looked pretty with its crimped edges, and appealed with its earthy, nutty flavor. But it simply needed salt, butter — bold seasoning and umami, really — to elevate the toss of mushrooms, blistered summer corn, greens and cherry tomatoes. Even the clever addition of mild, whole pickled grapes and shaved Valley Ford Highway 1 Cheese didn't boost the dish.
For dessert, it's hard to deny the simple charm of chocolate chip cookies and milk, and these four big beauties ($8) were served warm. Butterscotch pot de crème ($8) didn't have much butterscotch flavor beneath its whipped cream and mint leaf, though small stabs of sea salt and spiced pecan brittle were brilliant.
Our server recommended the farmers cheese ($8), though, and she was spot on. Thick dollops of soft cheese were drizzled in pinecone bud syrup and set in a ridiculously lavish pond of cream sprinkled with fennel pollen and fuchsia edible flower petals. We dunked the mix with slabs of char-grilled bread, intrigued by the syrup's forest and honey notes.
In case you need another reason to stay at the resort, instead of making the long drive home after such a satisfying dinner, consider this. In the morning, you can climb the steep, boulder-strewn hillside behind the hotel, up to the towering totem pole at the top.
It's a breathtaking hike, thrilling with vertigo as the ocean crashes on the rocks below. And it reminds us. The journey really can be as exciting as the destination.
Carey Sweet is a Santa Rosa-based food and restaurant writer. Read her restaurant reviews every other week in Sonoma Life. Contact her at carey@careysweet.com.
Subscribe to Our Newsletters!