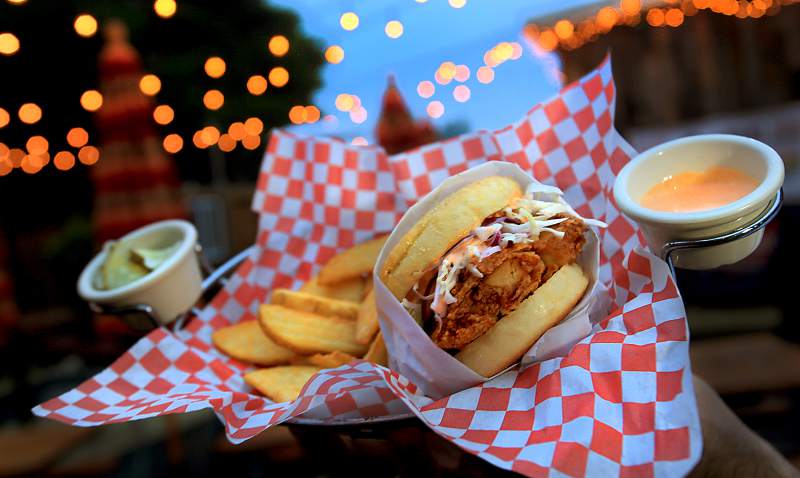 My dog, Noah, is watching my every bite, channeling all fibers of his canine brain as he wills me to drop my fried chicken sandwich. I feel a bit guilty depriving him, but this specialty at Twin Oaks Roadhouse in Penngrove is too delicious to share more than a morsel.
Since beer maven Dean Biersch bought the iconic restaurant last December, it has become one of my favorite hangouts. Noah's too, thanks to the dog-friendly patio and casual American menu. Since nothing costs more than $13, his chances of a nibble are greatly increased.

The charm is palpable. If this place could talk, the low-slung, bright red wood-and-brick ranch house certainly would have stories to tell. Built in 1924 in what would have been the middle of nowhere, it originally kept company with a small grocery store and gas station. For decades, it catered to locals, wooing them with cold beer and cowboy food like pan-fried chicken.
Now, it's still surrounded by plenty of rural land, flanked solely by Jeff's Twin Oaks Garage ("If it's broke, we can fix it") and across the street from postage stamp-size downtown Penngrove. It's hard to believe industrial Petaluma and freeways loom just two miles south.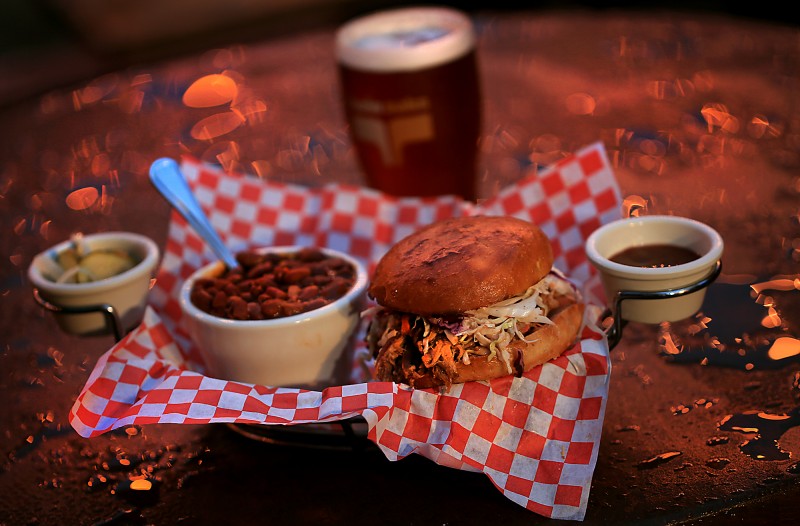 Wisely, Biersch didn't change too much, mostly making much-needed repairs, slapping on new paint inside and out, adding a vintage jukebox and new dance floor. Though the space is spiffier now, it still reflects its honky-tonk joint roots amid the new 18 craft tap display. An impressive lineup of live music plays on new indoor and outdoor stages, and the nighttime crowd gets rowdy.
Importantly, Biersch amped up the kitchen for better food. The menu is nowhere near as ambitious as at his other restaurant-bars, the HopMonk Tavern locations in Sonoma, Sebastopol and Novato, but it's generally first-rate, in an unfussy, satisfying diner style. Sometimes I eat at the bar, under the watchful gaze of a taxidermied jackalope in the glow of neon beer signs. Other times, I relax on the patio, at a teak table shaded by trellises and umbrellas.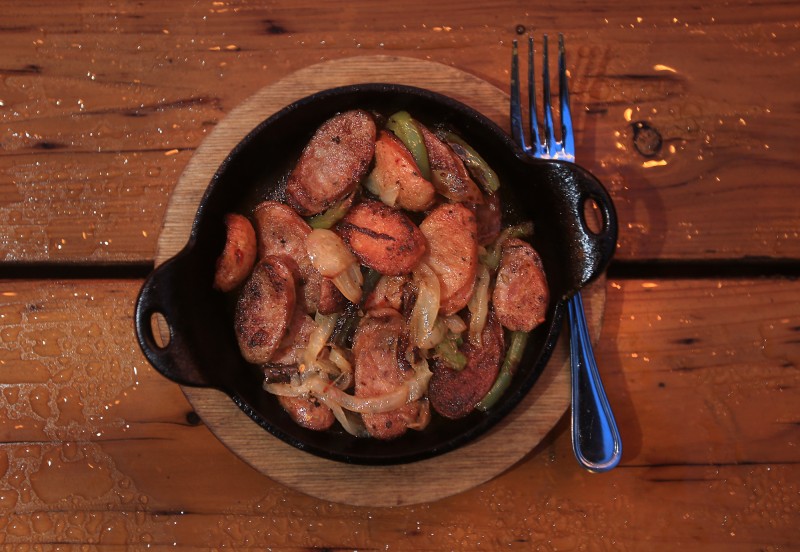 Now, as I sit relishing the brilliant winter sun, I devour my chicken sandwich ($11), delighted with the huge, juicy breast spilling over the edges of a lightly toasted English muffin from Sebastopol's Village Bakery. The meat has been double battered with buttermilk for a light, crunchy shell, then topped with slightly sweet coleslaw and spicy aioli, alongside homemade pickles and onions, plus corn on the cob glistening with lots of butter.
My companions are more generous than I am and offer Noah a bit of our sausage appetizer ($6). It's premium, handcrafted meat from Yanni's in downtown Penngrove, presented in a small skillet sizzling with caramelized onions and peppers, with mustard for dunking.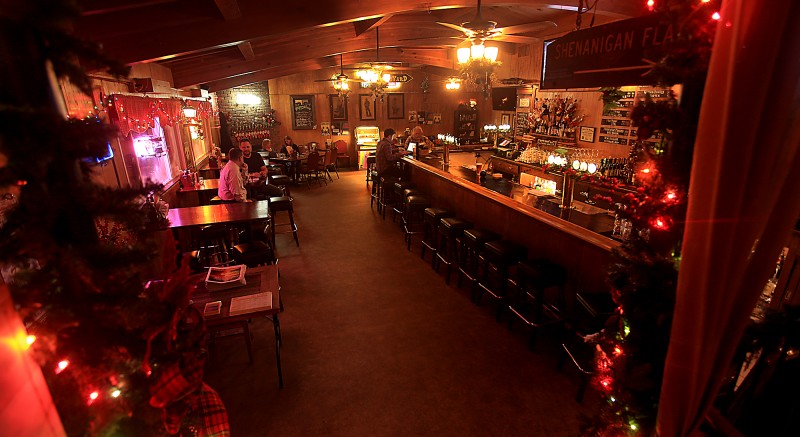 Too vegetal
Stuffed jalapeño poppers don't go over well, however, since the fiery chiles are raw. They're stuffed with a bit of sausage, garlic and Gruyere, then warmed in the oven, but taste way too vegetal. A cheddar baguette ($5) is something I could make better at home, too, The soft bread slices are spread in what we're told is garlic butter but tastes like nothing, plus whisper thin, lukewarm cheese slices and raw scallion.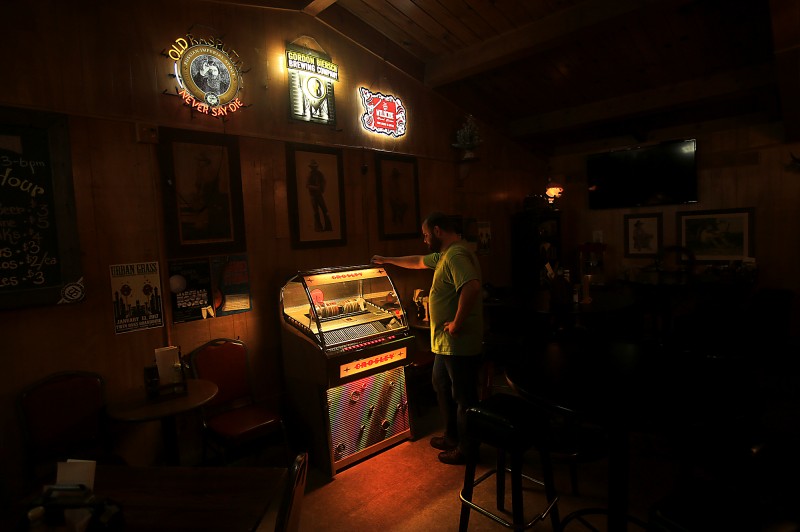 Things get back on track with the burgers, which are big and beefy and topped with items ranging from cheddar, lettuce and tomato ($10) to cracked black pepper and heaps of crumbled Pt. Reyes bleu ($13). The chili burger is a particular winner, served open faced and smothered with steak three-bean stew and cheddar. It's got a nice, spicy kick, and we sop the chili with crisp skinned, steamy hot wedge fries.
There's certainly nothing fancy here, though kale tahini salad ($7) is a nod to a more sophisticated clientele, and French onion soup is rich with savory beef stock ($6), surprisingly good for the bar setting.
Still, there are thoughtful touches, such as Caribbean jerk seasoning that kicks up the pulled pork sandwich ($10). Dressed in coleslaw, mild housemade barbecue sauce and pickles and with a side of baked beans, it's a nice, messy meal.
Cheerful attention
Servers seem to enjoy their jobs, as well, with quick cheerful attention to both human and canine customers. Noah laps his fill of fresh water; I'm not charged for extra orders of the stellar pickles; and one evening, friends and I lug in two bottles without paying corkage charges.
Wine, it's worth noting, isn't Twin Oaks' strong suit. A dozen mainstream choices include La Crema Chardonnay ($9/$38) and Hey Mambo Red Blend ($6/$24). Instead, stick to the cocktails or cold beer, with draft suds like HenHouse An Honest Day's Work from Santa Rosa ($5) or HopMonk Kellerbier Pilsner ($4) from owner Biersch himself.
Not surprisingly, on any given evening, the parking lot is full. The place is so popular that the patio has a five-dog limit ("first come, first serve"), and I actually bring my pups only during the day, when it's much quieter. Things come loudly to life at night, when all types and ages gather here to soak up American roots music from Kevin Russell and the Rhythm Fingers, bluegrass from Buck Nickles and Loose Change, or a myriad of other live acts.
Most nights, music is free. Sometimes there's a cover charge of $25. But that's a small price to pay for this wonderful taste of history, and now, delicious food.
Carey Sweet is a Santa Rosa-based food and restaurant writer. Read her restaurant reviews every other week in Sonoma Life. Contact her at carey@careysweet.com.