The holidays are coming! Leave the crowded parking lots behind and enjoy the spirit of the season at some of Sonoma County's best cideries, creameries, and farms during Holidays Along the Farm Trails (weekends through January 1).
Festive holiday activities along the farm trails range from wreath making workshops and cider tastings to goat milking demonstrations and tea making. With so many fun options to choose from, it's hard to know where to begin. We asked some of our favorite local chefs to share their top stops at this year's Holidays Along the Farm Trails. Click through the gallery for details and check out chef Duskie Estes's Farm Trails recipes.
Farm Trails Recipes 
Chef Duskie Estes often heads into the kitchen with her Farm Trails purchases, cooking up delicious meals with her husband and business partner, chef John Stewart. Here are some of their favorite Farm Trails recipes.
Goat Milk Panna Cotta
For dessert, serve with a red wine syrup and a nibble of shortbread.
4 cups goat milk
1/3 cup sugar
1 vanilla bean, scraped
1 lemon, zested
1 pinch of dried lavender
1 tablespoon powdered, unflavored gelatin
In a small sauce pan on medium-high heat, warm 3 cups of the goat's milk with the sugar vanilla bean, lemon zest, and lavender. In a bowl, whisk the goat milk into the gelatin to melt. Add the remaining cup of goat's milk. Pour through a strainer into small glass jars and refrigerate until set, about four to six hours. Serve with red wine syrup or fruit and a cookie.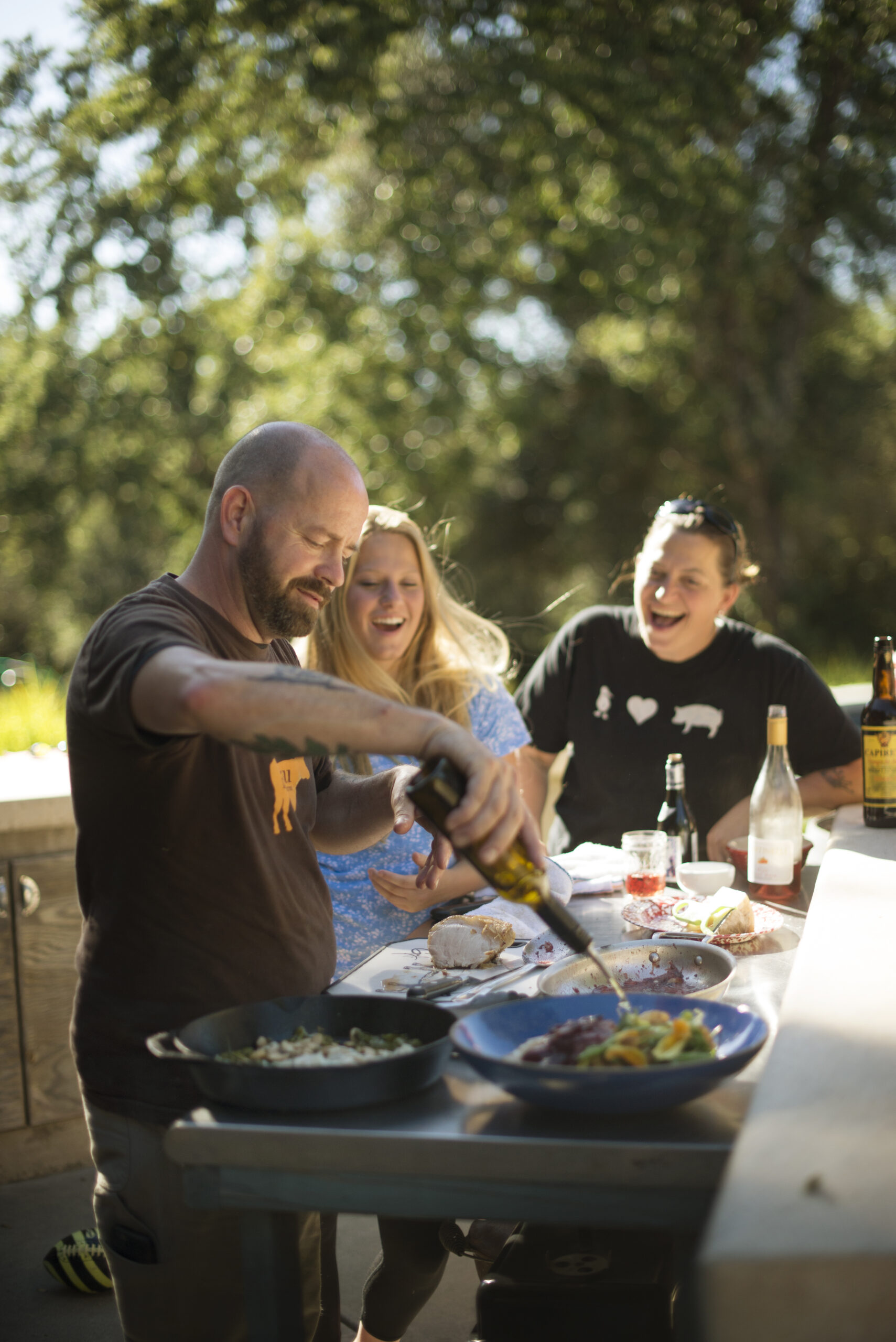 Ribollita with Olio Nuovo… Tuscan Bread and Bean Soup
This is the perfect soup to showcase Olio Nuovo, which becomes available around November. In Tuscany, the Italians won't even consider finishing with olive oil by summer, they'd rather wait for the new oil. This soup is intended to be a use for the kitchen's leftovers. We love it so much that when we moved to Sonoma, John's first goal was to grow everything for this soup himself – even the olives!
2 cups heirloom beans
2 bay leaves
4 cloves peeled garlic, divided
2 stalks celery
2 carrots, peeled
1 onion, peeled
1 leek, white part only
Quality extra virgin olive oil, copious amounts
1/2 savoy cabbage, cut into chiffonade
1 bunch lacinato kale, stemmed and cut into chiffonade
6 cups water
Kosher salt and freshly ground black pepper
1/2 loaf day old rustic bread, crust removed
Cover the beans with water and soak overnight. Cook the beans with the bay leaves and two of the garlic cloves until soft, about one hour. Strain, reserving one cup of the liquid to add to the soup. Process the remaining two cloves of garlic with the celery, carrot, onion, and leek until very fine, but not wet (still with tiny pieces of the vegetables, not a puree). Sauté the vegetables in about 1/4 cup extra virgin olive oil on medium-low heat until fragrant and slightly browned, about 10 minutes. Add the beans and their cooking water, cabbage, chard, and water.  Let simmer approximately an hour. Season to taste with salt and pepper.Crumble the stale bread into chunks and place a handful of the bread in each bowl.  Ladle soup over and let sit a few minutes for bread to soften and broth to be absorbed. Finish each bowl with extra virgin olive oil and freshly ground black pepper.