Colette Hatch – aka Madame de Fromage – has worked as a cheesemonger at Oliver's for more than a decade. Click through the gallery for some of her favorite local cheeses.
Madame de Fromage doesn't take cheese lightly. Literally.
Balancing a large wooden board nearly the size of her petite torso, she's snatching up wedges of all her favorite local cheeses from the refrigerated cases of Oliver's Market in Windsor.
Most of us only know her by her nom de guerre, Madame de Fromage. She has worked for Oliver's for more than a decade as cheesemonger and buyer and knows all the ins and outs of the local cheese trade. She is a tireless champion or opinionated critic of every slice that comes under her experienced nose.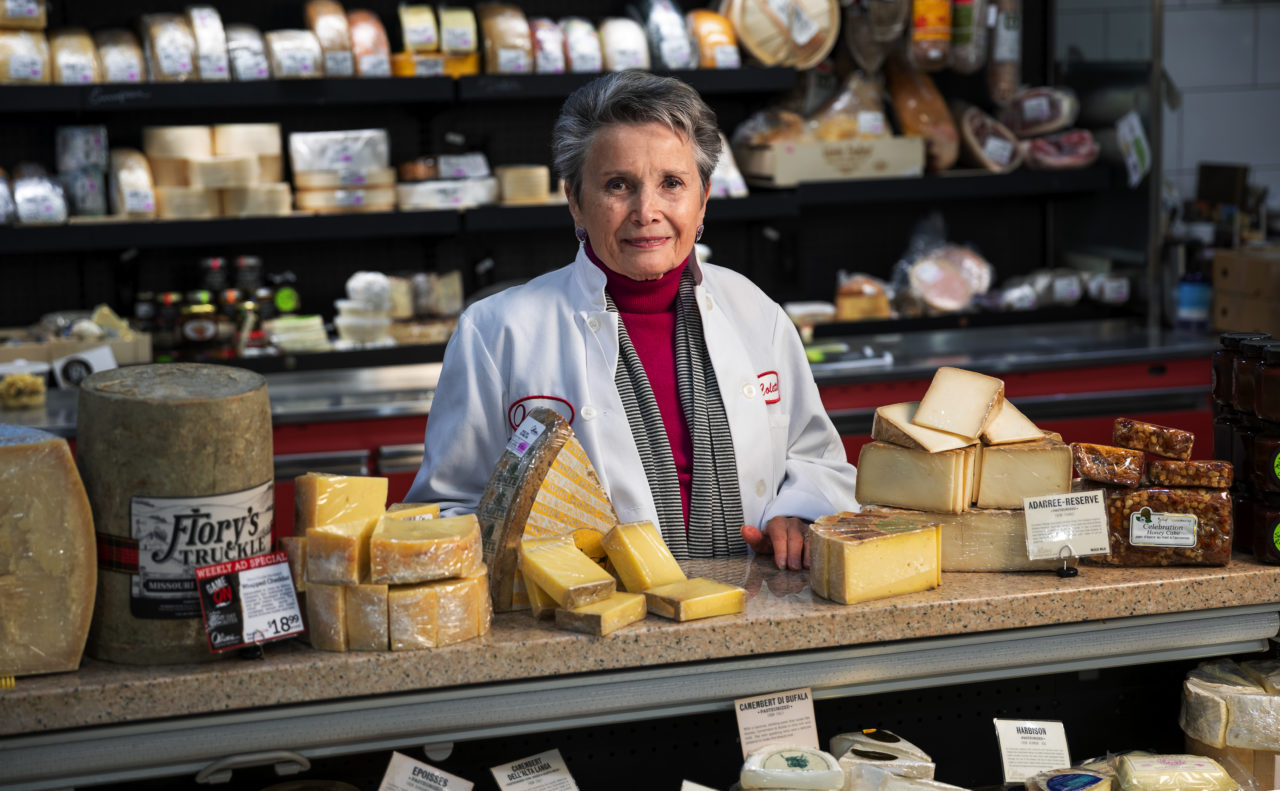 The whole mass of samples is threatening to topple onto the floor as Madame — whose name is Colette Hatch — walks and talks about everything from mascarpone to mozzarella in a fast-paced, thick French accent. With Madame you either keep up or get out of the way.
Undaunted by the pile, she continues pulling cheese, looking for one particular wedge.
"The one with the bloomy rind?" she says to one of her white-coated cheese department staff, sifting through the piles of triple cream brie, Camembert, goat cheese, sheep's milk cheese, fresh cheese, and aged cheeses. The way Hatch says it sounds more like "zee wan wis zee blumay wind."
It's entertaining just to watch Hatch poke deft fingers through the hundreds of varieties and pull out her favorites. We're about to go on a tasting expedition together, with Hatch explaining some of her current favorites.
"You've had this one, of course," she points to a wedge of Joe Matos St. George cheese, an aged raw cow's milk cheese that's been a local favorite since the family set up business in Sonoma County in 1979. It's a nutty, hard cheese that along with Sonoma's Vella Jack and Laura Chenel's goat cheeses set the stage for artisan cheesemakers in the region. It's also a familiar flavor, so she passes over it and continues the search for more obscure favorites.
In the nearly three decades since Hatch came to Sonoma County, the local cheesemaking scene has leapt into the national consciousness. First there was Chenel, who brought goat cheese to American plates from her Sonoma County dairy in the 1980s. Then came Redwood Hill Goat Cheese, Bellwether Farms, Marin French Cheese, and perhaps one of the largest success stories of all, Cowgirl Creamery — whose Red Hawk and Mt Tam are dairy darlings.
Not to mention the dozens of tiny artisan cheesemakers whose small-batch creations grace dozens of local restaurant cheeseboards.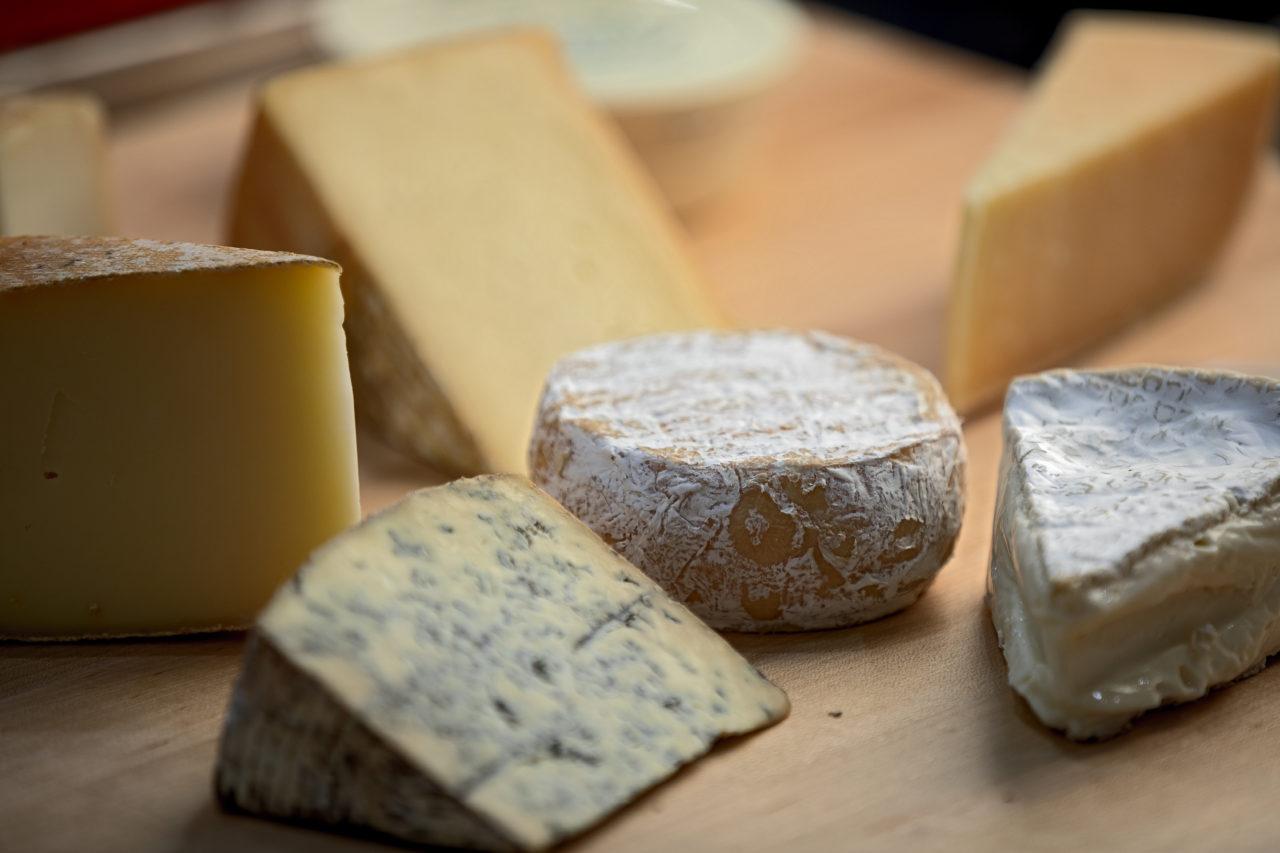 "Cheese is very creative. Every day the cheesemaker has to worry about the milk. It's a living thing. You have to be in touch with every element of the terroir," Hatch says of the weather, seasons, and natural influences on sheep, goat, and cow's milk. That's why geographic boundaries — Marin, Sonoma, Mendocino — fall to the wayside when discussing local cheeses.
Because from Point Reyes to northern Boonville, it's more about seasons and styles than the permeable borders between dairies. "Cheese is like wine. It changes every time it's made. Some may change from season to season with what the animals are eating, using different cultures. You have to know your milk," she says.
"But it's also like a child. You have to constantly take care of it."
What may have most defined the local cheesemaking business in the last five years, Hatch says, is a significant consolidation that brought in international ownership, something she is ambivalent about.
"When Sue and Peggy sold, I was devastated," says Hatch of the sale of Point Reyes-based Cowgirl Creamery by founders Sue Conley and Peggy Smith to Swiss dairy processor Emmi in 2016. "We all started at the same time," says Hatch, wistfully. Six months prior to the Cowgirl sale, local goat dairy Redwood Hill Farms sold to Emmi as well. But two years later, Hatch sees opportunity in the corporate cash infusion.
"Now there is more opportunity to make more cheese. There's more equipment they couldn't have bought to make cheese locally with good milk," says Hatch, pulling out Cowgirl Creamery's newest cheese, called Hop Along. The young, cider-washed rind is creamy and rich with a hint of tart cider flavor.
Some smaller cheesemakers have suffered as milk prices have gone up, spaces available for cheesemaking have become harder to find, and the very real challenges of artisan cheesemaking have come to light.
"Regulations are tougher, finding space is difficult, and it's a lot of work for very little money in a very competitive market," says Vivien Straus, the creator of the California Cheese Trail (cheesetrail.org), which promotes artisan cheesemakers and family farmers. Straus, who grew up on her family's dairy farm in the rural Marin town of Marshall, sees hope, though. "Some will survive and some won't. God, it's a lot of work, but people keep trying. All the cheeses here are so different and so amazing. The whole world looks to us for our cheese."
Along with Wisconsin and Vermont, Northern California — specifically Sonoma and Marin — are the big leagues of cheesemaking, says Keith Adams, partner and cheesemaker at Sebastopol's Wm. Colfield Cheesemakers. "We're persistent and we believe in what we're doing. You have to operate at a very high level to compete with those who've been here a lot longer," says Adams, who still considers himself a newcomer after two years in business.
Artisan cheesemaker Sheana Davis, whose Delice de la Vallee fresh cheese is a favorite with renowned chef Thomas Keller, agrees. "Some of the smaller producers are struggling to find a marketplace for their cheeses, based on price point, as it is hard to compete with the larger companies."
In the end, however, places like Oliver's and the Petaluma Market continue to be champions for local cheesemakers, offering up a wide variety of sheep, cow, goat, and even buffalo milk cheeses at a variety of prices.
"Artisan cheese is expensive, and not everyone can try it," says Hatch, who believes that great cheese should be accessible to as many people as possible. "I look at what is most exciting," she says of cheeses that she puts on sale at Oliver's each month. "I want to give everyone an opportunity. I might be opinionated, but I know what I give you is the best thing for the best price."
To learn more about all of these amazing cheeses, and for a chance to taste them all in one spot, check out the 13th Annual California Artisan Cheese Festival, March 23-24, 2019. The Festival events happen throughout Sonoma County, including Farm Tours, Seminars at the Flamingo Conference Resort and Spa, Cheese, Bites & Booze! at the Jackson Family Wines Hangar at Sonoma Jet Center, and the popular Artisan Cheese Tasting & Marketplace at the Sonoma County Fairgrounds with over 22 artisan cheesemakers under one roof!