Amodern boho design studio is how some might describe the chic tasting room at Bannister Wines in downtown Geyserville.
Opened in May, the tasting lounge and art gallery is the first brick-and-mortar location for the brand founded by Marty Bannister in 1989. It's now run by her son, winemaker Brook Bannister.
"We'd never been at a point in our lives where it made sense to open a tasting room," Brook said. "But during COVID-19, it was a lot more difficult to do private tastings, and our restaurant sales were suffering. Now, I just want to get my wines in front of people."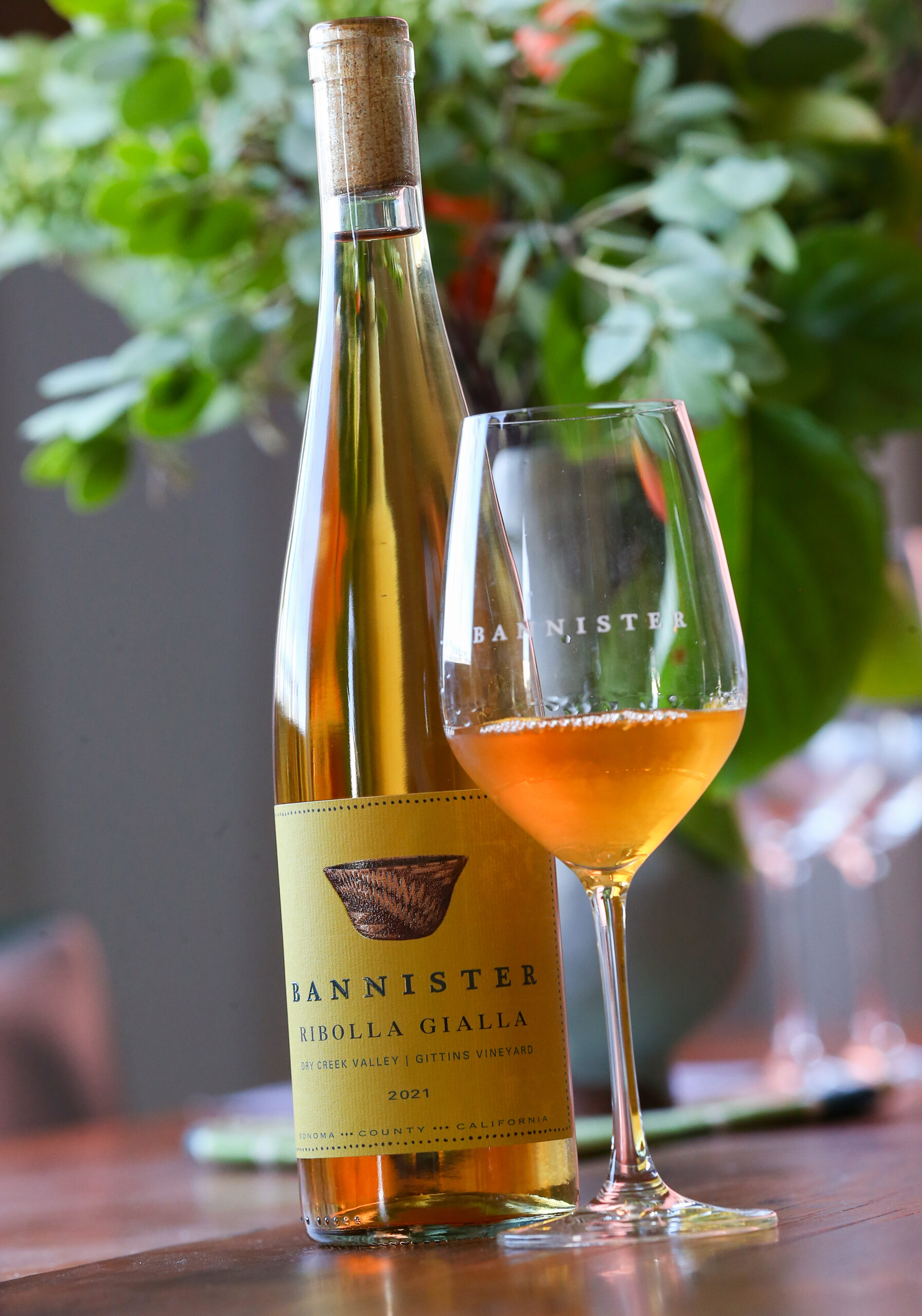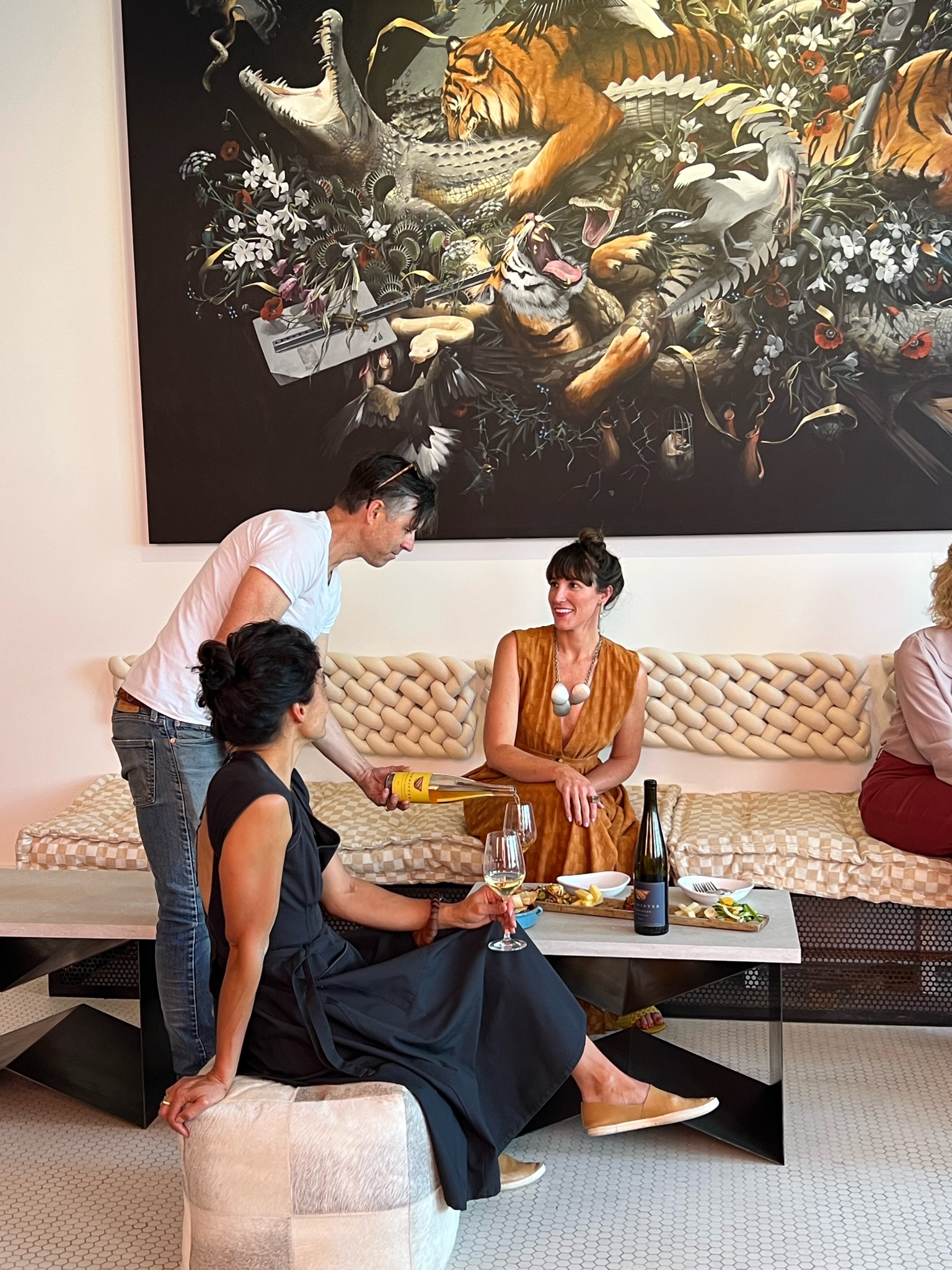 Located in the historic Geyserville Bank building, which was built in 1901, the tasting room retains some architectural elements from the bank, including antique teller cages from the 1915 Panama-Pacific International Exposition in San Francisco and an impressive steel vault — now a retail space for handmade jewelry.
Despite the traditional character of these historic pieces, the tasting room feels fresh and airy, with handmade lamps that resemble broken eggshells, striking textiles from Serbia and handcrafted wood furniture, including a table fashioned from a madrone tree salvaged from Fitch Mountain. It's eclectic, yet orderly, a marriage that hints at the wine to come.
Surprisingly, the tasting room wasn't outfitted by an exclusive interior decorator but by Brook and his wife, Morgania Moore. Brook, it turns out, is a former furniture designer and builder, while Moore is an artist, jewelry designer and interior decorator.
"I understood design from a very early age," Brook said. "Morgania is a talented artist with an amazing eye. Design has always played a significant role in our lives, so we decided to create the tasting room together. It's really our way to combine our love of art with my winemaking into one broad vision."
A variety of artists, primarily from California, showcase their work in the space on a rotating basis, with Ojai/Oakland-based artist Joslyn Lawrence scheduled through 2022. Early next year, work from Guerneville artist Laine Justice will be featured.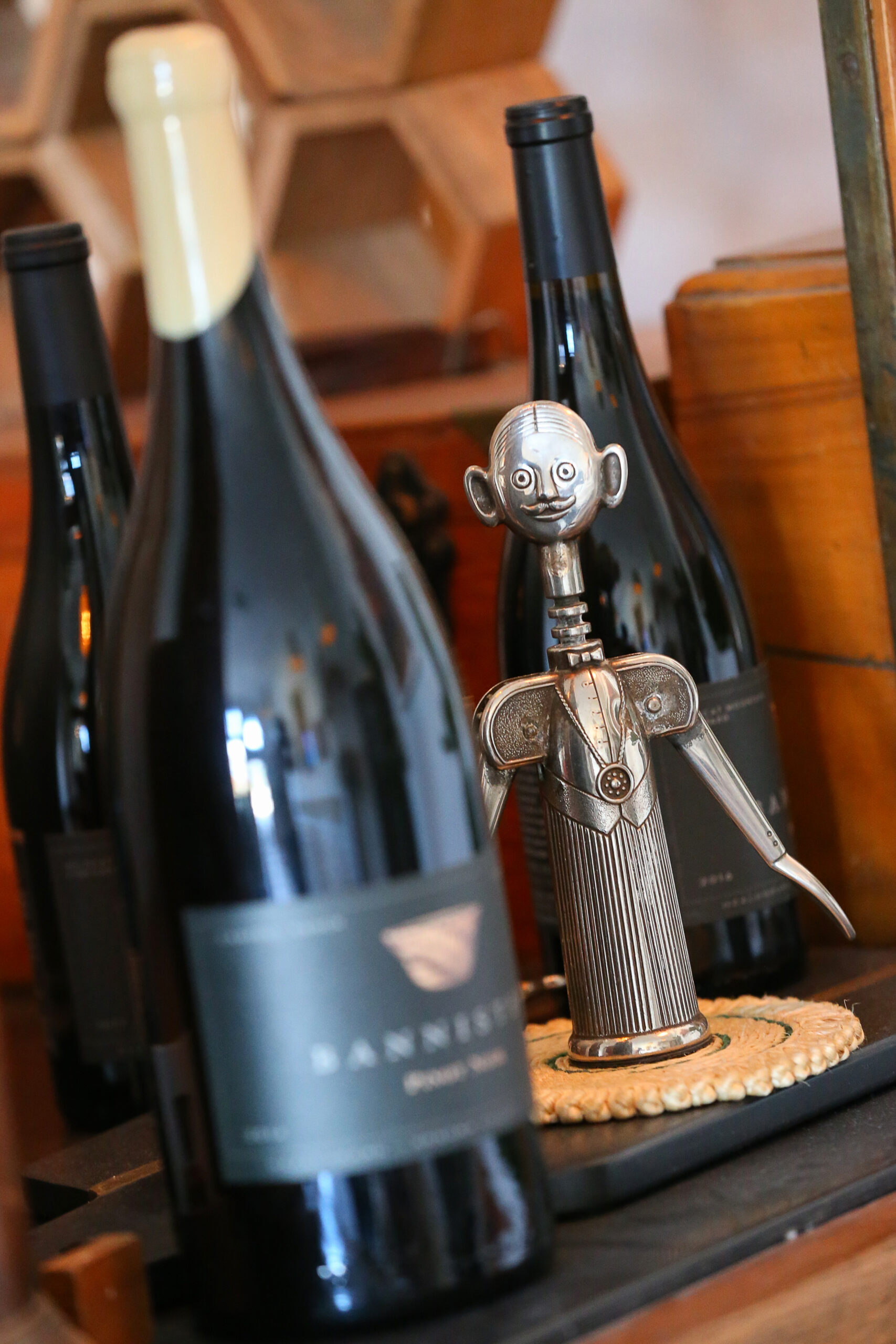 The backstory
Marty Bannister launched Bannister Wines in 1989 after cofounding Vinquiry with famed enologist and winemaker MaryAnn Graf in 1979.
Located in Healdsburg, Vinquiry was one of the first independent wine laboratories to provide wine analysis and technical advice to small local wineries.
At Vinquiry, Marty became increasingly interested in the science of wine yeast. Different yeasts can affect the rate of fermentation as well as the color and aromatics of a wine. This intrigued Marty, and she began isolating and growing wild yeast strains.
"When I was a kid, my mom built a homemade incubator inside a refrigerator," Brook said. "Every time I opened the fridge, it would be full of petri dishes growing yeast, which she would give to winemakers to inoculate their grapes. Eventually, she figured out how to produce and sell the yeast on a larger scale. My mom was able to isolate some really unique local yeast strains."
In 2015, Marty and Brook isolated a native (meaning it can only be found in a certain place) yeast at the remote Campbell Ranch Vineyard in the Sonoma Coast AVA, where Bannister sources pinot noir. Today, the yeast is sold by a lab, and proceeds benefit the Sonoma County Wine Library and Alliance Medical, which serves farm laborers.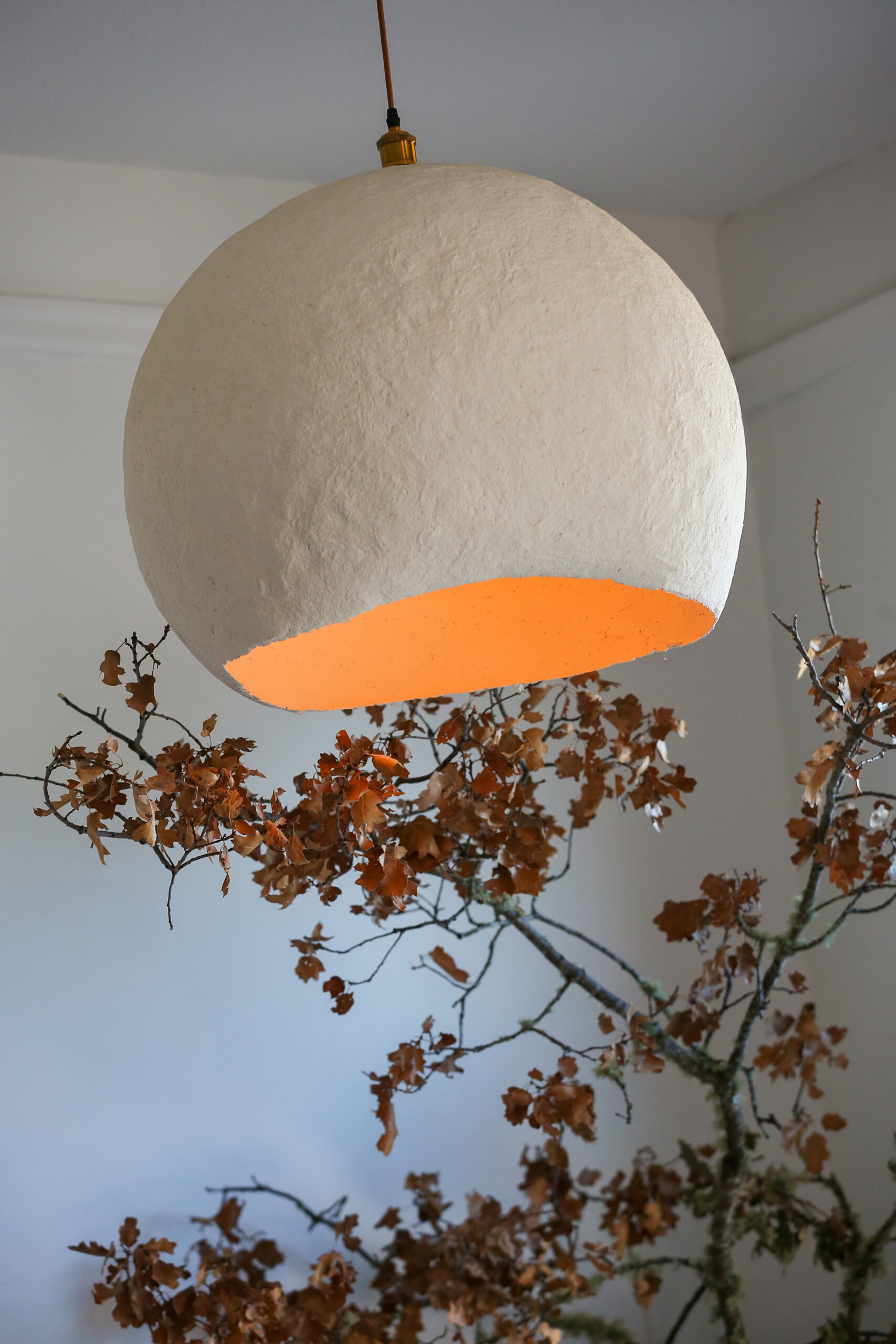 Brook at Bannister
Yeast biology is something Brook keeps front of mind at Bannister Wines, where he took the reins of the brand and winemaking in 2016.
Like his mother, he focuses on Sonoma Coast pinot noir and chardonnay, but he has expanded into other varietals like riesling, sagrantino and ribolla gialla.
During harvest, Brook will separate the same lot of grapes into individual fermenters, then inoculate each batch with a different yeast strain. Sometimes, a single pick of grapes will be fermented with up to five yeasts.
"Different yeasts can add complexity and aromatic expression to a wine," Brook said. "Where the fruit comes from and how it's farmed has a greater impact on the wine in your glass, but yeast is a fun thing to play around with."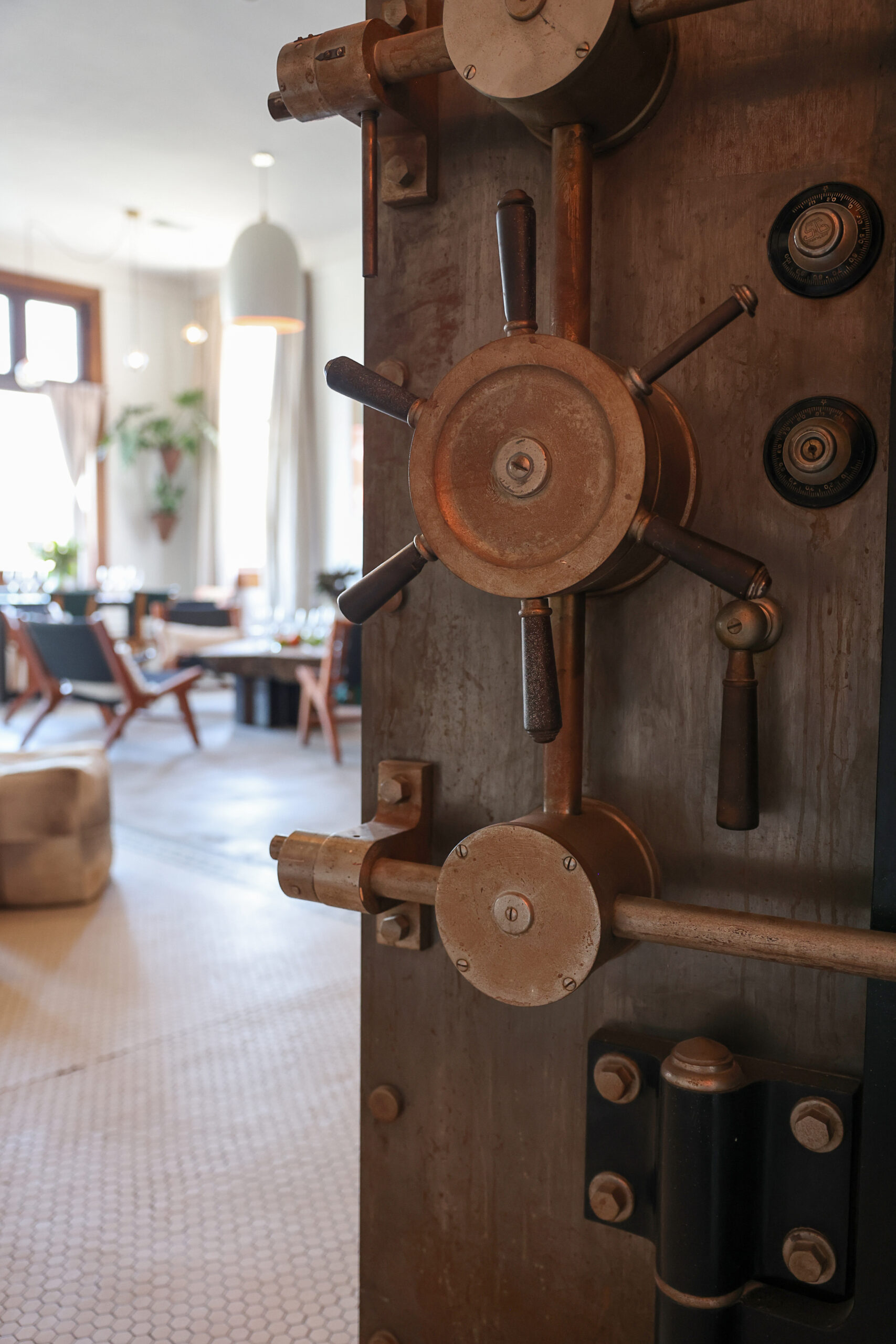 Creative challenge
At Bannister, Brook's wines teeter between traditional and unconventional, and it's clear the winemaker doesn't want to be boxed into a particular style.
Here you'll find Bannister wines such as Sonoma Coast pinot noir, Alexander Valley chardonnay and a zinfandel from Saini Farms in Dry Creek Valley. But you'll also find a skin-fermented riesling; scheurebe (a rare riesling hybrid); and an orange, skin-fermented ribolla gialla.
"I always need a creative challenge, which is why I like experimenting with these unique, oddball varietals and adding them to our traditional lineup," Brook said. "Sometimes there is pressure by marketers to categorize yourself as certain kind of winemaker. But that's not me."
Brook said he's been surprised to see how well his rare varietal wines have sold in the marketplace. He attributes that in part to "a market saturated with pinot noir." He believes consumers are eager to try new things.
"I don't want to be a traditional pinot noir house or a cabernet house," he said. "We live in a part of the world where people can make whatever wine they want. There are no rules here. I might as well do a bunch of fun stuff and see what happens."
You can reach Staff Writer Sarah Doyle at 707-521-5478 or sarah.doyle@pressdemocrat.com.