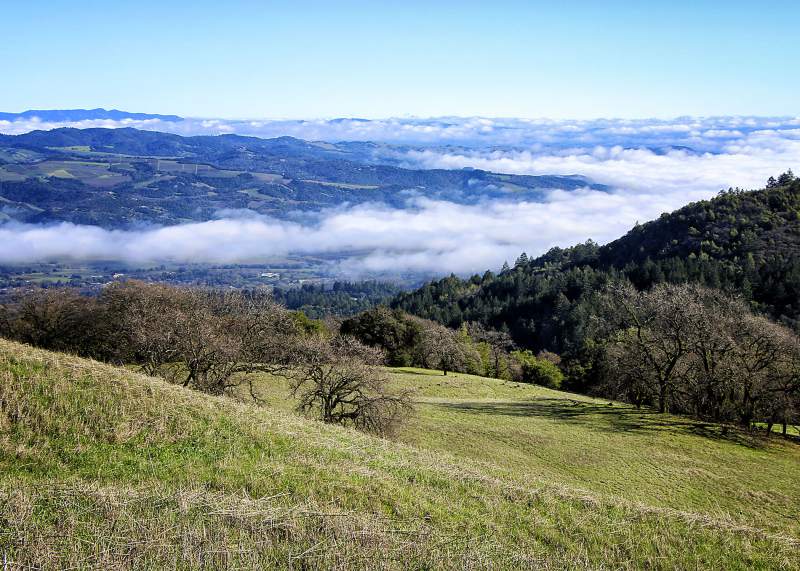 Local winemaker Mike Benziger will lead a "Cycle to the Summit" ride on Saturday, May 21, at Jack London State Historic Park, as a fundraiser for the Park's trail restoration project.
"Most people know Jack London Park as a cultural resource," said Benziger, "but it's one of the most incredible natural resources north of the Bay."
This is a strenuous 10-mile round-trip ride on a dirt track, with elevation gain the entire ride up to the 2,370-foot summit of Sonoma Mountain. "It doesn't let up," said Benziger, though he added the route was a well-graded forest road and not a single-track path.
Up to 25 participants will join Benziger in the ride on the beautiful back-country trail through oak and redwood forest.
It takes a little over an hour, says Benziger – who estimates he's done it well over 100 times – but it's worth it. "When you get to the top and see that view, the first thing you say is, 'My god, I can't believe I live here.'"
It offers expansive views across the Valley of the Moon and the Santa Rosa Plain, and an array of distant peaks – Mt. St. Helens, Konocti, Geyser Peak, Mt. Tamalpias, even as far away as Mount Diablo in the East Bay, Benziger said.
The fundraising part of the ride comes from participants asking friends and family to pledge money for every mile ridden. For instance, pledging $10 per mile for the 10-mile ride brings $100 into the Park's trail fund.
Participants can use the website Go Fund Me to accumulate pledges for every mile ridden, which also make donors eligible for raffle prizes. Every $50 raised is worth a ticket in a drawing to win prizes, including a brand-new, top-of-the-line Trek 820 Mountain bike (men's or women's), donated by Wine Country Cyclery. Other prizes include a special bottle of Tribute wine, Benziger's signature biodynamic red blend; and a Jack London annual park pass.
Following the ride, participants and friends will gather at the London Lodge Saloon (13740 Arnold Drive, Glen Ellen) to toast the morning's success – "We'll hold a rehydration session," said Benziger – and hold the raffle.
Start time for the Saturday, May 21, ride is 9 a.m. from the Ranch parking lot at Jack London State Historic Park. The overall ride is expected to conclude at approximately 11:30 a.m., with the raffle at the London Lodge Saloon starting at noon.
This ride is suitable to participants 18 and older. Participants are asked to bring their own mountain bike, helmet, water and snacks.
There is no charge for participating, aside from the $10 parking fee. Pre-registration and raffle tickets are available now online at jacklondonpark.com/cycle-summit.html.
Subscribe to Our Newsletters!