Rhododendrons are in full bloom on the coastal property that once was Edward P. Kruse's sheep ranch. Now called the Kruse Rhododendron State Natural Reserve, the 317-acre parcel adjacent to Salt Point State Park is filled with California rhododendrons that bloom April through June.
That makes late spring the best time to hike the Chinese Gulch to Phillips Gulch loop, a total of 2.5 miles with an option to bail out after a short, gentle trip to the Rhododendron Loop.
Kruse established the ranch in 1880, where his family raised sheep, logged and harvested tanoaks. In 1933, he donated the land to the state in honor of his father, the founder of San Francisco's German Bank.
California rhododendrons, the namesake of the park, grow in profusion there, with brilliant pink blossoms that bloom in clusters from April through June. The fast-growing rhododendrons flourished after a forest fire around 1900 removed most of the existing vegetation.
As it regenerated, the mixed forest of second-growth redwoods, Douglas fir, grand fir, tanoaks, madrones, manzanita and eucalyptus gradually overwhelmed the rhododendrons. To help them compete for available sunlight, water and nutrients, park rangers thinned the tanoak trees and pruned the rhododendrons.
In addition to the rhododendrons, other understory plants include salals, pacific wax myrtle and California Huckleberry. Ferns carpet the canyons that hold seasonal streams.
Today's hike is an up and back loop along trails that cross Chinese Gulch on wooden footbridges.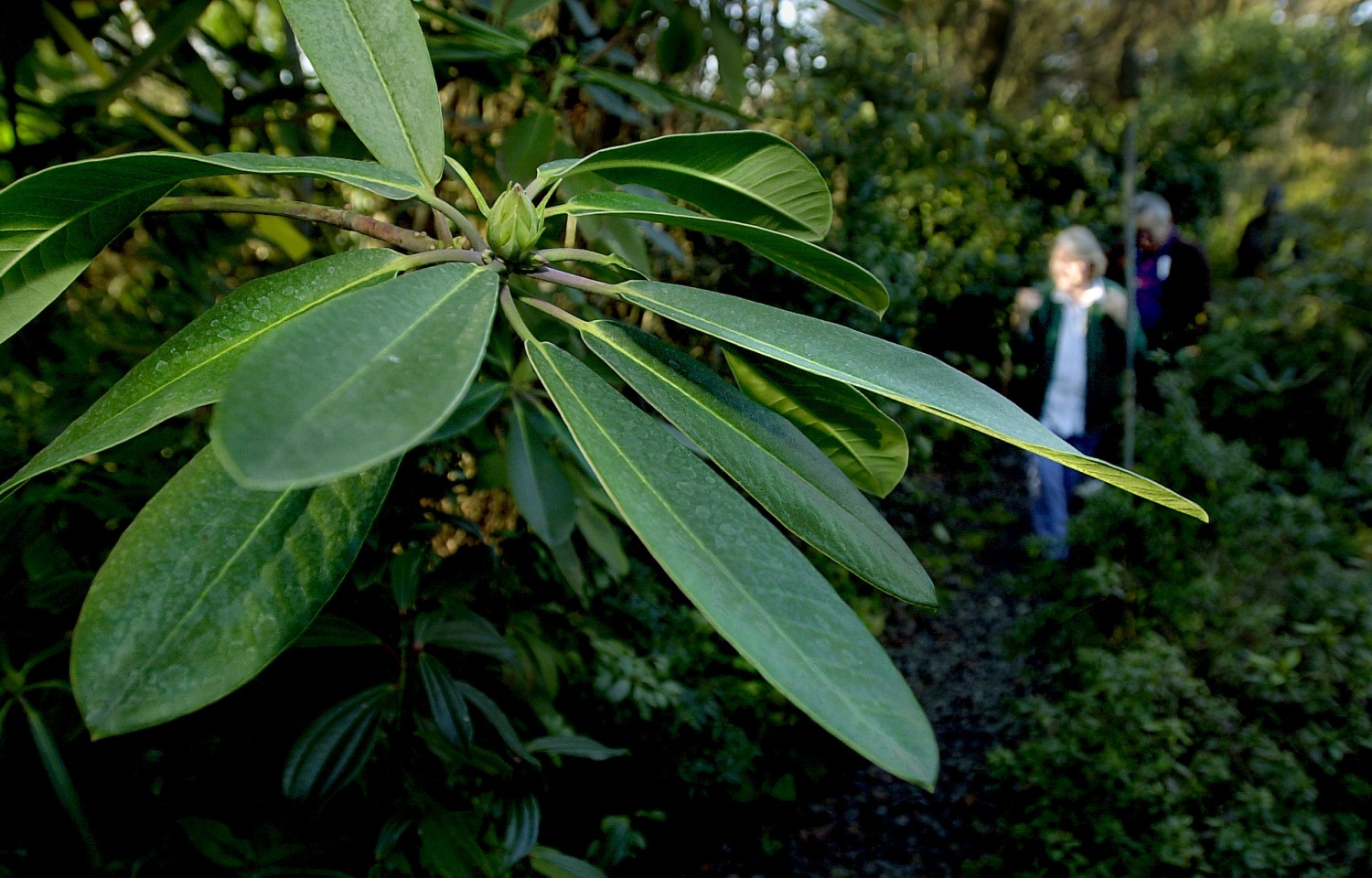 The Hike
Begin the loop on the upper north side of the road. Ascend steps to the map kiosk. At the map, two post-lined paths form the short Rhododendron Loop. Begin on either path and weave through the lush forest, passing groves of redwoods and moss-covered tree trunks to the far end of the loop.
Continue straight on the north slope of Chinese Gulch through Douglas fir, tanoaks, coastal redwoods and ferns. Zigzag down to a junction in Chinese Gulch. The right fork leads 20 yards to Kruse Ranch Road at a U-shaped bend. (For a shorter loop, return 0.4 miles down the dirt road.)
Bear left and cross the wooden footbridge over the fern-lined creek. Ascend the south canyon wall and cross a small bridge. Climb two switchbacks and traverse the canyon wall, steadily gaining elevation to a junction. Bear right on the Phillips Gulch Trail, and sharply descend to Kruse Ranch Road at Phillips Gulch.
Walk 20 yards up the road to the signed trail. Descend steps and stroll through the tanoak forest. Veer right at a trail sign and pass a gorgeous hollow of redwoods. Switchbacks lead down the draw, returning to Chinese Gulch. Cross a wood bridge over the stream and wind up the hillside. Near the top, pass restrooms and continue 50 yards to Kruse Ranch Road at the trailhead.
Source: "Day Trips Around Sonoma County" by Robert Stone (Dayhike Books, 2016)