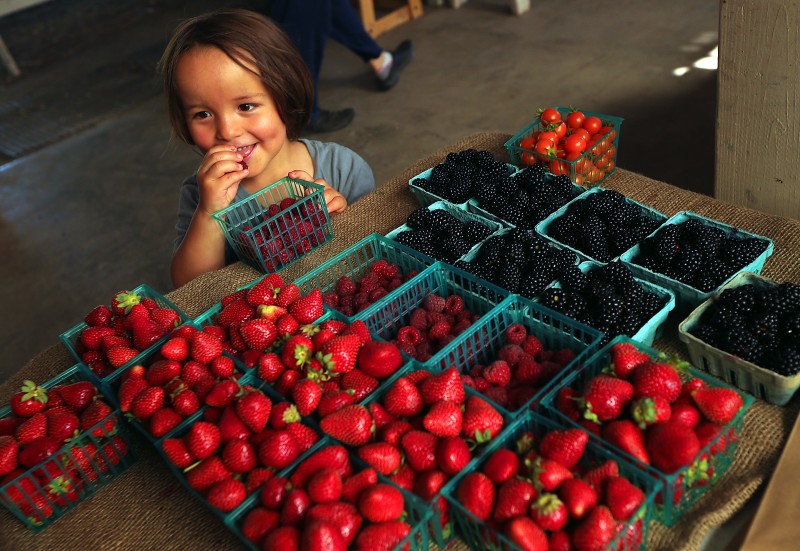 In Sonoma County, the community supported agriculture (CSA) programs are thriving, but in order to keep subscribers coming back, farmers are providing more choices, including box sizes and delivery options.
That's good news for consumers, who may be afraid of getting too much or wasting veggies they don't like. Some farms will let you pick up a box every other week, while others let you trade out veggies at the farm.
There are also a growing number of meat and poultry CSAs, with options for folks who don't have an extra freezer for that half cow share. A fruit farm membership also allows you to "pick your own" throughout the harvest season.
If you're thinking about joining a CSA, it pays to do a little research to make sure you find one that fits your eating habits, lifestyle, budget and food philosophy.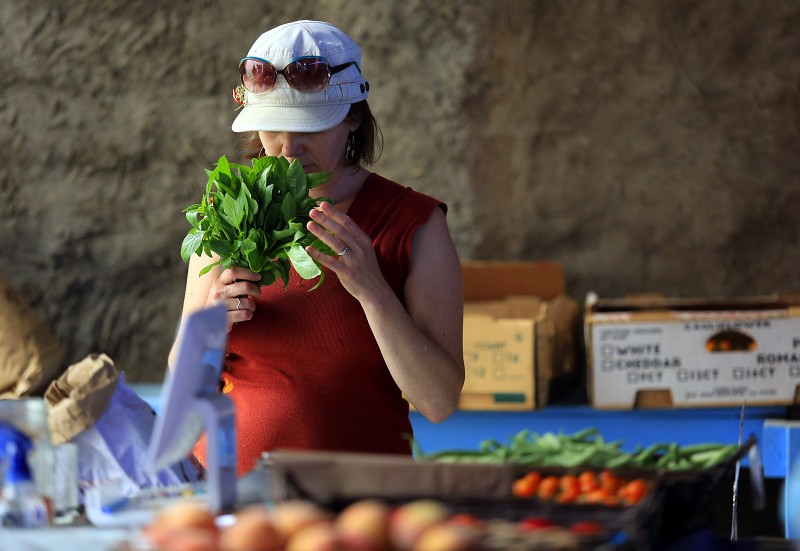 The whole idea behind a CSA is to create a community of supporters who pay for shares of fresh food in advance. This model allows the farmers to nurture a closer connection to customers and ensure a steady market for their crops. For consumers, it provides peace of mind about food choices and perks such as potlucks and u-pick flowers.
Most of all, the CSA gives subscribers a strong connection to a family farm and the knowledge that they are keeping agriculture alive.
"Agriculture is not going to survive in Sonoma County if we don't have the support of our residents," said Jennifer Branham, co-owner of Laguna Farm in Sebastopol. "That's the bottom line."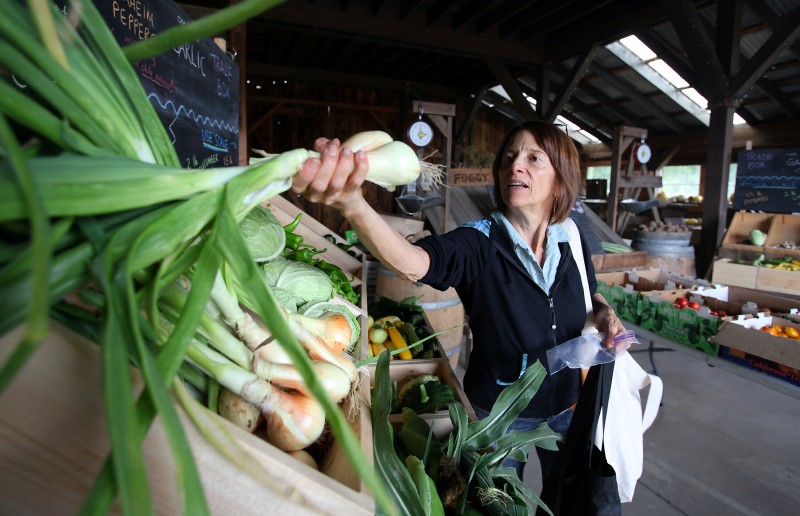 If you want to subscribe to a CSA, first make sure it is local. Some source from farms in the Central Valley or as far away as Mexico. That's one of the reason Deborah Walton of Petaluma's Canvas Ranch discontinued her CSA program.
"I tell people to always ask not who grew it, but where did it come out of the ground," she said.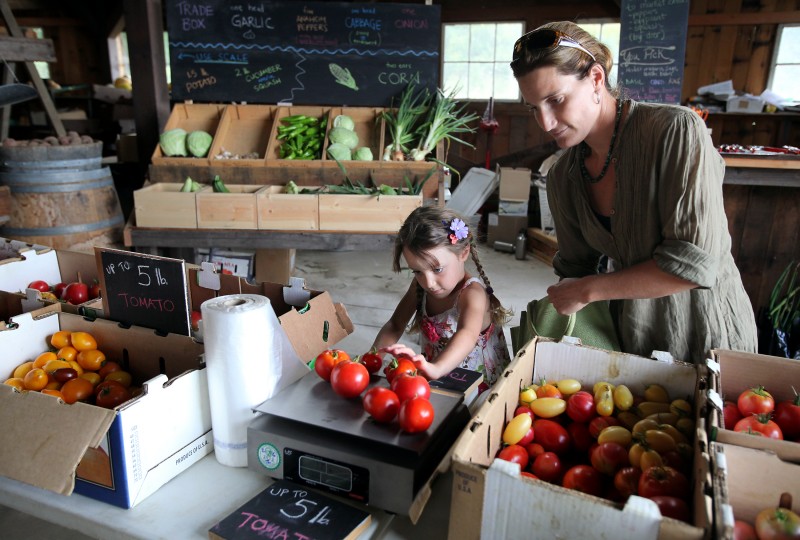 Most of the local family farms grow more or less the same seasonal produce and provide a weekly newsletter with recipes and tips. Choose a farm that's close to your flight path. hen ask for a list of what has been provided in the past month. Consider what "add-ons" are available and whether the CSA operates year-round.
Most farms offer delivery to drop-off points, but some charge extra. If you do not have time to pick up a box, choose a farm that does home delivery.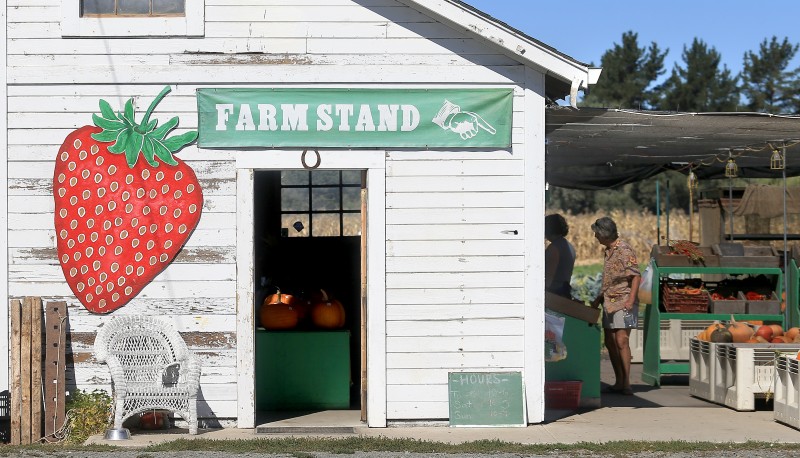 Here is a list of a dozen CSA programs in the county, and what they offer:
VEGETABLE CSA BOXES
First Light Farm, Petaluma: Located on Bodega Avenue a few miles from downtown, this farm is best known for its dry-farmed potatoes grown by Jesse Pizzitola. There are two sizes of produce boxes, ($25 and $15), offering user-friendly veggies that are familiar, plus a few unusual items like fennel. The CSA goes year-round, with a network of drop-off spots in Petaluma, Santa Rosa, Sebastopol, Bodega Bay and Marin County. Limited home delivery is available for $7. Those who pick up at the farm get free, u-pick flowers plus a CSA potluck every other Wednesday. firstlightcsa.com.
Foggy River Farm, Healdsburg: Emmett and Lynda Hopkins run this CSA from their Eastside Road farm about 10 minutes from downtown Healdsburg. The box includes staples like carrots, tomatoes and lettuce plus fun items like elephant garlic and microgreens. CSA members choose their own produce andhave access to u-pick cherry tomatoes and hot peppers along with produce left over from farmers markets. Perks include picnicking every Wednesday and farm parties. Cost is $25 per week, May through November. For another $2, pick up in downtown Healdsburg, Windsor or Santa Rosa. foggyriverfarm.org.
Laguna Farm, Sebastopol: Operating for more than 30 years south of town on Cooper Road, this farm has been run by Jennifer Branham and Ignacio Romero for the past five years and is known for its fresh salad mix, root crops, berries and Sungold cherry tomatoes. The CSA offers a produce box or a juicing box ($20 each for farm pick-up), with the option of pick-up every other week. Pay an extra $4 to pick up at sites in Santa Rosa, Cotati, Petaluma, Forestville, Sebastopol and Occidental, or get home delivery for $6.50. Add-ons range from Taylor Made Coffee to Village Bakery bread. You can trade veggies if you pick up at farm. lagunafarm.com.
Open Field Farm, Petaluma: Four years ago, Seth and Sarah James bought a former dairy on Spring Hill Road and turned it into a vegetable, berry, grain, egg and grass-fed Corriente beef farm that sells to CSA members only. Members enjoy u-pick flowers and take what they need (within limits) for a sliding scale of $45 to $75 a week. There is a fun, celebratory atmosphere on pick-up days. openfieldfarm.com.
Shone Farm, Forestville: Now about five years old, this CSA's produce is grown at the Santa Rosa Junior College farm, where students learn to plant, harvest and sell the produce. The box ($26 a week, June through mid-December) can be picked up at the farm or at drop-off points in Petaluma and the SRJC farmstand. A Scholar Bag with fewer items can be ordered for $12 a week. shonefarm.com.
Singing Frogs Farm, Sebastopol: This farm behind Ragle Ranch is run by Paul and Elizabeth Kaiser, former Peace Corps volunteers who do international outreach about their no-tillage system of farming. The CSA offers a classic box ($26 per week) and family box ($33.50 per week). Most pick up boxes (no extra fee) at delivery spots in Santa Rosa, Sebastopol and Graton and can trade items there. Add-ons include eggs. olive oil and brown rice. Boxes available every other week from Thanksgiving through April. singingfrogsfarm.com.
Tierra Vegetables, Santa Rosa: This farm at Airport Boulevard is run by siblings Lee and Wayne James and is known for its giant veggies, dried beans, chiles and cornmeal. The weekly CSA goes year round, with one already cooked product offered during the winter. You can also purchase sauerkraut, pickles and other foods, along with Wise Acre eggs, at the farmstand. Pick up at the farm ($24 a week) to trade out veggies. For an extra fee, pick up at two sites close to downtown Santa Rosa. tierravegetables.com.
FRUIT FARM
Gabriel Farm of Sebastopol: For the past six years, this fruit farm owned by Lucy and Torrey Olson has offered a u-pick farm membership. n. To become a member, buy a case of the Gabriel Farm Asian Pear-Apple juice (six half-gallons for $36.) The farm will have ripe blackberries and Gravenstein apples in early August. In the fall, there will be cherry tomatoes and pumpkins too. The farm's main crop, Asian pears, is not for picking, but you can buy them at the farm along with juice and small-batch jams. gabrielfarm.com.
MEAT AND POULTRY CSAs
Sonoma County Meat Co., Santa Rosa: Open for just two years on Sebastopol Road just west of Highway 101, this USDA- and state-inspected butcher shop run by Rian Rinn and Janine Alexander offers a monthly CSA available in 5-, 10-, 15- or 30-pound sizes. The box includes beef from Oak Ridge Angus in Calistoga, pork from Walnut Keep in Napa County and lamb from Williams Ranch in Sebastopol (for $8 to $9 a pound). There are popular add-ons — house-smoked meats like bacon, ham, sausages — at a discount. The couple plan to offer whole chickens from A4 Farms in Fulton as an add-on and to launch a Chicken CSA. A one-time $25 membership fee includes a cloth bag. sonomacountymeatco.com.
Tara Firma Farms, Petaluma: Tara Firma Farms, founded in 2009, delivers pasture raised beef, pork, chicken, and lamb, as well as extras like organic veggies, fruit, cheese, and eggs door to door on a weekly basis. Owned by Mark Squire and his family (of Good Earth Grocery Stores), they are dedicated to sustainable and environmentally friendly farming. There are 750 subscribers throughout the Bay Area who order the meat as well as veggies supplied by First Light Farm ($25, $35 for large, $10 for fruit add-on.) Choose one of their flagship family or premium shares ($55 and $95 options available) or a Custom Share ($50 or $100 minimum) to shop on the web store for your favorite cuts with a nice retail discount. The farm offers free tours at noon on Saturdays and Sundays, with kids camps year round. tarafirmafarms.com.
True Grass Farms, Valley Ford: This ranch, run by Guido Frosini and located near the Marin-Sonoma border, raises grass-fed and finished California Kobe beef, pastured lamb and pork. This year's cow shares have sold out, but Frosini will offer more in January. The smallest share is 1/16th or about 22 pounds. You can also order a quarter, half and whole cow share to split. truegrassfarms.com.
Victorian Farmstead, Sebastopol: This CSA is run by Adam Parks, who also can be found at the Chop Shop butcher shop at Community Market in Sebastopol. The Classic Box includes DG-Langley pork, BN Ranch lamb and chicken parts and sausage from Big Bluff Ranch near Mt. Shasta. You can get 5-pound or 10-pound boxes for $11 a pound, and pick up weekly, bi-weekly or monthly. The box is 20 percent steaks and chops, 40 percent roasts and braises and 40 percent ground meat or stew meat. Whole chicken is an add-on. Pick up at the Chop Shop, one of the farmers markets or get it home delivered for a fee. vicfarmmeats.com.
---
4 Tips for Making the Most of Your CSA Box
You've signed up for a CSA, and now it's time to bring it home. Here are some tips on getting the most out of it.
Get a head start: As soon as you can, process the fresh vegetables so they are ready to eat or cook. Take the tops off beets and store them separately. Remove the tops from carrots, and chop the carrots into sticks. Wash your salad greens and put them in a Tupperware container lined with towels. Rib and chop kale, make a salsa out of your tomatoes, turn the basil into pesto. Freeze your berries.
Juicing for health: If you want to eat your veggies raw, consider buying a $25 juicer so you can energize with a fresh beet and carrot juice.
Clean house: The night before you pick up a new box, go through your crisper drawers and make a soup out of the vegetables remaining from last week. That way you avoid "food guilt" for wasting food, the No. 1 reason people leave a CSA,
Make a vacation plan: If you're on vacation and your farm does not put your box on hold, share it with a neighbor or donate it to a needy family.