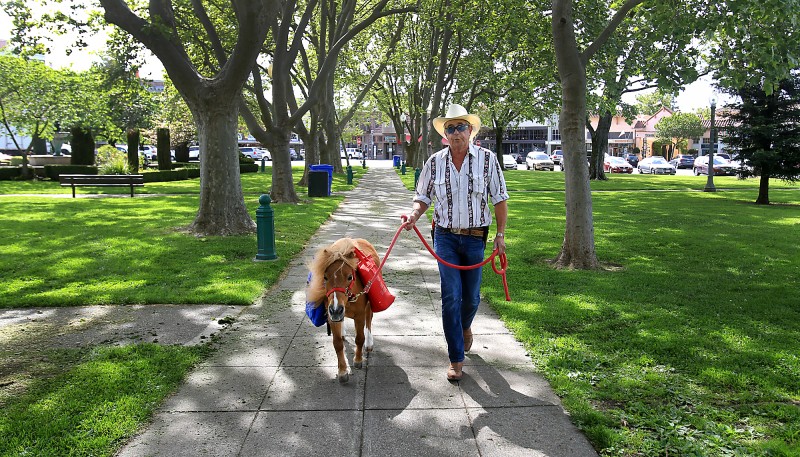 James Cannard is used to being stopped on the street as he takes his daily walks around downtown Sonoma. Dressed as he often is in shortly cropped shorts, or jeans and an ankle-length faux fur coat, plus cowboy boots and hat, he can indeed be a fashion plate.
But it's his sidekick, Peanut Butter, who commands the real oohs and aahs.
"Her job is to exercise my ass," Cannard said of the 14-year-old miniature horse, who accompanies him nearly everywhere. "My doctor recommended cardio, and she's perfect. She leads out, pulls me a little and keeps me usually at a 13-minute mile, three to seven miles a day."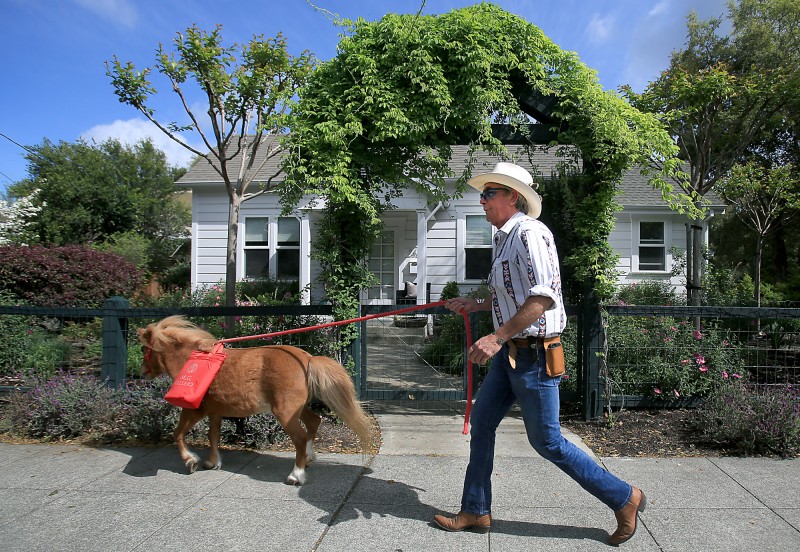 A Sonoma Valley resident since 1960, Cannard, 59, keeps Peanut Butter at his Third Street home, in the heart of downtown. The chief of police once suggested Cannard get a livestock permit and he did, plus a red halter to complement his pal's golden-red coat and flaxen mane. He quickly realized she was too pretty to leave at home.
"She's a licensed service animal and people have become her herd," he said. "She appreciates the attention."
An urban farmer and landscape-soils consultant, Cannard is escorted by Peanut Butter to the bank ATM, the bar at Sonoma Springs Brewing Co., and the grocery store, where she waits outside.
"Folks stop us and we don't ever mind a visit," he said. "I guess we're an unusual event, but really, we're just how a day turns out in Sonoma."
Editor's Note: Travel, dining and wine tasting can be complicated right now. Use our inspirational ideas to plan ahead for your next outing, be it this week or next year. If you visit restaurants, wineries, and other businesses during the pandemic, remember to call ahead, make reservations, wear a mask and social distance.