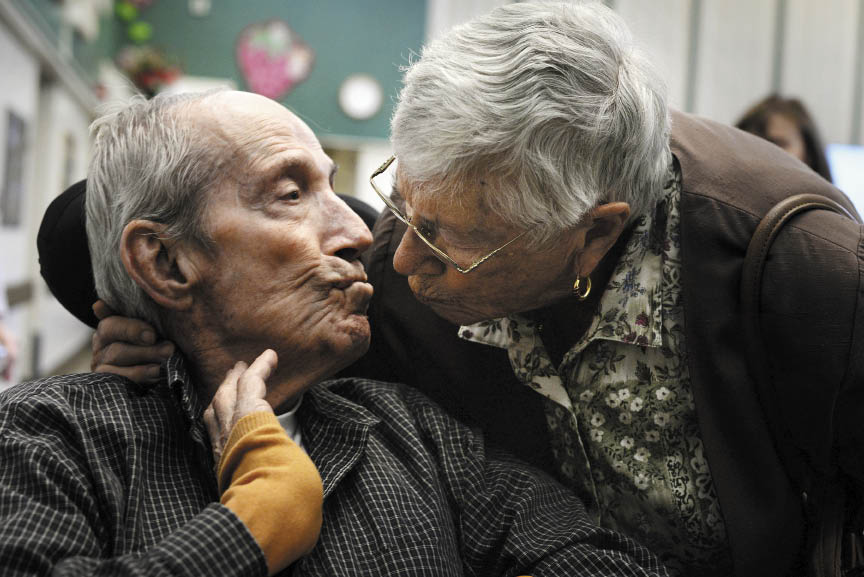 Brien Farrell remembers the day but not the pain. Maybe the feelings are fuzzy because he was only a small boy of 6. But he suspects the wound to his family left by separation was so deep he simply "blocked it out."
On that day in 1958 Tom Farrell and his wife, Evelyn, pregnant with their fourth child, piled Brien and his two younger sisters into the station wagon and made the half-hour drive to Eldridge, just past the village of Glen Ellen. They returned to Santa Rosa with only two kids in the back seat and an emptiness that would linger for decades.
Missing was Susan, a dark-haired, dark-eyed child of 4. She was tiny, self-contained, unable to speak and averse to touch. As time went on it became clear she was not developing like her siblings.
It was a time when there were few services available for the disabled outside of institutions and even Evelyn, a trained nurse, felt unequipped for Susan's special needs, which included autism and an IQ of 17. A concerned family pediatrician recommended she be admitted to Sonoma State Hospital.
Susan would come home for holidays and visits but never to live. She would remain forever to her family a "Heavenly Guest," as her father described her in a poem that became an anthem to the daughter he relinquished but never stopped loving with a longing so fierce that it turned him into a national crusader for the disabled until his death last year at 88. A building at Sonoma Developmental Center bears his name.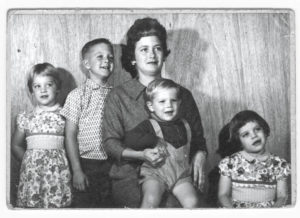 Separating from Susan, Brien Farrell remembers with a wince, "was the hardest thing my family ever had to do. It wasn't done impulsively."
When Susan arrived 57 years ago, "Sonoma" (as it was often called) had 3,200 residents, many of them children, a waiting list half as long and a staff of 1,300 in starched white uniforms.
She is now one of fewer than 400 residents who remain on a 945-acre campus targeted for closure under a proposal by Gov. Jerry Brown. With 1,305 jobs, the center is Sonoma Valley's largest employer. The State Department of Developmental Services, which oversees the center, in October will submit a plan to the Legislature to shut down Sonoma Developmental Center by the end of 2018.
Many disability advocates applaud the move, saying that large institutions are an anachronism.
"It's an outdated mode of treatment. As a society we don't
segregate groups of people anymore based on anything," said Katie Hornberger, director of the office of Clients' Rights Advocacy with Disability Rights California, which advocates for the disabled. Her office works under contract to the Department of Developmental Services, which oversees the care of 280,000 individuals, most served by 21 community-based centers. Only about 1,030 residents remain in the three remaining developmental centers (Sonoma, Costa Mesa and Porterville).
"We wouldn't buy a 1,000-acre parcel and say this is just for women or one racial group. When we look at why we integrate people, the benefits are amazing," Hornberger added, noting that communities become more sensitive and accepting while the disabled themselves are given opportunities they didn't have before.
But some families, like the Farrells, feel blindsided by the news that the state intends to shutter the Sonoma center so fast. For their loved ones, Sonoma is not a cold and impersonal institution, but home — sometimes the only one they have ever known. Despite a state pledge of nearly $50 million to transition the remaining residents into community homes and services, some families fear inferior care will put their relatives at risk.
Family members of SDC residents are not alone in their concerns. A report earlier this year by the Association of Regional Centers warned that years of underfunding of community-based services for the developmentally disabled have left the system "on the brink of collapse." Service providers have been forced to trim their standards or close altogether, and regional centers have increased their case-loads to "above legally required levels." The impact of underfunding, the report said, has left the developmentally disabled increasingly "without adequate services and supports to meet their needs."
"I do think people safely transition. But there are gaps in community care and people are falling through them," said Kathleen Miller. Her son, Danny Smith, an autistic with developmental disabilities and mental illness, was kicked out of two community homes and was often in restraints at other facilities. Since he came to Sonoma 15 years ago, she said, he has been so much better.
Still, the state's developmental centers have had their dark chapters, among them overcrowding, allegations of forced sterilization, and medical experiments done on people with cerebral palsy at Sonoma in the 1950s. In the 1990s, after a teenage boy was found injured and lying in a pool of blood in a shower, a class-action lawsuit resulted in a settlement that stepped up the exodus of residents from developmental centers.
There have been other troubling reports of neglect and abuse at the Sonoma facility over the years. Investigations into allegations of unsafe care at Eldridge put federal funding for 11 units in its intermediate care facility in peril two years ago. Investigators said center staff failed to protect clients and did not follow proper medication protocols.
The center lost federal certification for four of the units, so the annual $13 million funding had to be taken from the state's general fund. This summer, an agreement was reached that preserves federal Medicaid funding for the other seven units under certification.
State officials stress that the decision to shut down its remaining developmental centers reflects a nationwide shift in how people with developmental disabilities are served, a shift that began more than 45 years ago.
But expense is part of the equation. The state has estimated that the cost of caring for a single person at a developmental center has risen to $500,000 a year, compared to an estimated $75,000 to $300,000 in community care centers.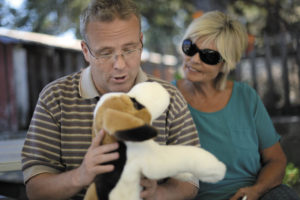 There is also widespread community interest in what happens to the land. Most of Eldridge is undeveloped, some 700 acres of redwoods and large stands of ancient oaks. Forests of evergreens and shimmering meadows of grass unfold into panoramic views of the upper Valley of the Moon, the same land that inspired the pen of neighboring rancher Jack London.
It is wild, patrolled by Golden Eagles, spotted owls, bobcats and mountain lions. Sonoma Creek, habitat for threatened steelhead trout and endangered California freshwater shrimp, meanders through on the valley floor and Suttonfield Lake, a reservoir for the center, seeps unseen through the folds of the hills along its eastern border next to Sonoma Valley Regional Park.
Surrounded by 9,000 acres of protected open space and parks, Sonoma Developmental Center is a prized piece of land coveted by environmentalists and recreation advocates determined to keep it protected for wildlife and public use.
When Susan Farrell arrived at the Sonoma center, it was a bustling world apart, a self-sufficient community in a sylvan setting at the base of Sonoma Mountain, adjoining Jack London's beloved Beauty Ranch. It had its own post office, police and fire departments, cottage industries, dairy and hog farm, and a morgue and cemetery. A reporter at the time observed that it looked "more like a country estate than an institution," with long stretches of neatly kept lawn and gardens, baseball fields and playgrounds.
Most of the residents had mild to severe developmental disabilities. But sprinkled within the population were more than a few unfortunates who were mentally able but dumped there for dubious reasons lost to time.
"People were there for hundreds of different reasons," said Markley Sutton, a retired program director and senior psychologist who worked at Sonoma Developmental Center for more than 30 years. "I had a guy who came over to San Francisco on a three-masted schooner. He was just a sailor in a bar on the Barbary Coast. He got picked up and brought to Sonoma."
Social attitudes, however, were already shifting. One hospital officer told a reporter in 1958 that state hospitals existed to provide care only until society had "matured" to a level where it was ready to give families the support they needed to keep their children out of big institutions.
In the 1960s, California schools were required to provide training programs for "the trainable retarded" and the state set up a series of regional centers to oversee support and services in the communities. Beginning in 1969, the Lanterman Act established that people with developmental disabilities and their families are entitled to the services and support they need to live like everyone else. California began emptying its institutions.
But Susan Farrell stayed at the Sonoma facility. Her family was convinced that despite its flaws, the large staff at Sonoma Developmental Center was then, and is now, better equipped to care for her than a private care home. She defies any easy label, said her brother, Brien. Susan has "pervasive developmental disabilities," a seizure disorder and cerebral palsy.
Her life is simple. She has a day program where she might play with trucks (she prefers shiny red ones and likes to sleep with them) or gaze at magazines. She can't read but Brien suspects she may be drawn to the colors. She prefers to stand at the sidelines of activities and groups, observing, and habitually walks in and out of the front door multiple times a day.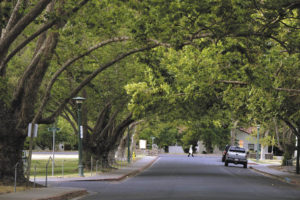 He visits regularly, taking her for small walks or out to McDonald's, one of the most accepting places in Sonoma, he says, for a cheeseburger and coke with no ice.
"She has a social worker who is her advocate and ferocious about making sure any medical appointment or other service that Susan needs are taken care of," said Farrell, a retired Santa Rosa city attorney who now shares conservatorship over Susan with his wife, Kathy. "There is a day program and there is music. There is a physician who has treated her for 16 years, a gentle, soft-spoken man who works there because he is drawn to working there, not because he was forced to. There are psych techs who have worked with her for many years. Some interact with her every day."
Eldridge is, by bits and pieces, turning into a ghost town. Twelve of the 145 buildings, many predating World War II, stand empty in varying stages of deterioration. They include the stately brick administration building that has loomed at the end of the main, palm-lined approach since 1908. Many of the old residence "cottages" are now used for offices and storage. Monthly, the center holds public rummage sales to offload furniture and equipment.
Those who are left are, like Susan, older, beset with difficult-to-manage behaviors or are medically fragile. Although they range in age from 23 to 91, 75 percent are older than 50.
The lingering public perception about people in large institutions is one of neglect, souls locked away, abandoned and unloved. In fact, parents in the old days frequently were encouraged to cut ties with their children once they were admitted to the center, out of the misguided belief that it was the best thing, Sutton said.
And yet there are others, including the Farrells and Kathleen Miller, who heads the vocal Parent Hospital Association at Sonoma Developmental Center, who have held on to their family ties with a devotion both tender and unyielding. Not every resident is so fortunate. Only half have a family member serving as a legal conservator.
The story of these last remaining families is also the story of the 124-year-old Eldridge. As residents have aged or passed on, a brother, sister, niece or nephew has stepped forward to maintain the bond, gain conservatorship and watch out for their welfare.
For Mary Ferrario, the ties stretch more than 80 years. She was only 7, growing up on a small farm in San Lorenzo, now San Leandro, when her mother went to juvenile court in downtown Oakland to have her brother, Frankie Magliotto, committed to the Sonoma State Home. She did it only under pressure from a social worker who was concerned that Mary wasn't going to school. Magliotto, born a year before her with serious brain injuries, was following her to school.
"I remember him always coming around and destroying things that I had," Ferrario recalled. "My mother kept me home so she could watch him and watch me. She said she couldn't be in two places at one time."
Ferrario's mother was born to an Italian family in South America. Her father was from Italy. There was no help and no respite for an immigrant mother with limited English during the depths of the Depression.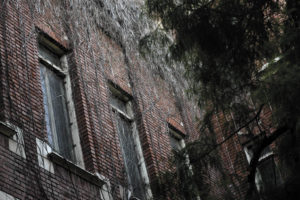 The entire family unfailingly made the long drive to Sonoma on the first Sunday of the month, her mother always at the wheel. They would leave at 6 a.m. and return 12 hours later.
"I think she was relieved," said Ferrario, "but it must have been a heavy cross for her to bear."
The little girl who still remembers that melancholy first trip to Sonoma on Aug. 20, 1934 — the date burned into her memory because it was the Feast of St. Bernardo — is now 87, recently widowed and a cancer survivor.
She has made that trip faithfully for 80 years. When her son and daughter were born in the 1960s, they, too, came along. In the early years they would bring Magliotto home for overnight visits. But after a medical scare kept the family up all night, they began picking him up in the morning, bringing him home and then driving him back to Eldridge at night, more than 260 miles on the road. On holidays, Ferrario said, her mother would set out a plate for Magliotto, even when he wasn't there.
Now she comes with her son, Paul, 54, his wife, Julie, and their three young children, all equally devoted to their Uncle Frank.
On one summer day they arrive at his unit brimming with affection and laden with amusements to pique his interest.
Ferrario greets her brother with a kiss and sits close so they each can hear one another, leaning in and taking his gnarled hand into her own. Sometimes when she wants to make sure he understands, she falls back into the Italian language of their childhood, which he still remembers.
"Now he seems more like my child than my brother," she conceded.
Paul Ferrario is an equal champion for his only uncle. His affection runs deep. On this visit he has brought empty containers of common items: sardines, ketchup, little things that will intrigue his uncle. He has also rigged a board with old electrical insulators he found around the house, similar to something that amused Magliotto as a little boy back on the farm. Ferrario for years has searched out the old transistor radios his uncle still cherishes. Magliotto's physical needs now are considerable, yet his desires are simple.
Painfully shy as a boy, Ferrario said he believes he learned a few things about life observing his uncle, who has always been unselfconscious and guileless, endlessly curious about little things, and who seems to know everyone in Sonoma Valley. Before he suffered a stroke last year, Magliotto would be taken by his family to Mary's Pizza Shack, or Eraldi's for new clothes. He had no fear about walking up and asking people questions. Guys in trucks would drive by, lean out the window and call his name. Ferrario said he observed with envy the women who would come up to them in line at the drug store to greet Frank.
"Invariably," he dryly recalled, "they were gorgeous."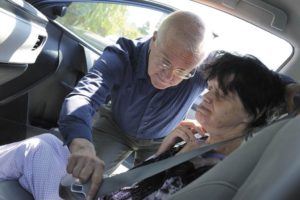 When he was still in his 20s, his mother recruited Paul and his sister, Julia Sells, who lives in Arizona, to be co-conservators for Uncle Frank. He wound up as president of the Parent Hospital Association and a vociferous advocate, traveling to Sacramento and Washington, D.C., to speak out for services, funding and the Sonoma Developmental Center.
"I found my inner voice," Ferrario said.
He didn't marry until he was in his 40s. But he said he knew he had found the right one in Julie when she connected immediately with Uncle Frank.
Now Ferrario is doing everything he can to make sure that Magliotto can live out his remaining days in his home of 80 years, in the place that is familiar, and with staff who know him and treat him like extended family.
Ferrario said he remembers as a boy looking at Magliotto's bed lined up with so many others and feeling sorry that he didn't have his own bedroom. But now he does, a room he shares with another man and that is filled with pictures and the things he loves, such as his transistor radio, toys, and the cattails he knits from yarn and that Mary has crocheted into any number of rugs and chairpads scattered throughout her house.
Over the years, Magliotto attended ballgames in San Francisco and visited the beach at Bodega Bay. He enjoyed the many activities at the rehabilitation center, particularly the Halloween parade.
"I think he had a wonderful life," said Mary Ferrario.
Reflecting back, her son, an administrative analyst for East Bay Regional Parks, said whatever he has given, he has received back in spades from his relationship with his uncle.
"It helps you cut through all the noise we have in society, all of the superficial things. All of the vanities that surround us in life," he said. "It struck me as a teenager. My mom over the years brought Frank a couple of TV sets. He wanted no part of them. He knew the people on the tube weren't real. There are always treacherous people in life driven by jealousy and ambition. You visit somebody like Frankie, it brings back the humanity and balances out the distasteful part of life."
When Pat Walter tried to get her severely disabled daughter, Andrea, admitted to Sonoma Developmental Center 14 years ago, the door was all but locked. She found a Napa attorney who was willing to go up against the Department of Developmental Services in court. It took months, but Walter was determined and prevailed.
At the time, Andrea had been at Queen of the Valley Hospital in Napa for months with recurring pneumonia. The hospital wanted to discharge her. Walter felt her daughter, who could no longer swallow food, was too fragile to live at home in Napa or in a community care home like the one in St. Helena where she had resided from age 7 to 19, coming home on weekends for visits.
"They wanted me to send her to a geriatric nursing home," Walter said. "It was good, but they didn't have the kind of care she needed. They didn't have the suctioning for her lungs. There was a whole plethora of things they didn't have."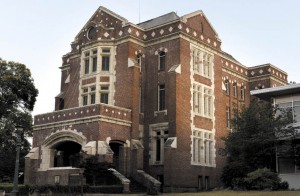 When Andrea was born in 1981, she was a rare perfect 10 on the Apgar chart that scores the health of newborns. She seemed to be thriving for her first two months, smiling and waving her arms. Then it all stopped, right after her first immunizations at 2 months old. For two days, Andrea, was quiet, then woke up crying and screaming. Tests at 7 months showed abnormalities. Anti-seizure medication calmed her down, Walter said, but she wasn't developing. Her slowness was all the more apparent when her sister, Carolyn, was born two years later.
Walter, a clinical microbiologist, suspects there might be a correlation between her daughter's disability and the shots. But neither she nor her ex-husband, a neurologist, pressed a case.
"I believe in immunizations, but if I had known my child would be the one to pay the price, I would have withheld. Yet they're so important to society," she said.
At 67, Walter still mothers her frail oldest daughter, whom she affectionately calls Sweet Pea. She visits once a week. While there are no heart-to-heart talks, Andrea likes to be talked to, her mother said, and makes little noises back. They connect over the tiniest of things. Walter will brush her child's teeth and her hair, convinced she enjoys being touched.
Andrea has advanced osteoporosis and her bones are brittle; a recent hip fracture was discovered by center staff through a routine check of her vitals.
Walter worries about her daughter's future and the ability of a smaller facility with fewer staff to handle Andrea's intensive needs or know if she is in pain.
"One of the main things is that there is round-the-clock nursing care. At Sonoma, they move her every two hours so she doesn't get bed sores. They know how to clean her properly. They do vital signs three times a day. They picked up that she had a necrotic gallbladder just through her blood pressure. I know that may be an unreasonable standard of care, but as long as it exists," she declared, "I'm going to get the best for her so she won't suffer."
Walter said she understands that many people with mild to moderate disabilities are far better off in the community. But for Andrea, some well-intentioned efforts to normalize her, in fact, overlook her real needs. Her daughter doesn't need "privacy," as some advocates would argue. She enjoys company and would be lonely, her mother said. "If she's not sick and weather is permitting, I get her up in her chair and take her for a walk. She likes it slow so she can look at things. She likes the firetrucks. I help her touch the chrome. She loves looking up at the trees."
Kathleen Miller's concerns are different for her son, Danny. At 48, he looks like any other man, except for the plush dog named Tom that he carries everywhere.
He can converse in simple ways and is free to walk around Sonoma Developmental Center, taking familiar routes. He walks to his vocational training program at Sunrise Industries past the small Junior Farm, where he does small jobs such as shredding paper. He makes a little money, which he spends on treats at the center's store.
He can exhibit the sweetness of a little boy and often is endearing, with his flatteries and expressions of affection. But he also is volatile, and that is what worries his family.
Some advocates for closure of the center have suggested that the families who oppose the move are stuck in the past and don't understand what's available and why the community is better.
"There is some truth to that, especially among the older ones who have had family members in Sonoma so long they've never bothered to look. But some of us are more savvy. I've been out there. I've visited those homes. I've asked questions," said Miller, who lives in Santa Rosa. A youthful blonde of 69, she had Danny when she was 21.
A single mom, she raised him at home along with her daughter, Molly Dillon, who is one year younger than Danny.
"He was this blond-haired, green-eyed little boy, very athletic, he was in Special Olympics, and beautiful," said Dillon, an assistant city attorney for Santa Rosa and a co-conservator for her brother. "As much as he was difficult, he also gave us a lot of joy. He could be very funny."
Once he hit puberty, however, Danny exhibited signs of bipolar disorder. It was too much for Miller, who had gone back to school to become a psychiatric social worker. For years she struggled to find the right placement for him. He was kicked out of several group homes, landed more than once in an acute psychiatric hospital, and spent time at several other developmental centers, including Camarillo, which shut down in 1997, forcing her to find a community placement that also didn't work out.
"He will make threats. He will tell people to get out of his way if he wants something. He threatens to hurt himself. Sometimes he is self-abusive. He would pick and bite at his finger and skin until it was bleeding," Dillon said of her brother in his most anxious times.
Without careful management of his medication, he would sometimes need to be restrained. His usually tough mother tears up remembering times when he was so debilitated.
But since he came to Sonoma in 2000, Danny has not needed restraint. He is free to walk the grounds without danger of frightening someone or getting into trouble with people who don't understand his disabilities, his mother said.
The complexities of caring for someone like Danny, she explained, have "made me a stark raving maniac advocate person." She also came to understand it from the inside, after working seven years as a psychiatric social worker at SDC.
"I think there were years when there were too many people at the developmental centers and the care wasn't as good. I haven't experienced those years. By the time Danny got to Camarillo, they were beyond that. The whole time he's been in a developmental center, I've never seen the things they talked about in the days of old. I've always seen caring staff and competence."
Miller and other parents are fighting fier cely to ensure that when the Sonoma center inevitably closes, the types of community homes needed by the medically fragile and those with severe behavior problems will be in place and that crisis and other support services will remain at Eldridge.
Their loved ones, they say, are worth it.
"I adore him," Miller said of Danny, quietly through a tight throat. "He's got the sweetest heart. To know him is to love him. He annoys the hell out of me and other people sometimes. But he fights to be good. He has such a hard time. It's not fair. But you know? Life's not fair."
She and others are quick to point out that the effort has its returns. Their loved ones, children, their siblings, their uncles, have taught them lessons about compassion, commitment and the preciousness of life at its most fundamental.
After he retired as an attorney, Brien Farrell took on a second career teaching civics and economics at Elsie Allen High School with a student body both diverse and economically challenged. He loved it and he loved the spirit and hearts of his students.
"I don't think I would have done that," he said, "if not for Susan."
Walter said when she realized Andrea was not going to be "normal," she grieved. "I would wake up from a dream where she would be talking, and suddenly she wasn't talking anymore. But it's been a long time. Being with Andrea is like meditating, because it's so simple and without guilt. It's restful, nourishing, comforting. Life, for her, is what it is right now. There are very few things in our lives that are like that.
"I guess if you wanted to give me another normal daughter, I would be happy with that. But I wouldn't change Andrea for a normal daughter. She's the one I love now."
Subscribe to Our Newsletters!