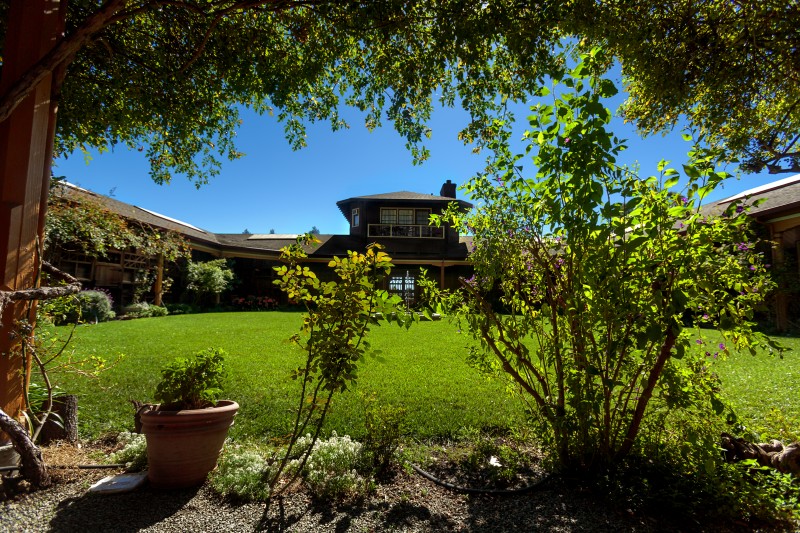 Rancho Wikiup, a 100-year-old stable where famous thoroughbreds once pranced, is now home to Carlos and Nancy Guevara, who renovated the property and raised their family there. When their children trotted off, they turned this landmark that housed horse soldiers during World War II into a wedding and event venue extraordinaire.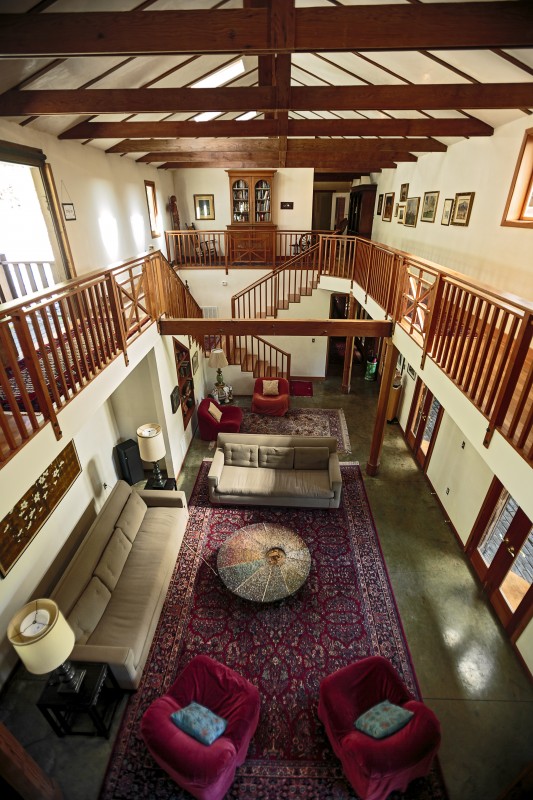 Originally built by San Francisco industrialist John Rosseter in 1915, the 21,000-square-foot structure in the Larkfield-Wikiup neighborhood north of Santa Rosa is made of clear-grain Douglas fir, not a knot to be found. It surrounds a courtyard where horses grazed and couples now say their vows. Most of the stable doors are intact, with their original handmade hammered-brass hinges and silver door handles. Even the black stains from horse drool add authentic flair.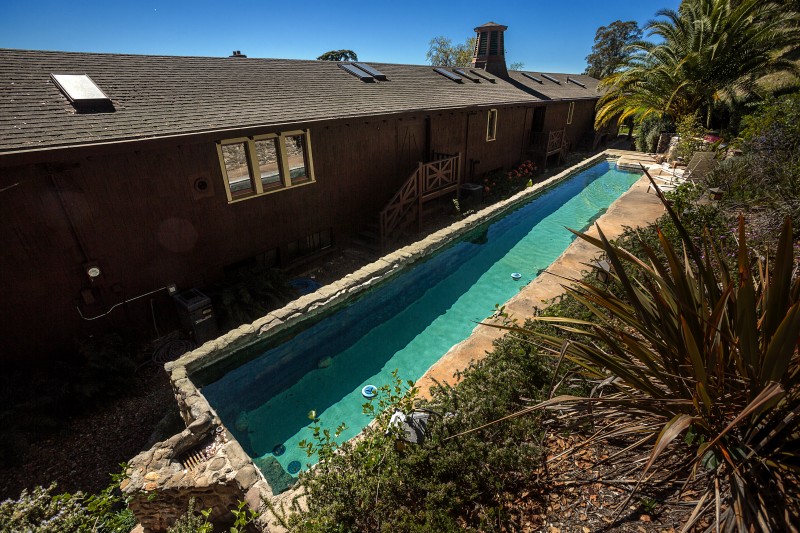 In the early 1990s, the Guevaras were living in Berkeley in a Victorian house they had completely upgraded. Ready for a new project and yearning for a more rural lifestyle, they began a search for a fixer-upper with an in-law unit on a large lot. Carlos had seen Wikiup in a magazine ad, and the family took a drive on a rainy Sunday to see it. A week later, in spring 1992, the place was theirs. "It was completely dilapidated," Nancy said.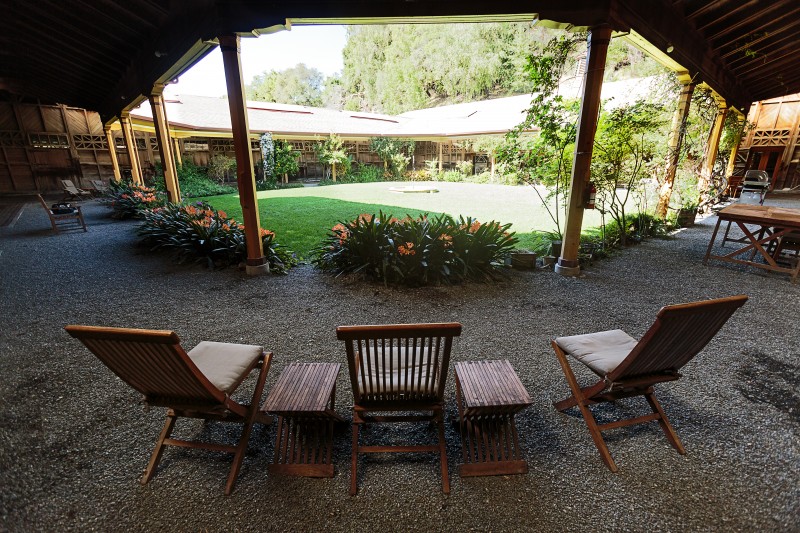 They moved into the ranch manager's residence, giving Nancy's father the only bedroom, and for six months she and Carlos shared an outdoor deck with their children, Erika and Gabriel, using sleeping bags and watching the sun rise and set. Carlos, a general contractor, started turning the hayloft into the master suite while sprucing up two existing rooms above the stables for the kids.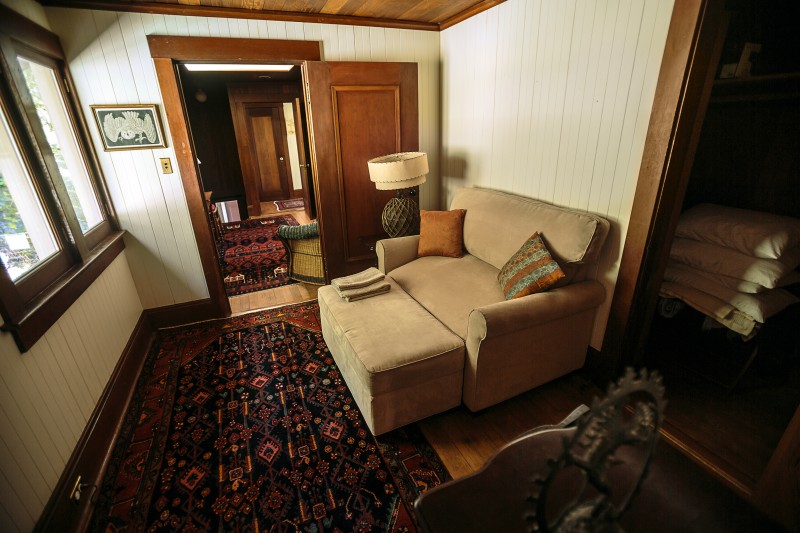 The room that became Erika's has an autograph etched into the wood under the window that reads: Sgt. Milton L. Chenoweth, Btry. C 74th F. A., 5/14/42. Chenoweth was a mounted soldier with Battery C, one of the artillerymen who lived at what became Camp Wikiup when the U.S. Army requisitioned the property while guarding the coast during World War II.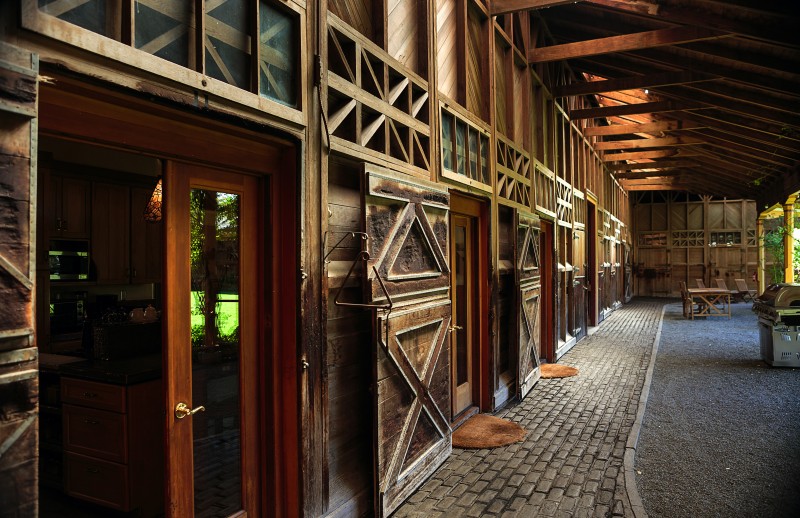 For years after the Guevaras moved in, they used an itty-bitty kitchen that still remains in the ranch manager's quarters. Nancy said even after Carlos completed the now-airy, high-end kitchen, she had become so used to cramped living that she would sit at the antique table and eat off her lap. Above the new kitchen island hang pendant lamps made of sheared agates, created by Nancy's father, Dr. Kenneth S. Dod, who died in 2008. He also made the living room table and wind chimes.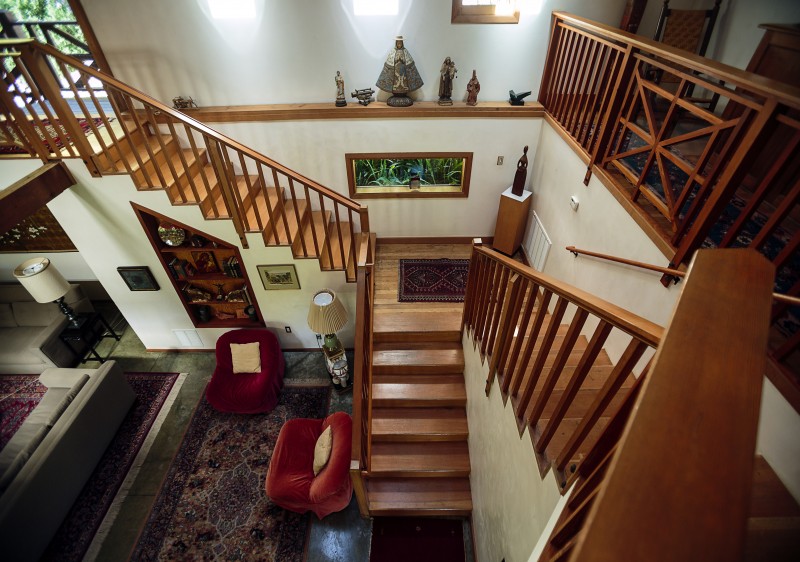 The kitchen and a rustic recreation room with a pool table are in the south leg of the square of buildings that surround the courtyard. The kitchen adjoins the east side, the entire length of which has been turned into living space, with a dining room, great room and sitting area, wine storage downstairs and three bedrooms upstairs. Carlos built an open stairway connecting the two floors, fashioning it from fir salvaged from the horse stalls. Here and there are pieces of railing gnawed by Rosseter's horses in the early 1920s.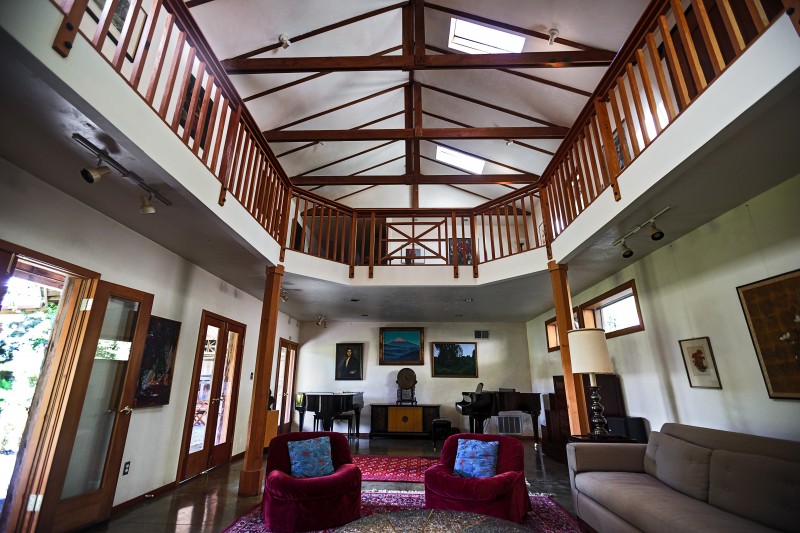 Rosseter, who lived in San Francisco and was the owner of a steamship company and president of a flour mill, built Rancho Wikiup to raise thoroughbreds, and he and his wife spent leisure time there, often entertaining. The most famous of his horses was Disguise II, who won the Jockey Club Stakes, placed third in the Epsom Derby in 1900, and sired many winners in the racing world.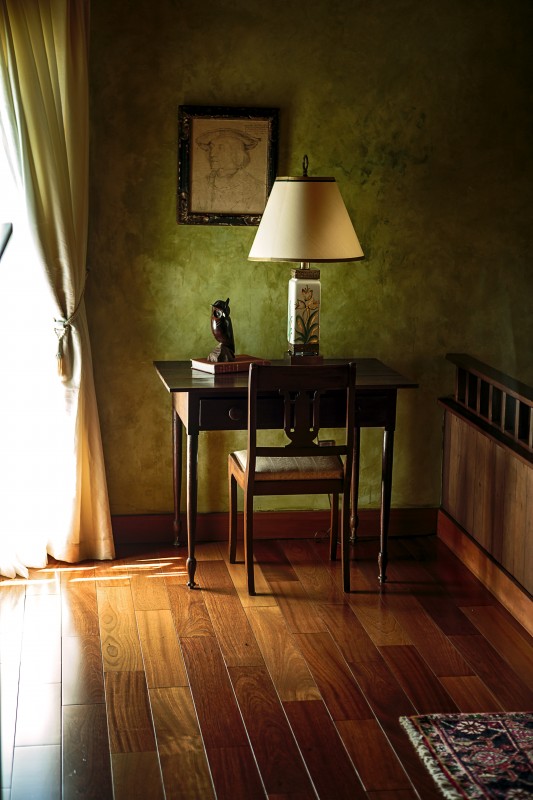 By the time the Guevaras acquired the property in 1992, the original 800-acre ranch overlooking Mark West Creek had been subdivided. The Guevaras own 11 acres. A hot tub and cobblestone-encased lap pool are nestled on the hillside among oak and bay trees behind the converted stables.
There is a parking area for 50 cars, graced with sculptures created by Carlos, who was an art student in his native Spain when he met Nancy while she was studying abroad in 1973. He moved to the Bay Area and they married. His knowledge of art is seen throughout Rancho Wikiup, its walls graced with interesting pieces he's collected at auctions and galleries.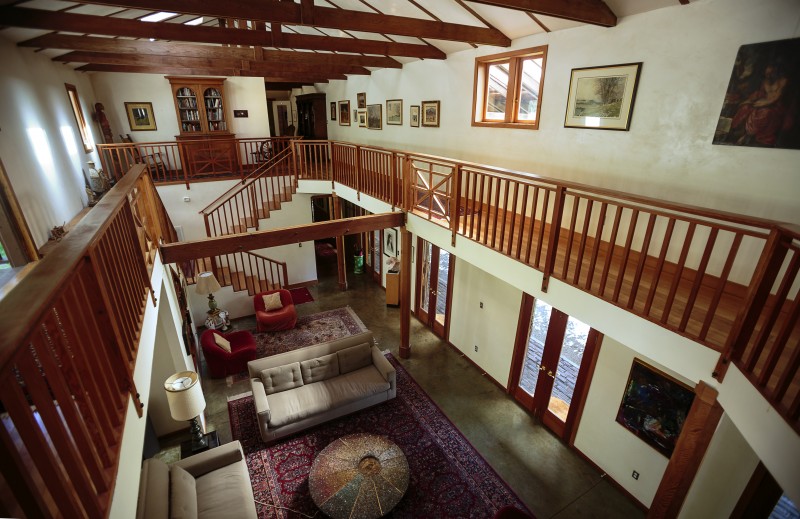 The couple renovated approximately 50 percent of the building, with the north side and much of the west side remaining as stables in their original condition. When weddings are held at the property, the great room is converted to a dance floor, with all the furniture moved out and stored in the stables.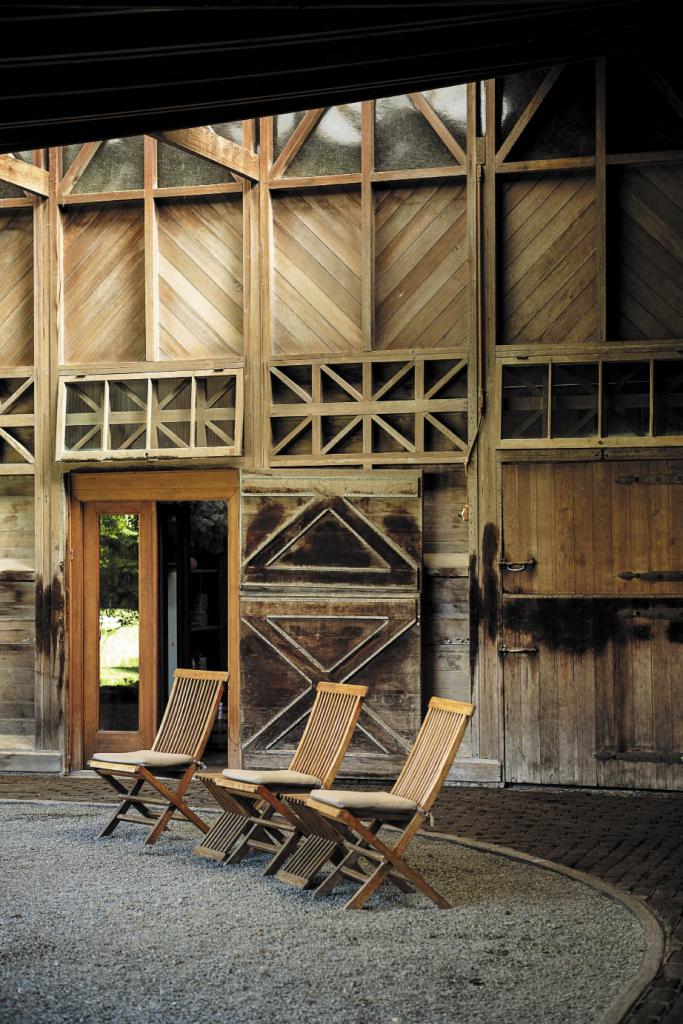 Weddings are the most recent chapter of Rancho Wikiup's history. Until the early 2000s, it was just the Guevara home. Erika had a horse, and the family had goats, chickens, ducks and dogs, living a busy family life. Once the kids were grown and gone, Carlos and Nancy had the idea to convert it to a bed-and-breakfast, haphazardly putting up a website that resulted in instant success. They started getting requests to use the property as an event venue, and now they rent only the entire space, not single rooms, while they bunk in the ranch manager's residence.
Erika was married at Rancho Wikiup, and she and her bridesmaids honored the Wikiup tradition by wearing cowboy boots with their gowns.
Tiring for a while of all the work involved in hosting visitors and keeping up an aging site, the Guevaras listed the property for sale in 2011 at $2.5 million.
It sat on the market for two years, with an interesting array of potential owners wanting to make Rancho Wikiup a boutique hotel, yoga retreat or other business. But there was always some barrier. In the end, the Guevaras decided to stay put.
"It's so nice here, quiet and pleasant all the time. We feel like we are living in a time capsule, in a different era," Nancy said. "We plan to stay here until we drop dead."
For more about Rancho Wikiup, call 707-495-3039 or go online to ranchowikiup1.homestead.com
Editor's Note: Travel, dining and wine tasting can be complicated right now. Use our inspirational ideas to plan ahead for your next outing, be it this week or next year. If you visit restaurants, wineries, and other businesses during the pandemic, remember to call ahead, make reservations, wear a mask and social distance.