These Sonoma winemakers are responsible for some of the best wines our county has to offer. Keep an eye on them, their wineries and their future vintages. 
ERIK MILLER – Kokomo Winery, Dry Creek Valley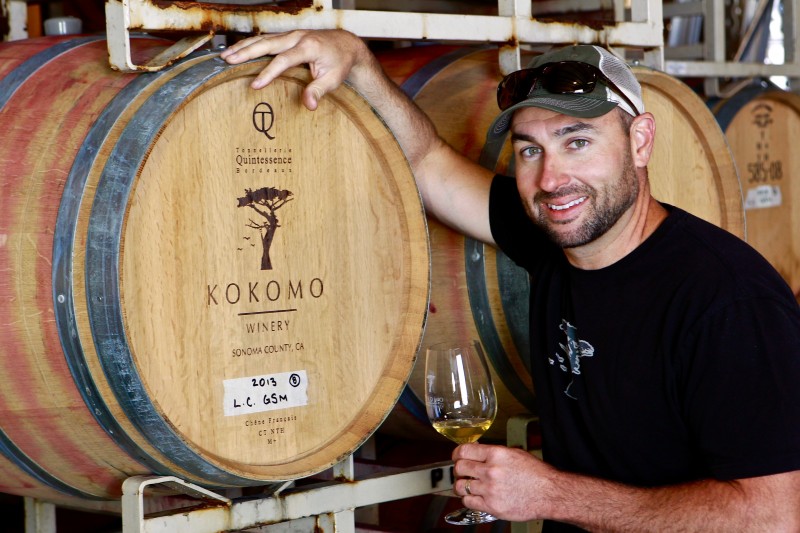 Erik Miller, owner and winemaker at Kokomo Winery in Healdsburg, didn't move to Sonoma to make wine.
From Kokomo, Indiana, he came here for the beauty and quality of life he discovered while visiting a friend. Miller relocated to Sonoma in 1999 and took the first job offered, a financial planning gig that required that he wear a suit and tie.
"It took two months to realize it wasn't for me," he said.
He made his way to wine, first working in production at Belvedere Winery outside Healdsburg (now VML Winery).
"Two weeks into harvest and I fell in love," Miller said.
His next position was at Amphora Winery, working for owner Rick Hutchinson, and in 2004, Miller started the Kokomo label. By 2008, he had partnered with Randy Peters, a fourth-generation farmer who has vineyards in Dry Creek Valley, Russian River Valley and the Sonoma Coast, and the match proved fruitful for both.
Kokomo has two wines on the Top 100 — 2015 Pauline's Vineyard Dry Creek Valley Grenache Rosé and 2014 Winemaker's Reserve Peters Vineyard Sonoma Coast Pinot Noir. Miller has become a rosé whisperer of sorts, with his pale-pink wines winning competitions throughout the state. The Kokomo 2015 North Coast Rosé won Best of Class at the 2016 North Coast Wine Challenge, scoring an impressive 97 points.
"One thing that sets Kokomo apart is we do a lot of varieties, all grown where they should be," Miller said. "I'm proud of the fruit farmed by Randy."
Zinfandel is a Miller favorite.
"It's important to us to showcase what we believe is California's grape, especially when it's grown and made in Dry Creek Valley, where we think is the best place to do so. It's food-friendly with natural acidity," he said.
COREY BECK – Francis Ford Coppola Winery, Alexander Valley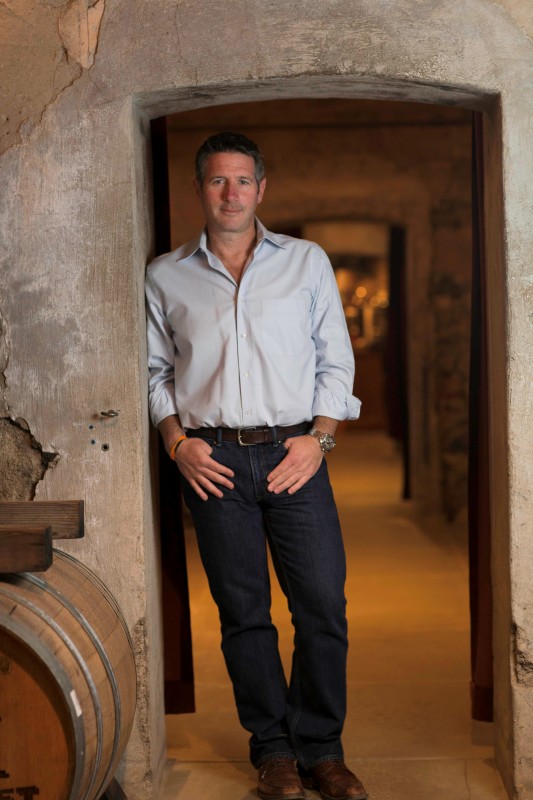 It's been 10 years since Corey Beck (who started at Niebaum-Coppola in Napa Valley in 1998) began working with Francis Ford Coppola to reshape the former Chateau Souverain winery in Geyserville. Now Francis Ford Coppola Winery's president and director of winemaking there, he reflected on how it came about.
"When we started, it was a challenge to convey our vision of a winery with restaurants and a swimming pool," Beck said. "Looking back, it's remarkable to see how far we've come. Some of those opposed now have grandkids working here. There really is something for everyone."
The winery's 2014 Francis Coppola Reserve Dutton Ranch Russian River Valley Pinot Noir and 2013 Archimedes Alexander Valley Cabernet Sauvignon made the Top 100.
"For the Reserve series, we select one vineyard every year that's the star," Beck said, adding that Dutton Ranch has appeared on the label often. Archimedes is the winery's flagship, a nod to Coppola's uncle (named for the famous mathematician) and the filmmaker's interest in history, math and science.
"We've identified (wine) lots in Knights Valley and Alexander Valley that consistently make it to Archimedes," Beck said, noting the blend can also include Cabernet Franc, Malbec and Petit Verdot. The label pays tribute to Archimedes' most famous invention, the mirror.
Perhaps best-known are the Director's Cut tier of wines, the production of which Beck oversees.
"For Director's Cut, Francis wanted to bring film and winemaking together, so he came up with the zoetrope on the label design and said, 'I can only imagine that winemaking is similar to film; not everything makes the cut.' And it's true. The series represents the growers who thrived each vintage. If things aren't perfect, we won't make the wine.
"There's always a story behind the labels and why we do things," Beck added. "Francis is the best storyteller I've ever come across."
BLAINE BRAZIL – J. Rickards Vineyards & Winery, Alexander Valley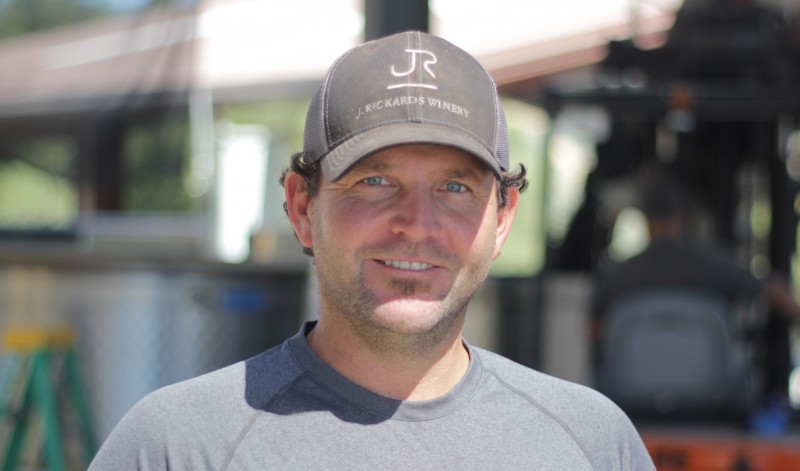 When Blaine Brazil was growing up in Ferndale in Humboldt County, most of his family and friends were dairy ranchers. So it makes sense that he went to Cal Poly San Luis Obispo to pursue a bachelor's degree in dairy science.
But it didn't take long before his career path changed course.
"I knew nothing about wine, hadn't even tasted it before," Brazil recalled. "Then some friends who had a small old-vine Zinfandel vineyard let me taste some of their wine. It was my first experience of what good wine tastes like."
He was hooked.
"Soon after, I got a job at their friends' winery (Tolosa in San Luis Obispo) doing cellar work, and I thought, 'I can do this!'" After graduation, he landed a job at B.R. CohnWinery as assistant winemaker, where he honed his skills. He joined J. Rickards in Cloverdale as winemaker in 2011. This year, two of his wines made the Sonoma magazine Top 100: The 2015 Croft Vineyard Alexander Valley Sauvignon Blanc and the 2013 Brown Barn Vineyard Alexander Valley Petite Sirah.
"I look to make wines that are fruit-forward and balanced, with texture and weight on the palate," he said of his winemaking style. "Our vineyards are mostly hillside, with little soil depth. The vines struggle but the fruit is exceptional."
The winery's flagship is Old Vine Zinfandel. Coincidence?
"Zinfandel is still my favorite," he said.
BEN CANE – Westwood Estate, Sonoma Valley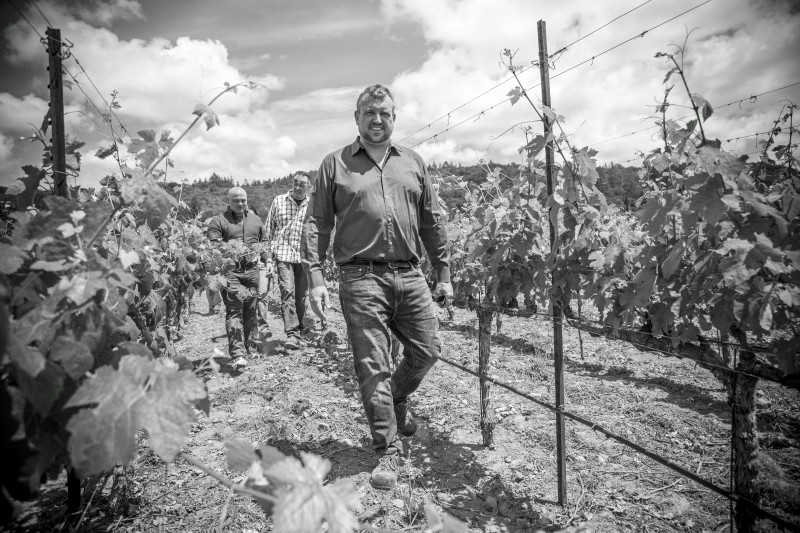 Meet Ben Cane, the man who made the 99-point, "Best of the Best" wine at The Press Democrat's 2016 North Coast Wine Challenge.
He stole the show with Westwood's 2014 Clone 37 Annadel Gap Vineyard Sonoma Valley Pinot Noir, giving him first dibs on a spot on our Top 100 list. Cane also won a gold medal at NCWC for his Westwood 2014 Sonoma Valley Mourvedre.
"The Pinot Noir has dark-berry fruit with lovely spiciness," he said. "It was shy at first, but I'm really happy about the way it bloomed. It's a tip of the hat to our team."
The native Australian relocated to Sonoma in 2006, to work at Joseph Phelps Vineyards' Freestone Vineyards in Freestone, a noted producer of Chardonnay and Pinot Noir. He moved to Twomey Cellars, where he was charged with making the Calistoga winery's Chardonnays and Pinots at a facility on Westside Road in Healdsburg. Cane began at Westwood in 2014, following a conversation with its consulting winemaker, David Ramey.
"The site is truly unique," Cane said of the estate's Annadel Gap Vineyard. "There are four soil types; I've never seen such geological diversity in a single site. Situated at the northern edge of Sonoma Valley, it also gets coastal influences, which lets us be more adventurous with farming."
The biodynamically farmed vineyard is planted to Pinot Noir (13 acres) and Rhone varieties (10 acres). He refers to Mourvedre as the "dark horse on the property," as it's planted in the rockiest area and struggles the most. "But its spice, earth and intensity of character is beguiling."
ERIK FLANAGAN – Flanagan Wines, Bennett Valley & Sonoma Coast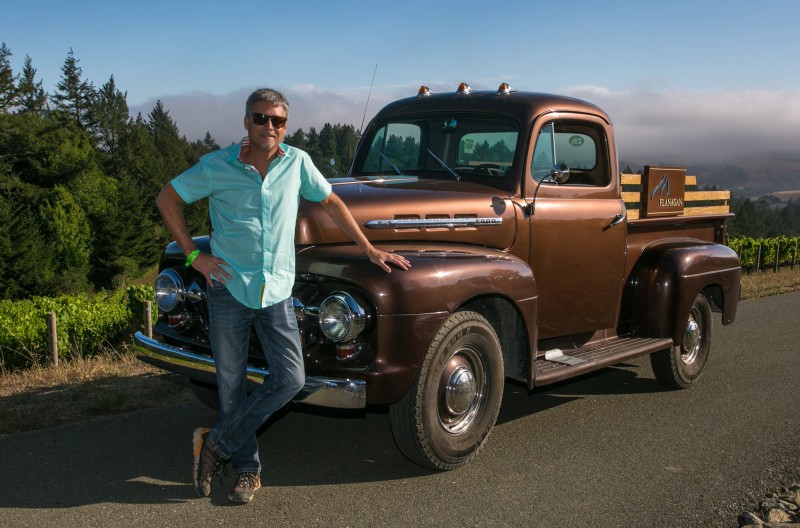 The proprietor of Flanagan Wines grew up in New Jersey and has visited the world's winegrowing regions, but feels right at home on the left coast.
"When I started looking for vineyard property, one of my buddies back east said, 'Go to Sonoma … great dirt and not as picked over as Napa.' And I did — and I fell in love with it," Flanagan said. "The people are great, I love being on the coast, and the climate is better for the wines we make."
Those wines come from vineyards in Sonoma's cooler areas. His 2013 Bennett Valley Syrah made our Top 100 list this year, and his Chardonnays from Russian River Valley and the Sonoma Coast fit right into this crowded category.
Flanagan recently sold the Bennett Valley property, but said he foresees continuing to source cool-climate Syrah from there.
Recent vineyard acquisitions by Russian River Partners (in which Flanagan is an investor) include Platt (Sonoma Coast) and Brandt Ranch (Lake County). Flanagan is particularly excited about Platt, planted by former Hewlett-Packard and Kendall-Jackson Wine Estates executive Lew Platt in a chilly spot between Petaluma and Bodega Bay. Platt is highly regarded for its Chardonnay and Pinot Noir grapes, and Flanagan now has access to them.
His 2016 purchase of Everett Ridge Winery in Dry Creek Valley gave him a base for winemaking and a tasting room. Watch this space: Flanagan is a rising star on the Sonoma winemaking scene.
JULIA IANTOSCA – Lasseter Family Winery, Sonoma Valley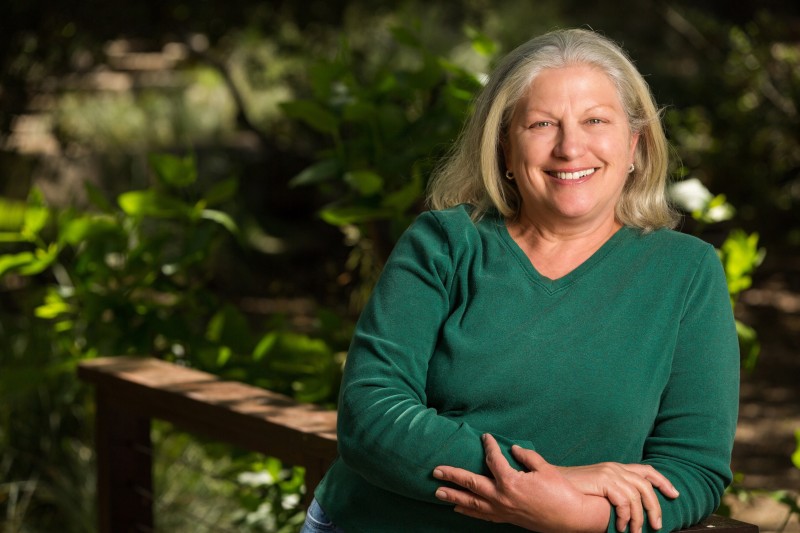 Julia Iantosca, winemaker at Lasseter Family Winery in Glen Ellen, originally wanted to become a veterinarian.
She moved from Ventura County to Northern California to attend college, eventually transferring from San Jose State University's microbiology department to UC Davis' fermentation science program. A wine appreciation class sealed that deal.
Iantosca now has more than 30 years of winemaking experience. But it was at Lambert Bridge Winery, where she worked with Merry Edwards, that Iantosca's love for blended wines truly bloomed. At Lasseter, her focus is on Bordeaux- and Rhone-style blends, and two of them — 2015 Enjoué rosé and 2013 Chemin de Fer red Rhone blend — made our Top 100.
"What I like about blends is you start with a concept," Iantosca said. "You choose the right grapes and barrels, and put the puzzle together to build a balanced, whole entity. It's fun because you're not constrained by what a particular wine 'should' be."
Iantosca has been with Lasseter from the ground up, helping design the winery and replanting some of John and Nancy Lasseter's vineyards.
"This year, we're getting our first crop from what we planted in 2013," Iantosca said.
"It's exciting to see the wines in the tanks.
You have to be patient in this business, it takes a lot of time for things to happen. The first crop is a teaser, then it takes years to see how the wine turns out. But that's also what makes it pleasurable. Each vintage is different and I learn new things all the time."
EPIFANIO & CHUY ORDAZ – Ordaz Family Wines, Sonoma Valley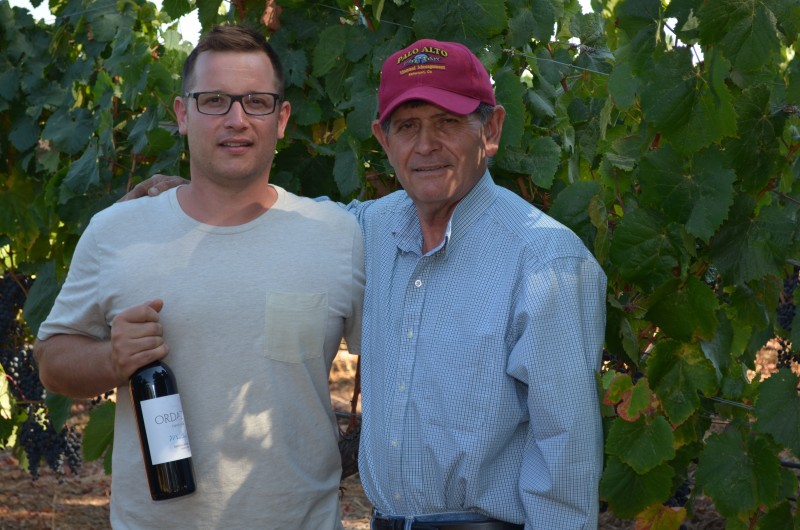 Epifanio"Eppie" Ordaz has worked alongside his father, Chuy (a longtime vineyard manager who emigrated from Mexico), as long as he can remember. Even so, he earned a bachelor's degree in accounting from Santa Clara University.
Yet when Eppie interviewed for a CPA position it was the interviewer's last question that caught him off-guard. "He asked what I did besides numbers and, when I told him I'd been working in vineyards and making wine with my family, he asked why I was interested in accounting when I could be making wine instead," he recalled. "It hit home."
He spoke to his father about taking over the winemaking responsibilities and focusing on small lot, high-quality wine. "I went from crunching numbers to crushing grapes," he said.
This year, the family's 2014 Montecillo Vineyard Sonoma Valley Zinfandel is one of our Top 100 wines. It's a vineyard Chuy has farmed for four decades (all Ordaz wines are produced from vineyards Chuy oversees).
"I try to be a steward of the vineyard work," Eppie said. "I want the wines to represent both the variety and the vineyard. Montecillo is in the Moon Mountain District and has Cabernet Sauvignon and Zinfandel. The Zinfandel is both old- and young-vine. What we use depends on how my dad says it looks."
The winery also produces Malbec, Pinot Noir, Cabernet Sauvignon, and new this year, a rosé. The family one day hopes to purchase its own vineyard land.
"With someone like dad, who's so knowledgeable, it's going to take some time," the son said. "He's really waiting for the best spot."
Subscribe to Our Newsletters!