Confectioneries and baked goods abound this Easter season, with local bakeries and candy shops crafting special treats for the springtime holiday. From chocolate bunnies and candy-filled eggs to decorated cookies and carrot cakes, there's something for everyone's sweet tooth.
Here's where to find Easter treats in Sonoma County.
BFF Collaborations
A joint venture from Sonoma County-based childhood friends and owners of Amanda Marie's Pastries and BeYOUtifully Chaotic Gifts, BFF Collaborations is selling cute Easter bunny mug cakes with part of the proceeds benefiting Save the Children. The ceramic mugs with bunny cupcakes inside have Easter-themed quotes such as "Shake your bunny tail" and "Have a very hoppy Easter." The last day for Easter orders is April 7.
bffcollaborations.company.site
Costeaux French Bakery
Costeaux French Bakery has a selection of treats and baked goods available for Easter, such as carrot cake and artfully decorated chick and bunny cookies. Order in the store or online for pickup in time for Easter.
417 Healdsburg Ave., Healdsburg, 707-433-1913, costeaux.com
Eye Candy Chocolates
Artisan chocolate truffle-maker Eye Candy Chocolates has a line of Easter treats for pickup, including chocolate ganache-filled bunnies, hot cocoa bombs, chocolate lollipops and Easter-themed truffle boxes. Pre-order online for pickups.
6761 Sebastopol Ave., Sebastopol, 707-888-0568, eyecandychocolatier.com
Frosty'z Bakery
This Sonoma County-based online cookie bakery has a number of Easter cookies available for pre-orders, including ones shaped and artfully decorated like bunnies, chicks, eggs, carrots and Easter baskets. Pre-order early and pick up on Saturday, April 16, between 2-4 p.m. at Homespun Market in Rohnert Park.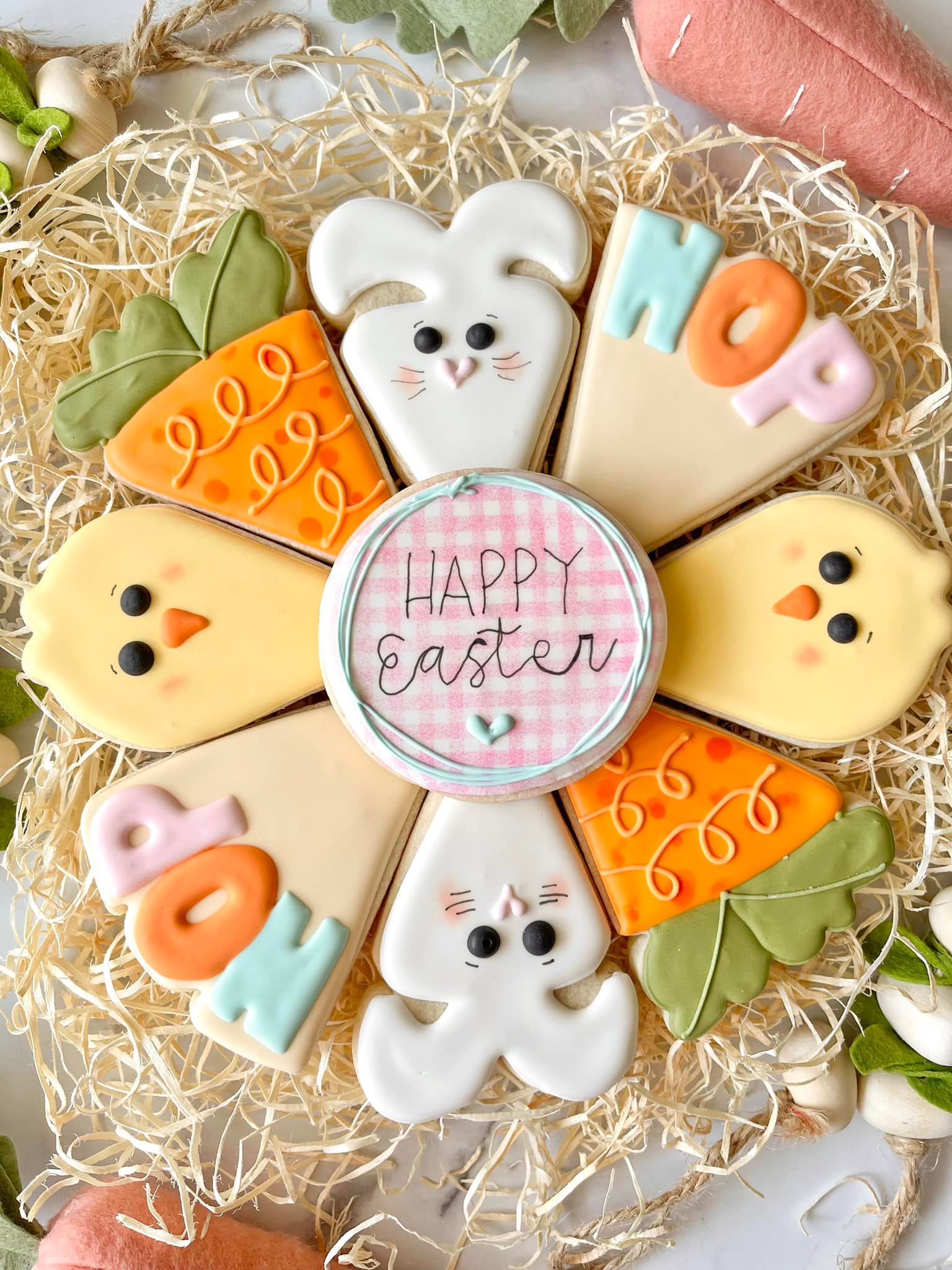 Nom Nom Cakes
Bodega Bay-based bakery Nom Nom Cakes is offering Easter specials in addition to its usual array of pies, tarts and specialty cakes. The specials include Easter cupcakes, breakable candy-filled chocolate Easter eggs and an Easter cookie decorating kit that has everything you need to create a dozen charming Easter-themed sugar cookies. Order online for pickup.
390 Calle Del Sol, Bodega Bay, 805-350-0680, nomnombaking.com
Patisserie Angelica
Patisserie Angelica will be closed on Easter Sunday, but the Sebastopol bakery is selling a generous selection of spring and Easter-themed desserts you can pick up before the holiday. The spring dessert menu includes chocolate raspberry eggs, lemon egg-shaped cake, Easter-decorated spiced carrot cake, gateau Parisian, Easter cookies and flourless chocolate souffle. Call by Sunday, April 10, if you want a custom cake or special dessert by Easter.
6821 Laguna Park Way, Sebastopol, 707-827-7998, patisserieangelica.com
See's Candies
Famous Bay Area chocolatier See's Candies has a vast selection of Easter candy available for shipping, delivery or pickup. Treats include chocolate bunnies, jelly beans, limited-time spring lollipops, chocolate eggs and assorted Easter baskets. Order online or visit locations in Petaluma, Rohnert Park, Santa Rosa and Windsor.
The Chocolate Cow
The Chocolate Cow's online chocolate shop has special assortments of Easter truffles available for shipping. The truffle boxes include nine assorted chocolates, including bunny truffles, pecan turtles, peanut butter cups and sea salt caramels. The Easter truffle boxes are $30-34 each.
452 First St. E., Suite F, Sonoma, 707-935-3564, thechocolatecowshop.com
Volo Chocolate
This Windsor chocolate factory is offering its seasonal "Bean to Bunny" 62% solid dark milk chocolate rabbits, made from whole cocoa beans, browned butter and caramelized milk. The deadline for online orders shipped to your house by Easter has passed, but you can still place orders for picking up in the store 1-5 p.m. Monday through Friday. The 2.4-ounce bunnies are $12 each.
399 Business Park Court, Windsor, 707-536-6764, volochocolate.com