In all of Wine Country, it's hard to find many venues as charming as the MacMurray Ranch outside of Healdsburg.
Once a getaway home for TV star Fred MacMurray and actress wife June Haver, and still home base for their daughter Kate MacMurray, the beautiful property has its own personality.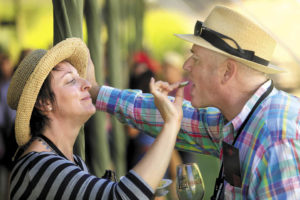 Owned by the Gallo wine family since 1996, the former cattle ranch is now planted with vineyards and has played host since 2006 to the annual Taste of Sonoma event during Labor Day weekend. Huge white tents pitched on the vast MacMurray lawn, arranged by wine region, provide shade for 2,500 attendees who jostle for a splash of crisp Sauvignon Blanc and hearty Cabernet Sauvignon, and bites of heirloom tomato salad, sushi and barbecue. With more than 200 wineries pouring and 60 local chefs creating perfect food pairings, Taste of Sonoma has become a high point of the annual three-day Sonoma Wine Country Weekend.
The ranch, with its low hills, evergreen woods and rows of vines, is an ideal setting for the casual, convivial Taste of Sonoma on Aug. 30. Sundresses, shorts, Hawaiian shirts and sunscreen are the dress of the day, contrasting with the ultra-high quality of the wine and food. Celebrated Living magazine named Taste of Sonoma one of the "10 Best Wine and Food Events in the United States." Tickets cost $165 to $195 per person.
In addition to Taste of Sonoma, Sonoma Wine Country Weekend includes the Aug. 29 Sonoma Starlight gala dinner at Francis Ford Coppola Winery in Geyserville and the Aug. 31 Sonoma Harvest Wine Auction at Chateau St. Jean in Kenwood. The auction is an unpretentious affair attended by growers and vintners who host tables and mingle with attendees.
The Grand Lawn at Chateau St. Jean will be transformed into an African plain to suit the "From Sonoma to Serengeti" theme. Expect funny skits along with the bidding. The atmosphere is classy but casual, with some partiers showing up in elaborate costumes, others in shorts and staw hats. Admission is $500.
Fueled by community spirit, a sense of fun, good food and fine wine, lively bidding produced $1.4 million last year, almost doubling the amount raised for charity the previous year.
Tickets are available at sonomawinecountryweekend.com.