Here are spoon-size portions of previous restaurant reviews by Jeff Cox, accompanied by the date they originally appeared in The Press Democrat. Reviews will appear on a seasonal basis.
Bistro 29, 620 Fifth St., Santa Rosa, 707-546-2929, bistro29.com. We're fortunate to have a restaurant in our area that serves the food of Brittany in northwestern France. The cuisine features beautiful buckwheat crepes, both savory and sweet, with myriad choices of fillings. Brittany is known for its excellent chicken and seafood, and chef Brian Anderson makes delicious entrees with locally sourced versions of both. Great wine list of French and local wines, too. Reviewed 5/19/13. $$$
Bistro Des Copains, 3782 Bohemian Highway, Occidental, 707-874-2436, bistrodescopains.com. This very authentic Provencal-style bistro in the charming village of Occidental is the kind of place that a tourist, stumbling upon it, would write home about. Real-deal onion soup, raclette melted cheese, feuilleté of escargot, great pissaladière, mushroom crème brulée, braised rabbit in mustard sauce, steak frites with sauce Béarnaise, and so much more. Reviewed 3/17/13. $$-$$$$
Bravas Bar de Tapas, 420 Center St., Healdsburg, 707-433-7700, starkrestaurants.com/bravas. Owners Mark and Terri Stark traveled to Spain and fell for the wine-loving, snack-munching, pal-schmoozing culture of the tapas bar scene there. So they brought it back home to join their four other Sonoma County restaurants. The backyard of the bungalow that's home to Bravas is transformed into an al fresco venue for tapas-style conviviality. The snacks are extraordinarily diverse and delicious. Scads of Spanish and local wines — and sangrias — await. Reviewed 12/16/12. $$-$$$$
Burgers & Vine, 400 First St. E., Sonoma, 707-938-7110, burgersandvine.com. The old Sonoma Mission Creamery building is now an up-to-date bar and grill, featuring burgers, brisket, ribs, salads, sandwiches and more. House-brewed beer joins many craft beers on tap. The long bar is made of rescued old-growth redwood. Big-screen TVs shower you with sports, live bands are booked, and the grub is pretty much pub. Reviewed 3/23/14. $$
Café LaHaye, 140 E. Napa St., Sonoma, 707-935-5994, cafelahaye.com. Here's a restaurant that has its act together. Chef Jeffrey Lloyd features a different risotto and pasta dish each night, along with the best roast chicken ever. The vegetables on his plates are not given short shrift, and are cooked with intelligence and care. The appetizers are as carefully prepared as the entrees and uniformly delicious. The wine list is a tour of the region's best wineries. Highly recommended. Reviewed 3/30/14. $$$-$$$$
Café Lucia, 235 Healdsburg Ave., Healdsburg, Suite 105, 707-431-1113, cafelucia.net. The same highly flavored Portuguese food that has made LaSalette such a hit over the years in Sonoma is now available in Healdsburg. The kitchen turns out dishes created by executive chef Manuel Azevedo, and his sister, Lucia, hosts and runs the business. The siblings are co-owners. It's a bright and tasty addition to Healdsburg's already-superior food scene. The caldo verde is perfect, seafood stew is terrific, and all the entrees shimmer with intense flavor. Reviewed 1/20/13. $$$
Chalkboard, 29 North St., Healdsburg, 707-473-8030, chalkboardhealdsburg.com. This hideout for tired tourists and thirsty, hungry locals is a refreshing break from the insistent gentrification going on around it in Healdsburg. A full bar offers cocktails in a comfy setting, and the rustic décor encourages patrons to relax. The small-plate dishes of chef Shane McAnelly are modestly priced and tasty, and include the best sliders in town, raw items, house-made pastas and seafood. Reviewed 6/23/13. $$
Empire, 1400 First St., Napa, 707-254-8888, empirenapa.com. An upscale, contemporary hangout cocktail lounge with small plates of excellent international-style food with influences from Europe, Asia and the Americas. Sit on comfy couches and sip beautifully made cocktails from low tables, enjoy watching the jellyfish in their tanks, snack around the menu, and stay until 2 a.m. on Fridays and Saturdays. The carrot cake is highly recommended. Reviewed 7/7/13. $$-$$$
FlipSide Steakhouse & Sports Bar, 138 Calistoga Road, Santa Rosa, 707-539-7700, flipsidesteakhouse.com. Two big dining rooms serve up Certified Angus beef as steaks and prime rib, and there's also chicken, salmon and lots of crowd-pleasing sides, all priced a la carte, steakhouse-style. There are raw oysters and crab cakes to start, and a delicious slice of chocolate cake with raspberry sauce and a scoop of vanilla to finish. The adjoining sports bar has 27 huge, flat-screen TVs. Reviewed 3/9/14. $$-$$$$
Heritage Public House, 1901 Mendocino Ave., Santa Rosa, 707-540-0395, heritagepublichousesr.com. The perfect place to hang out, sample two dozen beers and ciders from all over California (exclusively), and enjoy pub grub that's a cut above in provenance and quality. The focus is on good ingredients prepared well: fish tacos, a big, beefy burger (natch), salads, sandwiches, fish and chips and nightly specials. Reviewed 10/6/13. $
Hiro's Japanese Restaurant, 107 Petaluma Blvd. N., Petaluma, 707-763-2300, hirosrestaurant.com. Hiro's is an exceptional Japanese restaurant. It goes beyond just fresh and lovely versions of the usual Japanese dishes — although it does have them on the menu — to bring true gourmet Japanese cuisine to Sonoma County, including hard-to-find, interesting seafood specialties. From the arty décor to the swift and smiling service, it's a real pleasure to dine at Hiro's. Reviewed 8/25/13. $$-$$$
Jackson's Bar and Oven, 135 Fourth St., Santa Rosa, 707-545-6900, jacksonsbarandoven.com. This beautifully designed restaurant in the Railroad Square district is the place for meeting friends and hanging out. There are a wide array of drinks and a menu chockablock with well-crafted American dishes including burgers, pizzas, braised short ribs, fish tacos and great desserts. Don't miss the beignets. Reviewed 9/1/13. $$-$$$$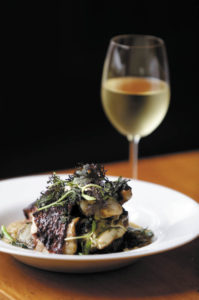 The Kenwood Restaurant, 9900 Highway 12, Kenwood, 707-833-6326, kenwoodrestaurant.com. The focus is on organic meats and vegetables from local family farms, used in dishes that give a Sonoma twist to sophisticated American cooking. The result is wonderfully flavored food that's as good for you as it is tasty. The chef will buy a whole carcass and use it in many different recipes. It's farm-to-table cooking in a beautiful Sonoma Valley setting. Reviewed 3/2/14. $$$$
Le Bistro, 312 Petaluma Blvd. S., Petaluma, 707-762-8292, lebistropetaluma.com. Chef Corey Basso has prepared classic French and Italian dinners at this small neighborhood bistro since 1988, refining and improving the dishes as he went. Now, they're just about perfect, with each expertly prepared. They menu items are not complicated (fettuccini with prawns, chicken breast, grilled lamb loin, a fresh fish of the day) but they are thrillingly delicious. Reviewed 4/20/14. $$-$$$
LoCoco's Cucina Rustica, 117 Fourth St., Santa Rosa, 707-523-2227, lococos.net. Joe LoCoco's restaurant is a traditional Italian place with all the classic dishes one associates with Italian-American cooking. There's the full range of pastas, veal, the chicken under a brick and chicken parmigiana, and the most wonderful cannoli for dessert. The portions are large, the wine list is heavy with good Italian bottles, and the waiters may break into song (but not in a corny way). The place is usually full of customers, for a good reason. Reviewed 9/29/13. $$-$$$
Pamposh Restaurant, 52 Mission Circle, Suite 110, Santa Rosa, 707-538-3367, pamposhrestaurant.com. This small but mighty Indian restaurant occupies a nondescript corner of the Mission Circle Shopping Center, but the food is anything but dull. It's full-on Indian and Kashmiri cooking, with lamb, chicken and vegetable curries; a signature dish of lamb in an apricot and coconut sauce; marinated and flash-cooked tandoori chicken; house-made yogurt drinks; perfect creamed spinach and soft cheese, and much more. Highly recommended. Reviewed 7/21/13. $$
Press, 587 St. Helena Highway (Highway 29), St. Helena, 707-967-0550, pressnapavalley.com. Owned by the same family that owns Dean & DeLuca and the Oakville Grocery, Press focuses on high-quality beefsteaks and a huge list of Napa Valley wines from current releases to bottles stretching back to the 1960s. The cocktails are superior, too. While many good dishes come from the wood-fired oven, it's really the steaks that are the superstars here. They include Wagyu beef from Japan, and extravagantly good American beef. Reviewed 10/20/13. $$$$
Rustic, Francis's Favorites, at Francis Ford Coppola Winery, 300 Via Archimedes, Geyserville, 707-857-1485, franciscoppolawinery.com/rustic. Francis Ford Coppola needs no introduction, but at his winery/restaurant/resort/watering hole in Geyserville, you'll get one anyway. The restaurant, called "Rustic, Francis's Favorites," features the Italian dishes of his childhood and his adult love of the Argentine grill, from which come big portions of beef with chimichurri sauce. The wine list is mostly from his winery, and that's OK. A wood-burning oven makes wonderful pizzas, too. Reviewed 11/10/13. $-$$$$
Santé at the Fairmont Sonoma Mission Inn, 100 Boyes Blvd., Sonoma, 707-939-2415, www.fairmont.com/sonoma. This classic restaurant sets the standard for high-quality spa food, not only in Sonoma County, but anywhere in the world. The ingredients are mostly local and treated with respect so that the basic flavors shine through. The chefs use techniques and carefully measured herbs and condiments to glorify the ingredients. The service is impeccable. Luxury doesn't come cheap, but indulge yourself and go. Reviewed 6/16/13. $$$$
Sazon Peruvian Restaurant, 1129 Sebastopol Road, Santa Rosa, 707-523-4346, sazonsr.com. This small and inconspicuous yet clean and sunny restaurant in southwest Santa Rosa is a treasure, serving authentic Peruvian food that's packed with flavors from the worldwide cultures that have made Peru a melting pot of a country. The dishes are delicious and beautifully presented. The ceviches are particularly good. Highly recommended. Reviewed 5/5/13. $$
Scopa, 109-A Plaza St., Healdsburg, 707-433-5282, scopahealdsburg.com. Here is an Italian restaurant with a strong influence of southern Italy and food that's surpassingly delicious. Nonna's Tomato-Braised Chicken with polenta keeps fans coming back. Chef Ari Rosen's Sugo Calabrese is a perfect plate of meat-sauced thin spaghetti. But this is not Italian-American cooking, it's authentic and soulful. A fine list of Italian wines lets you accompany this food with something from the Old Country. Reviewed 3/16/14. $$-$$$.
Seared, 170 Petaluma Blvd. N., Petaluma, 707-762-5997, petalumaseared.com. It's kind of a steak house, but the menu is more varied than that, with lots of seafood and a range of good appetizers. The beef tends to be the Japanese breeds, often aged and sometimes grass-fed. The vegetables are handled with care. Chef Joe O'Donnell displays his skill by adding complexity to the food. It's a whirlwind of flavors. The restaurant knocks 25 percent off the wine prices on Thursdays. Reviewed 4/6/14. $$-$$$$
Shige Sushi Japanese Kitchen, 8235 Old Redwood Highway, Cotati, 707-795-9753, shige-sushi.com. A small but cozy room in the heart of Cotati, it has a big surprise for lovers of Japanese food. The appetizers alone are worth the trip: albacore with thin rounds of jalapeño peppers, poke salad, fried chicken karaage and much more, all well-prepared by chef Shigekazu Mori. Reviewed 3/10/13. $$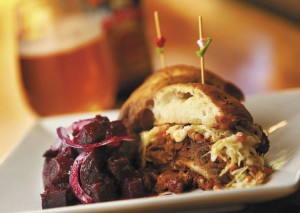 Twist Eatery, 6536 Front St., Forestville, 707-820-8443, twisteatery.com. The place is tiny, with nine stools at the counter and a patio that's open in cheery weather, but the owners are friendly, the vibe warm, the portions satisfying. It's a great place for lunch or early dinner on Fridays and Saturdays. The food tends to be organic and locally sourced, with soups, salads, sandwiches, pastas and daily specials on the menu. The short wine list has some real gems. Reviewed 7/14/13. $$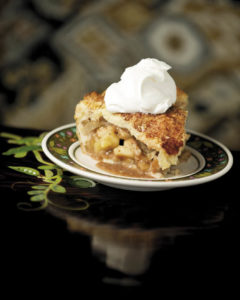 Wishbone, 841 Petaluma Blvd. N., Petaluma, 707-763-2663, wishbonepetaluma.com. If you remember Humble Pie restaurant in Penngrove, you'll connect with Miriam Donaldson's rustic country take on California cooking. She and Josh Norwitt are now at Wishbone, the former site of Three Cooks Café, and once again serving up food that's a locavore's delight. Donaldson puts a lot of her personality into dishes such as chicken jalapeño pie, a buckwheat crepe pizzetta with gravlox and preserved lemon, and trout wrapped in house-cured bacon. The wine list is full of treasures. Reviewed 11/24/13. $$$
zazu restaurant + farm, 6770 McKinley St., Sebastopol, 707-523-4814, zazukitchen.com. While many restaurants claim to cook farm to table, Duskie Estes and John Stewart take the concept to a new level at their restaurant, located in a spacious room in The Barlow in Sebastopol. They have a small farm at home where they raise animals, gather eggs and grow produce, and a kitchen garden by the restaurant, too. Stewart makes great bacon and salumi, Estes ferments vegetables, and the kitchen turns out American comfort food that's impossibly tasty. Reviewed 9/15/13. $$$-$$$$