Sonoma County Pride festivities kick off this weekend along the Russian River, with dances and pool parties that lead up to a Sunday parade through downtown Guerneville and a festival at Guerneville Lodge. And with hundreds of revelers in town for the weekend, it's a perfect time to showcase Sonoma County's gay-friendly attractions, many of them within driving distance of Guerneville.
The area's gay popularity dates back to the mid-1970s, when its first gay resort, the Russian River Lodge, opened in the Forestville location that now holds the upscale Farmhouse Inn. Philadelphia transplant Peter Pender followed in 1977 by taking over Murphy's resort in Guerneville and remaking it into Fife's, a gay resort that lasted nearly 30 years. It went mainstream in 2006, and is now Dawn Ranch.
Guerneville still boasts the only two gay bars in Sonoma County — the landmark Rainbow Cattle Company and the r3 Hotel bar (formerly the Triple R).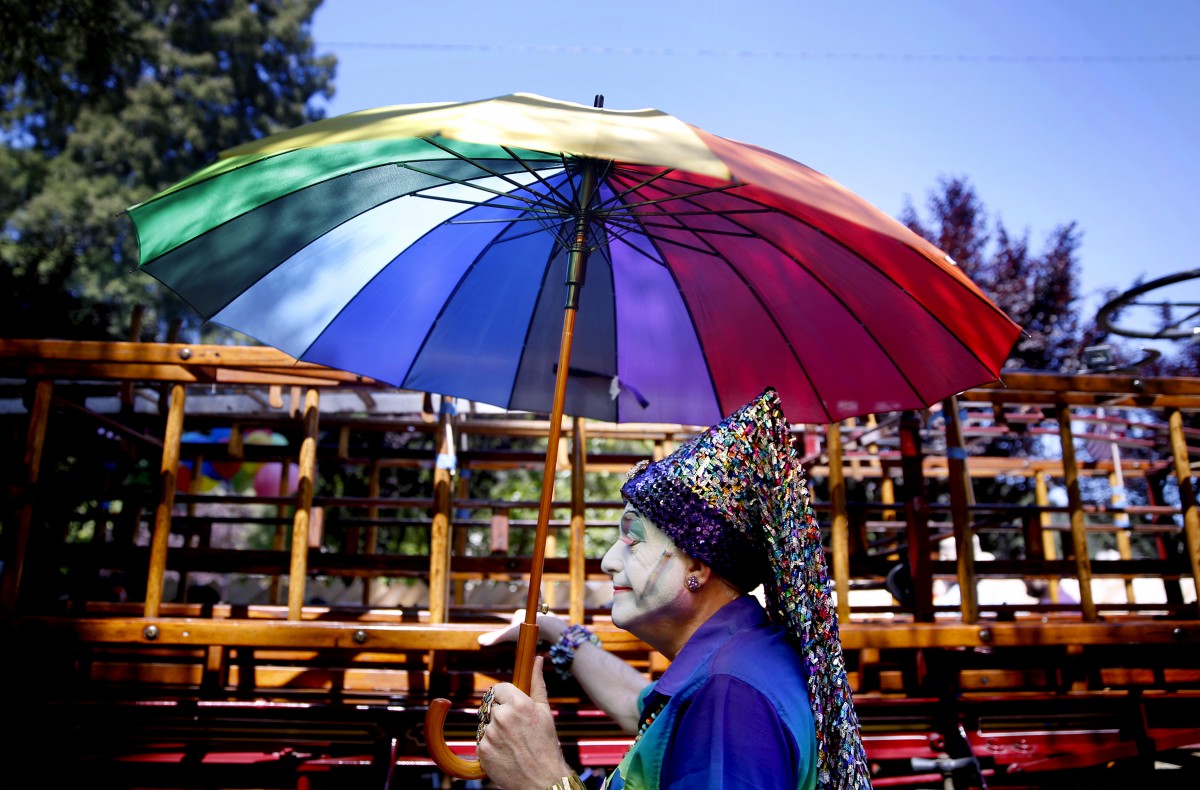 Restaurants 
LGBT entrepreneurs have helped revitalize downtown Guerneville. Bob Pullum recently bought and painstakingly restored the landmark 1921 Bank of Guerneville building on Main Street after it had been abandoned for nearly 30 years. It reopened a year ago as the Guerneville Bank Club, housing three businesses and the Russian River Historical Society. Plans are in the works to open a fourth business that will offer wine tastings. 16290 Main St., 666-9411. 
Crista Luedtke owns the upscale Boon Hotel and Spa at 14711 Armstrong Woods Road, which she bought eight years ago. Soon afterward she opened Boon Eat + Drink restaurant, the Big Bottom Market and, in 2014, the El Barrio Bar and light-bites restaurant. All of her businesses except the hotel are clustered on Main Street.
Guerneville resident David Blomster bought out the landmark Pat's restaurant on Main Street in 2013 and still operates it as Pat's, but by night the restaurant is transformed into a Korean eatery named Dick Blomster's. 16236 Main St., 869-8006.
In late 2014, retired gay San Francisco Police Department members Chuck Limbert and John Stephens opened the fire-house themed 3 Alarm Grill, featuring very tasty Midwestern comfort food. 16218 Main St., 604-6102.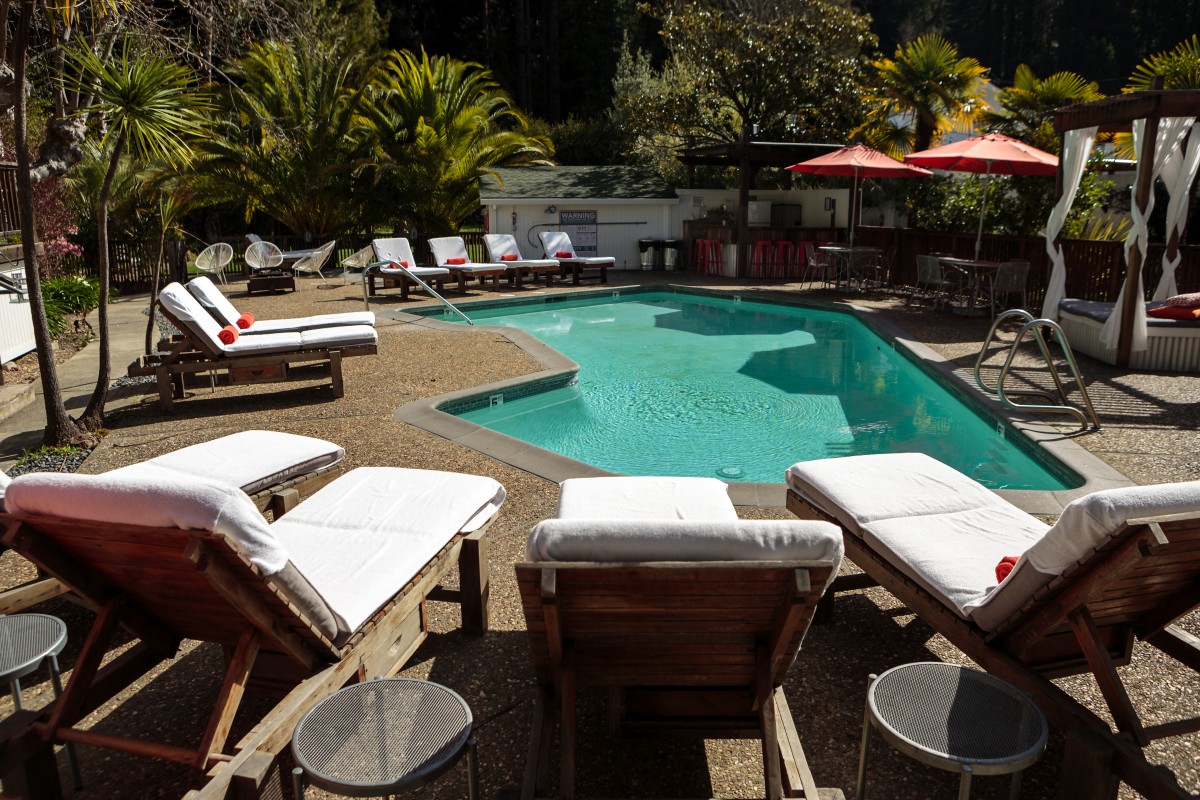 Gay Stays 
r3 Hotel On Saturday afternoon, the 23-room Guerneville hotel will host the Sonoma Pride pool party. Year round, it hosts a number of community fundraisers and attracts visitors with live acts and pool parties. Day-trippers are welcome to hang out by the pool for free, with the expectation that they will buy at least a drink while they are there. Those who work up an appetite can satisfy it at Betty Spaghetti restaurant, which serves comfort food daily. Although known as a gay hotel, the hotel's owner emphasizes that its guests are a mix of gay and straight. 16390 Fourth St., 869-8399. 
The Woods This neighboring 19-room hotel features a huge pool surrounded by impeccably maintained rooms and cabins. The pool's clothing optional policy was eliminated except during Lazy Bea weekend to attract a more mainstream straight-friendly clientele. The hotel's name is a nod to the long-closed gay Woods resort near the Armstrong Woods. Overall, it's a great property, perfectly situated just two blocks from Main Street. 16484 Fourth St., 877-887-9218.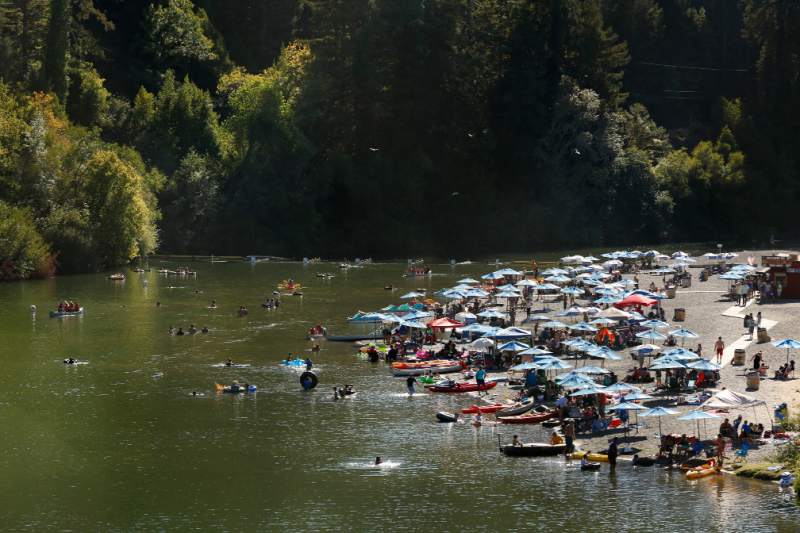 The Highlands Resort This 10-unit, plus 10 campsite, property is the gayest of the resorts, although it is owned by a straight and obviously very gay-friendly couple. Its pool is clothing optional, and the owners estimate that 98 percent of their guests are LGBT. The bucolic property sits on a hill just above downtown, amid a grove of redwoods. The campground was renovated last month to include wooden fencing that separates the campsites. 14000 Woodland Drive, 869-0333, 
Johnson's Beach A gay couple took over Guerneville's popular Johnson's Beach resort and concession last year, and they already are drawing rave reviews for improvements made to the resort's cabin rooms and expansive campsite. The Johnson's Beach concession includes refreshments and kayak rentals. As with its previous owners, the guests are mixed and gay friendly. 16215 and 16217 First St., 869-2022. 
If you are staying in Guerneville, be sure to check out the Sisters of Perpetual Indulgence legendary monthly charity bingo game. The next game starts at 7 p.m. June 11 at the Veterans Memorial Hall, First and Church streets.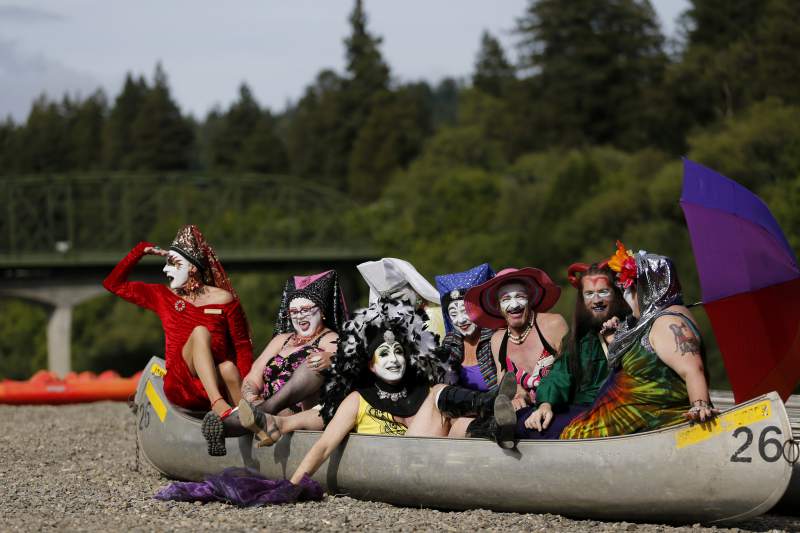 Events
The biggest gay event in Sonoma County is not this weekend's Pride celebration, but Lazy Bear Weekend, which celebrates its 20th year Aug. 3 to 8 with a series of events and activities that draw visitors from throughout the world. Hotel rooms in Guerneville fill up early, and it's not uncommon for last-minute attendees to stay as far away as Santa Rosa. (Although Santa Rosa's last gay bar closed in 2001, LGBT-focused gatherings can be found on the Sonoma GayDar Facebook page.)
The biggest lesbian-focused event is Women's Weekend, which meets in mid-May. The weekend, which has been going on for more than three decades, is good timing for the women to take over Guerneville before the summer rush makes hotel rooms scarce and more expensive.
Of course, the wine industry is one of Sonoma County's biggest draws, but Gay Wine Weekend may be the best way to experience it. From June 17 to 19, Out in the Vineyard has scheduled three days of LGBT-focused tastings, meals, receptions, a pool party, a twilight T-dance and a fundraising auction.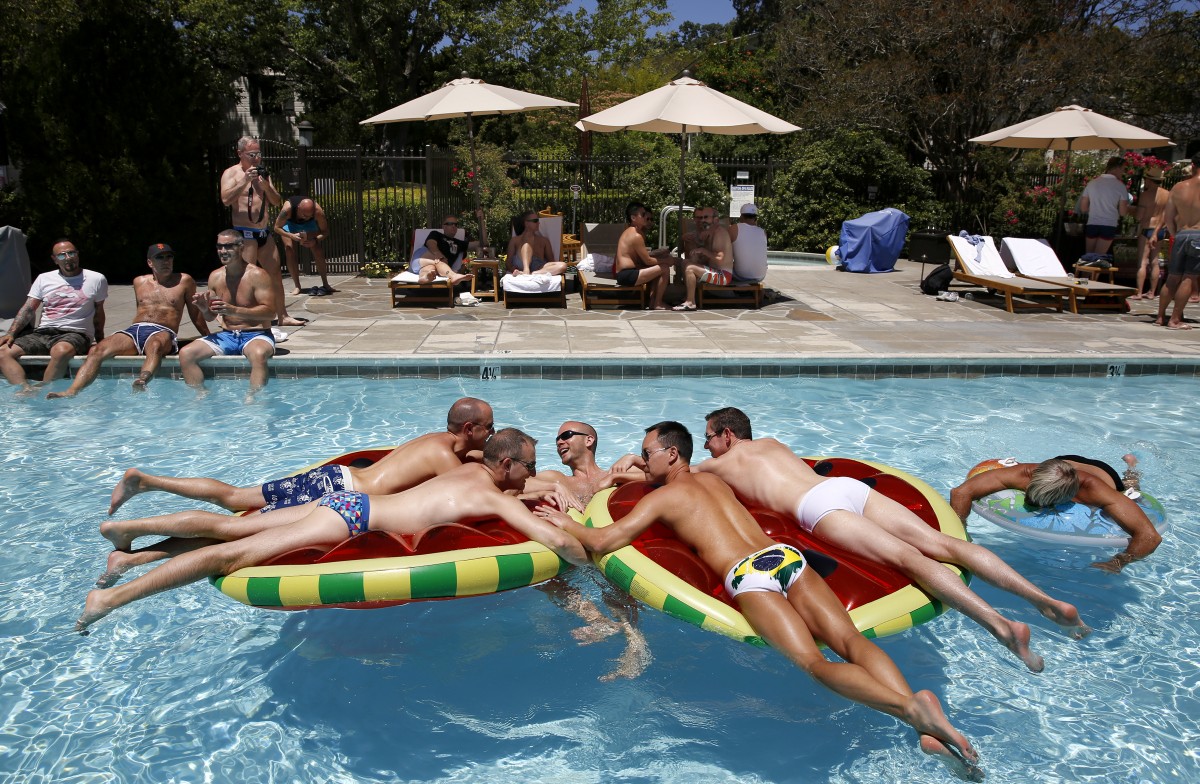 Sights
Guerneville makes a perfect gay-friendly home base for exploring Sonoma County. The coastline is just 20 minutes away, with the Russian River emptying into the ocean at Jenner. Most first-time visitors from Guerneville make stops along the way at the picturesque towns of Monte Rio and Duncans Mills.
Armstrong Woods State Natural Reserve is a must-see for anyone visiting Guerneville, a little more than 2 miles from downtown. It is named for 19th century logger Colonel James Armstrong, who decided to set aside 805 acres of his land as a redwood forest sanctuary. The park's oldest tree is more than 1,400 years old; the tallest is 310 feet, a little longer than a football field. 17000 Armstrong Woods Road, 869-2015.
The Raymond Burr Vineyards is a fun stop about 45 minutes north of Guerneville. At the Dry Creek Valley tasting room, you can sample and purchase wines made by Robert Benevides, longtime life and business partner of the actor who starred in the TV series "Perry Mason." Burr died in the couple's home there in 1993, and memorabilia of the late actor is displayed in the tasting room. 8339 W. Dry Creek Road, Healdsburg, 433-8559.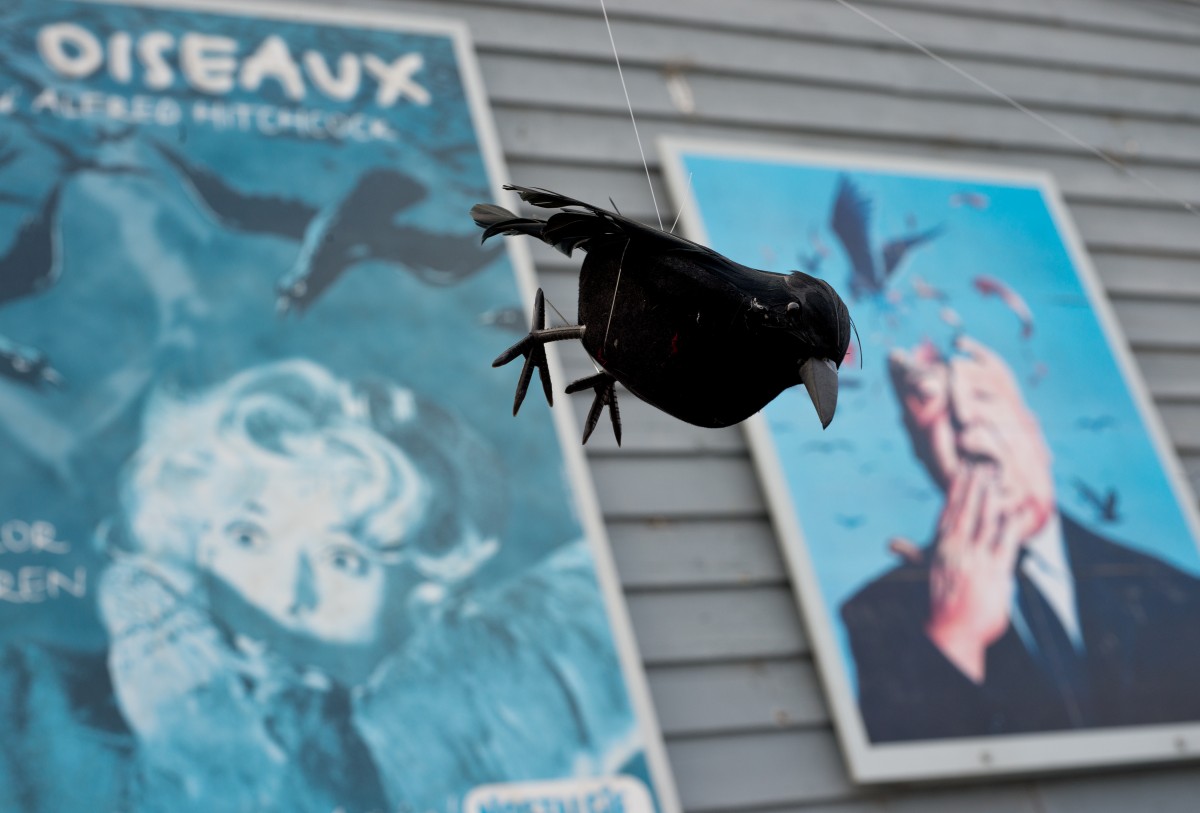 Alfred Hitchcock movie fans might remember that Raymond Burr played a killer in the legendary director's 1954 film, "Rear Window," but an even more memorable Hitchcock thriller, "The Birds," was filmed in the Sonoma County towns of Bodega and Bodega Bay. Residents of both towns have kept the memory alive.
Bodega is a scenic 35-minute drive south of Guerneville. The old schoolhouse shown in the film remains, across the road from a statue of Hitchcock that stands watch in front of the Bodega Country Store, which boasts the world's largest collection of Hitchcock memorabilia. 17190 Bodega Highway, Bodega, 377-4056.
Dock scenes were filmed at The Tides Wharf Restaurant and Bar in Bodega Bay, and although the famous scene in which the gas station exploded was shot in a Hollywood back lot, it was superimposed onto the real Bodega Bay. Some film memorabilia can be found in the restaurant's lobby, 835 Highway 1. The Sonoma Coast Visitors Center is across the street at 850 Highway 1, and has information about "The Birds" filming sites.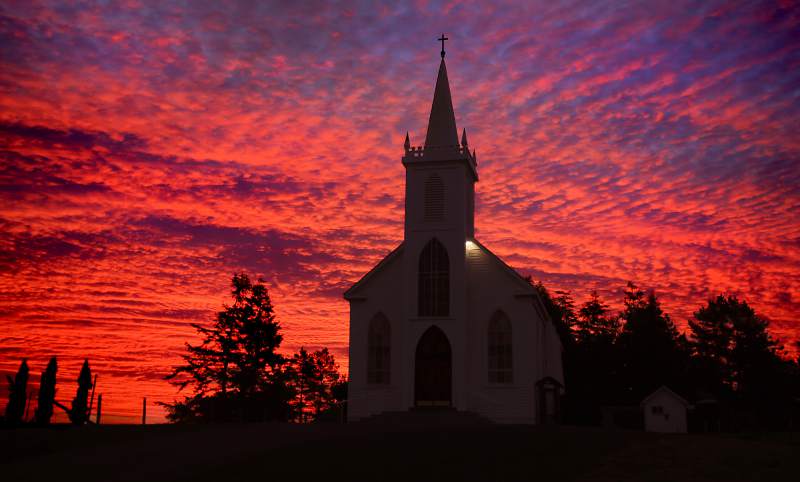 With all that sightseeing and exhausting wine tastings, you might be in the mood to do nothing but be pampered. The very gay-friendly Osmosis Spa in Freestone has you covered. A scenic 30-minute drive through a redwood forest from Guerneville, Osmosis is known for its signature treatment, a cedar enzyme bath made from finely ground cedar, rice bran and plant enzymes.
Ed Walsh is a San Francisco-based journalist. Contact him at edwalsh94105@yahoo.com.