Rich and meaty or delicately brothy and loaded with veggies – one of these four warming soups, each created especially for us by a top Sonoma chef, is just the thing to gather around on a chilly winter afternoon. As steam rises and aromas fill your kitchen, you'll know you're ladling up something wonderful. It's true: a simple bowl of homemade soup can be powerful medicine.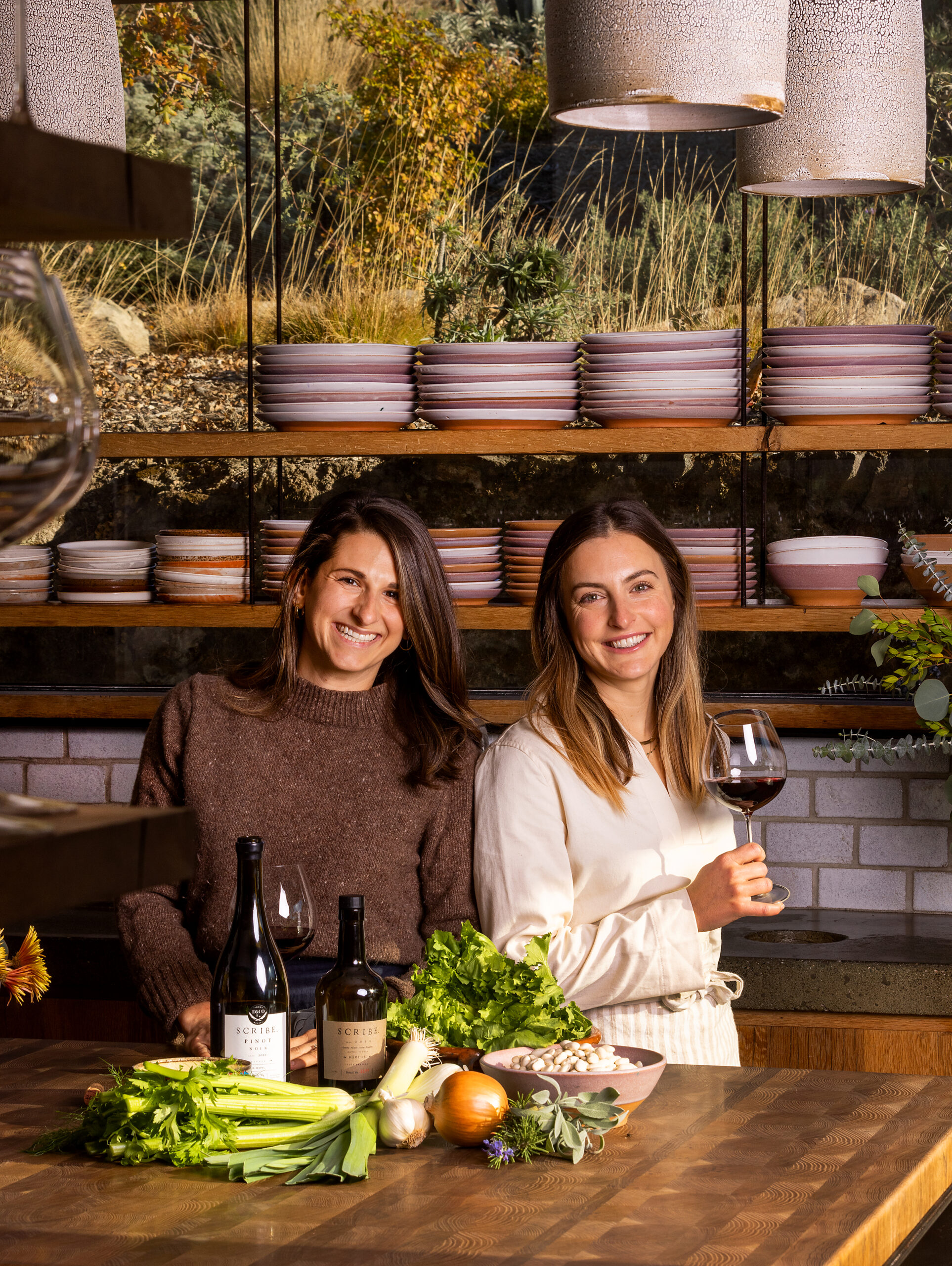 The Chefs: Kelly Mariani and Kirsten Watley
For Kirsten Watley and Kelly Mariani, who lead the culinary program at Scribe Winery in Sonoma, extensive on-site organic gardens are a constant source of inspiration, providing hefty helpings of bitter greens and aromatics to layer flavor into this earthy, comforting dish.
Mariani and Watley say good-quality dried beans—they prefer ones from Iacopi Farms or Rancho Gordo—are key to the recipe's success. Served with grilled bread, a drizzle of Scribe olive oil, and a glass of the estate Pinot Noir, the soup becomes a reason for the two friends to slow down and savor the season.
"We're a working farm, so for much of the year, we're going, going, going," says Mariani. "It's nice to have this moment of pause, before the vines kick up and start going back to work."
White Bean and Escarole Soup
Serves 4-5
For the beans:
2 cups dried butter bean
Extra virgin olive oil
1 small onion, cut in half
1 head garlic, cut in half
1 sprig sage
2 bay leaves
Kosher salt
For the soup:
1 small onion, diced
1 bulb fennel, diced
3 stalks celery, diced
1 leek, white parts only, diced
4 cloves garlic, chopped
2 sprigs fresh sage, chopped
2 stems fresh rosemary, chopped
¼ cup extra virgin olive oil
2 tablespoons tomato paste
1 teaspoon chile flakes
2 heads escarole, washed and chopped into 2-inch pieces
1 small rind Parmesan cheese
Freshly ground pepper and Scribe olive oil for garnishing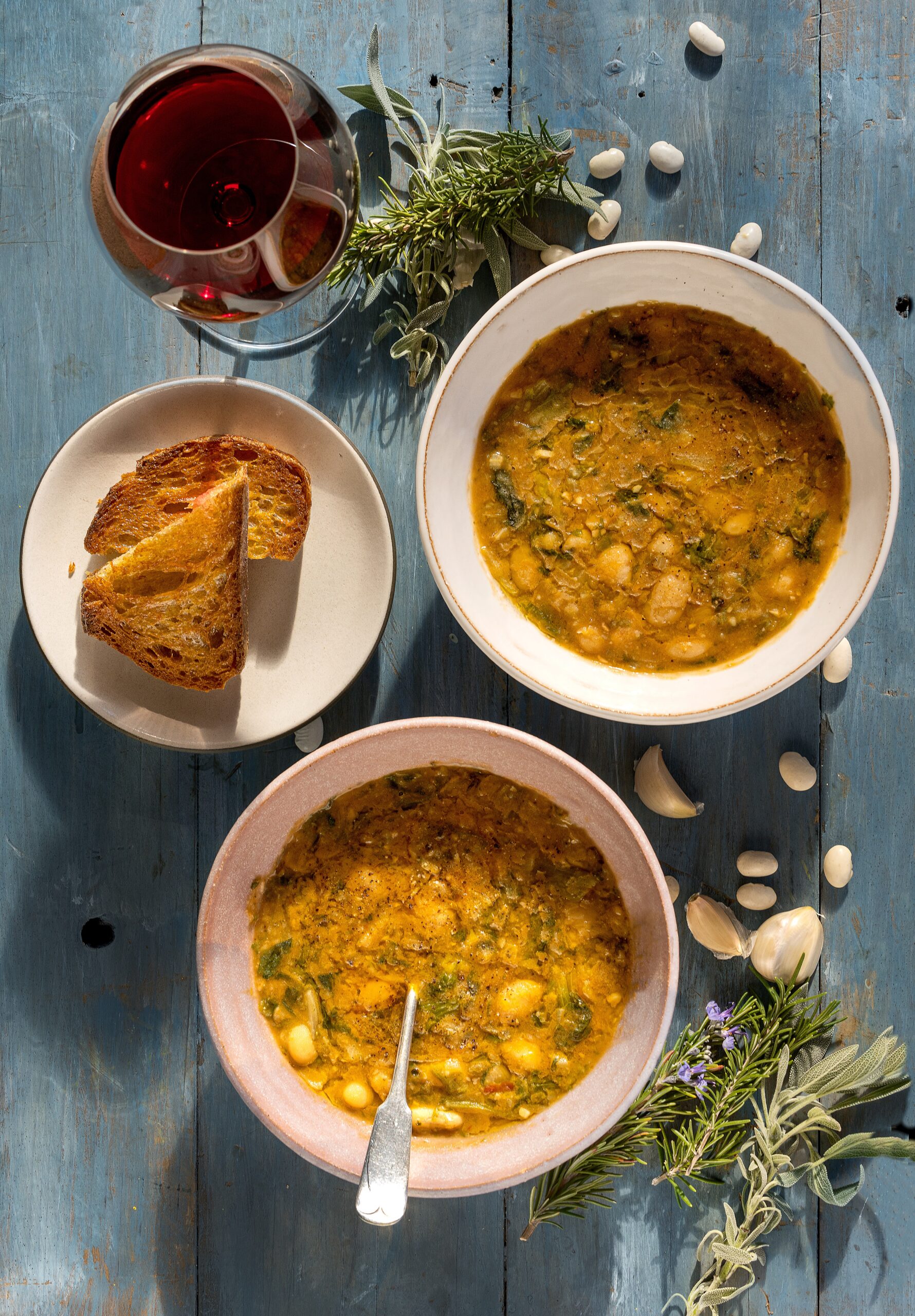 The day before you want to make the soup, place the dried beans in 6 cups of water and allow to soak overnight at room temperature.
The next day, add the beans and their soaking liquid to a 4-quart pot. Add more water if necessary to fully submerge the beans.
Bring to a boil and skim off any foam. Turn the heat down to low, drizzle in the olive oil, and add the onion, garlic, sage, and bay leaves. Simmer for one hour.
When the beans begin to soften, add a few pinches of salt and continue cooking until the beans are completely soft and the skin no longer feels tough. Turn off the heat and remove the onion, garlic, and herbs from the pot. Set aside the beans and their cooking liquid. For the soup, heat the extra virgin olive oil in a large pot or Dutch oven on low-to-medium heat. Sauté the onion, fennel, celery, leek, and garlic until soft and translucent. Add the sage, rosemary, chile flakes, and tomato paste and cook for one minute.
Add the beans and their cooking liquid to the pot. Smash a handful or two of the cooked beans to give the broth texture. Add 4 more cups of water and the Parmesan rind and bring the soup to a simmer.
Cook for 15-20 minutes.
Add the escarole and simmer for one minute until tender. Ladle the soup into bowls and finish with freshly ground pepper and a drizzle of fresh olive oil.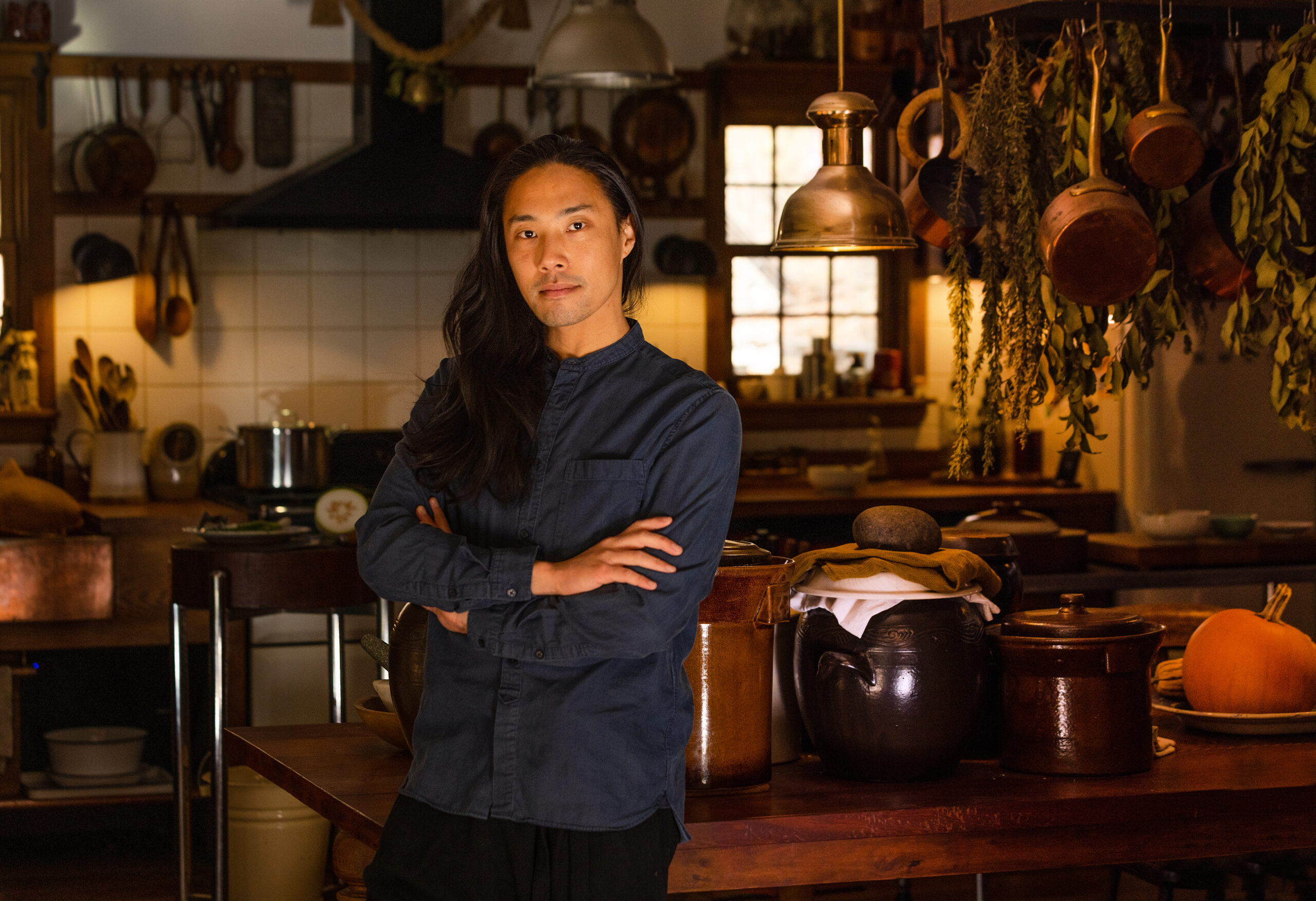 The Chef: Adrian Chang
Food writer Adrian Chang and his husband, Chris Lewis, live among the redwoods outside Occidental and together run Morihouse, a business offering cooking classes and Asian pop-up food events.
Chang's recipe for Lo Foh Tong, or "Old Fire Soup," originated 3,500 years ago in the Guangdong province of southern China, where it is known to strengthen the immune system and improve digestion.
In winter, when chilly fog and mist linger in the hills around the couple's home, Chang and Lewis enjoy the recipe's warming ginger-scented broth and meaty pork ribs. The optional addition of traditional Chinese herbs like dried astragalus (huang qi) and jujubes (da zhao), which can be purchased online or at Chinese markets, boost the broth's medicinal properties. If winter melon is difficult to find, swap it for the large white daikon radish.
Winter Melon and Short Rib "Old Fire" Soup
Serves 2-4
• 1 ½ lbs. bone-in pork short ribs, cut into 1-2 rib chunks
• 1 lb. winter melon or daikon radish
• 1 oz. fresh ginger, sliced and crushed with the back of your knife
• ¼ tsp. whole black peppercorns
• 1 tbsp. dried astragalus (optional)
• 2 whole jujubes (optional)
• 1 ½ tsp. sea salt
• 4 green onions, finely chopped
• 1 bunch watercress
• 6 oz. dried ramen noodles (two packages, flavor packet discarded) or 12 oz. fresh ramen noodles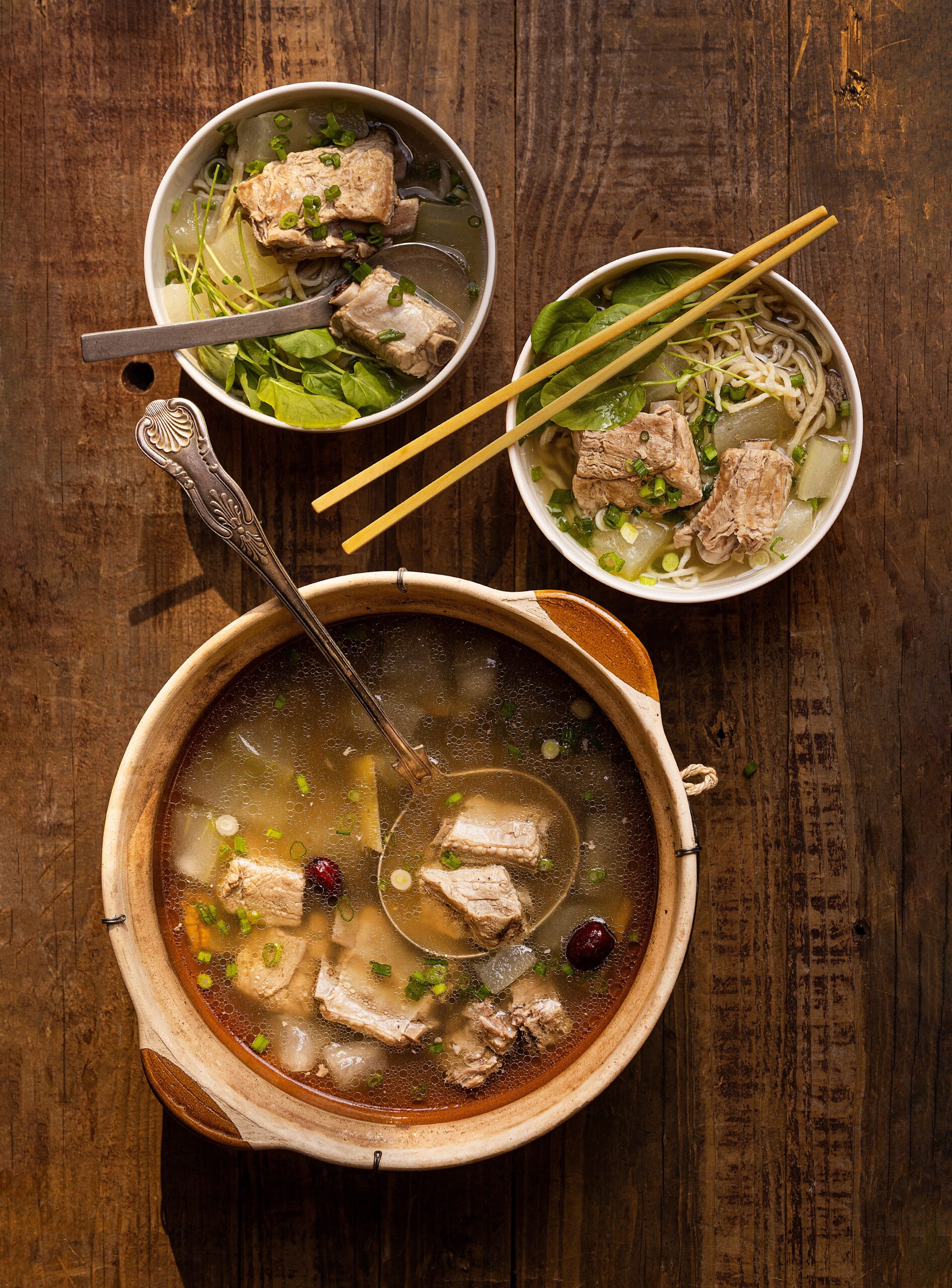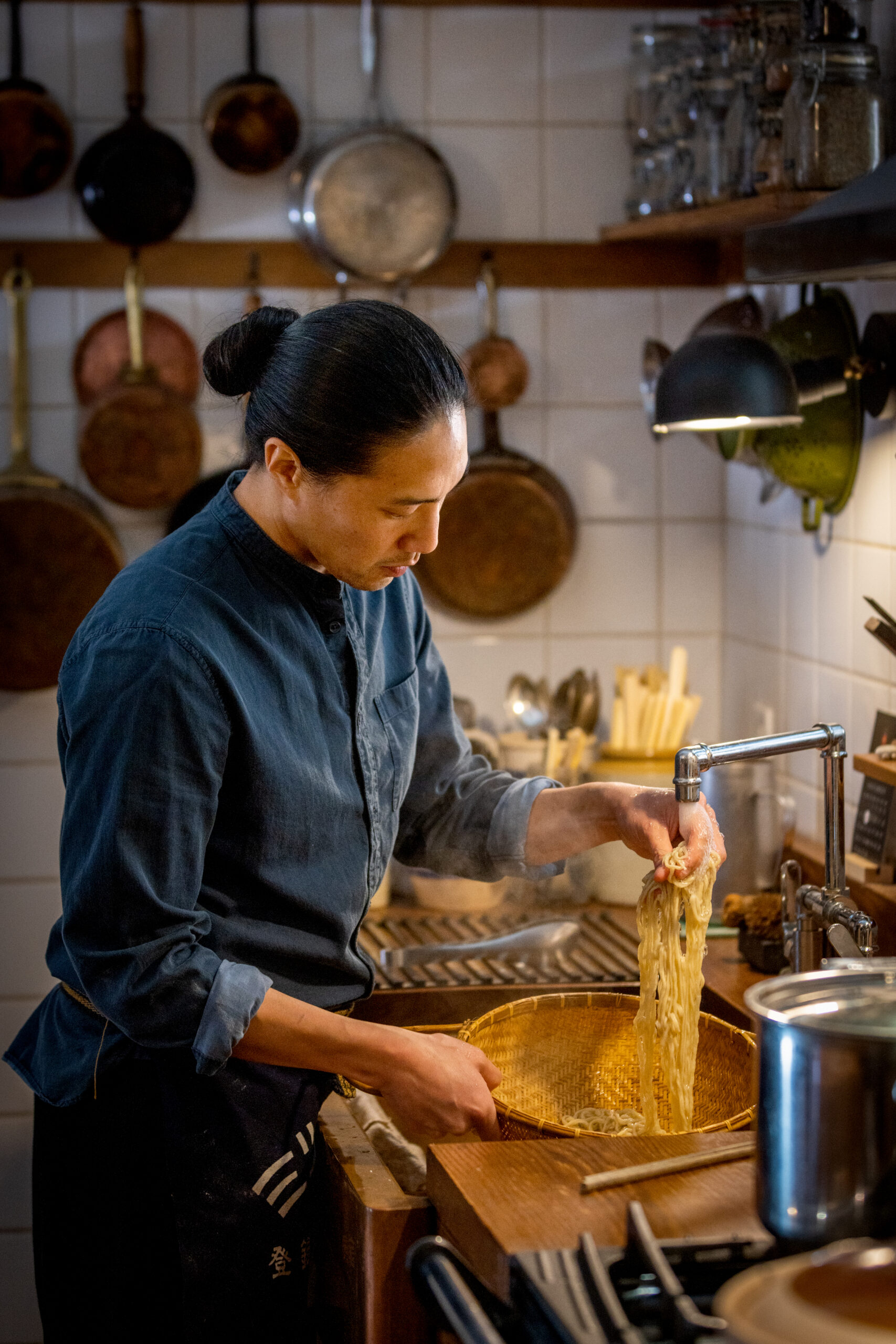 Bring a large pot of water to a rolling boil. Add the ribs and cook for 3-4 minutes until cooked through. Rinse the blanched ribs under cold water, which helps keep the broth clear, and drain.
Place the ribs in a pot with ginger, peppercorns, and astragalus. Cover with 2 quarts of water and bring to a boil.
Lower the heat, cover, and simmer gently for about 90 minutes.
Peel the winter melon by slicing it widthwise into 1.5-inch thick discs, then cutting the tough green outer skin of each disc, leaving the white inner flesh.
Scoop out the spongy pith and seeds with a spoon and discard, then chop the flesh into 1.5-inch cubes. (If using daikon instead, simply peel and cube.)
Add the jujubes and the cubed winter melon or daikon and simmer for an additional 30 minutes. The winter melon will turn translucent as it cooks.
Cook the dried noodles in boiling water until al dente, about 2-3 minutes. Drain, rinse with cold water, and set aside.
Stir the sea salt into the soup, sprinkle with half of the chopped green onions, and remove from heat.
Divide the noodles equally between serving bowls. Ladle the hot broth over the noodles and top with pork ribs, winter melon, green onion, and watercress.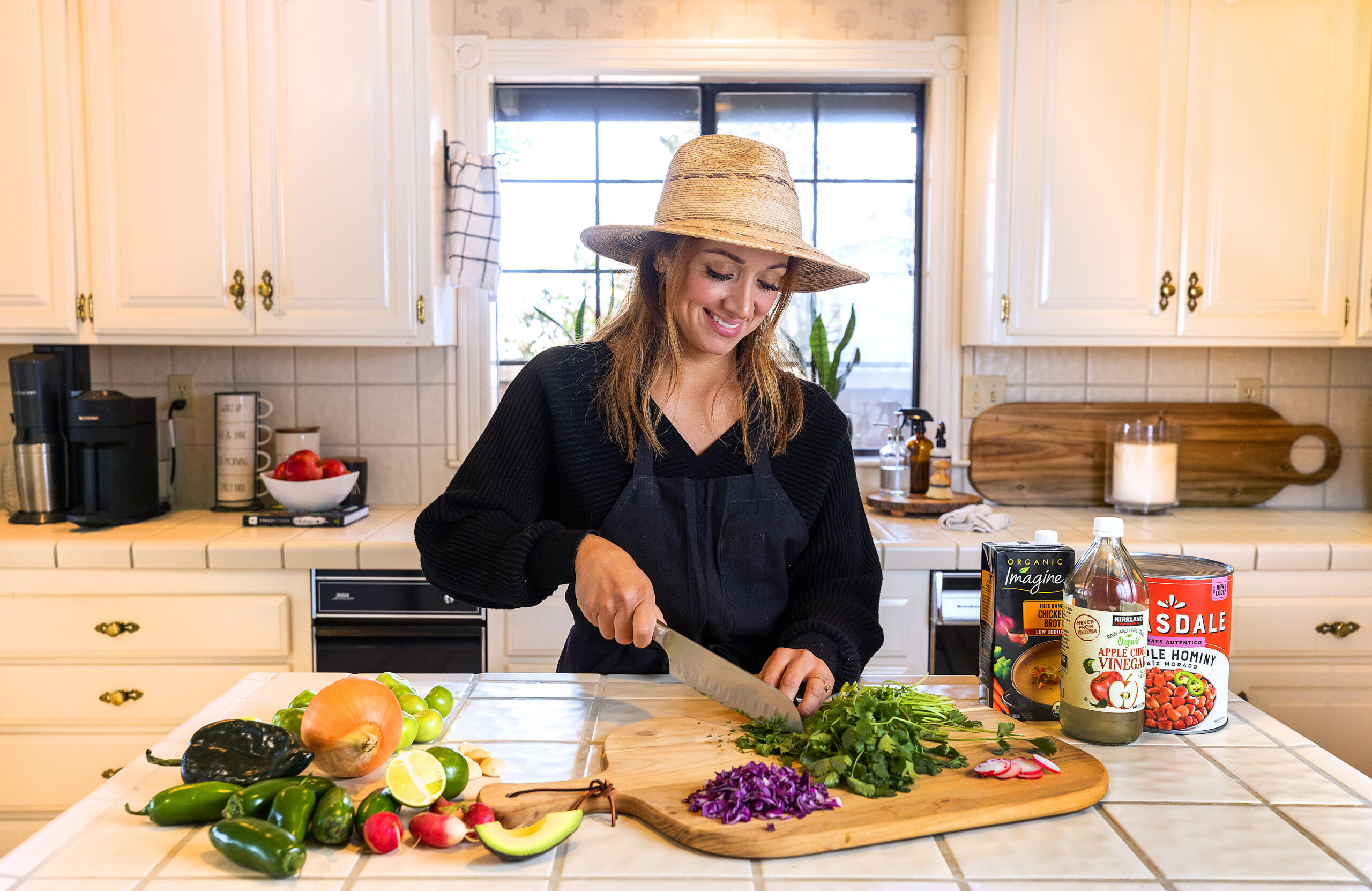 The Chef: Kina Chavez
"This is one of the main soups Mexican mothers make," says Kina Chavez, owner of Kina's Kitchen and Picazo Kichen and Bar in Sonoma. Traditional pozole comes in red, green, and white varieties, often different regional variations which correspond to the colors of the Mexican flag.
Chavez grew up eating her mother's red pozole with pork, but when she was visiting Jalisco, she fell in love with this pozole verde, made with chicken. "I'm a big green sauce girl—I really like the tartness of the tomatillos," she says.
Her two young boys, Mac and Sal, ages 8 and 6, look forward to this comforting dish as an easy weeknight family meal. "The soup really hits the spot, and you can smell the aromas as it cooks," she says. "I often make it in bulk and reheat it throughout the week—it's liquid gold for us."
Slow-Cooker Pozole Verde
Serves 6-8
• 1 large can hominy (110 oz)
• 2 lbs. chicken thighs
• 32 oz. (one carton) chicken broth
• 10-12 green tomatillos (about 1.5 lbs)
• 2 large poblano chiles (about 6 oz.)
• 5 cloves garlic
• 2-3 jalapeño peppers • 1 large white onion, diced
• 1 tsp. sea salt
• 1 tsp. freshly ground black pepper
• 1 tbsp. dried oregano
• 1 cup packed fresh cilantro plus more for garnish
• 2 tbsp. olive oil
• 2 oz. apple cider vinegar
• Additional sea salt to taste
Slow-Cooker Pozole Verde from chef Kina Chavez. (John Burgess/The Press Democrat)
In a blender, combine chicken broth, tomatillos, poblano peppers, jalapeño peppers, garlic, onion, fresh cilantro, olive oil, apple cider vinegar, salt, pepper, oregano, and 4 cups water.
Blend until smooth. You may have to blend the ingredients in two or more batches.
Preheat a crock pot to high. Add the mixture from the blender to the crockpot, then add chicken thighs and hominy. Slow-cook on high heat for 3 hours or on low heat for 6 hours.
About 45 minutes before the soup is finished, taste the broth and add a bit more water or salt if needed. The broth should remain watery.
Using tongs, remove the cooked chicken thighs, shred the meat, and return it to the pot. Garnish with cilantro, avocado, cabbage, and radish, and serve with chips or tostadas and lime.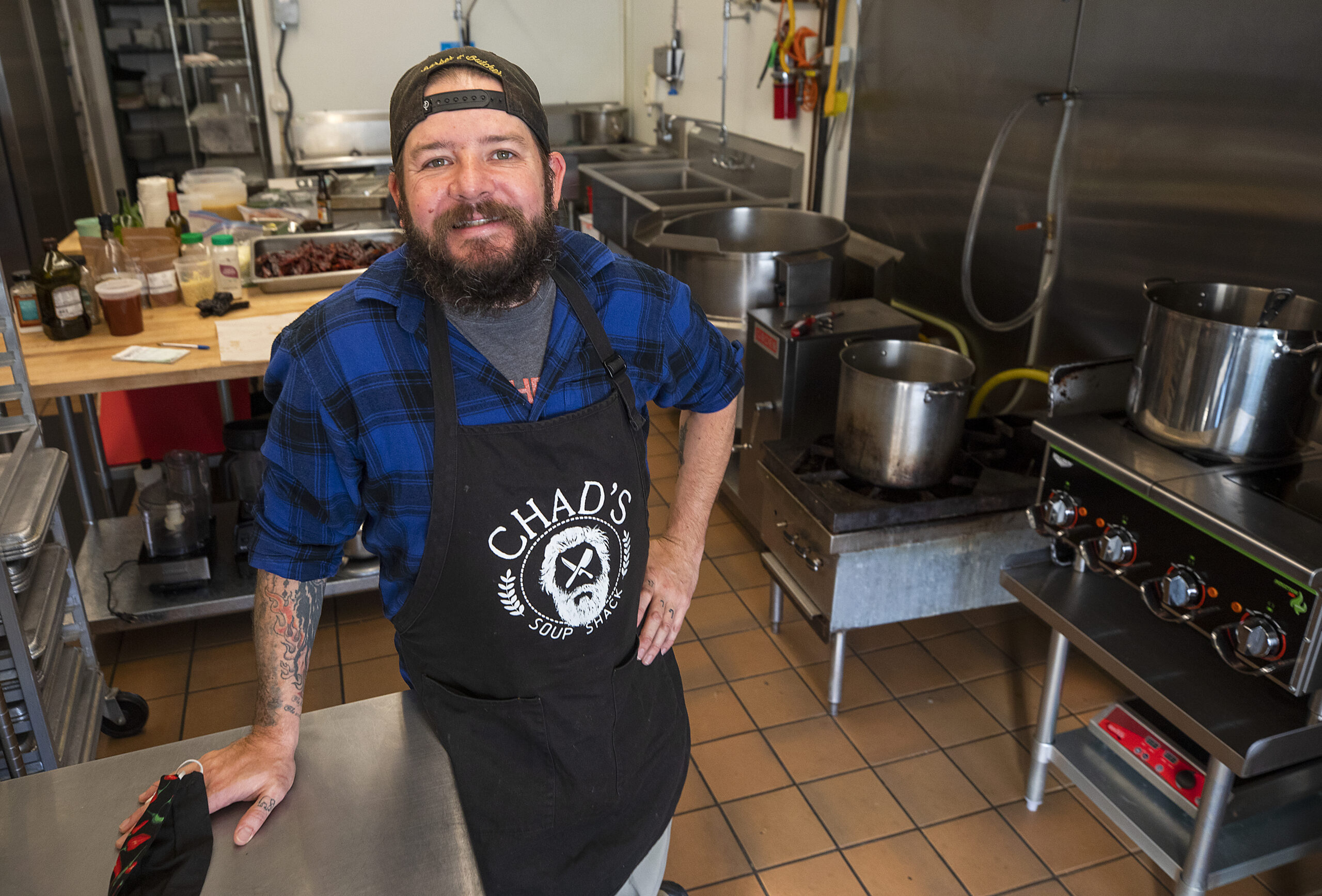 The Chef: Chad Holmes
Each week, Chad Holmes of Chad's Soup Shack simmers up to 10 different small-batch soups and chilis for farmers markets in Petaluma and Santa Rosa. For this satisfying winter chili, the chef, a former bartender who grew up in Colorado cooking for his younger sisters, likes to braise beef short ribs in red wine and homemade beef stock. "That makes them super-tender and melts the fat really nicely, so they just fall apart when it's done," Holmes explains.
He also adds his secret weapon—a puree made from dried California, guajillo and chipotle peppers. "I don't use chili powder," he says. "I toast and then deseed and rehydrate the peppers. That gives a real, fresh flavor." The result is complex and layered, best enjoyed with a thick hunk of cornbread. "I make all my soups super-hearty," Holmes says. "You can eat them with a fork. If I have a little extra, I pour them on nachos or a baked potato."
Short Rib Colorado
Serves 8-10
• 3 lb. boneless beef short ribs
• 1 tsp. sea salt
• 1 tsp. freshly ground black pepper
• 1 2-oz. package dried California chiles, stemmed, seeded, and cut or torn into pieces
• 1 2-oz. package dried guajillo chiles, stemmed, seeded, and cut into pieces
• 2 dried chipotle peppers, stemmed and seeded
• ¼ cup olive oil
• 6 large cloves garlic, chopped
• 1 large yellow onion, chopped
• 1 green bell pepper, chopped
• 1 red bell pepper, chopped
• 1 cup red wine
• 1 tbsp. freshly ground cumin
• 1 tbsp. dried oregano
• 1 cup beef broth
• Salt, black pepper, and cayenne pepper, to taste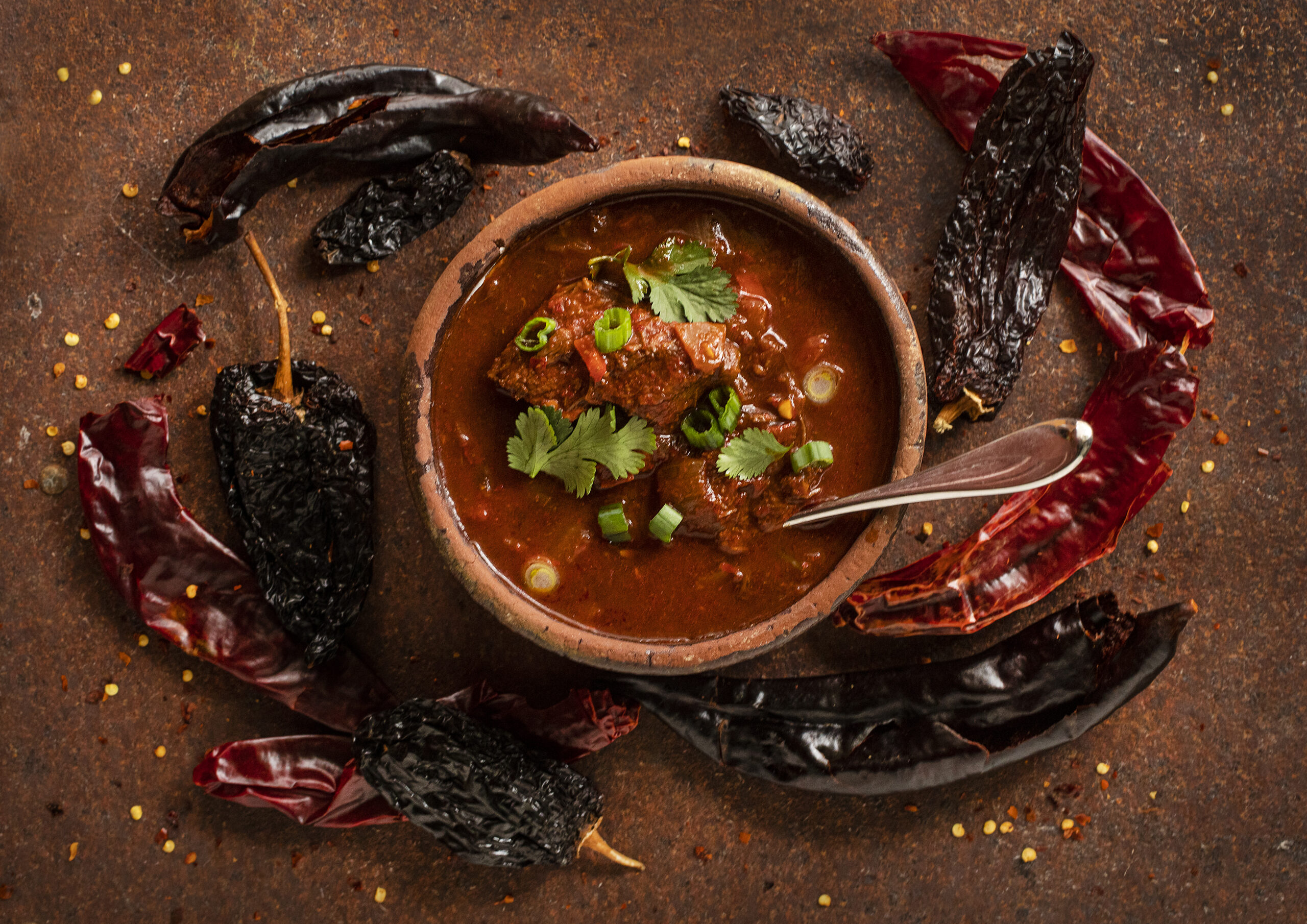 Preheat oven to 325 degrees.
Sprinkle short ribs with 1 tsp. salt and 1 tsp. pepper and set aside.
In a medium saucepan, bring 1 ½ cups of water to a soft boil with the California, guajillo, and chipotle chiles. Cover, reduce heat to medium-low, and simmer until the chiles are tender, 5 to 6 minutes. Transfer the entire mixture to a blender and puree until smooth.
Heat a large, heavy-bottom pot over medium-high heat, add ¼ cup olive oil, and sear the short ribs on all sides. Remove the ribs and set aside in a bowl.
Add the garlic, onion and bell peppers to the drippings in the pot and sauté over medium heat until the onions are translucent. Deglaze the pot with the red wine, scraping up the brown bits at the bottom of the pot. Add the cumin and oregano. Stir in the chile puree and beef broth and add back in the browned short ribs and their juice. Stir to combine, bring to a simmer, then cover and remove from the stove. Place the pot in the oven and braise until the ribs are tender, about 2½ to 3 hours.
Remove the chili from the oven and spoon off any fat that has risen to the surface. Using tongs, remove the ribs from the pot, transfer to a cutting board, and chop into small cubes. Add the chopped rib meat back to the chili. On the stove, bring the chili to a low simmer and add salt, pepper, and cayenne to taste. Serve hot with cornbread.