Merry Edwards doesn't suffer fools gladly.
The founding winemaker of her namesake winery in Sebastopol has laser-sharp focus and high expectations, according to those who know her best: winemakers she has mentored.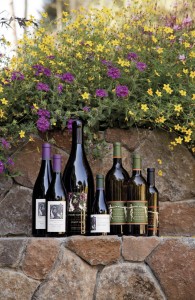 "Merry has super-high standards, but she's very clear with her communication and she's very clear with her protocol," said Julia Iantosca, winemaker of Lasseter Family Winery in Glen Ellen. "If Merry has laid it out clearly and you don't do it, she won't be happy and no one would be."
Off-putting? Not to a number of winemakers who have the deepest respect for Edwards, with several calling her attention to detail "unparalleled."
Edwards, 66, won a James Beard Award in 2013 in the category of Outstanding Wine, Spirits or Beer Professional. That same year, she was inducted into the Vintners Hall of Fame at the Culinary Institute of America at Greystone in St. Helena. With more than four decades in the wine industry, she said the Beard Award was a great milestone.
"It's wonderful to reflect on my years in this industry and feel that I have really contributed," Edwards said of the honor. "Somehow I didn't really register my accomplishments along the way, but now I do. It makes me feel proud of all my hard work, discipline and dedication."
Many credit Edwards for breaking through the glass ceiling for female winemakers during the 1970s, when many women believed the furthest they could go in a wine career was working in a winery lab. She became the winemaker at Mount Eden Vineyards in the Santa Cruz Mountains in 1974 and after three years was hired to design Matanzas Creek Winery in Santa Rosa and be its first winemaker.
"I don't actually feel like I 'broke through' anything," Edwards said. "I just persisted and wouldn't go away. Once I started studying, I saw my future in this field and pursued my dream. I feel that living by example is the best way to make change happen."
Edwards has made an imprint on many of those she's mentored, instilling in them a synergy between persistence and passion. The most important lesson she hopes to pass on to a winemaker, she said, is to resist the temptation toward arrogance.
"It's important to be open to learning at least one new thing you can apply each year, either in the winery or vineyard," she explained. "Never feel like you know it all."
Yet her wisdom has taken others far in their winemaking careers.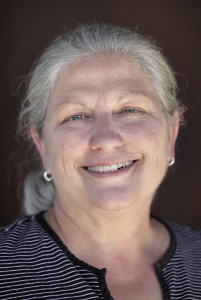 Julia Iantosca
Winemaker of Lasseter Family Winery in Glen Ellen; independent wine consultant
Edwards was a pivotal role model for women in the wine industry, particularly for Julia Iantosca, who considers Edwards both a mentor and friend.
"Merry was able to 'work smart' and demonstrate that women were every bit as capable as a man to work in a wine cellar," Iantosca said. Edwards' curiosity also made quite an impression on her.
"She's always looking at new ways to improve her winemaking," Iantosca explained. "During any given vintage, she has about a half-dozen experiments going."
The two worked together for 12 years, from 1993 to 2005, at Healdsburg's Lambert Bridge Winery. But it was during the 1995 harvest that Iantosca was particularly grateful for Edwards' support. Iantosca was pregnant and had to leave earlier than expected on maternity leave. Edwards jumped in to back her up.
"She was a mom and she knew life doesn't stop," Iantosca said. "You just do what you have to do. Merry was the first winemaker I knew who had kids."
Jeff Stewart
Winemaker, Hartford Family Winery, Forestville
Edwards knows a thing or two about handling the finicky Pinot Noir grape and Stewart found that aspect of his mentor particularly compelling.
"She got me started down the road to making great Pinot Noir," Stewart said. "Merry was key in making me think about the artistic, free-form elements in Pinot Noir while still respecting the attention to the details and structure that are required to make great wine."
Stewart and Edwards worked side by side at Laurier winery (now Hartford Family) in 1990, he as assistant winemaker. Stewart later managed the custom-crush work for Edwards' clients at Graton's Mark West Wines and Kunde Family Estate in Kenwood.
Stewart said Edwards' teachings continue to come through the wines he makes today.
"These wines have a great combination of precision, concentration and vineyard personality, which mirrors Merry's personality," he said. "She's very focused and detail-oriented with an artistic side."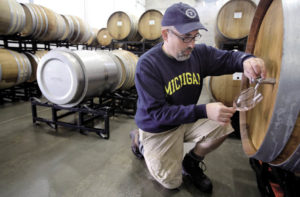 Scot Covington
Winemaker, Trione Vineyards and Winery, Geyserville
According to Covington, Edwards' understanding of Mother Nature made a lasting impression on him.
"My winemaking philosophy is reminiscent of Merry: guided by nature," Covington said. "The hand of the winemaker is light but instinctively
direct."
Edwards hired Covington in 2001 as winemaker for Pellegrini Family Vineyards in Santa Rosa, where he worked directly with her for three years. What sets Edwards apart, Covington said, is her drive.
"I think Merry is a person who knew she had to be better than her competition to succeed and she had to work harder to prove it," he said. "I think she is also a person where failure is not an option and there is no plan B."
Mike Gulyash
Winemaker, Zichichi Family Vineyard, Healdsburg
Edwards' blend of skill, wisdom and craft is what impressed Gulyash most when he worked for her.
"She was and is one of the most focused people I've ever known, with an amazing ability to keep a huge number of details in front of her," he said. "She can be so detailed and yet never lose sight of the global aspect. That included everything from vineyard through bottling, marketing, etc."
Edwards, then a consulting winemaker, hired Gulyash as winemaker at B.R. Cohn Winery in Glen Ellen in 1995 and they worked together through 1999.
"I had to be really prepared for her visits and always anticipate what she might throw at me," Gulyash said. "I was gratified when she expressed to me that I was always well-prepared for her."
Gulyash said he considers himself fortunate to have worked with Edwards, a woman who always meets obstacles with grace.
"Merry always had the time to offer her experience and energy," Gulyash said. "She was rarely given an easy road to travel, yet tried to make the same path smooth for those who followed."
"Merry has super-high standards, but she's very clear with her communication …"
—
Merry Edwards' winemaking alumni
Christine Benz
Winemaker, Laird Family Estate, Napa
Greg Brewer
Co-founder and winemaker, Brewer-Clifton, Lompoc
Gove Celio
Winemaker, Neal Family Vineyards, Napa
Scot Covington
Winemaker, Trione Vineyards & Winery, Geyserville
John Giannini
Winemaker and enology lecturer, Fresno State University
Mike Gulyash
Winemaker, Zichichi Family Vineyard, Healdsburg
Julia Iantosca
Winemaker, Lasseter Family Winery, Glen Ellen; independent wine consultant
Greg La Follette
Founder and winemaker, La Follette Wines, Sebastopol
Christina Pallman
Co-founder and winemaker, CP Monopole, Fulton
Scott Rich
Founder and winemaker, Talisman Wines, Glen Ellen
Leslie Sisneros
Winemaker, Ispiri Wines, Healdsburg
Jeff Stewart
Winemaker, Hartford Family Winery, Forestville