From early May through late summer, wild Pacific king salmon from the California coast is one of our most beloved and healthiest indulgences. It's cured, smoked, slowly roasted, poached in olive oil, grilled indoors and out, enjoyed raw in tartare and ceviche, savored in creamy chowder and offered on menus throughout Wine Country. Salmon is the centerpiece of many a feast and festival throughout its season.
It is the salmon's lifestyle that makes it both delicious and full of nutrients. For most of its life, this marine carnivore swims in the open ocean, building firm muscle tone and — assuming one of its favorite foods, krill, is abundant — developing the red flesh and deep flavor that aficionados love. Its activity and diet create the healthful omega-3 fatty acids for which salmon is praised by nutritionists. The native salmon's farmed sibling, which is confined and fed a manufactured diet, does not have the wild fish's firm flesh, nor is it naturally high in omega-3.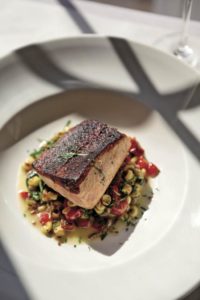 Heading into the 2014 salmon season, anticipation of a good and possibly great year burbled within the West Coast fishing community. There were plenty of krill and another salmon tasty treat, anchovies, were plentiful. Shortly before the commercial salmon season opened on May 1, counts showed nearly 1 million adult fish, up from 46,000 in 2009, which was a dismal season for both the local fishery and hungry customers.
These adults, the ones more than 22 inches in length (smaller salmon must be returned, unharmed, to the sea) are between 3 and 5 years old. By late summer many will begin their journey back to their place of birth to spawn and die. The majority of Northern California salmon spawn in the Sacramento River system; their offspring feed and grow in the tributaries until they're ready to migrate into the Pacific. And the cycle begins again.
Most of the salmon that will be caught in 2014 were hatched in 2011, a wet year when creeks and rivers ran high during spawning season. In this 2014 drought year, the fish will likely encounter hostile conditions as they make their way upstream from the ocean. Even if the fish manage to make it to their spawning ground, their eggs might not survive a hot summer; if water temperatures rise above 56 degrees for more than three days, the eggs will likely die.
For salmon lovers, this means that while the 2014 season appears to be bountiful, the future is murky.
"The current drought will impact the 2017 salmon season," explained John McManus, executive director of the Golden Gate Salmon Association, "as there will likely be little water and high temperatures this fall. We might as well eat up now."
The wild salmon from the local fishery, which stretches from Oregon to the coast of Central California, provides nearly all of the fresh wild Pacific king salmon (also known as chinook) to make it to market, McManus said. There is a small number of Pacific kings near the mouth of the Columbia River on the Oregon-Washington border, but few, if any, of them show up in Sonoma markets. Other salmon found in stores, much of which is available year-round, has been either frozen or farmed.
Local salmon is at its absolute best when it is prepared soon after it's caught. During the past decade, those who fish professionally for salmon have perfected their post-catch techniques so that the fish reach the shore in near-perfect condition. The salmon are then transported to local markets; this not only puts very fresh fish on the table, it also makes a much smaller carbon footprint than fish that travel greater distances.
McManus offered an important piece of advice for home cooks salivating for salmon.
"It is really, really easy to overcook salmon," he said, adding "the secret is to take it off the heat before it is done, as it keeps cooking."
The other option is, of course, to let someone else do the cooking.
—
What to Drink with Fresh Salmon
Russian Hill Estate Winery 2013 Patio Pink Dry Rosé Russian River Valley: This blend of Pinot Noir and Syrah has beautiful acidity that counters the richness of salmon. Syrah adds a whisper of spice that engages the smoky flavors from grilling. ($14)
Francis Ford Coppola Votre Santé California Pinot Noir: This ethereal wine is one of the finest low-priced Pinot Noirs available. Its fresh red-cherry fruit and gentle tannins create a fine foundation for succulent salmon. ($14)
Iron Horse Vineyards 2009 Commander's Palace Cuvée Green Valley of Russian River Valley: Any well-made sparkling wine goes beautifully with salmon, but this one has a festive vermilion color and is a tad racy, with feisty spice and hints of smoke. ($50)
Flocchini Wines 2012 Sonoma Coast Pinot Noir: This elegant Pinot Noir from the Petaluma Gap area of the Sonoma Coast appellation is both rich and delicate, and a great choice for grilled and smoked salmon. ($26)
Moonlight Brewing Lunatic Lager: Big, hoppy India Pale Ales are all the rage, but this lager from Santa Rosa's Moonlight Brewing is a far better choice with salmon. It's crisp and refreshing, with subtle toast and yeast character that enhances rather than overwhelming salmon's subtle flavors. Sold only in kegs; look for it in restaurants.
—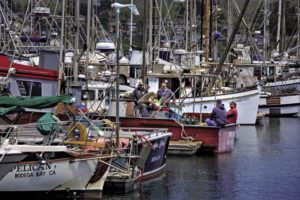 Where to eat local salmon
Many Wine Country restaurants serve local salmon in mouthwatering ways. Here are just a few:
Barndiva
Ryan Fancher, the chef de cuisine, serves salmon carpaccio — thin, raw slices — with beet vinaigrette, horseradish crème fraîche, caviar and roasted fingerling potato chips. He also slowly bakes salmon in the oven, basting it with olive oil as it cooks, and serves the succulent fillet with fried squash blossoms, summer corn, gnocchi and basil pistou.
Barndiva, 231 Center St., Healdsburg, 707-431-0100, barndiva.com
Farmhouse Inn
A favorite presentation of executive chef Steve Litke involves curing salmon in gin from Spirit Works Distillery in Sebastopol. After curing, thin slices are draped over potato-chive blini, topped with a dollop of salmon or trout roe and presented as a complimentary amuse bouche. Sometimes a main dish begins with ground Lapsang souchong, a smoked black tea, mixed with good salt and rubbed into a fillet that is grilled and served over roasted beets spiked with coriander and citrus and finished with fresh garden greens.
Farmhouse Inn, 7871 River Road, Forestville, 707-887-3300, farmhouseinn.com
Glen Ellen Star
Proprietor and chef Ari Weiswasser encases a whole salmon in a salt crust and roasts it in a 500-degree wood-burning oven, a technique that makes an already succulent fish even more luscious. After the cooked salmon rests, he cracks open the salt shell, lifts out the fish and serves it with a padron chile criolla mild salsa.
Glen Ellen Star, 13648 Arnold Drive, Glen Ellen, 707-343-1381, glenellenstar.com
La Toque
Ken Frank, executive chef and owner of La Toque, features local salmon from the beginning to the end of its season, which sometimes extends into early fall. Currently, his favorite preparation is mi-cuit, French for "half-cooked." He does a light cure of the salmon, slices it thin and then places the salmon on a warm plate, along with braised fennel, Asian pear, cured Meyer lemon and smoked dill salt.
La Toque, 1314 McKinstry St., Napa, 707-257-5157, latoque.com
Madrona Manor
Executive chef Jesse Mallgren slowly poaches local salmon in red wine and beet juice, resulting in a glossy scarlet sheen on the succulent fish, which he finishes with a bit of horseradish. Another presentation pairs pan-roasted salmon with black truffles from Australia and tiny haricots verts from the restaurant's garden.
Madrona Manor, 1001 Westside Road, Healdsburg, 800-258-4003, madronamanor.com
Terrapin Creek
This diminutive Michelin-starred café is so close to Bodega Harbor that Pacific king salmon can practically jump into the kitchen, though chefs and owners Liya Lin and Andrew Truong make the short drive to The Tides Wholesale Seafood for the freshest fish. In midsummer, they might use salmon in a savory stew with tomato, fennel and clams, or blackened and served atop a medley of roasted summer vegetables and farro.
Terrapin Creek, 150 Eastshore Road, Bodega Bay, 707-875-2700, terrapincreekcafe.com