A show at the Green Music Center, with its phenomenal acoustics and spectacular views of Sonoma Mountain, is one of Wine Country's newest and most engaging indulgences. From the concert hall itself, with its high windows that bring the landscape to the audience, to the terrace and gently sloping lawn, which are open during summer and fall shows, every seat offers something special. And the dining options are equally enticing, particularly this time of year, when food service extends outdoors.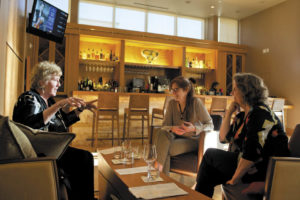 Prelude is the center's premier eatery, overseen by longtime local restaurateur Josef Keller. It is open to everyone, not just concertgoers, whenever there is a performance. A meal at Prelude is a performance in itself, a feat of precise choreography necessary to give customers a leisurely meal and also get them out the door in time for the show, or to seat a full house immediately following a daytime performance. This is accomplished, in part, by executive chef Eric Lee's simple fixed-price menu, which includes just four starters, four entrees and three desserts, all of which change with the seasons. Prices are streamlined, too: $35 for two courses, $45 for three.
When it comes to specific menu items, selections have included butter lettuce salad with Green Goddess dressing; grilled calamari salad; slow-cooked lamb poutine (a Canadian extravaganza of French fries, cheese curds and gravy); wild Pacific king salmon with tomato vinaigrette and summer vegetables; and pork loin braised in milk and served with polenta, caponata and broccoli rabe. Dessert options always include a plate of local cheeses.
The wine and beer list is similarly focused, though it offers more choices. With just two exceptions — Dow's 30 Year Tawny Port and Blue Moon Belgian White Ale from Colorado — all selections are regional and most are from Sonoma and Napa.
The restaurant and its lounge area remain open during and after performances; now and then a group of Sonoma State University students wanders over from the dorms to enjoy a beer and perhaps catch a bit of the show on the bar's closed-circuit television. Prelude's patio is open during the summer season.
The Dining Terrace, nestled between the vast lawn and the concert hall itself, offers full-service meals by Elaine Bell Catering during summer and early-fall concerts. Diners select this option when they purchase concert tickets and make their menu choices at that time. Seats on the Dining Terrace typically run about $50, with dinner an additional $65 to $85, plus beverages.
During intermissions, several beverage and concession carts in the hall's lobby offer refreshments, including local sparkling wine by the glass.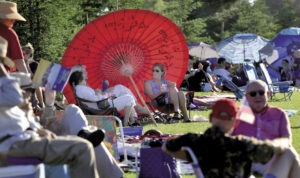 If you opt for lawn seating for, say, Elvis Costello and the Imposters' Sept. 3 appearance, or the Ben Harper show on Sept. 13, a box lunch can be ordered when lawn tickets are purchased. But what if you have no idea what you want to eat until the moment you are actually hungry? Not to worry, there are plenty of on-the-spot options.
For big-name performances, concession stands are added throughout the venue. This year, ice cream joins the lineup of snacks and full meals that were offered last year.
"We're adding more options this year," Ryan Ernst, the Green Music Center's director of marketing, said, "with smaller carts and kiosks closer to the lawn so that people don't have to go so far for refreshments."
There's even a kiosk, a little storefront of sorts, that offers a range of items for those who prefer to create their own picnic. Guests can also carry in their own food, but beverages, including wine and beer, must be purchased on-site. Water stations are located throughout the center.
Green Music Center at Sonoma State University, 1801 E. Cotati Ave., Rohnert Park, 866-955-6040, gmc.sonoma.edu