From scary events to family-friendly fun, plus pumpkin patches around Sonoma County, here's everything you can do locally to celebrate Halloween.
SCARED STRAIGHT EVENTS
Oct. 7-31
Blind Scream Haunted House: Ready to be terrified? Blind Scream opens its haunted house this weekend, running every weekend through Halloween, starting this Friday. This haunt is a 12,000+ SF maze that includes special effects, live actors, animatronics and more that's not for the faint of heart or young children. Dates are Oct. 7-9, 13-16, 19-23, 26-31. Admission is $10-$30. Purchase tickets at blindscream.com.
NorCal Fear: Come to the Bedlam Asylum at the Petaluma Fairgrounds where the patients have revolted and are ready to make your worst nightmares come true. Your job is to stay alive while you make your way through the asylum. Open Oct. 7-9, 14-16, 20-23, 26-31. Admission is $15. Purchase tickets at norcalfear.com.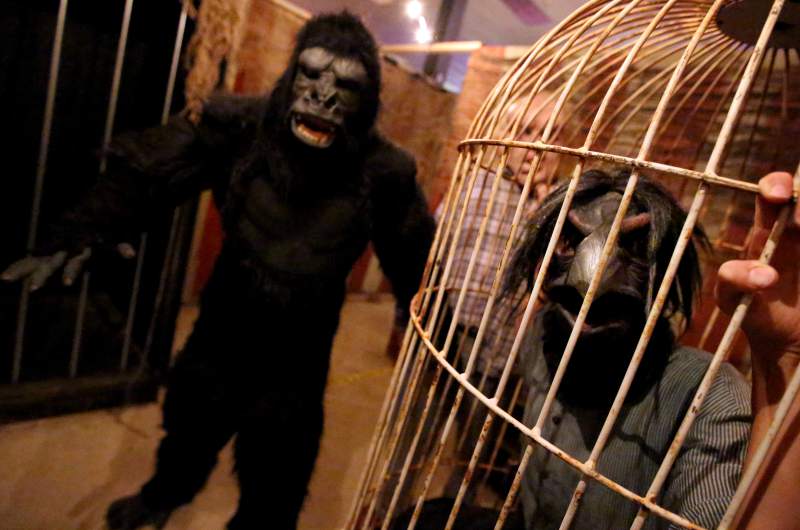 EERIE EVENTS
Sonoma Plaza Ghost Walking Tour: Step back in time with this historic tour of Sonoma, learning about the Native American spirits of Mission Solano, the Sonoma Plaza, the Whipping Tree and more. Tour takes place most Friday and Wednesday evenings at 8 p.m. Cost is $28 plus tax per person. Reservations required at napaghosts.com.
Oct. 27
Mystery Writers in the Mausoleum: Listen to Sonoma County readers share their short stories by lamp oil light at Santa Rosa Memorial Park's Mausoleum. Past years have been standing room only. This is a free event, taking place 7-8:30 p.m. Find out more at srmp.org.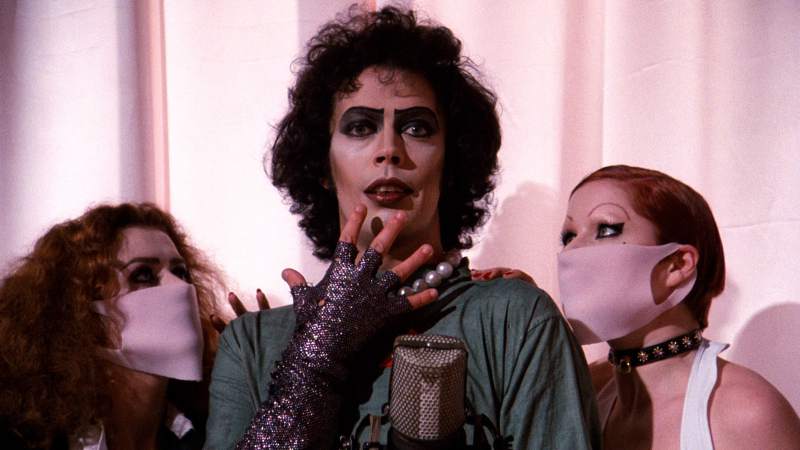 THEATRICAL & BIG SCREEN EVENTS
Oct. 7-Nov. 5
Bell, Book and Candle: A modern day witch in New York casts a spell on an unsuspecting stranger she desires, then must choose between having him and losing her magic, or letting him go and keeping her powers. See this witchy tale at Curtain Call Theatre in Monte Rio. Admission is $15-$20. Purchase tickets at russianriverhall.com.
Oct. 29-30
Witchie Poo and the Haunted Cruise: Enjoy a Halloween variety show for the whole family at Sebastiani Theatre in Sonoma, presented by Witchie Poo Players and Rhoten Productions. Come in costume to participate in the Costume Parade, and for a chance to win a prize. Admission is $8-$10. Ticket locations available at sebastianitheatre.com.
Oct. 28
Murder Mystery Dinner Theater: Play a game of whodunnit when Charlie's Restaurant at the Windsor Golf Club with "Murder at Joe's Speakeasy," a roaring '20s mystery. Guests are encouraged to dress in the style of the 1920s. Cost for the 3-course meal and show is $68 per person. Reserve your space at www.getaclueproductions.com.
Oct. 20-30
The Woman in Black: The theatrical adaptation of a mourning mother ghost and the actor retelling her story creates a play within a play for Raven Theater audiences. Performed live at Costeaux Bakery in Healdsburg, the location plays a large part in setting the scene. Performances are Oct. 20-23, 37-Oct. 30. Admission is $10-$25. Purchase tickets at raventheater.org.
Oct. 23-Nov. 8
Live performance of Rocky Horror Picture Show: The 6th Street players present a live-action performance of the Rocky Horror Picture Show. Every line and song is true to the original for this Santa Rosa tradition. Performances are Thursdays through Sunday. Admission is $10-$26. Purchase tickets at 6thstreetplayhouse.com.
PARTIES FOR GROWN UPS
Oct. 29
Halloween LGBTQI & Friends Dance: Scare up some fun for an evening of dancing, costume contests, appetizers and wine at the Sebastopol Senior Center. Come in costume. Admission is $10 at the door for 21-plus. Find our more at sebastopolseniorcenter.org.
Oct. 29
Sebastopol Halloween Party: Starting at 7:30 p.m., dance the night away to Frobeck and Mr. Music & Love Choir at the Sebastopol Community Cultural Center. Come in costume. Admission is $12-$15. Purchase tickets at seb.org.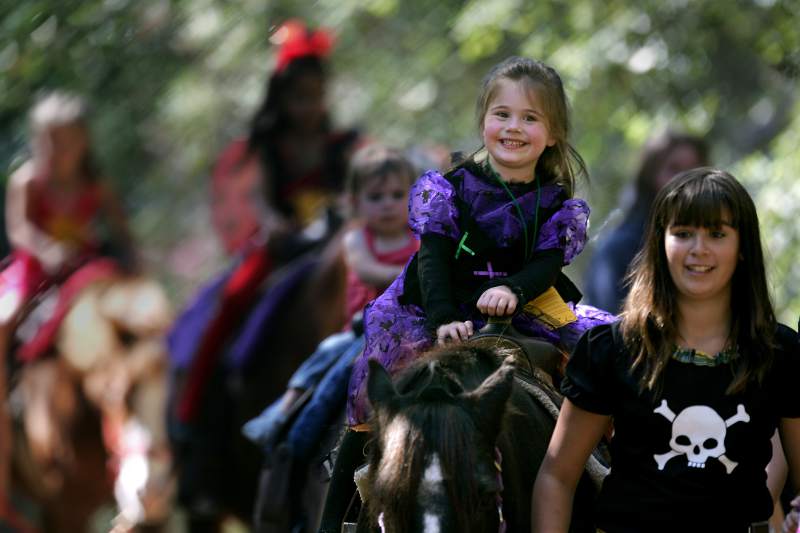 UNSPOOKY FAMILY EVENTS
Oct. 27
Halloween Pumpkin Decorating Party: Teens and tweens are invited to a pumpkin decorating party at 4 p.m. at the Rincon Valley Library. The sky's the limit for your creation, and pumpkins will be provided. More information at sonomalibrary.org.
Oct. 29
Midnight of the Day Mad Monster Party: Kids 5 and older are invited to Sebastopol Regional Library for pumpkin decorating, costume fun and more, noon to 2 p.m. Find out more at sonomalibrary.org.
Oct. 29
Halloween at Howarth Park: Come in costume for an afternoon of trick-or-treating around the park. Families are invited to register for a time slot, and then travel through the park to treat stations hosted by local businesses and organizations. Admission is $5 for a basic pass, and $12 to include additional park fun. Register at pd2go.net/HalloweenAtHowarth.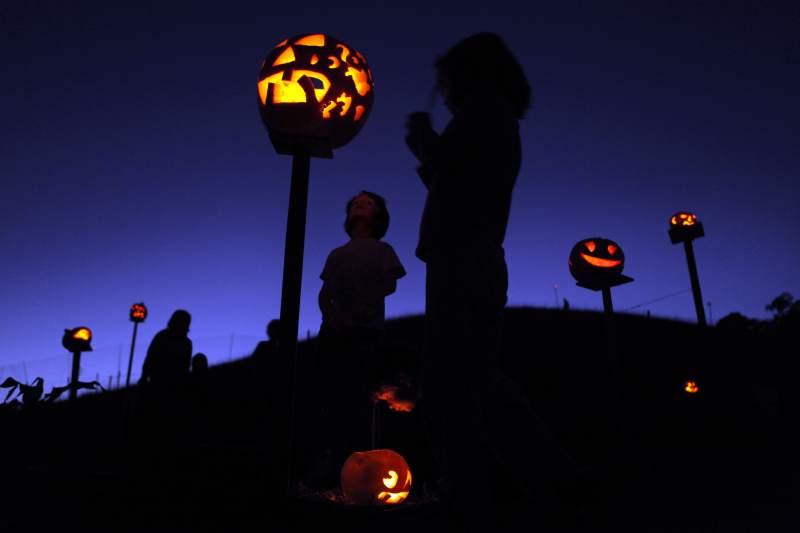 Oct. 29
Pumpkins on Pikes: This annual event at Tara Firma Farms has become a beloved tradition for Sonoma County families. Carve a pumpkin, then display it on a pike in the corn field. When the sun goes down, watch the magical glow while enjoying delicious food, music and more. Admission is $15-$20, and kids 6 and under are free. Purchase tickets at tarafirmafarms.com.
Oct. 29
Apple Blossom Halloween Carnival: Wear your costume to Apple Blossom Elementary School's Halloween Carnvial for an afternoon of carnival games, face painting, a pumpkin carving contest and more, plus the 5th grade hosted haunted house. This free event is 12 p.m. to 4 p.m. at Apple Blossom Elementary School, 700 Watertrough Rd. Sebastopol. Proceeds benefit the Twin Hills Apple Blossom Education Foundation.
Oct. 29
Dogtoberfest: Why should humans have all the fun? Dogs and their people are invited to Topel Winery in Healdsburg for a day all about them, with a costume contest, a pet psychic, pet portraits and more. Information at facebook.com/topelwinery.
Oct. 29
Candlelight Procession with Giant Puppets: Watch as giant puppets make their way through Petaluma, starting at the Water Street Bistro and ending at the Petaluma Museum. Along with the parade, the event will include Aztec dancers, live music, food and art vendors, altars and more. More information at petalumamuseum.com.
Oct. 30
Halloween Carnival at Coppola: From 11 a.m. to 2 p.m., enjoy a day of games, crafts and costume fun at Francis Ford Coppola Winery. Tickets are available for purchase until Oct. 17. Admission is $12 per child, 14 and under. Purchase tickets at francisfordcoppolawinery.com.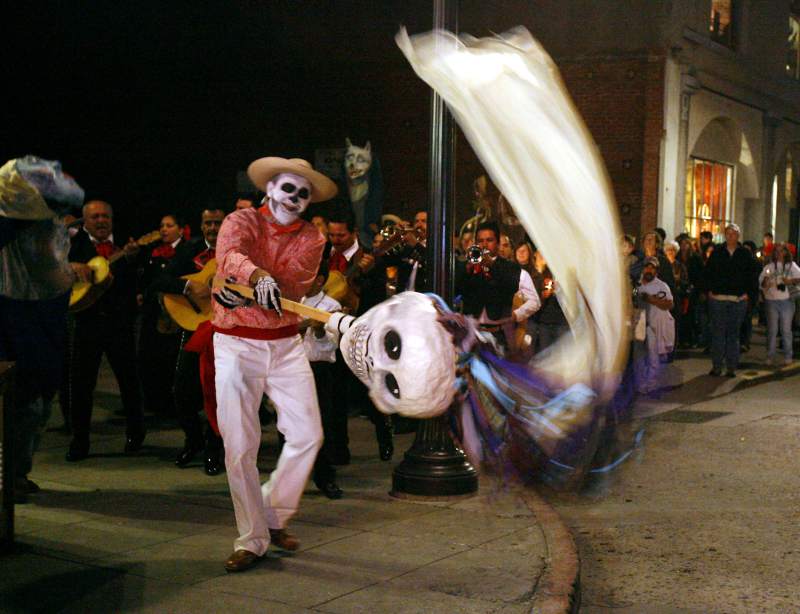 PUMPKIN PATCHES
Petaluma
Petaluma Pumpkin Patch and Amazing Corn Maze: Open 10 a.m. to 6 p.m. Sunday through Thursday, 10 a.m. to 10 p.m. Friday and Saturday. Entry to corn maze closes 1/2 hour before patch closes. Cost: $5, kids 5 and under free. 450 Stony Point Road, Petaluma. petalumapumpkinpatch.com
Pronzini Pumpkin Patch: Open 11 a.m. to 6 p.m. Monday through Thursday, 9 a.m. to 7 p.m. Friday and Saturday, with hay rides, Indian Village, petting zoo and more. 3795 Adobe Road, Petaluma. www.pronzinitrees.com
McClelland's Dairy Pumpkin Patch: Open 10 a.m. to 5 p.m. Saturdays and Sundays. Activities include hay ride, haunted house, obstacle course and more at an extra charge. 6475 Bodega Avenue, Petaluma. mcclellandsdairy.com
Great Peter Pumpkin Patch: Open 9 a.m. to 6 p.m. in October, with free activities including a corn pit, hay maze, cow milking and more. Pasta King and live music on the weekends. 621 Western Avenue, Petaluma. springhillcheese.com
Peterson's Farm Pumpkin Patch: Located at 636 Gossage Avenue, Petaluma. www.petersonsfarm.com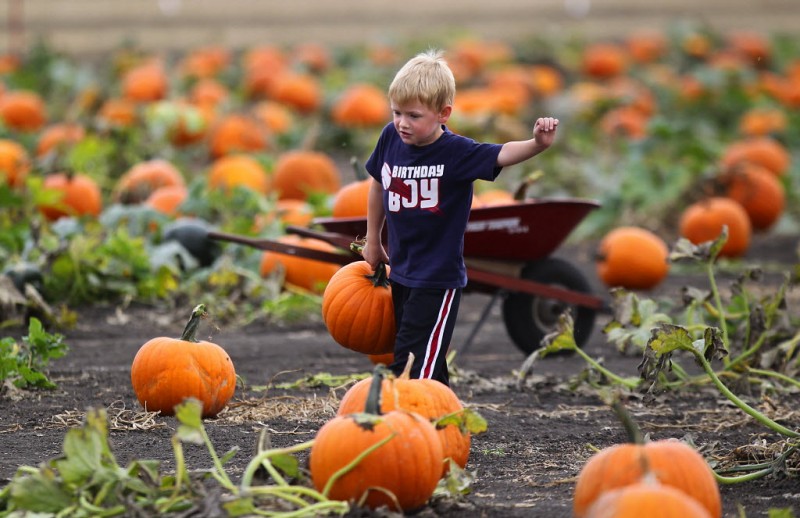 Healdsburg
Grandma's Pumpkin Patch: Open 10 a.m. to dusk in October. 17740 Healdsburg Avenue, Healdsburg. healdsburggranny.com.
Preston Organic Farm and Winery Pumpkin Patch: The U-Pick Pumpkin Patch is open daily, 11 a.m. to 4:30 p.m. 9282 W. Dry Creek Road, Healdsburg. prestonfarmandwinery.com
Santa Rosa
Punky's Pumpkin Patch: Open Monday-Friday, 11 a.m. to 9 p.m., and Saturday and Sunday, 9 a.m. to 9 p.m. Located at 50 Mark West Springs Road, Santa Rosa (at the Luther Burbank Center). punkysadobefarm.com
Eastside Seasonal Farm and Pumpkin Patch: Open 6-8 p.m. Monday to Wednesday, noon to 8 p.m. Thursday, Friday and Sunday and 9 a.m. to 8 p.m. Saturday, with pick your own pumpkins, a corn maze, petting zoo and more. 5834 Petaluma Hill Road, Santa Rosa. eastsideseasonalfarm.com
Muelrath Ranches Pumpkin Patch: Open 10 a.m. to 6 p.m. Sunday through Thursday, 10 a.m. to 9 p.m. Friday and Saturday, with free hayrides, a pumpkin cannon and more. 3800 Walker Avenue, Santa Rosa. muelrathspumpkins.com
Santa Rosa Pumpkin Patch: Open Monday through Thursday, 9 a.m. to 7 p.m., Friday and Saturday, 9 a.m. to 10 p.m. and Sunday 9 a.m. to 8 p.m. with a corn maze, corn play box, hay bale maze and more. Cost is $2-$18, with several a la carte activities. 5157 Stony Point Road, Santa Rosa. santarosapumpkinpatch.com
Floating Pumpkin Patch: Oct. 15 only, 1:30 p.m. to 6 p.m. at Ridgway Swim Center in Santa Rosa. Entry fee is $10 and includes a pumpkin. Pre-sale registration required before the event. 455 Ridgway Avenue, Santa Rosa. pd2go.net/floatingpumpkinpatch
Sebastopol
Papa's Pumpkin Patch: Located at 13110 Occidental Road, Sebastopol. Visit their Facebook page here.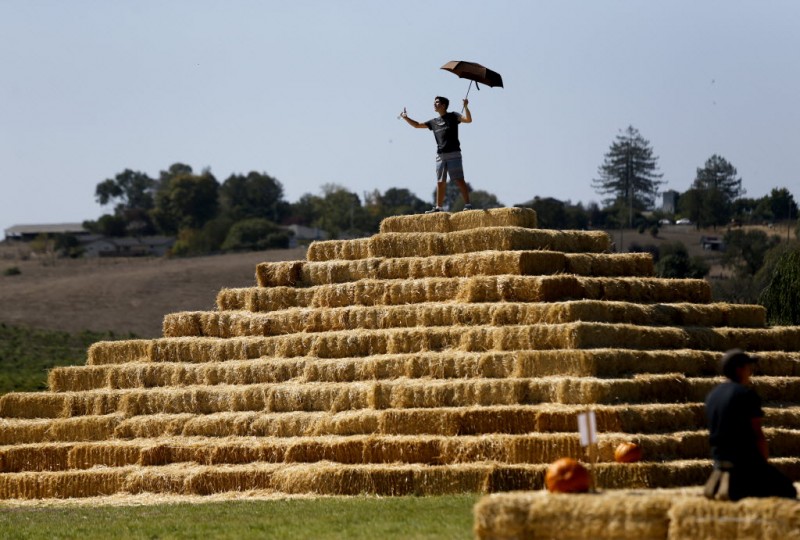 Looking for more things to do in Sonoma County? Click here