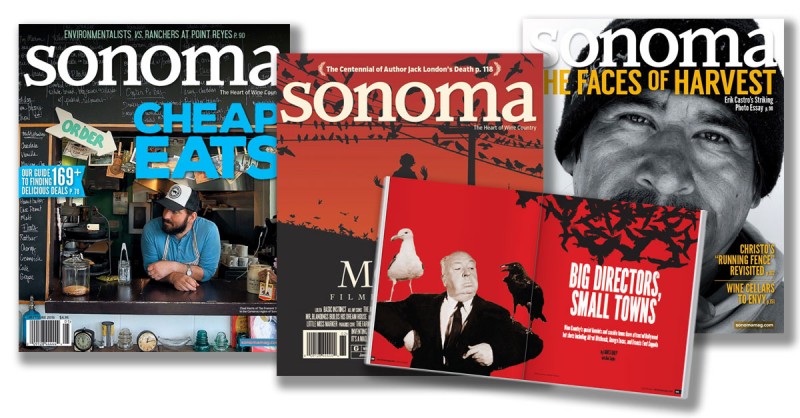 On Tuesday, March 7, the City and Regional Magazine Association (CRMA) announced its 2017 awards finalists. We're excited to report that Sonoma Magazine was named finalist in three categories, including "general excellence," "cover excellence" and "best e-newsletter."
The prestigious CRMA competition attracts nearly a thousand submissions from magazines throughout North America each year. The finalists are selected by more than 100 judges, representing a host of international publications including: ELLE, Entertainment Weekly, Esquire, Food Network Magazine, Harvard Business Review, Marie Claire, National Geographic, O (The Oprah Magazine), Rolling Stone, Southern Living and the Washington Post.
Last year, Sonoma Magazine won top CRMA awards for "general excellence" and "best feature story" in its circulation category. This year, Sonoma Magazine will compete against notable publications such as Philadelphia Magazine, Boston Magazine, St. Louis Magazine, Los Angeles Magazine, Texas Monthly, Denver-based 5280, and Austin Monthly.
Here's a detailed description of Sonoma Magazine's CRMA Awards nominations:
General Excellence
Cover Excellence for January/February (Movies filmed in Sonoma), May/June (Cheap Eats), September/October (The Faces of Harvest) issues.
Best E-Newsletter for weekly newsletter Cork + Fork (if you're not already subscribing to our newsletter, sign up now!)
The winners of the awards will be announced on May 22, at the Awards Gala at the CRMA National Conference in Houston.
Editor's Note: Travel, dining and wine tasting can be complicated right now. Use our inspirational ideas to plan ahead for your next outing, be it this week or next year. If you visit restaurants, wineries, and other businesses during the pandemic, remember to call ahead, make reservations, wear a mask and social distance.