After an epic drought, record-setting rains turn the region's water features from nonexistent to magnificent once again.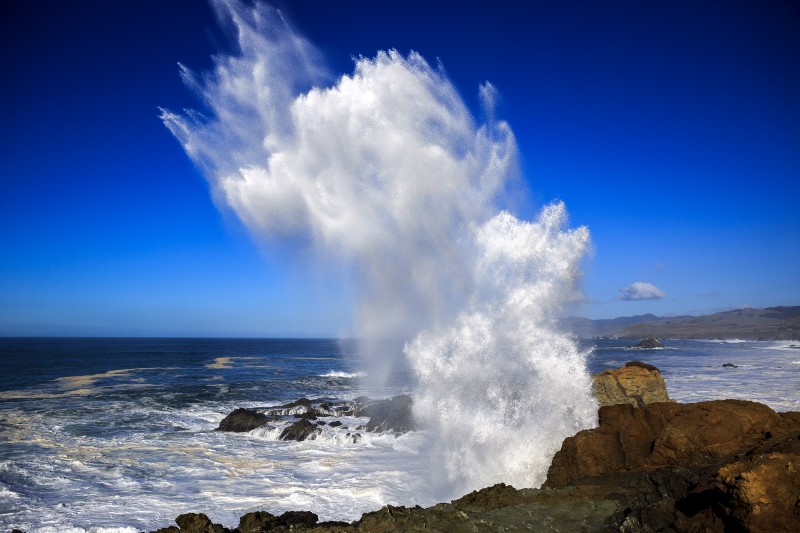 It was the wettest winter in at least two decades — soggy, sodden, blustery and at times miserable for Sonoma County. Parts of Petaluma, the lower Russian River and Sonoma Valley flooded. Power outages were frequent — particularly, it seemed, right in the middle of the season finale of "Walking Dead" or when you were engaged in a deeply important colloquy on Facebook. And if you have kids, forget it: They've been bouncing off the walls since November, discouraged from going outside by the gale-force winds, driving rain and evergreen allure of video games.
But after five years of punishing drought we all know the upside of a cold and wet winter, so complaints have been minimal. The reservoirs are brimming, or close to it. Aquifers are recharging. Water restrictions are likely to relax this year, meaning we'll be able to wash our cars, water our lawns and take showers that are longer than two minutes. The Sierra is buried in snow. The drifts were so high at Donner Summit on I-80 that it was like driving through a gorge, and we'll be skiing into May.
The spring melt and run-off is equally spectacular, with the Sierra's rivers likely to roar through midsummer, giving whitewater kayakers and rafters all they can handle and more. And lest we forget: the waterfalls. The show in Yosemite is turning into a once-in-a-decade (or more) event, with the thunder of Yosemite Falls, Nevada Falls, Bridal Veil Falls and Illilouette Falls echoing off the granite walls.
But you don't have to drive four hours to the Sierra to appreciate the wonders wrought by water. Sonoma also has waterfalls aplenty, not to mention other aqueous phenomena worth checking out. Read on for a guide to some of these storm-fed gifts left by winter.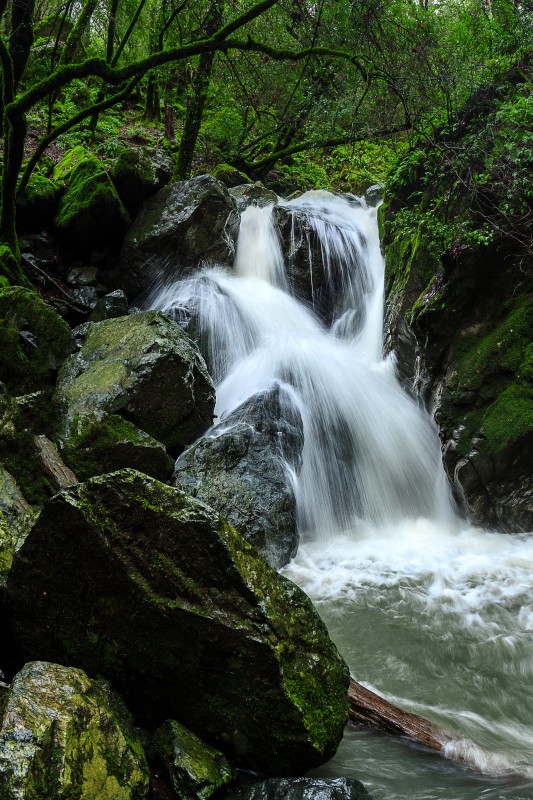 SONOMA CREEK FALLS
Sugarloaf Ridge State Park affords some of the best hiking in the county, and in winter and early spring it supports an impressive waterfall on the headwaters of Sonoma Creek.
It's a 20-foot cascade that pours over a jumble of massive boulders. The falls are located in a steep gorge just off Adobe Canyon Road as it climbs toward the park's entrance. A short, well-graded trail wends through a mature forest of Douglas fir, redwood and California laurel to the falls. At this time of year, you'll see them before you hear them. Most people are content to enjoy the falls at their base, but a steep path leads to the top, presenting an exhilarating prospect of the full volume of Sonoma Creek leaping into space. Exercise appropriate caution: The rocks are slippery, and the top of the falls is no place for small children.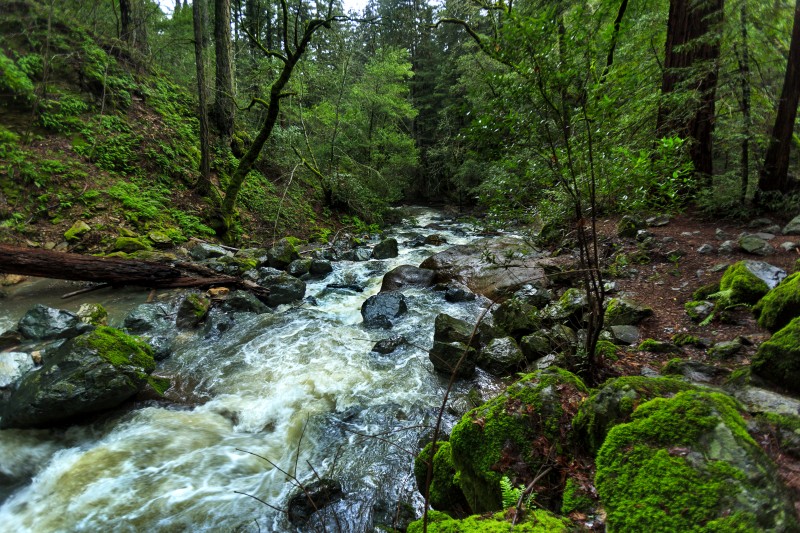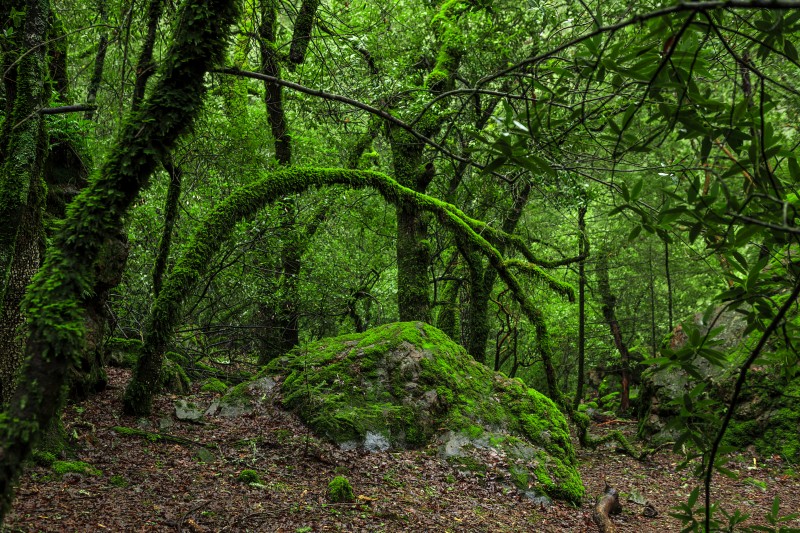 Getting There
Take Adobe Creek Road from its junction with Highway 12 in Kenwood to Sugarloaf Ridge State Park. The road is narrow, steep and winding, so drive carefully. The falls are in Sonoma Creek gorge on the right side of the road ascending to the park kiosk. There's a small turn-out near the trailhead for the falls, but no signage. The falls are located about a half-mile below the kiosk; a park volunteer is sometimes working near the trailhead, and will usually accept the $8 admission fee. Otherwise, visitors should pay fees at the kiosk.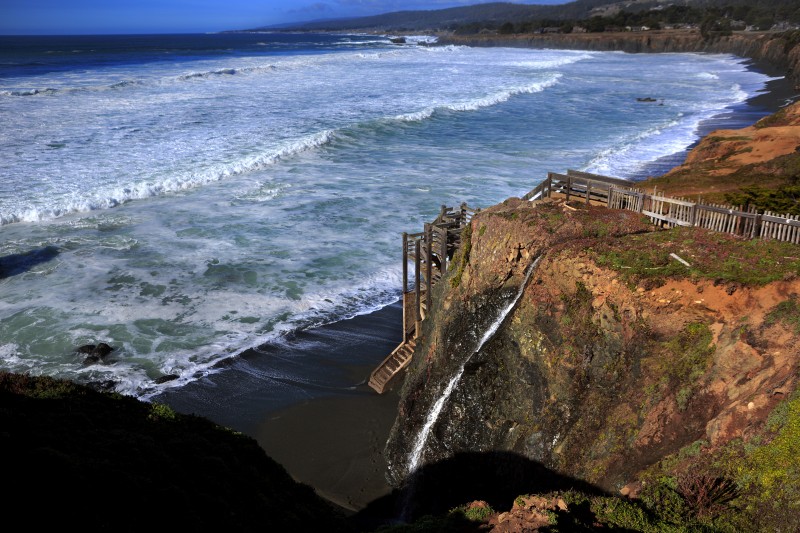 COASTAL BLUFF WATERFALLS
In numerous places, the Sonoma Coast is characterized by steep bluffs fronting beaches or coves. Small ravines that traverse the coastal forest and grasslands transport water seasonally, but not enough to cut deep gorges that connect to the sea; instead, the water spills directly over the cliffs, creating lovely beach waterfalls. This year, far more water than usual is coursing down the ravines, and the falls are robust.
Two of the best ones are Phillips Gulch at Salt Point State Park and Stengel Beach at The Sea Ranch. Use the Stump Cove parking lot for Phillips Gulch and hike a few hundred yards up the coastal trail. Stengel Beach also has a designated parking lot; it's a quick walk to the beach and falls.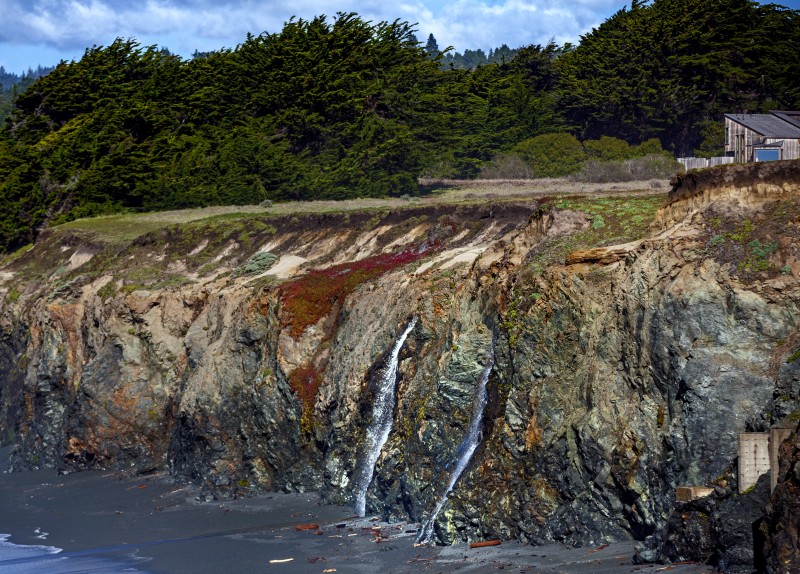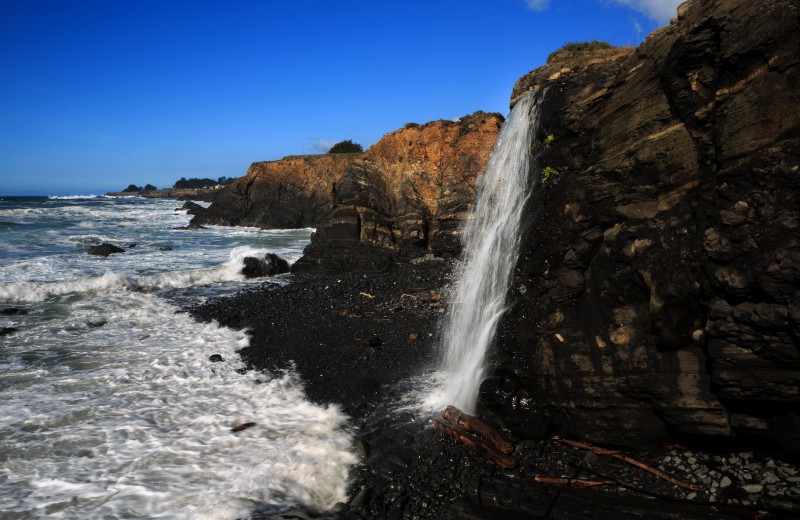 Of course, the falls are most impressive when the water volume is highest — during storms. This can create something of a dilemma from December through March or beyond, because the seas are often tempestuous at such times, surging across the beaches, crashing into the bluffs and truncating the cascades. On one visit during the height of a storm, the falls at both Phillips Gulch and Stengel Beach were sometimes completely obscured by spumes from incoming waves, and the beaches were inaccessible. Visiting the falls post-storm and during a low tide, when the beaches can be strolled, is probably the wisest plan.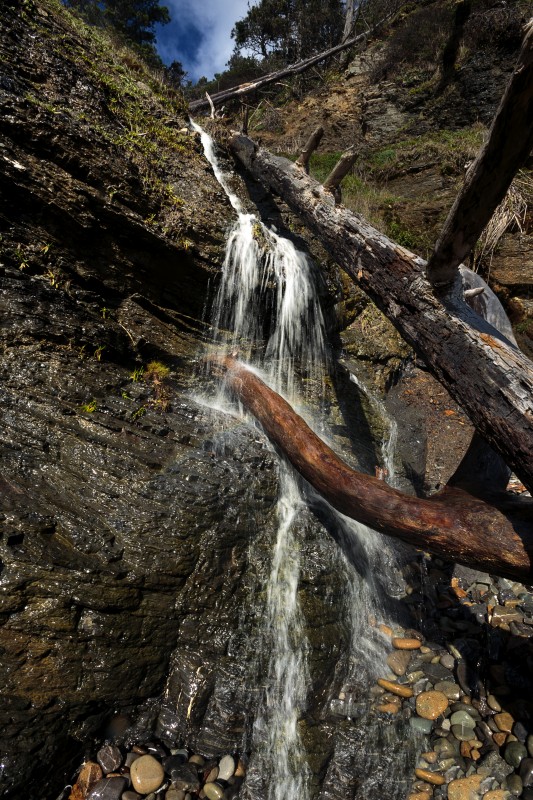 Getting There
Take Highway 1 north of Jenner to the Stump Cove parking lot at Salt Point State Park for Phillips Gulch Falls, and to the Stengel Beach lot for that site's eponymous falls. Parking at both lots is free.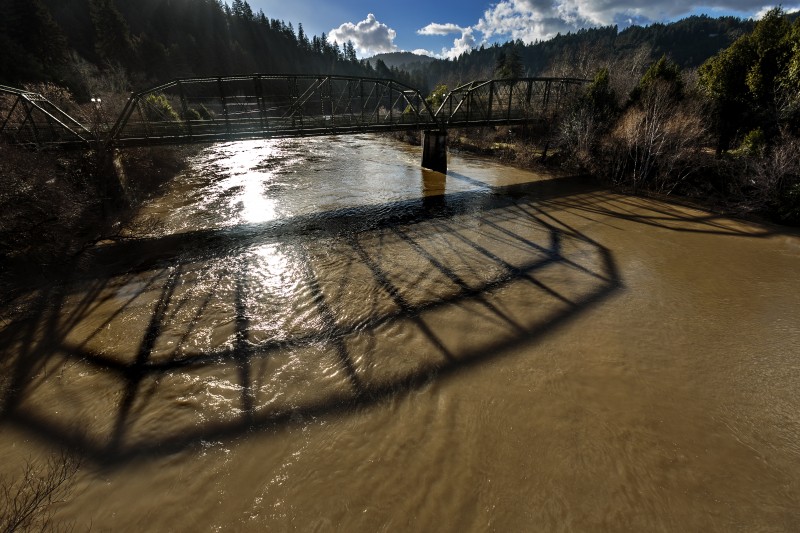 THE RUSSIAN RIVER
As all Sonoma County residents know, the Russian River is a warm and placid stream from late spring through early autumn, perfect for canoeing, swimming and tubing. A wet winter, however, can transform it into a raging beast, flooding lower river towns and inundating vineyards. But if the Russian at its wildest can inflict fear and wreak havoc, it also provides dramatic spectacles of unfettered nature. Two good places to see the show are at the river's mouth in Jenner and at Frog Woman Rock about 5 miles south of Hopland.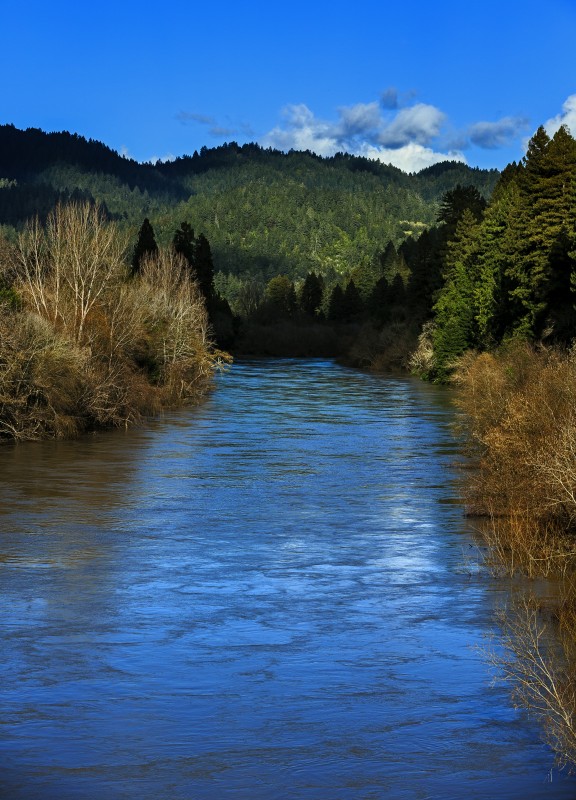 At high flows the river presents an awe-inspiring display at its mouth, with the full flood of the river meeting the incoming surf. The sea for hundreds of yards westward is a maelstrom, with massive rip lines, huge standing waves, colliding combers and churning eddies that can form evanescent whirlpools. Sea lions and harbor seals sometimes ply the current, surfing through the chaos with aplomb.
There are two ways to observe the action. A short hike from the Goat Rock State Beach parking lot provides views at river level. For a more panoramic vista, try the overlooks at Jenner.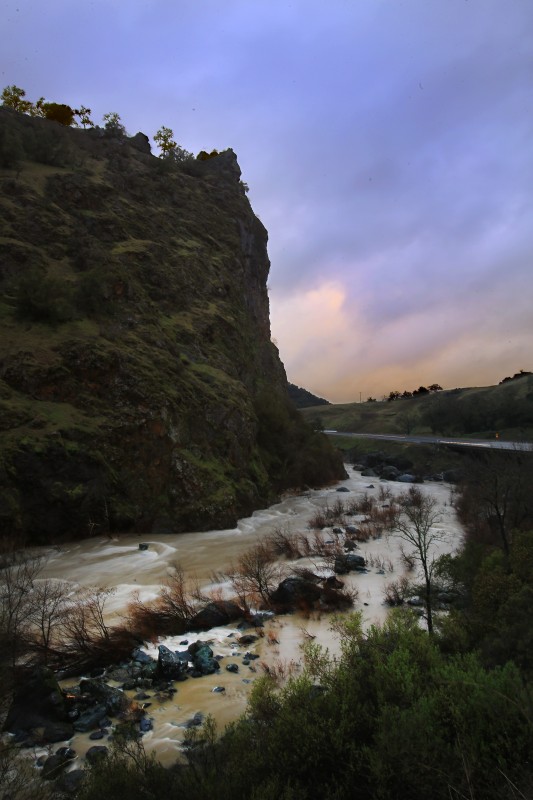 Frog Woman Rock, formerly known as Squaw Rock before the California State Historical Resource Commission decreed a name change in 2011, is a precipitous spire of volcanic rock that forms the largest rapid on the Russian. At low-to-moderate levels, Frog Woman rapid is a Class III drop, and is the centerpiece of a run much beloved by local kayakers. When the river is really pumping, though, the rapid is considered Class IV-V.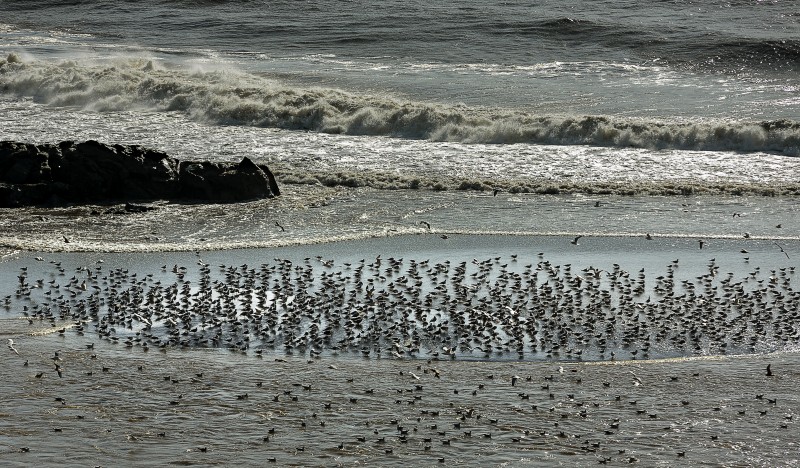 It's fearsome in its dimensions and sounds like a freight train. A large parking lot adjacent to the rapid allows visitors to appreciate the power of the river without any of its ancillary dangers. That's not to say that Frog Woman rapid is not taken on at high water. On even the stormiest days, it's possible to see expert kayakers running the slot. Anyone considering tackling the rapid at such levels should possess a bombproof Eskimo roll; the rapid directly below Frog Woman rapid is named Graveyard, a moniker that is not wholly inappropriate at high flows.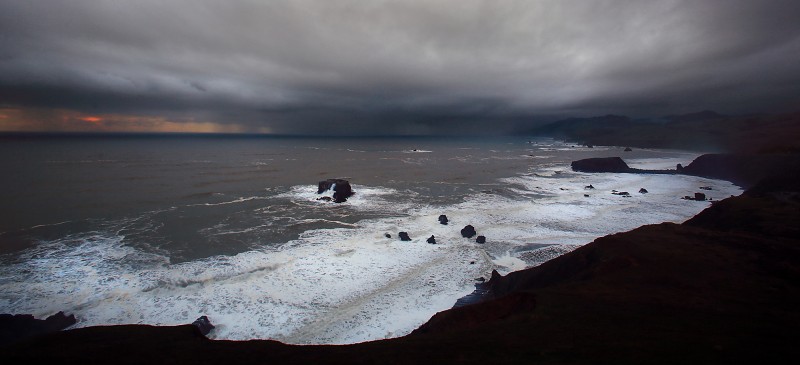 Getting There
To get to the mouth of the Russian River, take Highway 116 to Jenner. Goat Rock can be reached by driving about a mile south of the Highway 116/Highway 1 junction just east of Jenner. Frog Woman Rock is on Highway 101 between Hopland and Cloverdale.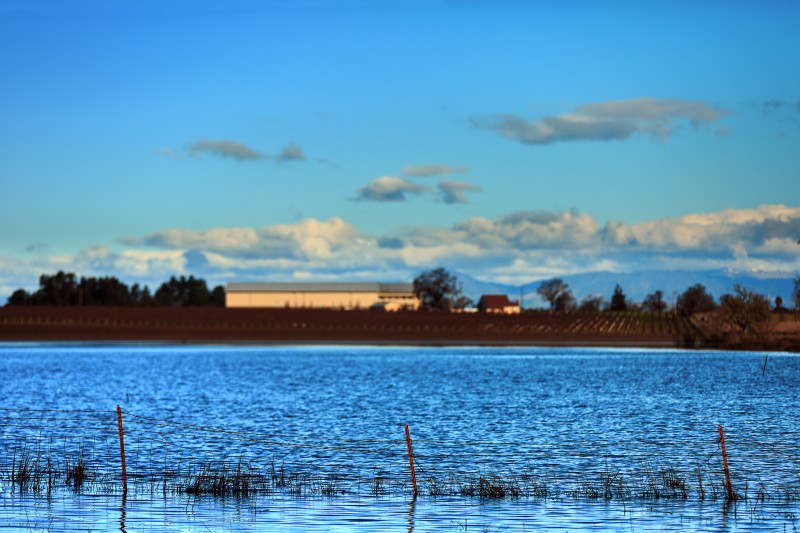 LAGUNA DE SANTA ROSA
A visit to one of the most important wetlands on the West Coast seems somehow apropos following one of the wettest winters on record. Located just east of Sebastopol on Highway 12, Laguna de Santa Rosa was declared a wetland of international importance by the Ramsar Convention on Wetlands in 2011. It is one of California's largest freshwater wetlands, a 30,000-acre complex of permanent and seasonal marsh, riparian forest and upland habitat supporting more than 200 species of birds, charismatic mammals such as mountain lion, river otter, bobcat and mink, and three endangered and endemic plants.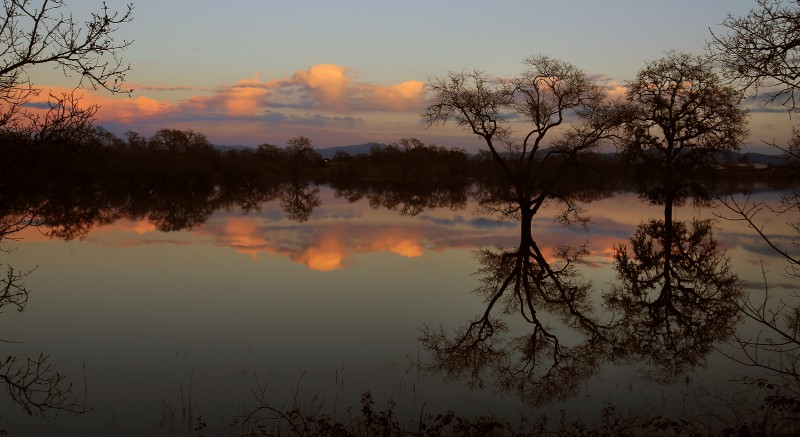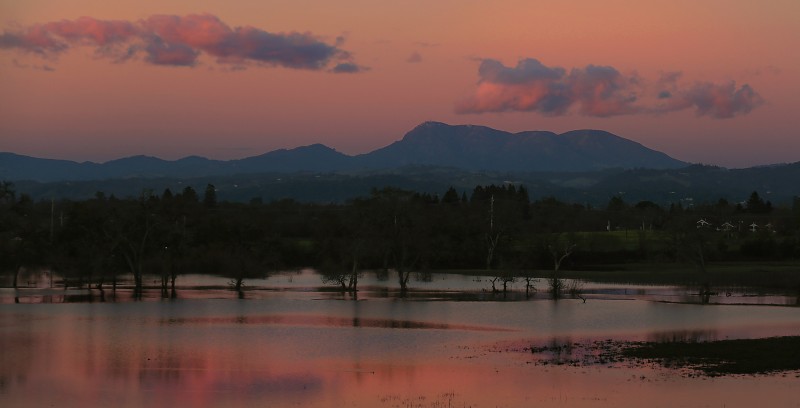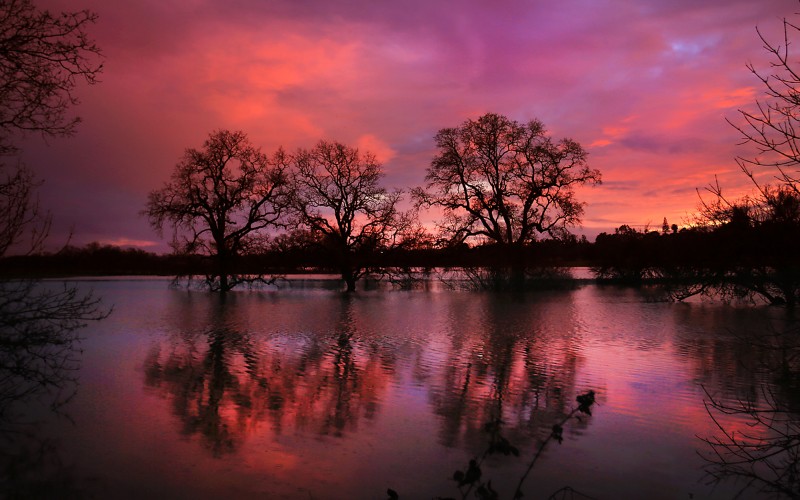 The Laguna serves as a critical way station for migrating waterfowl and shorebirds and is an essential component in Sonoma County's water system, providing flood control for the nearby Russian River and water storage (its surface area and aquifers can hold enough water to cover 80,000 football fields with a foot of water). Its extensive marshes also filter contaminants from storm runoff, purifying the water that will ultimately find its way to the river.
Public access is provided via a 1.8-mile surfaced trail that traverses all the major habitats. The Laguna was brimming by late January; all this water should sustain the complex's birds, mammals, fish, reptiles and amphibians in fine style throughout the remainder of the year, affording some of the finest wildlife viewing opportunities in the Bay Area.
Getting There
Access is easy. The trail starts at a Sonoma County Regional Parks parking lot located just east of Sebastopol on Highway 12. Admission is free. Dogs are welcome, but must be on leash at all times.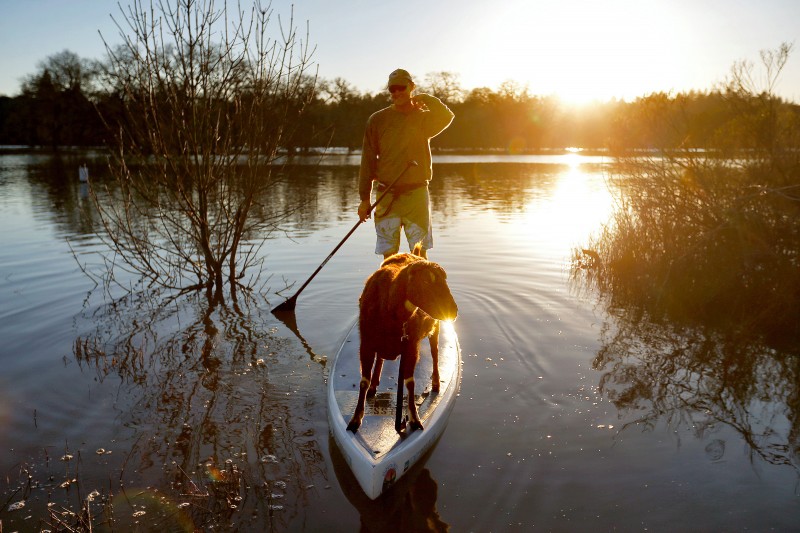 Subscribe to Our Newsletters!